Thanksgiving Fruit Salad is a simple and tasty way to add some fall fruit to your holidays. A delicious side dish that is so easy to make! Perfect as a Fall Salad for Thanksgiving Dinner.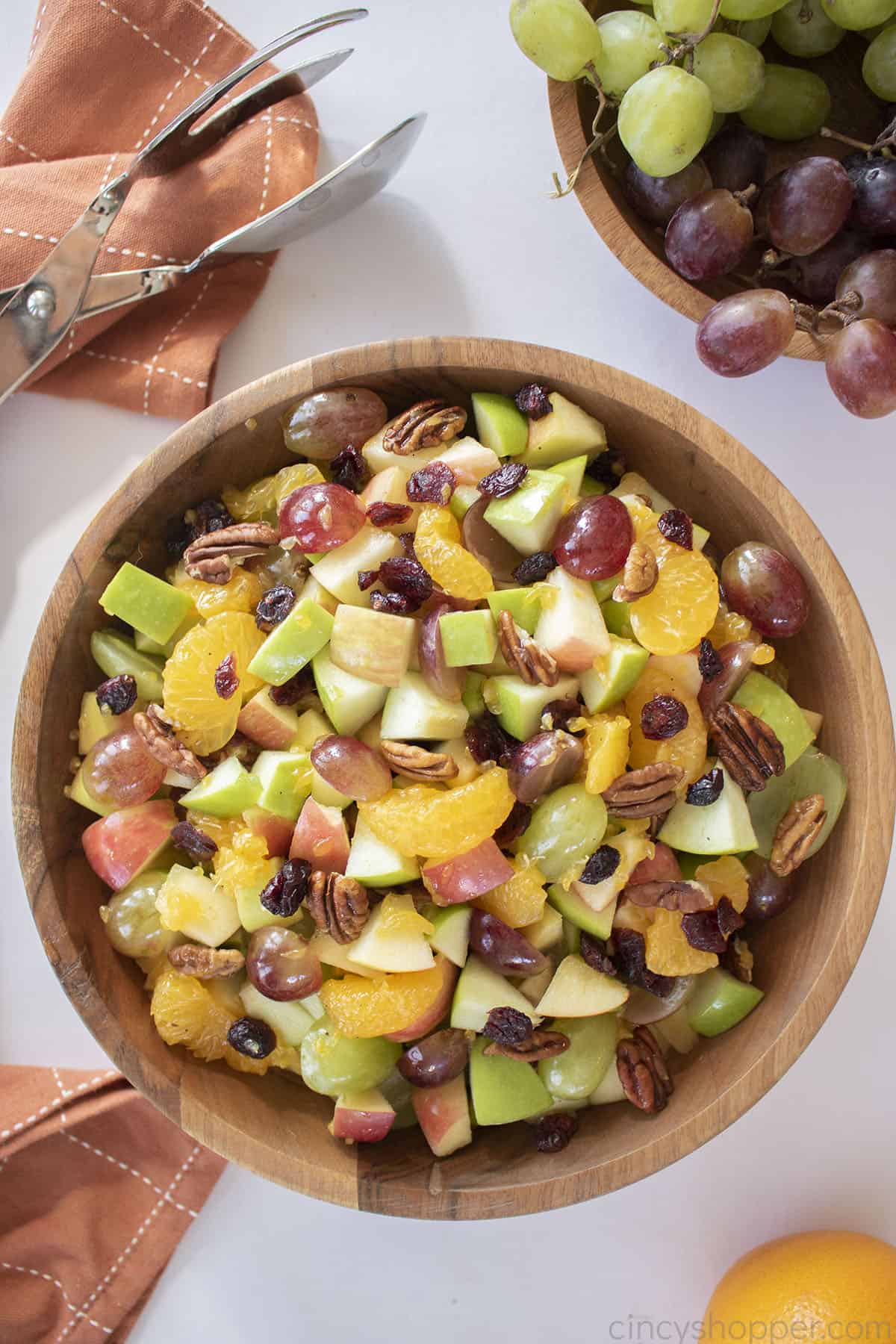 While a big roasted turkey is usually the highlight of your typical Thanksgiving dinner, it's important to never forget about side dishes! All the starches like Sweet Potato Casserole and veggies are crucial in putting together a delicious and filling holiday meal. While we love a good side of mashed potatoes or tasty Green Bean Casserole with our Thanksgiving turkey, a bit of fruit on the side isn't going to hurt. You could settle with something simple like a Homemade Cranberry Sauce, a Waldorf Salad or you could whip up this Thanksgiving Fruit Salad we tried recently!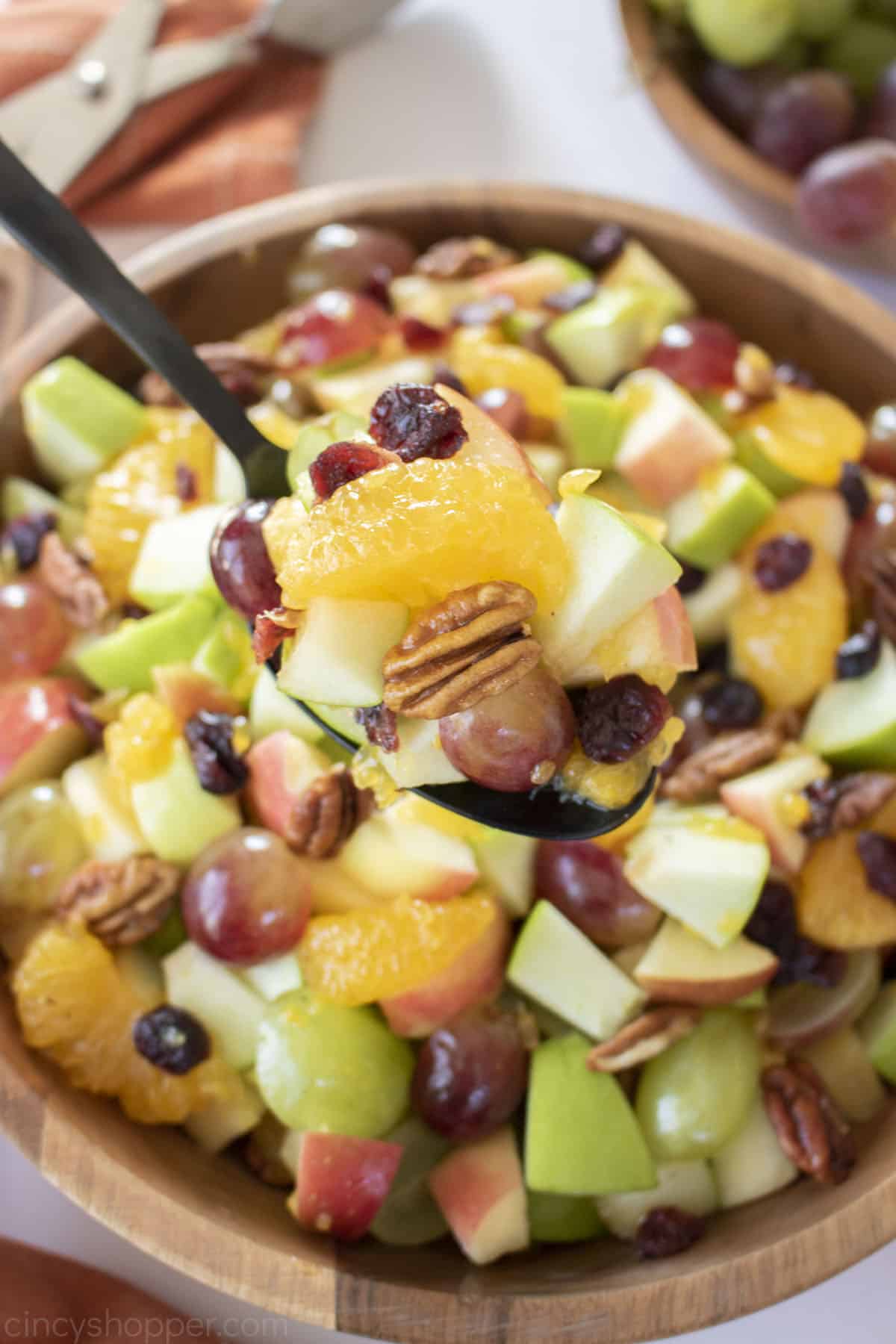 The heart of this Fruit Salad for Thanksgiving Dinner Recipe is the tasty fall fruit medley we put together. Apples are, obviously, one of our go-to fall fruits and they paired wonderfully with some grapes, mandarin oranges, and even some Craisins! Topped with some pecans and a sweet orange juice salad dressing, this delicious fruit salad recipe is perfect for your next Thanksgiving dinner. It freezes pretty well too, so it works great as a winter fruit salad recipe as well. Whatever time of year you're enjoying it in, this Fall Fruit Salad is definitely going to be a new favorite for you.
Jump to:
Why you'll love this tasty Fall Fruit Salad recipe
Homemade fruit salad is always going to be better than anything from the store or from a can like fruit cocktail. You can cut the seasonal fruit pieces down to your preferred sizes, pick out your own ingredients and toppings, and dress it however you please.
A Thanksgiving Fruit Salad is a simple but tasty way to enjoy a medley of fall and autumn fruits. You'll find that apples, grapes, and oranges all pair well together when you throw them together in a fruit salad recipe like this.
Fall Fruit Salad is a healthy way to add some sweetness and color to a Thanksgiving dinner. All of these tasty fruits are packed with all sorts of important vitamins and minerals that you might be missing out on in your diet.
Thanksgiving Fruit Salad Ingredients
To make this Thanksgiving Fruit Salad, you're gonna need some fruits and a few other ingredients. Nothing hard to find or source though, so don't worry! Here's all you need: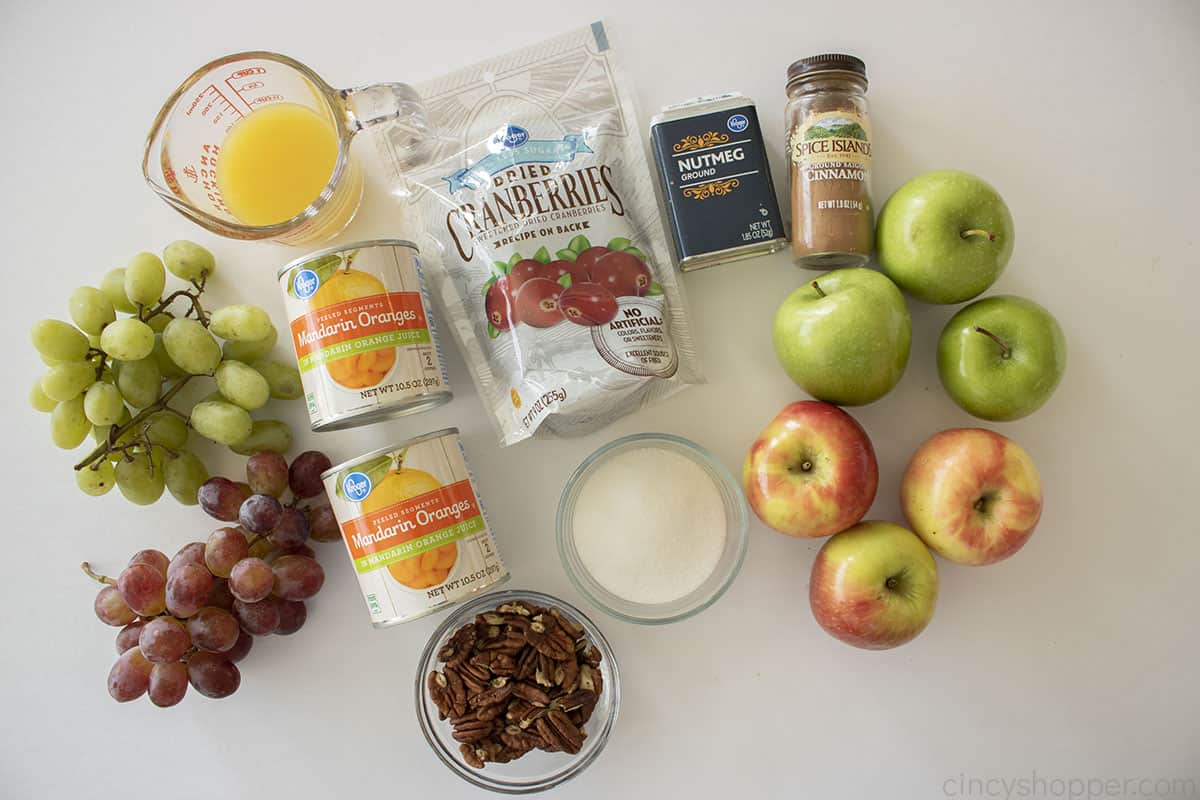 Orange Juice
Sugar
Spices – We went with this simple combo of cinnamon and nutmeg- two classic fall baking spices. If you have any on hand, you could just as easily use Homemade Pumpkin Pie Spice or Apple Pie Spice.
Apples – We decided to go with two different colored apples for a bit of variety, and extra color in the finished fruit salad. The green apples are Granny Smith apples and for the red apples we went with Honeycrisp. These tend to be the best apples for fruit salad because they're very crisp and are pretty resistant to browning. The sweet and tart combination is delicious.
Grapes – Like with the apples, we went with two different colors, green and red grapes.
Mandarin Oranges – These sweet oranges are just too good to pass up on for a fruit salad recipe like this! Drain them well and pat dry before using. You might even consider using some of the mandarin orange juice for the salad dressing.
Dried Cranberries – You'll usually find these sold as "Craisins" at the store but any sort of dried cranberries will do. Also consider adding pomegranate seeds
Pecans – Something like these pecan halves or some lightly crushed pecans should do the trick. If you'd like, you can also toast the pecans on the stovetop or in the oven before making your salad.
If you're worried about any of your apples browning, you'll also want to grab some lemon juice.
See recipe card for quantities.
How to make Fruit Salad for Thanksgiving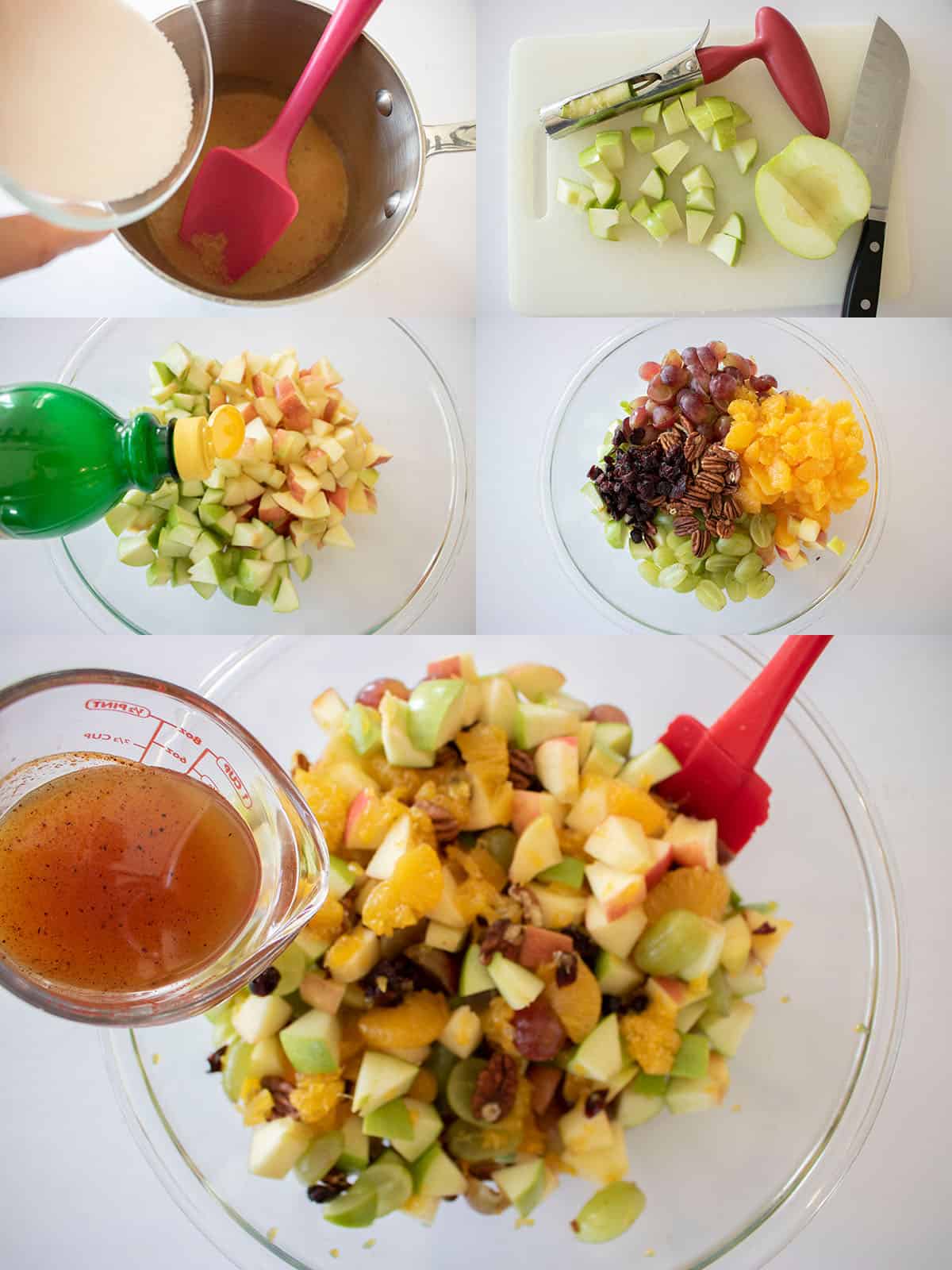 Our Thanksgiving Fruit Salad is very easy to make and put together- even our orange salad dressing is super simple! To make this delicious Fall Fruit Salad, here's what you have to do:
In a small saucepan or pot, combine orange juice, sugar, and spices. Bring to a light boil over medium to medium-low heat, whisk to help melt sugar, and let simmer for 3-4 minutes. Remove from heat, and set aside to cool.
Core apples and cut into bite-sized pieces before tossing with lemon juice to keep apples from turning brown. Cut mandarin oranges into bite-sized pieces and cut grapes into halves.
Combine apple pieces, orange pieces, grape halves, dried cranberries, and pecans in a large mixing bowl. Stir and toss to combine before drizzling cooled orange juice dressing over top of salad. Toss to coat and transfer to serving bowl.
Substitutions
As long as you have most of the fruits, you'll be able to make this Thanksgiving Fruit Salad perfectly fine. For a few substitutions for some of the other ingredients, here's some you can give a shot:
Sugar – To keep things quick and simple, we just used some white granulated sugar to make the orange salad dressing. To lean into more of those fall flavors, you could sub some or all of the white sugar out with some light brown sugar. Using honey or maple syrup for salad dressing is also an option- it'll probably mix better too!
Dried Cranberries – Using craisins in our fruit salad was mostly personal preference. There's all other sorts of dried fruits you could use if you don't have or don't want to use Craisins. Raisins will work perfectly fine but you can also try things like dried cherries or chopped dates.
Pecans – There's something about the taste of pecans that just screams "autumn" to us, but there's other kinds of nuts you can use. Walnuts are probably the closest substitute in terms of texture and taste but you could also try hazelnuts, cashews, or peanuts.
Variations
As simple as our Easy Thanksgiving Fruit Salad is, there's ways to mix the recipe up to keep things fresh and exciting. With that in mind, here's a couple of ideas you can try out:
Apple Pear Salad – A pretty popular change people like to make to Fall Fruit Salad recipes like this is subbing out the green apples for pears. Pears are another popular fall fruit and would work wonderfully in this recipe! If you can find them, D'Anjou pears will probably work best: they're a bit firmer and will hold up better than soft pears.
Creamy Fruit Salad – To take this recipe in more of a Fruit Salad Dessert, you can also make this into a Creamy Thanksgiving Fruit Salad. Instead of our orange salad dressing, consider mixing your salad up with something like Cool Whip and/or pudding.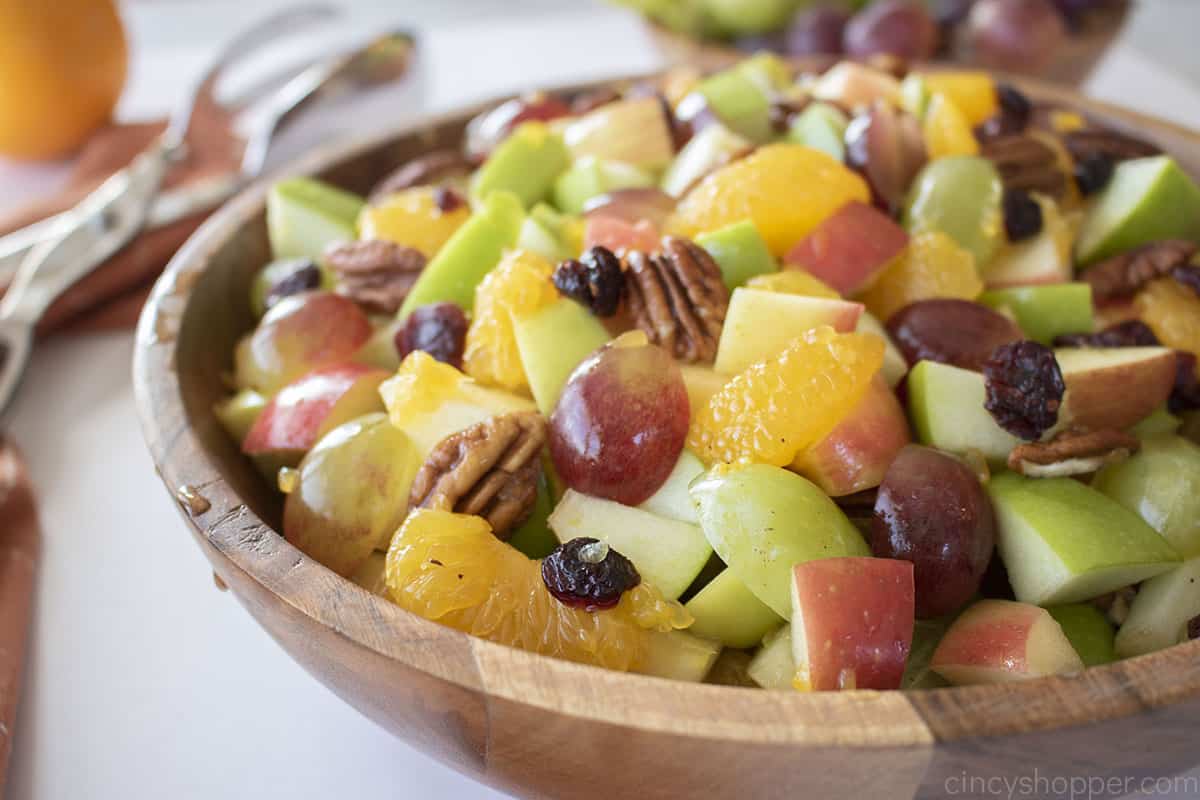 Storage / Freezing
Storage: You don't want to leave your Thanksgiving Fruit Salad sitting out for too long, so make some room in the fridge for it. It'll stay safe to eat for around 5 days but, for best taste and texture, we recommend eating fruit salad within 3 days of making it. Remember to store in an airtight container!
Freezing: For long-term storage, you can also give the freezer a try. Keep the Autumn Fruit Salad in a freezer-safe container and it'll keep for around 2-3 months. Note that the freezer might affect the texture of the fruits after they thaw out. For best results, consider patting the fruit dry with a paper towel and/or dividing the fruit salad across multiple freezer bags.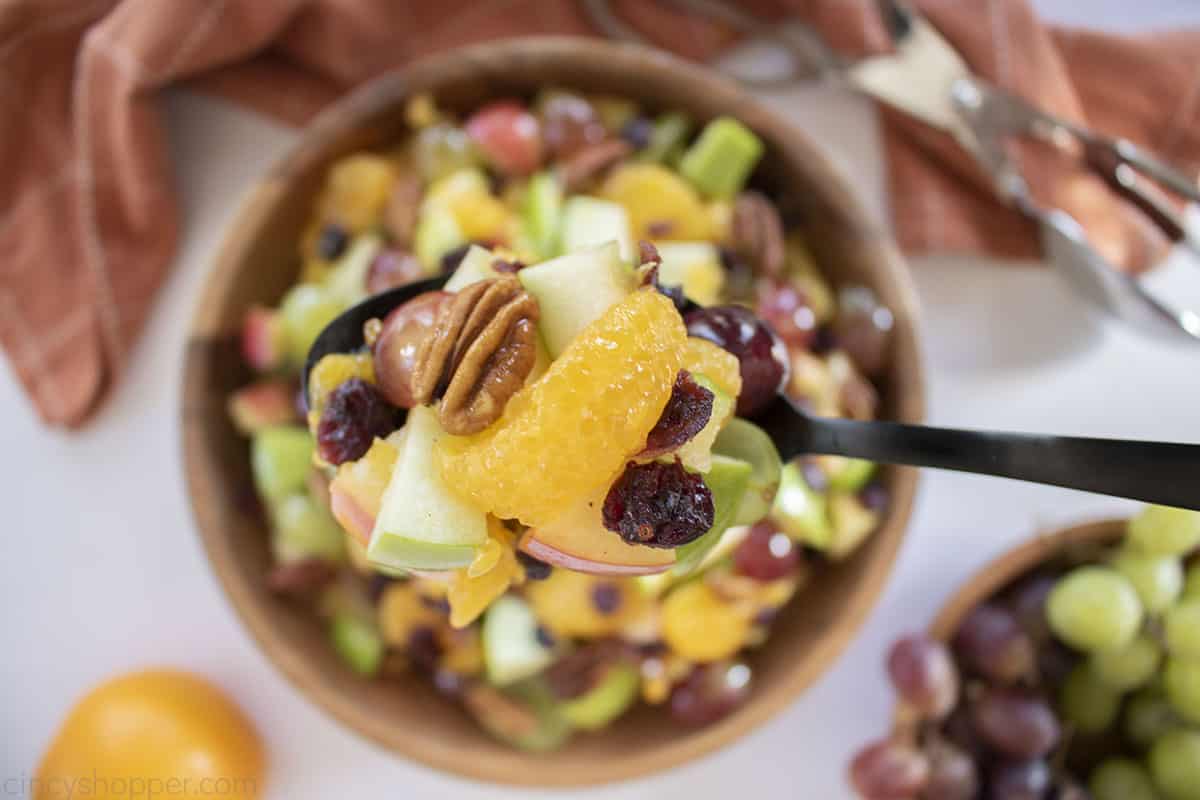 Top tip
Use lemon juice to keep your apples from turning brown.
Other Holiday Salad Recipes
Looking for other holiday salad recipes? Try these:
Other Thanksgiving Recipes
Here are some additional Thanksgiving recipes: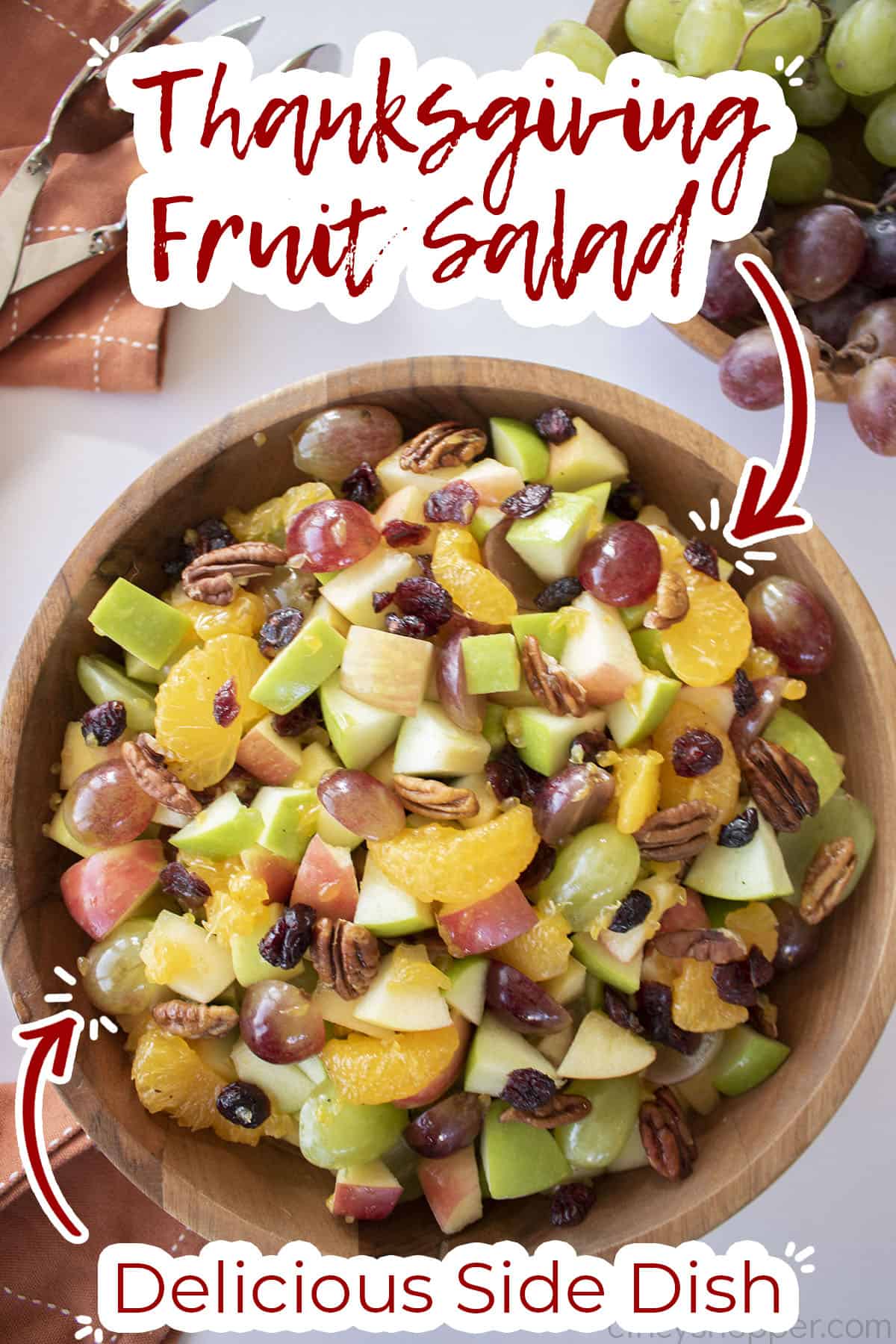 Thanksgiving Fruit Salad
Thanksgiving Fruit Salad is a simple and tasty way to add some fall fruit to your holidays. A delicious side dish that is so easy to make! Perfect as a Fall Salad for Thanksgiving Dinner.
Ingredients
3/4

cup

Orange Juice

1/3

cup

Sugar

1/8

tsp

Cinnamon

1/8

tsp

Nutmeg

2

medium Green Apples

2

medium Red Apples

1

tbsp

Lemon Juice

1

cup

Dried Cranberries

1

cup

Pecans

1/2

cup

Green Grapes

1/2

cup

Red Grapes

15

oz

Mandarin Oranges

2 small cans or 1 large, drained
Instructions
Combine orange juice, sugar, cinnamon and nutmeg in a small saucepan.

Bring to a low boil over medium heat. Whisk while cooking for 3-4 minutes.

Remove from heat and cool completely.

Core and cut apples into bite-sized pieces.

Add lemon juice to apples and toss to coat (to prevent browning).

Drain mandarins.

Cut grapes in half.

In a large salad bowl combine apples, mandarins, cranberries, pecans and grapes.

Drizzle cooled orange juice mixture over the fruit and toss to combine.
Notes
Use lemon juice to keep your apples from turning brown.
Nutrition
Calories:
264
kcal
|
Carbohydrates:
48
g
|
Protein:
2
g
|
Fat:
10
g
|
Saturated Fat:
1
g
|
Polyunsaturated Fat:
3
g
|
Monounsaturated Fat:
5
g
|
Sodium:
3
mg
|
Potassium:
329
mg
|
Fiber:
5
g
|
Sugar:
40
g
|
Vitamin A:
477
IU
|
Vitamin C:
32
mg
|
Calcium:
40
mg
|
Iron:
1
mg