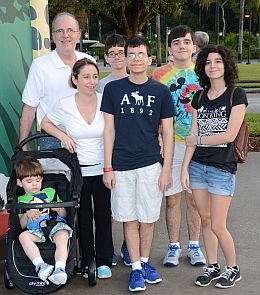 Hi, I am Jen, the CincyShopper. Married to an outstanding tech geek hubby for 19 years, and a stay at home mom of five wonderful children in Cincinnati, Ohio. I love to coupon shop and find local deals to help with my budget. Oh, and I mentioned I love Coffee?
In July of 2009 my husband had to take a position that drastically hurt our finances. I HAD to find a way to stretch our family budget. After a few google searches I eventually found myself at a Couponing and Deals website. The savings I found while following these sites stretched that budget further than I could ever have imagined.
My hubby and family were so amazed at how I was strategically shopping and saving our household so much cash. With my extended family residing in another state , they requested that I show them the specifics on how to coupon and where to find all the deals. This would be the reasoning I originally decided to create CincyShopper.com. Additionally, I thought it would be wonderful to create a "One Stop Site/Blog" for all of the weekly deals and bargains that were local. The frustrating aspect for me when I began couponing was the need to have to jump from blog to blog, site to site, sifting through all of the ads and banners, and wrong regional pricing to find all of the REAL weekly deals. This consumed a majority of my couponing time. You will find that my site is very clean, easy to navigate and specific with minimal ads and banners. Exactly what I was looking for in a blog or site when I first started.
Soon after starting CincyShopper I was offered a full-time position in an office. So, CincyShopper was placed on hold. Things were going great in our lives and we decided to have our fifth child (10 year age gap, wow). After having the baby my hubby and I discussed that it would be best for me to be at home full-time with the baby. I was heavily couponing and deal hunting again to help offset the income I had given up. I then felt the NEED to blog again. I really wanted to show others that you can really stretch a buck when your budget is tight. So, in January 2013 I began full-time blogging again on CincyShopper.com.
Shortly after I was back to blogging, I began cooking more at home meals for my family. I also then found a love for Pinterest. I began cooking, baking and eventually sharing recipes on CincyShopper.com. The coupon deals online were becoming less appealing as far as my savings. It was getting more and more difficult to find real deals to share with my readers. I have now switched to blogging completely about food and recipes. I have so many recipes that have become quite popular so, cooking and baking has become my obsession.