Salisbury Steak is a perfect weeknight recipe to serve the family. Plate up with mashed potatoes or tasty veggies for the best comfort food!
I've always loved this recipe for Simple Salisbury Steak. We've made this dish for dinner time-and-time again and loved it every time! Follow along with us to make this solid, standby dinner dish.
Why You'll Love This Salisbury Steak
This is a classic comfort food.
This is a quick and easy meal without a lot of prep work.
It is simple to modify to meet your picky eaters tastes.
We love that this recipe is fairly inexpensive to make.
It's a reader favorite. Since posted on my blog in 2015, it has been shared over 1.5 million times. The user ratings are REAL and not inflated. Be sure to look at the comments below and you will see additional helpful tips and suggestions.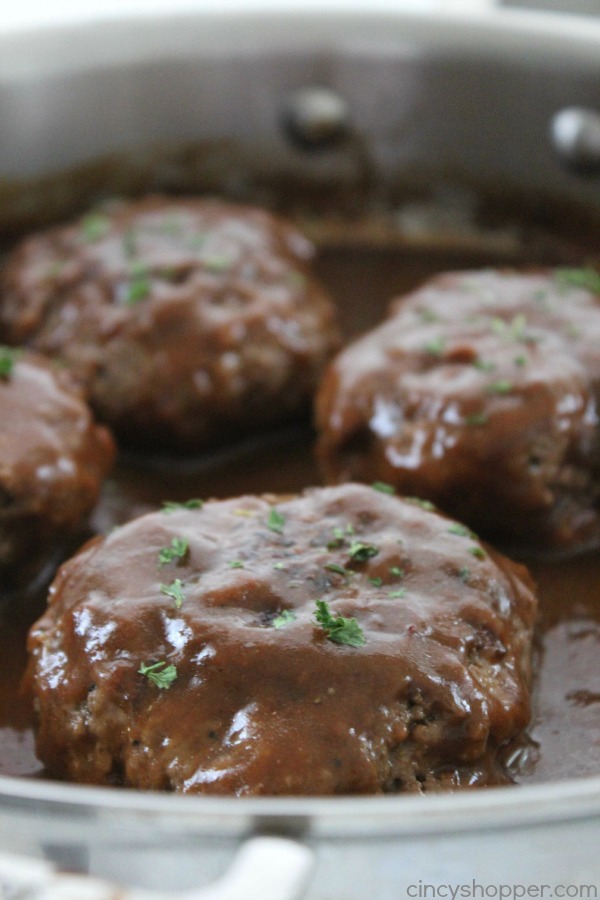 Easy and delicious ground beef recipes are a must-have in your kitchen's cookbook! Ground beef almost always seems to be marked-down or on sale at the local grocery and it can serve as the base to a number of delicious recipes. From soups to stews to a classic cheeseburger, there's always a use for this versatile food! One of the tastiest and easiest recipes you can make with your meat is some Easy Salisbury Steak.
Our Salisbury Steak recipe blows the frozen and TV dinner varieties out of the water! They can't compare to this easy stovetop version that needs only a little extra time. It's also the perfect dinner dish for all the picky eaters in your family- we keep things simple but leave plenty of room to add in whatever you'd like! The gravy is easy to make too, using some convenient brown gravy packets. With all this in mind, you'll love this recipe for Homemade Salisbury Steak!
Delicious Side Dishes to pair with our Recipe
With all this gravy, we have to recommend pairing our Simple Salisbury Steak with The Best Mashed Potatoes. These rich, creamy potatoes are perfect for pairing with a delicious, meaty main course like our steaks. Super easy to make too!
If you're looking for some tasty, vibrant greens to plate with this dish, try some Garlic Green Beans. This buttery, savory side pairs well with darn-near anything- our Salisbury steaks included! One of our favorite veggie sides right now.
Need something a little sweeter? Brown Sugar Glazed Carrots are what you need! This easy, 3-ingredient recipe cooks up quickly on the stovetop and is oh-so delicious. Perfect for holiday or anyday dinner!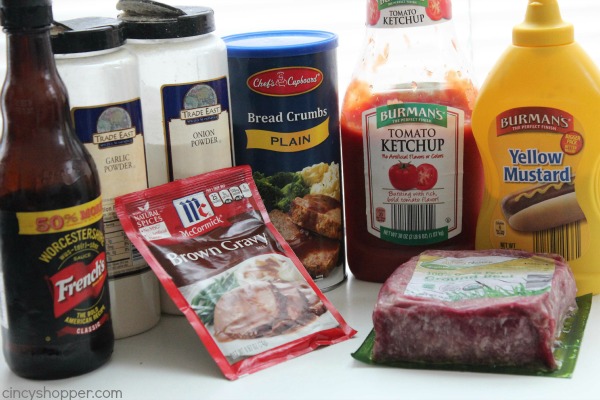 Salisbury Steak Ingredients
We tried to keep our recipe simple for all the picky eaters you might be cooking for. There's plenty of substitutes and modifications you can make that we'll list here as well! We liked the way The Pioneer Woman kept a similar recipe simple, so we took some inspiration from her.
For our ground beef patties, you'll need…
Ground Beef – We prefer a lean ground beef for this recipe. It'll help your patties hold together much better! If you have any dietary concerns, mixing or substituting the beef with ground turkey is fine.
Bread Crumbs – We usually use breadcrumbs but we've seen all sorts of substitutes here! Experiment with rice, stovetop stuffing mix, crackers, or even oats.
Ketchup
Mustard – Dijon mustard is an interesting substitute to try here.
Worcestershire Sauce
Garlic Powder & Onion Powder
Salt and Pepper
Our gravy, meanwhile, is going to use…
Brown Gravy Mix Packets – Alternatively, you could make this recipe with our Easy Brown Gravy!
Ketchup
Worcestershire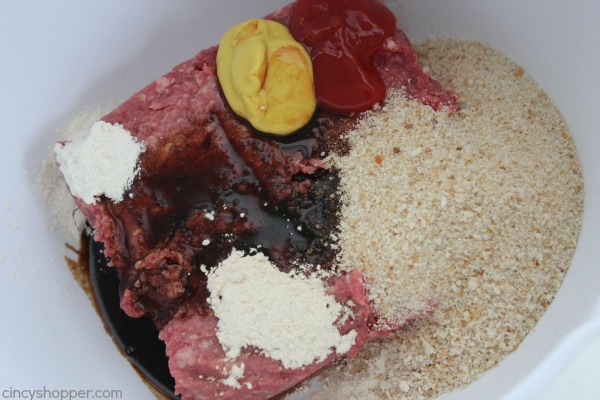 How to Make Salisbury Steak
We love this Easy Salisbury Steak recipe because it's so easy to prep and make! To make some for yourself, here's all you need to do:
We'll start this recipe off my mixing up our meat and forming our patties from the mixture.
Cook in a large skillet over medium heat until browned on both sides.
Whisk together gravy ingredients until mixed.
Pour gravy into skillet over patties and cook until thickened.
We've also made a video for this recipe, which we've pasted just below! Check it out!
Variations for this Salisbury Steak Recipe
You can top your steaks with all sorts of veggies. Caramelize some onions with your patties or saute some mushrooms to go with them! Some of our crew loves mushroom gravy.
There are plenty of other additives you can add to the gravy as well! Try substituting one of your gravy packets out for your favorite soup mixes- maybe use our Copycat Lipton Onion Soup Mix Recipe?
FAQs about Salisbury Steaks
Why won't the patties stay together?
There are many different reasons for steak patties not holding together or staying shaped perfectly. One reason would be the fat content of the ground beef used in the recipe. If you're remaking this recipe and have noticed your patties tend to fall apart fairly easy, you might want to crack an egg into your meat mixture.
How many patties does this make?
Note that one pound of ground beef will make about 4 hamburger patties.
What is the difference between a Hamburger steak and a Salisbury steak?
Hamburger steak usually only contains salt and pepper, whereas Salisbury steak adds fillers.
What is the difference between Salisbury steak and Meatloaf?
The main difference is in the way it is shaped and cooked. Salisbury steak is formed into patties and cooked in a skillet. Meatloaf is formed into a loaf in a loaf pan and baked.
Tips for Making the Salisbury Steak
Use your hands – This is as easy as dropping all of our patty ingredients into a mixing bowl and mixing it all together with our hands. Don't even try to stir with a spoon!
Don't worry about the shape – If they are oval patties or round, they taste the same.
You can make the patties ahead – Form patties and place in an airtight container and place in freezer.
Cook on both sides until all the pink is gone – if you want to be extra safe, probe your patties with a food thermometer to check for doneness at around 160 degrees.
Garnish with freshly chopped parsley for a finished look.
Other Delicious Ground Beef Recipes
For another tasty ground beef recipe, try our Classic Meatloaf. Meatloaf is a timeless and juicy dish packed with flavor! This recipe with a tangy ketchup glaze makes an easy and simple dinner.
Homemade Hamburger Helper Beef Noodle is so much better than store-bought. This ground beef recipe can be made with a few simple ingredients and a few minutes time.
Hamburger Soup is another great comfort food. It's hearty with vegetables, potato, and ground beef. A perfect weeknight meal. Make this delicious beef dish tonight!
Did you make this recipe? If so, be sure to rate with a star rating and drop a comment below.
Simple Salisbury Steak
This Simple Salisbury Steak will make for a perfect weeknight recipe idea to serve the family. Add in some mashed potatoes and your favorite veggies for the ultimate comfort food. An easy meal idea that is inexpensive and tasty.
Ingredients
Patties
1

lb

Lean Ground Beef

1/3

cup

Bread Crumbs

2

tsp

Ketchup

1

tsp

Mustard

1

tsp

Worcestershire

1/2

tsp

Garlic Powder

1/2

tsp

Onion Powder

Salt and Pepper

to taste
Gravy
2

packets Brown Gravy Mix

2

cup

hot Water

1

tsp

Ketchup

1/2

tsp

Worcestershire
Instructions
Combine all pattie ingredients in a large bowl and massage with your hands until ingredients are incorporated.

Heat 1 tablespoon olive oil in a large skillet over medium heat.

Cook patties on both sides until no longer pink.

Lower temperature to low.

Whisk together gravy mix and water until well blended.

Whisk in ketchup and Worcestershire and pour over patties in skillet.

Allow to simmer until gravy warms and thickens.
Video
Notes
For the best results use lean ground beef. Also, to make this recipe a bit more from scratch, consider making your own homemade beef gravy.
Nutrition
Calories:
200
kcal
|
Carbohydrates:
8
g
|
Protein:
26
g
|
Fat:
6
g
|
Saturated Fat:
3
g
|
Cholesterol:
70
mg
|
Sodium:
217
mg
|
Potassium:
422
mg
|
Fiber:
1
g
|
Sugar:
2
g
|
Vitamin A:
13
IU
|
Calcium:
30
mg
|
Iron:
3
mg