Peanut Butter Marshmallow Squares are an easy no-bake dessert gooey, chewy, and delicious. An old-fashion recipe that always tastes great!
Peanut butter, butterscotch, and marshmallows all come together for this easy and tasty dessert recipe. For more no bake peanut butter desserts, try Homemade Reese's Eggs or our No Bake Reese's Peanut Butter Cheesecake.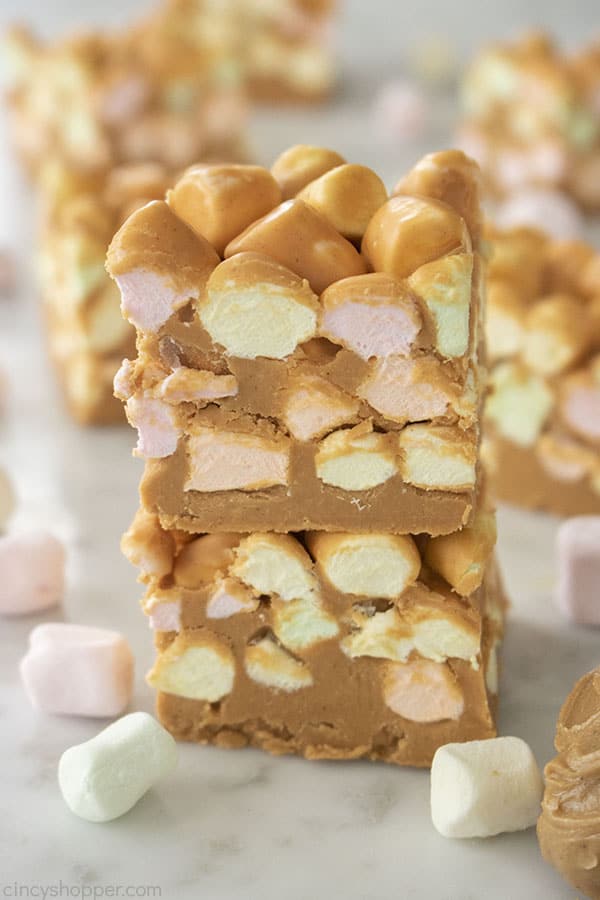 Peanut Butter Marshmallow Squares
I've been in love with these Peanut Butter Marshmallow Squares ever since I made my first batch of them recently. I've been seeing these things going around under all sorts of names- Confetti Squares, Peanut Butter Marshmallow Bars, Confetti Bars. It doesn't matter what you call these things: I just want you to make a batch of them ASAP!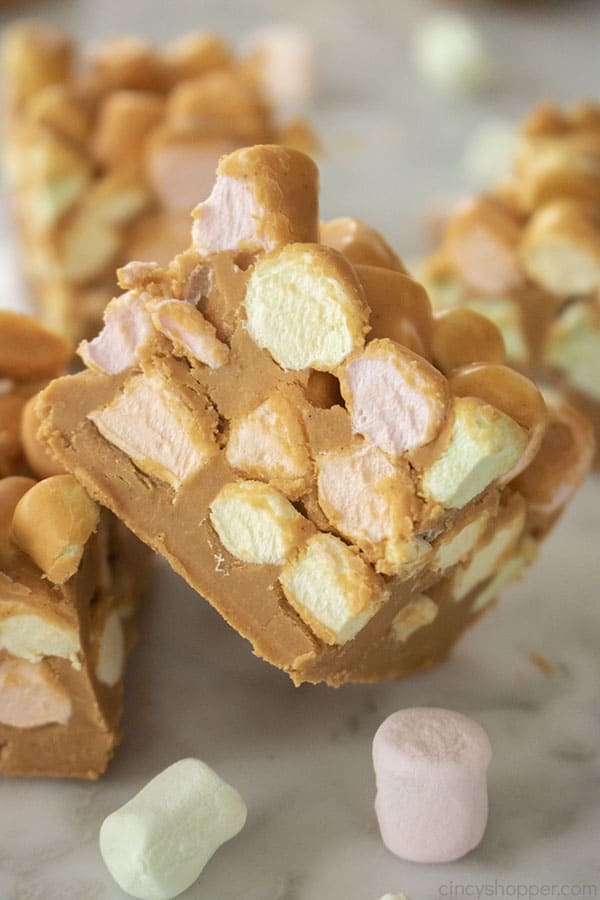 These Marshmallow Peanut Butter Squares are such a delicious no bake dessert that I'm surprised they're not harder to make. You can make a batch of these nutty, sweet dessert bars without too much effort at all- melt the filling, fold in the marshmallows, then let it set. Easy as that and you get some delicious gooey and chewy Confetti Squares that are great holidays, parties, or just for snacking. You'll find the recipe below- hope you love them!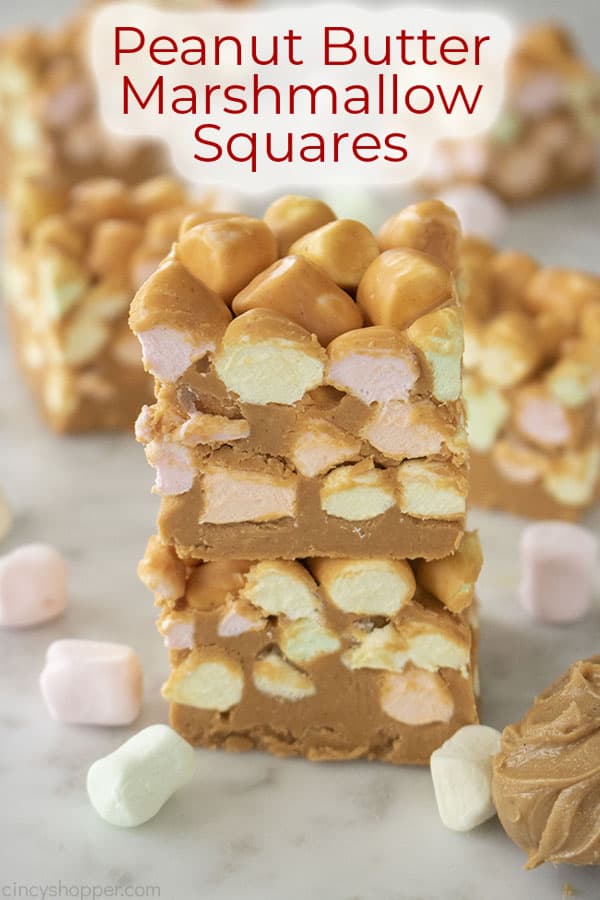 Loved this recipe? Try some other marshmallow treats next!
When it comes to marshmallow treats, you can't go wrong with

The Best Rice Krispie Treats

.

I love buying Rice Krispies Treats from the grocery, but it's hard to beat Homemade Rice Krispie Treats

! Gooey, chewy, and so easy to make.

Cookies are great, but you can make them without an oven-

just

follow our recipe for

No Bake Avalanche Cookies

!

This quick dessert uses a simple base of peanut butter, marshmallows, Rice Krispies, and some white chocolate

.

Mixed together, these turn into a delicious sort of cookie batter that you can

portion

out into cookies that set in the fridge

. So easy!

Looking for a delicious and easy dessert dip? Give our

S'mores Dip

a try! We love anything s'mores flavored here in our house, and this S'mores Dessert Dip is one of our favorites.

Delicious melted chocolate with a toasted marshmallow topping- graham crackers for dipping are a must

!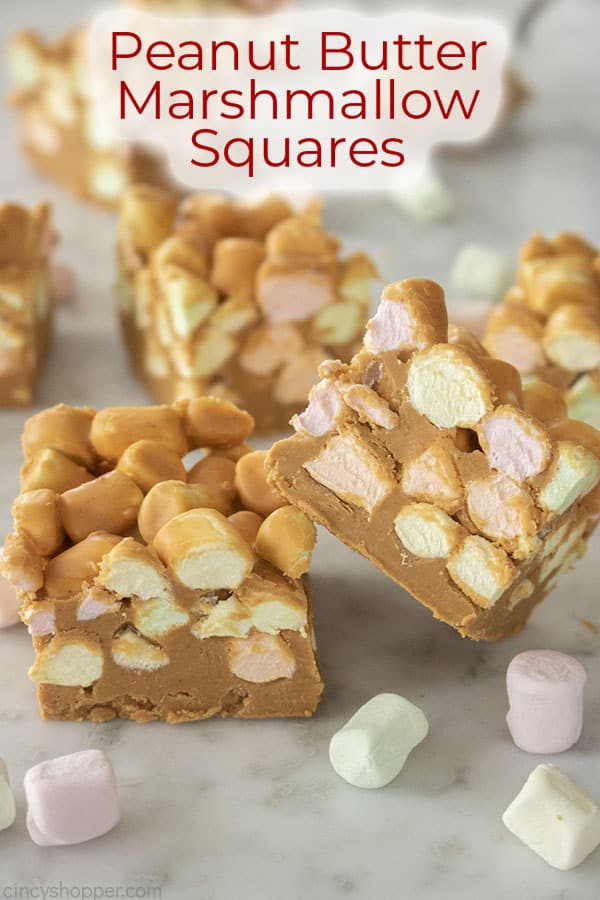 Peanut Butter Confetti Squares Ingredients
Peanut Butter

– Creamy peanut butter will work the best here.

Butter

Butterscotch Chips

Vanilla Extract

Marshmallows

– Mini Marshmallows will work the best. We used these colored mini marshmallows with fruity flavors.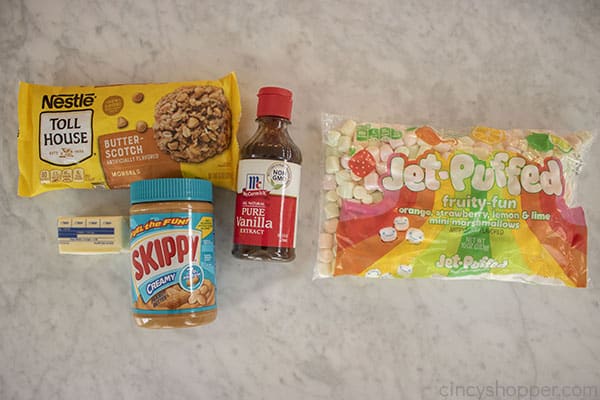 How to make Marshmallow Squares
These Peanut Butter Marshmallow Squares are pretty easy to make. Here's what to do:
Melt together the peanut butter, butter, and butterscotch chips

before

adding vanilla extract

.

Add in the marshmallows

and

quickly

fold in

with the mixture.

Transfer the mix to a lined and greased baking dish

and

let set before cutting into squares

and serving.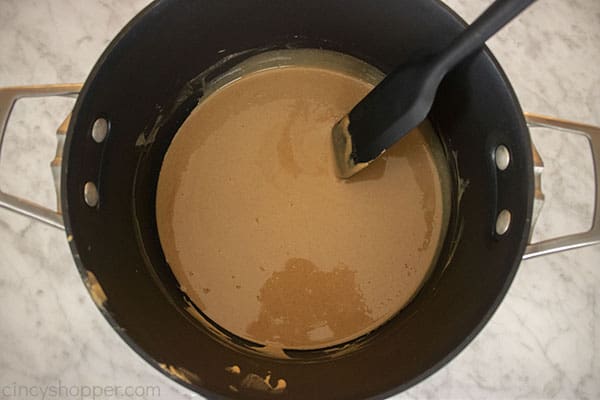 Start things off by setting a non-stick pot over medium-low/low heat. Melt the butter, add the peanut butter, and let those melt together before adding the butterscotch chips.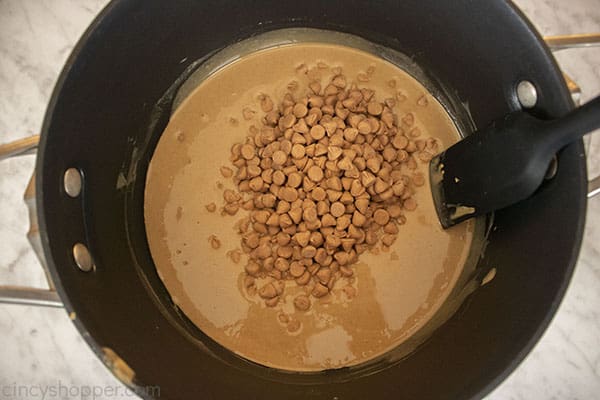 Stir that occasionally until the chips melt in with the butters. Here, add in a touch of vanilla extract, stir it in, then cut the heat.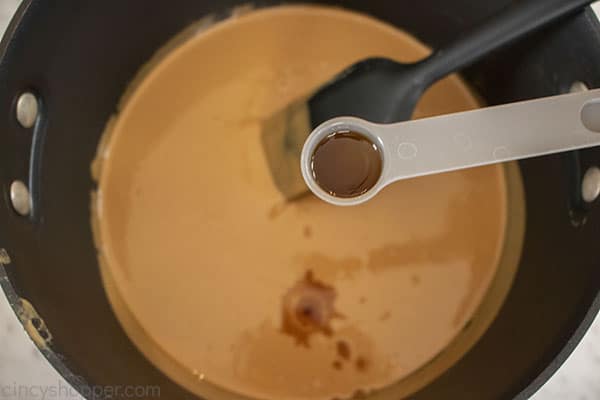 After the mix is mostly cooled and melty, we're going to add in our marshmallows. Toss them in and quickly fold them in with the peanut-butterscotch mix until they're mixed throughout.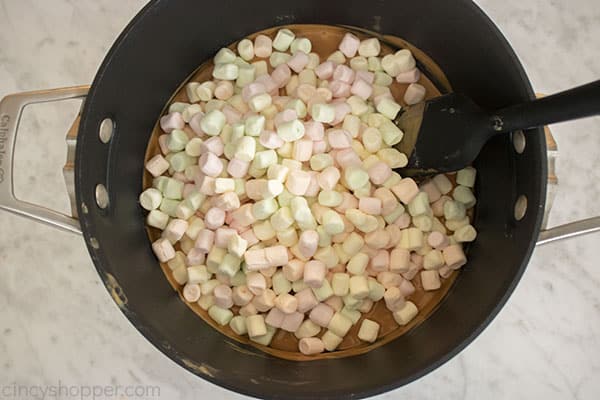 All that's left is to transfer the mix to a baking dish lined with parchment paper and greased with cooking spray or shortening. This'll make sure it doesn't stick to your pan- keep clean up real easy. Transfer to the dish and put in the fridge to set for an hour or two. Once set, remove from the tray, cut into Confetti Squares and enjoy!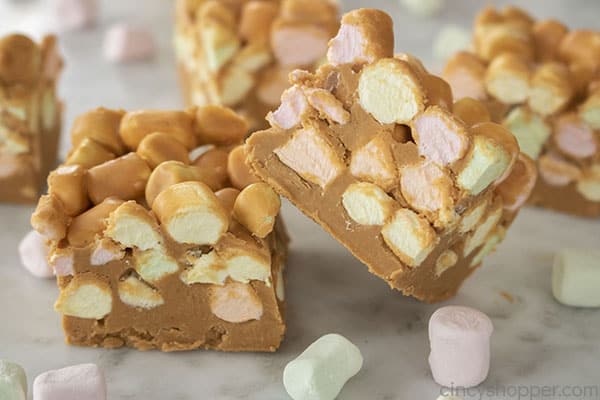 Peanut Butter Marshmallow Squares
Peanut Butter Marshmallow Squares are an easy no-bake dessert gooey, chewy, and delicious. An old-fashion recipe that always tastes great!
Ingredients
1/4

cup

Butter

1

cup

Peanut Butter

11

oz

Butterscotch Chips

1

tsp

Vanilla Extract

5

cup

Mini Marshmallows
Instructions
Line an 8x8" or 9x9" inch pan with parchment paper.

Lightly grease with cooking spray or shortening. Set aside.

Combine butter, peanut butter and butterscotch chips in a medium pan.

Melt over low heat stirring occasionally until mixture is smooth.

Add vanilla and stir to combine.

Wait until mixture is mostly cooled before adding marshmallows.

Stir until marshmallows are distributed.

Pour mixture into the prepared pan.

Refrigerate until hardened, about 2 hours.
Nutrition
Calories:
440
kcal
|
Carbohydrates:
60
g
|
Protein:
7
g
|
Fat:
21
g
|
Saturated Fat:
7
g
|
Polyunsaturated Fat:
4
g
|
Monounsaturated Fat:
9
g
|
Trans Fat:
1
g
|
Cholesterol:
17
mg
|
Sodium:
321
mg
|
Potassium:
166
mg
|
Fiber:
1
g
|
Sugar:
47
g
|
Vitamin A:
192
IU
|
Calcium:
18
mg
|
Iron:
1
mg