Pan-Seared Filet Mignon is a great dish to make for special occasions. This cut of beef is cooked to perfection with garlic & butter sauce.
If you have a special dinner coming up, our Filet Mignon recipe will make for a great main dish. Get a nice sear on your steaks by using a cast-iron or stainless steel pan- and don't forget a delicious butter pan sauce!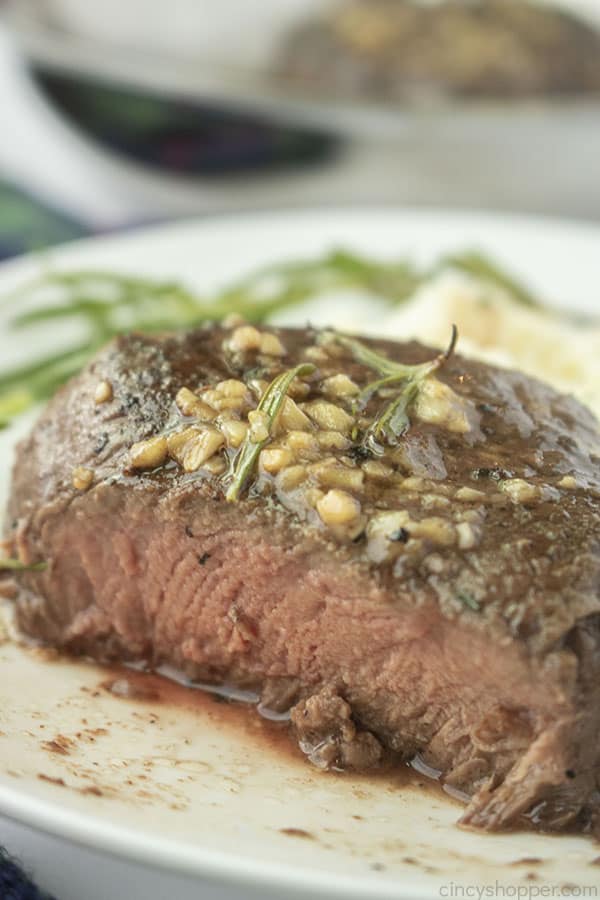 Pan-Seared Filet Mignon
Our family always enjoys the holidays and any special occasions- mostly because it usually means a filet dinner! We love nice, meaty dishes in our house, and few things get us excited quite like delicious steak dinners. When it comes to premium cuts- fit to be served up straight- our go-to is filet mignon. While my hubby makes a great filet- be it on the stove or on the grill-, I can cook up something tasty too! I've settled on this recipe for Pan-Seared Filet Mignon.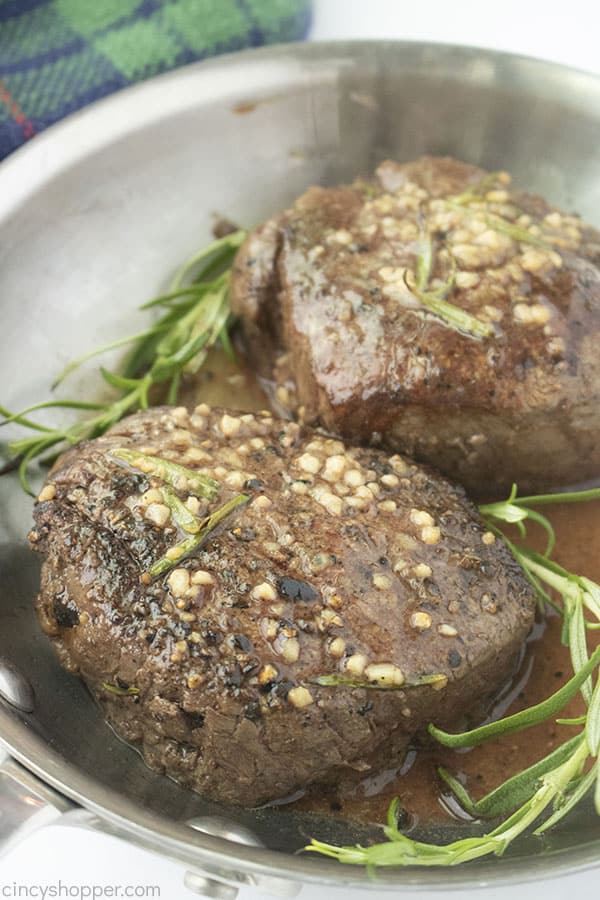 One of the most popular and reliable ways to cook filet mignon is to make pan seared filet mignon finished in the oven. This might be the best way to cook filet mignon: you get that delicious seared crust that comes from a pan-fry but the inside is cooked perfectly! All of this, and we haven't even talked about the garlic butter sauce- just more deliciousness!
Filet mignon is perfect because it's one of those cuts that you really don't need to do much to. The best way to serve it up is in this simple, pan-seared way, flanked by your favorite veggies and sides. Making delicious steak doesn't have to be hard, so impress your family and any dinner guests with this delicious looking and tasting steak! We know you'll love it!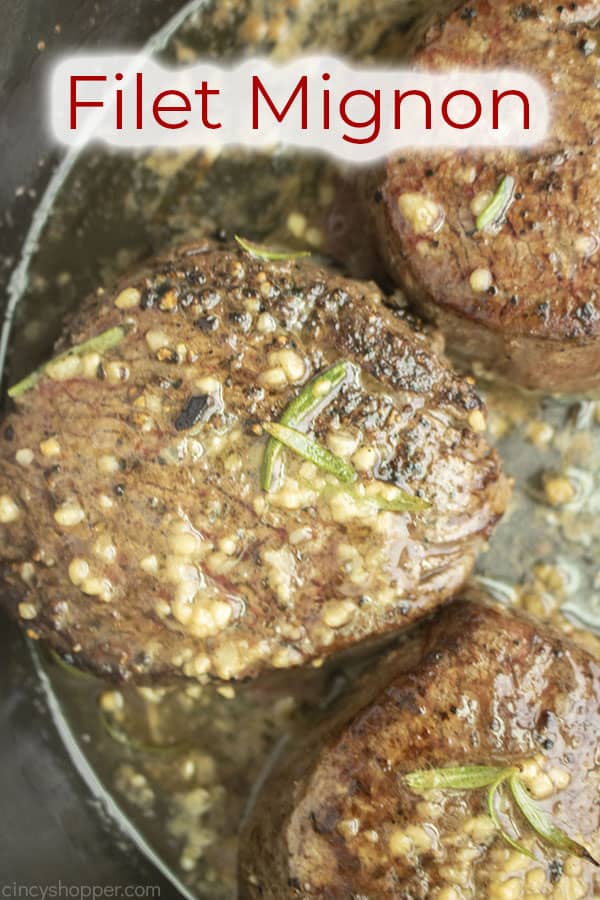 Loved our Filet? Try some sauces, sides, and toppings!
There's plenty of delicious things you could serve atop your steak!
Whenever there's filet on the menu, we're always making our

Bearnaise Sauce Recipe

. This rich, creamy sauce goes

perfectly

with some nice beef!

Mushrooms on top of steak is another delicious flavor combo, so try topping your filet with some

Sauteed Mushrooms With Garlic

.

We cook our button mushrooms up with some butter and olive oil before seasoning seasoning with some garlic, salt & pepper, and parsley

.
Plenty of stuff you can serve on top of your steak, but what about next to it? Here's a few side dishes that go great with a filet!
Potatoes feel like a must whenever we're making steak, and for something quick, soft, and fluffy, I'm making

Instant Pot Baked Potatoes

.

The Instant Pot cooks potatoes

quickly

and

perfectly

every time- top with some butter and seasonings for an easy and delicious side

!

Baked potatoes aren't the only potato we love- there's also

The Best Mashed Potatoes

!

These rich and creamy potatoes are

incredibly

easy to make and are an excellent side dish for special dinners-

maybe

Christmas dinner

?

Can't forget greens- for something tasty and good-looking, try some

Bacon Wrapped Asparagus

. These oven-roasted asparagus spears would be good on their own… but why not add some crispy bacon?!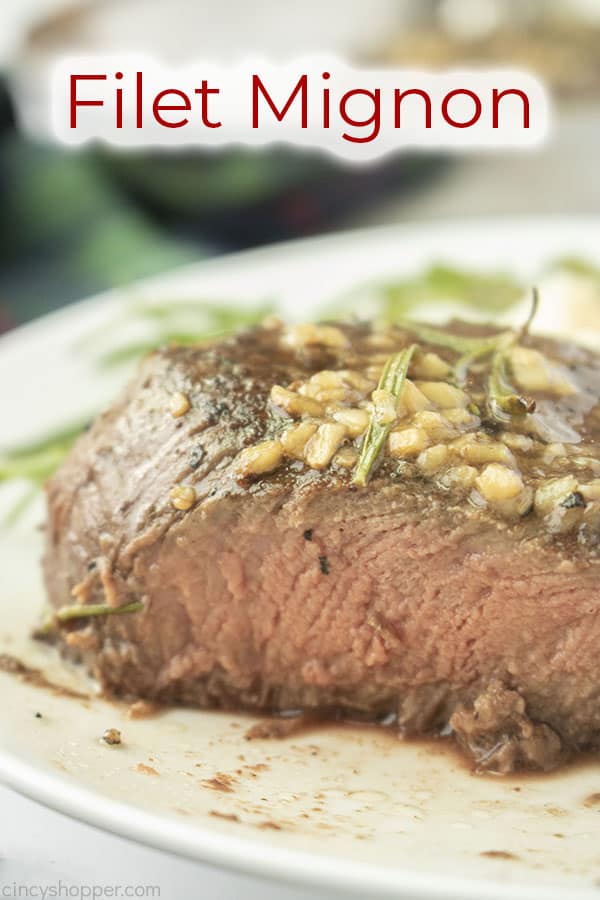 Ingredients for the Best Filet Mignon
Filet Mignon – So, filet mignon vs beef tenderloin: what's the difference? Well, there isn't much of one!

Filet mignon

is called

a "filet" because it's a beef tenderloin filet- a small, individual cut of beef tenderloin

.

Olive Oil – You don't want to use too much of this: you want your beef to cling to the pan a little bit so you can get a nice sear.

Butter – If you happen to have any, you can use a compound butter for filet mignon. For the rest of us, regular butter will work

just

fine!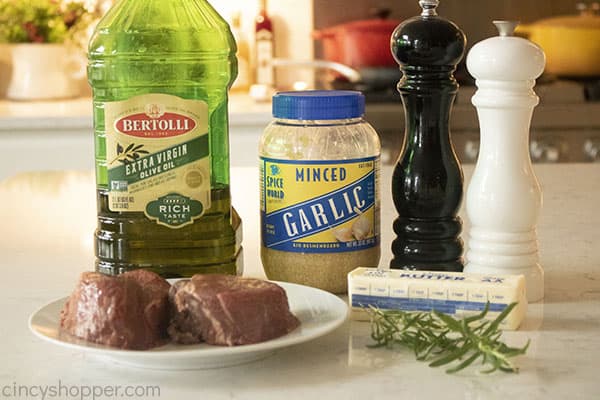 How to cook Filet Mignon in a Pan
Before you can even think about cooking, you need to get your steak prepped. First, set your steaks out on the counter so they can get a little close to room temperature. This will allow your steaks to cook more evenly. Also, coat all sides of your steaks with salt and freshly-cracked black pepper.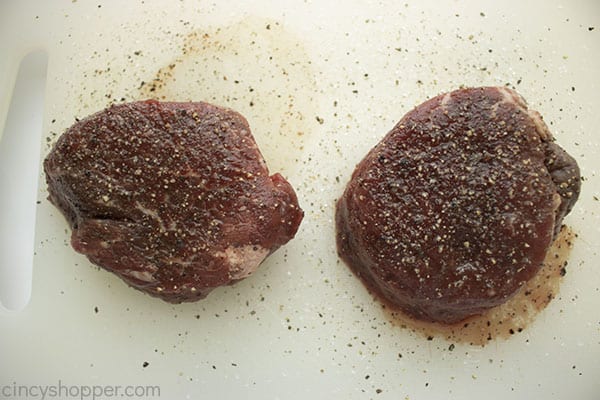 Warm a stainless steel or cast-iron pan over high heat on the stovetop. Drop a bit of oil into the pan before placing your steaks in- they should be sizzling right away! Let those cook for a few minutes on each side to develop a nice sear before dropping your butter, garlic, and rosemary into the pan.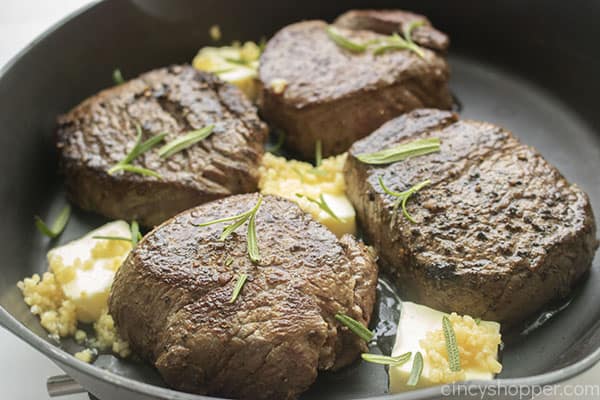 That butter's going to melt down into a nice, baste-able sauce that we're going to spoon over our steaks while they sit in the pan. That butter is going to pick up some flavor from the garlic and herbs which, in turn, is going to add more flavor to our steaks. If the butter seems like it's starting to burn, feel free to bump the heat down to around medium.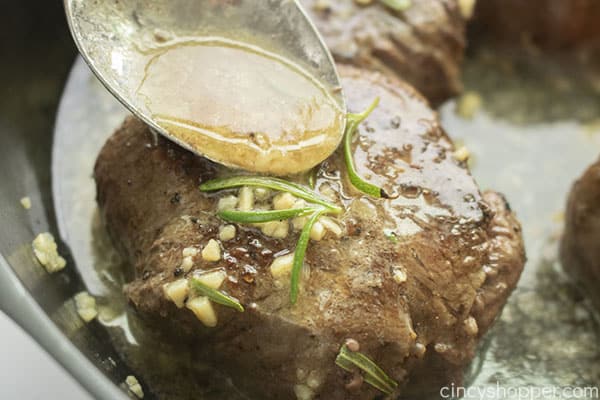 After basting our steaks with that butter sauce, we're going to transfer our pan to a 450 degree oven to finish cooking the steaks. Keep track of your steaks' doneness by sticking the thickest part of the steak with a cooking thermometer or temperature probe. It should take around 6-7 minutes for your steak to get up to a 140 degree/medium finish.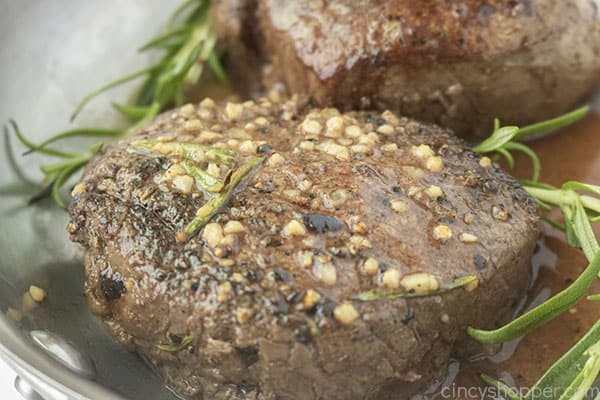 Once your steaks have reached your desired doneness, remove the pan from the oven and the steaks from the pan. Let them rest- ideally under some foil- for about 5 minutes. After giving your steaks a chance to rest, plate up with your favorite sides, spoon the sauce from the pan over your steak, and enjoy!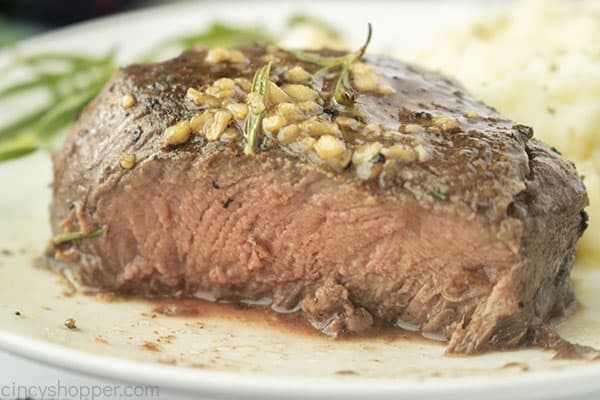 Pan Seared Filet Mignon
Pan-Seared Filet Mignon is a great dish to make for special occasions. This cut of beef is cooked to perfection with garlic & butter sauce.
Ingredients
4

Filet Mignon steaks 6 oz each

1

tbsp

Vegetable Oil

Salt and Pepper to taste

4

tablespoons

butter

2

tsp

Minced Garlic

4

sprigs fresh rosemary
Instructions
Set the steaks out and allow to come to room temperature.

Preheat the oven to 450.

Salt and pepper the steaks on all sides to taste.

Heat a heavy oven-safe pan such as a cast iron skillet over high heat.

Add the oil to the pan.

Place the steaks in the pan and allow to sit for 2-3 minutes until seared (the steaks will release at that point.

Turn and cook for 2-3 minutes on the other side.

Add the butter to the pan and allow to melt.

Plack a few leaves off of the rosemary and toss on top of the steaks.

Add the garlic and the rest of the rosemary to the pan and stir.

Spoon the butter mixture over the steaks to baste.

Place the skillet in the oven and bake for 6-7 minutes until the meat thermometer inserted in thickest part of the steak reads 140.

Remove from the oven and let rest for 5 minutes.

Drizzle steak with the pan drippings and serve.
Notes
Use a cast iron or stainless steel pan for best searing results.
Nutrition
Calories:
599
kcal
|
Carbohydrates:
1
g
|
Protein:
31
g
|
Fat:
52
g
|
Saturated Fat:
25
g
|
Cholesterol:
149
mg
|
Sodium:
184
mg
|
Potassium:
527
mg
|
Sugar:
1
g
|
Vitamin A:
350
IU
|
Vitamin C:
1
mg
|
Calcium:
20
mg
|
Iron:
4
mg