Needing a Cranberry Sauce Recipe for your holiday dinners? If so, check out this great Cranberry Sauce Recipe the hubby through together this afternoon. I begged the hubby to add some apples this year  to our sauce so I could convince the kiddos to give it a try. I figured Apples would reduce the tartness a bit more.He was hesitant at first as he is use to traditional cranberry sauce. After making this, I think he has changed his tune, ha ha. I love everything cranberry throughout the holidays just not that canned stuff that everyone eats. I love fresh cranberries in just about anything. I shared my Cranberry White Chocolate Macadamia Nut Popcorn and my Cranberry & White Chocolate Blondies with you earlier last week and mentioned how much I love cranberries.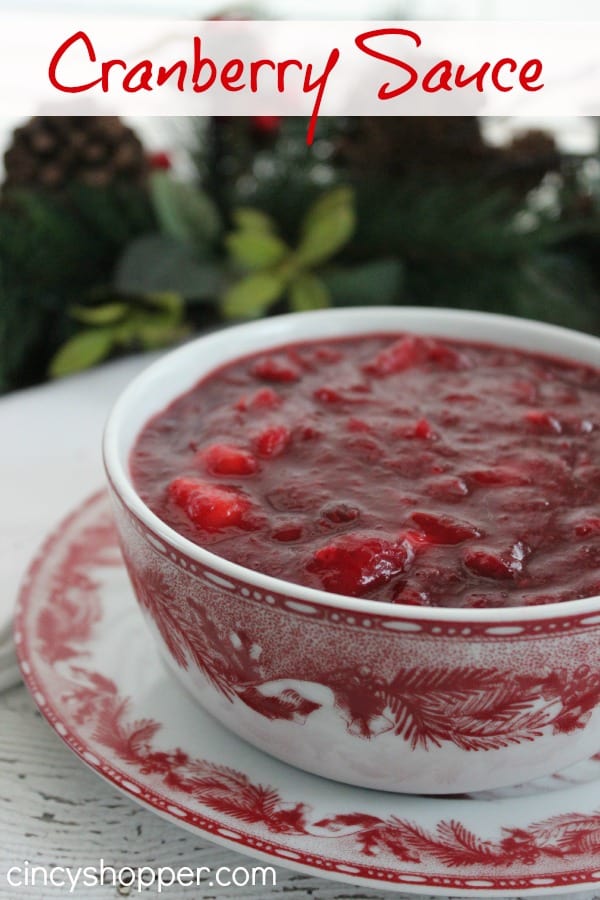 Cranberry Sauce Recipe
Making your own cranberry sauce is so easy and you will never want to go back to the old fashioned canned stuff. With just a few ingredients and a few minutes you can have a Cranberry Sauce that is so much better than the store bought jellied cans.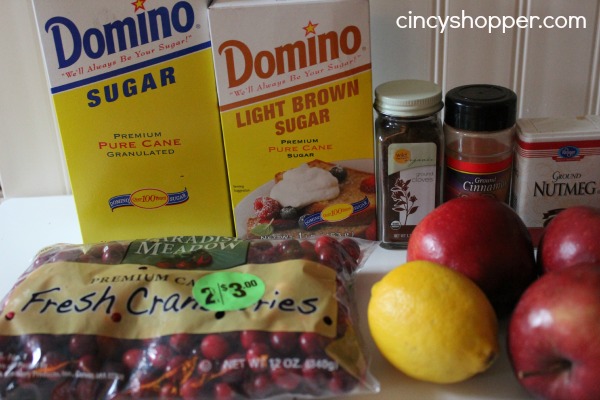 INGREDIENTS
4 Red Delicious Apples peeled, cored and sliced
12 oz Fresh Cranberries
1/4 cup Sugar
1/4 cup Brown Sugar
2 tbsp Lemon Juice
1 cup Water
1/2 tsp Cinnamon
1/2 tsp Cloves
1/2 tsp Nutmeg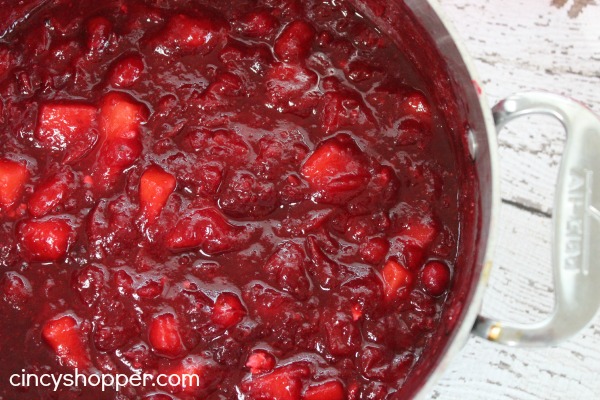 DIRECTIONS
In a large sauce pan add Water, lemon juice and sugars.
Stir over medium heat until sugar is dissolved.
Add cinnamon, cloves and nutmeg.
Add cranberries and apple slices.
Bring to a boil and then reduce hat and simmer for 30 minutes.
What type of Cranberry Sauce do you serve for your holiday meals? Looking for other Holiday Meal sides? If so, be sure to check out my Traditional Green Bean Casserole, Baked Macaroni & Cheese, Garlic Roasted Mashed Potatoes and my Pumpkin Roll that I shared. Also, drop back by each and every day until Wednesday to check out my latest Holiday Dinner Recipes.