Pineapple Glazed Ham is dressed with pineapples and a rich sugar glaze. Served as a main course, this would make for a great holiday dinner!
This delicious baked ham recipe is perfect for a Thanksgiving, Christmas or Easter dinner! Serve up with sides of Au Gratin Potatoes and some Asparagus Casserole.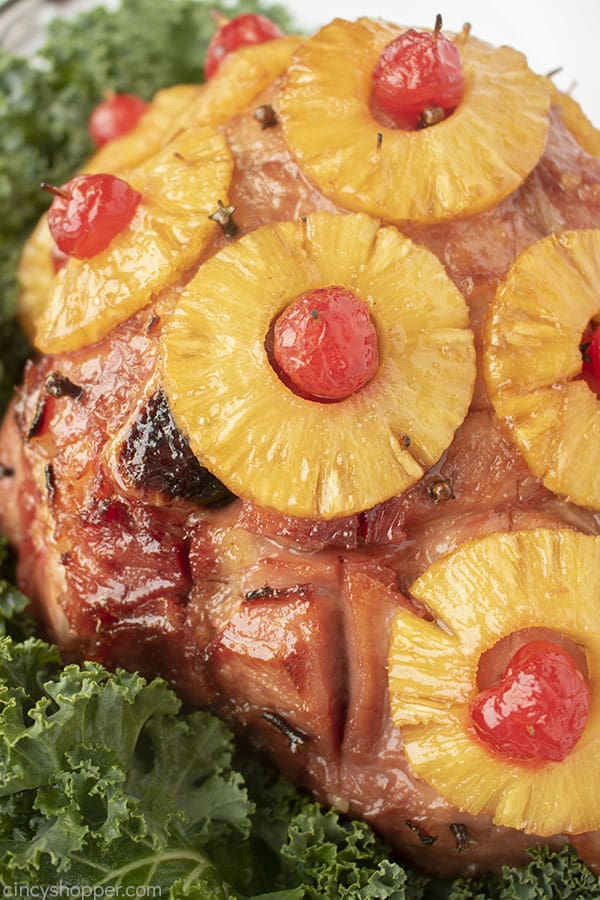 Pineapple Glazed Ham
A nice, big ham is an easy way to make any dinner feel special. Whenever there's a holiday dinner coming up, I usually try to source a good, plump ham for me and my family to enjoy. There's plenty of ways to cook up ham, but we enjoy ours baked or slow-cooked and finished with a rich, sweet glaze! For Easter this year, we're definitely going to be enjoying this Pineapple Glazed Ham.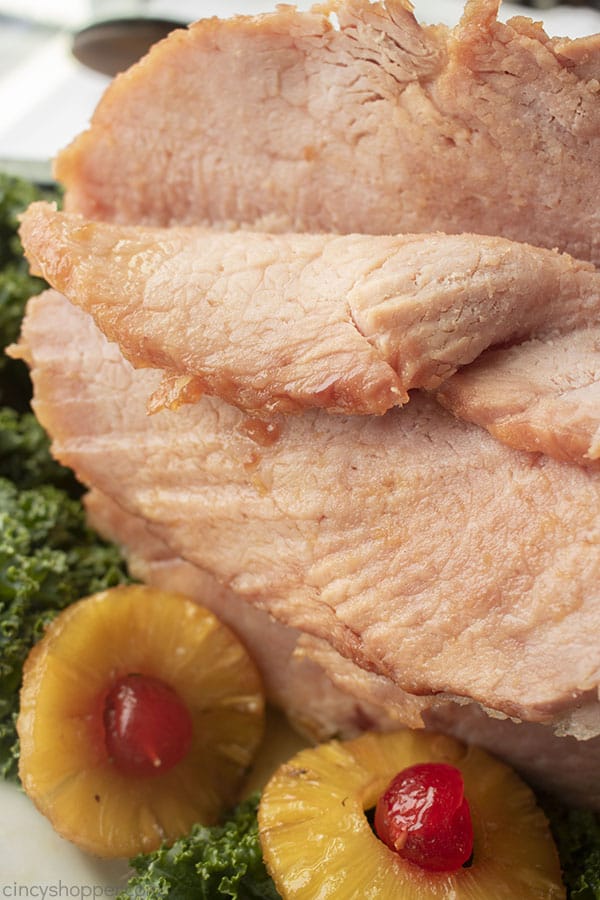 A sweet pineapple glaze is perfect for baked ham recipes like this! Pineapple and ham seem to be a perfect marriage of flavors- the tropical sweetness of the pineapple plays perfectly with the savory of the ham. You could just use a pineapple glaze and stop there, but we wanted our Pineapple Ham to be something special. Poking some cloves, pineapple slices, and cherries into the ham before it bakes brings plenty of extra flavor and dimension to the whole dish!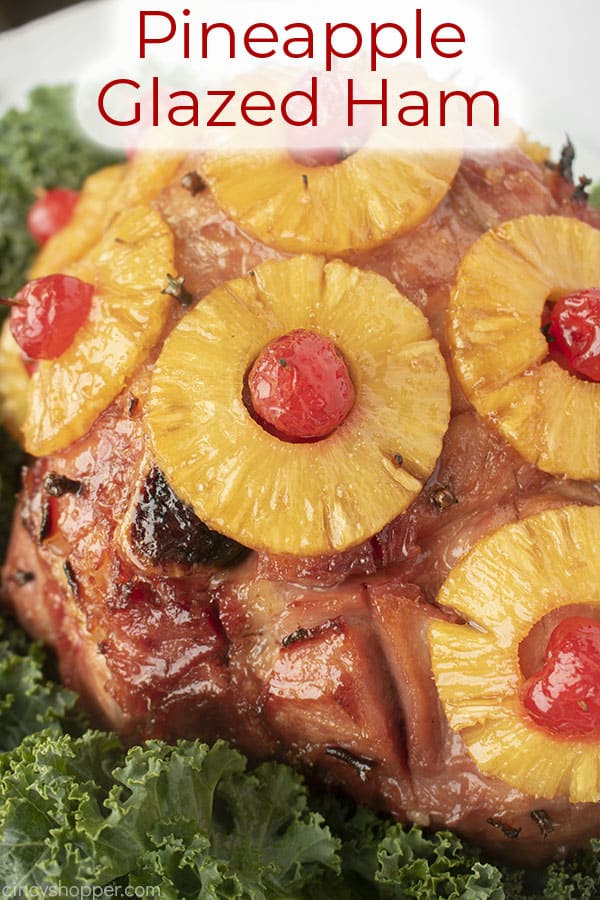 With this collision of sweet and savory flavors- with a bit of baking spice from those cloves-, we feel this Pineapple Baked Ham is perfect for all sorts of holidays. Of course, it's great for Easter dinner, but we would consider serving this up for Christmas or maybe even alongside some Turkey on Thanksgiving! This ham recipe is something special and we're certain you folks are going to love it.
Loved our recipe? Try these ham recipes next!
Fruit juices help make all sorts of delicious glazes. If you liked the glaze here, try the one on

The Best Slow Cooker Cherry Ham

! Using a spiral sliced ham and a slow cooker makes prepping and cooking this delicious ham a breeze. Another delicious dish perfect for an Easter or Christmas dinner!

Of course, there's nothing quite like a classic glazed ham. Keep that slow cooker warm- it's perfect for our

Slow Cooker Ham

recipe!

Another spiral sliced ham keeps this dish easy to make- and it's delicious with that brown sugar, maple, and pineapple glaze

. A nice 4-hour slow cook is all that waits between you and this delicious meal!

For our spin on a Christmas dinner classic, check out our

Copycat Honey Baked Ham

recipe.

We enjoyed the flavors and that crisp, broiled finish on our Honey Baked Ham- so much so that we found a way to replicate it at a fraction of the cost

!

A simple spice blend and a honey-sweetened glaze are the secrets to making your own homemade Honey Baked Ham

.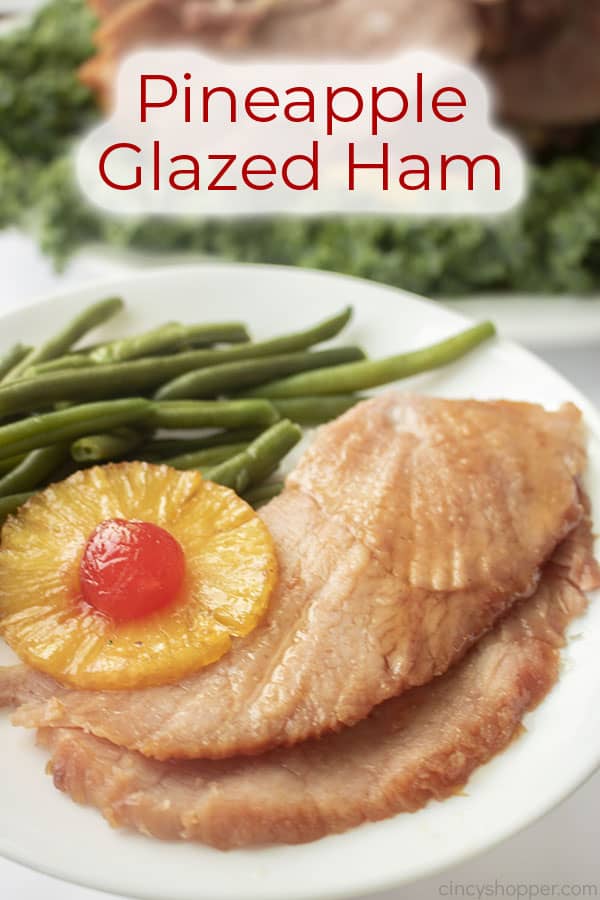 Ingredients for Baked Ham
Ham

– We used a bone-in ham for this recipe. Aim for about 7-8lbs.

Pineapple Rings in Juice

– You could slice rings from fresh pineapple but we want that juice. Buying canned

just

makes things convenient.

Brown Sugar

Sprite

– Or another lemon-lime soda like 7Up.

Whole Cloves

Maraschino Cherries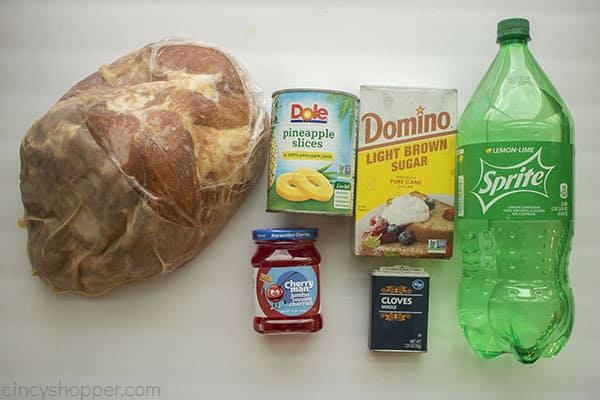 How to make Glazed Ham with Pineapple
Prep for this baked glazed ham recipe is
incredibly
simple. To make your own delicious ham here's all you'll have to do…
Prep your ham

by

trimming it

and

scoring its outside

.

Coat your ham in a glaze

made from brown sugar, soda, and pineapple juice.

Poke the cloves into the ham

and

secure the pineapple rings and cherries with toothpicks

before

baking for 4 hours

.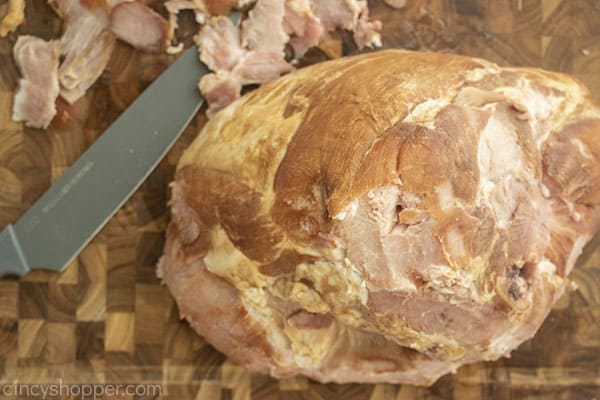 Before we even think about roasting our ham, we have to prep it. First, cut off the tough outer rind from the ham. You can see tips over on Recipe Tins Eats for complete instructions. Once it's cut and removed, we also want to score the ham- place the ham onto the roasting tray, cut-side down. Slice about 1/4″ deep in a diamond pattern into the outside of the ham. This will help our glaze soak and flavor deep into the ham.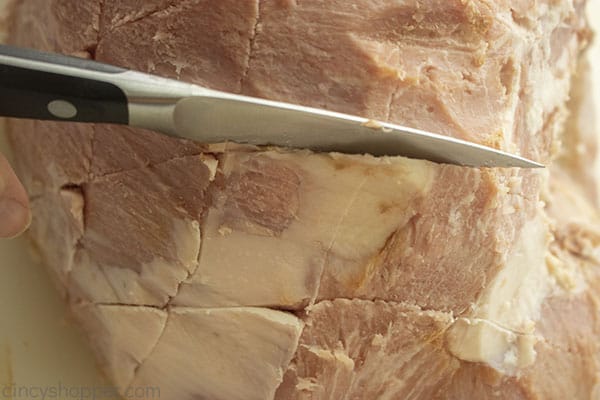 Speaking of the glaze: super easy to make. Start with the juice from your pineapple rings: pour into a medium-to-large mixing bowl. Add the sugar to it and pour the soda in after that. Give everything a good mix until that sugar is dissolved.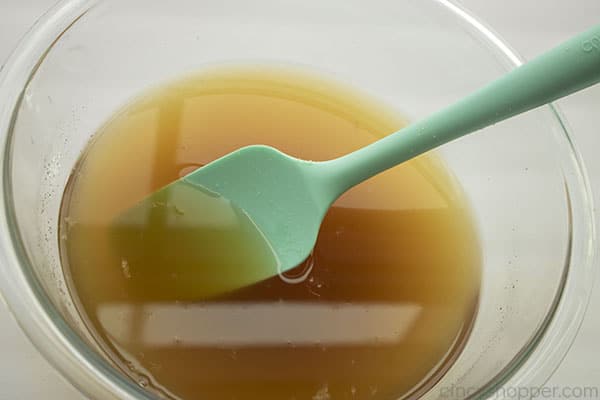 Pour your glaze over the ham- it'll soak into those nooks and crannies but also leave plenty of liquid for basting.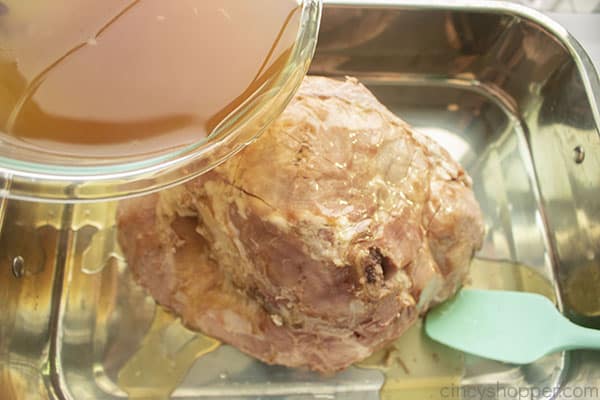 Next, start poking whole cloves into the ham. Poking into the middle of the diamond shapes is easiest.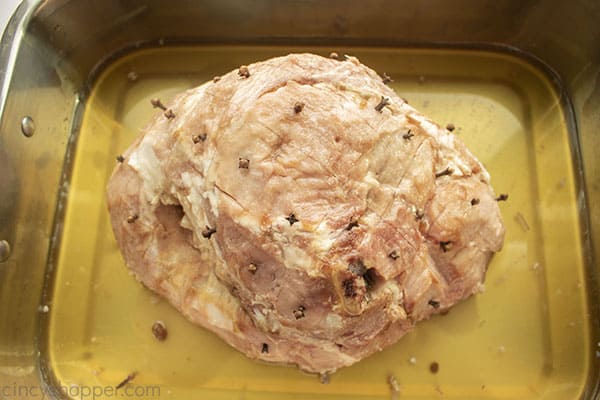 Follow up with the pineapple rings- secured with two or three toothpicks.
Lastly, the cherries- should only need one toothpick each.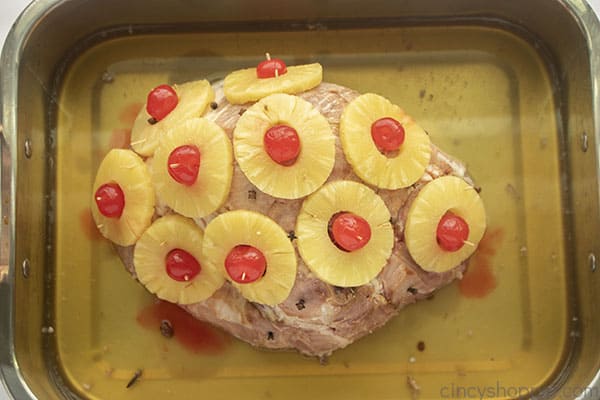 Now all that's left is to bake your ham! Toss your roasting tray into an awaiting 325 degree oven. It'll take about 4 hours for the ham to fully bake and you'll want to baste your ham frequently.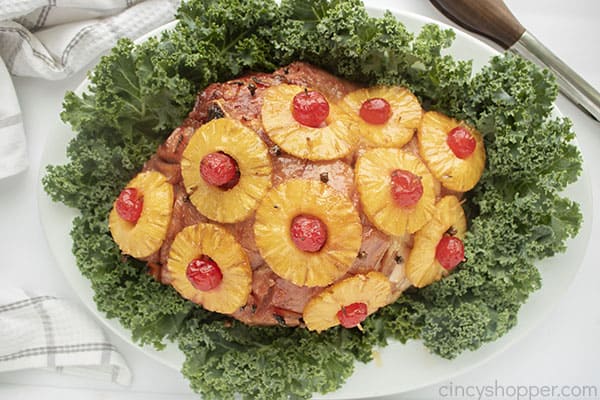 After giving your ham time to bake, remove it from the oven and pull out your toothpicks before serving. Enjoy!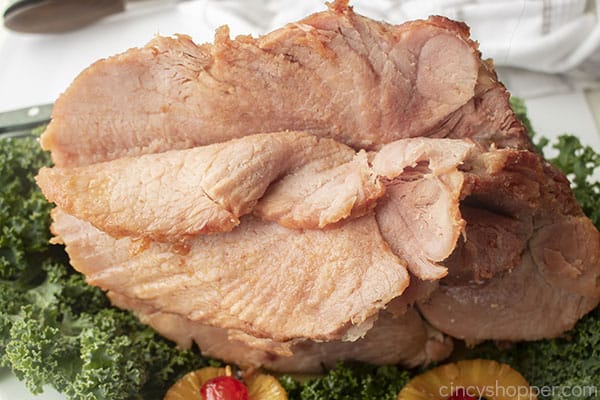 How long
is Glazed
Ham good for?
If kept right, this Pineapple Glazed Ham can last for a while! Kept whole in something like a ham bag, it should last well over a week in the fridge. To freeze, either cut the ham off the bone into slices or large chunks before sealing in an airtight container. Frozen, it should last up to 3 months.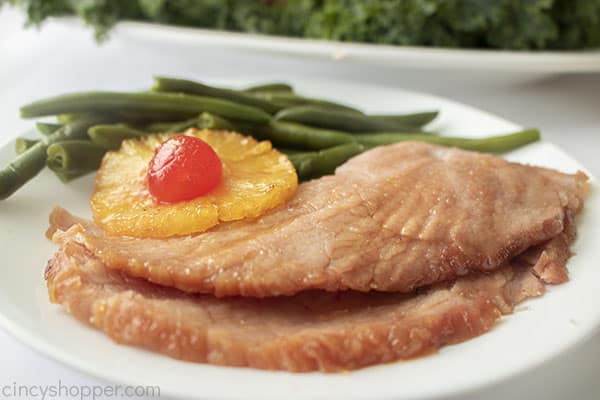 Pineapple Glazed Ham
Pineapple Glazed Ham is dressed with pineapples and a rich sugar glaze. Served as a main course, this would make for a great holiday dinner!
Ingredients
7-8

lb

Bone-in Ham

1

can

Pineapple Rings in Juice

20 oz

1

cup

Brown Sugar

12

oz

Sprite or 7Up

1/2

cup

whole cloves

4

oz

Maraschino Cherries
Instructions
Preheat the oven to 325 degrees.

Using a sharp knife, remove the tougher rind from the outside of the ham.

Place the ham, cut side down, in a roasting pan.

Score the outside of the ham with a diamond pattern about 1/4 inch deep.

Pour the juice from the pineapple rings into a medium bowl, and set rings aside.

Add the brown sugar and soda. Stir until sugar is dissolved.

Pour the mixture over the ham.

Press a whole clove into the middle of each diamond.

Place the pineapple rings over the outside of the ham, securing it with toothpicks.

Place a cherry in the middle of each pineapple ring and secure it with a toothpick.

Bake uncovered for 4 hours, basting frequently until the internal temperature reaches 160.

Remove toothpicks before serving.
Notes
If the ham begins to begin browning too quickly, add a foil tent to keep it from drying out.
Be sure to bast frequently to achieve a moist ham. I bast mine at least every 30 minutes for the juiciest meat.
Nutrition
Calories:
682
kcal
|
Carbohydrates:
33
g
|
Protein:
50
g
|
Fat:
39
g
|
Saturated Fat:
14
g
|
Trans Fat:
1
g
|
Cholesterol:
141
mg
|
Sodium:
2723
mg
|
Potassium:
808
mg
|
Fiber:
4
g
|
Sugar:
27
g
|
Vitamin A:
37
IU
|
Vitamin C:
4
mg
|
Calcium:
94
mg
|
Iron:
3
mg