Homemade Cranberry Mousse is a delicious and fruity dessert salad made easy with Jello. This old fashioned recipe is great for the holidays!
Jello salads are a classic treat to have during the holidays- Thanksgiving especially. This recipe for Cranberry Mousse is very similar to Jello Salad- but with some interesting add-ins that make it unique!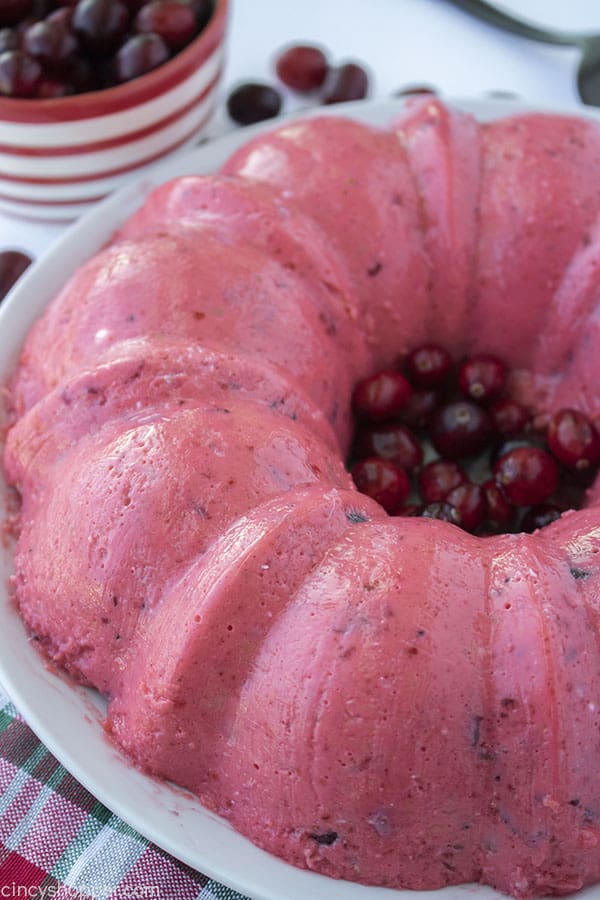 Homemade Cranberry Mousse
I'm always looking for fresh, interesting dessert ideas- especially around the holidays. The holidays are a special time of year where you have to make something special: normal desserts don't cut it for these special occasions! It's also the perfect time to experiment with some seasonal flavors. With that in mind, this recipe for a Cranberry Mousse turned out great!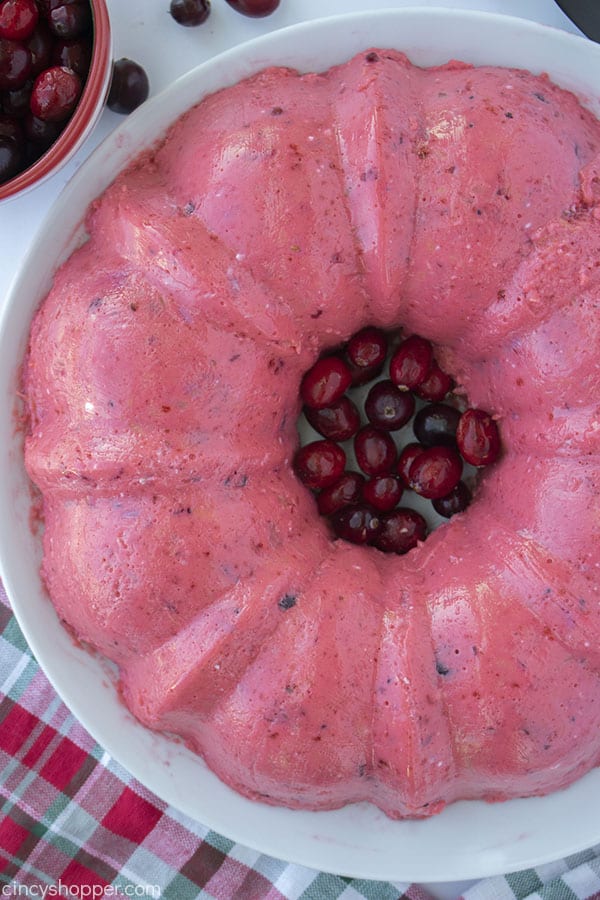 Jello salads have always been a favorite of mine and this homemade mousse is made in a very similar way to those old fashioned recipes. The biggest difference is the addition of the sour cream- which changes the texture and flavor somewhat. This gives you something that's a still-delicious alternative to Jello salad. Flavorwise, this Cranberry Mousse is a winner!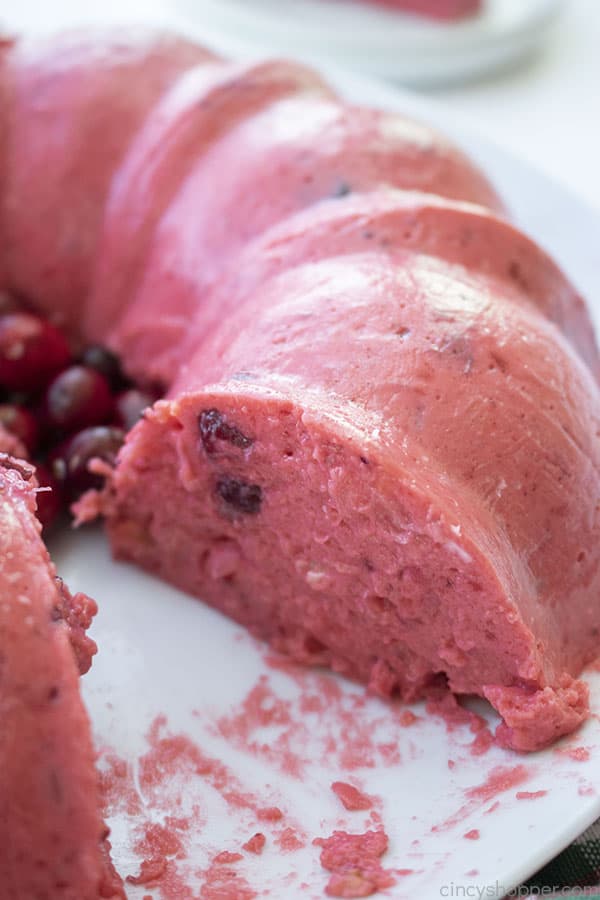 It only helps that this recipe look great as well: we served it up in a bundt pan which really helps with presentation. This Homemade Cranberry Mousse would look perfect at the dinner table this Thanksgiving or Christmas. If you're wanting a new and interesting cranberry dessert for the holidays this year, you're going to love our recipe! Enjoy!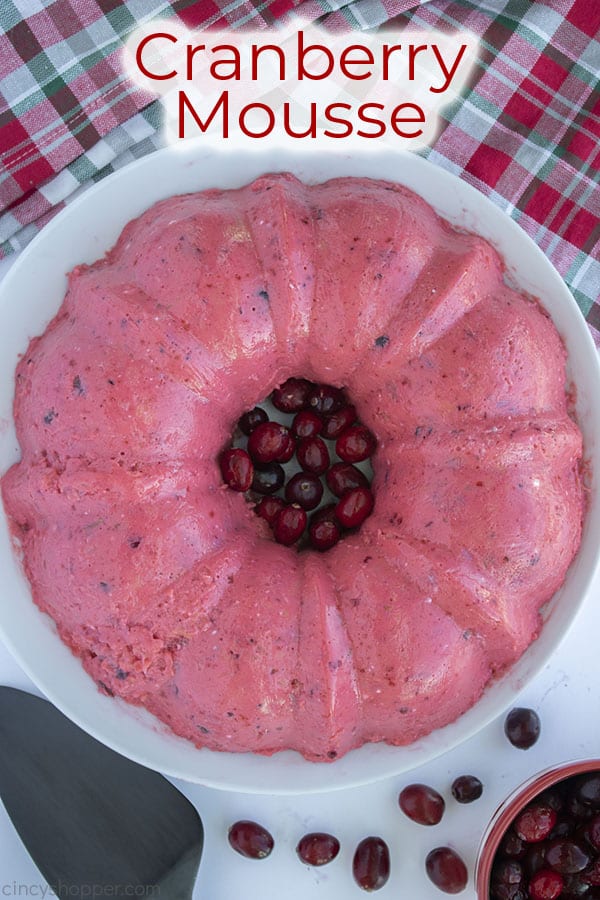 Other Delicious Recipes for Cranberry Desserts
If you're looking for something closer to a proper Cranberry Jello salad, then you'll want to look at our

Old-Fashioned Cranberry Salad

.

It's made in a very similar manner but yields an end-product that's much more like the Jello salads you might be familiar with

.

For another sweet salad, we have to recommend our

Cranberry Fluff Salad

.

Similar to

a Watergate or Ambrosia salad, this fluffy, creamy, fruity dessert is a great way to cap off a holiday or Thanksgiving dinner

.

Needing something a bit more traditional and simple? Try making up some

Homemade Cranberry Sauce with Apples

.

Making cranberry sauce from scratch give you something that's way tastier than the canned stuff

! The added apples sweeten things up

perfectly

.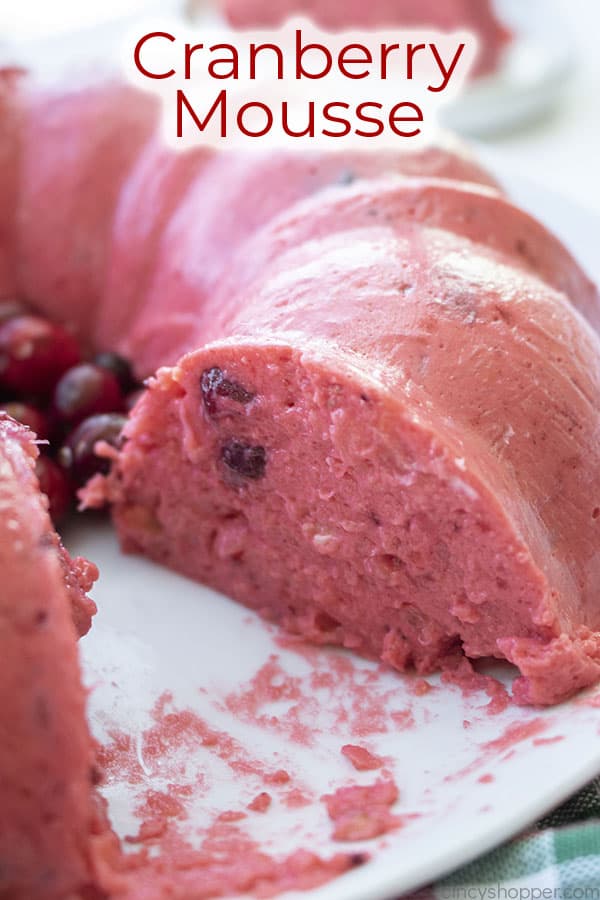 Ingredients for our Jello Mousse Recipe
Jello – We went with the raspberry flavored Jello, but strawberry would

probably

work in this recipe

just

as well

.

Whole Berry Cranberry Sauce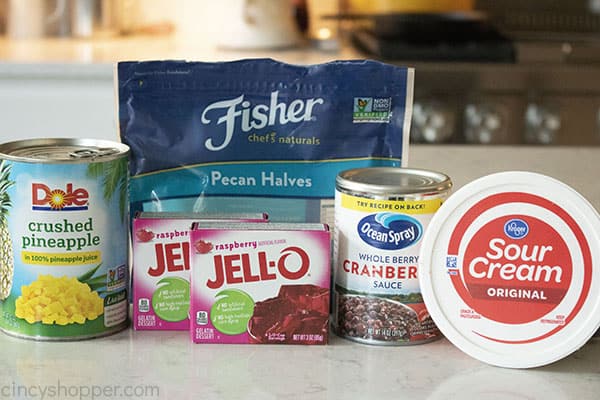 How to make Cranberry Mousse
First, get your bundt pan greased and set it aside. Second, get your can of pineapple into the fridge and let it chill for at least half-an-hour. With those two things out of the way, you can start on the Jello: add your Jello packets to the boiling water. Stir until all the Jello mix has dissolved and let that sit for about 5 minutes while you work on the pineapples.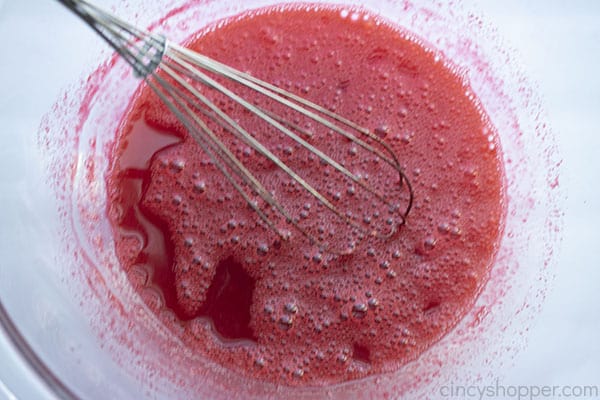 Empty your can of pineapples into a sieve over a bowl or measuring cup. Give the pineapples some light pressing- just don't go crazy! We want to get as much juice as we can out of our pineapple chunks- but don't throw that juice away! We're going to add all that juice to the gelatin mixture from earlier.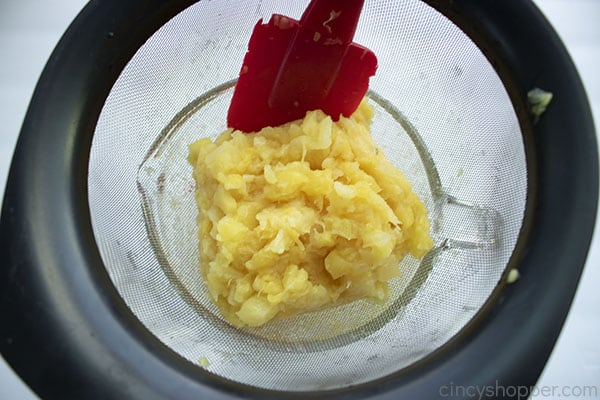 With all that juice strained off, place the pineapples on some paper towels to absorb any leftover moisture. Set that aside for the time being.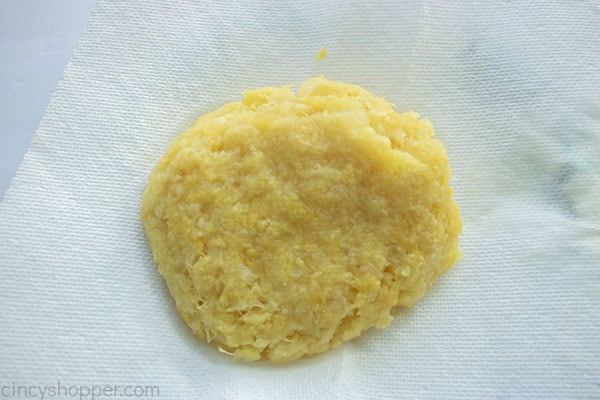 Next thing we're going to add is the reserved cold pineapple juice. Then add the whole berry cranberry sauce. Just crack the can open and empty the contents into the Jello mix. Stir that thoroughly until well-mixed, with the berries spread evenly throughout.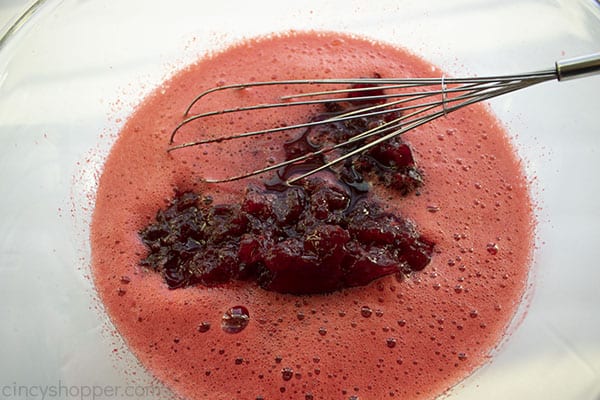 Transfer the cranberry Jello to the fridge for about half-an-hour (do not over chill). Once that's thickened up a bit, pull it and add the sour cream, drained pineapple, and some pecans.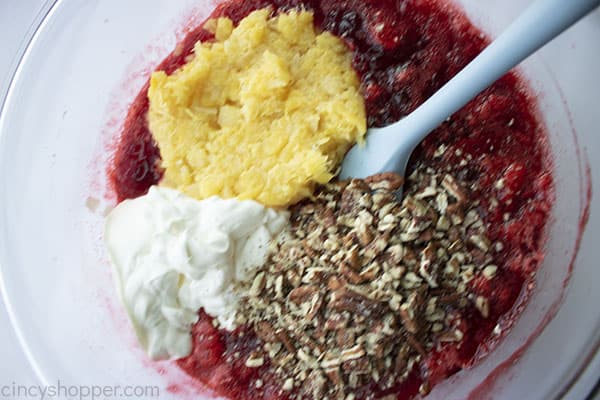 Fold all those ingredients in until they're spread evenly throughout the mixture. Once the mix is ready, transfer it to your prepared bundt pan.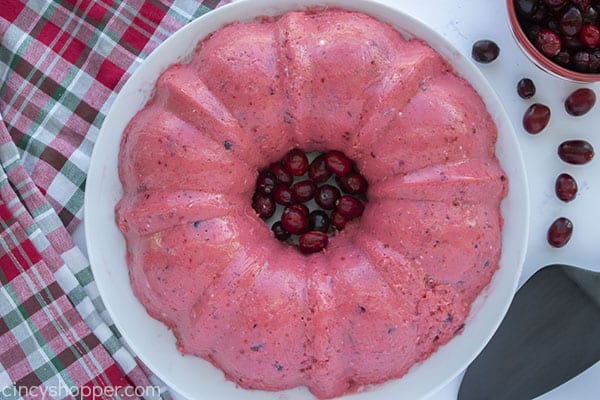 That's going to need a little while to set- probably around 2 hours. Now, be very delicate when you're ready to remove our cranberry mousse from its pan.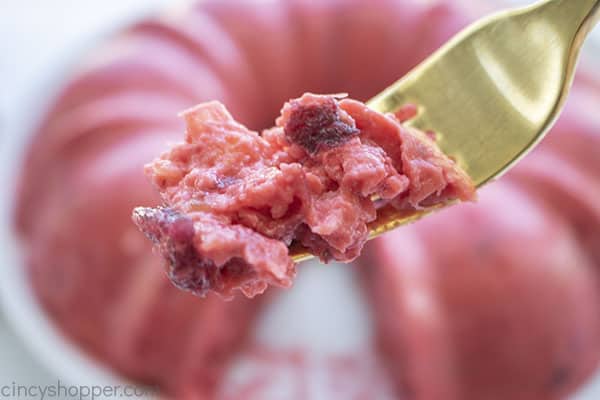 If it's not dropping from the pan right away, carefully run a knife along the edges and center- just to try and get some air into the pan. Place a plate on top of your bundt mold and flip- give the pan a solid few taps if you'd like to try and get it to release. Just be patient and your Cranberry Mousse should release and you'll be able to enjoy!
Cranberry Mousse
Homemade Cranberry Mousse is a delicious and fruity dessert salad made easy with Jello. This old fashioned recipe is great for the holidays!
Ingredients
2

pkg

Raspberry Gelatin

3 oz each

1

cup

Boiling Water

20

oz

Crushed Pineapple

14

oz

Whole Berry Cranberry Sauce

2

cup

Sour Cream

1/2

cup

chopped Pecans
Instructions
Heavily grease bundt pan and set aside.

Refrigerate can of crushed pineapple for 30 minutes.

In a large bowl, combine gelatin and boiling water. Stir until dissolved.

Drain pineapple through a sieve and add juice to gelatin.

Place the pineapple on a paper towel to absorb the moisture and set aside.

Stir cranberry sauce into gelatin mixture until blended.

Chill mixture until it starts to thicken about 30 minutes.

Fold in sour cream, pineapple and pecans.

Pour into prepared bundt pan.

Chill until set, at least 2 hours.
Notes
When ready to release the mousse from the bundt pan, use a knife around the edges and center to get air into the pan. Place a plate on top of the mold and flip. You may need to tap quite hard to get to release. Be patient, it will release.
Nutrition
Calories:
285
kcal
|
Carbohydrates:
42
g
|
Protein:
3
g
|
Fat:
13
g
|
Saturated Fat:
6
g
|
Cholesterol:
24
mg
|
Sodium:
129
mg
|
Potassium:
168
mg
|
Fiber:
2
g
|
Sugar:
39
g
|
Vitamin A:
332
IU
|
Vitamin C:
7
mg
|
Calcium:
65
mg
|
Iron:
1
mg