Cream Cheese Jello Salad is a creamy & fruity treat that's so easy to make. Just 2 ingredients needed for this delicious jello dessert recipe!
We've been loving this easy Cream Cheese Jello Dessert- so simple to make and you can make it with tons of Jello flavors. For more tasty Jello desserts, try our Jello Ice Cream Mold and Strawberry Poke Cake.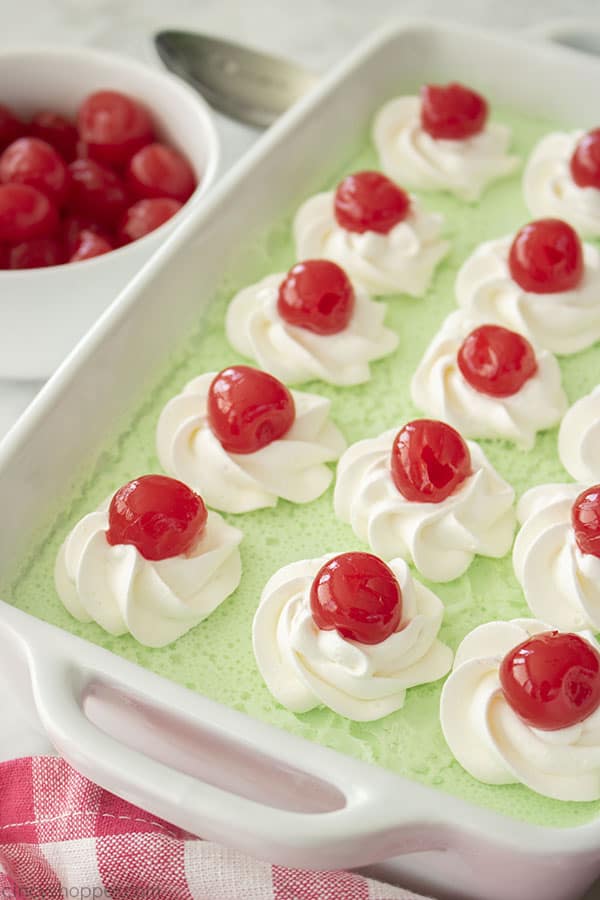 Cream Cheese Jello Salad
Jello is such a tasty and fun ingredient to work with. We've made all sorts of delicious dessert recipes in the past where Jello played a big part, either adding some fruity flavor or an interesting texture. Poke cakes, parfaits, and Jello Salad recipes too, of course! There's plenty of ways to make Jello Salads, but recently I found out you can make a sweet and creamy Jello Salad with just 2 ingredients. Cream Cheese Jello Salad might be my new favorite way to make this classic dessert dish!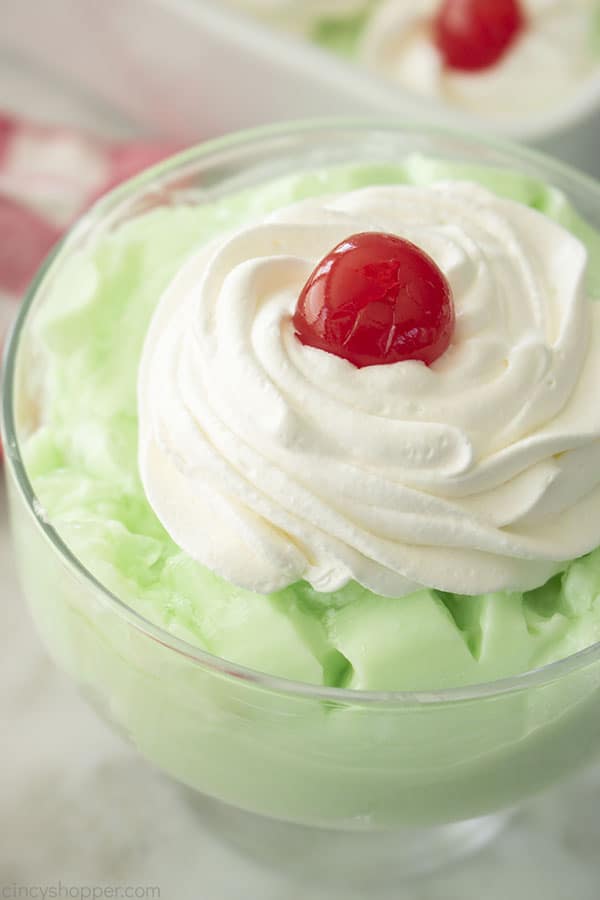 Making Jello Salad with Cream Cheese is about as simple as it sounds: prep some Jello, blend in some cream cheese, and let it set. Give it a few hours and you'll have some of the creamiest Jello salad you've ever had with almost no effort at all! The flavor combo of Jello and cream cheese is a perfect one too: Jello is so sweet and fruity and the cream cheese has the slightest bit of tanginess and salt to it. Combine those together and you've got a Jello Salad that's certain to have plenty of fans!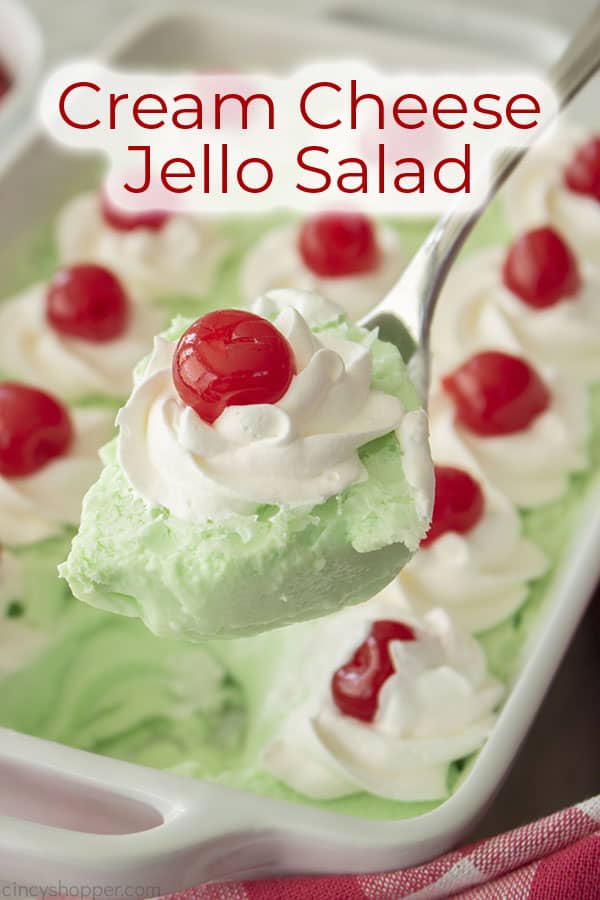 Because this recipe is so simple, you can make all sorts of slight changes to make it perfect for you. Pick your favorite fruity flavor of Jello, maybe add in some fruits to make it a Jello Fruit Salad, and double it up if you've got a big crowd to feed! This sweet treat is perfect for all sorts of parties and get togethers- I think it's going to be a big hit once the warmer summer months come up. We're sure you all will love this tasty Jello Cream Cheese Dessert!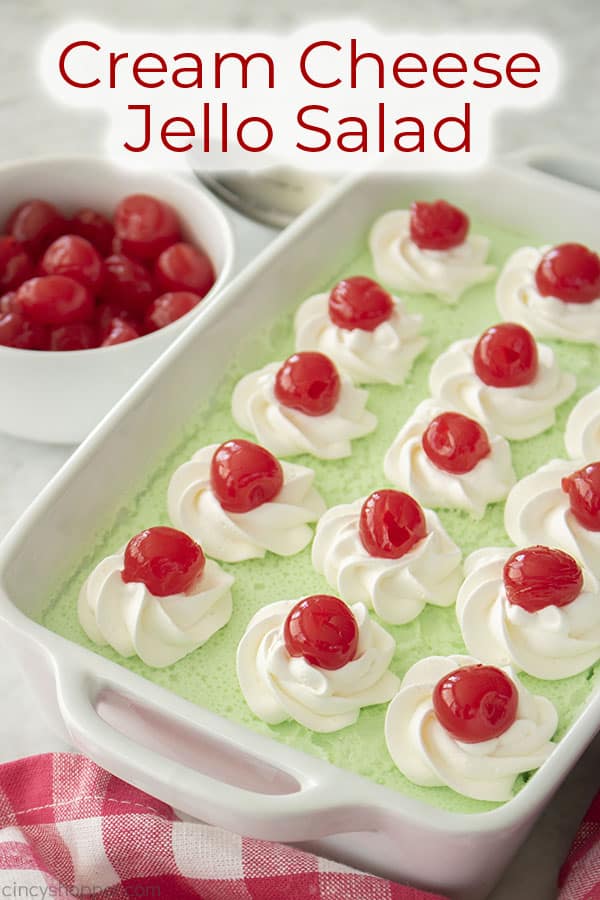 Loved this recipe? Try these Jello salad recipes next!
If you're looking for another easy Jello salad with

just

a few ingredients, go with our

Jello Cottage Cheese Salad

.

This combo of Jello, crushed pineapple, and cottage cheese might sound odd at first but, once combined, it all tastes amazing

!

Plenty of sweet flavors with a touch of creaminess and salt from the cottage cheese- trust us, this is a Jello salad recipe you have to try

.

We also love our recipe for

Orange Fluff Salad

– a delicious combo of Jello, oranges, whipped topping, and marshmallows

!

This dessert is equal parts fluffy, gooey, sweet, and tasty while tasting

just

like a creamsicle

. Fluff salads are always one of my go-tos when I have a party planned because they're always a crowd favorite!

Of course, if you want to go old-school with an old fashioned recipe, go with our

Retro 7Up Jello Salad

.

This classic lime Jello salad

is loaded

up with all sorts of goodies: crushed pineapple, cherries, marshmallows, and even some pecans if you want

! For an extra old-school look, make up your Jello salad in a bundt pan.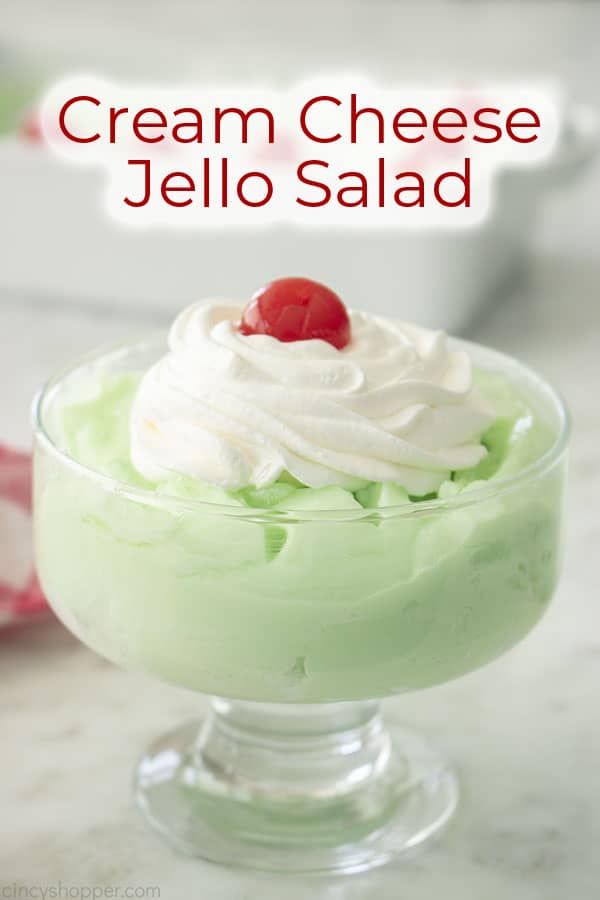 Jello Salad Ingredients
Jello Mix

– There's all sorts of different Jello flavors that should work with this recipe.

We went with lime Jello, but raspberry Jello, strawberry Jello, and pineapple Jello should work very well

!

Cream Cheese

– Let this soften before use.
Those are the only two ingredients you need for this Cream Cheese Jello Salad! For topping and garnish, we do recommend some
whipped cream
and
cherries
as well. There's also plenty of extra ingredients you could fold or add in like fresh or frozen chopped fruit and nuts.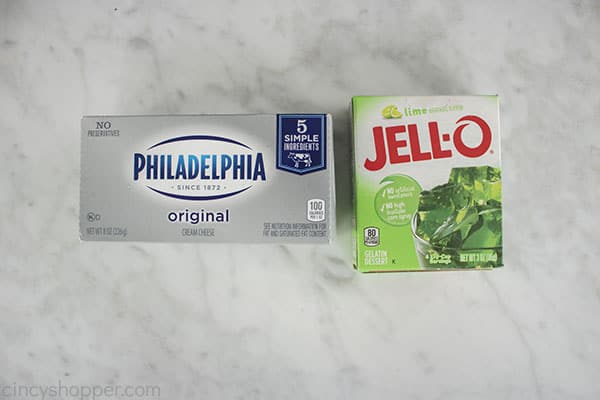 How to make Jello Salad with cream cheese
Making this Jello Cream Cheese Salad is so simple- and you can
easily
double up this recipe too if you need! To make some yourself, here's what you need to do:
Stir Jello mix with boiling water

until

fully

dissolved.

Add in softened cream cheese

and use an immersion blender to

thoroughly

blend the two together

. Add 3/4 cup of cold water to cool.

Optionally

transfer to a serving dish

and let

set in the fridge for 5-6 hours

.

Garnish with

dollops of

whipped cream and cherries

before serving.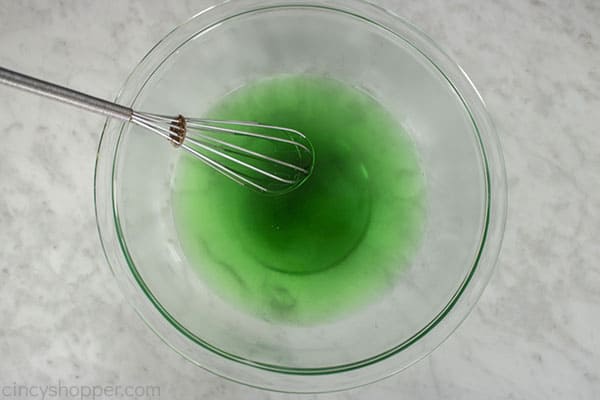 We'll start this off just like you would for Jello: get some water boiling so you can mix it with the Jello mix to fully dissolve it. Once dissolved, add in the cream cheese sliced into smaller pieces. Remember to soften the cream cheese beforehand!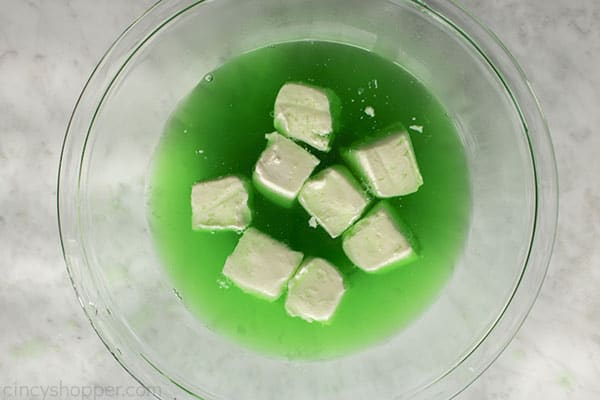 Use something like an immersion blender- or a hand mixer in a larger bowl or a normal blender if that's all you have- to thoroughly blend the cream cheese and Jello together.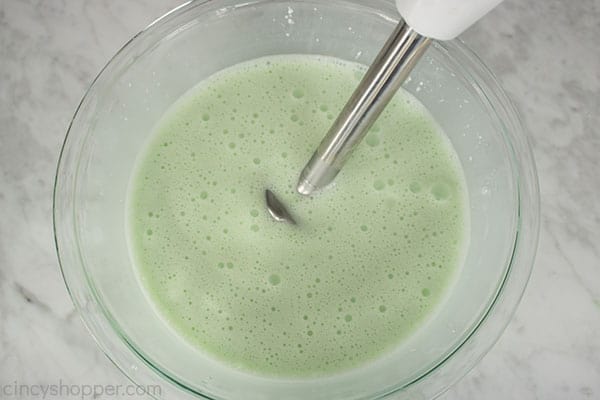 Mix about 3/4 cup of cold water into the Jello and cream cheese to cool it down a little. You can keep the Jello cream cheese mixture in the same bowl if you want, but we like to transfer it into something like this 4×8 dish for serving it later. Whatever you choose, move the Jello salad into the fridge to set for the next 5-6 hours.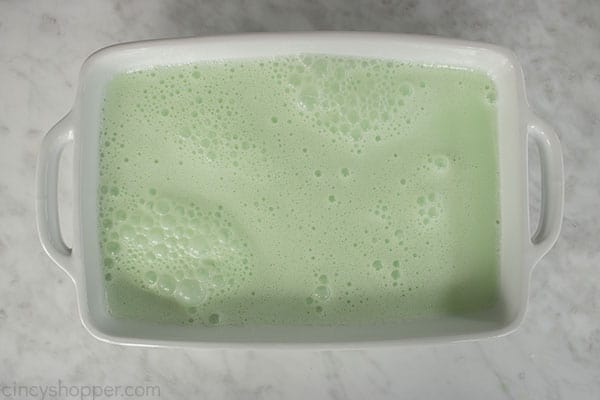 Once everything's all set, you can pull your Cream Cheese Jello Salad from the fridge and top with whatever garnish you want. We went with some dollops of whipped cream and cherries. Serve up and enjoy!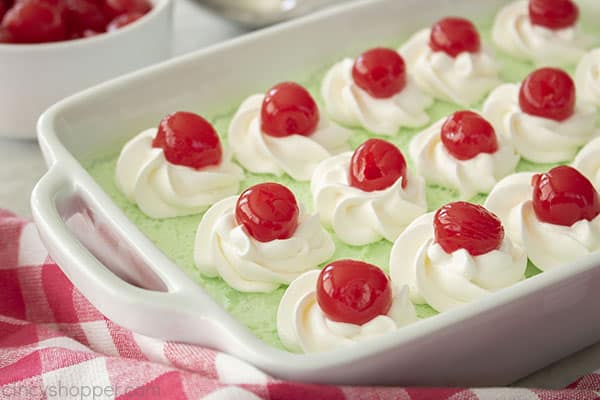 How long does Jello Salad last?
Seperately, both cream cheese and Jello last about a week after they're opened and prepared. The same goes for our Jello Cream Cheese Salad. The texture of the Jello will degrade a bit each day after it's mixed so do keep that in mind. Try to enjoy within a few days of making for best taste and texture!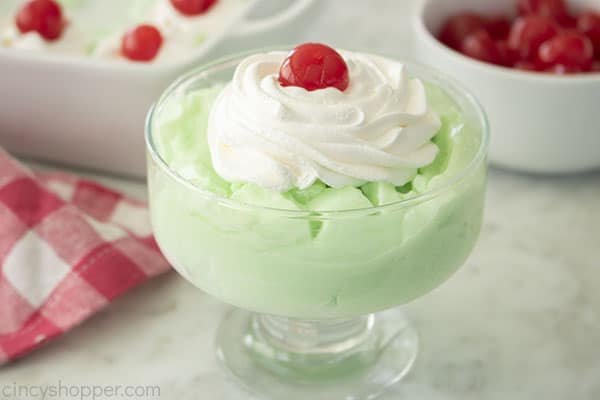 Cream Cheese Jello Salad
Cream Cheese Jello Salad is a creamy & fruity treat that's so easy to make. Just 2 ingredients needed for this delicious jello dessert recipe!
Ingredients
1

box

Lime Jello

3 oz

1

cup

Water

boiling

8

oz

Cream Cheese

softened

3/4

cup

Water

cold
Instructions
Stir gelatin mix with 1 cup of boiling water until fully dissolved.

Add in softened cream cheese and mix until blended. You can use an immersion blender to prepare right in the serving dish or use a hand mixer and then transfer.

Add 3/4 cup of cold water and blend.

Transfer to a serving dish and refrigerate for 5-6 hours.
Nutrition
Calories:
93
kcal
|
Carbohydrates:
7
g
|
Protein:
2
g
|
Fat:
7
g
|
Saturated Fat:
4
g
|
Polyunsaturated Fat:
1
g
|
Monounsaturated Fat:
2
g
|
Cholesterol:
19
mg
|
Sodium:
94
mg
|
Potassium:
25
mg
|
Sugar:
7
g
|
Vitamin A:
254
IU
|
Calcium:
20
mg
|
Iron:
1
mg