Jello Cottage Cheese Salad is a creamy, fluffy sweet salad that's perfect for spring and summer. Tastes great topped with fresh strawberries!
You can make this Jello Salad with all your favorite flavors: strawberry, lime, raspberry, or orange! For some other orange desserts, try our No Bake Orange Creamsicle Cheesecake or our Orange Creamsicle Dip.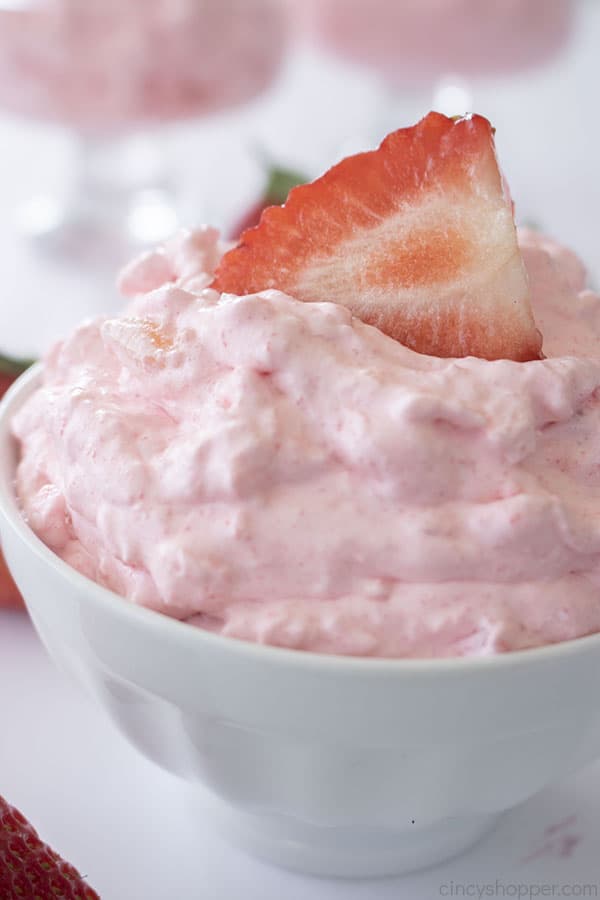 Jello Cottage Cheese Salad
This recipe might sound… odd to some folks. Chances are, a lot of you have heard of or even had a Jello Salad before. But why would you mix Jello and cottage cheese of all things? All I can say is if you've never tried Jello Salad with Cottage Cheese, then you have to try our recipe for Cottage Cheese Jello Salad at least once!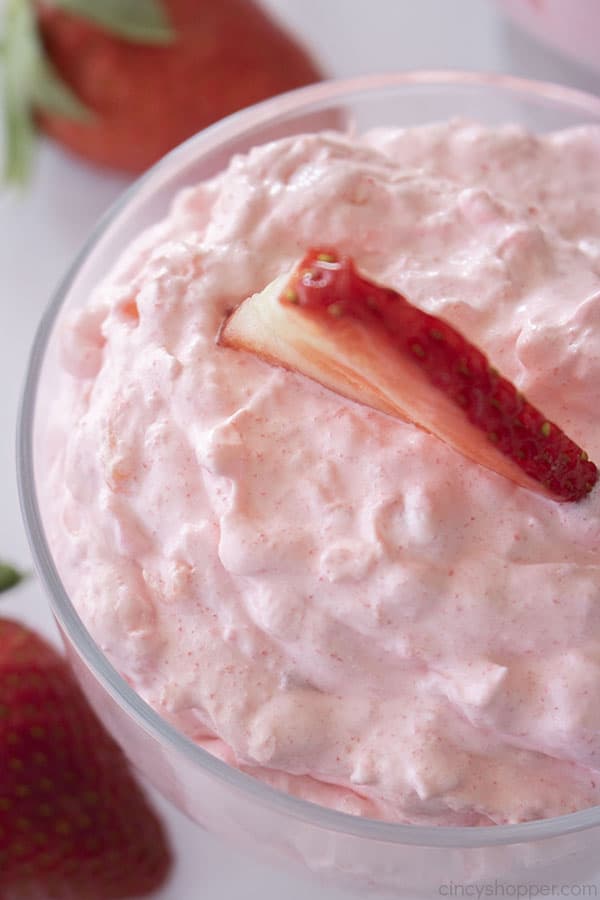 It's definitely one of the odder flavor combos that works really well- like french fries in milkshake. Cottage cheese has this creamy and salty flavor too it that pairs really well with some other sweet ingredients- like pineapple and Jello. With spring and summer coming up, this cool sweet-and-salty dessert is going to be great! You really have to try it: we went with strawberry Jell-O this time around- I think it works the best- but you could use a bunch of other flavors. Trust us, you're going to love this one!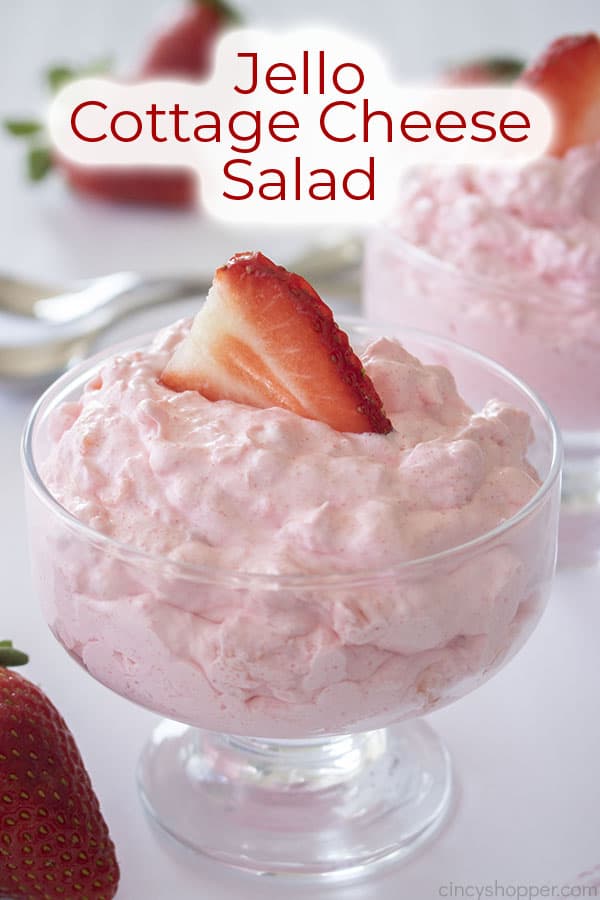 Liked our recipe? Try these fruit salad recipes next!
When you're talking about fruit salads, it's hard to beat a classic like

Ambrosia Salad

. This old fashioned recipe has been around for a while- and for a good reason: it tastes great!

Loaded up with cherries, oranges, pineapple, and coconut, you're bound to taste something you'll love in here

.

If you love anything orange, then our

Creamy Orange Fruit Salad

is your next stop. This is a super simple fruit salad to make and it only need 5 ingredients. Sweet orange and pineapple chunks in a creamy orange-vanilla dressing- yum!

Want something real creamy, fluffy, and dessert-y? Try our

Strawberry Cheesecake Salad

.

Cheesecake salads use yogurts and cheesecake instant pudding to make a delicious creamy dessert salad that's hard to hate

.

Add in your favorite fruit- like strawberries- and you've got a wonderful summer side dish or dessert perfect for potlucks, picnics, or barbecues

!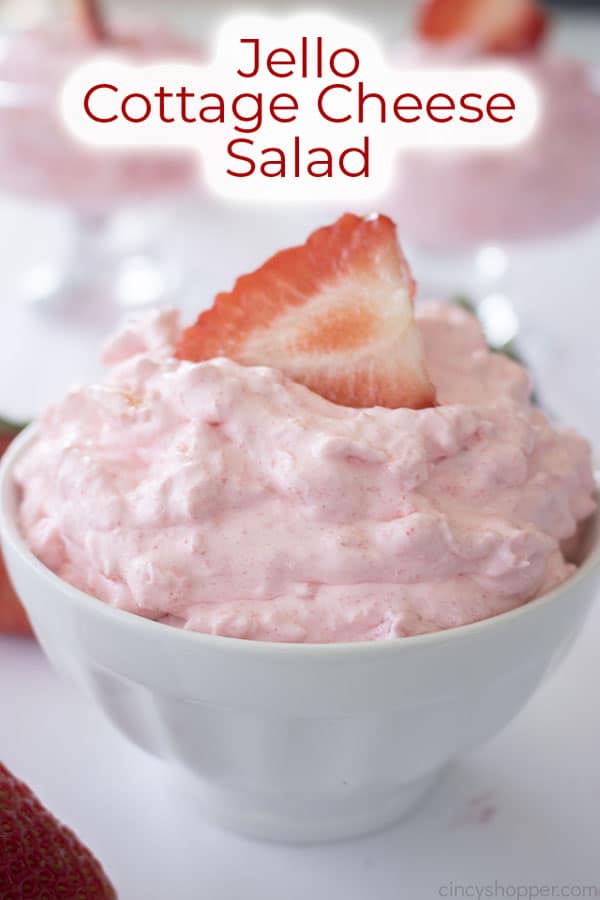 Cottage Cheese Jello Salad Ingredients
Jell-O Mix

– We used the strawberry flavor for this recipe. Feel free to try this recipe using lime, orange, or raspberry Jello and see how it works out!

Crushed Pineapple

– The canned crushed pineapple will work great here.

Just

make sure you drain the pineapple real well.

Cottage Cheese

– Large curd cottage cheese can work in this recipe but small curd cottage cheese is going to give your salad the best texture

.

Frozen Whipped Topping

– Like Cool Whip.
You can also add some
sliced strawberries
for garnish after you've made your salad!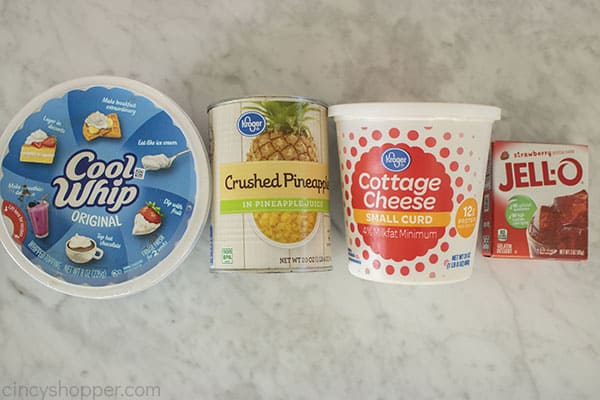 How to make Jello Salad with Cottage Cheese
This Cottage Cheese Jello Salad is so easy to make! Here's all you have to do to make some yourself:
Drain juice off of pineapple

before

mixing everything except whipped topping

in one bowl

.

Add in frozen whipped topping

and

fold together with other ingredients

until combined.

Optionally

garnish with sliced strawberries

before serving.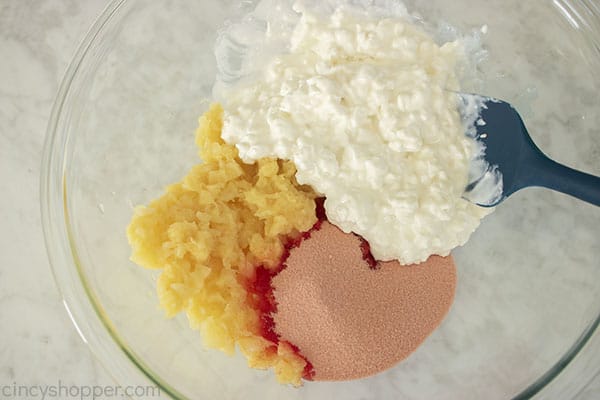 We're going to start off by mixing everything except for the Cool Whip together. Make sure you've drained the pineapple before adding it to the bowl with the cottage cheese and Jell-O powder. Mix those all together until you get a consistent, lump mix. To that, we're going to add our frozen whipped topping.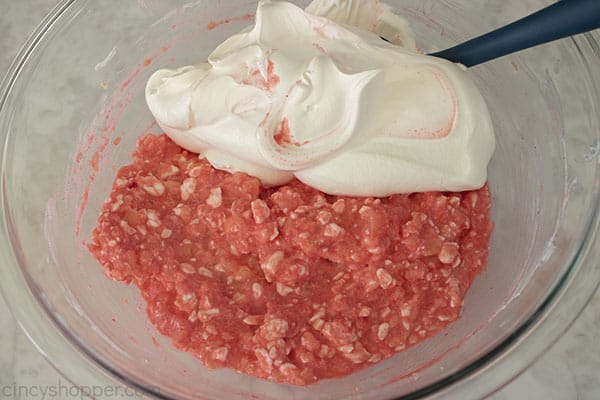 Start folding the whipped topping and the other ingredients together until you get a consistent and fluffy Jello salad. Feel free to garnish with some strawberries before serving and enjoying!
Jello Cottage Cheese Salad
Jello Cottage Cheese Salad is a creamy, fluffy sweet salad that's perfect for spring and summer. Tastes great topped with fresh strawberries!
Ingredients
1

box

Strawberry Jell-O Gelatin Mix

3 oz

20

oz

Crushed Pineapple

drained

16

oz

Cottage Cheese

8

oz

Frozen Whipped Topping

thawed
Instructions
Drain juice from pineapple.

In a large bowl, combine drained pinepple, cottage cheese and gelatin powder.

Mix until powder in dissolved and well mixed.

Fold in whipped topping until blended.

Chill until ready to serve.
Nutrition
Calories:
181
kcal
|
Carbohydrates:
30
g
|
Protein:
8
g
|
Fat:
4
g
|
Saturated Fat:
2
g
|
Polyunsaturated Fat:
1
g
|
Monounsaturated Fat:
1
g
|
Cholesterol:
14
mg
|
Sodium:
277
mg
|
Potassium:
178
mg
|
Fiber:
1
g
|
Sugar:
25
g
|
Vitamin A:
164
IU
|
Vitamin C:
7
mg
|
Calcium:
89
mg
|
Iron:
1
mg