Make this Old-Fashioned Cranberry Salad, also known as a Cranberry JELLO mold for a Thanksgiving side dish this year. We use raspberry Jello, crushed pineapple, whole berry cranberry sauce, and nuts to make this traditional holiday recipe.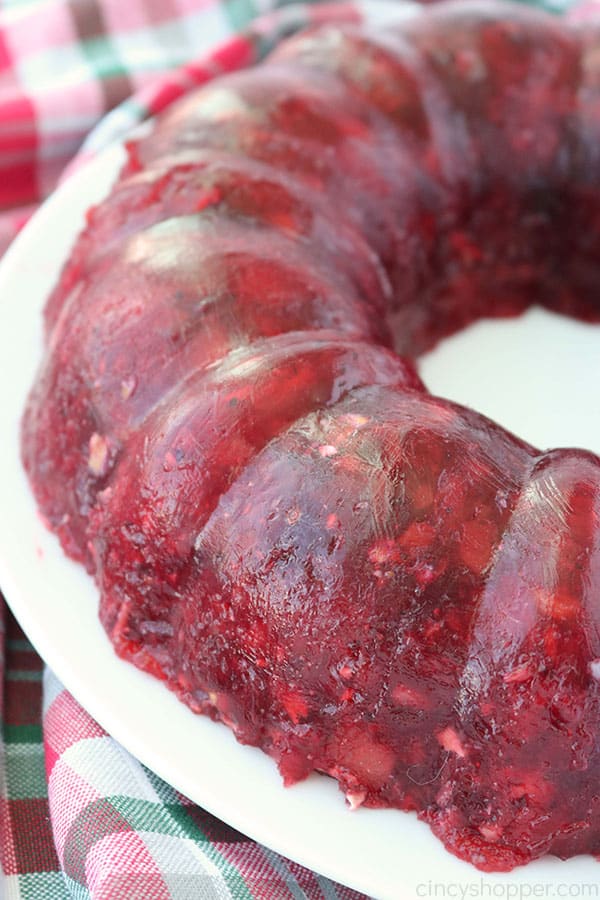 Cranberry Salad
Classic recipes are some of my favorites during the holidays. I like to add timeless dishes to my Thanksgiving and Christmas dinners. Jello desserts like a 7UP Jello Mold and this Cranberry Salad are two of my favorites. Both recipes are so easy and delicious. You can make them in a bundt pan, a mold, a pan, a trifle dish or in a bowl.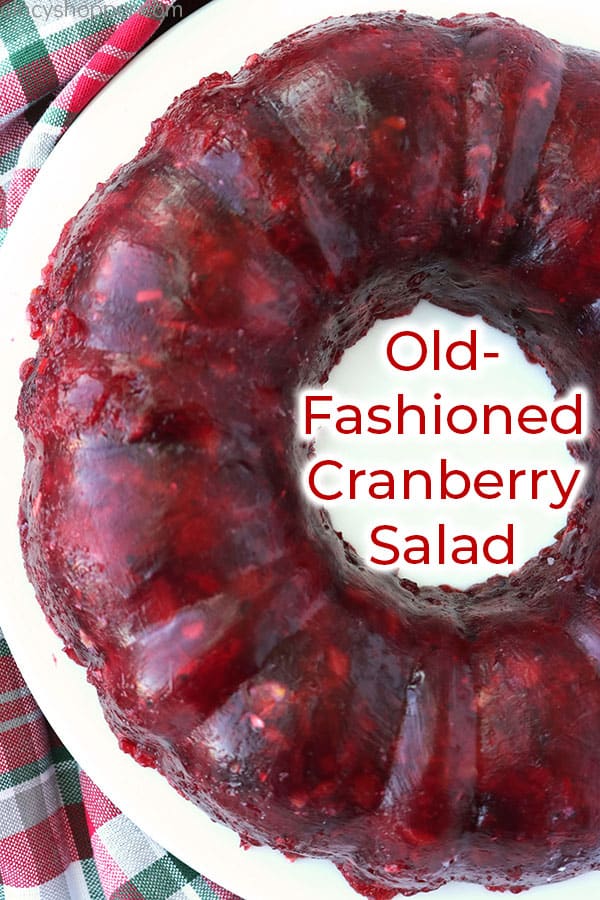 I made our Old-Fashioned Cranberry Jello Salad in a bundt pan and a bowl for this post. As you can see, it is simple to make in ether dish, and both versions look very impressive. There is no need for a fancy JELLO mold pan.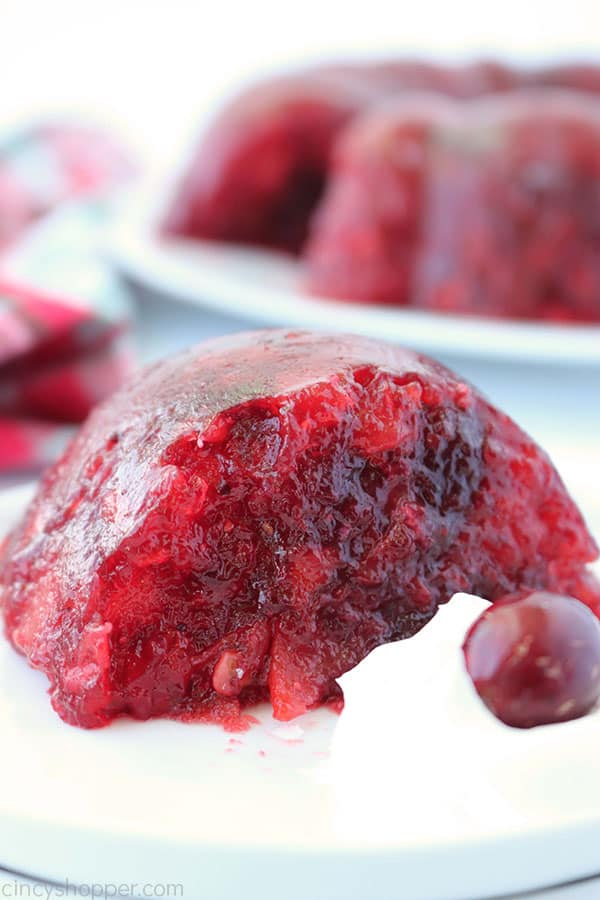 Many old school Cranberry salads include celery. My grandmother added it to hers, but I omit it from mine. Some other recipes call for mayo. I think the combination of Jello, pineapple, jellied cranberry with the nuts is perfect.
Cranberry Salad can be served as a side dish or as a dessert. I prefer to serve it with dinner. When I make it in a bowl, I top it with Cool-Whip or homemade whipped cream. Then, I add a couple of fresh cranberries on top to make it a bit fancier looking.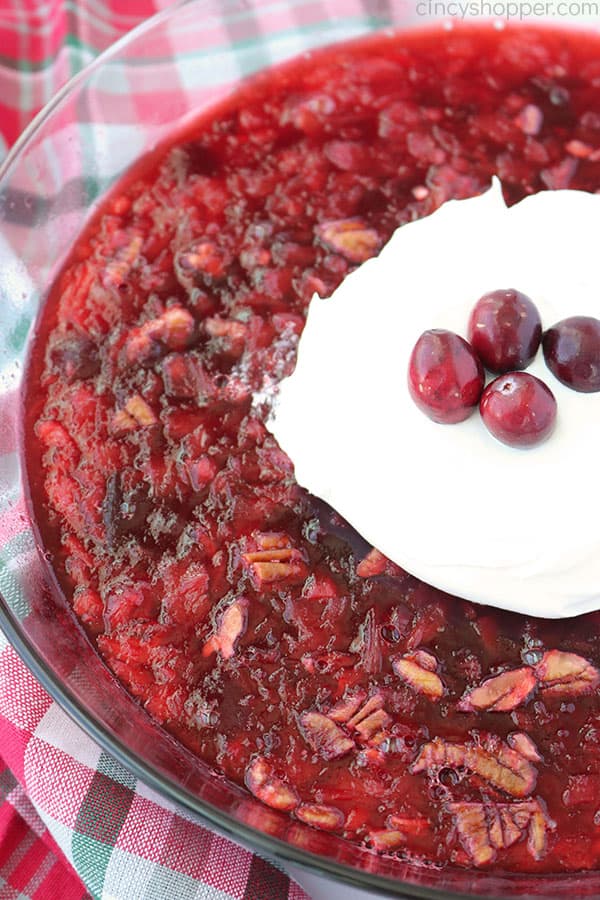 My kids, as well as many family members, dislike cranberry flavors. But, they love Cranberry Salad and also my. If you have you are thinking this Jello salad is only for cranberry fans, think again.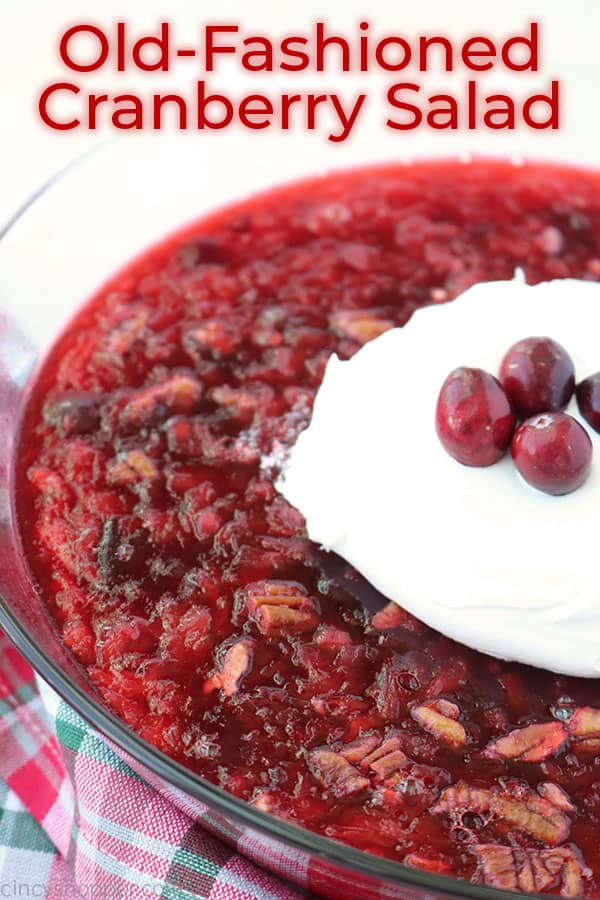 I love cranberries so, I make this salad and also our Homemade Cranberry Sauce with apples each Thanksgiving and Christmas. Cranberry pairs so well with turkey. I never tire of cranberry flavored anything.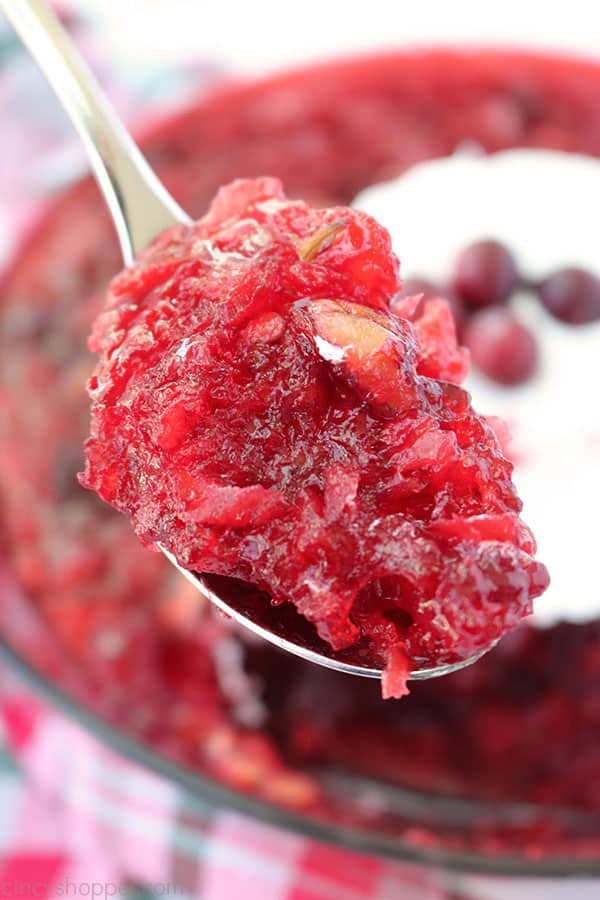 Ingredients for Cranberry Salad
Jello
Crushed Pineapple
Whole Berry Cranberry Sauce
Pecans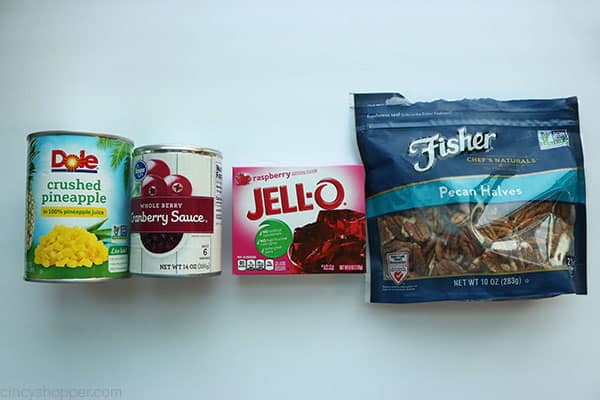 How to make Cranberry Salad
First, combine your boiling water and your gelatin in a large bowl. And whisk until dissolved. I always use a raspberry flavor because it pairs well with the cranberry. Feel free to use a cranberry Jell-O, strawberry, or even cherry flavors work too!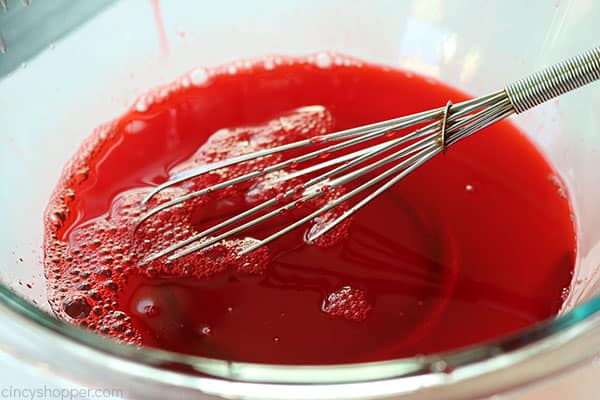 Next, you will add in the can of whole berry cranberry sauce. I have never used plain jellied cranberry sauce. The whole berries will bust slightly and add flavor. During this step, whisk well to combine.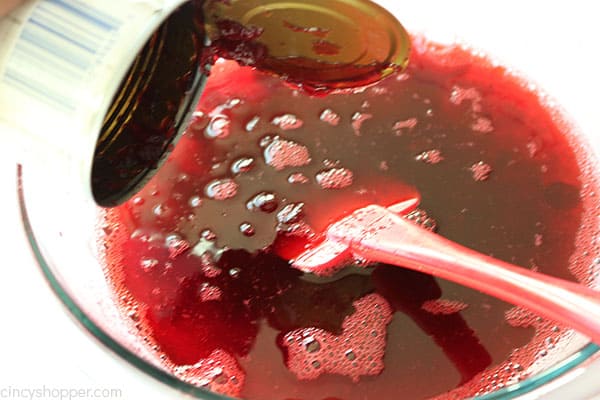 Now, we add the crushed pineapple. DO NOT drain the juice from the can. The flavor and liquid are needed. Also, whisk very well during this step. After adding the pineapple, refrigerate for about 30 minutes.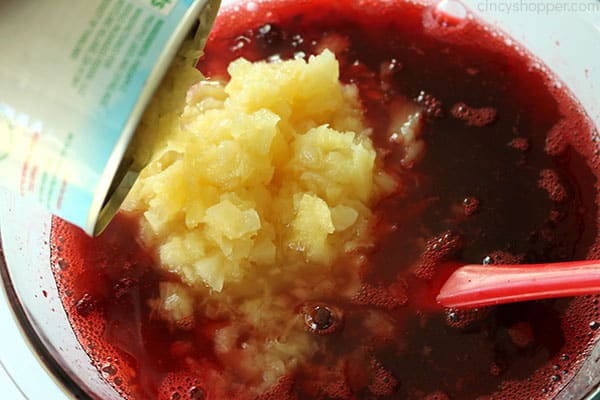 Remove the unset Jell-O mixture from the refrigerator and add nuts if you wish. I like the added flavor and crunch they offer. If you would also like to add celery, you can during this step, about 1/2 cup thinly sliced celery is my recommendation. Stir the mixture and transfer to a bowl, heavily greased pan, bundt pan or mold. I use Crisco shortening for coating.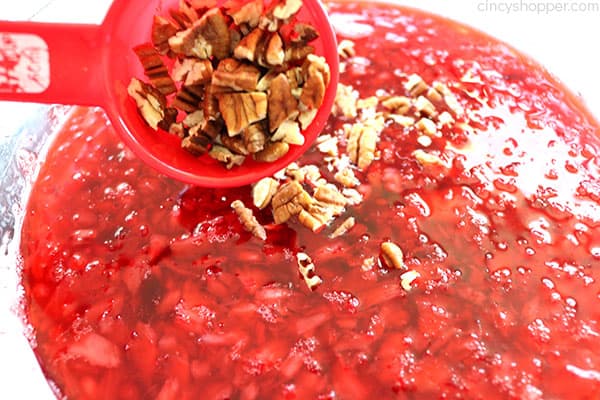 Finally, the Cranberry Salad needs to refrigerate for about 6 hours. You need to be sure the mixture is firm before serving or removing from the bundt pan or mold. If using a bundt pan, I use a bread knife to release around the outside and inside edges. Then, I place a plate on top and flip. I use a spoon to "bang" all around on the pan until I hear the Jello release. Sometimes this takes a few flips and bangs. But, this process always works.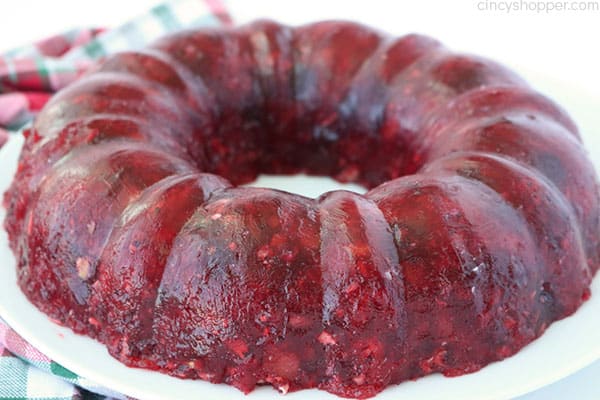 Serve with whipped topping, homemade whipped cream or even vanilla ice cream.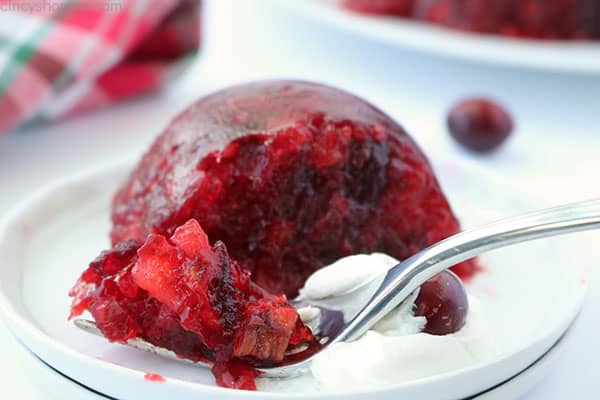 Old-Fashioned Cranberry Salad
Make this Old-Fashioned Cranberry Salad, also known as a Cranberry JELLO mold for a Thanksgiving side dish this year.
Ingredients
1

large pkg (6 oz) Raspberry Jello

1-1/2

cup

boiling Water

14

oz

Whole Berry Cranberry Sauce

20

oz

Crushed Pineapple with juice

1/4

cup

Chopped Pecans
Instructions
In a large bowl, add gelatin and water and whisk until dissolved.

Add cranberry sauce and whisk to mix well.

Refrigerate for 30 minutes.

If desired you can grease a jello mold or bundt pan and pour mixture in that or transfer to serving bowl.

Refrigerate for 6-7 hours until is jello is set,
Nutrition
Calories:
141
kcal
|
Carbohydrates:
31
g
|
Protein:
1
g
|
Fat:
3
g
|
Saturated Fat:
1
g
|
Sodium:
16
mg
|
Potassium:
115
mg
|
Fiber:
2
g
|
Sugar:
29
g
|
Vitamin A:
56
IU
|
Vitamin C:
8
mg
|
Calcium:
16
mg
|
Iron:
1
mg