Creamy Apple Salad is a sweet, fluffy fruit salad. Serve this colorful, flavor-packed side for Thanksgiving, Christmas, or any day!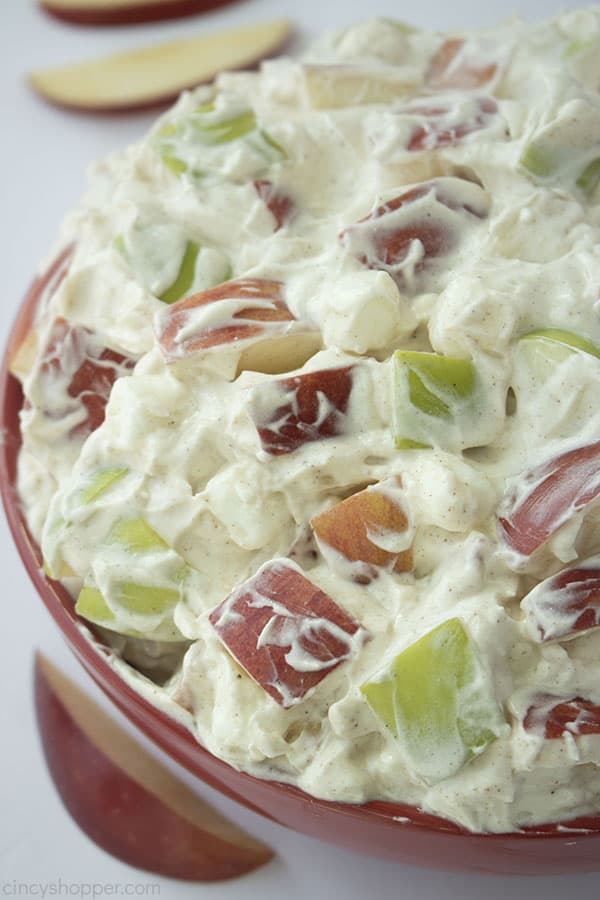 Creamy Apple Salad
Fruit salads are really popular here in our house. Salads- in themselves- are already really easy to put together and prepare. Fruit salads, however, are just as easy and tend to have a lot more of a sweet "punch" to them.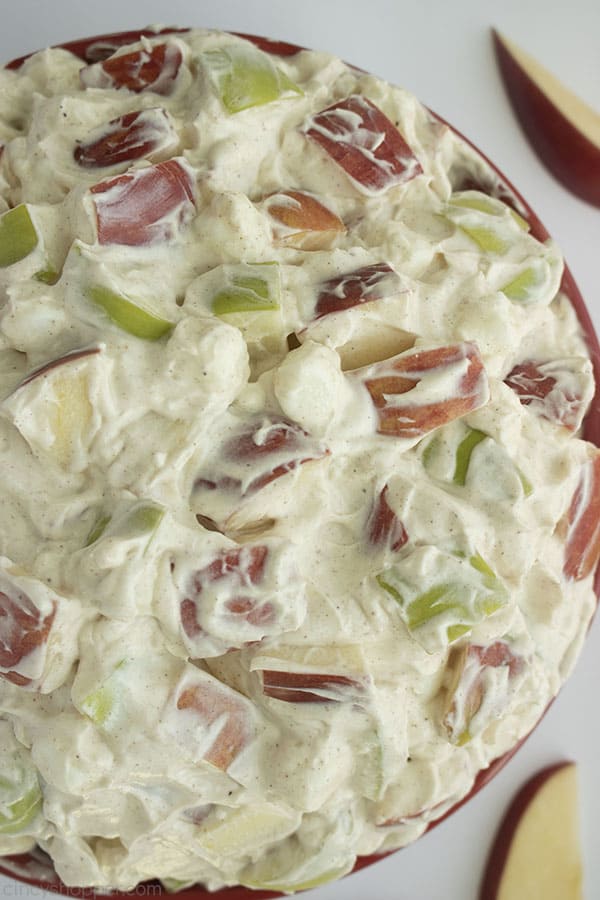 In fact, plenty of classic salads are fruit salads: outside of the basic fruit salad, plenty of folks enjoy an ambrosia salad. Personally, I'm a huge fan of our Waldorf Salad, which makes a few small tweaks to the classic recipe to make it a bit sweeter and more approachable. To make things brief: sweet, fruit-packed salads are amazing!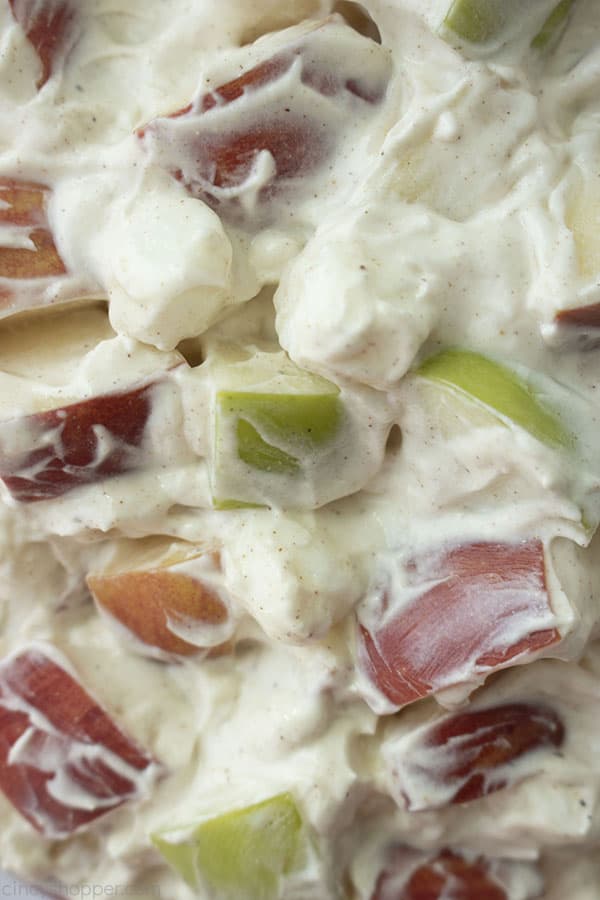 With that in mind, I've got another fruit salad recipe here that's going to strike a chord with plenty of you folks- apple lovers especially! I mixed up a creamy base using some yogurt, Cool Whip, cream cheese, and mini marshmallows and stirred them with some colorful diced apples. Let me tell you, they've been a hit!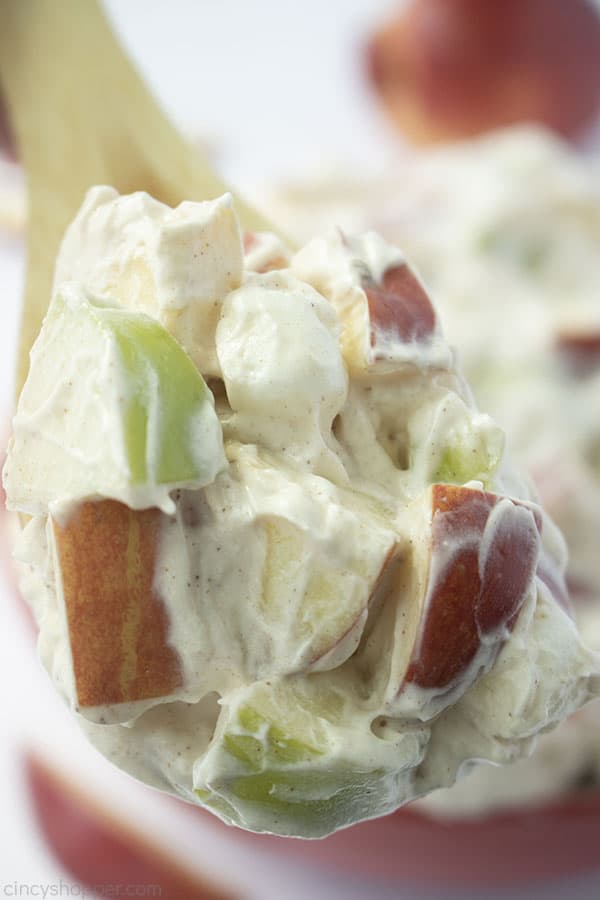 If you're a big fan of Waldorf's, I really urge you to give this one a try. The base is delicious and sweet, and- even by themselves- the apples are great on their own versus mixed with grapes and cranberries in the Waldorf.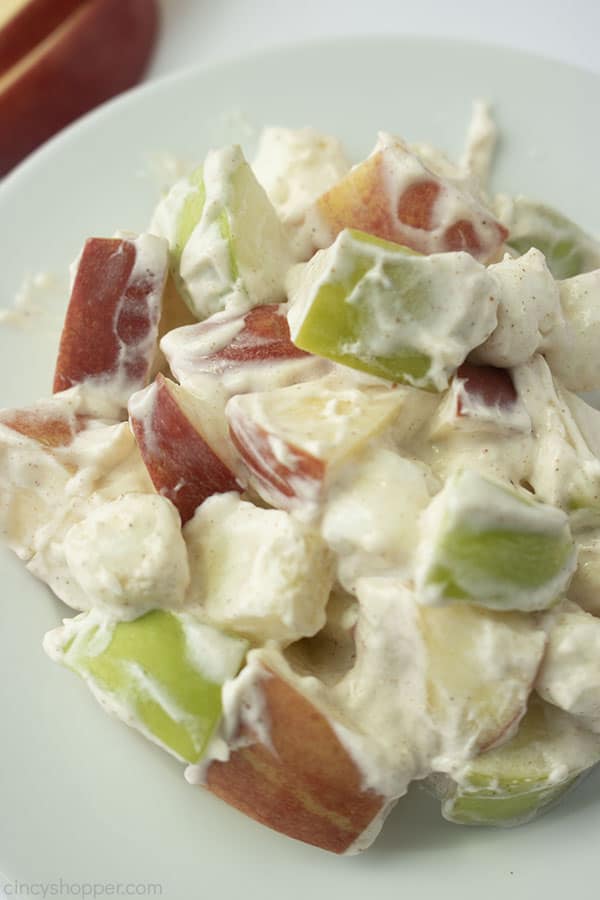 If you're in the mood for more creamy fruit salads after this one, we have a couple of others I'd love for you to try out. Our Creamy Grape Salad brings just as much sweetness and flavor as the apple salad here with the addition of a pecan and brown sugar topping. For a more summer-oriented salad, we've also got an amazing Creamy Strawberry Banana Salad as well. That one, especially, is crazy-sweet and I'm certain you'll love it! All of these salads are the perfect sweet treats that you'll enjoy as sides in plenty of future meals.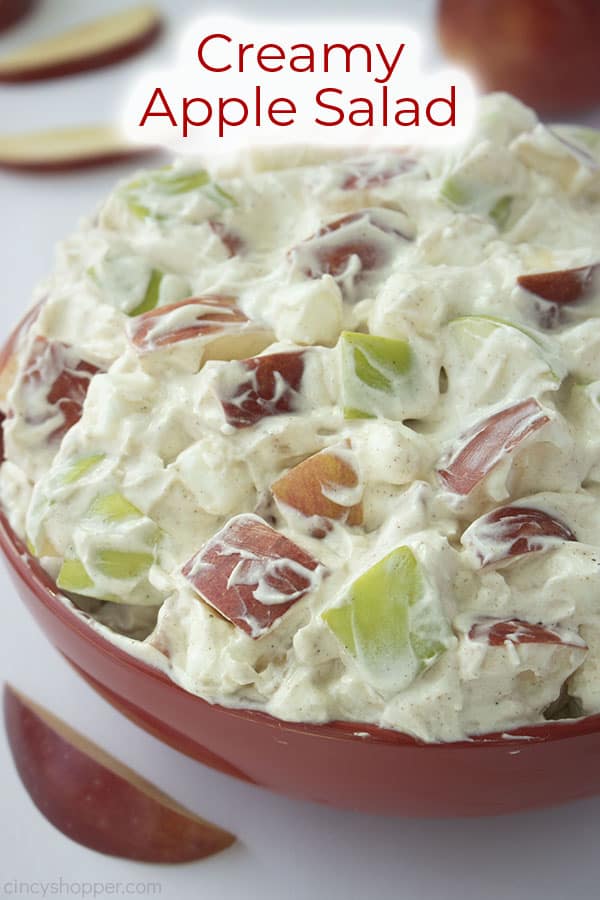 Ingredients for Creamy Salad
Diced Apples – Use your favorite apples for this recipe and I encourage you to use a mix of reds and greens. Looks especially good for the holiday season…

Vanilla Yogurt Cups – If you can find a cinnamon or apple flavor at your grocery store, feel free to sub it in to try it out!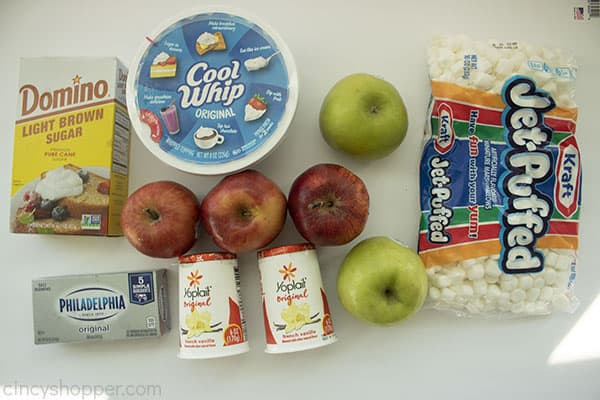 How to prepare our Apple Salad
To start things off, get your apples diced and give them a quick coating with your lemon juice to prevent them from browning
. Then, after getting your ingredients prepped and ready, you can get a mixing bowl ready. Put your cream cheese in and and give it a quick beating to fluff it up and make it creamy.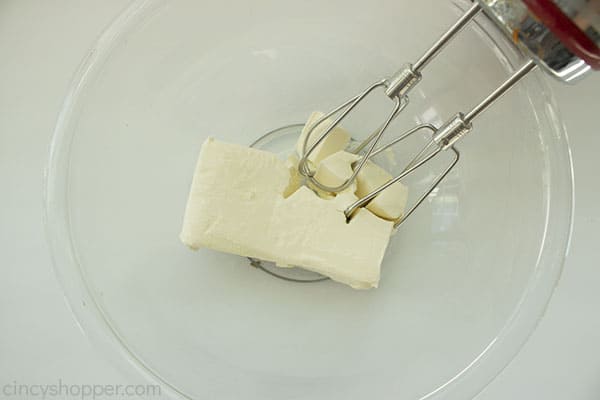 Once that's beat, you can add in your yogurt. It's also at this point that you want to add your spices. Mix it all together until consistent and smooth.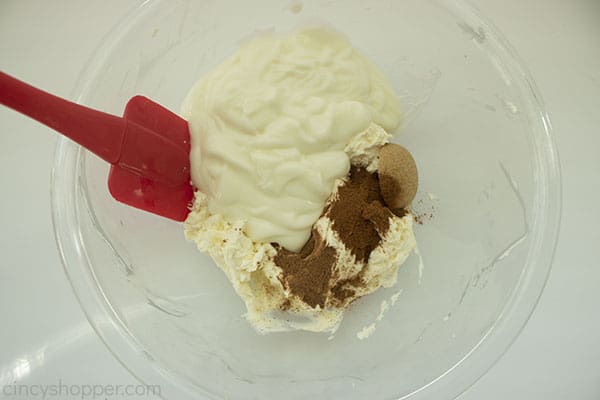 Now you can add in your whipped topping. Make sure it's completely thawed before adding to the mix! Once again, stir until consistent and smooth.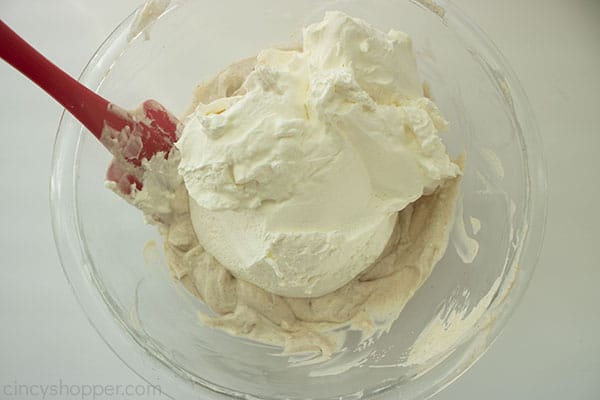 Now comes the apples and marshmallows. Toss them into the bowl and stir in until evenly spread throughout the creamy mixture.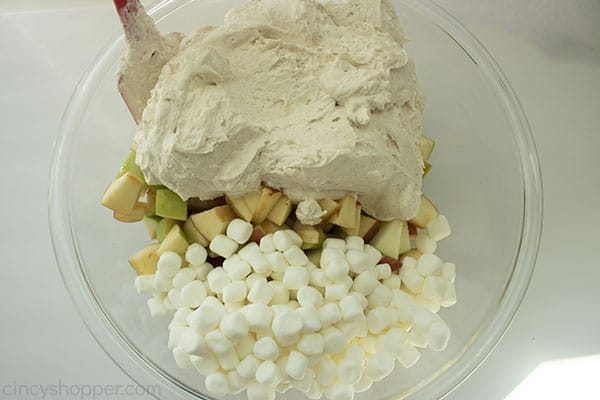 With that, the salad is ready to go! No need to wait or anything- it's good to serve immediately if you need.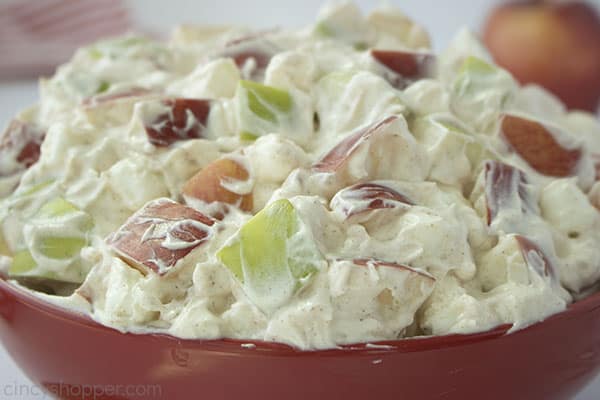 Can I make this ahead of time?
You could
easily
serve this salad right away but I doubt we're getting stuff like salads ready
just
before guests show up
.
I feel
confident saying that you could make this salad about 6 hours in advance and keep it in the fridge.
You can't push it much further than that- the salad will start getting soggy after that point due to the moisture in the apples
.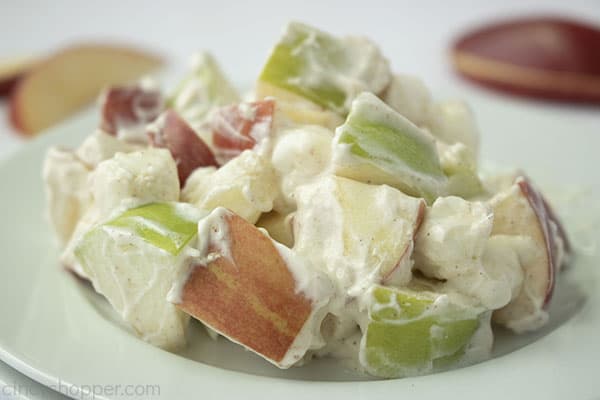 Topping Ideas
Nuts – Walnuts, Pecans, or

maybe

peanuts could work as a topping.

A dusting of brown sugar.
Creamy Apple Salad
Creamy Apple Salad is a sweet, fluffy fruit salad. Serve this colorful, flavor-packed side for Thanksgiving, Christmas, or any day!
Ingredients
5

medium Apples

cored and diced

Juice of 1/2 Lemon

8

oz

Cream Cheese

softened

1

tbsp

Brown Sugar

1

tsp

Cinnamon

1/2

tsp

Nutmeg

10

oz

Vanilla Yogurt

2

cup

Mini Marshmallows

8

oz

Whipped Topping
Instructions
Place diced apples in a large bowl.

Add lemon juice and toss to coat. Set aside.

In a medium bowl, whip cream cheese until fluffy.

Stir in brown sugar, cinnamon, nutmeg and yogurt until blended.

Fold in whipped topping.

Add this this mixture and the marshmallows to large bowl containing apples.

Stir until well mixed.
Nutrition
Calories:
297
kcal
|
Carbohydrates:
40
g
|
Protein:
5
g
|
Fat:
14
g
|
Saturated Fat:
9
g
|
Cholesterol:
34
mg
|
Sodium:
146
mg
|
Potassium:
267
mg
|
Fiber:
3
g
|
Sugar:
33
g
|
Vitamin A:
478
IU
|
Vitamin C:
6
mg
|
Calcium:
119
mg
|
Iron:
1
mg