The Best Thanksgiving Turkey is made easy and delicious with a few extra tricks. You'll love this no-fail, moist, and flavorful recipe!
Turkey is a must-have for any Thanksgiving dinner. Our delicious Roasted Turkey might be the best turkey recipe on the web! Follow along to learn how to cook the perfect turkey.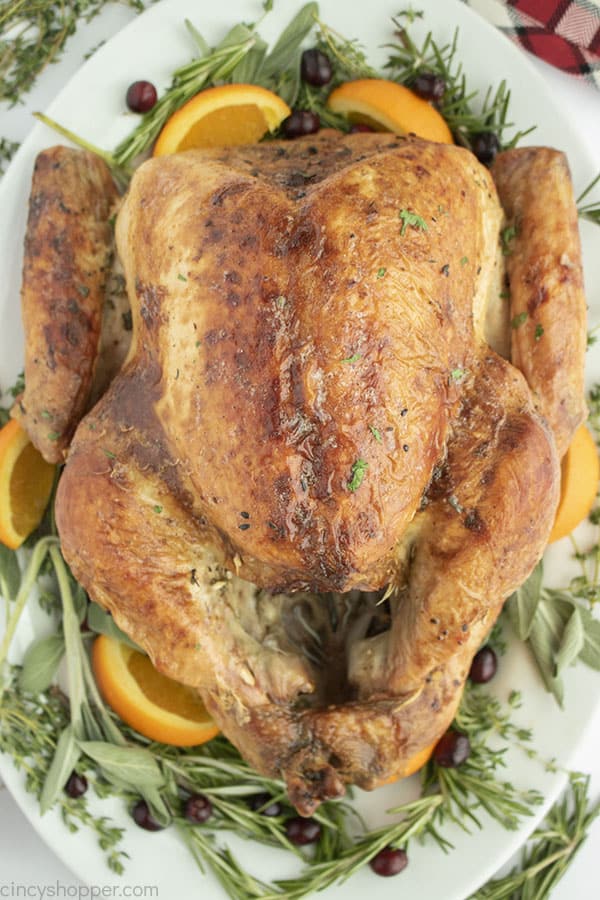 The Best Thanksgiving Turkey
Turkey is the star of the show on Thanksgiving day. We all love the cranberry sauces and buttery potatoes- but it's that delicious, juicy bird that we're all waiting for come dinnertime. Naturally, there's a lot of pressure on the folks in the kitchen- this is a very important meal that nobody wants to see messed up! So a lot of questions arise when it comes to cooking turkey.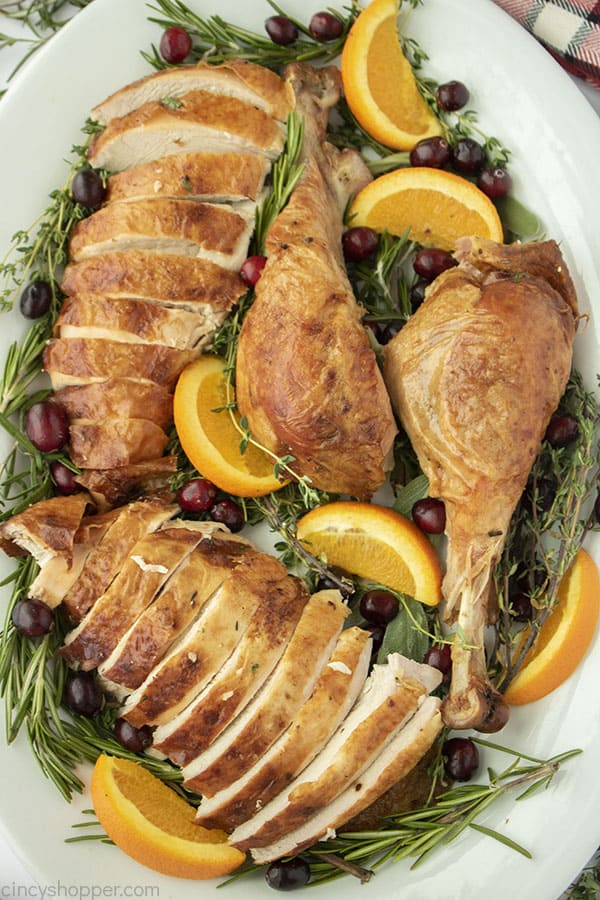 When it comes to questions like "what temperature to cook a turkey at" or "how long to roast a turkey," we hope to have you folks covered with this post! I've been making turkeys for the family for quite a few years now and have plenty of tips and tricks that'll help you make a delicious, moist, perfect turkey. You'll have a bird that's fit to be at the center of your Thanksgiving dinner table!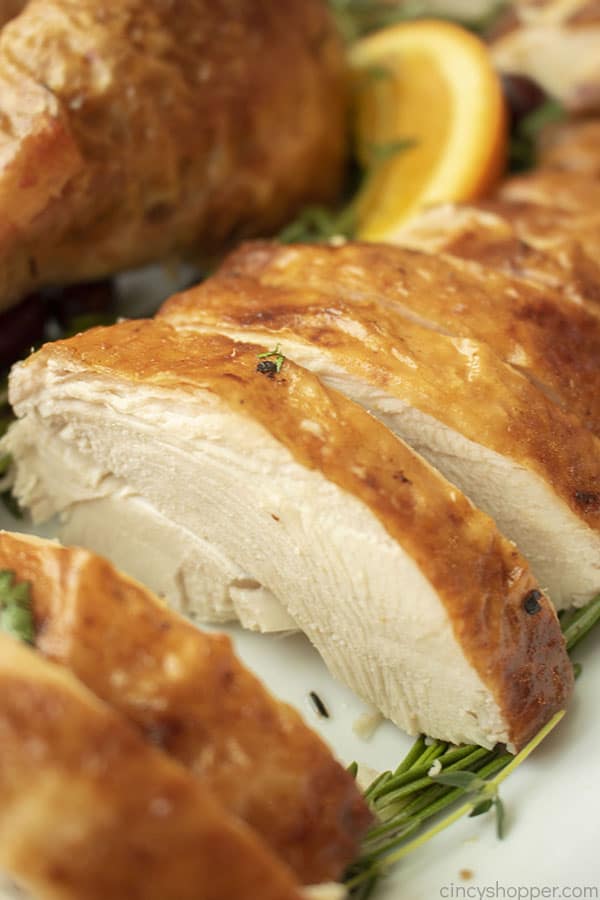 Folks will tell you that you need all sorts of fancy equipment and special ingredients to make the best Thanksgiving Turkey. While that stuff helps, it's really all about the technique- and the technique isn't that hard to master! As long as you know what you're doing, you can make an easy, no-fail Roasted Turkey with basic kitchen ingredients. If you've been worrying about this classic holiday main course- whether it's a Thanksgiving, Easter, or Christmas Turkey- then read on. We'll help you make the best Thanksgiving Turkey you've ever had!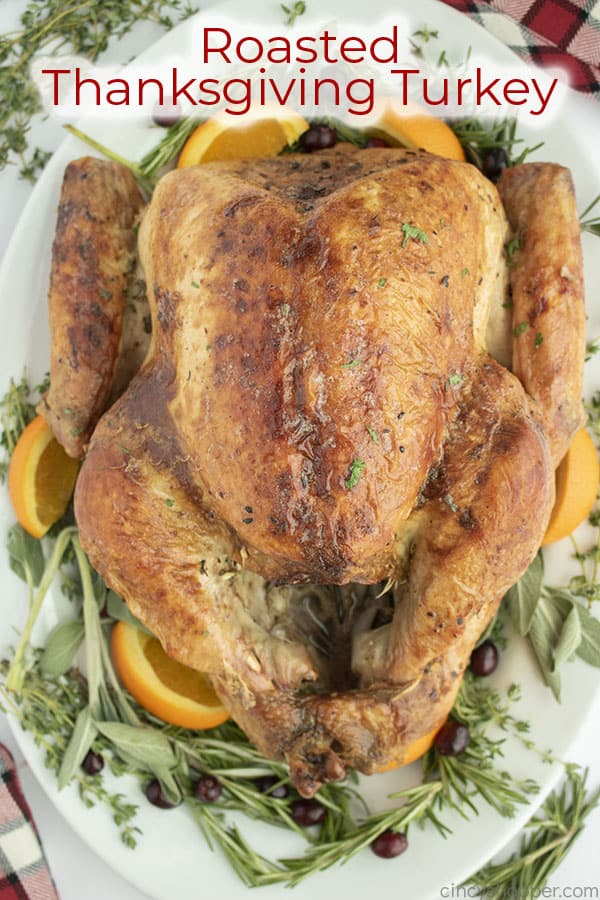 Need some Thanksgiving Side Dishes?
What's Thanksgiving without some potatoes? For some stovetop potatoes, we can't recommend

The Best Mashed Potatoes

enough! Rich, creamy, and oh-so buttery! If space is short on the stovetop, try some

Slow Cooker Mashed Potatoes

instead.

Our

perfectly

spiced potatoes recipe is great- especially if you're wanting a "smashed potatoes" style dish

!

Cranberry sauces are great, but try mixing things up this year with an

Old-Fashioned Cranberry Salad

instead

!

This delicious, fruity, almost dessert-like Jello salad is the perfect sweet side for Thanksgiving

.

If you're dead-set on cranberry sauce, try our recipe for

Homemade Cranberry Sauce With Apples

!

This tasty, from-scratch version combines fresh cranberries with sweet apples for a sauce that's better than the can

.

Who could forget sweet potatoes? Not us: we have

The Best Sweet Potato Casserole

! Our recipe is perfect for Thanksgiving and Christmas with a delicious streusel topping.

If the oven's looking a little packed, you could also try making a

Slow Cooker Sweet Potato Casserole

instead

.

This no-stress side cooks

perfectly

and

is loaded

with butter, sugar, pecans, and marshmallows

!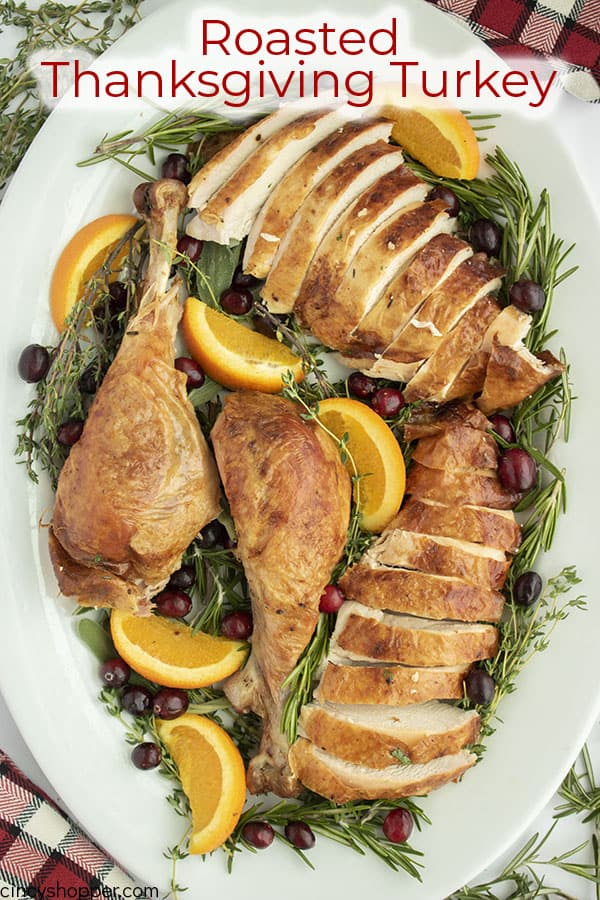 Ingredients for Thanksgiving Turkey
Turkey – As a general rule of thumb, aim for 1 to 1-1/2 pounds of turkey per person served.

If you're wanting plenty of Thanksgiving leftovers, definitely go with 1-1/2 pounds per person

!

Apples – Go with your favorites here,

ideally

one red and one green.

Fresh Herbs – We used rosemary, thyme, and sage for our recipe.

We chopped up about a tablespoon of each for an herb butter and stuffed the remaining sprigs into our turkey

.
Like we mentioned, we also made a delicious herb butter to go with our turkey- for basting and lathering. For that butter, you'll need…
Fresh Herbs – About a tablespoon each rosemary, thyme, and sage.
How to make a Turkey
One of the big tricks to add tons of flavor to your Thanksgiving bird is to mix up a quick herb butter. For that you'll want to combine some soft butter, garlic, herbs, and salt & pepper. Just mix those together in a suitable mixing bowl until all those mix-ins are consistently spread through the butter.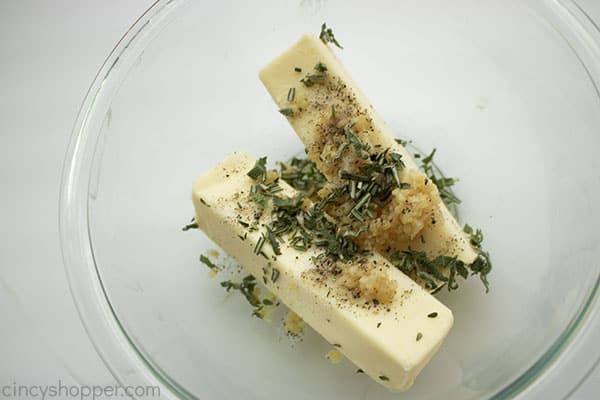 Now, this butter's going to pull quite a few tasks for this recipe. Obviously, you'll want to get your thawed turkey out it's packaging and pull the neck and any giblets from your bird. We recommend patting your turkey extra dry with paper towels before applying our butter and any seasonings.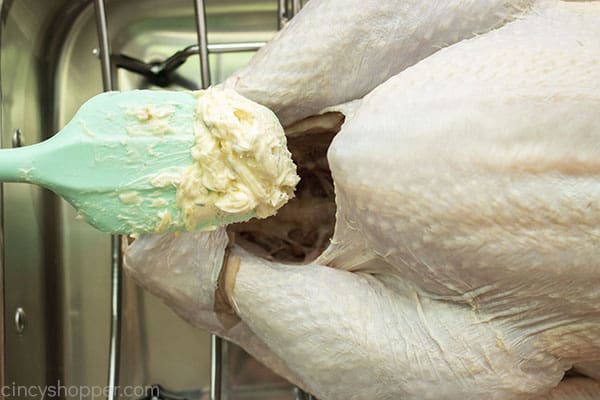 With our turkey prepped, we can start putting this butter to good use. We're going to use the bulk of our butter- about 3/4 of it. With this butter we want to lather up the outside of the turkey, rub the inside, and work a little bit underneath the skin. To work it under the skin, gently lift the flap near the breasts and work your fingers under. This will give you some room to work the butter under. We'll save the rest of the butter for later.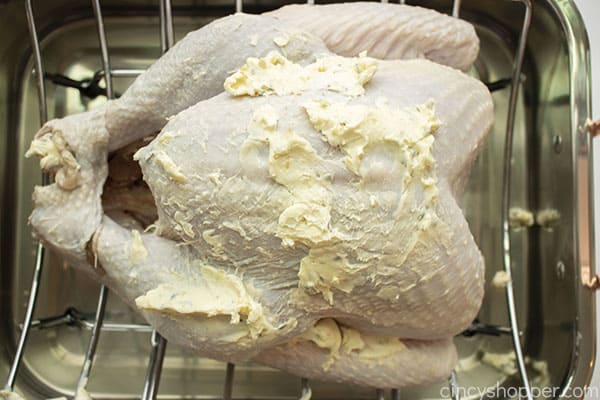 All that's left in terms of prep is to stuff the turkey with all of our aromatic and flavorful fillings! After optionally seasoning the inside of the bird with salt and pepper, put your fillings inside the turkey. Now tuck the wings of the bird underneath itself and get ready to roast a turkey!
Cooking a Turkey
We'll have a few tips for the perfect roasted turkey at the end of the post but, for now, we'll run you through the basics. For starters, you'll want the oven set to 325 degrees for a slower but safer roast. The turkey will probably cook at a rate of about 15 minutes per pound, so you might be waiting a fair bit- perfect time to get some sides made!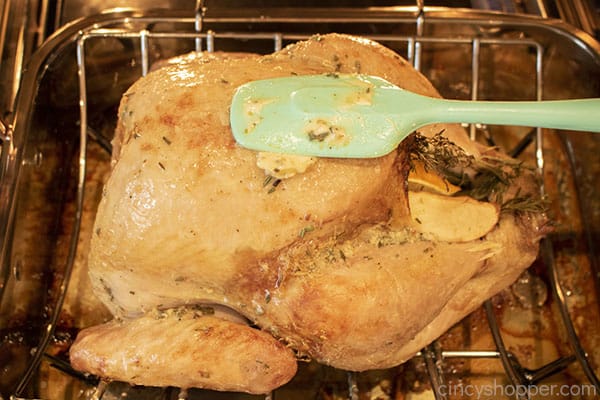 After an hour of baking, we decided to hit our turkey with the remaining herb butter. We melted it in the microwave and basted our turkey with it- more delicious, buttery flavor is always welcome! After adding that butter, we continued to let the bird cook until it had browned to our liking. Once it hit this point, we basted the turkey with the drippings in the bottom of the pan before covering with foil. This was to prevent it from browning any further- we don't want a burned bird here- and to keep the breasts from overcooking.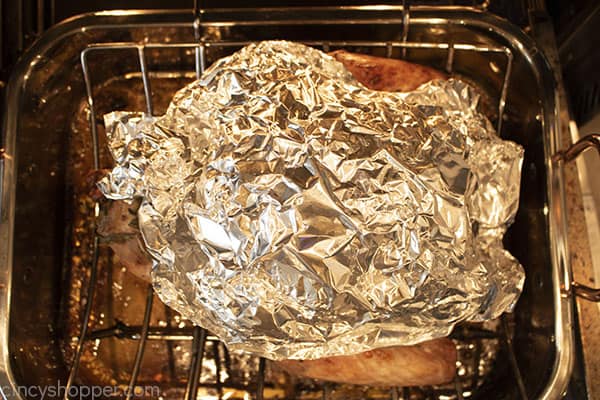 All that's left is to let the turkey finish cooking. If you have a meat thermometer handy, try probing the turkey in the thickest part of the thigh or breast. This will give you the most accurate read on the temperature- but try not to poke too many holes in your turkey! Your Thanksgiving Turkey is done once it reaches an internal temp of around 165 degrees.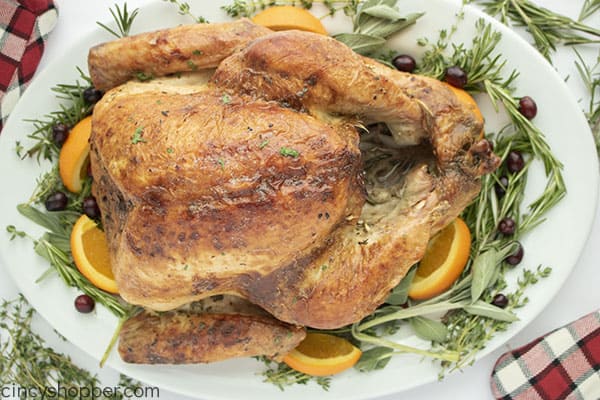 About the only way you could mess your turkey up at this point would be to carve it up right away. You want to give your bird about 20-30 minutes before you start slicing it up- this will help all the juices in the meat to spread evenly through the turkey. Once you've allowed the turkey to rest, then you can grab a carving knife and fork and start hacking off a few delicious, juicy slices. Serve up to your waiting dinner guests- and yourself, you've earned it- and enjoy!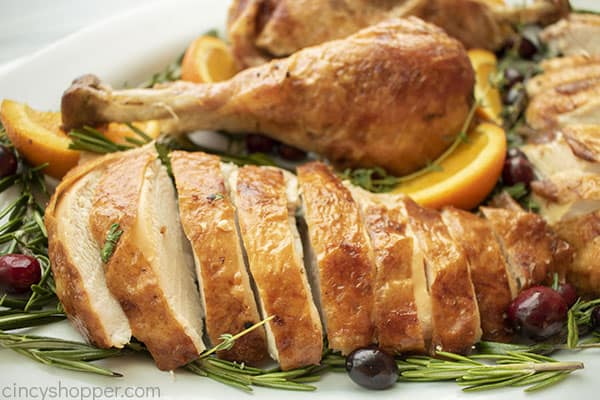 Tips for Roasted Turkey
Thawing Turkey:

Obviously

, you don't want to work with a frozen turkey! For best results, allow your turkey to thaw in the fridge for a few days- it'll take about a day per 5 pounds of turkey. Once thawed, allow to sit at room temperature for about an hour before roasting in the oven.

No Rack? No Problem!

Not everyone has a roasting pan for turkey, but that shouldn't be a problem- it might even make your turkey tastier

! The classic way to roast your turkey without a rack is to roast it over a layer of veggies in a deep baking dish. You might even buy a foil roasting pan for your Thanksgiving dinner.

Save those Turkey Drippings:

Want to know the key to delicious turkey gravy? Using those drippings!

You're going to have plenty of turkey drippings leftover when you've finished roasting your turkey

. Put them to good use by making some Easy Turkey Gravy with them!

Cook it

just

right!

There's a bit of a sweet spot when it comes to baking and roasting your turkey: you don't want it undercooked but you also don't want to dry it out

. The sweet spot you want to aim for is 160 degrees. When you pull your turkey from the oven at this temperature, you can cover it with foil. This will let the turkey finish cooking in its own heat- bringing up to the perfect temp of 165 degrees!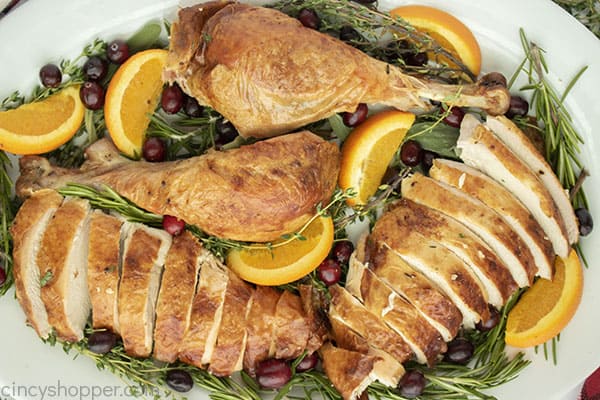 Roasted Turkey
The Best Thanksgiving Turkey is made easy and delicious with a few extra tricks. You'll love this no-fail, moist, and flavorful recipe!
Ingredients
1

cup

Butter

softened

1/4

tsp

Salt

1/2

tsp

Black Pepper

6

tsp

Minced Garlic

1/2

oz

Fresh Thyme

divided

1/2

oz

Fresh Rosemary

divided

1/2

oz

Fresh Sage

divided

12-15

lb

Turkey

thawed

1

Onion

peeled and quartered

1/2

Lemon

quartered

1

Red Apple

quartered

1

Green Apple

quartered
Instructions
Allow thawed turkey to sit on counter for 1 hour to come to room temperature.

Adjust oven racks to allow room for the turkey to fit in the middle of the oven.

Preheat oven to 325.

Remove stems from enough rosemary to make 1 tablespoon of chopped rosemary.

Remove stems from enough thyme to make 1 tablespoon of chopped thyme.

Remove stems from enough sage to make 1 tablespoon of chopped sage.

In a medium bowl, combine butter, garlic, salt, pepper, chopped thyme, chopped rosemary and chopped sage. Stir until well blended.

Remove packaging from turkey and remove neck and giblet pack from inside of the bird.

Dry the turkey with paper towels.

Tuck or rotate wings underneath the turkey.

Set the turkey on a roasting rack inside a roasting pan.

Rub some of the herb butter inside the cavity.

Gently loosen the skin above the breast by slipping your fingers up under the neck flap.

Take some more of the butter and place under this loosened skin.

Rub down the rest of the outside of the turkey with the herb butter,

Retain a little of the herb butter for basting while it cooks.

Stuff the cavity with the apples, onion, lemon and a few sprigs of each of the herbs.

Roast for about 15 minutes per pound until internal temperature inserted in middle of breast reaches 165. When skin on breast gets golden brown, tent with aluminum foil to keep from burning.

Allow turkey to rest for 15-20 minutes before cutting.

Reserve pan drippings for gravy.
Notes
Thaw a frozen turkey in the refrigerator, 24 hours for every 5 pounds of Turkey.
Save the drippings, they make for great turkey gravy.
Do NOT overcook, you will have dry meat!
Let the bird rest before carving, about 20 minutes.
Nutrition
Calories:
618
kcal
|
Carbohydrates:
7
g
|
Protein:
70
g
|
Fat:
34
g
|
Saturated Fat:
14
g
|
Cholesterol:
273
mg
|
Sodium:
546
mg
|
Potassium:
803
mg
|
Fiber:
1
g
|
Sugar:
4
g
|
Vitamin A:
760
IU
|
Vitamin C:
7
mg
|
Calcium:
61
mg
|
Iron:
3
mg