Peanut Butter Eggs see a rich, creamy peanut filling coated in chocolate. This super easy Reese's Eggs copycat recipe is perfect for Easter!
These Homemade Reese Peanut Butter Eggs are some of the most delicious Easter candies we've made! For more Easter treats, check out our Homemade Cadbury Eggs Recipe or our Homemade Coconut Cream Eggs.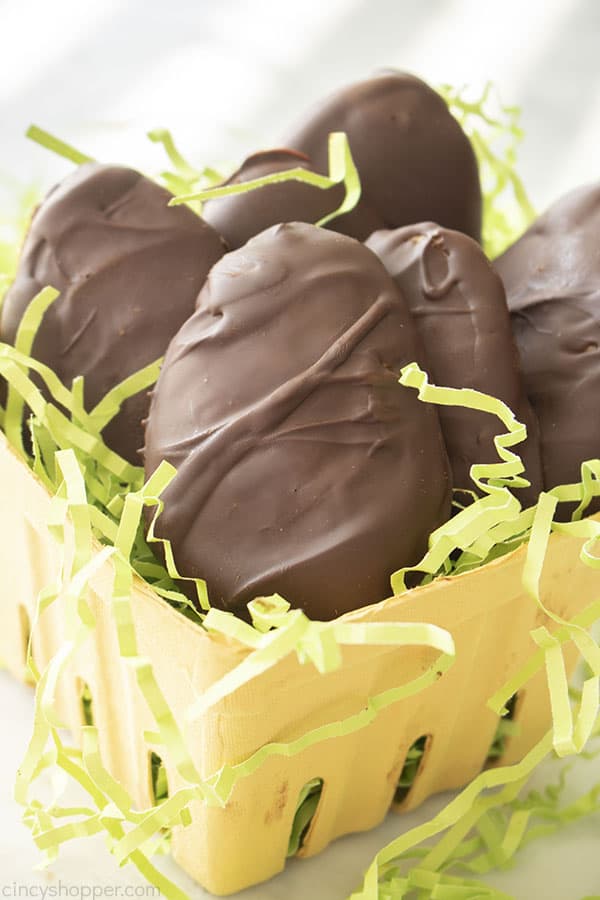 Peanut Butter Eggs
Every holiday has it's own variety of candies and sweets that flood the shelves at grocery stores. Candy canes around Christmas, Sweethearts around Valentine's Day, and basically everything when Halloween comes around! When it comes to Easter, two big candies come to mind: PEEPS and those tasty Reese's Eggs. We love those Reeses Eggs so much that we even make some ourselves! That's where this recipe for Peanut Butter Eggs comes in.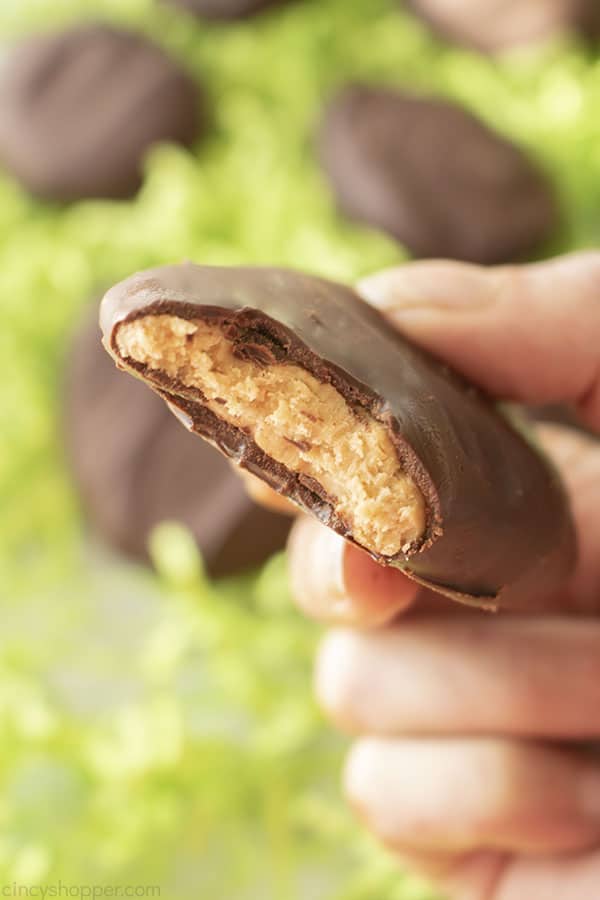 We love making Homemade Reese Eggs because you can use all your favorite ingredients. Got a specific chocolate you like? You can use it for the chocolate shell! Not to mention that our Peanut Butter Egg filling tastes way better than the stuff in the store-bought Reese Eggs. What more can I say: these Peanut Butter Easter Eggs are just better when you make them from scratch!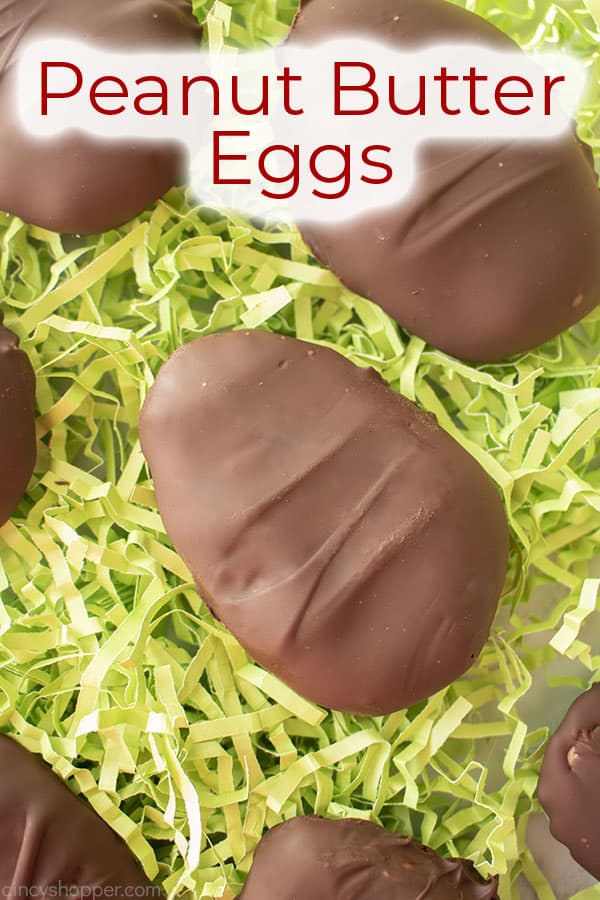 These Easter treats will last a while too, which makes them great candy gifts. I haven't met anyone who doesn't love Chocolate Peanut Butter Eggs around the Easter holiday season! We hope you all make some of these up and share them around. This has always been one of our favorite candy recipes for a reason- give them a try and you'll see why!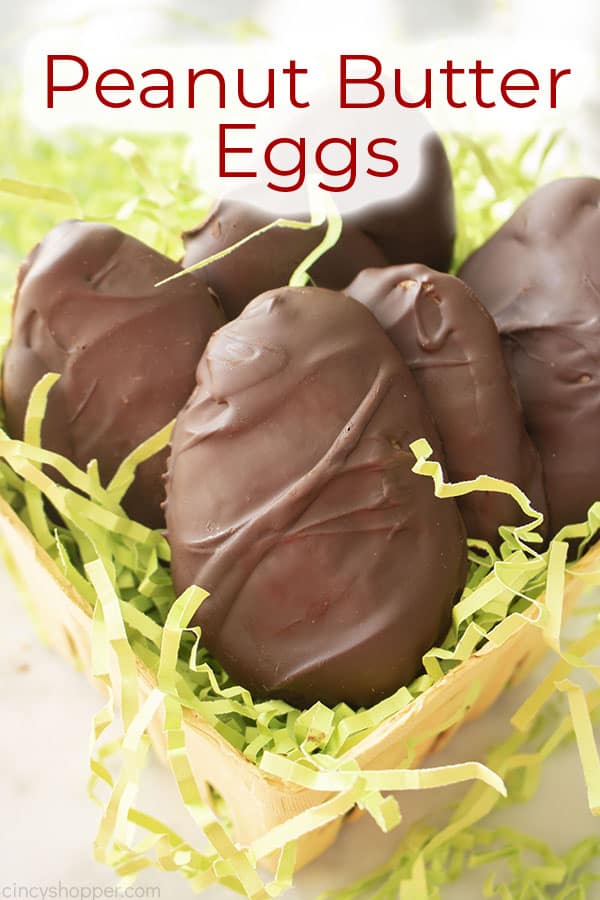 Enjoyed this Reese's recipe? Try these Reese's dessert recipes next!
Making ice cream doesn't have to be hard:

just

check out our recipe for

No Churn Reese's Peanut Butter Ice Cream

.

Using heavy whipping cream and sweetened condensed milk, you can make this no churn ice cream recipe so easy

. This cold treat is a peanut butter & chocolate lover's dream dessert!

When it comes to cold treats, we love ourselves a good no bake cheesecake- like this

No Bake Reese's Peanut Butter Cheesecake

.

Chocolatey Oreo crust

is paired

with a sweet and delicious peanut butter cheesecake filling in this amazing dessert

. Top with extra Reese's cups and some chocolate syrup for a beautiful and tasty dessert!

Of course, you can't go wrong with cupcakes, so try our

Reese's Peanut Butter Cupcakes

while you're here.

Tasty chocolate cupcakes- with a Reese's miniature inside-

are topped

with a with a rich peanut butter frosting

. Such a tasty and delicious dessert recipe!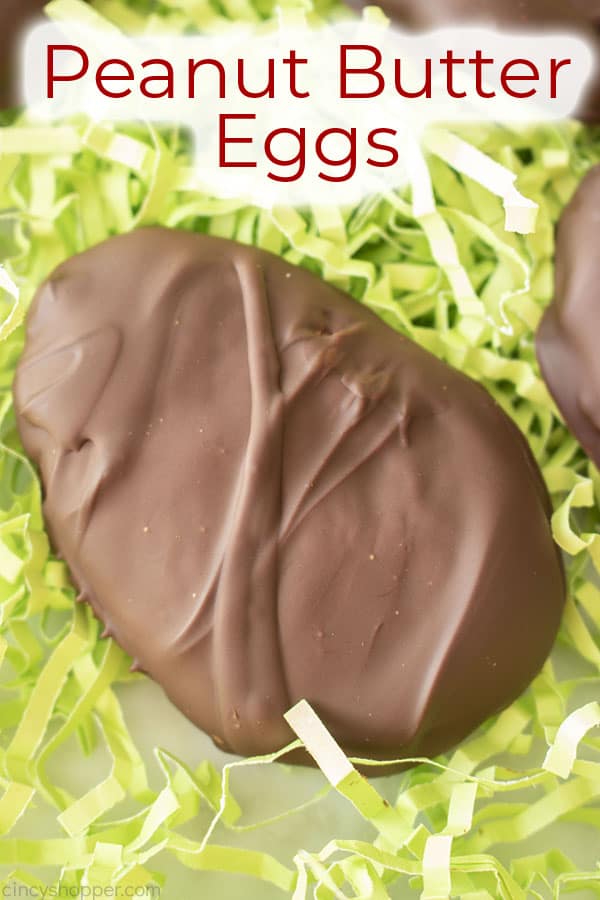 Reese's Eggs Ingredients
Peanut Butter

– Go with a creamy peanut butter here, unless you want some crunchy eggs. If you wanted to be

really

authentic here, you could use some Reese's creamy peanut butter.

Butter

Vanilla Extract

Powdered Sugar

/

Confectioner's Sugar

Chocolate Chips

– We used to use dark cocoa melting chips for recipes like this.

Now we usually use actual chocolate chips and some shortening and it gets similar results

. We also get to use our favorite chocolates using this method!

Shortening

– You can also use coconut oil here if you want to be a bit healthier.

Be careful about using a coconut oil that's

too

natural here though: virgin coconut oil is good for you but it

really

tastes like coconut

. Unless you want coconut-flavored Reese's Eggs, go with a refined coconut oil.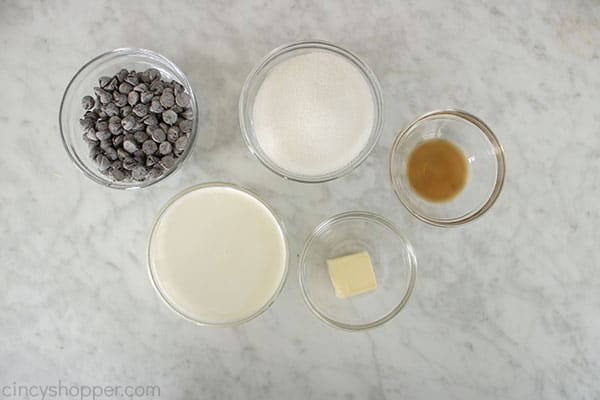 How to make Peanut Butter Eggs
These Easy Peanut Butter Eggs are so simple to make. Here's how to make some yourself:
Melt peanut butter and butter together

in microwave.

Stir together with vanilla and powdered sugar

. Divide into portions and

shape into eggs

before

putting in freezer

.

Microwave chocolate and shortening

in 30 second bursts,

stirring between

until melted and smooth

.

Dip peanut butter eggs in chocolate coating

.

Refrigerate 10 minutes to set

before enjoying.
Add your butter and peanut butter to a large mixing bowl. Microwave for 1 minute and stir well until melted and blended.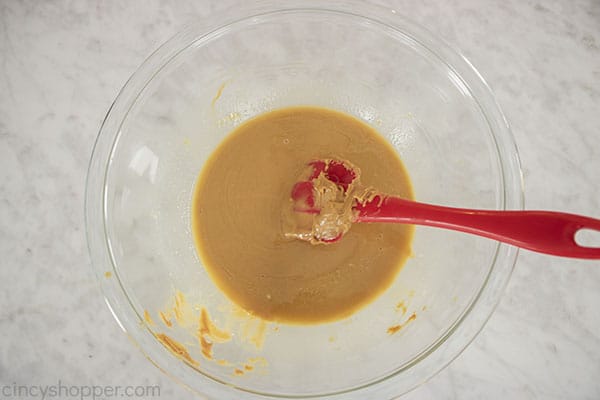 Add in the vanilla and powdered sugar.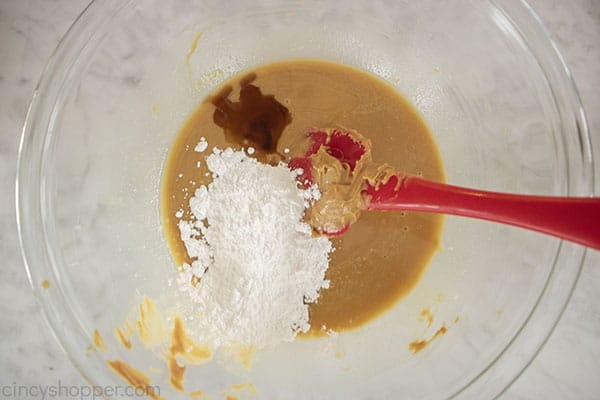 Start stirring everything together.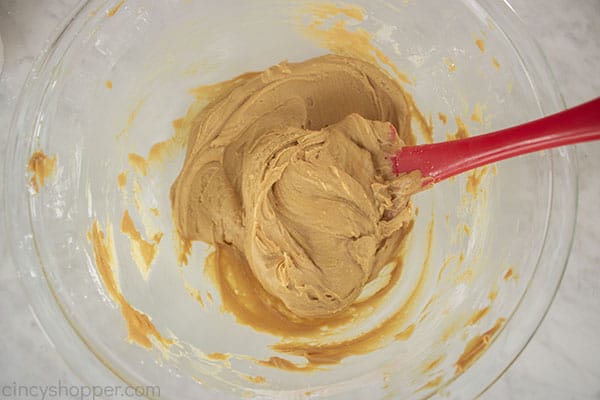 Eventually, it'll all come together into a shapeable filling.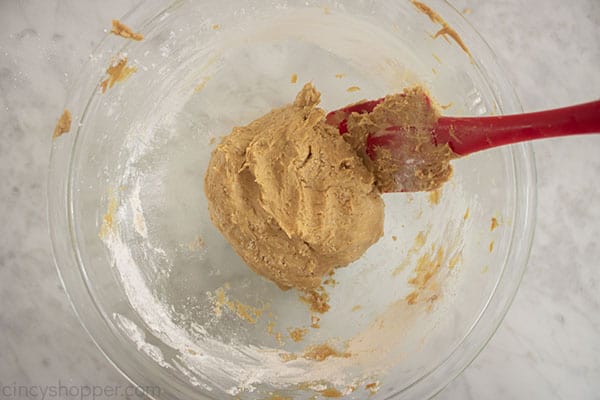 Divide up into portions- we usually go with 10- and shape into eggs. Set eggs on a parchment lined baking sheet and freeze for 15 minutes. In the meantime, add chocolate and shortening to another mixing bowl.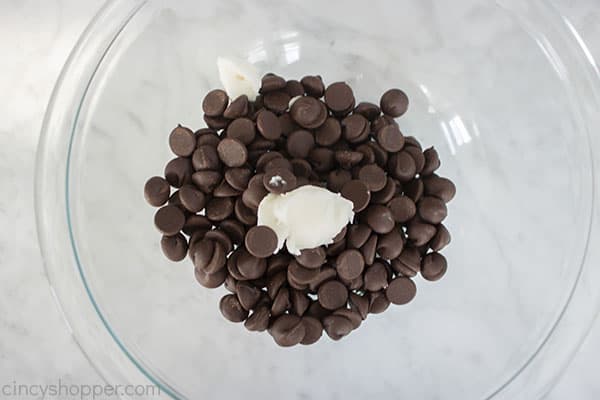 Microwave the chocolate and shortening in 30 second bursts, stirring in between to ensure even melting. Once melted, take your peanut butter eggs and drop them into the chocolate coating. Flip to coat completely and lift out with a fork, letting excess chocolate drip off. Repeat with remaining eggs.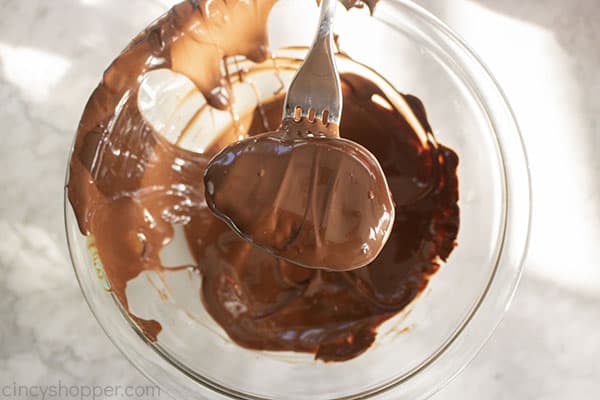 Place coated eggs back onto a parchment lined baking sheet and refrigerate for 10 minutes to set the chocolate shell. Once the shell is set, your Homemade Reese's Eggs are done! Grab one, bite in, and enjoy.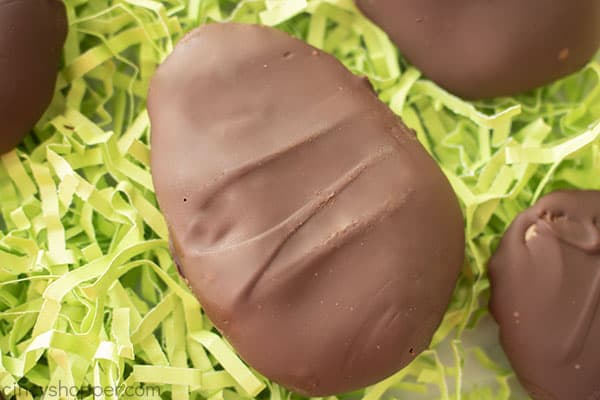 How long do Homemade Peanut Butter Eggs last? Can you freeze Peanut Butter Eggs?
Kept in an airtight container in the fridge, your Peanut Butter Eggs should last a good 2-3 weeks. If kept well enough, they might even been good for a whole month! For longer term storage, consider freezing them: if frozen, they should last 2-3 months. Let thaw in the fridge before enjoying. Do note that freezing chocolate can mess with it's "temper," which means the texture of the shell may change after freezing. Still safe to eat though!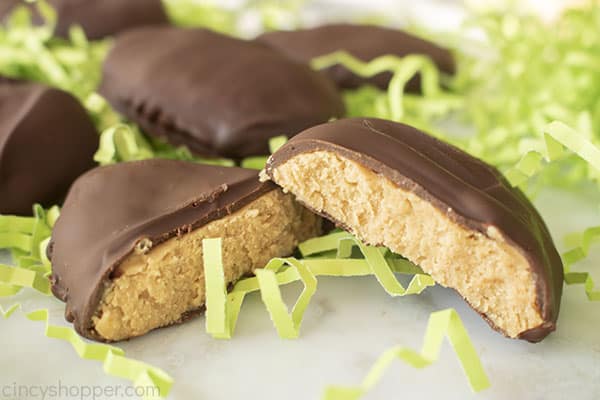 Peanut Butter Eggs
Peanut Butter Eggs see a rich, creamy peanut filling coated in chocolate. This super easy Reese's Eggs copycat recipe is perfect for Easter!
Ingredients
1

cup

Peanut Butter

1/4

cup

Butter

1

tsp

Vanilla

1 1/2

cup

Powdered Sugar

1 1/2

cup

Chocolate Chips

1

tbsp

Shortening
Instructions
Line a baking sheet with parchment paper and set aside.

Melt peanut butter and butter for 1 minute in microwave.

Add vanilla and powdered sugar and mix well. If mixture is too wet and sticky add more powdered sugar.

Divide mixture into 10 portions and shape into a egg shape.

Place eggs on prepared sheet and place in freezer for 15 minutes.

Melt chocolate and shortening in microwave by heating for 30 seconds then stirring and repeating process until it is melted and smooth.

Using a fork, dip egg into chocolate and flip to cover completely. Lift with fork and gently tap on edge of the bowl allowing excess chocolate to drip off.

Place back on parchment paper.

Refrigerate 10 minutes until chocolate has set.
Notes
Note: If your peanut butter egg mixture is not workable, add more powdered sugar. Depending on the peanut butter used in the recipe, you may need more sugar.
Nutrition
Calories:
365
kcal
|
Carbohydrates:
35
g
|
Protein:
6
g
|
Fat:
24
g
|
Saturated Fat:
9
g
|
Polyunsaturated Fat:
4
g
|
Monounsaturated Fat:
8
g
|
Trans Fat:
1
g
|
Cholesterol:
17
mg
|
Sodium:
154
mg
|
Potassium:
148
mg
|
Fiber:
1
g
|
Sugar:
30
g
|
Vitamin A:
142
IU
|
Calcium:
14
mg
|
Iron:
1
mg