I will openly admit I had not ever tried Chicken Tortilla Soup. Wow was I crazy! This recipe is delish! My hubby has been nagging at me for quite some time to order a bowl when we have been out for lunch/dinner. For some reason I always ordered up my favorites like broccoli and cheese and loaded baked potato. Sometimes it takes quite a bit of nagging to get me to deviate from my norm ha ha! Yesterday morning I had pulled some chicken out of the freezer for dinner and was lost at what I should make with the chicken. The hubby was quick to suggest making a slow cooker chicken tortilla soup. I will say I must have had a look of disappointment on my face, lol. He was quick to tell me to "just give it a try". So I let him make up a crock for us to have for dinner.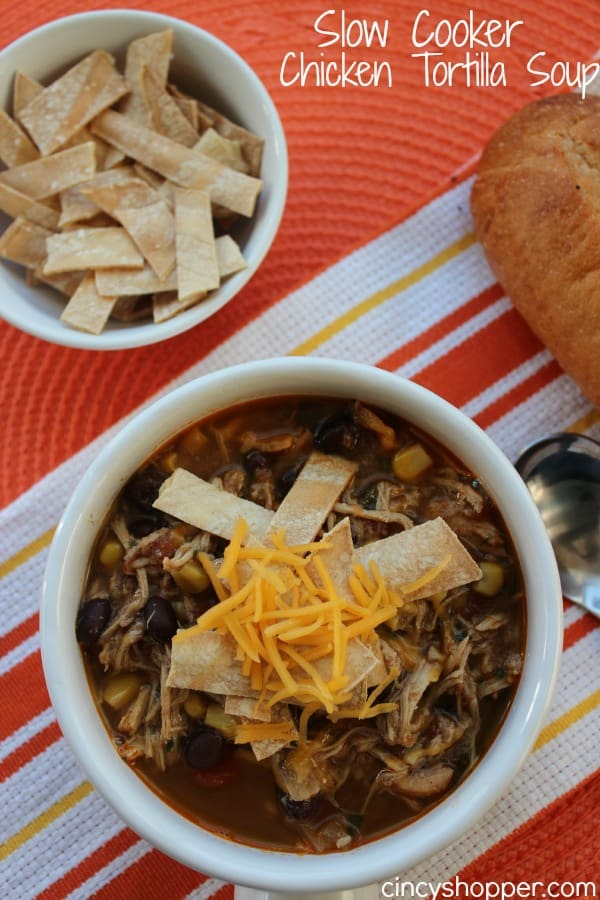 Slow Cooker Chicken Tortilla Soup
I was amazed at how quickly he had the ingredients in the crock-pot. The house was smelling of yummy spices all afternoon. Even the kiddos were excited to figure out the smell when they arrived home from school.  I still am not quite certain as to why I have never given Chicken Tortilla Soup a try. I love Mexican spices as well as chicken.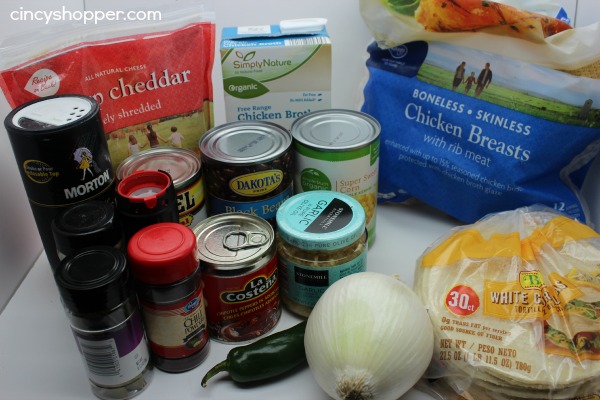 INGREDIENTS
1 lb Chicken Breast
4 cup Chicken Broth
1 can Whole Kernel Corn
1 can Black Beans
1 tbsp minced Garlic
2 tsp chili powder
1 Onion
1 Jalapeno diced (seeds removed)
1 can Rotel not drained
1 tbsp chipotle in adobo
Salt & Pepper to taste
1 tsp Cumin
1 Bay leaf
1/4 cup chopped Cilantro
6 Corn tortilla
1/4 cup shredded Cheese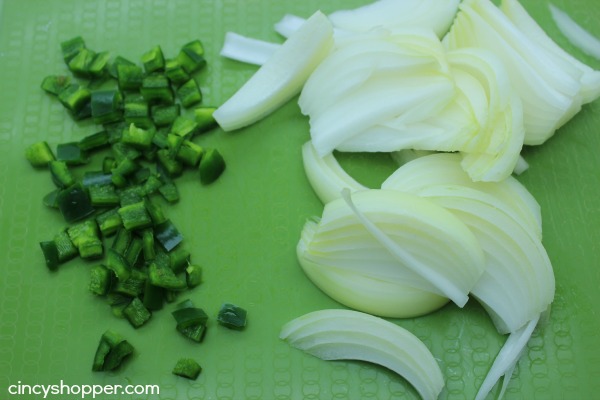 DIRECTIONS
All all ingredients except cheese, tortillas, cilantro and corn.
Cook on low for 8 hours.
Chicken should now shred with a spoon or fork. Shred chicken.
Drain and add corn.
cut 2 tortillas into strips and add to pot.
Finely chop cilantro leaves and add to soup.
Cook for another hour.
Cut remaining tortillas into strips place on baking sheet salt and bake at 350 for 10 minutes.
Put soup in bowls and garnish with tortilla strips and cheese.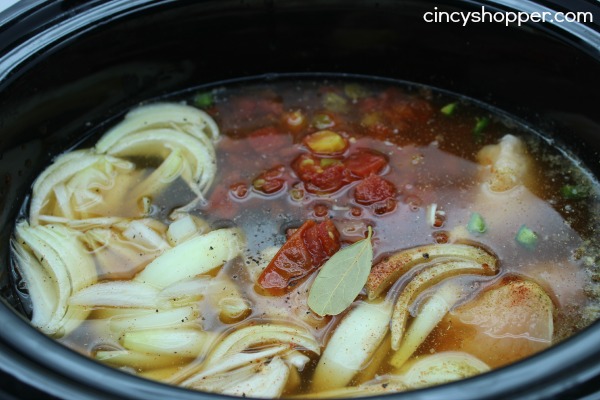 After seeing and smelling all the yummy ingredients going into the crock-pot I was more anxious to give the Chicken Tortilla Soup a try.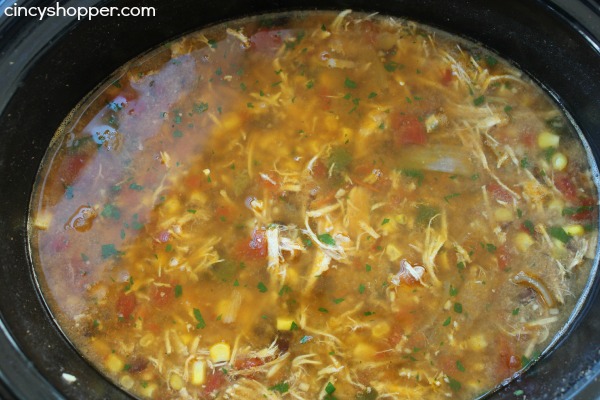 Onions, tomatoes, jalapenos oh my! Some of my favorite foods all in one soup. The hubby really delivered with this yummy soup. He even made some corn tortilla strips to top it off with. He also kicked it up with lots of shredded cheese. Oh and he even did the dishes ha ha!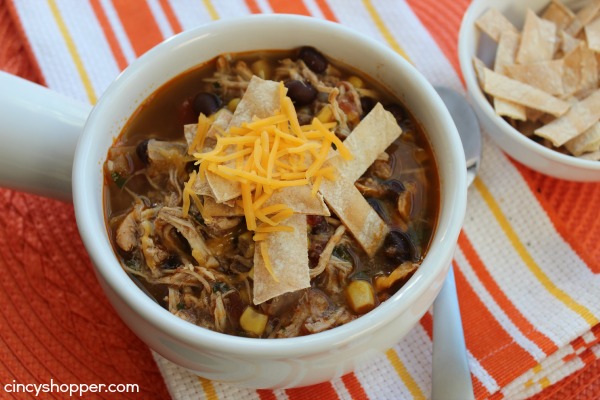 If you are looking for other slow cooker recipes be sure to check out my Slow Cooker Dr Pepper Pulled Pork,  Slow Cooker French Dip,  Slow Cooker Breakfast Casserole, the Slow Cooker Bean Soup, Slow Cooker Basic Bread , Slow Cooker Chicken Noodle Soup and the Slow Cooker Cheesy Mexican Dip I shared with all of you.