Caprese Pasta Salad is such a delicious spring and summer dish. This quick and easy pasta salad recipe is so rich and packed with flavor!
The classic combo of tomatoes, mozzarella, and basil works wonders in this tasty recipe for Caprese Pasta. For more pasta salads, try our family favorite Pasta Salad or Chicken and Broccoli Pasta Salad.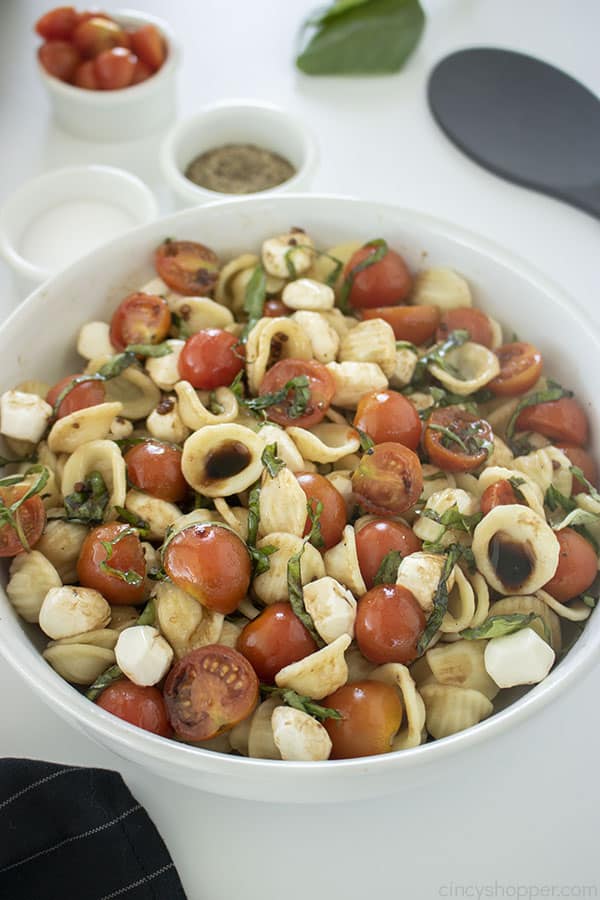 Caprese Pasta Salad
The spring and summer are the time for us to start enjoying some our most favorite salads. You can have a salad any time of the year but something about fresh veggies and tangy dressings and vinaigrettes really makes salads hit the spot during the warmer months. When it comes to spring and summer salads, I really like pasta salads- cool, refreshing, and easy to make- but I do enjoy a well-made caprese salad as well! Recently, I decided to go ahead and combine the two into what might be the best pasta salad recipe: Caprese Pasta Salad.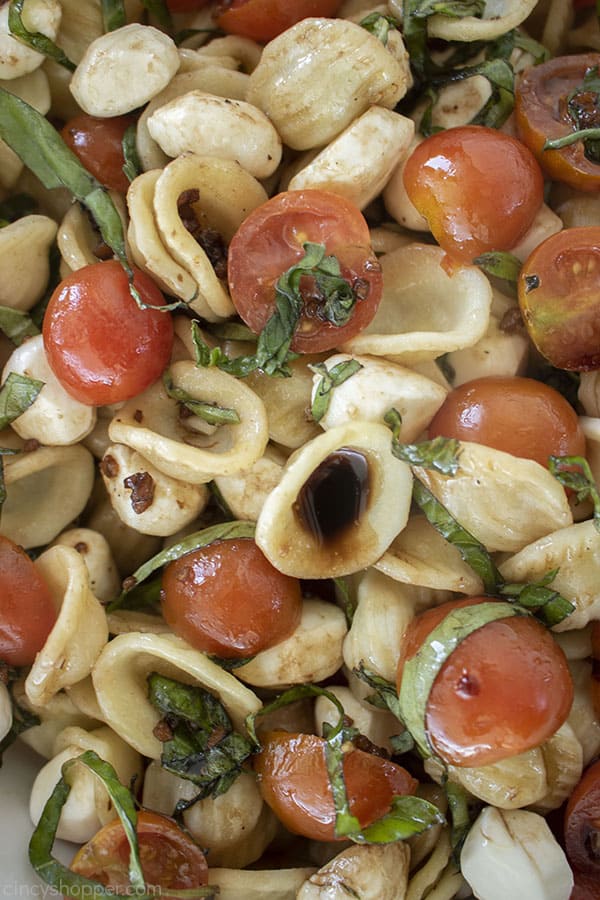 Really, it's hard for a salad like this to go wrong. When you mix pasta with mozzarella and tomatoes- with a bit of basil and a nice vinaigrette too-, you're setting yourself up for success! Tomato Mozzarella Pasta Salad would be good enough on it's own, I imagine, but it's all those finishing caprese salad touches that elevate this dish. Sweet herb-y basil and a rich tangy balsamic vinaigrette are a must if you make this dish for yourself!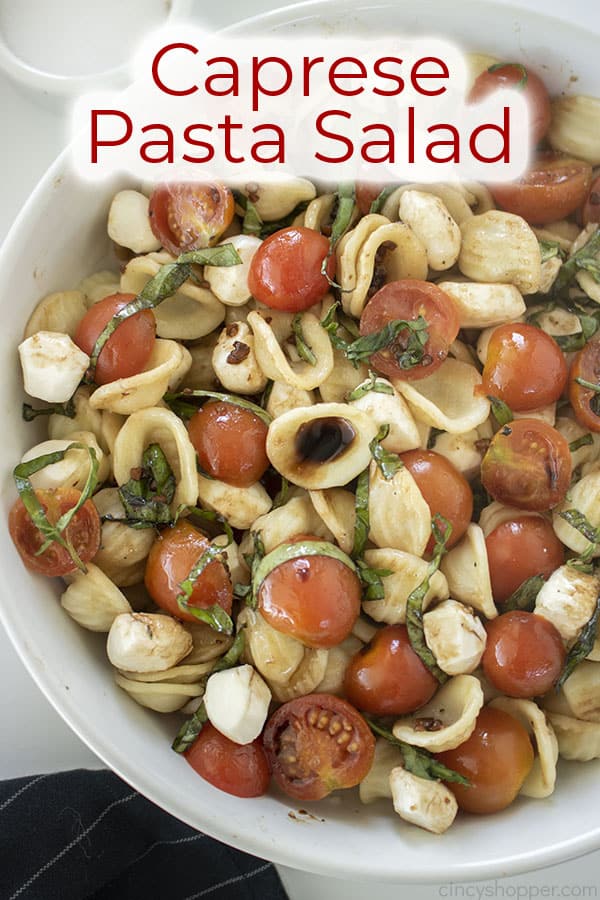 Like any other pasta salad, you can serve this Caprese Pasta Salad up for all sorts of occasions. Have it as an appetizer before dinner or bring it to your next potluck or picnic. I guarantee you folks are going to love this one! I'm really looking forward to making this pasta salad recipe up again sometime soon- give it a try for yourself and see for yourself how good this stuff is!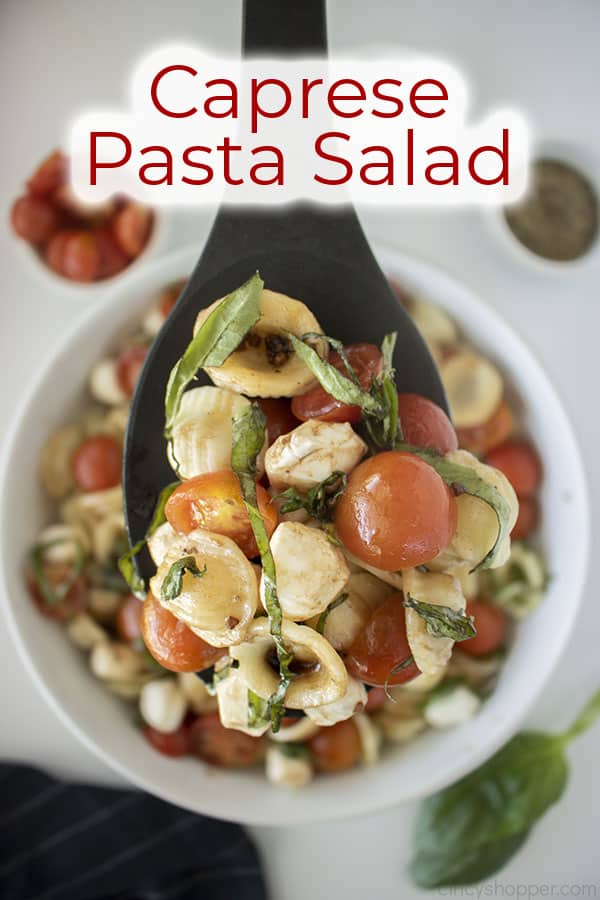 Loved this recipe? Try these caprese recipes next!
If you've never tried a classic traditional

Caprese Salad

, you're missing out!

This is a timeless composed salad with short list of tasty ingredients: roma tomatoes, mozzarella, and fresh basil

.

3 ingredients but so much flavor- paired with a simple balsamic vinaigrette, it's a salad recipe that's hard to beat

!

For a delicious appetizer perfect for any summer party plans you had this year, go with our

Caprese Pastry Bites

.

All your favorite caprese salad ingredients nestled in a puff pastry shell: one small change makes a tasty big difference

. Roasting these in the oven melts the mozzarella and gives the tomatoes a sort of rich sun-dried taste- yum!

Garlic bread is an amazing side dish or appetizer, so consider upgrading it into some

Caprese Garlic Bread

. We cook up some simple garlic bread, melt on some mozzarella, then top off with some tomatoes and basil. Hit it with a bit of balsamic reduction and you might never want to go back to plain garlic bread!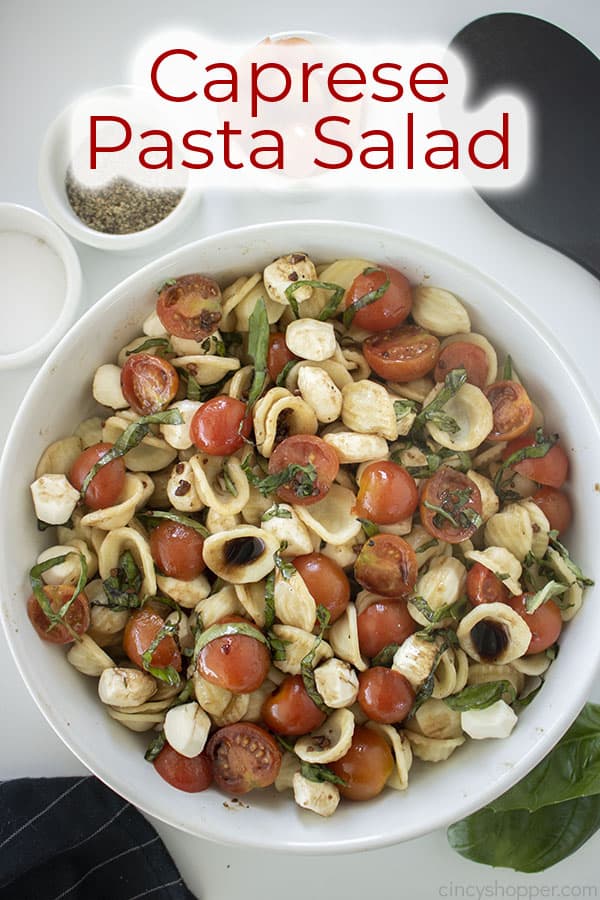 Caprese Pasta Salad Ingredients
Pasta – When it comes to the best pasta for pasta salad, there's plenty of options. You could use a penne, a rigatoni, a rotini, or even something as simple as shells or elbows. We ended up using this orecchiette pasta: it looks very unique and helps our pasta salad look a bit more interesting!

Tomatoes

– Go with a small variety of tomato for the best look. We used these cherry tomatoes and sliced them in halves. If you can't source any small tomatoes, feel free to dice up a larger tomato like a roma tomato.

Mozzarella

– Mozzarella pearls work great here!

Basil

– Fresh basil will taste the best. To slice it into thin strips,

tightly

roll a few basil leaves up into a sort of cigar shape. Slice into strips as thin as you can

Balsamic Vinegar

– You could also use some balsamic reduction in here if you want a more intense balsamic flavor

. Either one will work well for our caprese salad dressing.

Olive Oil

– If you have a good olive oil, this is a fine place to use it. Any olive oil will work for this vinaigrette though, so don't worry if you're using cheaper stuff.

Minced Garlic

Salt & Pepper
How to make Pasta Caprese
You're going to love this Caprese Pasta Salad: it's such an easy pasta salad recipe you'll have no trouble making
! To make some yourself, here's all you have to do:
Whisk together balsamic vinegar, olive oil, garlic, and salt & pepper

to make a caprese salad dressing

.

Prep remaining salad ingredients:

cook pasta

,

chop

or dice

tomatoes

, and

slice basil into strips

.

Add salad ingredients to a bowl

,

coat with caprese vinaigrette

, and

toss to combine

.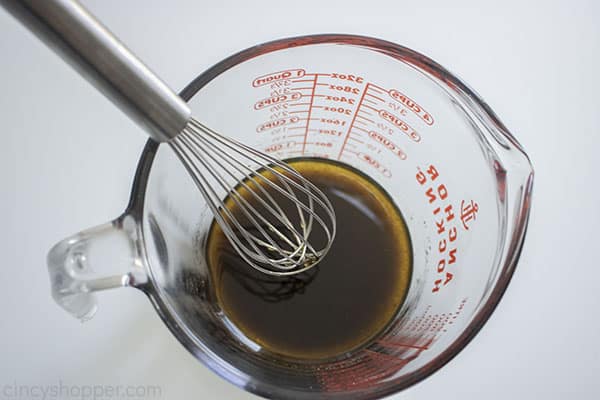 To a bowl or measuring cup, add the ingredients for your caprese salad dressing: the balsamic vinegar, olive oil, garlic, and salt & pepper. Use a whisk to mix those all together and set aside. If you haven't already, cook and drain your pasta, chop or dice your tomatoes, and thinly slice the basil into strips. In another larger bowl, assemble the remaining pasta salad ingredients.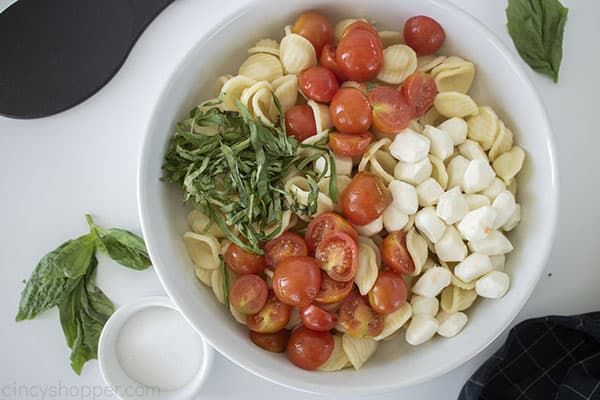 Give your vinaigrette dressing another quick mix to combine, as the vinegar and oil have likely separated at this point. Pour the vinaigrette over the salad ingredients and toss everything to combine and coat.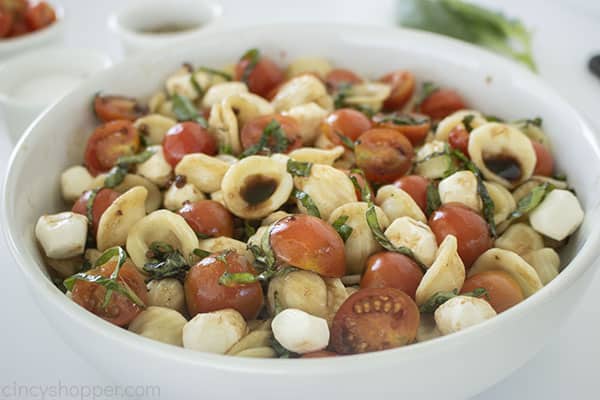 Serve your Caprese Pasta Salad straight away or allow to chill for at least 30 minutes before enjoying. Store leftovers in an airtight container in the fridge for about 4-5 days.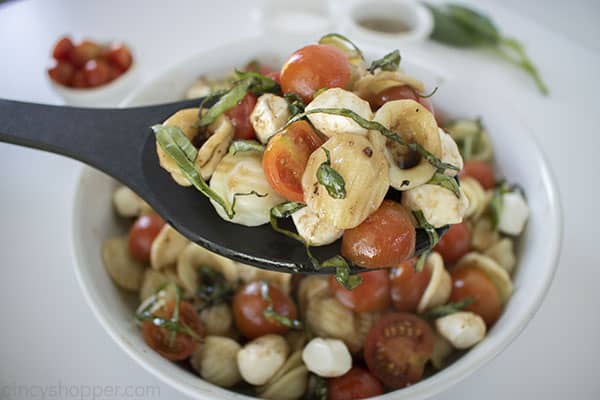 Caprese Pasta Salad
Caprese Pasta Salad is such a delicious spring and summer dish. This quick and easy pasta salad recipe is so rich and packed with flavor!
Ingredients
1/4

cup

Olive Oil

4

tbsp

Balsamic Vinegar

1

tsp

Minced Garlic

1/2

tsp

Salt

1

tsp

Black Pepper

1

lb

Pasta

Cooked al dente

16

oz

Mozzarella Balls

10

oz

Cherry Tomatoes

cut in half or Roma Tomatoes diced

3/4

cup

fresh Basil

sliced in strips
Instructions
Whisk together the olive oil, balsamic vinegar, garlic, salt and pepper to make a dressing. Set aside.

Make sure cooked pasta has cooled completely.

Combine pasta, tomatoes, mozzarella and basil in a large bowl.

Give dressing anothe quick stir and pour over salad. Toss to combine and coat
Nutrition
Calories:
427
kcal
|
Carbohydrates:
46
g
|
Protein:
18
g
|
Fat:
20
g
|
Saturated Fat:
5
g
|
Polyunsaturated Fat:
1
g
|
Monounsaturated Fat:
5
g
|
Cholesterol:
20
mg
|
Sodium:
195
mg
|
Potassium:
225
mg
|
Fiber:
2
g
|
Sugar:
4
g
|
Vitamin A:
293
IU
|
Vitamin C:
9
mg
|
Calcium:
227
mg
|
Iron:
1
mg