Slow cooker breakfast casserole is the easiest way to make a delicious and filling breakfast. Make it the night before for a full breakfast the next morning or take it to your next potluck brunch.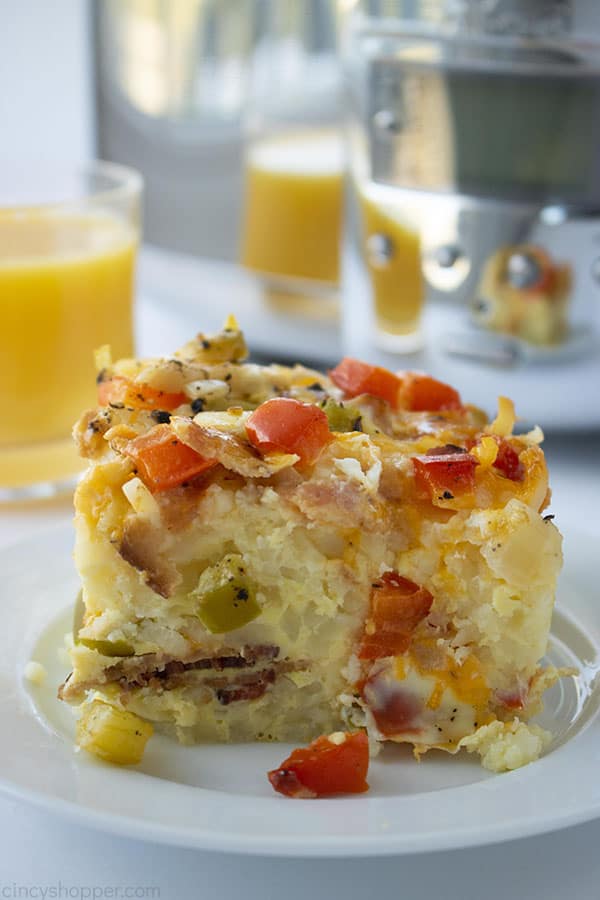 This slow cooker breakfast casserole is full of protein that will keep you going all morning. The base of eggs is healthy, and you can add any breakfast meat such as sausage or bacon. You can even keep it vegetarian and skip the meat.
Customize it with the veggies you most enjoy and dump in frozen hash browns. These shortcuts make it easy to feed a crowd, eat a healthy breakfast without a lot of effort or enjoy breakfast for dinner. With a seven quart slow cooker, your options are endless for feeding a crowd.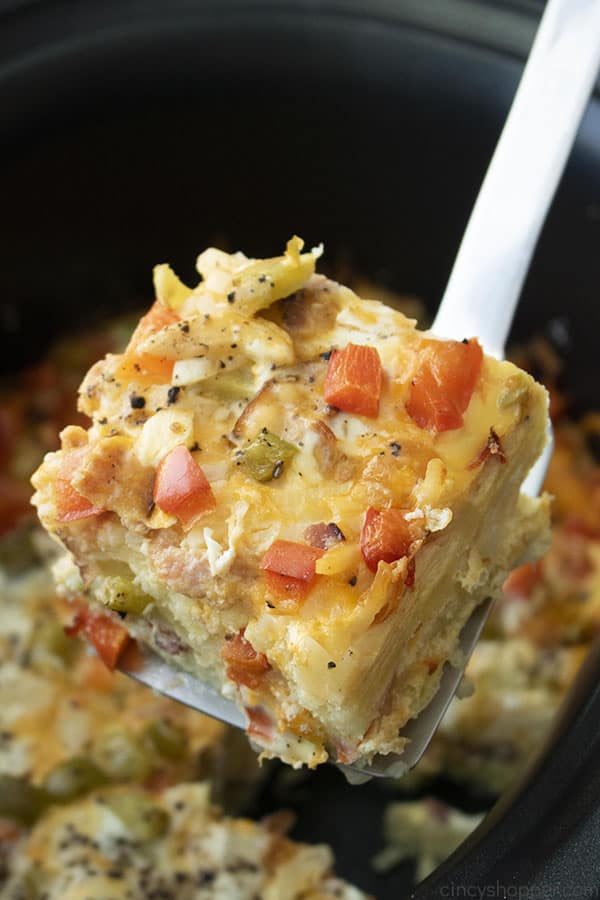 How do you cook breakfast meat in the slow cooker breakfast casserole?
The method for cooking your meat for this crock pot breakfast casserole depends on the kind of meat you want to use.
I used bacon in the original recipe. I cooked in it a skillet before putting it in the crock pot. Bacon will not get crispy in the slow cooker so it's best to cook that beforehand. You can do it in the skillet or oven. You could also eliminate this step and use precooked bacon or leftovers from another meal.
You could also use sausage in this recipe just as easily. You can put raw sausage in the crock pot, but I still recommend that you cook it fully in a skillet first. As long as the sausage reaches an internal temperature of 165F, it will be safe to eat. This will require cooking it for four hours at high or eight hours at low.
Other breakfast meats you could try are:
Turkey bacon
Turkey sausage
Ham
Lox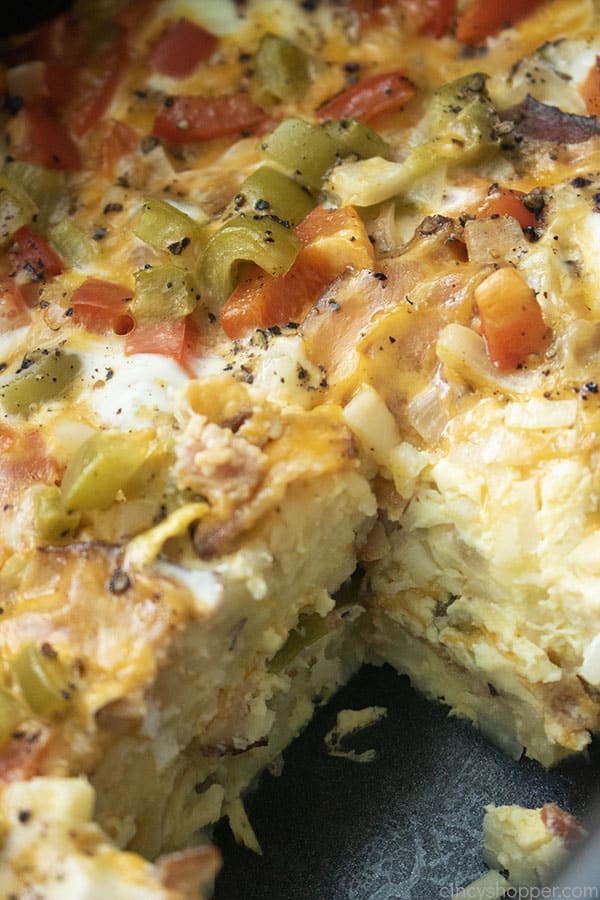 What veggies can you put in this crock pot breakfast casserole?
Besides the meat and eggs, you can put lots of fresh veggies in this slow cooker breakfast casserole.
I always use onions, green peppers and red peppers. Try some of these veggies too:
Mushrooms
Carrots
Peas
Zucchini
Spinach
Broccoli
Roasted red peppers
Tomatoes
Ingredients for Slow Cooker Breakfast Casserole
Frozen Hash Brown Potatoes (Note: I actually use shredded Has Browns, my image shows cubed)
Eggs
Milk
Cheese
Bacon
Peppers
Onions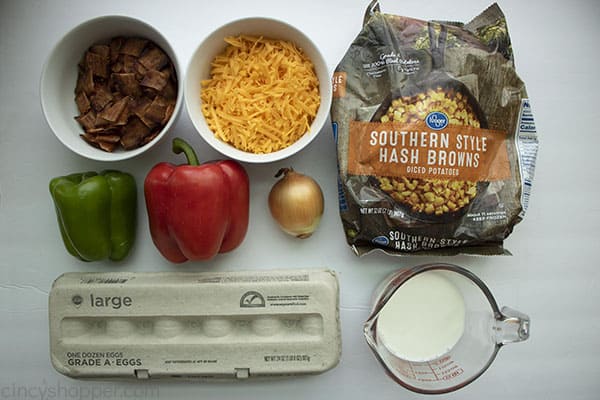 How to Make Slow Cooker Breakfast Casserole
First, grab your favorite large crock pot. I used my 7 quarts cast iron style. Then, add half of the bag of hash brown potatoes.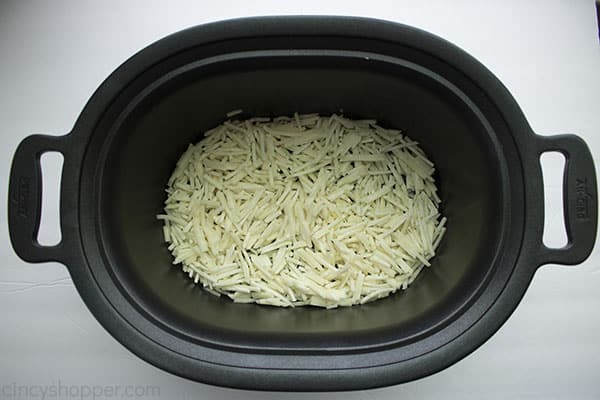 Next, you will need to add half of the bacon on top of the frozen potatoes.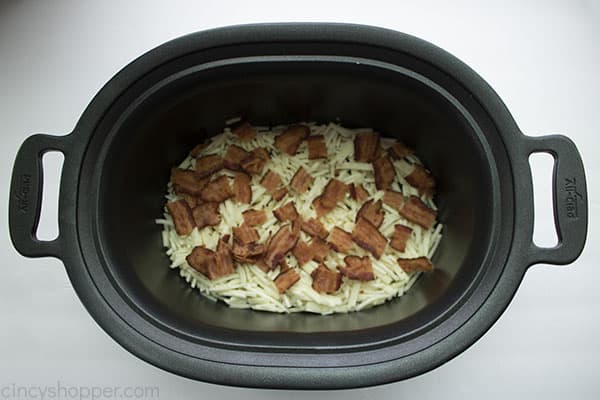 Now, add half of the green peppers and half of the red peppers. Also, add half the onions.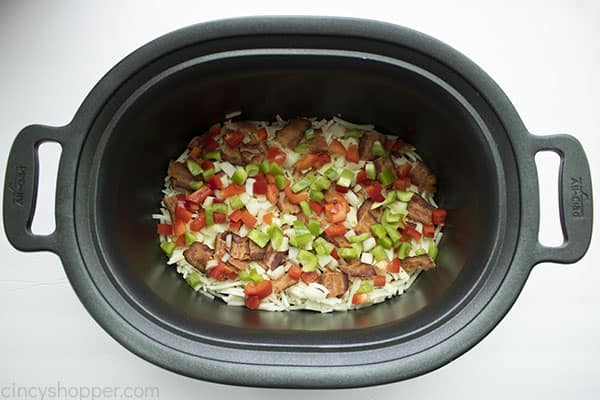 Then, add half of the shredded cheese. Tip: use a brick of cheese and shred yourself, the results are much better than with store-bought pre-shredded cheese.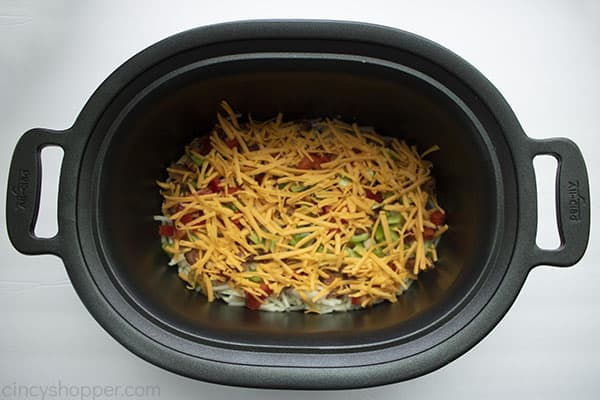 For the next step, you will repeat adding another set of layers of potatoes, meat, veggies, and cheese. Then, in a small bowl whisk together the eggs and milk. Now, pour the egg mixture on top of the layered casserole ingredients.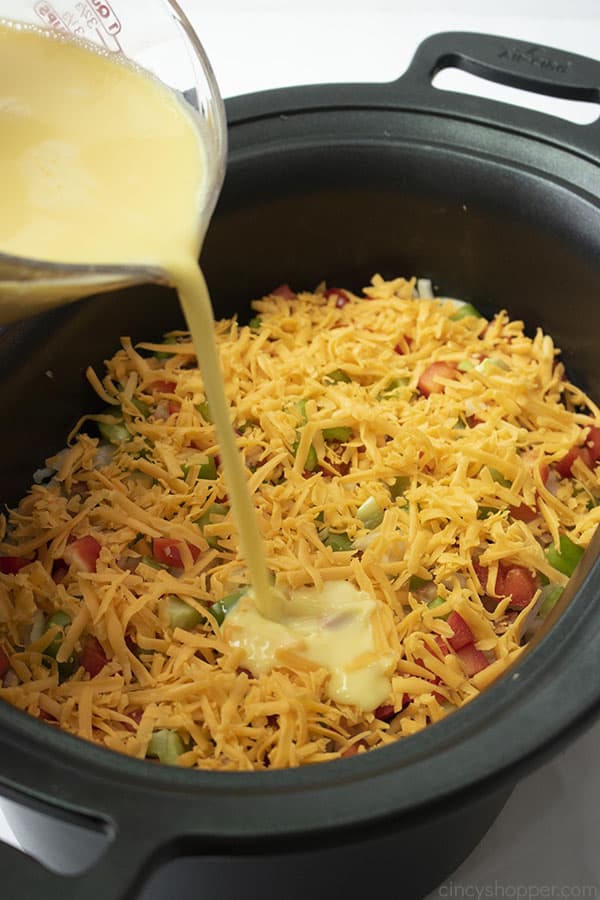 Finally, add a double thick paper towel to the top of the crock and place the lid to hold in place. Cook the breakfast casserole on warm for 8 hours or on low for 4 hours.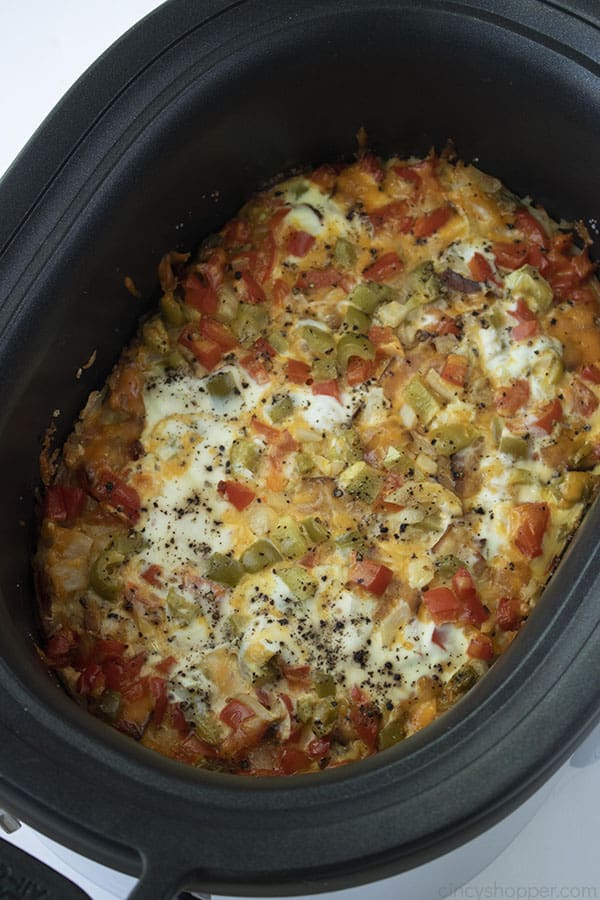 Note: All slow cookers cook differently. I have made this casserole MANY of times in both of my large slow cookers. It turns out wonderful each and every time.
Should I thaw frozen hash browns before putting in a crock pot breakfast casserole?
A breakfast casserole with frozen hash browns is easy to prepare.
If you preferred to use fresh potatoes, you can dice or shred them. You could also use sweet potatoes for even more healthy nutrients.
But the quickest way to make this casserole is using frozen hash browns. It is perfectly OK to dump the hash brown into the crock pot from frozen.
If you make this and find it's a little runny, you may want to thaw out your hash browns next time. Frozen food keeps a lot more moisture that fresh. Just leave the hash browns in the refrigerator for a few hours before you plan to use them. Dry them on a paper towel before adding them to the casserole.
How do you know when a breakfast casserole recipe is done?
It can be difficult to tell when a breakfast casserole in the crock pot is completely cooked and ready to eat.
A knife slid into the middle of the casserole should come out clean. But if you have trouble telling the difference between uncooked egg and melted cheese, use a kitchen thermometer. Eggs should be 160F when they are cooked.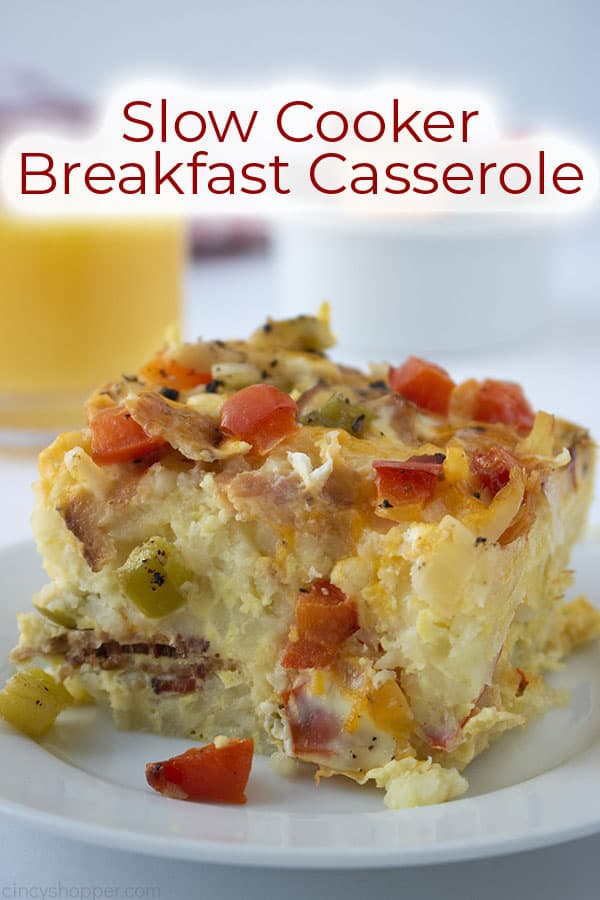 How do you keep scrambled eggs warm in a crock pot?
Not only is this a great recipe for breakfast or dinner, it can be taken to a potluck meal or family brunch.
Because we are making it in the crock pot, it can be kept warm for hours. Just leave the entire meal in the crock pot and set it to low. I do recommend you eat it within four to five hours if you keep the crock pot on. Eventually, it will dry out the eggs and they will start to become rubbery.
But that leaves you plenty of time to offer and protein packed hot meal to anyone who is visiting, even if they come in shifts!
You can also make this meal in the evening and have it ready for breakfast the next morning.
Other great make-ahead breakfasts are:
Can you reheat crock pot breakfast casserole?
This works great as leftovers as well. If you want, make a huge batch and eat it for a few days for breakfast.
To reheat, pop a single piece into the microwave for a minute. To reheat larger potions, you can put it in the oven at 350F until warm all the way through.
Can you freeze hash brown breakfast casserole?
This recipe can be used for meal prep as well. You can freeze this either before or after you bake it.
If you want to freeze it before baking, mix together all of your ingredients in a glass container or a freezer safe foil dish. Cover it tightly and freeze.
You can bake this first or just freeze the leftovers. If you are meal prepping and plan to freeze the entire casserole, under cook it just a little. That way it won't dry out while you are reheating it.
Allow the casserole to cool completely and then cover tightly.
Hash brown casseroles will last in the freezer for three months. Thaw it in the refrigerator before reheating. You can either dump it back into the crock pot or reheat in the oven until set and golden brown.
Another option for meal prep is to put everything in your crock and leave it in the refrigerator until you are ready to cook it. An uncooked breakfast casserole will last in the refrigerator for three to four days.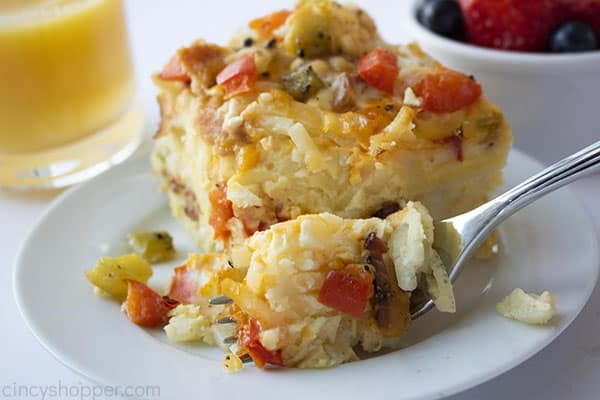 The slow cooker is great for making breakfast with less effort. If you have an Instant Pot and need a great breakfast casserole recipe made in a pressure cooker hop on over to a Typical Mom's Instant Pot Breakfast Casserole recipe.
Slow Cooker Breakfast Casserole
Slow cooker breakfast casserole is the easiest way to make a delicious and filling breakfast. Make it the night before for a full breakfast the next morning or take it to your next potluck brunch.
Ingredients
1

bag Frozen Hash Brown Potatoes

32 oz

1

lb

Bacon

1

Small Onion diced

8

oz

Shredded Sharp Cheddar Cheese

1/2

Red Bell Pepper diced

1/2

Green Bell Pepper diced

12

Eggs

1

cup

Milk
Instructions
Cut bacon in to small pieces, cook and drain (You could use precooked bacon to speed up the process).

Add half bag of hash browns to bottom of slow cooker.

Add half your bacon.

Add half your onions.

Add half your green and red peppers.

Add half your cheese.

Add remaining hash browns.

Add remaining bacon.

Add remaining onions.

Add remaining green and red peppers.

Add remaining cheese.

In a medium sized bowl beat eggs and milk together.

Pour egg mixture over your casserole.

Add salt and pepper on top.

Put a double layer of paper towels on top of crock and place lid to hold in place.

Cook on Low for 4 hours or warm for 8 hours.