Slow Cooker French Dip makes for an easy and tasty slow cooker dinner. Serve up as French Dip Sandwiches with delicious Au Jus dipping sauce!
It's not hard to make this classic sandwich recipe at home- and it's so easy with a slow cooker! Goes great with a side of Crispy Potato Wedges or some Air Fryer French Fries.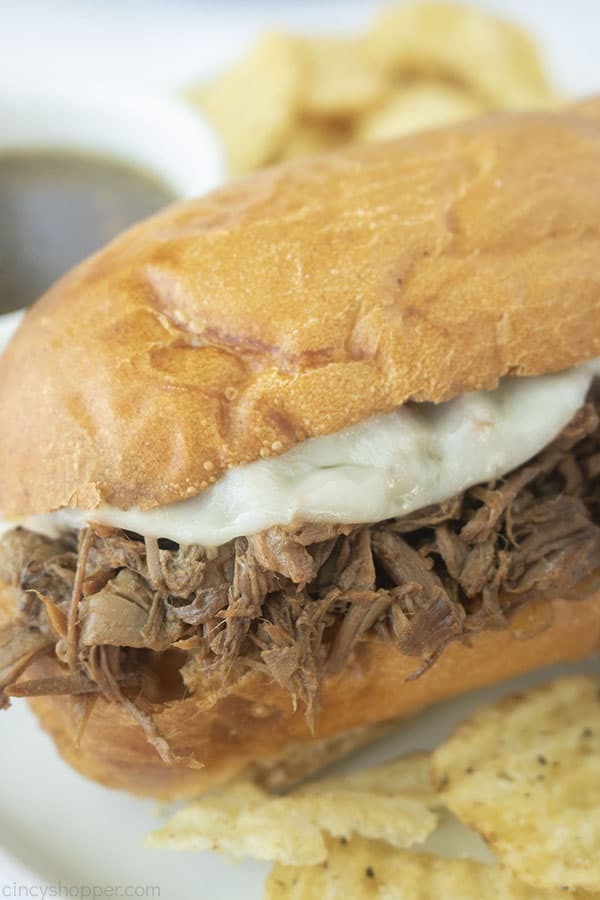 Slow Cooker French Dip
When it comes to lunch, few things are better than a well-made sandwich. One of my favorite quick and easy sandwich recipes is our one for Easy French Dip Sandwiches. It's such a delicious dish that doesn't need much prep or attention and it's a great way to have a delicious French Dip Sandwich without having to wait too long. However, when I'm craving something a bit closer to a proper French Dip, I'm usually making some Slow Cooker French Dip.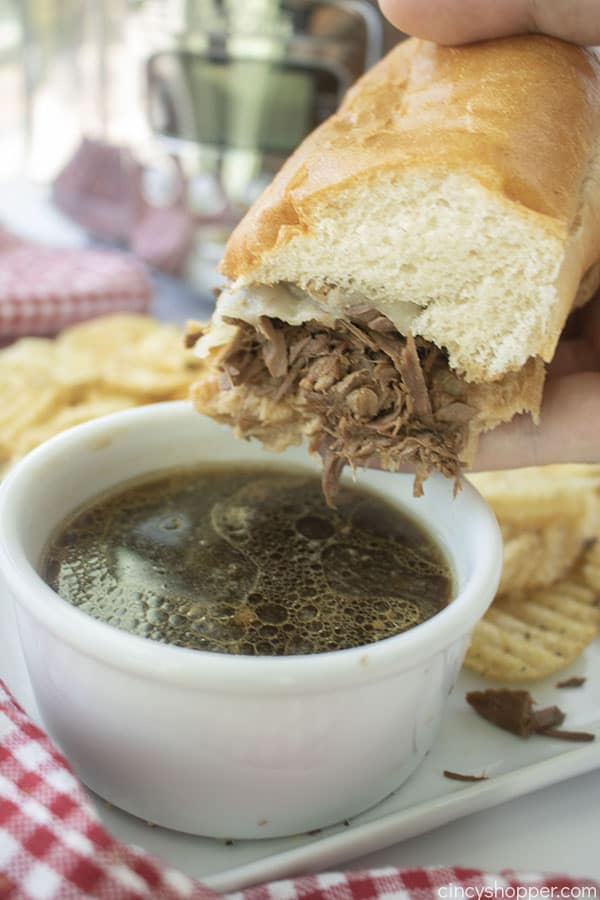 Between this recipe and the easy one, I'd say this is probably the best French Dip I've ever made. These Beef Dip Sandwiches are just so much better when they get a nice long time to slow cook- and it definitely makes the best Au Jus dipping sauce! The best part of making Slow Cooker French Dip is that you can use all sorts of different cuts of beef to make it: with the long cooking times, most cuts will still end up tender and juicy.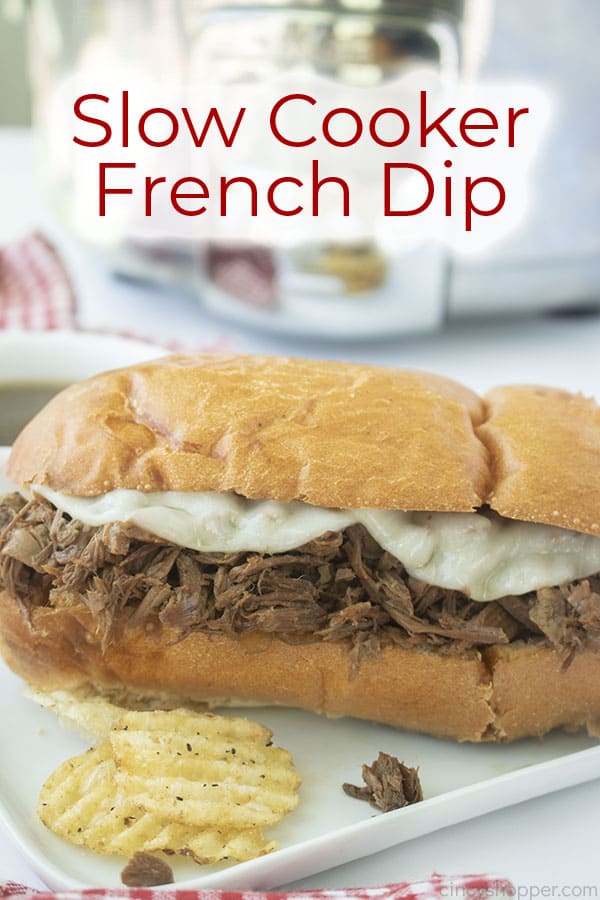 We love serving this Crockpot French Dip up on some good sandwich rolls with cheese and other fixings. We also think you could serve it up as a tasty slow cooker pot roast as well! However you decide to serve your French Dip, we're certain it'll be one of your favorite slow cooker recipes.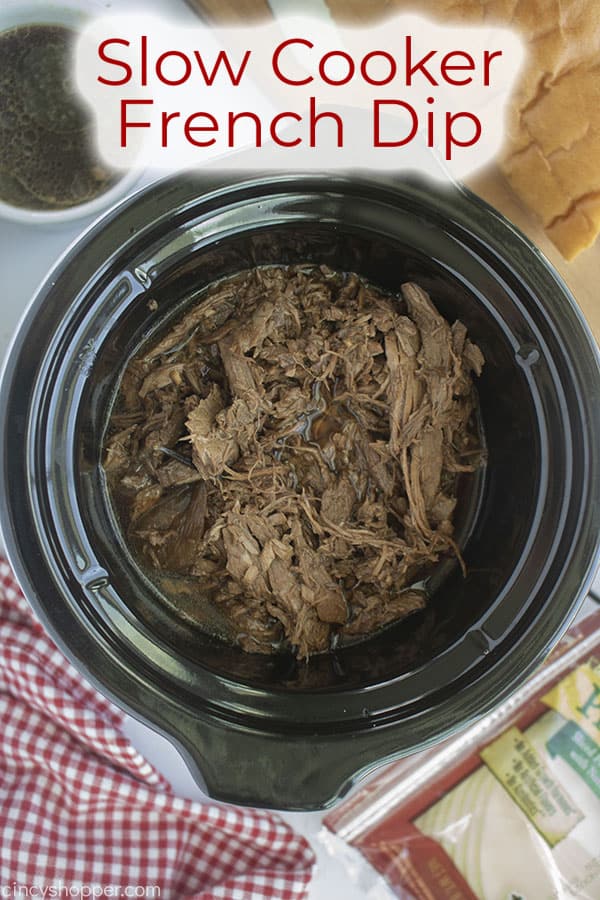 Loved this recipe? Try some of our other slow cooker recipes!
If you're in the mood for more beef, then you'll want to try our

Slow Cooker Barbacoa

next.

This copycat Chipotle recipe is perfect for making all sorts of tacos and burrito bowls- so tasty, juicy, and tender

! It's easy to make too, and you can make it with almost any cheap cut of beef you can mind.

Dr. Pepper Slow Cooker Pulled Pork

has always been one of my favorite slow cooker recipes.

I already love some pulled pork but it can only get better when it's finished with a sweet BBQ sauce infused with some Dr. Pepper

! I like prepping this stuff ahead of time and serving it up at pool parties and grill-outs- it's always a big hit.

Our

Crockpot Sausage and Peppers

is such an easy meal to make- and so comforting too!

Sweet Italian sauage paired with warm marinara sauce is a such a delicious combo that goes great with some added peppers and onion

. Serve up on some hoagie rolls or over some rice or pasta!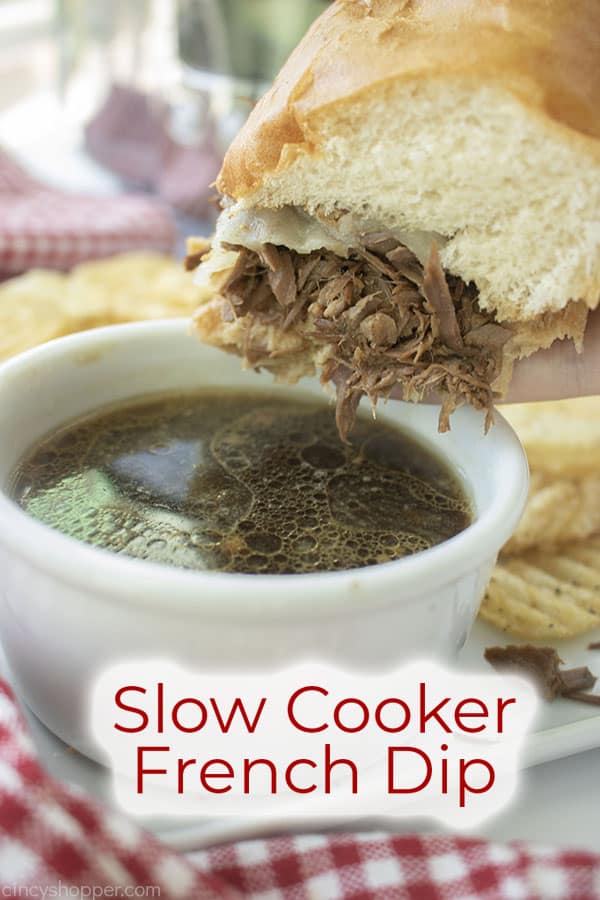 Ingredients for Slow Cooker French Dip
Beef Roast

– This recipe works great with plenty of different roasts and cuts!

Onion

Minced Garlic

Soy Sauce

– If you're worried about salt or sodium, you can use a low sodium soy sauce instead. Something like tamari will work as well!

Rosemary

Bay Leaves
If serving up as a pot roast, this is all you'll need.
If you're doing Slow Cooker French Dip Sandwiches, you'll also need some
Sub Rolls
as well as some
Cheese
– swiss or provolone work best-,
Onions
, and
Bell Peppers
.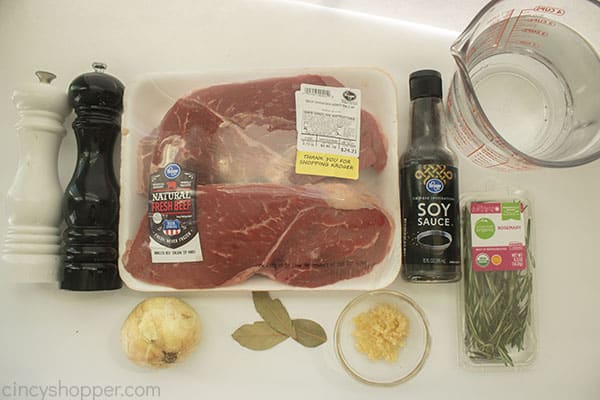 How to make French Dip in slow cooker
This Slow Cooker French Dip is an easy Crockpot recipe to follow along with! Here's all you need to do:
Add

all of

your ingredients to the slow cooker

–

optionally

keep herbs in a tied piece of cheesecloth.

Cook on low 8-10 hours

or

high 5-6 hours

.

Once done cooking,

remove and discard herbs

and then

remove and either shred or slice the beef

.

Strain the juices

to serve as an Au Jus.

Return juices and beef to slow cooker

to keep warm until served.

Serve as a pot roast or as French Dip Sandwiches

with Au Jus dipping sauce.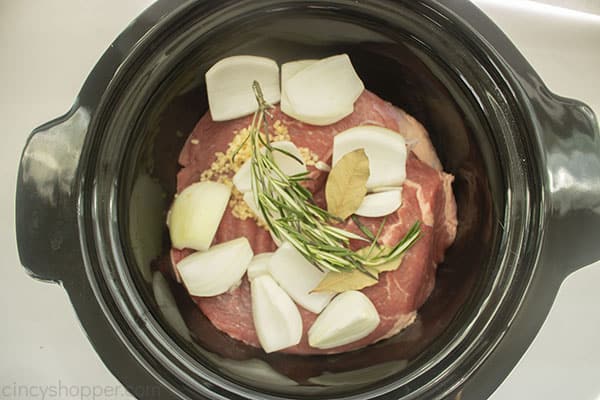 Start off by adding your meat, garlic, and onion- quartered- to the crockpot or slow cooker. You can sear the roast and saute the onions in a hot pan to get some roast-y flavors but it's not necessary. You could put the herbs in some cheesecloth and tie it off to make removing them later a bit easier. It's not required though: keep the rosemary on the stem and it should be big enough to find later. Next, our soy sauce.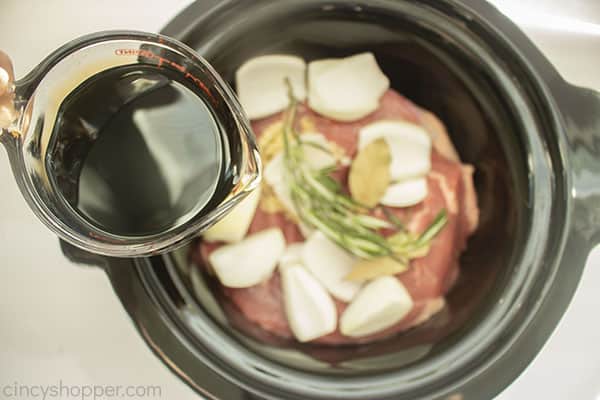 We'll add plenty of water as well. From here, all you do is cook. You can do this on high for 5-6 hours or on low for 8-10. The longer you cook this stuff, the juicier and more tender it becomes!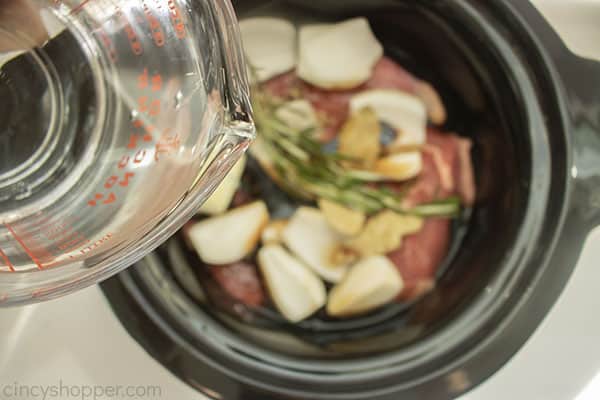 Once it's done cooking, discard the herbs and transfer the roast to a cutting board. You can shred the beef or slice it thin with a good knife. After slicing or shredding, strain the leftover juices through a cheesecloth or sieve to get an Au Jus for dipping. Transfer both the beef and the juices back to the slow cooker to keep it warm until serving.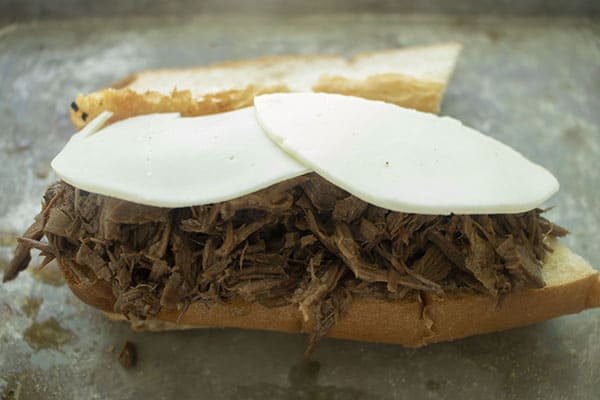 Serve as a pot roast or as French Dip Sandwiches. Enjoy!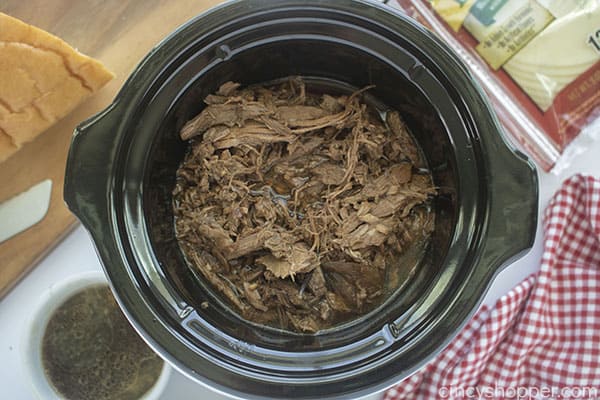 What is the best meat for French Dip Sandwiches?
Chuck Roast

– This stuff is ribeye's more-affordable cousin.

Just

the right amount of fat and marbling to give you a juicy roast and a rich Au Jus!

Rump Roast

– A leaner cut that comes from a more-worked part of the cow. You'd think it wouldn't work but, with the long cooking times of this recipe, it still gets pretty juicy and tender!

Round Roast

– Rump is

technically

a round roast as well- from the bottom round- but top round will work too.

In terms of

juiciness and tenderness, it'll

probably

fall between chuck and rump.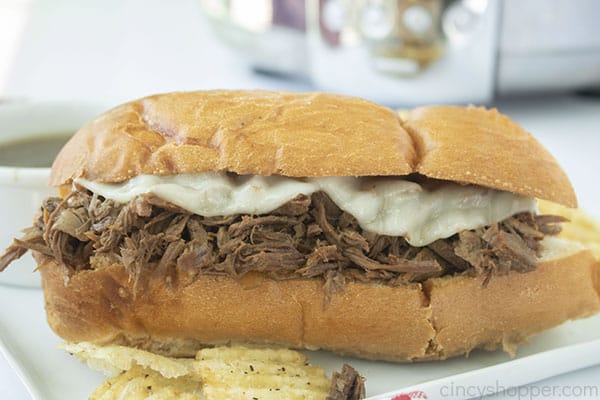 Slow Cooker French Dip
Slow Cooker French Dip makes for an easy and tasty slow cooker dinner. Serve up as French Dip Sandwiches with delicious Au Jus dipping sauce!
Ingredients
4

lb

Beef Roast

1

tbsp

Rosemary

3

Bay Leaves

1

tbsp

Minced Garlic

1

small Onion

quartered

1

cup

Soy Sauce

6

cup

Water

8

Sub Rolls

Bell Peppers

optional

Onions

optional

Cheese

optional
Instructions
Place roast in slow cooker.

Place rosemary and bay leaves in slow cooker. You can place them in a piece of cheesecloth and tie with string, if you want.

Add remaining ingredients to slow cooker.

Cook on Low for 8-10 hours.

Remove bay leaves and rosemary and discard.

Remove and shred beef.

Strain juices to serve as Au Jus.

Return everything to crock pot on warm and serve.

Serve on rolls with cheese that has been slightly toasted under the broiler.
Notes
Allow roast to cook until it shreds easily.
Nutrition
Calories:
472
kcal
|
Carbohydrates:
37
g
|
Protein:
58
g
|
Fat:
10
g
|
Saturated Fat:
3
g
|
Polyunsaturated Fat:
1
g
|
Monounsaturated Fat:
3
g
|
Cholesterol:
129
mg
|
Sodium:
5336
mg
|
Potassium:
727
mg
|
Fiber:
2
g
|
Sugar:
5
g
|
Vitamin A:
11
IU
|
Vitamin C:
104
mg
|
Calcium:
663
mg
|
Iron:
16
mg