Air Fryer Mushrooms are an easy air fryer appetizer or game day snack. So crispy and tasty: don't forget some warm dipping sauce on the side!
Making these crispy Air Fryer Fried Mushrooms couldn't be much easier! If you're needing another air fryer appetizer or snack, try our Air Fryer Chicken Wings or Air Fryer Garlic Bread.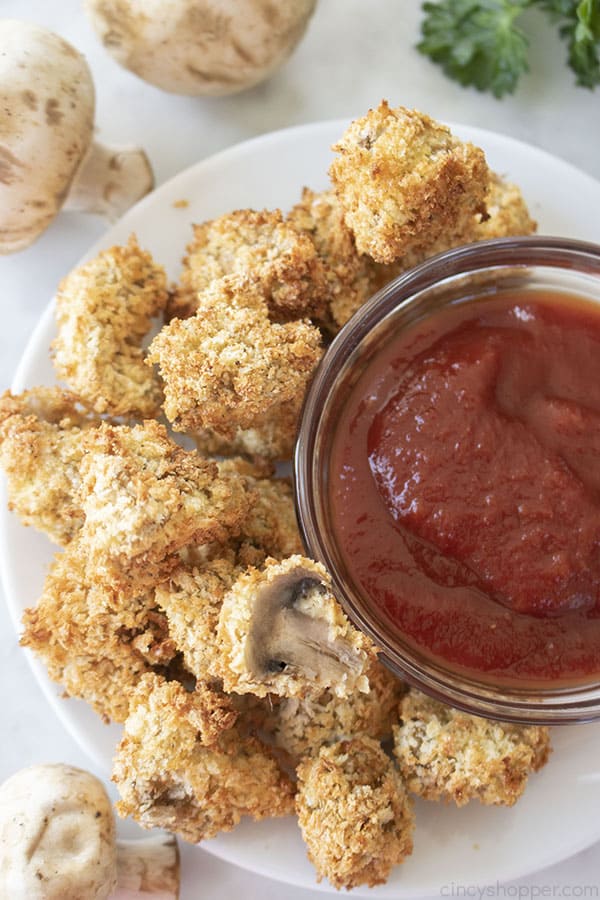 Air Fryer Mushrooms
If there's one thing I want when I've got a party or we're watching a big game, it's some delicious fried snacks. I love me some stretchy mozzarella sticks and some chicken wings- those just a couple of our go-to game day snacks. If it's breaded and fried to perfection, I'm on board! There's all sorts of deep fried appetizers out there that I've tried and I always enjoyed Fried Mushrooms. That's why we wanted to make them a little easier by making Air Fryer Mushrooms.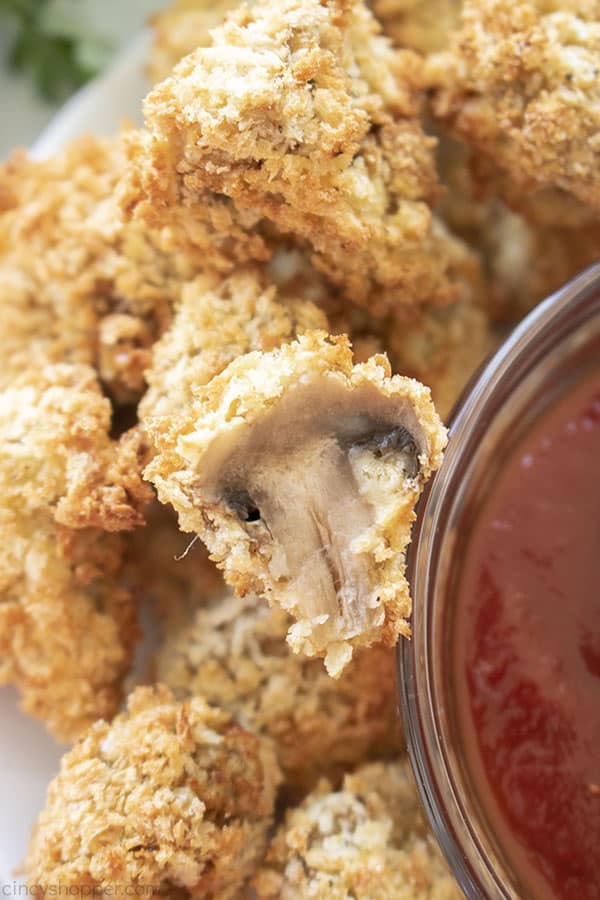 The air fryer can help you make all sorts of delicious fried snacks super easy. Making some classic Breaded Mushrooms in the air fryer works too! The process isn't even too different from frying mushrooms normally: get some breading, some egg wash, and fry it. You'll end up getting a batch of delicious Air Fryer Fried Mushrooms that taste just as good as the deep fried stuff that might even be better for you too!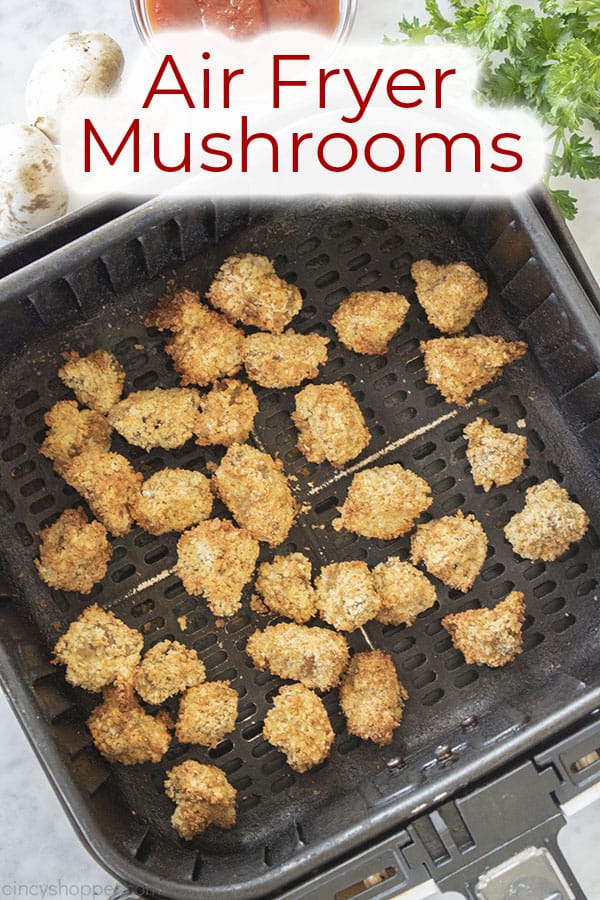 If you've been looking for a tasty way to make mushrooms in the air fryer, our recipe is definitely where you want to look first. These Easy Air Fryer Breaded Mushrooms couldn't be much simpler to make and taste so good too! Don't forget to serve it up with your favorite dipping sauces- we love some cocktail sauce! Hope you all love it.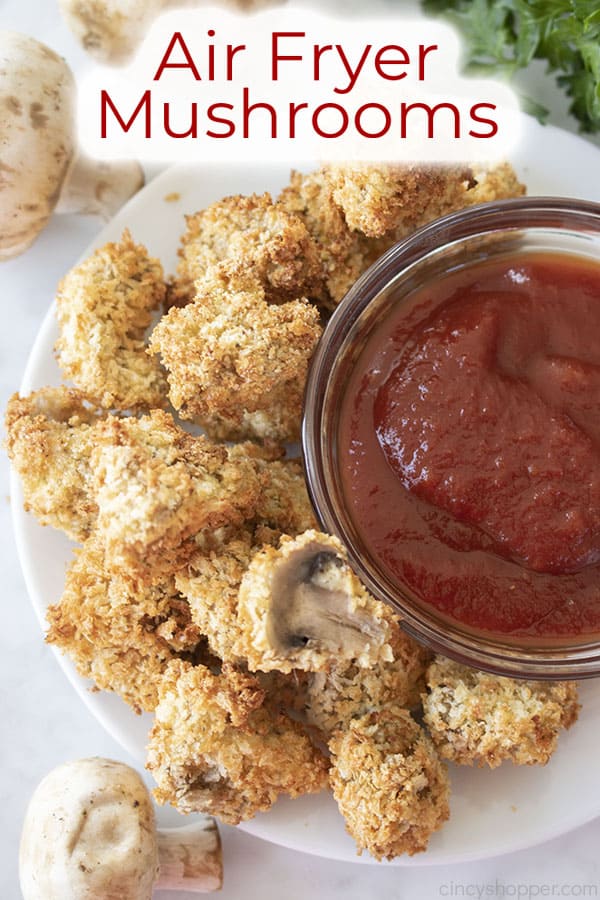 Loved this recipe? Try these vegetable side dish recipes next!
If you're a big fan of mushrooms, you'll want to try our

Sauteed Mushrooms with Garlic

next.

This is one of our favorite side dishes to serve with steak- steak is always good with buttery vegetables- and it's so easy to make too

! Great as a side dish on their own, on top of a burger or steak, or mixed in with some pasta or rice.

To keep things a bit more green, go with our classic

Garlic Green Beans

. This is another buttery vegetable side dish that is so easy to make:

just

need green beans, garlic, and butter! We love this stuff so much because it pairs with

just

about any entree or main course you can make.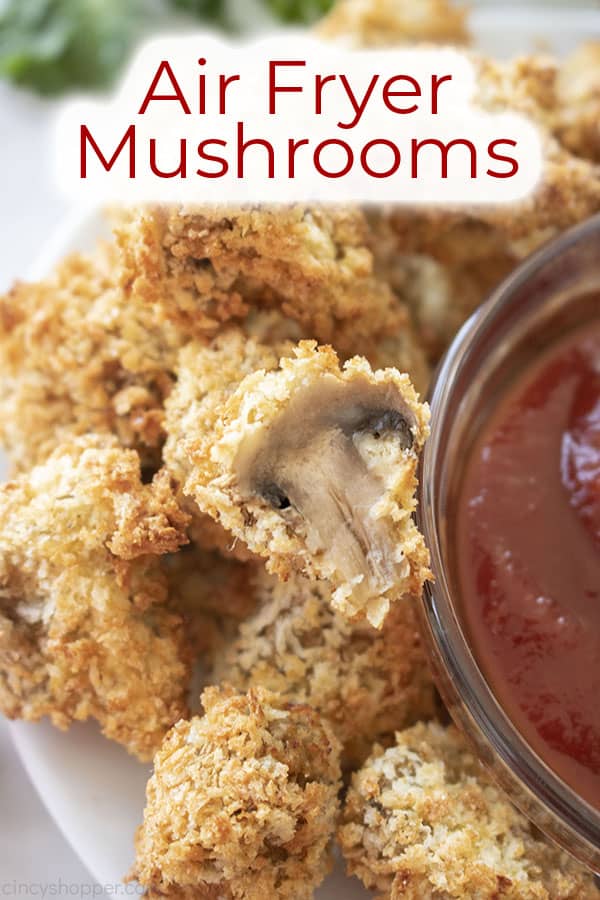 Fried Mushrooms Ingredients
Mushrooms

– We kept things simple and

just

got some white mushrooms.

I've seen a lot of recipes where people use baby bella mushrooms or portobello mushrooms: if you like those mushrooms, try using them

!

Flour

Seasonings

– We went with salt, black pepper, garlic powder, and onion powder.

Mess around with the seasonings if you like- add a couple of your favorite herbs, use your favorite spice blend, et cetera

.

Egg

Bread Crumbs

– Another place you can mix things up. Instead of crumbs, why not something like crushed Ritz crackers? Experiment and see what you like using best on your Air Fryer Mushrooms.
Of course, don't forget to grab some sort of
sauce
for dipping! Here's a few dipping sauce ideas: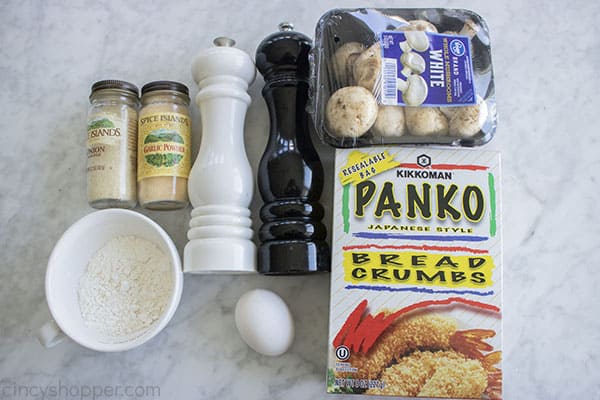 How to fry Mushrooms in air fryer
We kept the process for making these Breaded Air Fryer Mushrooms as simple as can be. Here's all you have to do:
Clean mushrooms

and pat dry before

chopping into smaller pieces

.

Coat with seasoned flour

.

Dip mushrooms in egg wash

then

coat with seasoned breadcrumbs

.

Spray fryer basket with cooking or olive oil spray.

Air fry mushrooms at 350 degrees

for

10 minutes

, turning halfway through. Serve warm with sauce.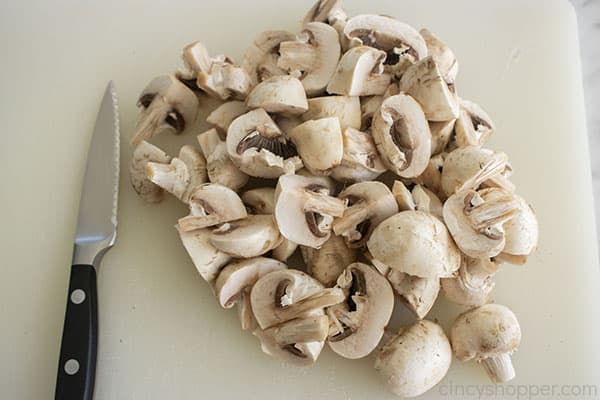 Let's get prep out of the way. First, wash your mushrooms and pat them mostly dry before chopping into smaller bite-sized pieces. Next, move on to prepping the various breading stations. Start by whisking together the flour and some of your seasonings.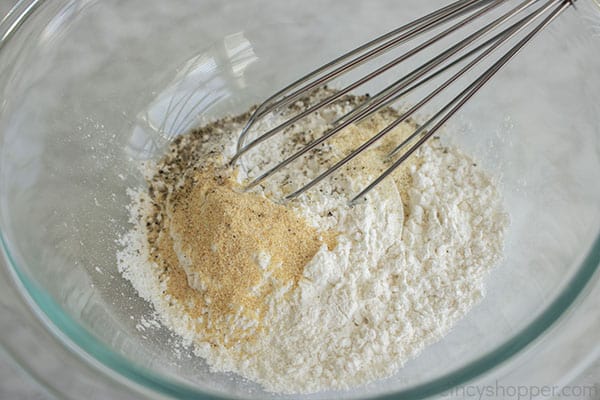 In another bowl, beat together the egg and a bit of water. This will make a thin egg wash.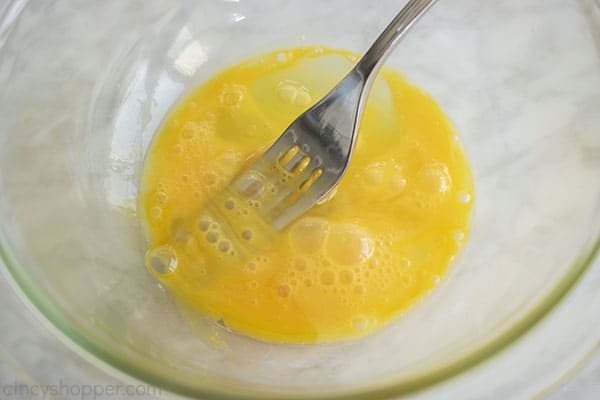 Lastly, whisk together the breadcrumbs and the remaining seasoning in another seperate bowl.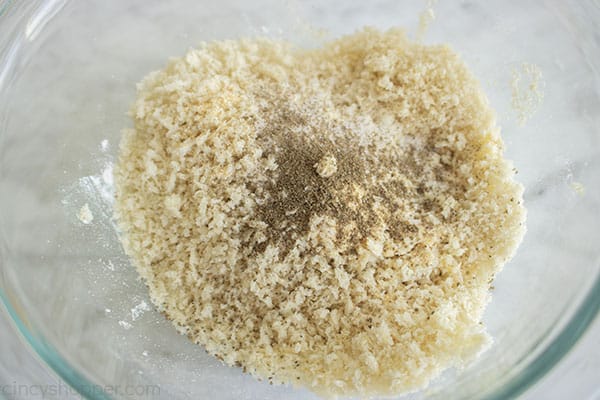 Now we can move on to making our breaded mushrooms! Start by tossing the mushrooms in the flour to give them a nice, even coating.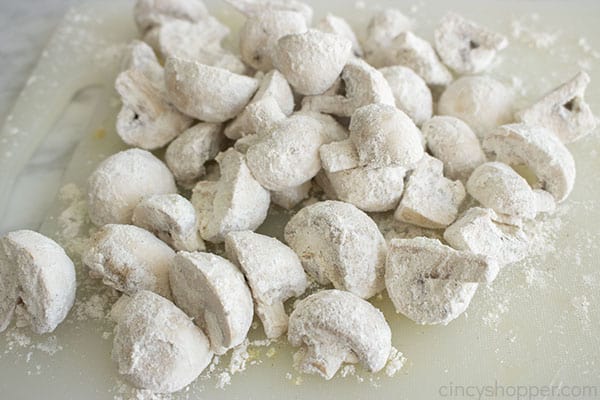 Next, take the floured mushrooms and dip them into the egg wash. Ensure you get all sides saturated with the egg.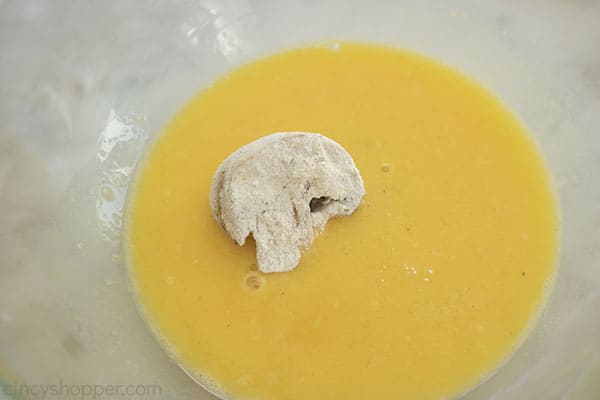 Finally, toss the egg-coated mushrooms into the seasoned breadcrumbs. Make sure you get a good, thick coating of breadcrumbs onto each mushroom. Repeat this process with all the mushrooms- using a "wet hand" and a "dry hand" during the breading can help keep things a bit cleaner.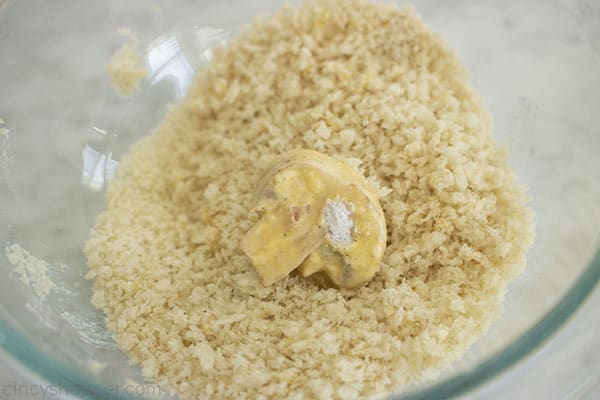 Spray your air fryer basket down with some cooking spray or some olive oil spray before adding your breaded mushrooms. Try to space them apart.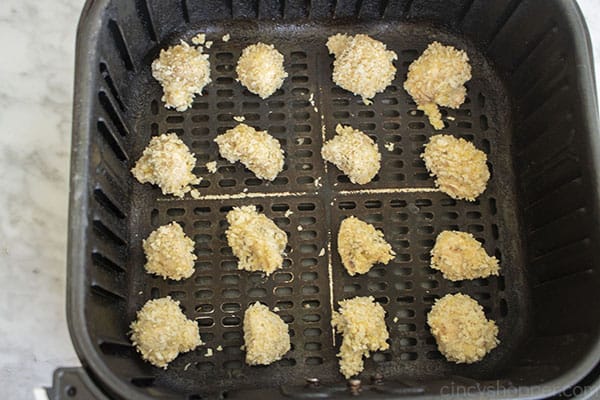 How long to air fry mushrooms?
We didn't preheat our air fryer before cooking these mushrooms. At 350 degrees, it took about 10 minutes for us to get a crispy breading and for the mushrooms to cook through. If you let your air fryer preheat, we think it would only take about 8 minutes. However long you cook your Air Fryer Mushrooms, remember to turn them over halfway through the cooking time. This will help all the sides crisp up evenly and prevent some of the breading from burning up.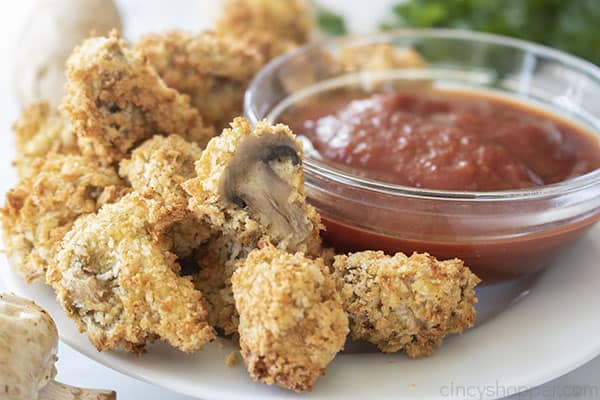 Once your mushrooms are cooked through, remove them from the fryer and serve them warm with a side of cocktail sauce. Enjoy!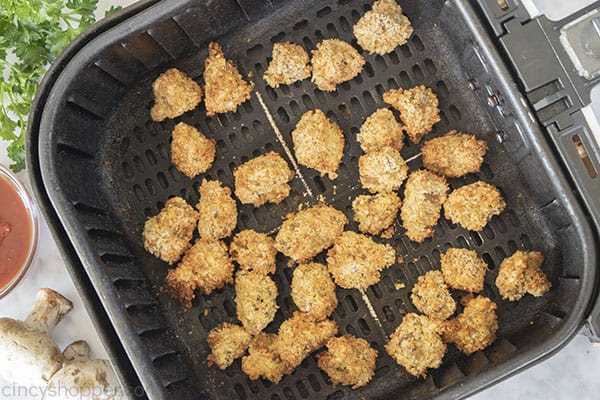 Air Fryer Mushrooms
Air Fryer Mushrooms are an easy air fryer appetizer or game day snack. So crispy and tasty: don't forget some warm dipping sauce on the side!
Ingredients
8

oz

Button Mushrooms

1/2

cup

Flour

1 1/2

tsp

Garlic Powder

divided

1 1/2

tsp

Onion Powder

divided

1 1/2

tsp

Salt

divided

1 1/2

tsp

Black Pepper

divided

1

Egg

2

tbsp

Water

1 1/2

cup

Panko Bread Crumbs

Olive Oil Spray
Instructions
Wipe mushroom with damp paper towel and pat dry.

Cut mushrooms into bite sized peices.

In a bowl, combine flour, 1/2 teaspoon of onion powder, 1/2 teaspoon of garlic powder, 1/2 teaspoon of pepper and 1/2 teaspoon of salt. Whisk to combine.

In another bowl, combine egg and water. Whisk until blended.

In a third bowl, combine bread crumbs, and remaining onion powder, garlic powder, pepper and salt. Stir to combine.

Toss each mushroom piece in the seasined flour to get nice coating.

Dip the coated mushrooms in the egg wash to wet completely. Allow excess liquid to drip off.

Take wet mushroom and place in seasoned breadcrumbs to get a nice coating.

Give breaded mushrooms a light spray with olive oil.

Space evenly in bottom of air fryer basket (don't overcrowd).

Cook at 350 for 5 minutes.

Turn mushrooms over and cook another 5 minutes at 350.
Nutrition
Calories:
182
kcal
|
Carbohydrates:
32
g
|
Protein:
8
g
|
Fat:
3
g
|
Saturated Fat:
1
g
|
Polyunsaturated Fat:
1
g
|
Monounsaturated Fat:
1
g
|
Trans Fat:
1
g
|
Cholesterol:
41
mg
|
Sodium:
1057
mg
|
Potassium:
287
mg
|
Fiber:
2
g
|
Sugar:
3
g
|
Vitamin A:
64
IU
|
Vitamin C:
1
mg
|
Calcium:
59
mg
|
Iron:
2
mg