If you are looking to make an easy Basic Bread, you will want to give this Slow Cooker Basic Bread Recipe. I will admit this was one of my hubbies creations and not my own, ha ha! Years ago when my daughter was entering her teens she loved to bake bread with her dad. It was always just a basic bread but she loved showing it off and sharing it with the whole family (even the dog). We all really liked it fresh out of the oven when its warm. We would lather the bread up with butter, jam, you name it, we would put it on her bread an enjoy. We never would forget to tell her how tasty it was as it really encouraged her to keep making us more.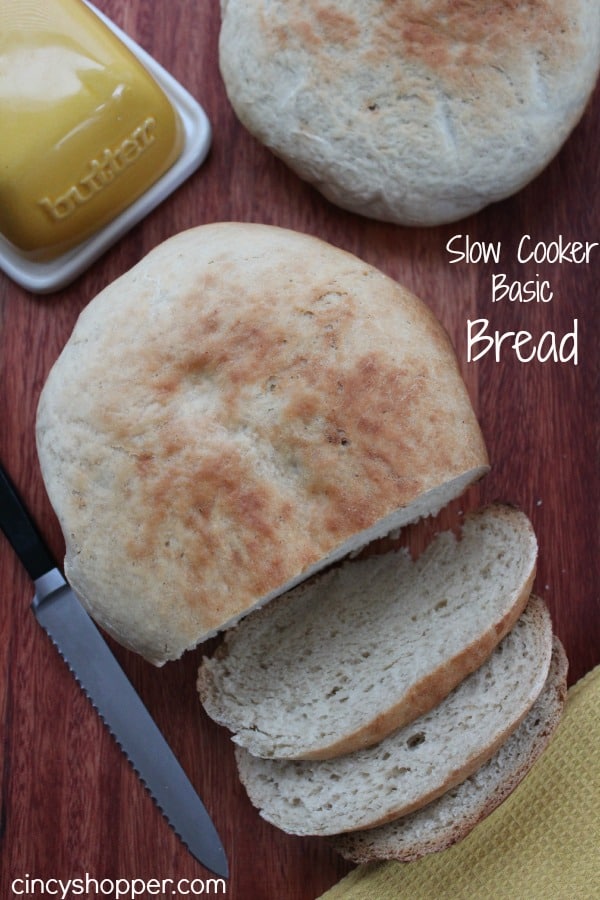 Slow Cooker Basic Bread
As the teen years set in, she decided she was too busy (or maybe lazy, ha ha) to make all of us bread. We have all have been bugging her for so long to bake us some of her basic bread recipe. I have just given up asking her, lol. This past week when hunting for yummy dishes to make in my new slow cookers the hubby decided he was going to make me some Slow Cooker Bread. I will admit I was a bit skeptical about bread in the slow cooker but figure I would let him give it a try. I was amazed at how quickly he had this one made and how well it turned out. The only issue he encountered was a bit of a hot spot on the backside (I think he didn't even pay close attention that he actually made this in my old slow cooker, ha ha).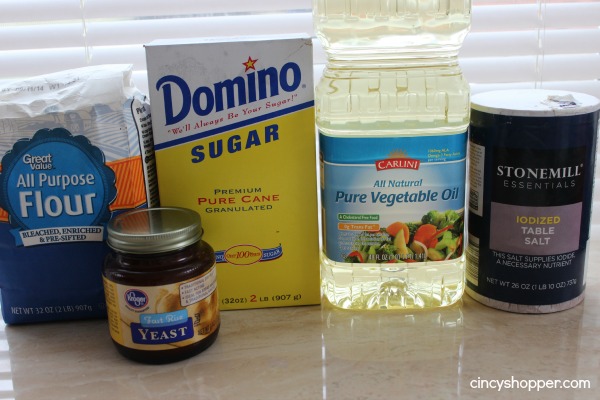 INGREDIENTS
3 cup Flour
1 tsp Salt
2 tsp or 1 packet Yeast
2 tbsp Sugar or Honey
2 tbsp Oil
1 cup warm (not hot!) Water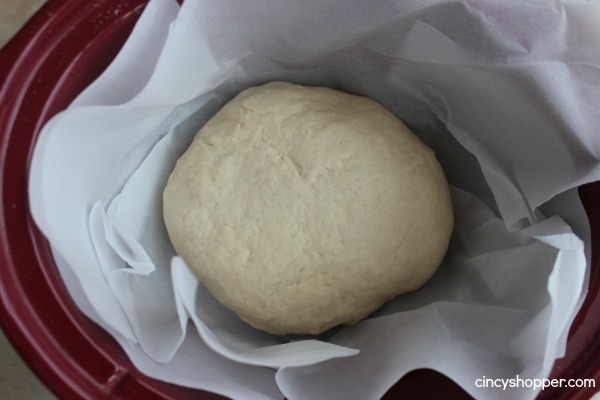 DIRECTIONS
Measure flour into large bowl.
Add salt, sugar and yeast and mix together well.
Add Oil and water.
Stir with a spoon until it gets stiff and sticky.
Work the dough with your hands (occasionally scraping dough off your fingers) until it forms a nice ball.
If it stays too sticky add a bit more flour (1/4 cup at a time). If it gets too dry add a bit more water (teaspoon at a time).
When it get a good ball, scatter flour on you work surface and turn out ball on to surface..
Knead dough for 5-6 minutes.
Line crock-pot with parchment paper.
Place dough in crock pot and cook on high for 1 – 1 1/2 hours. You will need to lift bread out with the parchment paper to see if the bottom is browning.
When bottom is browning, place loaf under broiler for a couple of minutes to brown top.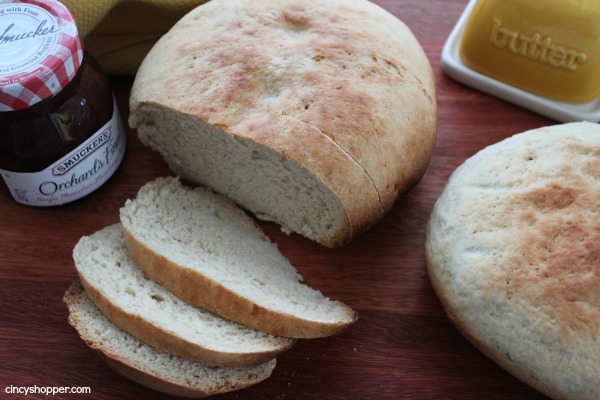 If you have been looking to making a easy basic bread give this one a try. It would be great for just about any dish. I am considering making another batch to enjoy with dinner this week. Looking for other slow cooker recipes? If so check out my Slow Cooker Breakfast Casserole, Slow Cooker Bean Soup or my Slow Cooker Cheesy Mexican Dip.