The Reuben Sandwich is the perfect combo of juicy corned beef and melty swiss cheese on toasted rye. One of the best deli style sandwiches!
This deli shop sandwich is a classic piled high with plenty of juicy corned beef . Enjoy with a side of Warm German Potato Salad, Air Fryer French Fries, or Loaded Mashed Potato Cakes.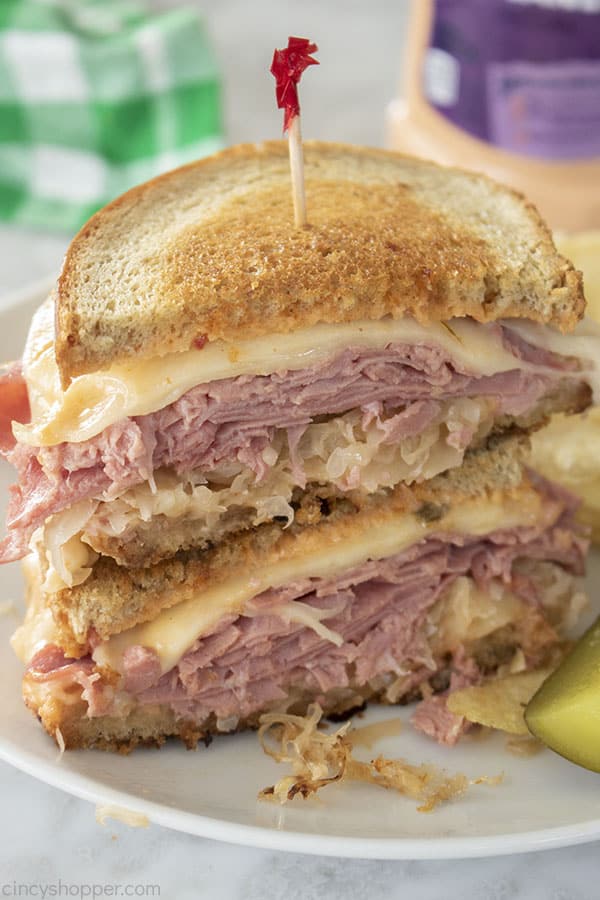 Reuben Sandwich
Who doesn't love a good, melty sandwich fresh-off-the-grill from the local deli or sandwich shop? Sandwiches definitely hit a sweet spot for me: toasted breads, juicy meats, melted cheese- all delicious ingredients on their own. Put them together into one thing and you've got a winner! I'm sure we've all got our favorite sandwiches, but lately I've been loving the classic Reuben Sandwich.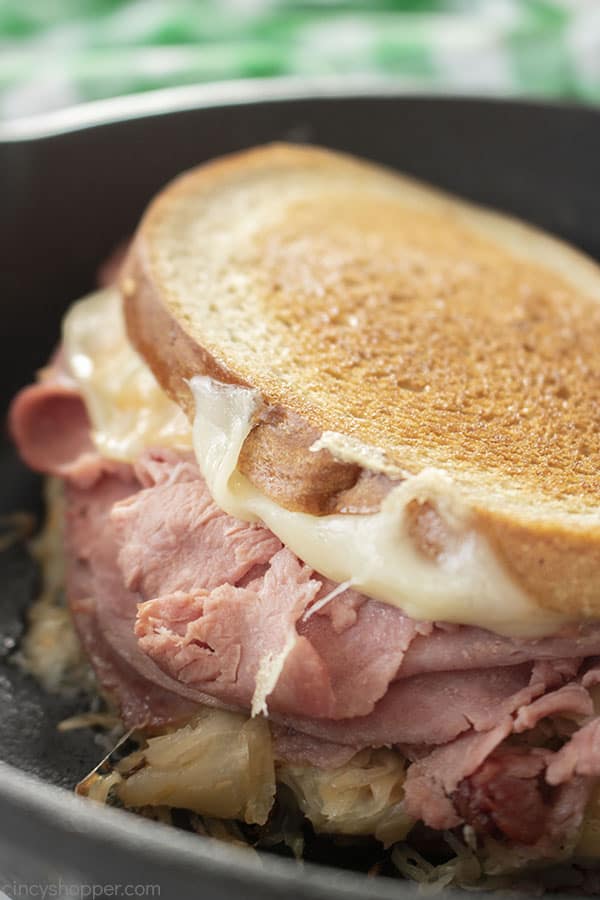 If you've never had a Reuben- or Ruben or Rueben, however you spell it-, you've been missing out on one of the best sandwich recipes! Slapped between two toasted slices of rye, you've got the fun combo of Irish corned beef, some German sauerkraut, and plenty of swiss cheese. A fun combo, but definitely a delicious one too- and it's a tasty way to use up any leftover corned beef after St. Patty's day!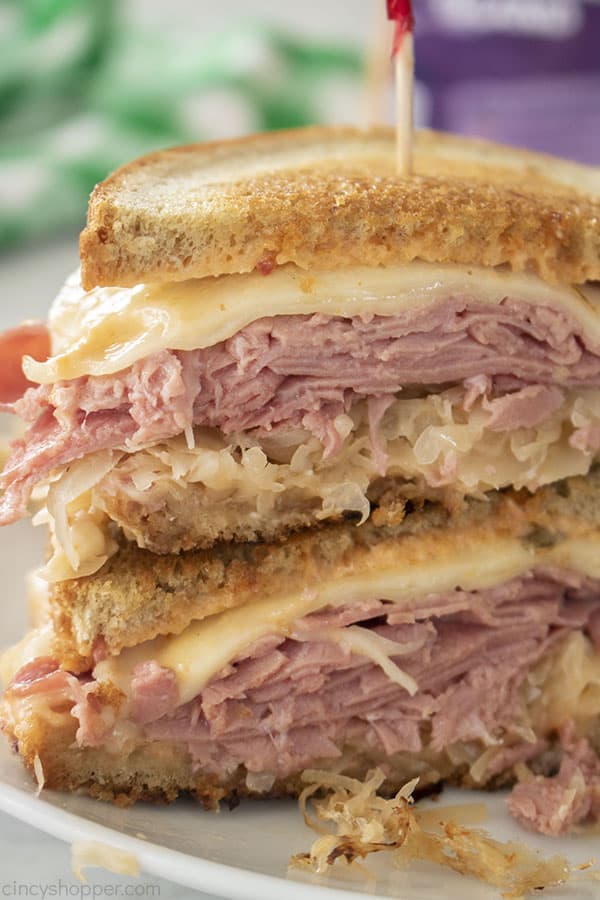 Our Reuben Sandwich recipe below is simple and easy to follow along with. Set aside a few minutes and we'll help you make what might be the best reuben sandwich you've had! We've even got a few variations and extra ingredients you can mess around with to help you find your favorite reuben toppings. You're going to love this sandwich- trust us on that!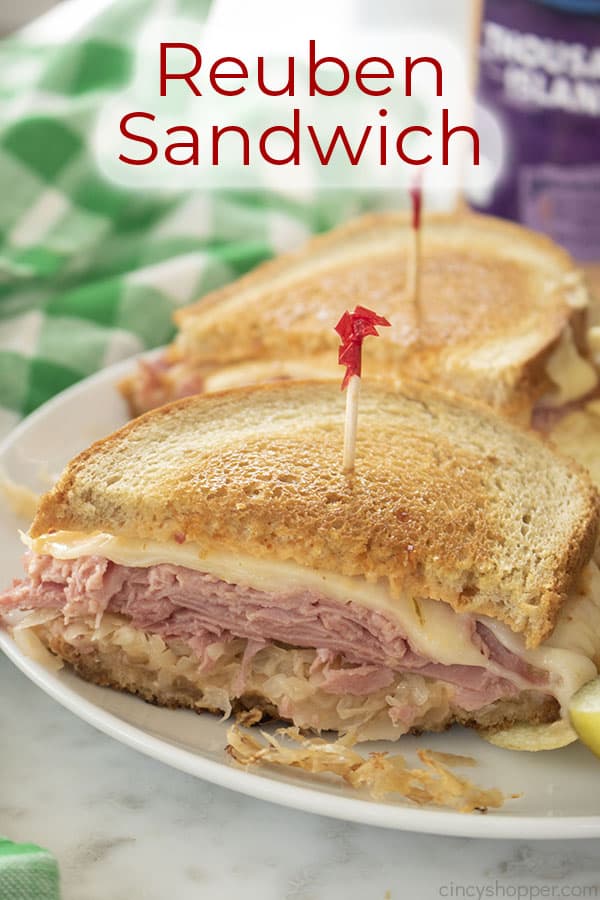 Enjoyed this classic sandwich? Try some other St. Patrick's day recipes next!
Corned Beef is a great sandwich filling but it's also delicious served up as

Corned Beef & Cabbage

.

This classic Irish dish is delicious, filling, and dead-simple to make from scratch- you can even make everything up in one pot

! If you're needing an easy and tasty St. Patrick's day dinner recipe, you should definitely give this one a try.

Mashed potatoes are a classic side dish that's hard to improve on, but

The Best Colcannon

might be better!

This Irish side sees rich, creamy, buttery mashed potatoes mixed with boiled cabbage, crispy bacon, and some green onions

. Add in extra bacon and cabbage and colcannon can even be a main dish!

Of course, you could also go with a timeless dinner recipe like some

Easy Shepherd's Pie

.

This is the perfect recipe for using up any leftover ground beef or mashed potatoes you have sitting around

. Use frozen veggies to keep the prep simple and quick so you can get to eating quicker!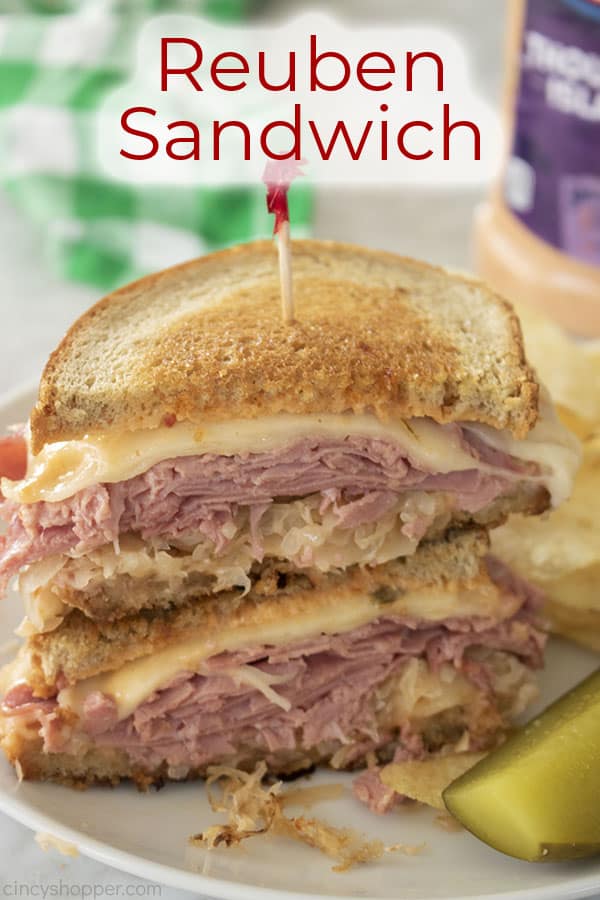 Reuben Sandwich Ingredients
There are a lot of variations of and ingredients that can go into a reuben. Here's what we used in ours:
Rye Bread

– Usually a darker rye but go with what you like. We really liked this Pepperidge Farms Jewish rye but you could also try pumpernickel rye or a marble rye bread.

Butter – For toasting the outside of the bread. You can also use mayo or olive oil if you'd like.

Thousand Island Dressing –

Try using our

Homemade Thousand Island Dressing

for this sandwich

! You can also use Russian dressing or some dijon or spicy brown mustard.

Swiss Cheese

Corned Beef

– A Reuben Sandwich is

technically

always made with corned beef. We bought this deli-style corned beef but you could also cook some yourself!

Another popular choice for meat is pastrami which would

technically

make it a Rachel Sandwich

. You could even try using both like they do at McAlister's Deli!

Sauerkraut
That's what we used.
You can also try it with pickles, using coleslaw instead of sauerkraut, or adding mozzarella or provolone instead of swiss
. Those are a few popular changes.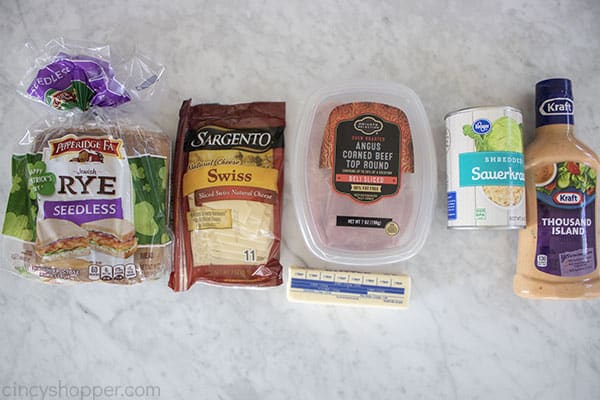 How to make a Reuben Sandwich
This classic sandwich is simple to build and easy to cook. Here's all the steps to make a reuben sandwich for yourself:
Butter the outsides of the rye bread

before

dressing the insides with thousand island dressing

.

Cook the sandwich

in a nonstick skillet

over medium heat

about

3-4 minutes on each side

. Serve warm with pickles and chips or your choice of side.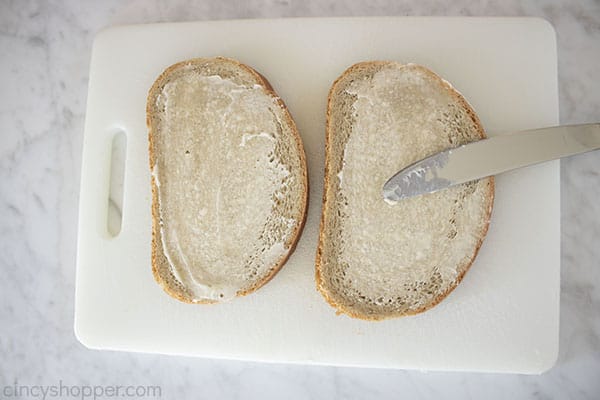 First things first, let's dress our bread real quick. On the outward faces of the bread, we're going to spread some softened butter to help them brown while cooking. On the inside, spread your thousand island or dressing of choice.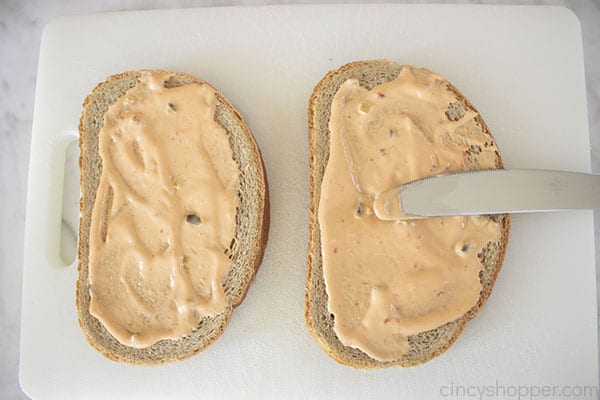 Next, put a slice or two of cheese on each piece of bread.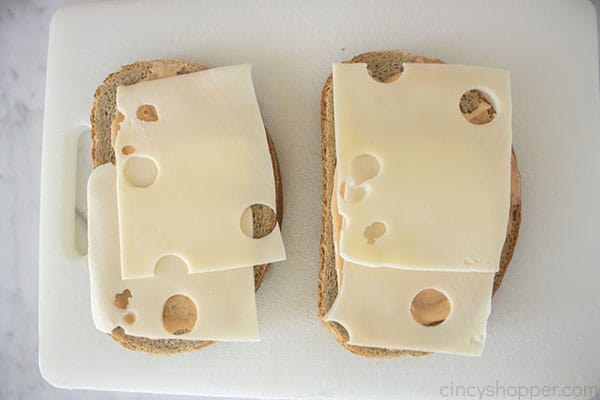 Get a nice pile of corned beef made on one side…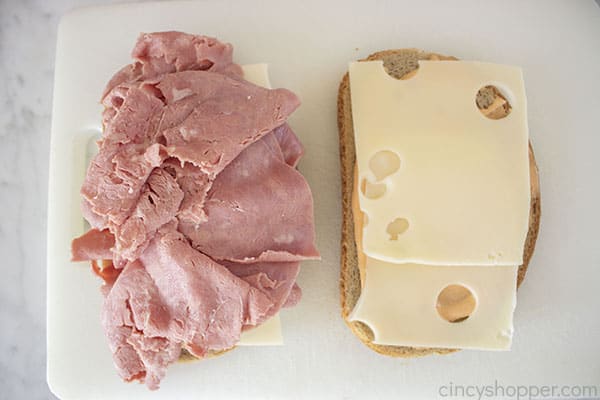 …And top it off with your sauerkraut.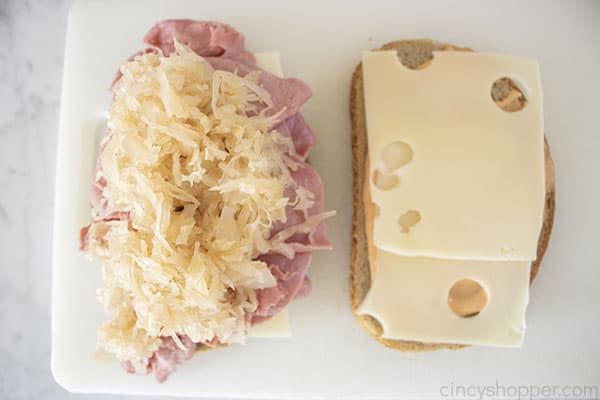 Put the two sandwich halves together and transfer to an awaiting nonstick skillet you've warmed over medium heat. Now we're going to cook our sandwich to brown it up and get the inside warm and melty. It should only take about 3-4 minutes per side to get it where we want.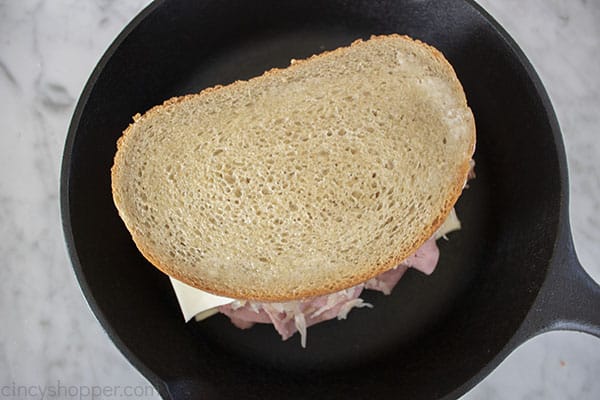 When it's done cooking, pull it from the pan and plate it up with whatever sides you have made. Serve the sandwich up warm and enjoy!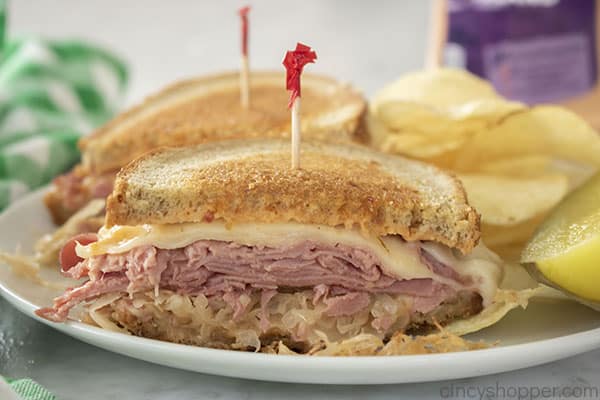 Reuben Sandwich
The Reuben Sandwich is the perfect combo of juicy corned beef and melty swiss cheese on toasted rye. One of the best deli style sandwiches!
Ingredients
2

slices

Rye Bread

1

tbsp

Butter

softened

3

tbsp

Thousand Island Dressing

4

slice

Swiss Cheese

4

oz

Corned Beef

deli sliced

1/4

cup

Sauerkraut

drained
Instructions
Butter one side of each slice of bread.

Turn each slice over and spread the other side with thousand island dressing.

Place 2 slices of cheese on top of the dressing on each side.

Top one side with the corned beef.

Then top the corned beef with the sauerkraut.

Put the sandwich together and transfer to a non-stick skillet over medium heat.

Cook until the bread is toasted and the cheese is melted (3-4 minutes per side).
Nutrition
Calories:
933
kcal
|
Carbohydrates:
43
g
|
Protein:
41
g
|
Fat:
66
g
|
Saturated Fat:
27
g
|
Polyunsaturated Fat:
11
g
|
Monounsaturated Fat:
21
g
|
Trans Fat:
1
g
|
Cholesterol:
166
mg
|
Sodium:
2645
mg
|
Potassium:
610
mg
|
Fiber:
5
g
|
Sugar:
11
g
|
Vitamin A:
1026
IU
|
Vitamin C:
36
mg
|
Calcium:
615
mg
|
Iron:
5
mg