Air Fryer French Fries are a crispy, healthy, and easy side dish. These homemade fries are better than any fast food fries you can get!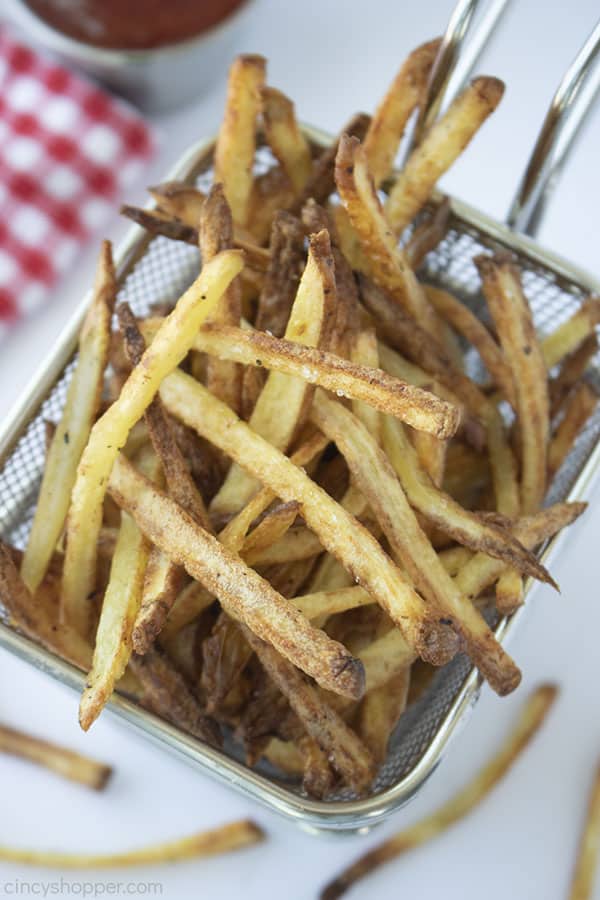 Air Fryer French Fries
French Fries are, without a doubt, one of the most popular sides you can grab to go with all your favorite fast food meals. What's a cheeseburger without some crispy fries to go with them? Chicken nuggets? If someone told me I could never order some fries to go with my food, I'm pretty sure most of us would freak out and lose our minds!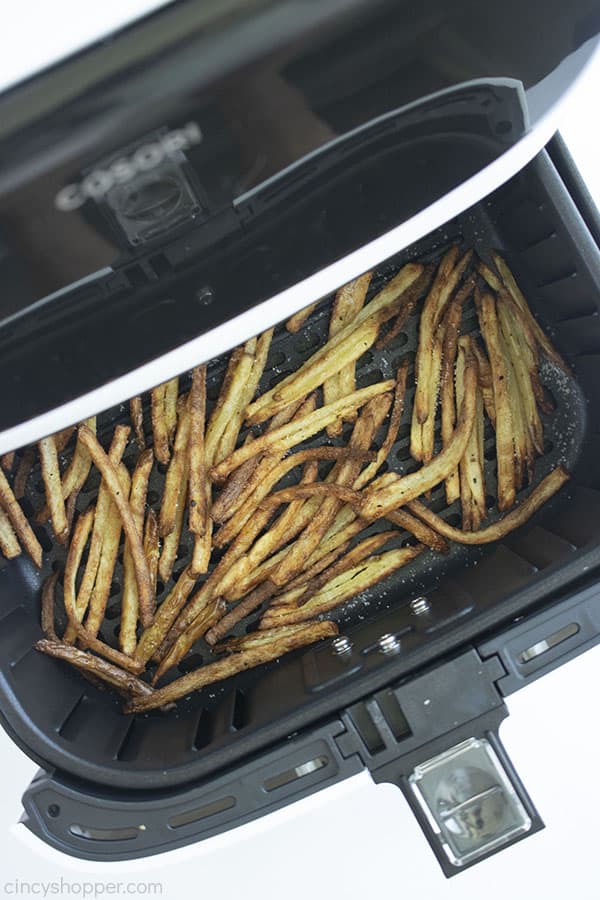 Fries are great, and homemade fries are even better when you do them right. Thankfully, air fryers make that task a whole heck of a lot easier. Might even be a bit healthier too- versus deep frying your fries. Thanks to our air fryer- a Cosori, but there's plenty of other popular brands out there like Philips-, we were able to make these crispy homemade fries! These fries go perfectly with dishes like Potato Chip Crusted Chicken or our Simple Salisbury Steak.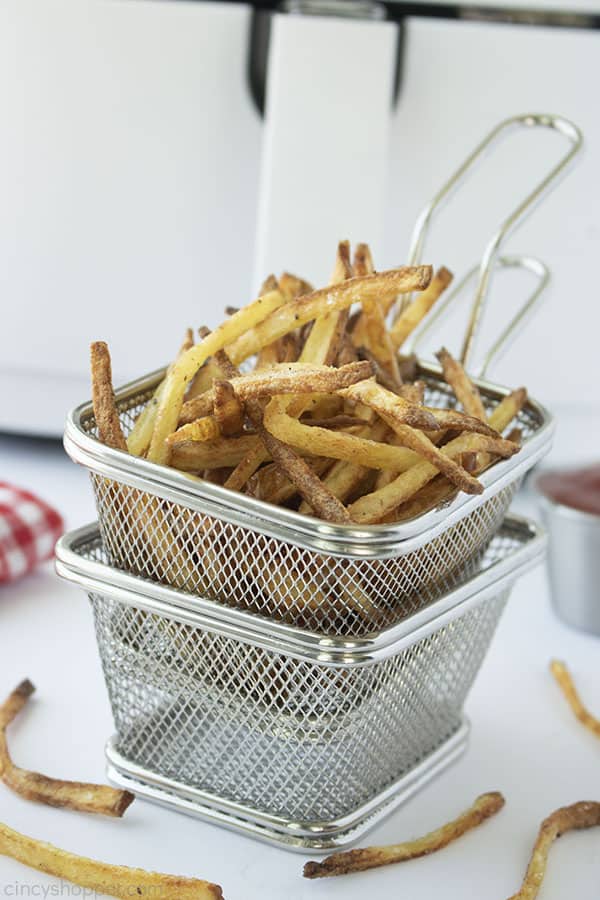 After giving these easy, crunchy fries a bite, give some of our other fast-food style sides a try. If you love onion rings, our Homemade Onion Strings are the side for you! If you're still in the mood for fries, give our Sweet Potato Fries a go. These sides- along with these delicious fries- are all amazing homemade side dishes that you'll keep coming back for!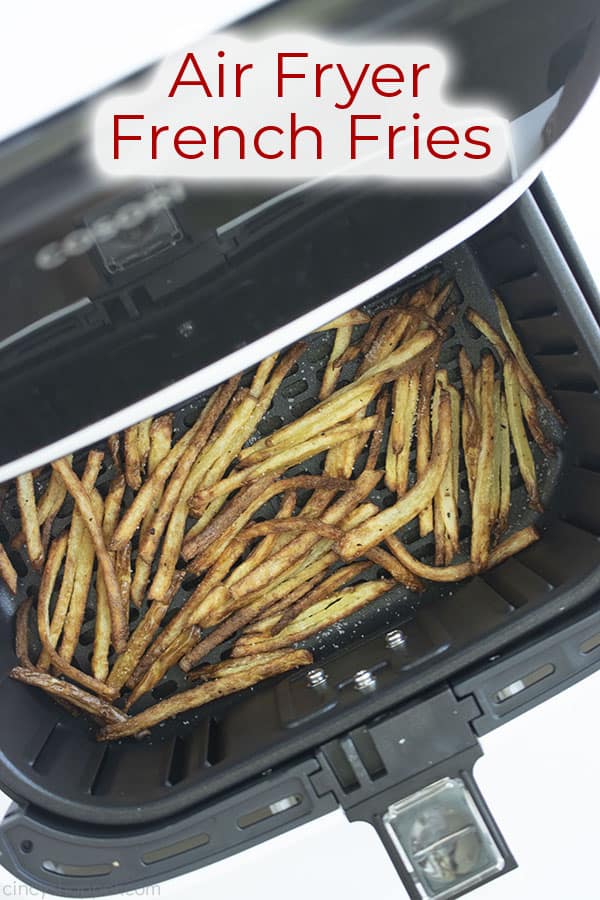 Ingredients for Air Fryer Fries
Potatoes – We grabbed some Yukon Golds for this recipe. Plenty of folks will swear by russetts for any fry recipes and, if that's your preference, go right ahead.

Salt – We use sea salt for a bit of extra flavor. Table salt is

perfectly

fine to use as well!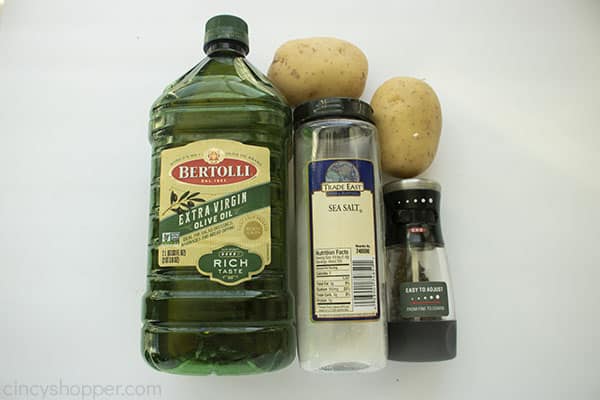 How to prepare our French Fries
Get that cutting board out: before we can fry our fries, we need to cut them down to their proper size. You can get this done easy with a good kitchen knife. Peeling your potatoes
prior to
cutting is optional- we enjoyed the skins on there.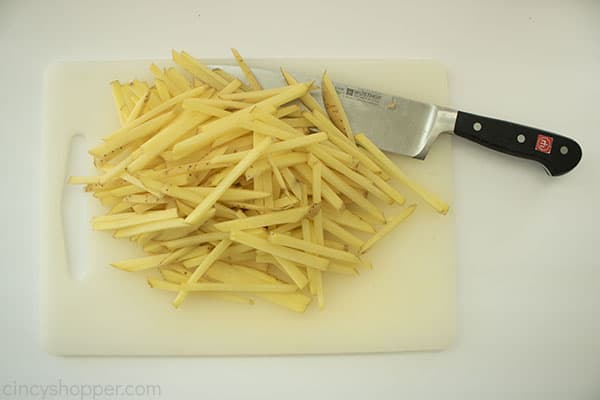 Make sure you get your fries cut pretty thin here- aim for about 1/8 of an inch thick. Once you've cut them all, toss them into a bowl of cold water for at least 20 minutes to soak.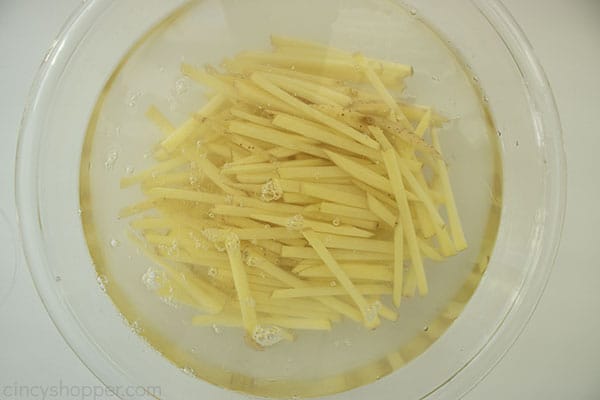 Once you get close to the end of the soak time, start getting your air fryer pre-heating to 375 degrees. If your air fryer has a "preheat" setting, use that- otherwise, letting your air fryer run for 4-5 minutes at the desired temperature works too. While it preheats, drain the water off of your fries and pat them as dry as you can before putting them back in the bowl. Hit them with some salt, black pepper, and olive oil.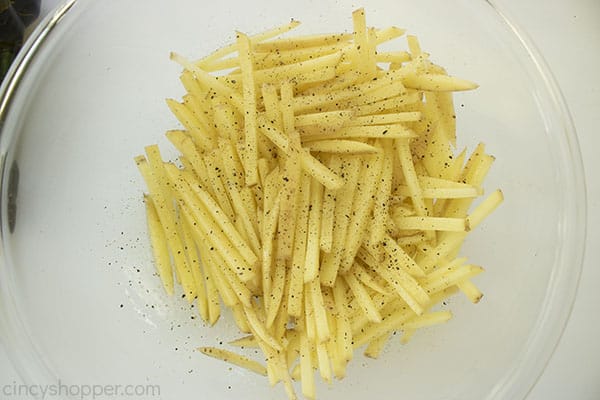 Now it's all up to the air fryer at this point!
Put a single layer of fries into your fryer's basket and cook them for about 15 minutes at 375 degrees-
basically
until crispy and golden brown
.
Make sure you're giving your fries a good shake every 5 minutes of frying and your keeping a close eye on them- they can burn
easily
!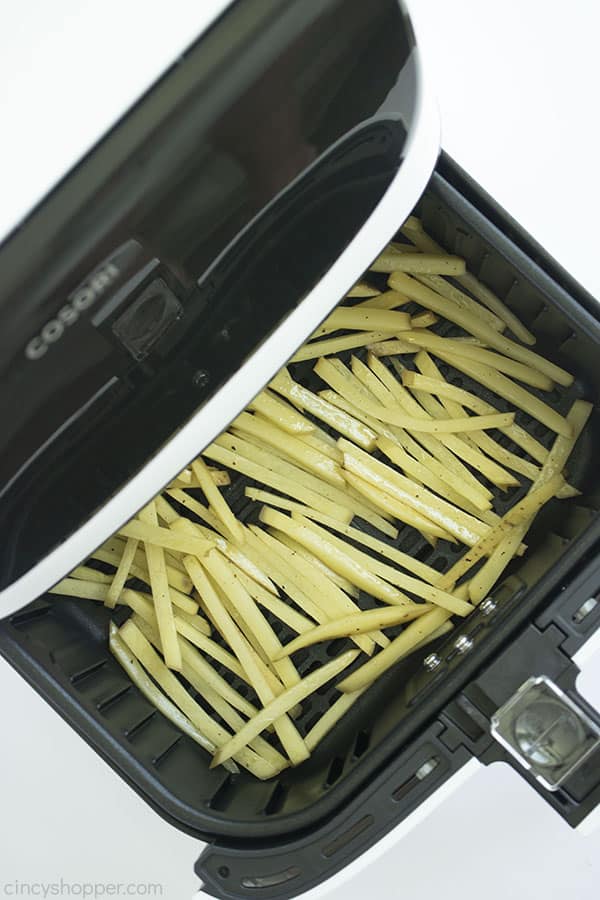 Once you finish frying your fries, you're ready to serve them immediately. Give one a quick taste and figure out if they need a little extra salt and add as necessary. With this recipe, I'm certain your air fryer will become a go-to tool for your kitchen!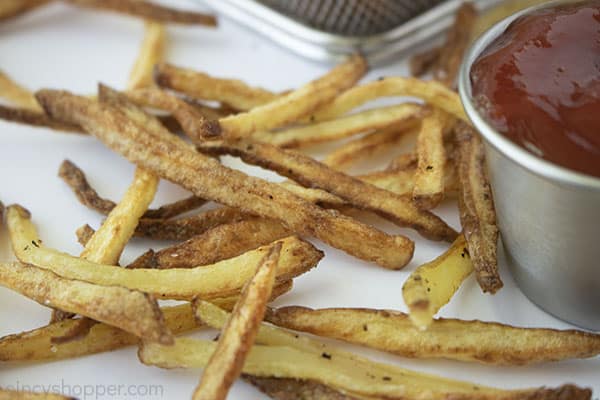 Tips/Notes
There's a crazy amount of toppings you could top your fries when they're fresh from the fryer. A few that spring to mind are some garlic salt, seasoning salt, chili powder, or even some Parmesan.

You can let your fries soak for much longer than 20 minutes! Soaking them longer saps more starch from the potatoes, making them crispier in the long run.

20 minutes seemed like a good compromise between getting some starch out and making this recipe quick and easy

.

Once you've soaked your fries, keeping things as dry as possible will give you crispier fries. Dry your fries, dry the bowl you're seasoning the fries in, dry the fryer basket- everything!
Air Fryer French Fries
Air Fryer French Fries are a crispy, healthy, and easy side dish. These homemade fries are better than any fast food fries you can get!
Ingredients
1

medium Yukon Gold Potato

1/2

tbsp

Olive Oil

1/4

tsp

Salt

1/8

tsp

Black Pepper
Instructions
Wash (scrub) potato or peel if desired.

Cut potato into 1/8" sticks (french fry shape).

Submerge sticks in a bowl of cold water for 20 minutes.

Preheat airfryer to 375.

Pull potatoes out of water and pat dry.

Empty bowl of water and dry with paper towel.

Put dry potatoes back in bowl ond drizzle with olive oil. Toss to coat.

Sprinkle with salt and pepper and toss to coat.

Place single layer of potatoes in air fryer and cook for 10-15 minutes until crisp and golden brown.

Serve immediately.
Nutrition
Calories:
97
kcal
|
Carbohydrates:
15
g
|
Protein:
2
g
|
Fat:
4
g
|
Saturated Fat:
1
g
|
Sodium:
296
mg
|
Potassium:
358
mg
|
Fiber:
2
g
|
Sugar:
1
g
|
Vitamin C:
17
mg
|
Calcium:
10
mg
|
Iron:
1
mg