Homemade Thousand Island Dressing is packed with tangy and zesty flavors. A delicious condiment that's so easy to make from scratch!
This is a wonderful and classic topping for salads: it's creamy with a little sweetness, heat, and tangy flavors! Great on salads, you could also serve this on some Grilled Hamburgers or something like a Reuben Sandwich.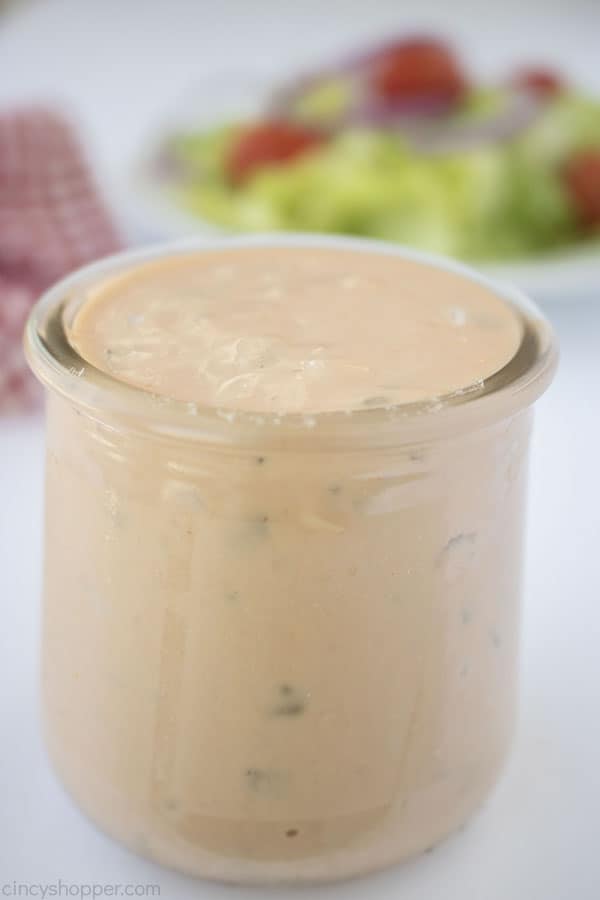 Homemade Thousand Island Dressing
We've got plenty of salad fans in this house: my daughter and I love our garden salads while my oldest son enjoys stuff like spinach and arugula. While we do enjoy our salads, they can taste a little… bland on their own. That's why we're equally big fans of great salad dressings: my usual go-to is something like an Italian dressing. I do like to mix things up on occasion and I usually make some of today's recipe: Thousand Island Salad Dressing.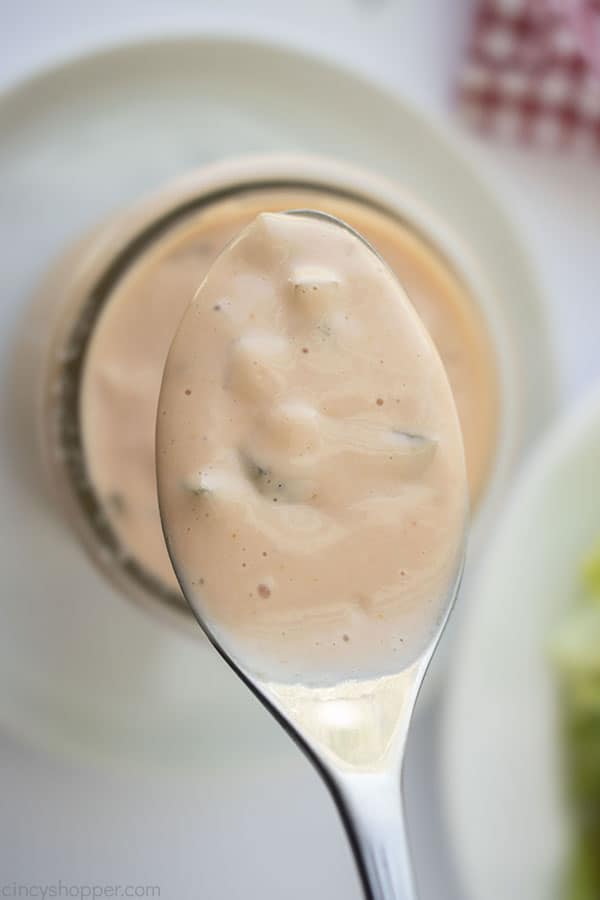 1000 Island Dressing is one of those classic, creamy salad dressings that's perfect on a bunch of different kinds of salad. It's made with a mayo base to which you can add all sorts of stuff to. The classic picks are ketchup to add a little touch of sweetness plus some tomato-y acid, onions for a little sharpness, and some sweet pickles for a bit more added sweetness and zest. I also add a bit of hot sauce to bring a bit of heat into the mix- it's a great addition to make!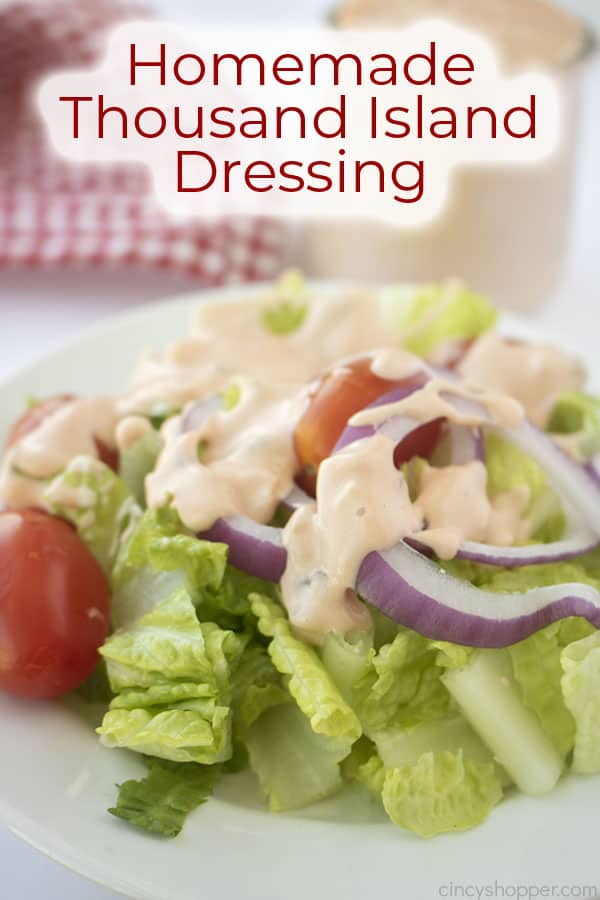 Great on any sort of lettuce or spring mix, it's a great way to shake things up if you've been on a bit of a salad kick. You can also try it on some hamburgers or some sandwiches as well. This stuff keeps really well in the fridge too! Even if you swear by your favorite dressing, make some of this stuff up and give it a try- we're sure you won't be disappointed.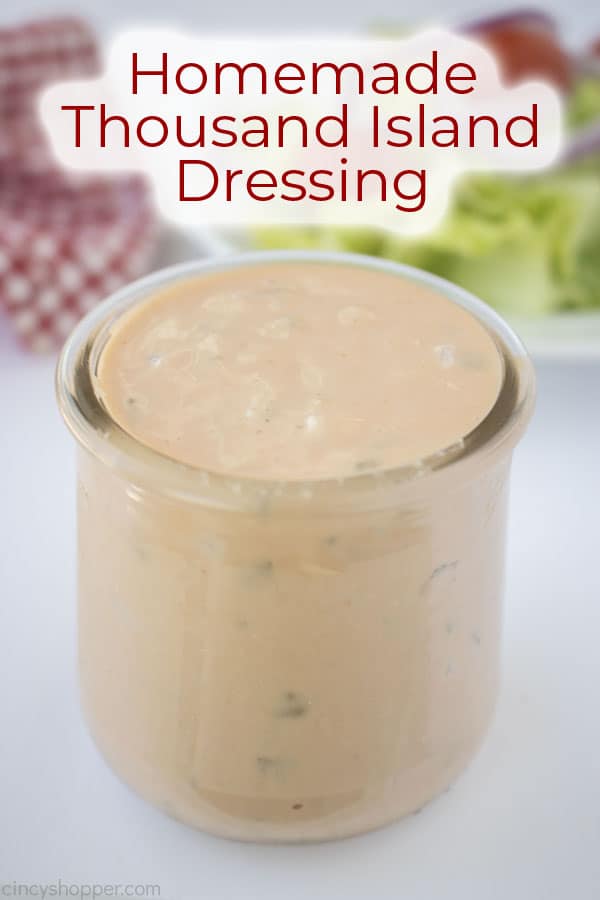 Liked our recipe? Try these Salad Dressing recipes next!
When it comes to Italian Dressings, there are a few I love more than our

Copycat Olive Garden Salad Dressing

.

What starts as a simple vinaigrette

quickly

turns into something delicious with the addition of plenty of Italian herbs and spices

.

It might seem like a lot of ingredients- and you

probably

have most of them already- but it's well worth it for the dressing you get in the end

!

Can't forget a classic

Homemade Caesar Salad Dressing

while we're here! This stuff is so easy to make at home and is way better than anything you can buy at the store. Feel free to make this with or without the traditional anchovies.

If you're looking for something different and new, try some of our

Raspberry Vinaigrette

. This is a delicious, fruity dressing that's great over any number of green and veggie salads! Made with fresh raspberries, not only does this stuff taste great but it's good for you as well.
If you
really
like this Thousand Island dressing, it tastes very
similar to
the sauce we used on our
Copycat Big Mac Recipe
. Feel free to give that recipe a try as well!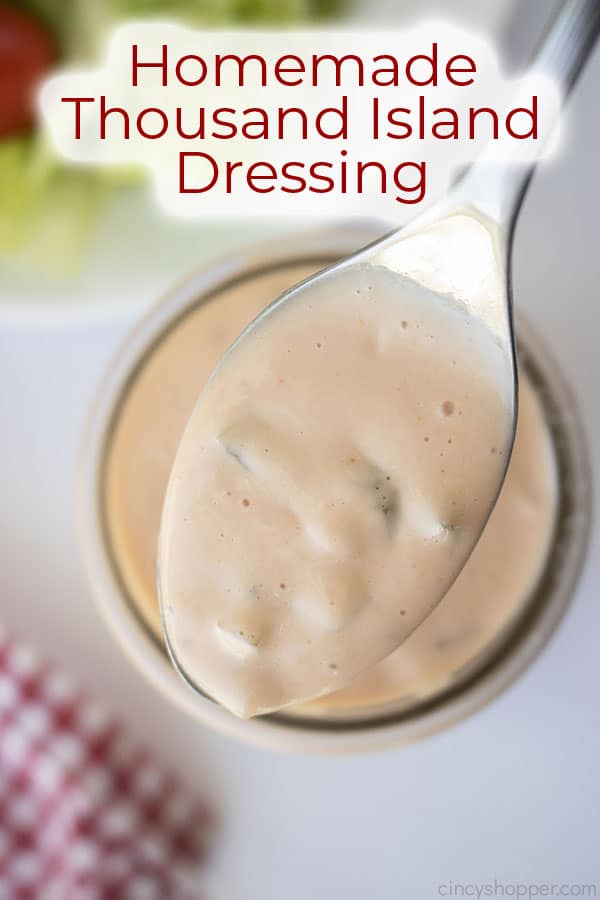 Thousand Island Ingredients
Mayonnaise

Ketchup

Onion

– We prefer a yellow onion here.

Pickles

– Go with sweet pickles here.

Hot Sauce

–

Just

for a little added heat.
You could add all sorts of other crazy add-ins but,
really
, this is all you need for the best Thousand Island dressing
!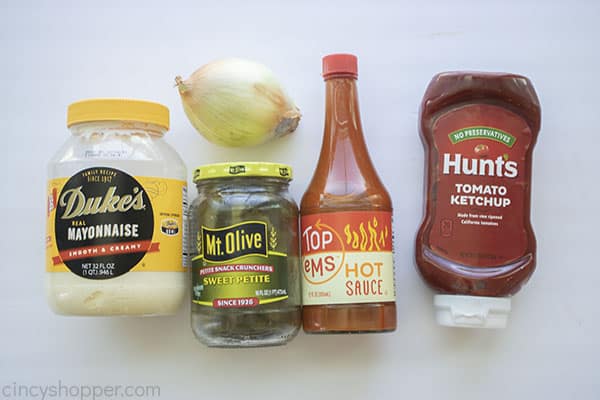 How to make Thousand Island Dressing
Thousand Island- while not as simple as, say, a vinaigrette where it's usually
just
oil and vinegar- is still very easy to make
. Here's all you have to do:
Chop or grate your onions and sweet pickles

.

Add all your 1000 Island Dressing ingredients to a mixing bowl.

Mix until well combined

and then

add to your favorite salads

.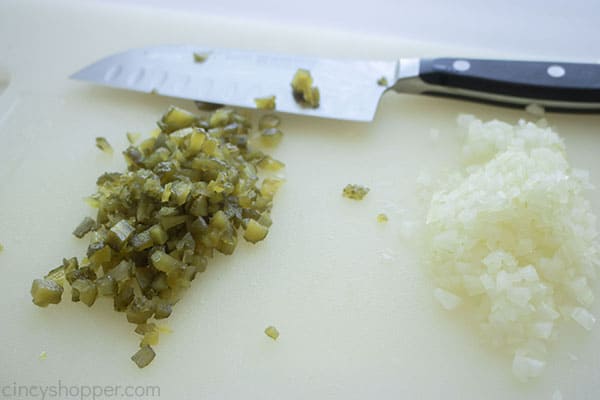 Before you mix up your dressing, you need to chop up your pickles and onions first. If you have knife skills, you can dice these as fine as you prefer. If you don't have great knife skills- or you prefer your dressing chunkier- you can actually just use a box grater! Grate your pickles and onions against the larger holes for a perfect chunky dressing.
With the onions and pickles prepped, we can add all our dressing ingredients to a mixing bowl.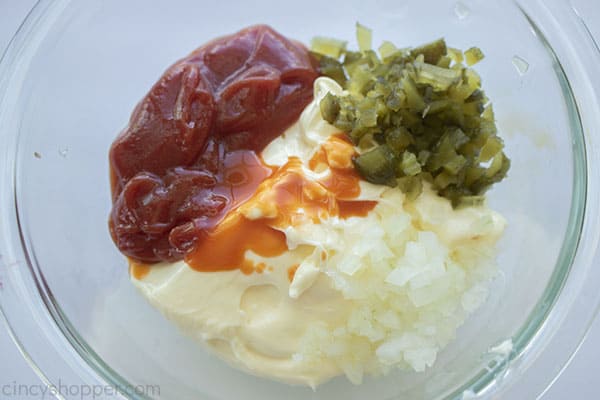 Mix all those ingredients together until they're well-combined into a consistent salad dressing. We encourage you to taste your dressing as you mix and to add in more of the ingredients to your preference. Think it needs more ketchup? Add a bit more in. Want a bit more heat? A couple of dashes of hot sauce should get you there.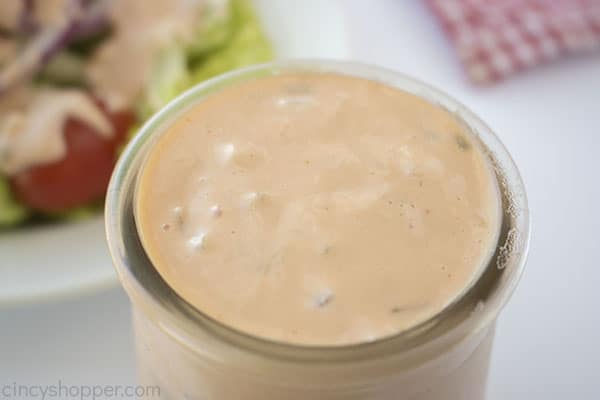 Once mixed, you can either use it to top a salad right away or you can transfer it to a jar or container for storage in the fridge. Enjoy your homemade salad dressing!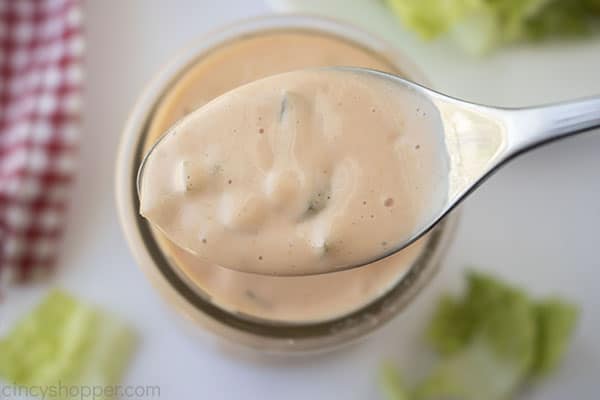 How long does Thousand Island Dressing Last?
If you're using fairly fresh onions and pickles, your Homemade Thousand Island Dressing should last for a good while. Kept in an airtight container in the fridge, expect it to last up to 2 weeks. Once it starts smelling odd or tasting weird, we'd recommend throwing it out.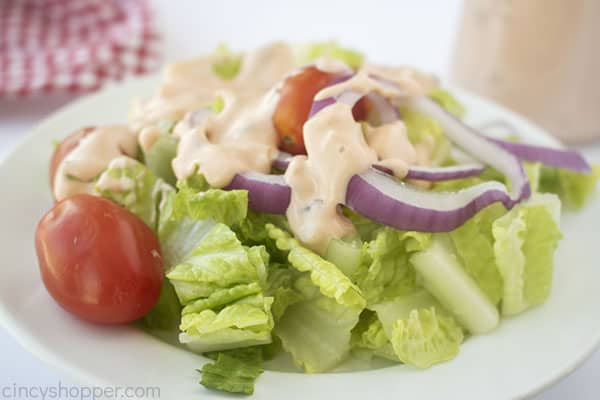 Thousand Island Dressing
Homemade Thousand Island Dressing is packed with tangy and zesty flavors. A delicious condiment that's so easy to make from scratch!
Ingredients
1

cup

Mayonnaise

3

tbsp

Ketchup

3

tbsp

diced Sweet Pickles or Sweet Relish

3

tbsp

finely diced Onion

1/2

tsp

Hot Sauce
Instructions
Combine all ingredients in a bowl and stir until blended.

Cover and refrigerate for at least 1 hour.
Notes
Store the homemade dressing in an airtight container for up to 2 weeks.
Nutrition
Calories:
206
kcal
|
Carbohydrates:
4
g
|
Protein:
1
g
|
Fat:
21
g
|
Saturated Fat:
3
g
|
Trans Fat:
1
g
|
Cholesterol:
12
mg
|
Sodium:
281
mg
|
Potassium:
31
mg
|
Fiber:
1
g
|
Sugar:
4
g
|
Vitamin A:
116
IU
|
Vitamin C:
1
mg
|
Calcium:
4
mg
|
Iron:
1
mg