The Best Colcannon is rich, creamy, buttery, and perfect with some bacon. Potatoes & Cabbage work together in this traditional Irish recipe!
It's hard to improve on mashed potatoes- but this recipe for Colcannon has found a way! We know you'll love this delicious and filling Irish dish. Serve it for St. Patrick's Day!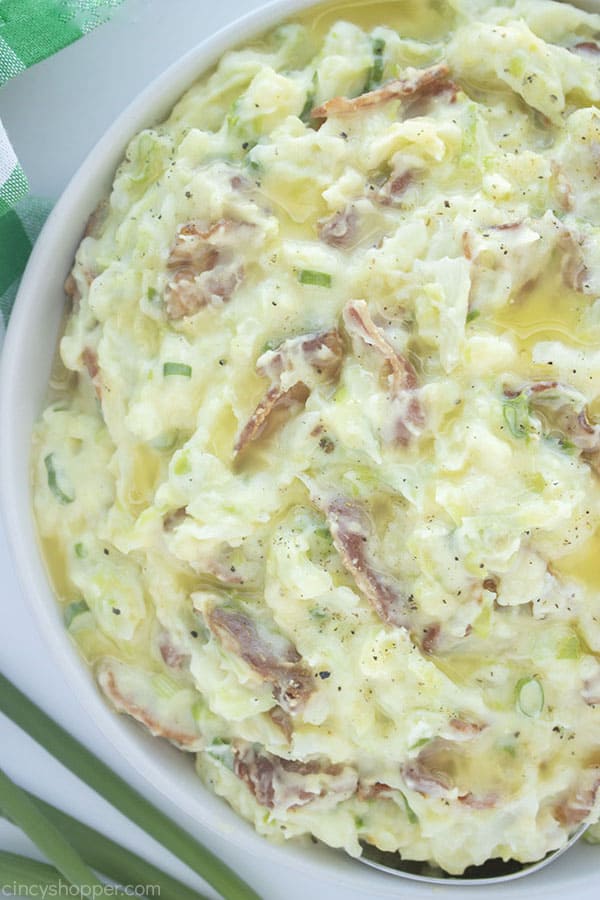 The Best Colcannon
There are few things in life that are as simple and delicious as mashed potatoes. Combine some cooked potatoes with a bit of butter and milk and you get something that's way better than the sum of its parts. Mashed potatoes are a perfect side dish- it's hard to make them any better. That is, until, you learn about Colcannon.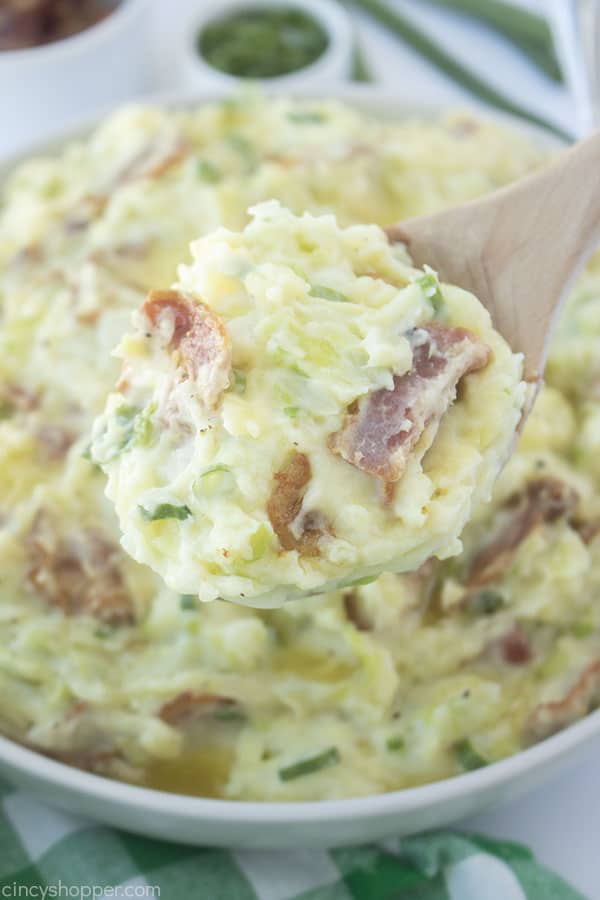 What is Colcannon? It's a traditional Irish dish that uses a base of cabbage and mashed potatoes. To that base, you can add all sorts of other toppings and mix-ins: bacon, hams, cheeses- Colcannon is a bit of a blank canvas. It's a delicious and filling spin on the classic bowl of mashed potatoes!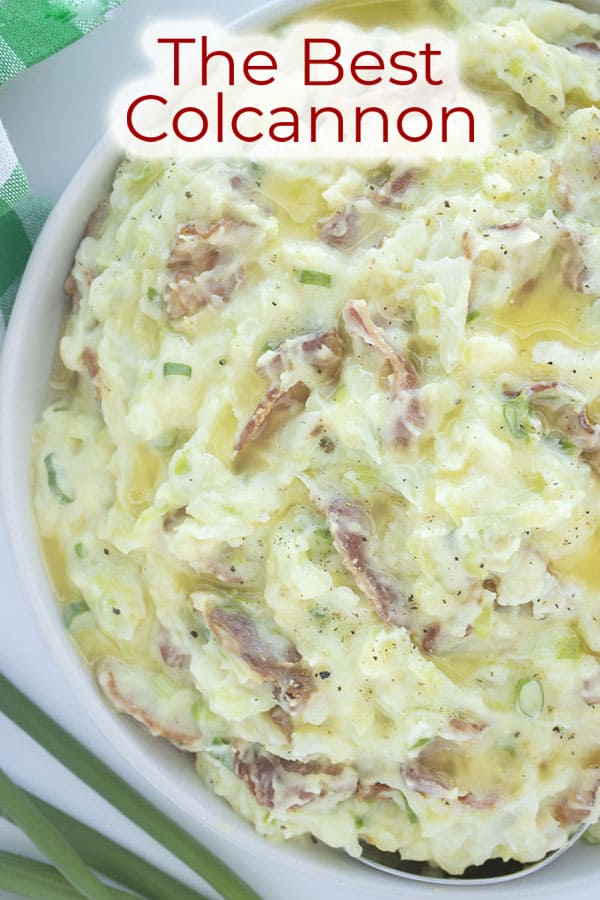 If you're a big fan of a good potato mash- or if you just love Irish food- then you have to give Colcannon a shot. There aren't many other recipes out there that are this friendly and customizable- we hope you make the colcannon that's best for you!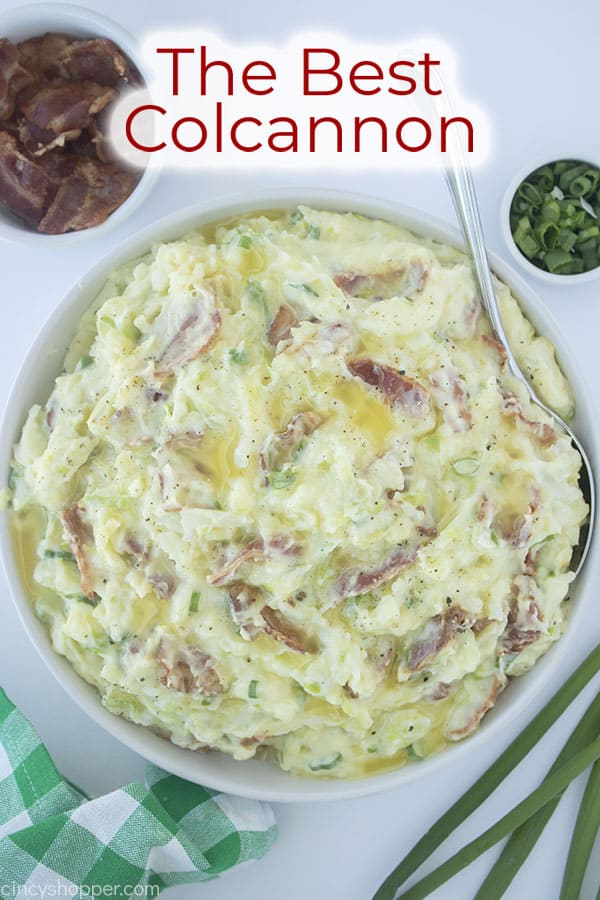 If you enjoyed our Colcannon Potatoes, give these cabbage recipes a try!
In the mood for some Southern comfort food? Try some

Southern Fried Cabbage with Bacon

! This simple pan-fried dish is so delicious that I guarantee that even cabbage haters will love it. Everything's better with bacon, right?!

If you're wanting some soup, you have to give our

Creamy Cabbage Soup

a try.

This recipe is the perfect combo of cabbage, potatoes, nutritious veggies, and creamy broth

. Delicious, easy to make, and perfect with a side of good, crusty bread!

For another traditional cabbage recipe, make up some

Stuffed Cabbage Rolls

. Simple, hearty comfort food that's dressed with a tasty and tangy tomato sauce. Whether you call them "rolls" or "galumpkis," we know you're going to love them!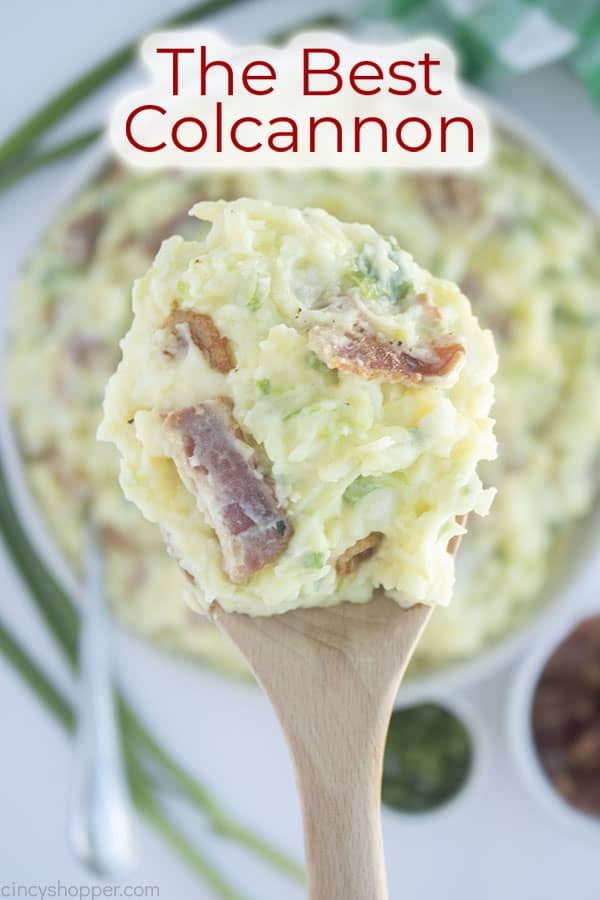 Ingredients for Irish Potatoes and Cabbage
Cabbage

Potatoes

– Go with your favorite potato for mashed potatoes here. We went with some Yukon Golds but Russets are also very popular! We'd love to try this recipe with some rich and nutty Fingerlings as well…

Butter

Half-and-Half

– Experiment with different milks and creams here. Try using all milk or

maybe

use heavy cream.

Bacon

– Bacon that you can pan-fry works best here!

Green Onions

Salt & Pepper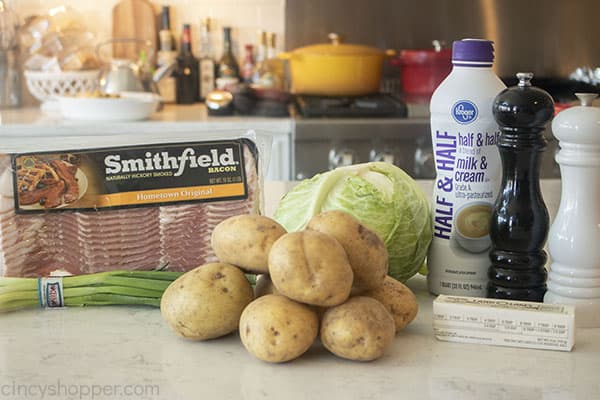 How to make Colcannon Mash
Making up this traditional Irish dish is very easy. Here's all you need to do:
Boil your cabbage,

making sure to reserve the cooking liquid when done.

Use the cooking liquid to

boil your potatoes.

Mash your potatoes

before

folding in

all of

your Colcannon mix-ins.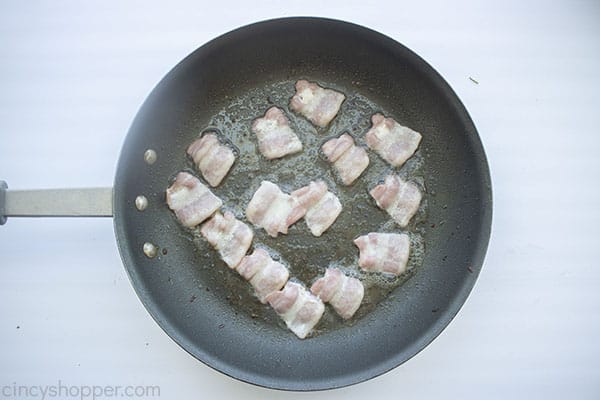 Before getting started on this recipe, it would be smart to get all your ingredients cut and prepped. In our case, this involves cutting our bacon into bite-sized pieces and giving it a quick pan-frying. Get your green onions diced and your cabbage shredded as well.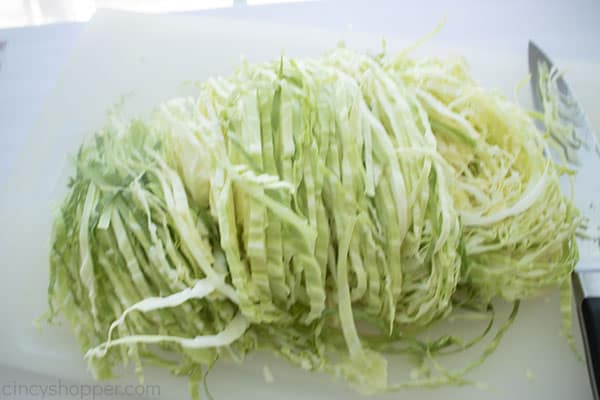 The first order of business is our cabbage: we want this stuff cooked nice and tender before we add it to our potatoes. The easiest way to get tender cabbage is to boil it. Cover with water in medium-to-large pot, bring to a boil, and then reduce down to a simmer. Let that cook for about 10 minutes before using tongs or a spaghetti ladle to remove your cabbage from the water.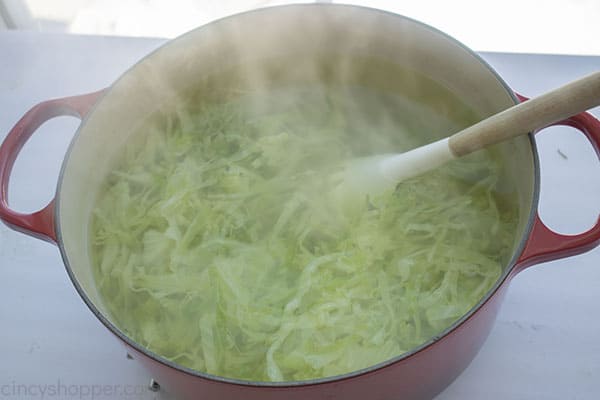 For this recipe, we like to cook the potatoes up in the reserved cabbage water for a bit of extra flavor. If there's not enough liquid to cover your potatoes, just add water. From here, we're going to do some basic, from-scratch mashed potatoes. Bring the water up to a boil before reducing to a simmer once again. Let those potatoes cook for about 15 minutes or until tender. Once cooked, mash the potatoes with some salt & pepper, butter, and some warm or hot half-and-half.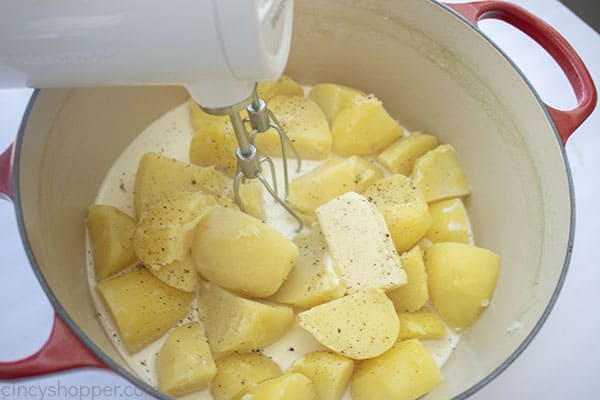 All that's left is to fold in all of our mix-ins. Toss your cabbage, fried bacon, and green onions into the pot with your mashed potatoes and use a spatula to gently fold together. Once mixed, optionally transfer to a bowl for serving and enjoy!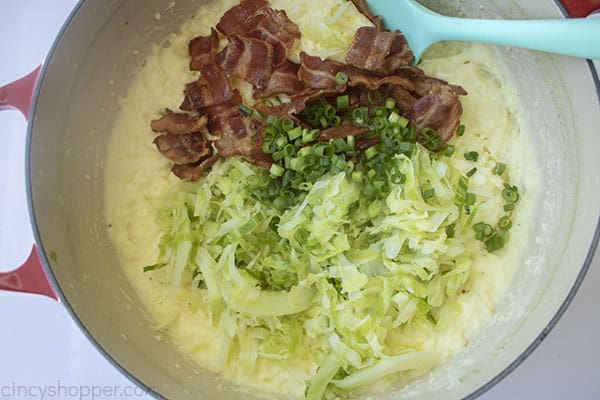 Tips for a good Irish Mash
Avoid over mashed potatoes!

One of the easiest ways to ruin your potatoes is to over mix or over mash them.

Working the starches in the potatoes to

harshly

will

quickly

turn your mashed potatoes into "wallpaper paste

."

Just

remember to be gentle with your potatoes- especially starchier ones, like Russets.

Should you boil potatoes with skin on?

Many talented chefs around the world swear by boiling or baking their potatoes with the skin still on

.

When it comes time to mash, they

simply

peel the skins off: this usually "traps" the flavors and nutrients in the potatoes

. Experiment with this method and see how you like it- let us know how it works out!

Want the fluffiest mashed potatoes possible?

Consider investing in a potato ricer or a food mill.

These tools help break the potatoes down into small pieces without overworking the starches

. A finer mash usually results in fluffier potatoes!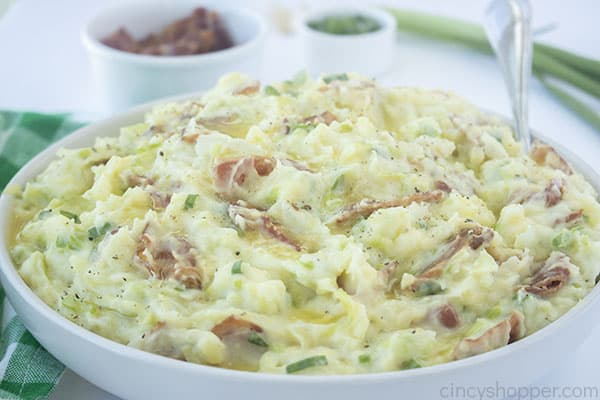 What to serve with Colcannon?
Colcannon can
be paired
with all sorts of different mains- it's kind of a jack-of-all-trades. It goes well with roast chickens, hearty beef stews, pork, lamb- what doesn't it pair with?!
If you can't decide on a main, consider adding more bacon and cabbage to your Colcannon and serving it as a main- it can be very filling
!
Colcannon
The Best Colcannon is rich, creamy, buttery, and perfect with some bacon. Potatoes & Cabbage work together in this traditional Irish recipe!
Ingredients
12

oz

Bacon

1

head Cabbage

approx 2 lb, shredded

2

cup

Water

4

lb

Yukon Potatoes

peeled and quartered

1 1/2

cup

Half and Half

1

stick Butter

divided

1

cup

chopped Green Onions

1 1/2

tsp

Salt

1/2

tsp

Pepper
Instructions
Cut bacon into bite-sized pieces and fry until crispy.

Drain bacon and set aside.

In a large pan, place cabbage and 2 cups of water and bring to a boil.

Reduce heat, cover, and simmer until cabbage is tender, about 10 minutes.

Scoop or use tongs to remove the cabbage from the pot and keep warm in another dish. Set that dish aside.

Add potatoes to the pot with liquid from the cabbage. If necessary, add additional water to cover potatoes.

Reduce heat and cook uncovered until potatoes are tender about 15 minutes.

Add half and half, 1/2 stick of butter, salt, and pepper. Beat until incorporated.

Add in cabbage, cooked bacon, and green onions. Stir until distributed.

Melt remaining butter and drizzle over colcannon before serving.
Notes
Do not over mix the potatoes or they will become pasty.
Use the cabbage water to boil the potatoes for the best flavor.
Nutrition
Calories:
356
kcal
|
Carbohydrates:
40
g
|
Protein:
10
g
|
Fat:
18
g
|
Saturated Fat:
7
g
|
Trans Fat:
1
g
|
Cholesterol:
36
mg
|
Sodium:
621
mg
|
Potassium:
1062
mg
|
Fiber:
7
g
|
Sugar:
5
g
|
Vitamin A:
334
IU
|
Vitamin C:
71
mg
|
Calcium:
107
mg
|
Iron:
2
mg