Easy Shepherd's Pie is so simple to make with frozen vegetables. This is an easy ground beef recipe that's perfect for weeknight dinners!
This Shepherd's Pie recipe is a tasty way to use up that leftover ground beef and mashed potatoes. For a couple of similar recipes, try our Beef Pot Pie Casserole or some Skillet Ground Beef and Biscuits.
Easy Shepherd's Pie
I love recipes that give you a little bit of everything with every bite. Casseroles, pot pies- each bite has a bit of bread or starch, veggies, meat, and some delicious rich gravy. The biggest draw that these recipes have for me? Super easy and simple to make! This recipe for Shepherd's Pie, especially, is incredibly easy to make up and is a great use for any ground beef I have leftover from previous recipes.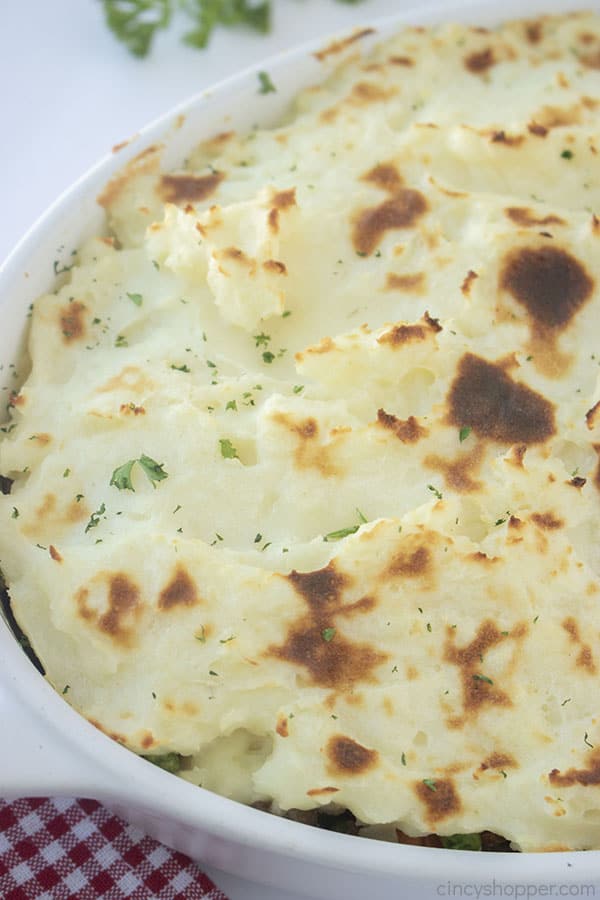 The origins of the Shepherd's Pie are a bit murky- it seems to be an English recipe- but, for some reason, it seems to be mostly connected to the Irish nowadays. Not that I'm complaining: Shepherd's Pies have always been some of the most hearty and filling dishes I've had on St. Patrick's Day! It's also close cousins with cottage pie- a very similar dish that uses lamb instead of the traditional beef.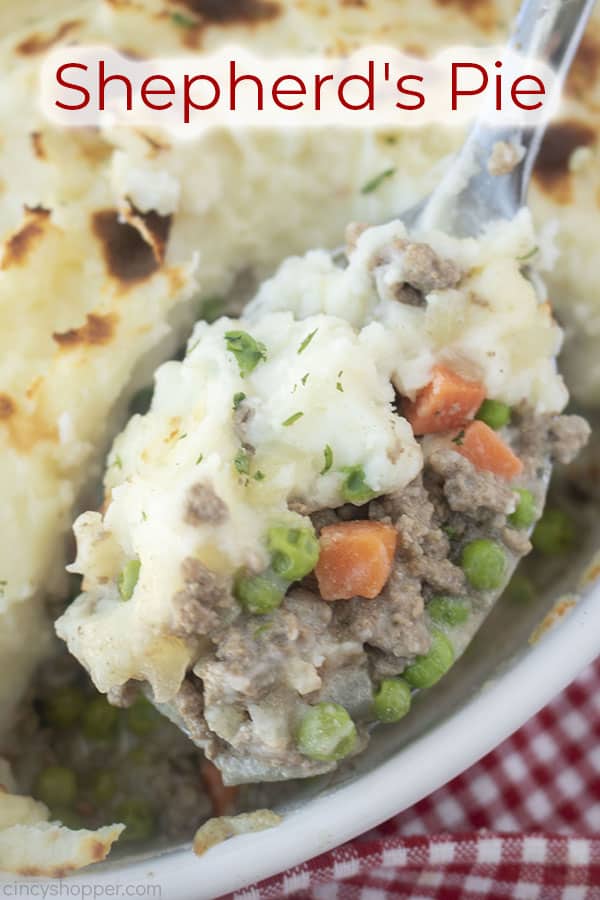 Often, all you need for a good Shepherd's Pie is some ground beef, veggies, and some mashed potatoes. But, there's no rule saying you can't mix things up or sub things in! No ground beef? Try using some ground turkey, pork, or chicken. Got some leftover corn? Throw it in there! Want to make your Shepherd's Pie with cheese on top? Go right ahead! But, if you want to keep things simple and easy, we've got our recipe right here: we're certain you'll love it!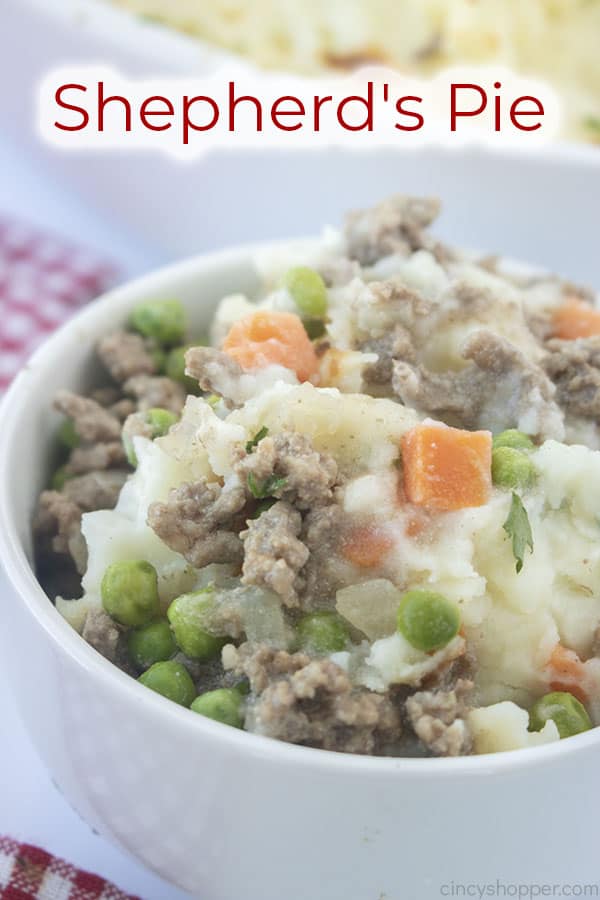 Liked this dish? Give these other Irish recipes a try!
It's hard to improve on mashed potatoes… unless you're making

The Best Colcannon

! This traditional Irish recipe sees buttery mashed potatoes come together with cooked cabbage. Combine these two- and a few of your other favorite fillings- and you have a delicious and filling Irish dish!

Stuffed Cabbage Rolls

have

been made by

people all around Europe and all around the world- the Irish included

! Delicious, tender cabbage leaves

are wrapped

around a hearty beef filling. Things only get better when we add a nice, sweet and sour tomato sauce to the mix- the flavor is

just

to die for!

If you need some bread at the table for an Irish dinner this St. Patrick's Day, look no further than

Irish Soda Bread

. Compared to most other bread recipes, you can whip up this loaf in almost no time at all! Tastes great spread with jam or butter or dunked into a rich, meaty stew.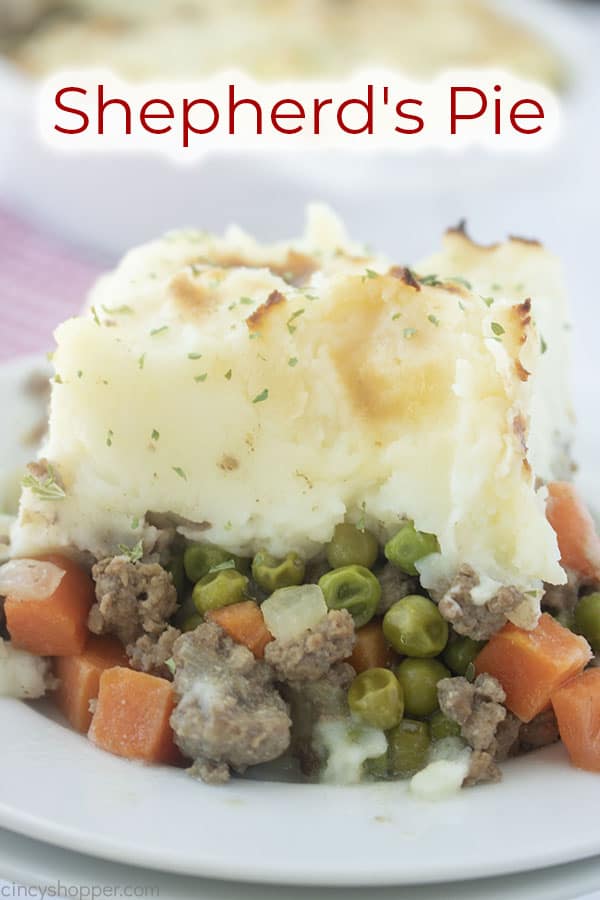 Ingredients for Cottage Pie AKA
Shepherd's Pie
Ground Beef

Mashed Potatoes

– You can either whip some up from scratch or use some leftovers from a previous meal. You can even make Shepherd's Pie with instant potatoes if you want!

If making fresh mashed potatoes, consider adding an egg yolk to them: this will make them taste a little richer and help with browning in the oven

.

Peas & Carrots

– To make this easy, we

just

used frozen veggies. You might be able to add canned peas or carrots-

just

know they'll cook much quicker than the thawed frozen ones.

Onion

Garlic

– We used minced garlic here.

Butter

Flour

Worcestershire Sauce

Milk

Salt & Pepper

– To taste.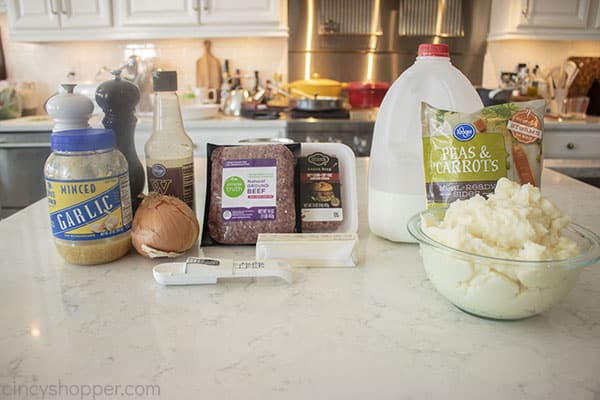 How to make Shepherd's Pie
You can make Shepherd's Pie easy! Here's all you need to do:
Brown your ground beef, onion, and garlic

before

making some roux for a quick gravy.

Combine your browned beef, onions, and garlic with your thawed frozen veggies and gravy

in a baking dish

.

Top with a layer of mashed potatoes

and

bake at 375 degrees

until filling

is heated

through and the potatoes

are browned

.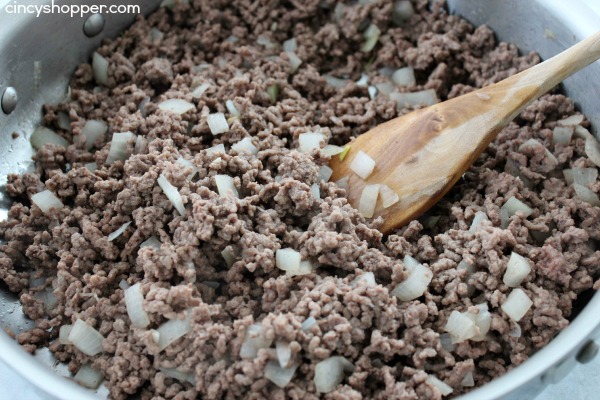 For the beef, onion, and garlic, heat some oil over medium heat. Add your beef, onion, and garlic and let cook until browned before draining off any excess fats.
For the gravy, you'll first want to melt some butter in the bottom of a small saucepot. Once melted and bubbling, add in an equal amount of flour and mix together until combined. That's going to make a roux: let that cook for 2 minutes before slowly streaming in your milk and adding your Worcestershire sauce. Let that cook for a minute and- there you go- easy gravy!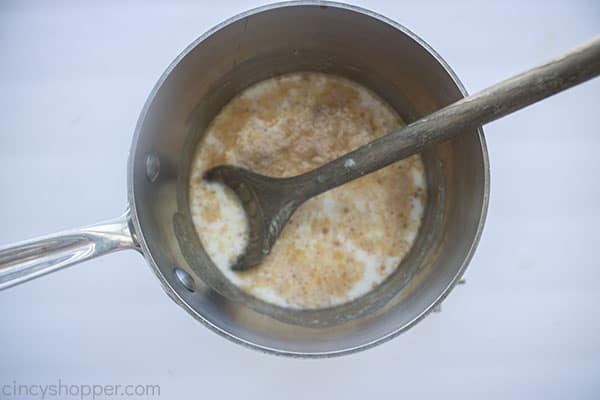 Assemble your fillings in a baking dish: the beef, the gravy, and your thawed frozen vegetables.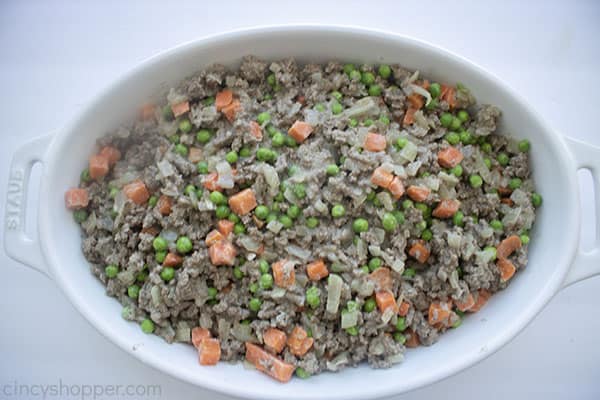 Place a layer of mashed potatoes on top of your fillings and then transfer to a 375 degree oven.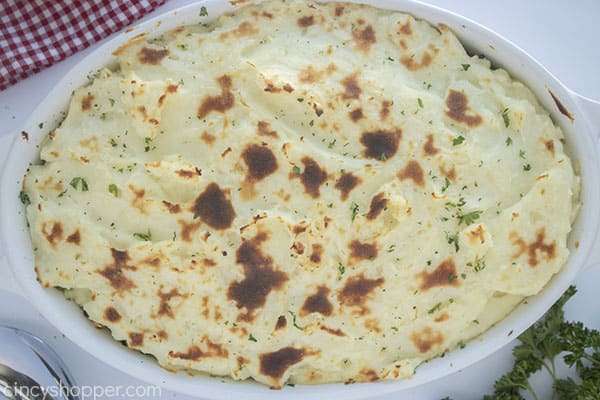 Your Shepherd's Pie is going to need about 20-30 minutes for the filling to heat through and for the mashed potato topping to brown a bit. Nothing's going to be undercooked– we already cooked everything!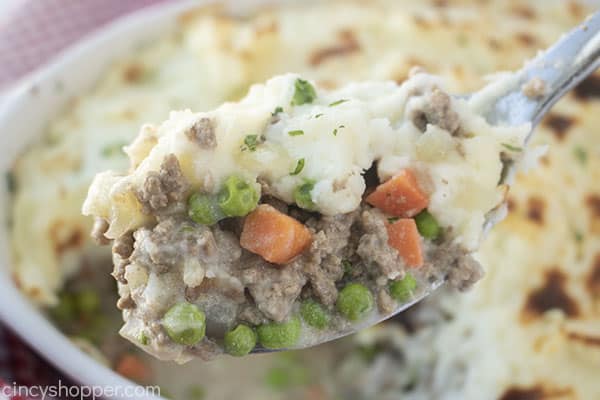 Once it's cooked, pull it from the oven, scoop out a generous portion, and enjoy!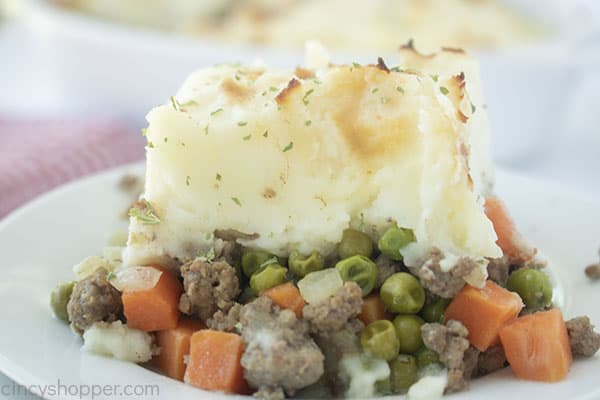 Note: This recipe was originally published on January 28th, 2015, and it is now updated with new tips and images.
Easy Shepherd's Pie Recipe
Easy Shepherd's Pie is so simple to make with frozen vegetables. This is an easy ground beef recipe that's perfect for weeknight dinners!
Ingredients
1 1/2

lb

Ground Beef

4

cup

Mashed Potatoes

1

tbsp

Oil

1

tsp

Minced Garlic

1

Onion

diced

1

tbsp

Worcestershire Sauce

1

cup

Milk

2

tbsp

Butter

2

tbsp

Flour

12

oz

Frozen Peas and Carrots

thawed

Salt and Pepper to taste
Instructions
Heat oil in a skillet over medium heat and add ground beef, onion, and garlic.

Cook until browned and drain.

In another skillet or pan, melt butter, and add flour.

Cook roux for 2 minutes.

Whisk in worcestershire and milk.

Cook for 1 minute to thicken.

Combine beef mixture, gravy, and thawed vegetables.

Top with mashed potatoes and place in oven for 20-30 minutes until heated through.
Notes
Switch up the pes and carrots for any of your favorite vegetables like corn or green beans.
Nutrition
Calories:
558
kcal
|
Carbohydrates:
45
g
|
Protein:
27
g
|
Fat:
31
g
|
Saturated Fat:
12
g
|
Trans Fat:
2
g
|
Cholesterol:
95
mg
|
Sodium:
242
mg
|
Potassium:
966
mg
|
Fiber:
5
g
|
Sugar:
4
g
|
Vitamin A:
5574
IU
|
Vitamin C:
41
mg
|
Calcium:
103
mg
|
Iron:
4
mg