Corned Beef and Cabbage is a delicious, filling meal that's easy to make. A traditional Irish dish that's perfect for St. Patrick's Day!
Our recipe for this classic Irish meal keeps things easy- you can cook everything up in one pot! Goes great with a side of Irish Soda Bread and some Easy Shamrock Pie for dessert.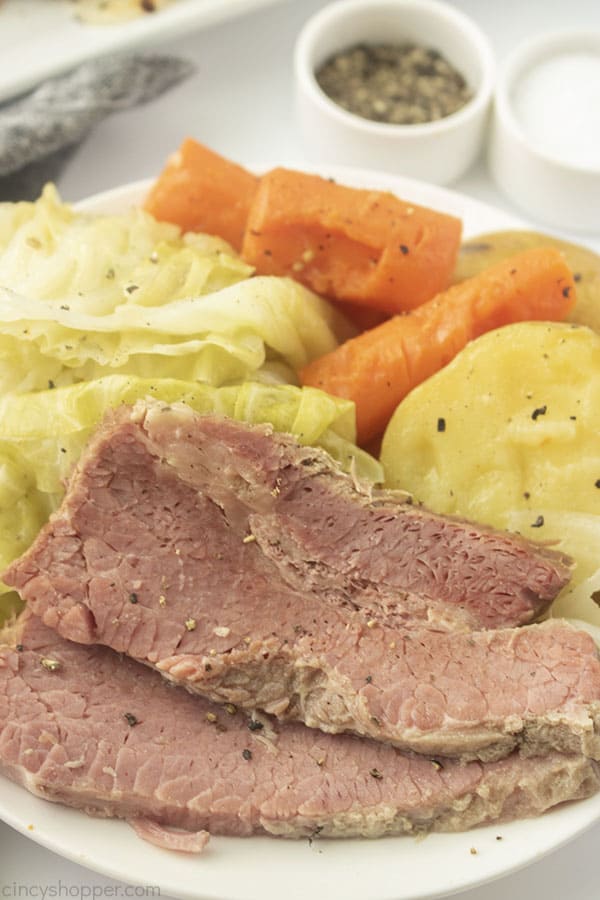 Corned Beef and Cabbage
Corned beef is a bit of a… divisive cut of meat. You'll have people who swear that it's some of the juiciest, most-flavorful cuts of beef you can ever have. Others will say they'd prefer to eat shoe leather. For those people who hate corned beef, I urge you to give this recipe a try- it just might change your mind!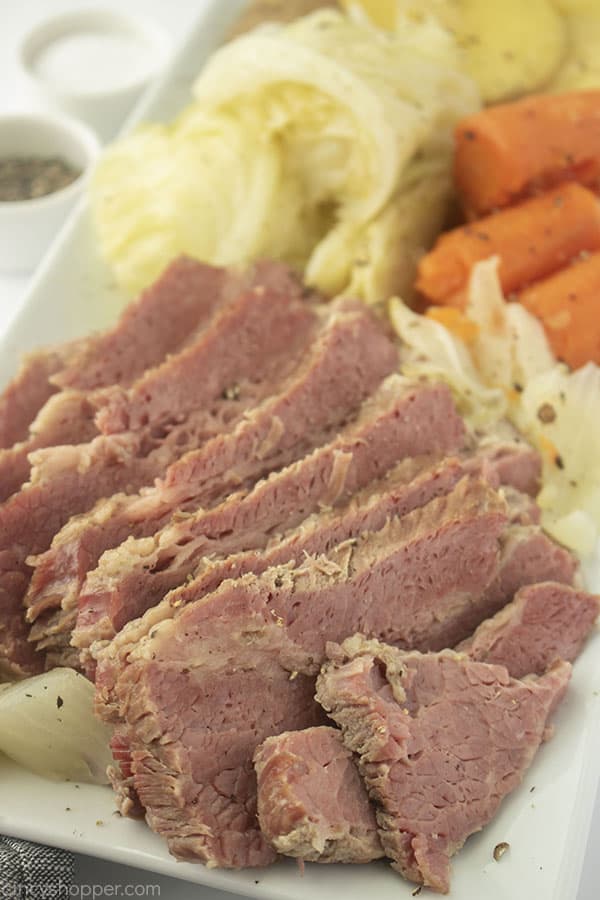 Corned Beef and Cabbage is a classic, Irish dish that many families will cook up for a St. Patrick's Day dinner. Cooked right, it yields a big slab of beef that's rich, juicy, fork-tender, and perfectly salted. Our recipe will ensure you get that perfect corned beef every time- all in one pot too!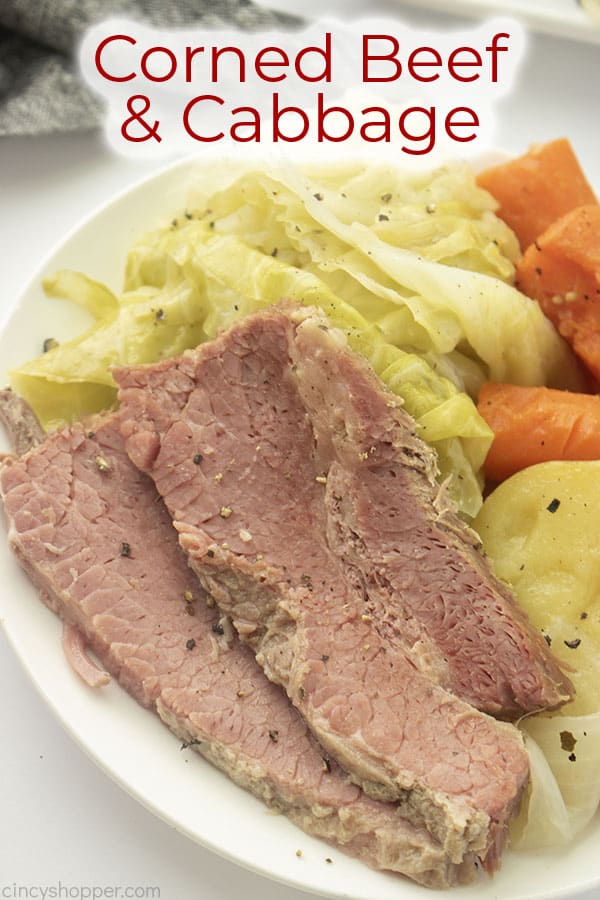 By cooking this traditional Irish dish on the stovetop, you can heat it nice and slow, getting it nice and tender. There's even plenty of room to cook some veggies too- a whole, filling, family meal! We know you'll love it!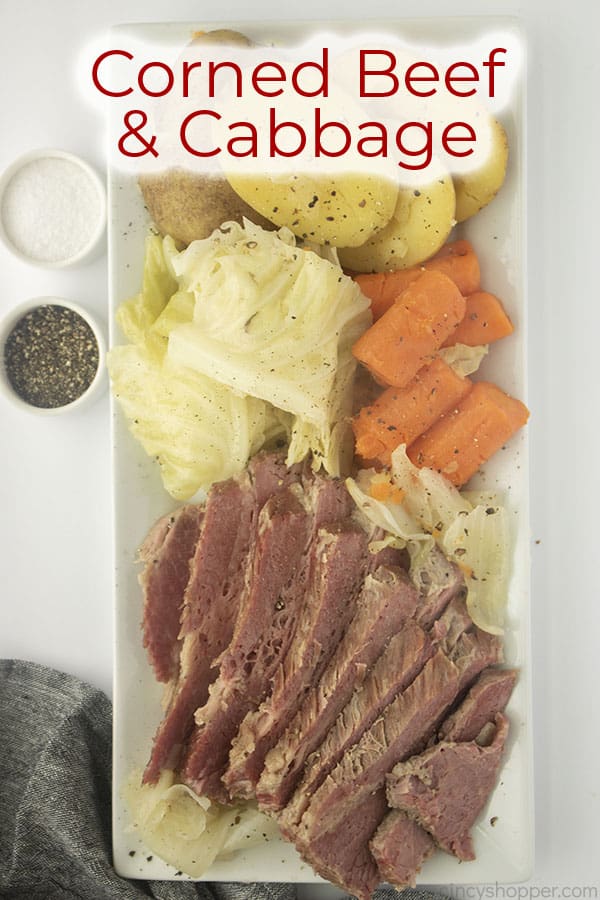 Enjoyed this traditional Irish recipe? Try these cabbage recipes next!
If you're needing another cabbage-packed Irish dish, look no further than

The Best Colcannon

!

This spin on classic mashed potatoes

is loaded

up with cabbage, bacon, green onions, and all other sorts of mix-ins

. If you love a good dish of buttery mashed potatoes, you have to give this recipe a try!

Stuffed Cabbage Rolls

are a popular dish you can find all over Europe- Ireland included! Our version of the recipe sees a hearty beef and rice filling wrapped up in tender cabbage leaves. Add in a sweet and sour tomato sauce and the flavors are

just

perfect!

When Southern comfort food is what you need, give some

Southern Fried Cabbage with Bacon

a try. This is a simple but filling dish- fry up some bacon and use the fat to cook up the cabbage! Toss a bit of vinegar in there to brighten the dish up and all you can say is "yum!"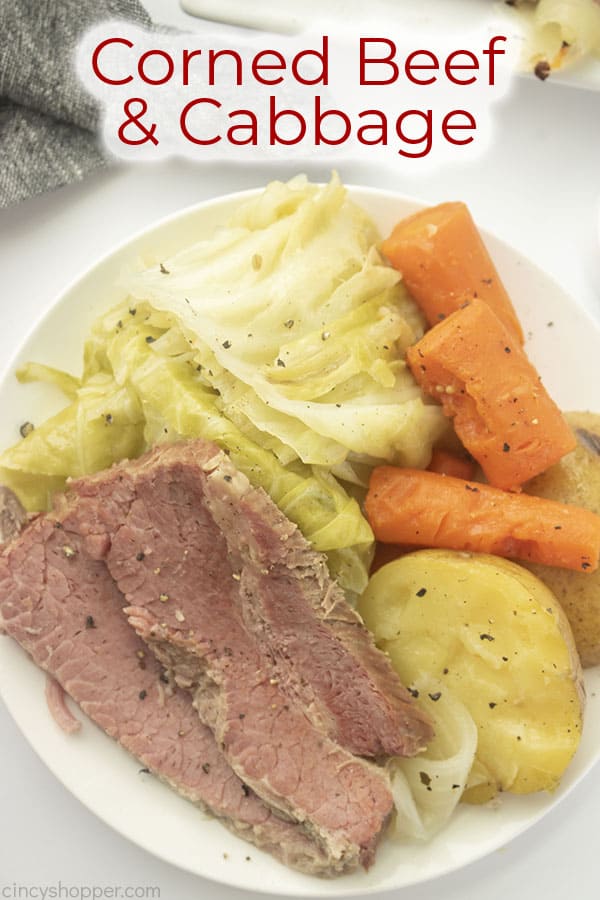 Ingredients for our Irish Corned Beef Recipe
Corned Beef

– Make sure to save the spice packet that comes with your Corned Beef brisket.

What are corned beef spices? Different brands will use different blends of spices in their corned beef. These usually involve black peppercorns, coriander seeds, mustard seeds, some crushed bay leaves, and often some red pepper flake for a touch of heat- among other things.

Cabbage

Potatoes

– We went with some golden potatoes but feel free to experiment! We've heard red potatoes also work great for this recipe.

Carrots

Onion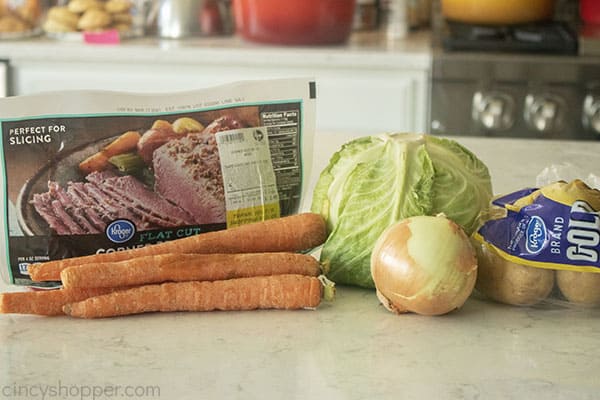 How to cook Corned Beef and Cabbage
Putting this recipe together is very simple! To make corned beef with cabbage, all you'll need to do is…
Simmer your corned beef with the included spices

until tender.

Add your carrots, onion, and potatoes and allow to cook

until tender.

Add your cabbage and allow to cook until softened

before

plating the meat and veggies and drizzling with the pot juices.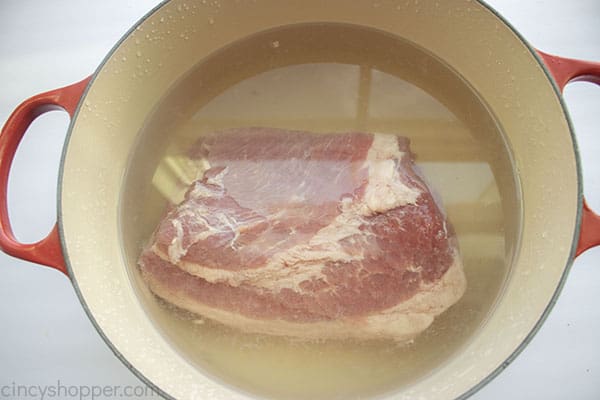 We'll start this recipe off by first putting the raw corned beef into a pot of water and letting it come up to a boil. Boiling the beef is going to cause an odd foam to accumulate on the water's surface. This corned beef froth is excess salts and sodium nitrate that was used in preserving the meat. Just skim this foam off.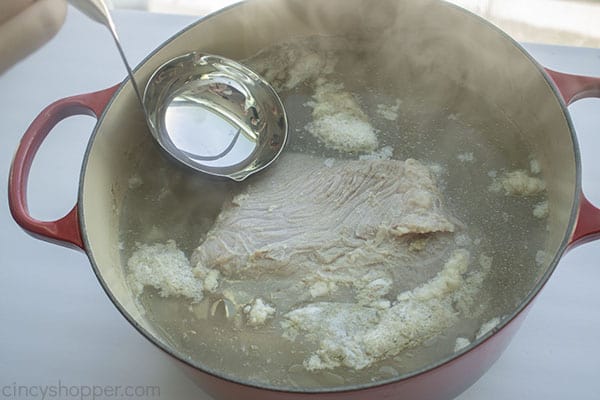 At this point, add the spice packet, reduce the heat down to a simmer, and cover the pot. That'll need around 2-3 hours to simmer until tender.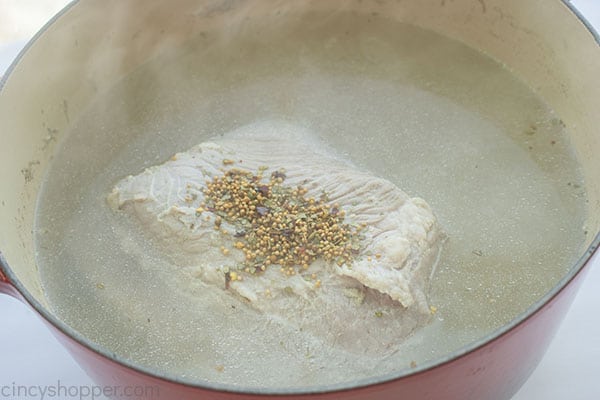 In the meantime, we can prep our veggies. Nothing needs to be chopped super-fine for this recipe- you can get away with halving the potatoes and cutting the carrots into big pieces. The onion, likewise, can be cut into wedges.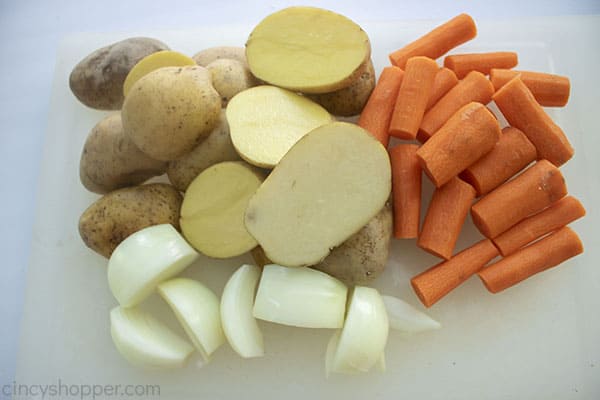 For our cabbage, you can cut it into five or six big pieces.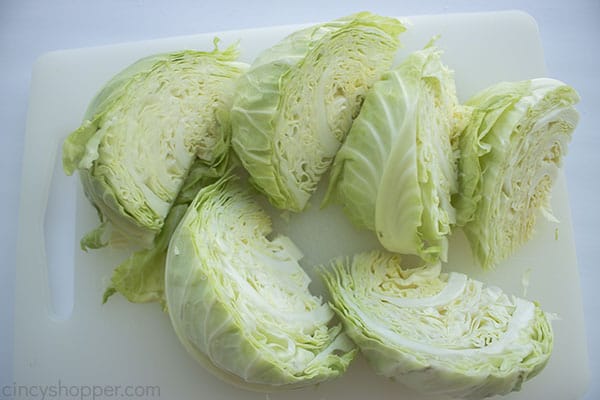 Now we can start adding our vegetables to the mix. First, add carrots, onion, and potatoes- they need a bit longer to cook. Toss them into the pot and let cook for about 15 minutes.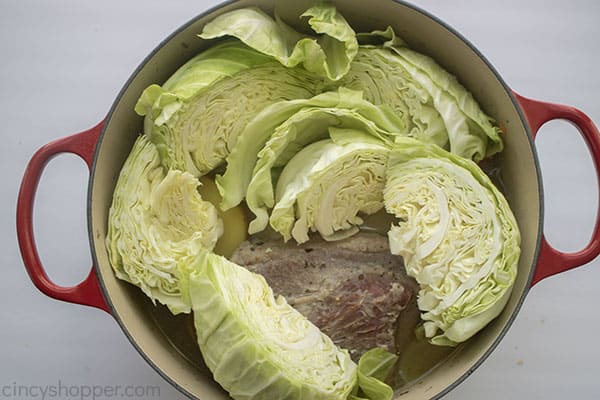 Once those start getting tender, we can add in the cabbage. Another 15 minutes will soften it up.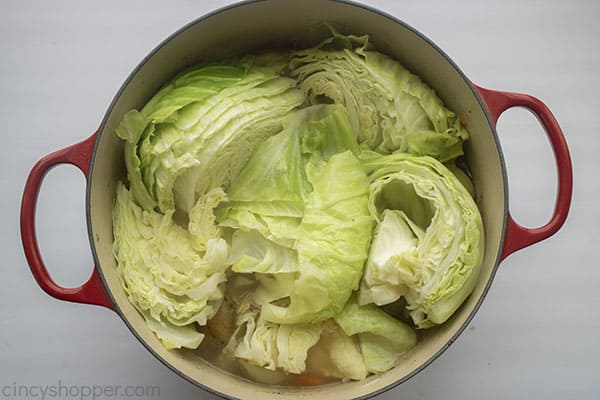 At this point, we can pull our meat from the pot. We want to let it rest for 15 minutes before slicing it against the grain for serving.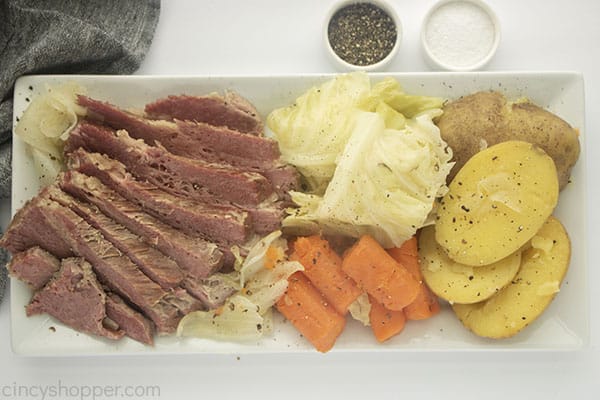 Before serving, drizzle some of the juices from the pan over everything. Enjoy!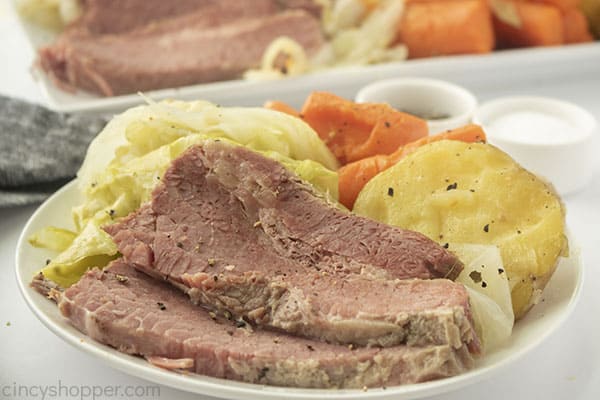 Serving and Leftover Ideas
The real big appeal of our recipe is that it has everything you need- corned beef and plenty of veggies for sides!
However
, if you're looking for more serving ideas, here's a couple:
Add more veggies.

There's a whole world of veggies you can cook up with your corned beef. Other popular and traditional picks include turnips and rutabagas.

Got leftovers? Have a Reuben!

Corned beef is one of the main ingredients in the popular Reuben sandwich. Get some rye bread, some swiss cheese, and your favorite sandwich fixings, and enjoy a Reuben!
Your corned beef should last about 3-4 days in the fridge. If freezing, enjoy within 2-3 months for the best flavor and texture.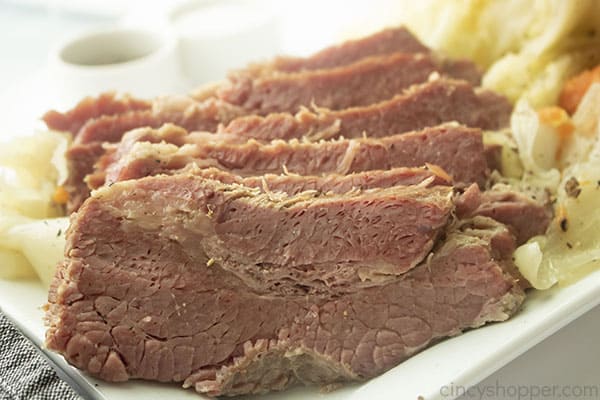 Corned Beef and Cabbage
Corned Beef and Cabbage is a delicious, filling meal that's easy to make. A traditional Irish dish that's perfect for St. Patrick's Day!
Ingredients
3

lb

Corned Beef Brisket with Spice Packet

6-7

Medium Potatoes

cut in half

5

Carrots

peeled and cut into 3" pieces

1

Onion

cut into wedges

1

head

Cabbage

cut into wedges
Instructions
Put beef brisket in large pot and cover with water.

Bring to a boil and skim off frothy material that accumulates on top.

Add the spice packet, reduce heat, cover and simmer for 2 1/2 hours until tender.

Add potatoes, carrots and onions.

Cook until the vegetables are almost tender about 15 minutes.

Add the cabbage and cook for 15 more minutes.

Remove meat and let rest 15 minutes.

Slice meat across the grain before serving.

Plate meat with vegetables and drizzle with juices from pot.
Notes
Note: use the included seasoning packet with brisket for the best flavor.
Nutrition
Calories:
2037
kcal
|
Carbohydrates:
159
g
|
Protein:
121
g
|
Fat:
103
g
|
Saturated Fat:
33
g
|
Cholesterol:
367
mg
|
Sodium:
8508
mg
|
Potassium:
6051
mg
|
Fiber:
31
g
|
Sugar:
29
g
|
Vitamin A:
25935
IU
|
Vitamin C:
489
mg
|
Calcium:
369
mg
|
Iron:
19
mg