If you are looking to put together a last minute DIY Gift, consider making up this quick DIY Peppermint Hot Chocolate in a Jar Gift with FREE Printable Labels. We needed quite a few neighbor and teacher gifts this year and these DIY Jar gifts have been quite the lifesaver. I found that the inexpensive Jar Gifts have saved us a bundle this year.  We will be handing out our neighbor gifts on Christmas Eve like we traditionally do each year. I tested making a few of these a couple weeks back and was very happy with them. The hubby made me up some Labels to add to the front and to the top. I tied on some ribbon and added a candy cane to the sides of each jar.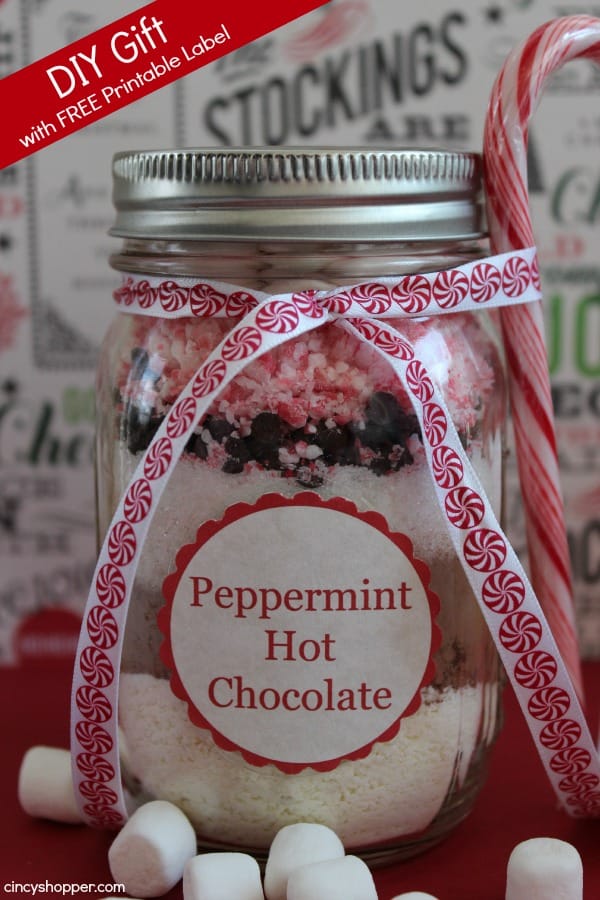 DIY Peppermint Hot Chocolate in a Jar Gift with FREE Printable Labels
This DIY Gift in a Jar is pretty simple to toss together last minute. Most of the items can be found right in your cupboards too! Just layer all your ingredients into a mason jar or other container. I have found my mason jars at Target, the grocery and the Dollar Store. You too have plenty of time left before the holiday to make up these DIY Peppermint Hot Chocolate in a Jar Gifts. Almost everyone will enjoy this gift. I made up an extra just for us to have for Christmas Eve too. I think it will be great to make up a batch of Peppermint Hot Chocolate in the evening while opening our Christmas Eve gifts (yippee a new tradition).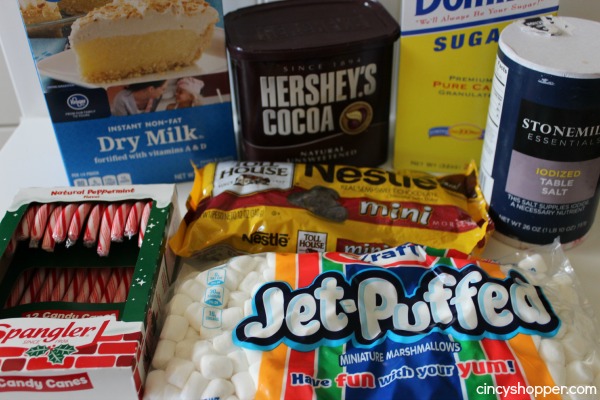 INGREDIENTS
1/2 cup Powdered Milk
1/2 cup Unsweetened Cocoa Powder
1/2 cup Sugar
1/8 tsp Salt
1/4 cup Chocolate Chips
1/4 cup crushed Candy Canes (about 3)
1/4 cup Mini Marshmallows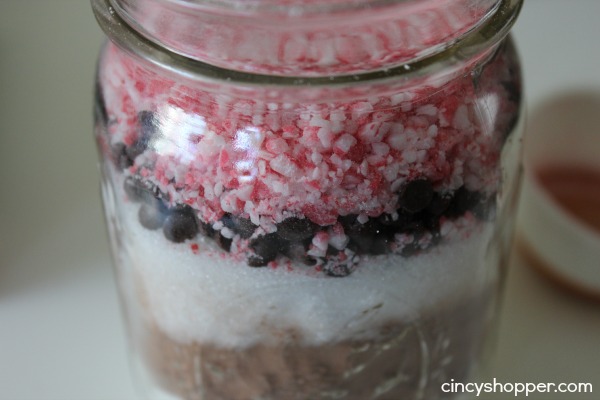 DIRECTIONS
Layer ingredients in order listed above, pressing firmly after each layer.
Seal with lid and decorate. Add a Label with Directions. You Can Print the FREE Printable Label my hubby made here.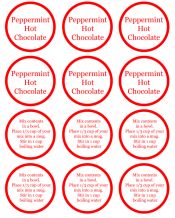 Click Here to Print FREE Printable Labels
If you are needing other DIY Gift Ideas be sure to drop by Cincyshopper each and everyday for my 25 Days of DIY Gifts Series. I have already shared DIY Gingerbread Scrub, DIY Coffee Scrub, DIY Peppermint Scrub, Lavender Body Butter, Lemon Sugar Scrub, Sugar Cookie Scrub, Cranberry White Chocolate Oatmeal Cookie Mix in a Jar Gift a White Chocolate Covered Pretzels Jar Gift, a Salted Caramel DIY Gift, a DIY Pork Rub in a Jar for the Men, A DIY CopyCat Montgomery Inn BBQ Sauce for the Men, Rudolph Hot Chocolates,  DIY Christmas Play Dough for the kiddos, Hershey's Kiss Jar Gift , Rudolph 6 Rootbeer 6 Pack for just about anyone (we are giving them for teacher gifts). I will be offering up some ideas for DIY Gifts for everyone on your shopping lists. you can check out all my ideas so far here. Also, be sure to follow my DIY Gifts Board on Pinterest!