How about a DIY GIFT Salted Caramel in a Jar for someone you have yet to choose a gift for. Salted Caramel has got to be one of my favorite toppings. You can add it to just about anything and it makes it taste wonderful ha ha. I made up this Salted Carmel Recipe a few weeks back and decided that it is going to make great gifts for a few of the people I have on my Christmas list. I personally love it on ice cream, apples, and popcorn. Oh and Pancakes, lol.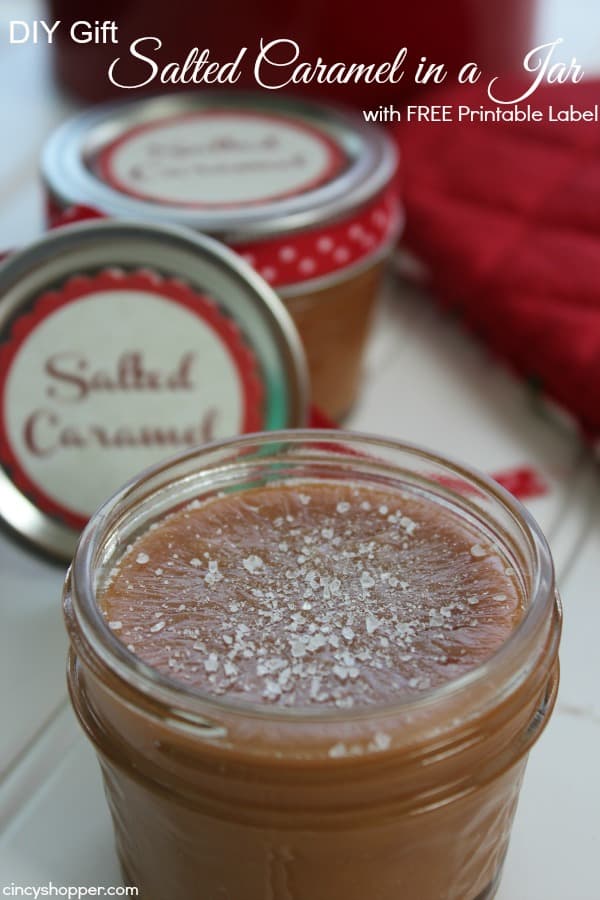 DIY GIFT Salted Caramel in a Jar with FREE Printable Label
Making Salted Caramel is so simple, I shared my recipe with you a few months back in my No Bake Salted Caramel Apple Cheesecake in a Jar. It has been such a hit in our house that I figured it would be great to gift out this year. I made up a few batches and placed them in 1/2 pint sized mason jars, added a ribbon and the Cute Salted Caramel Label my hubby made for me to add. If you are needing some last minute gifts try whipping up a batch of this yummy goodness!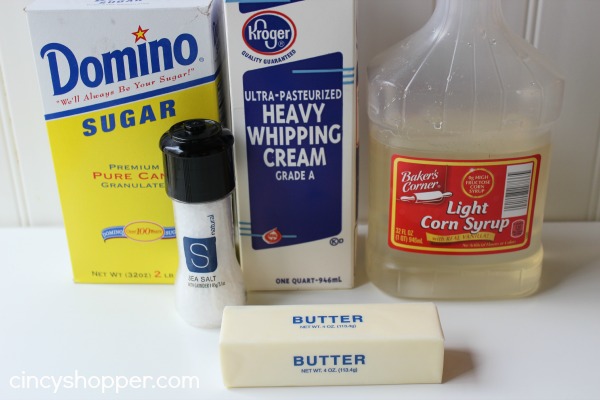 INGREDIENTS
1/2 cup light Corn syrup
1/2 cup Sugar
3 tbsp Butter
1/2 cup Heavy Cream
1/2 tsp Sea Salt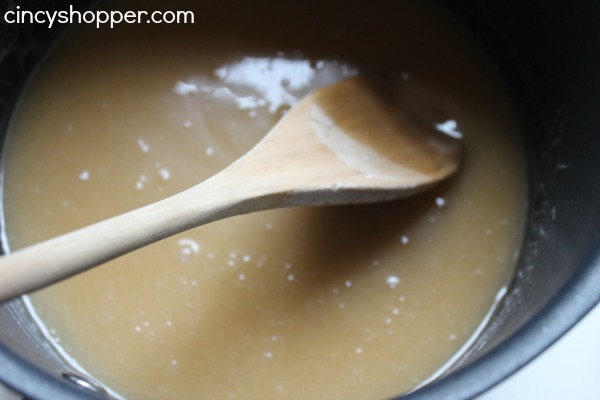 DIRECTIONS
Place corn syrup in a medium pan and heat over medium heat.
When corn syrup is heated (starting to bubble) add sugar and stir until well mixed.
Let syrup cook without stirring until it turns a golden color.
Remove from heat add butter and stir until blended.
Slowly add cream while stirring constantly to blend.
Add salt and stir until dissolved.
If gifting add a ribbon and one of the FREE  Salted Caramel Printable Labels
You can refrigerate this gift before giving or I know when I worked at a Ice Cream Stand caramel did not need to be refrigerated. I have had mine out for a couple weeks on the counter top and all is good with it. So I would think no refrigeration would be needed.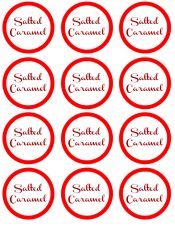 If you are needing other DIY Gift Ideas be sure to drop by Cincyshopper each and everyday for my 25 Days of DIY Gifts Series. I have already shared DIY Coffee Scrub, DIY Peppermint Scrub, Lavender Body Butter, Lemon Sugar Scrub, Cranberry White Chocolate Oatmeal Cookie Mix in a Jar Gift a White Chocolate Covered Pretzels Jar Gift, a DIY Pork Rub in a Jar for the Men, A DIY CopyCat Montgomery Inn BBQ Sauce for the Men, Rudolph Hot Chocolates,  DIY Christmas Play Dough for the kiddos, Hershey's Kiss Jar Gift , Rudolph 6 Rootbeer 6 Packfor just about anyone (we are giving them for teacher gifts). I will be offering up some ideas for DIY Gifts for everyone on your shopping lists. you can check out all my ideas so far here. Also, be sure to follow my DIY Gifts Board on Pinterest!