These Hershey's Kiss Jar Gift with FREE Printable Labels are perfect fro just about anyone on your Christmas shopping lists. We are giving them to all the teachers. After scoring great deals with coupons on Hershey's Kisses, I really wanted to make a nice gift with all my bargains. So, why not mason jars, ha ha! I had the hubby make up some cute little labels for the bottoms of each kiss and then a label for the front. I then grabbed some ribbon and scrap paper as well as some wrapping paper and whipped up 8 of these great jar gifts.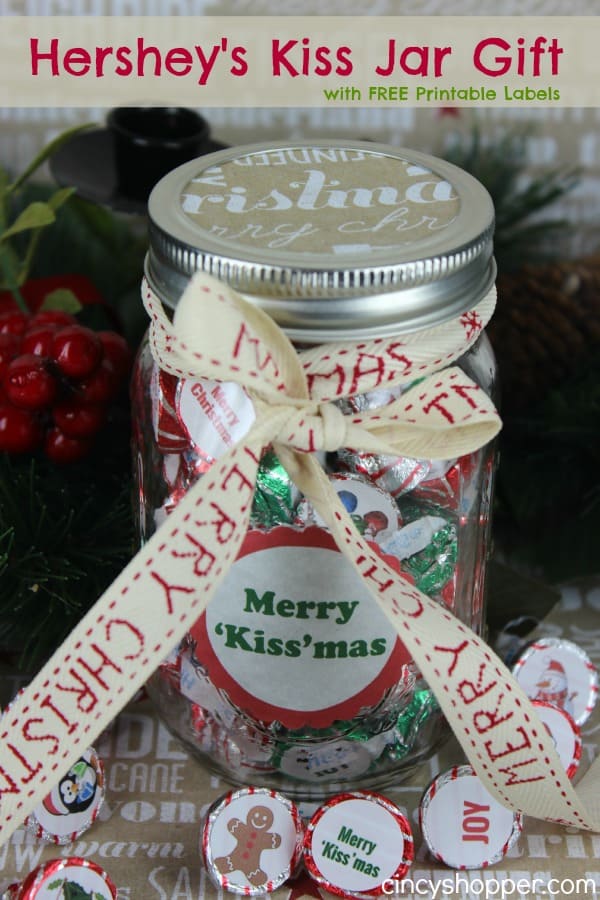 Hershey's Kiss Jar Gift with FREE Printable Labels
These little kisses could be placed in bags with ribbon and a tag too! I figured these are a nice inexpensive gift, I may make even more with all these Hershey's Kisses I have around here. You can find your mason jars at Target, any grocery or even at the Dollar Store. With getting my Hershey's Kisses so cheap after coupon theses jars cost me under $3 each.  You can make the job quite easy with Avery Removable Print or Write Labels for Laser and Inkjet Printers, 0.75 Inches, Round, Pack of 1008 (5408)
from Amazon or I picked mine up at my local Staples for around the same price.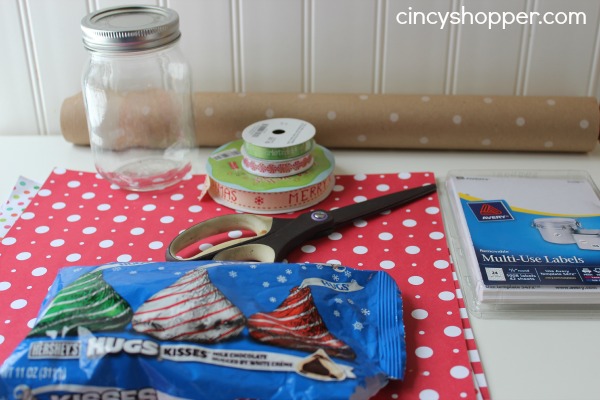 INGREDIENTS:
11 oz bag of Hershey's Kisses or Hugs
1 Pint Mason Jar
Avery 5408 Labels(You can use paper and cut out the tiny circles too to save even more)
1 Sheet Cardstock or Paper
Ribbon and Scrapbook paper or Wrapping Paper Scraps work well too! (optional)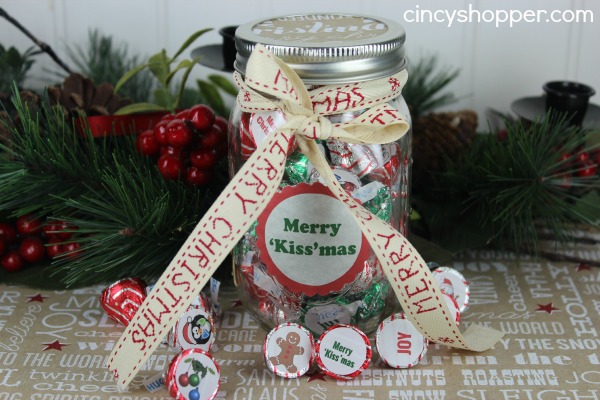 DIRECTIONS:
Print the included 5408 stickers on 2-3 sheets of labels or paper and cut out. You can print them HERE.
Apply stickers or adhere your paper cutouts to kisses.
Print the included Jar label on paper or cardstock. You can print that HERE
Cut out jar label and affix to jar with glue stick.
Optionally you can cut out a piece of scrapbook paper or wrapping paper to cover jar lid.
Optionally you can attach a ribbon to the lid.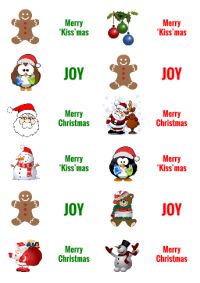 Click Here to Print this set of Labels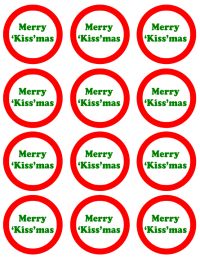 Click Here to Print Merry "Kiss" mas Labels
If you are needing other DIY Gift Ideas be sure to drop by Cincyshopper each and everyday for my 25 Days of DIY Gifts Series. I have already shared DIY Coffee Scrub, DIY Peppermint Scrub, Lavender Body Butter, Lemon Sugar Scrub, Cranberry White Chocolate Oatmeal Cookie Mix in a Jar Gift, a DIY Pork Rub in a Jar for the Men, A DIY CopyCat Montgomery Inn BBQ Sauce for the Men, Rudolph Hot Chocolates for the kiddos. I will be offering up some ideas for DIY Gifts for everyone on your shopping lists. you can check out all my ideas so far here. Also, be sure to follow my DIY Gifts Board on Pinterest!