Here's another DIY Gift Reindeer Root Beer for you to consider for someone on that shopping list. I personally find these great for men gifts. We will be gifting this to my sons bus driver from last year (he's one of our favorites). These would be great for neighbors, friends, just about anyone. You could also dress up any other kind of soda or beer too! We officially have two weeks left untill Christmas Day. I know I have been feeling lost on gifts for some so this DIY Reindeer Root Beer Gift just crossed another couple names off my shopping list.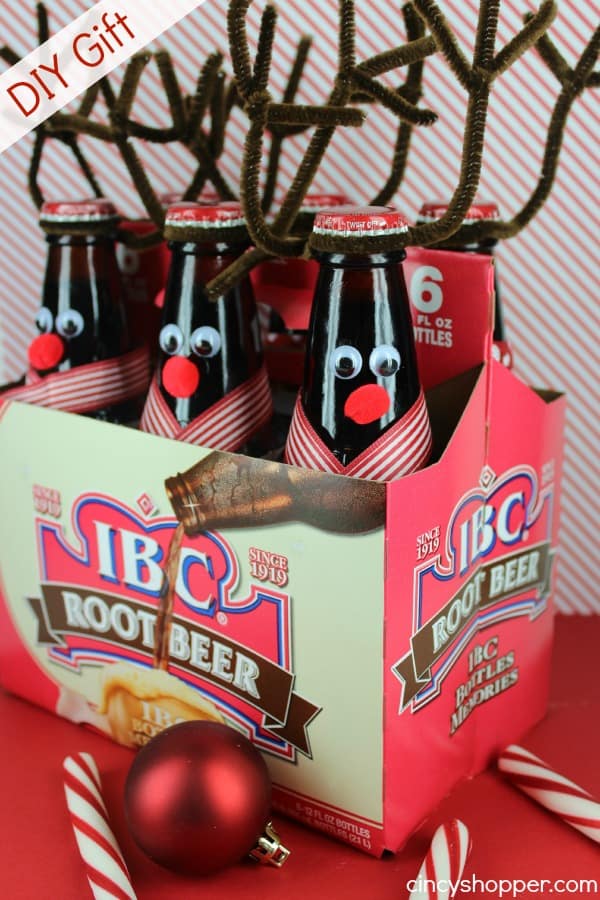 DIY Gift Reindeer Root Beer
The supplies on this DIY Gift are so simple. Just grab a six pack of bottles (any beverage of your choice but brown bottles work best), some pipe cleaners, googly eyes and red pom-pom balls. All of the craft items can be found at most Dollar Stores. Then it's just adhering and twisting. Then voila a quick and inexpensive DIY Gift Reindeer Root Beer.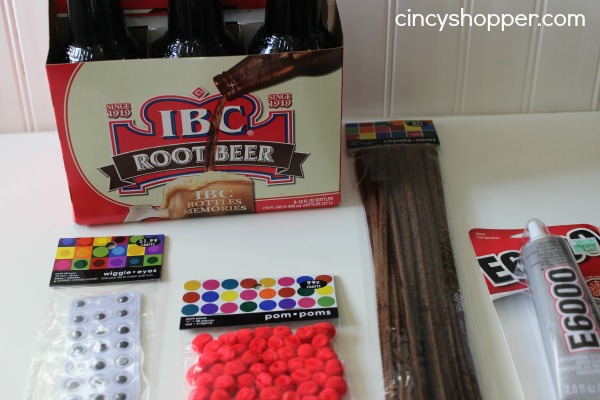 Supplies
6 Pack Bottled Root Beer
12 Wiggly Eyes
6 Red Pom Poms (1/4″)
9 Brown Pipe Cleaners
Ribbon for Scarves (optional)
Glue (either E6000 or Hot Glue)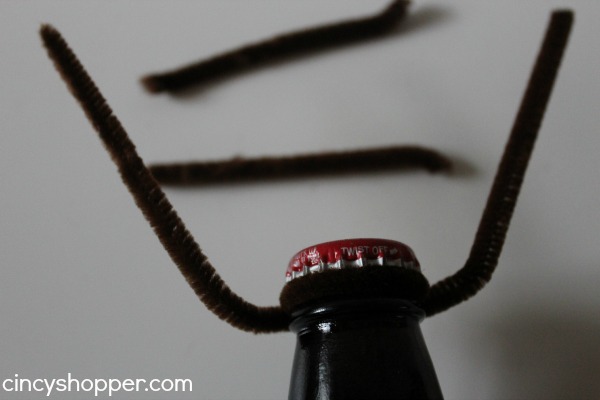 DIRECTIONS
Glue eyes on bottle neck.
Glue red pom pom nose just below eyes.
Take 3 pipe cleaners and cut them in half, then cut each of these halves in half.
Wrap a pipe cleaner just below the bottle cap and twist in the back and bring ends up to make main antlers.
Take one of the quarter pipe cleaners and twist it about 1 1/4″ from end each main antler.
Repeat this process for each bottle.
If you would like, cut a piece of ribbon and wrap like a scarf around the bottle. Use a dab of glue to hold together.
NOTE: If you use the E6000, it needs to set for awhile before it will be tacky enough to stick to bottle.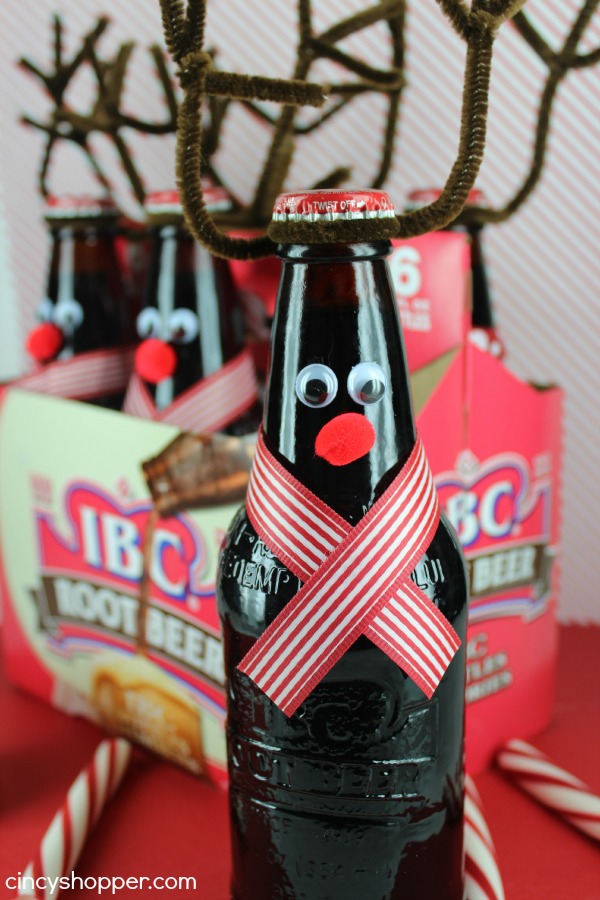 Do you have someone on your list that this DIY Reindeer Rootbeer Gift will work perfect for?  I am seriously considering setting a couple of these under the tree for my kiddos. I have a couple of them who LOVE Root Beer. I think even the kids would get a kick out of these. If you are heading to a friend or family get together you can always take this along as a gift to the host/hostess. These cute reindeer will be the talk of the party!
If you are needing other DIY Gift Ideas be sure to drop by Cincyshopper each and everyday for my 25 Days of DIY Gifts Series. I have already shared DIY Coffee Scrub, DIY Peppermint Scrub, Lavender Body Butter, Lemon Sugar Scrub, Cranberry White Chocolate Oatmeal Cookie Mix in a Jar Gift, a DIY Pork Rub in a Jar for the Men, A DIY CopyCat Montgomery Inn BBQ Sauce for the Men, Rudolph Hot Chocolates,  DIY Christmas Play Dough for the kiddos, Hershey's Kiss Jar Gift for just about anyone (we are giving them for teacher gifts). I will be offering up some ideas for DIY Gifts for everyone on your shopping lists. you can check out all my ideas so far here. Also, be sure to follow my DIY Gifts Board on Pinterest!