If you are still looking at making some quick and easy gifts, consider making up these DIY Gifts White Chocolate Christmas Pretzels. Chocolate dipped pretzels are always a great gift to give to that hard to buy for person on your lists. We made up a couple of these jars the other day to give to a few of our favorite cashiers. They are simple and everyone loves pretzels. Chocolate dipped pretzels are even better. Great for teachers too!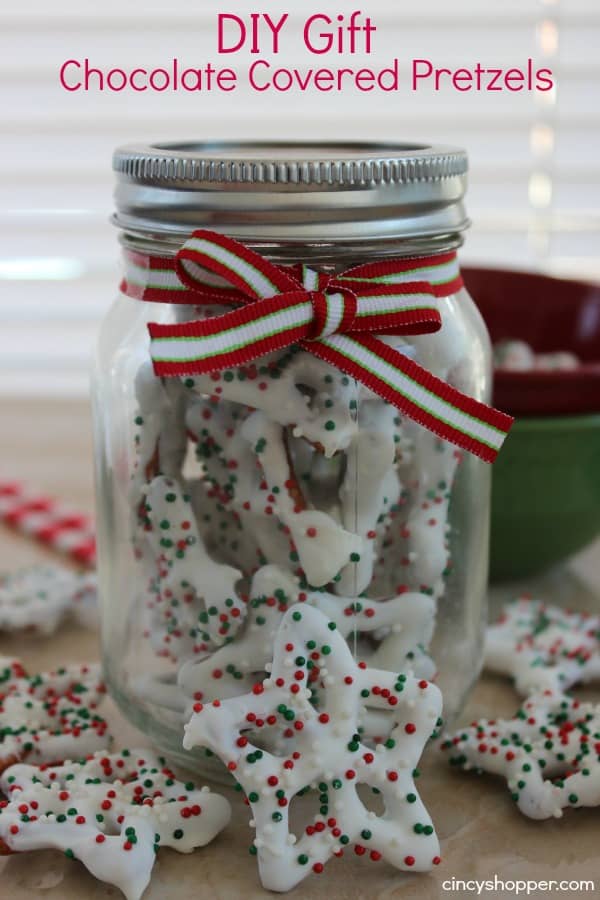 DIY Gifts White Chocolate Christmas Pretzels
The great thing about this DIY Gift is you can place your pretzels in a Mason Jar or even in a bag for gifting. Also if you are pressed for time, you can purchase your pretzels already chocolate dipped and sprinkled (check your local Aldi, I spotted some there yesterday). We chose a mason jar and tied up some ribbon to make the gift a bit nicer. I also had the hubby make a printable label for us to place on top of our jars.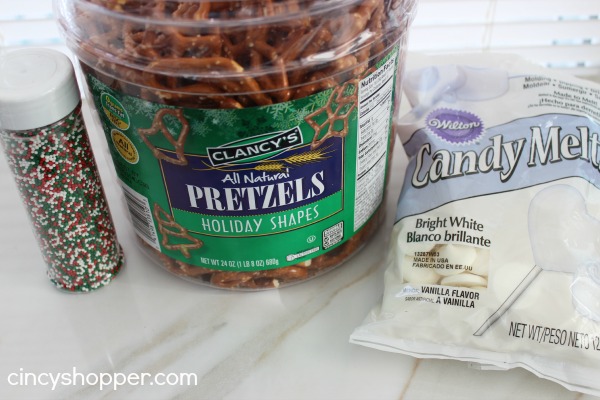 INGREDIENTS
20-30 Star Shaped Pretzels
6 oz Brilliant White Candy Melts
Red White Green Sprinkle Decorations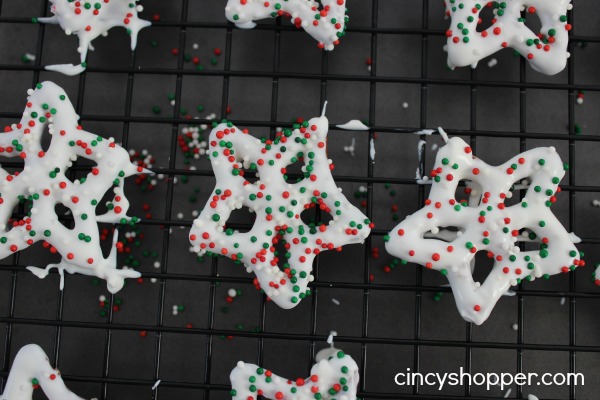 DIRECTIONS
Place cooling rack over a piece of wax paper
Heat white candy chips in small Bowl by microwaving for 30 seconds stirring and repeating until melted. Allow to cool for 2-3 minutes.
Dip Pretzels in white chocolate to cover completely and place on cooling rack sprinkle with decorations.
Repeat for remaining pretzels.
Allow to set before placing in jar.
You can Also print the Merry Christmas Label I had my hubby make for me, It's a simple addition to personalize your DIY Gift!
If you are needing other DIY Gift Ideas be sure to drop by Cincyshopper each and everyday for my 25 Days of DIY Gifts Series. I have already shared
DIY Coffee Scrub
DIY Peppermint Scrub
Lavender Body Butter
Lemon Sugar Scrub
Cranberry White Chocolate Oatmeal Cookie Mix in a Jar Gift
DIY Pork Rub in a Jar for the Men,
DIY CopyCat Montgomery Inn BBQ Sauce for the Men,
Rudolph Hot Chocolates
DIY Christmas Play Dough for the kiddos
Hershey's Kiss Jar Gift
Rudolph 6 Rootbeer 6 Pack for just about anyone (we are giving them for teacher gifts).
I will be offering up some ideas for DIY Gifts for everyone on your shopping lists. you can check out all my ideas so far here. Also, be sure to follow my DIY Gifts Board on Pinterest!