I have another new gift in a jar  DIY Lavender Body Butter in a Jar FREE Printable Label for you today. I am having so much fun whipping up all these DIY Gifts for friends, teachers, and family. I will admit my daughter will be totally excited to have all these wonderful scrubs and body butters I have for her for Christmas.  I know she loves Lavender when she takes a late evening bath so this DIY Lavender Body Butter in a Jar gift is perfect for her.
DIY Lavender Body Butter in a Jar FREE Printable Label
I have been quite amazed at how inexpensive some of these ingredients have been for making up these scrubs and butters. If you have a fan of body products on your shopping lists (what women are not, ha ha) then consider hopping over to the store and picking up some Coconut Oil (I found a huge container at Walmart this past week for around $6), Shea butter which I also found at Walmart, some scents (found at Hobby lobby for quite cheap, some mason jars and whip up this lovely smelling Lavender Body Butter. I love how it is "whipped".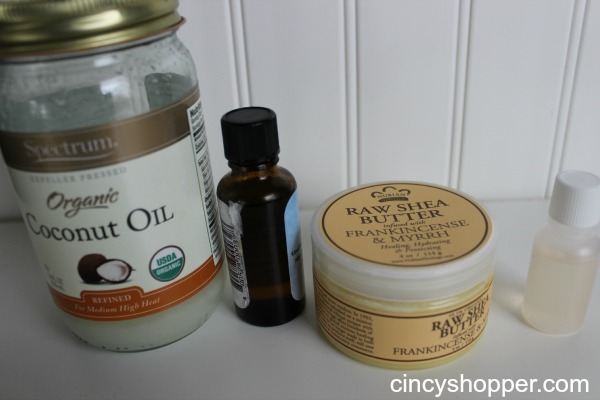 INGREDIENTS
1/2 cup Coconut Oil
2 tbsp Shea Butter
16 drops Lavender Essential Oil
6-8 drops Purple Coloring
Half Pint Mason Jar or other container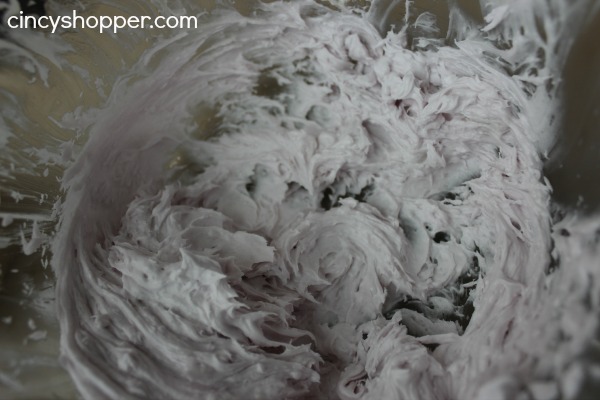 DIRECTIONS
Put ingredients into bowl.
Beat with electric mixer until blended.
Scrape down sides periodically to make sure it is mixed well.
Then increase speed and whip for 5 minutes.
Put your body butter into the jar.
Add a FREE Printable Label  that I have available for you to the top and maybe a ribbon to gift.
Refrigerate if your butter becomes too liquified, it will harden right back up.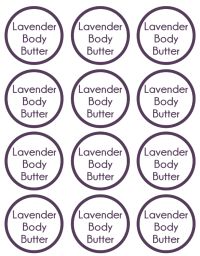 Click Here to Print FREE Labels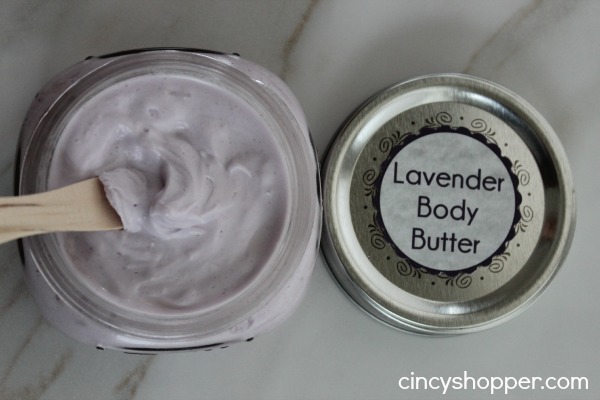 If you are needing other DIY Gift Ideas be sure to drop by Cincyshopper each and everyday for my 25 Days of DIY Gifts Series. I have already shared DIY Coffee Scrub, DIY Peppermint Scrub, Cranberry White Chocolate Oatmeal Cookie Mix in a Jar Gift, a DIY Pork Rub in a Jar for the Men, A DIY CopyCat Montgomery Inn BBQ Sauce for the Men, Rudolph Hot Chocolates for the kiddos. I will be offering up some ideas for DIY Gifts for everyone on your shopping lists. you can check out all my ideas so far here. Also, be sure to follow my DIY Gifts Board on Pinterest!