This DIY Sugar Cookie Scrub with FREE Printable Label will make a great last minute gift. My daughter loves homemade scrubs so I have been anxious to do her up a nice collection of scrubs for the holidays. I will admit I have given her a few scrub gifts early, ha ha! She somehow always gets her way with me. I did manage to keep this awesome Sugar Cookie Scrub hidden and this one is reserved for a gift (and not an early one, lol).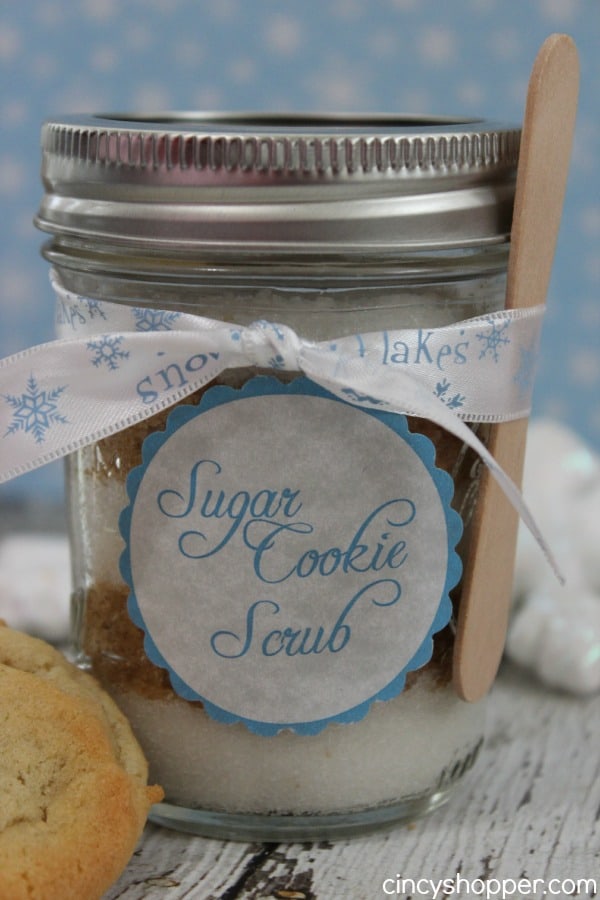 DIY Sugar Cookie Scrub with FREE Printable Label
These scrubs are so quick, easy and make perfect gifts. Most everyone enjoys sugar cookies (especially around the holidays) so, perfect for just about anyone. You can grab some mason jars at the Dollar store or at just about any grocery store. The coconut oil is found in most grocery stores too. Then the rest of your ingredients can most likely be found in your kitchen cabinets. Inexpensive and a more personal gift than just store bought scrubs.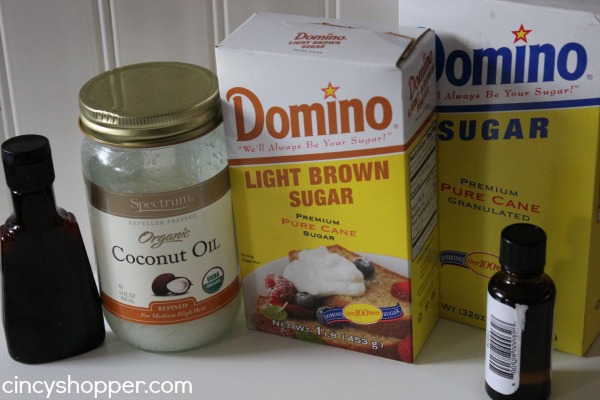 INGREDIENTS
1/2 cup Sugar
1/2 cup Brown Sugar
1/4 cup Coconut Oil
1/2 tsp Vanilla
1/2 tsp Almond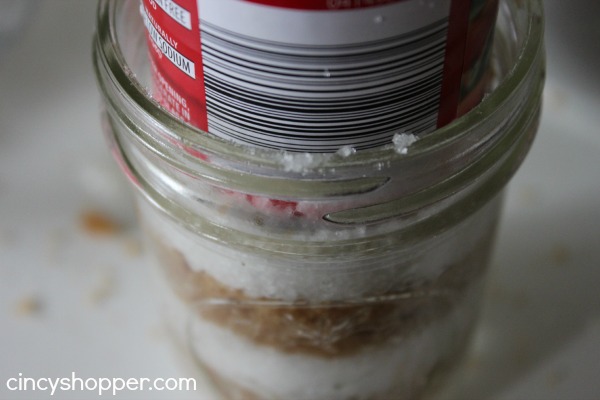 DIRECTIONS
Pour sugar into small bowl.
Pour brown sugar into another small bowl.
Add half of the coconut oil, almond and vanilla to each bowl.
Mix in coconut oil (add more if you like a wet consistency).
Add your sugars to the jar in layers. Press your Sugar down with a spoon or I use a can to compact.
Alternate layers
Add a Label (you can print the one my hubby made here) to the front and maybe a ribbon to gift.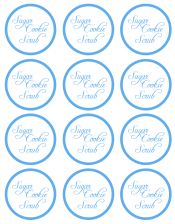 Click here to Print Sugar Cookie Scrub Label
If you are needing other DIY Gift Ideas be sure to drop by Cincyshopper each and everyday for my 25 Days of DIY Gifts Series. I have already shared DIY Coffee Scrub, DIY Peppermint Scrub, Lavender Body Butter, Lemon Sugar Scrub, Cranberry White Chocolate Oatmeal Cookie Mix in a Jar Gift a White Chocolate Covered Pretzels Jar Gift, a Salted Caramel DIY Gift, a DIY Pork Rub in a Jar for the Men, A DIY CopyCat Montgomery Inn BBQ Sauce for the Men, Rudolph Hot Chocolates,  DIY Christmas Play Dough for the kiddos, Hershey's Kiss Jar Gift , Rudolph 6 Rootbeer 6 Pack for just about anyone (we are giving them for teacher gifts). I will be offering up some ideas for DIY Gifts for everyone on your shopping lists. you can check out all my ideas so far here. Also, be sure to follow my DIY Gifts Board on Pinterest!