My Easy Spanish Rice recipe or Mexican rice if you like to call it that, is so super simple to make. It's a perfect side dish with your tacos, enchiladas, burritos, casseroles, and more.
My family LOVES taco night which happens at least once or sometimes twice per week. Easy Mexican side dishes are great for a busy weeknight. A Cilantro Lime Rice or this Mexican inspired red rice makes for an easy side and allows your meal to be a bit more filling.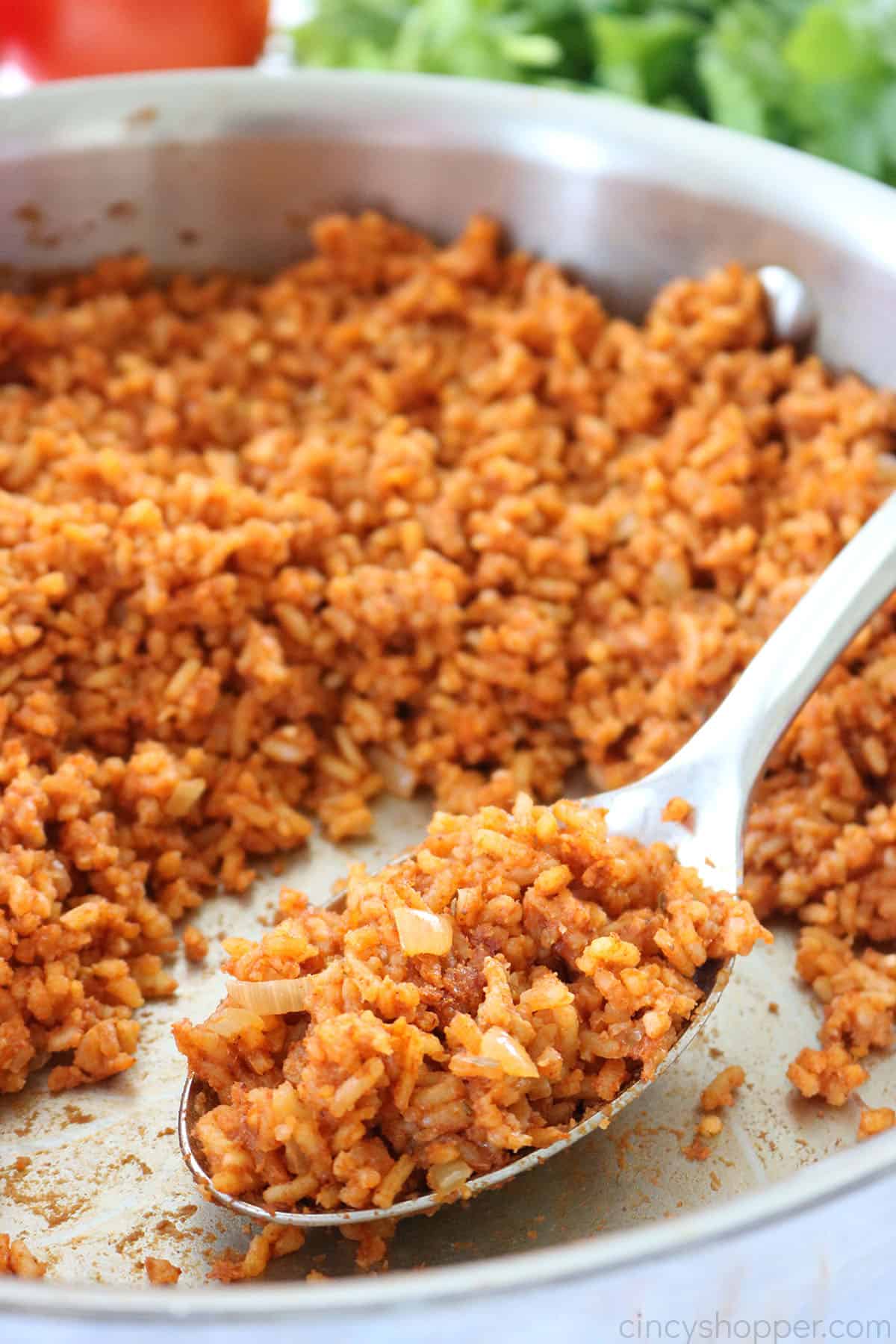 Mexican dinners are not just for Cinco de Mayo. We make them all year long. Most of the year we make this savory rice with our Oven Baked Chicken Tacos, Pork Carnitas and Beef Barbacoa. We hope you make it and it it to your dinner rotation.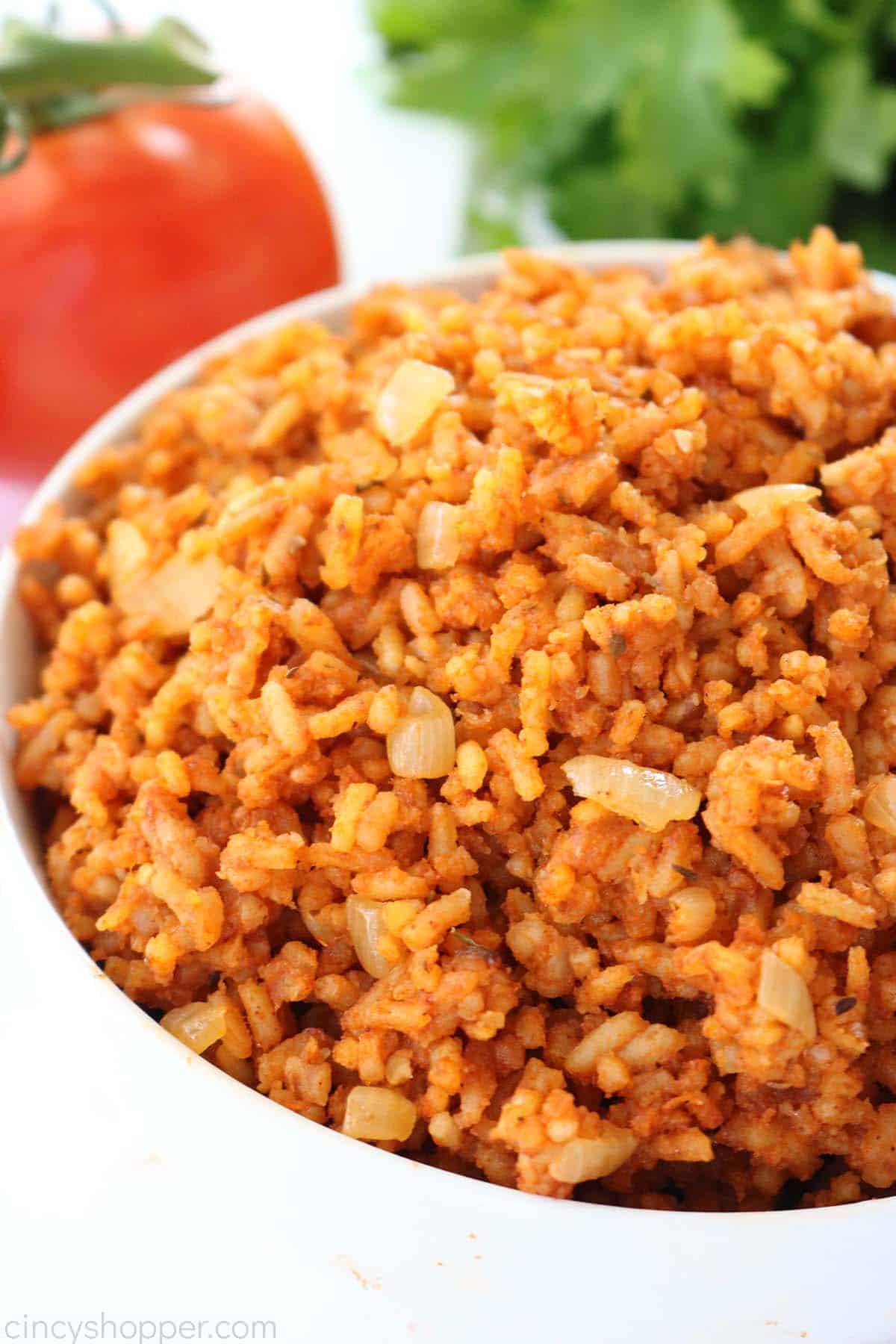 Jump to:
Why you'll love this Easy Spanish Rice recipe
This Mexican rice recipe is always a favorite side dish when making a quick dinner. It can be made in one pot, in just a few minutes time with most every ingredient being a pantry staple.
Serve this Spanish Rice Dish all by itself or toss it in burritos to make them more filling.
You can customize the rice with many options including beans, vegetables, chicken or even a bit of fresh cilantro for even more depth of flavor.
Ingredients
To make tasty Mexican side dish, you only need a few extra ingredients outside of the rice. You're going to need the following: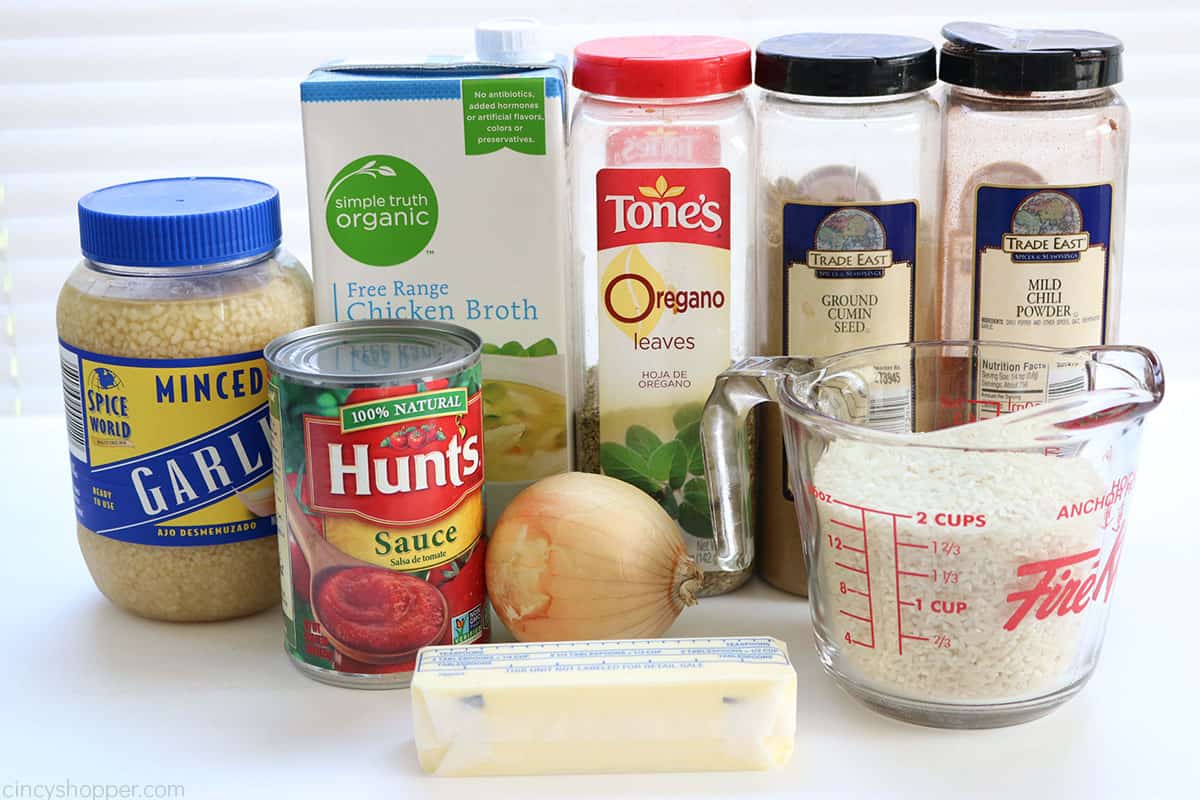 Butter
Onion – We'd recommend going with a white or yellow onion for this recipe. The purple and red onions are going to be a bit too sharp and they lack that touch of sweetness that we want.
Rice – We used a long grain white rice for ours. Medium grain rice should work out as well- just remember to adjust cooking times as necessary.
Canned Tomato Sauce – If you want to amp up the flavor a little, consider adding a little touch of tomato paste as well!
Chicken Broth
Garlic – Jarred minced garlic should be fine.
Spices – We used a handful of classic Spanish and Mexican spices: oregano, cumin, and some chili powder.
Once you've finished cooking up your rice, you can optionally top it off with all sorts of other add-ons: shredded cheese, avocado, olives, and sour cream.
See recipe card for quantities.
How to make Spanish Rice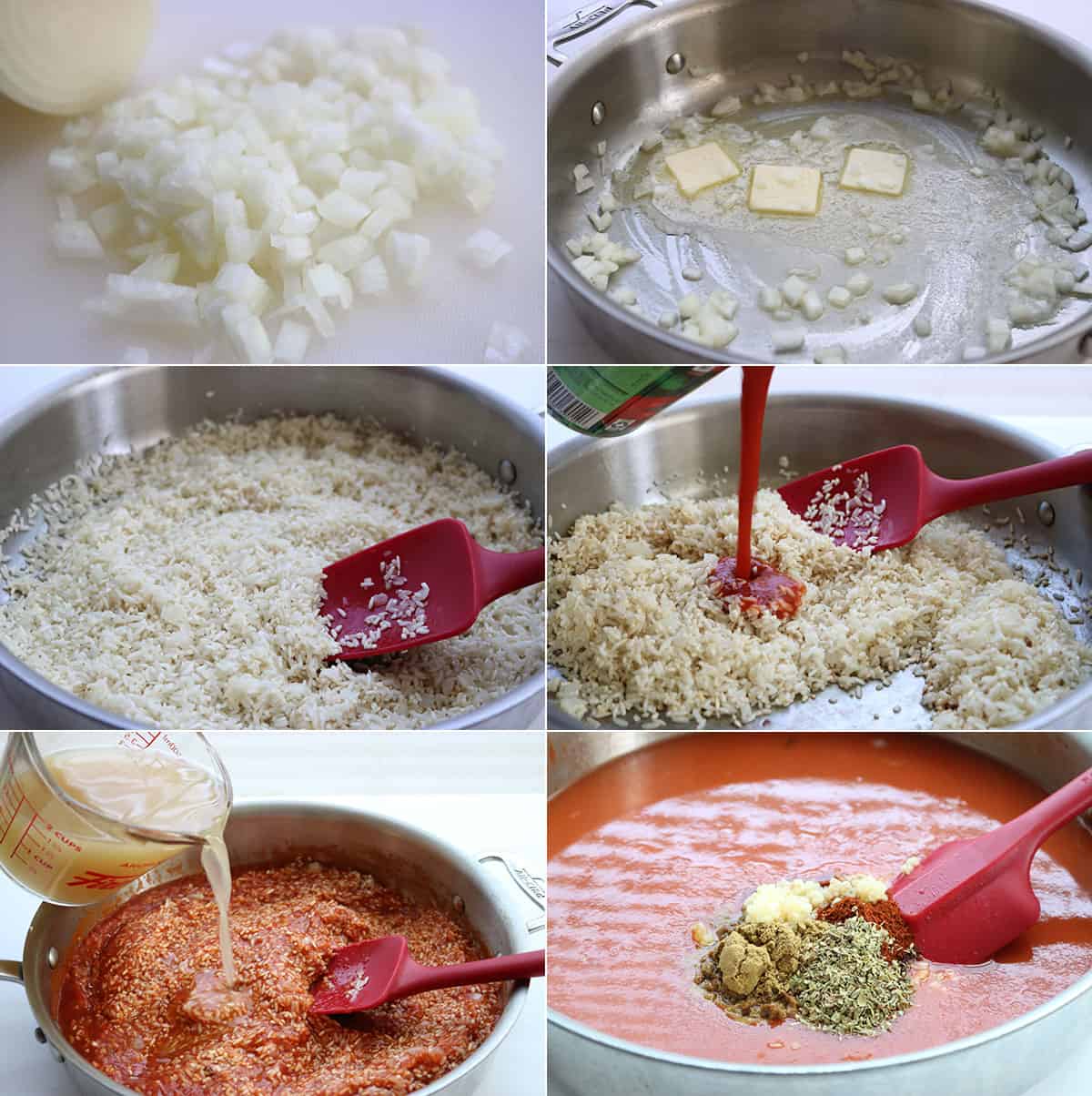 After you've got all the ingredients around, you'll be shocked to see just how easy it is to make Homemade Spanish Rice! To make some up yourself, here's all you need to do:
Cook diced onions in butter over medium heat until tender and translucent. Add uncooked rice, stir to coat, and cook for 2-3 minutes to lightly toast.
Stir in tomato sauce and chicken broth before adding in remaining ingredients. Stir everything to combine before bringing to a boil.
Drop heat to low, cover, and let simmer for 20-25 minutes or until rice is tender. Cut the heat and fluff finished Spanish Rice with a fork before serving.
Substitutions
Can't find the ingredients for our rice recipe? Here are a few substitutions you can try:
Tomatoes – If you don't have tomato sauce on hand, you could use a salsa, diced tomatoes or even tomato paste.
Broth – Instead of chicken broth, vegetable broth can be used. If broth is not available water would work. Note: the flavor profile will not be quite the same.
Variations
Looking for ways to change this recipe up? Here are a couple of ideas for making the rice a bit different:
Rice – If white rice is not available or you prefer a bit of a different flavor, brown rice could be used (note, your cooking time may be a bit longer). If you would prefer a low-carb rice you could try using a riced cauliflower.
Adding Meat: Add in some chicken for an additional filler and protein. This rice with tomato sauce blends well with diced chicken (be sure to precook). I noticed a Spanish Rice Recipe with Beef over on Taste of Home. I have yet to try the addition. But, I bet it would be great for making this side into a meal.
Add Vegetables: Corn is a great addition for this recipe!
Beans: The addition of Pinto Beans or even Black Beans are great!
Spicy Mexican Rice – I keep the spices very simple in our rice. The recipe is very similar to one you would find in a Mexican restaurant. The heat is at a minimum and the rice gains quite a bit of flavor from the tomato, onion, and garlic. I think it is perfect even for my picky eaters. If you are one who likes a bit more spice in your rice, go ahead and kick the heat up a bit with some chipotle red pepper seasoning, a pinch of Cayenne Pepper, diced jalapenos, maybe some salsa, or even add in some fresh roasted tomato. I personally do not find that this simple side dish needs any additional heat or toppings.
Storage / Freezing
Storage: If you have leftover rice, allow it to cool and then store in an air-tight container, in the fridge for up to 3 days.
Freezing: Making this recipe ahead of time? If so, you can place in a container with an air-tight lid and freeze for up to 3 months.
Reheating: When re-heating this rice you will want to microwave or cook on the stove-top. I recommend adding a couple of teaspoons of water or vegetable broth beforehand. The liquid will help with stickiness.
Top tip
If you would like some additional flavors, consider topping with a Mexican cheese blend, diced avocados, black olives or a dollop of sour cream.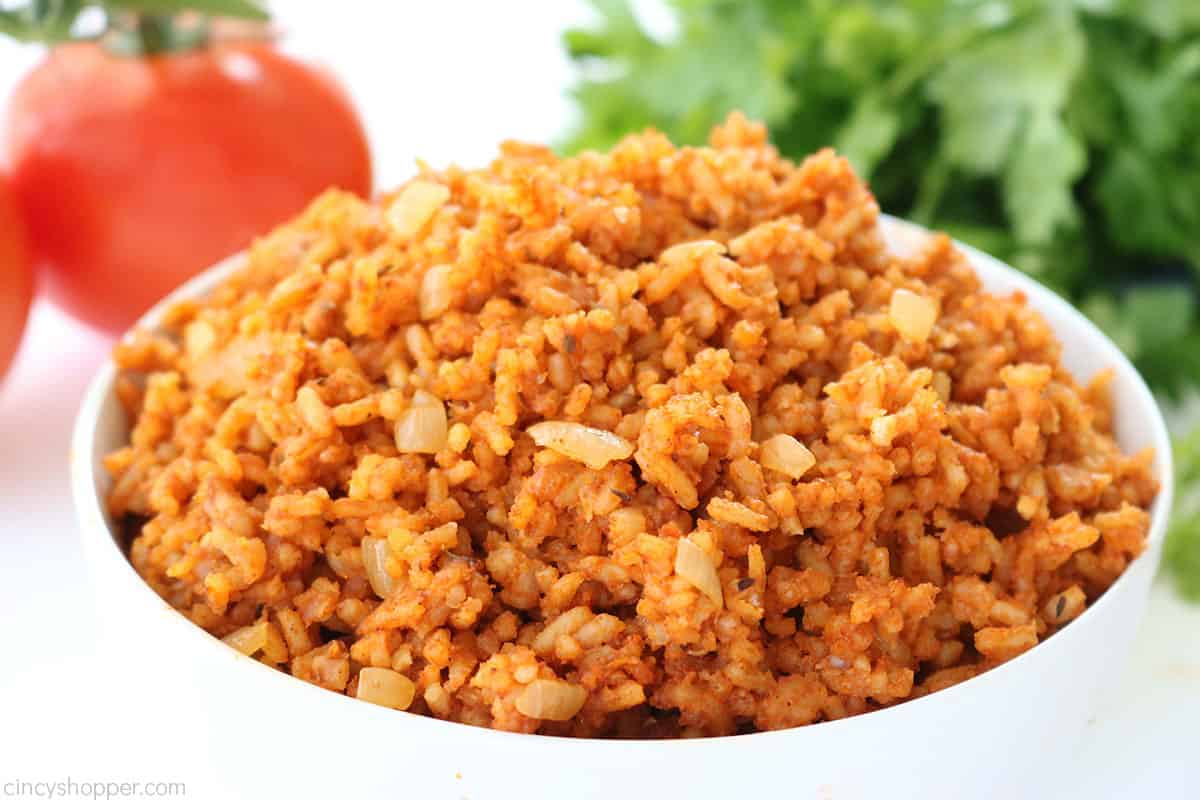 FAQ
Do you have questions about this recipe? Here are the answers to the most commonly asked questions for this recipe.
What is Spanish Rice?
Spanish Rice, also known as arroz a la española or authentic Mexican rice, is a flavorful white rice cooked in a tomato-based sauce with various seasonings.
Can I make Spanish Rice vegetarian or vegan?
YES! This recipe can easily adapted to vegetarian or vegan diets. You will need to omit the chicken broth, and use vegetable broth instead.
Other Rice Recipes
Looking for other rice recipes? Try these:
What to Serve with
Here are some other recipes to consider serving with: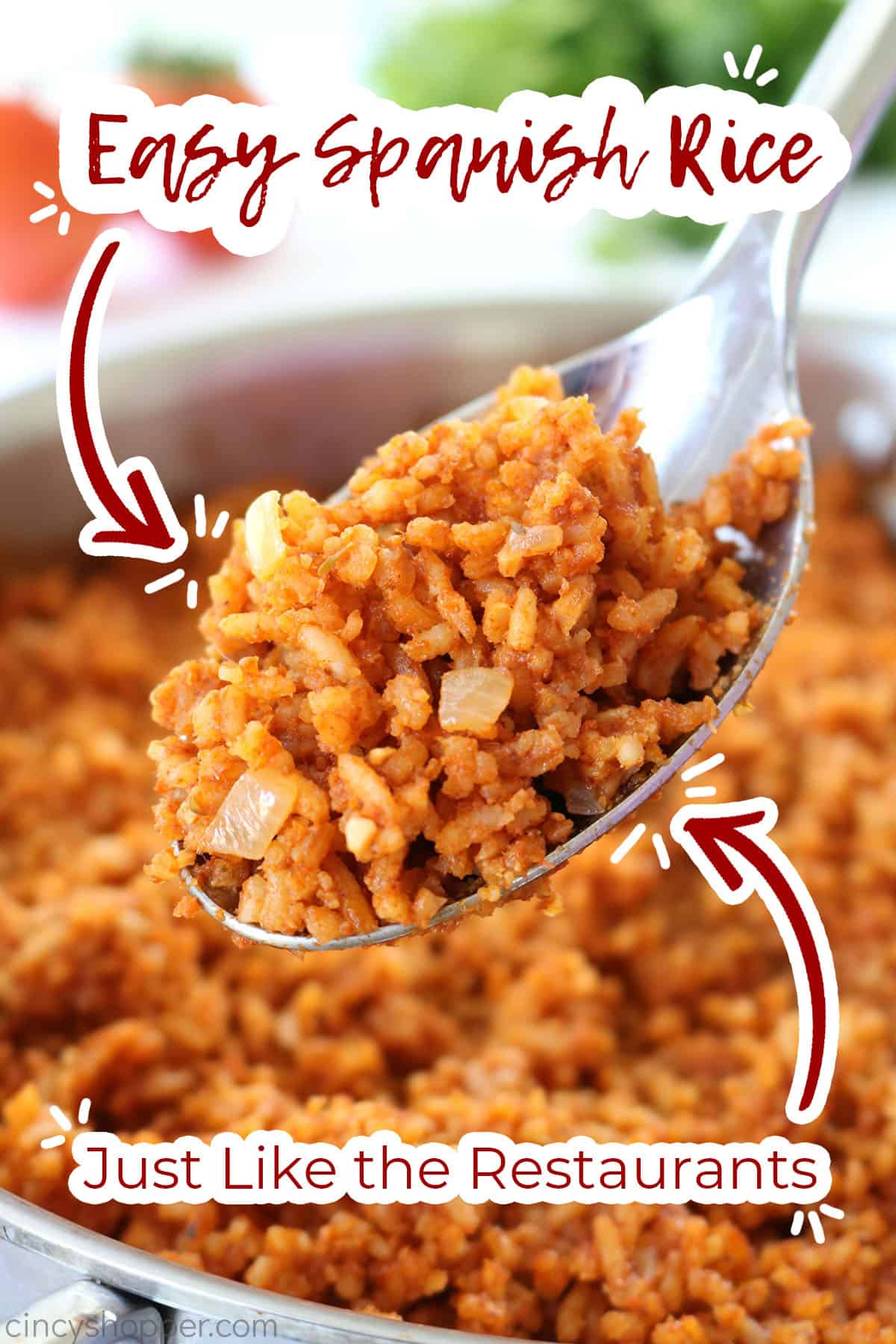 Easy Spanish Rice
My Easy Spanish Rice recipe or Mexican rice if you like to call it that, is so super simple to make. It's a perfect side dish with your tacos, enchiladas, burritos, casseroles, and more.
Ingredients
3

tbsp

Butter

1/2

Onion

diced

2

cup

White Long Grain Rice

uncooked

15

oz

Tomato Sauce

2 1/2

cup

Chicken Broth

1

tsp

Minced Garlic

1

tsp

Oregano

1 1/2

tsp

Ground Cumin

3

tsp

Chili Powder
Instructions
In a large skillet over medium heat, melt butter and add onion. Cook until tender.

Add rice and stir to coat. Cook 2-3 minutes until rice is lightly toasted.

Stir in tomato sauce and chicken broth.

Add remaining ingredients, stir and bring to a boil.

Reduce heat to low.

Cover and simmer for 20-25 minutes, until rice is tender.

Remove from heat and fluff with a fork before serving.
Notes
If you would like some additional flavors, consider topping with a Mexican cheese blend, diced avocados, black olives or a dollop of sour cream.
Nutrition
Calories:
468
kcal
|
Carbohydrates:
84
g
|
Protein:
10
g
|
Fat:
10
g
|
Saturated Fat:
6
g
|
Cholesterol:
23
mg
|
Sodium:
1212
mg
|
Potassium:
668
mg
|
Fiber:
4
g
|
Sugar:
5
g
|
Vitamin A:
1350
IU
|
Vitamin C:
19
mg
|
Calcium:
82
mg
|
Iron:
4
mg