Easy Slow Cooker Barbacoa makes taco nights simple and delicious. This Chipotle copycat recipe is great for tacos or a homemade burrito bowl!
This Barbacoa recipe sees tasty, juicy, and tender beef cooked in a flavorful and slightly-spicy cooking sauce. Tastes great with some Easy Pico de Gallo or Guacamole!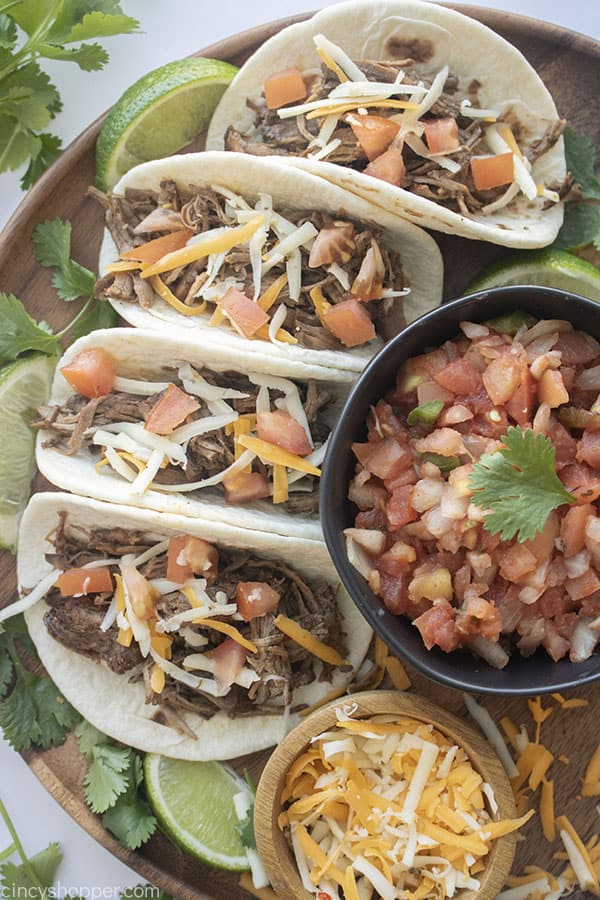 Easy Slow Cooker Barbacoa
Chipotle is one of those places I feel like I definitely need to visit more often. The food's so simple but delicious- their meats, especially, seem to be made just right. Thankfully, I don't have to leave home to get my Chipotle fix: I have this tasty recipe for Slow Cooker Barbacoa!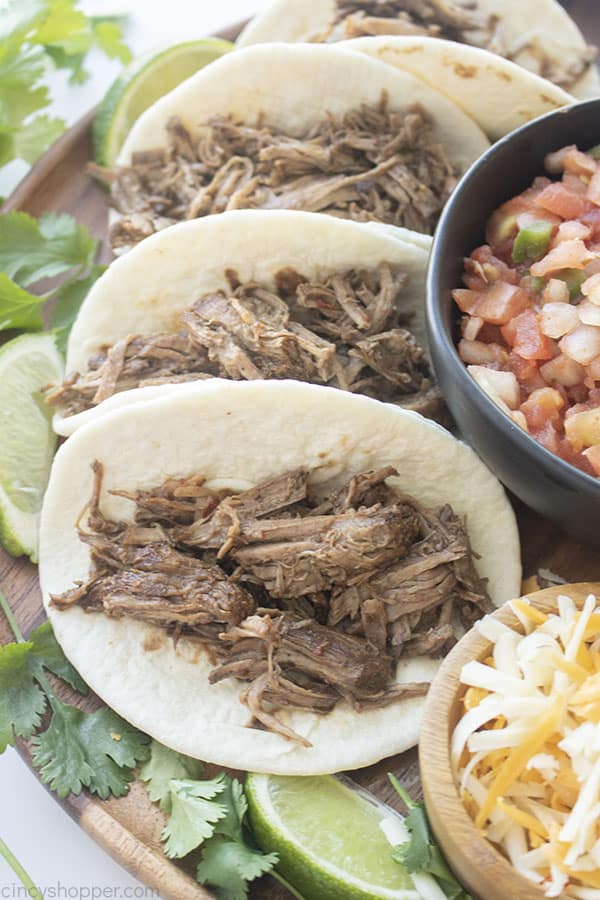 Technically speaking, a proper/authentic pot of Barbacoa would be made from a cow's head. While I don't doubt the claims that slow-cooking the cartilage in cow head turns it into delicious shredded beef, I'm just going to use chuck roast. It's much easier for me to source and I'm certain I'll get an end-product that's just as delicious. Feel free to use cow's head or whatever cuts of beef you want for this recipe: slow-cooking in our acidic sauce will tenderize and flavor it to perfection!
Once you've made and enjoyed your Homemade Barbacoa, feel free to store your leftovers in their sauce in the fridge. Whenever you want to reheat, just warm your beef up in those reserved juices on the stovetop, in the microwave, or in the oven. This recipe will yield plenty of Barbacoa- so I'd recommend either halving this recipe or being ready to use all those leftovers. Hope you enjoy it!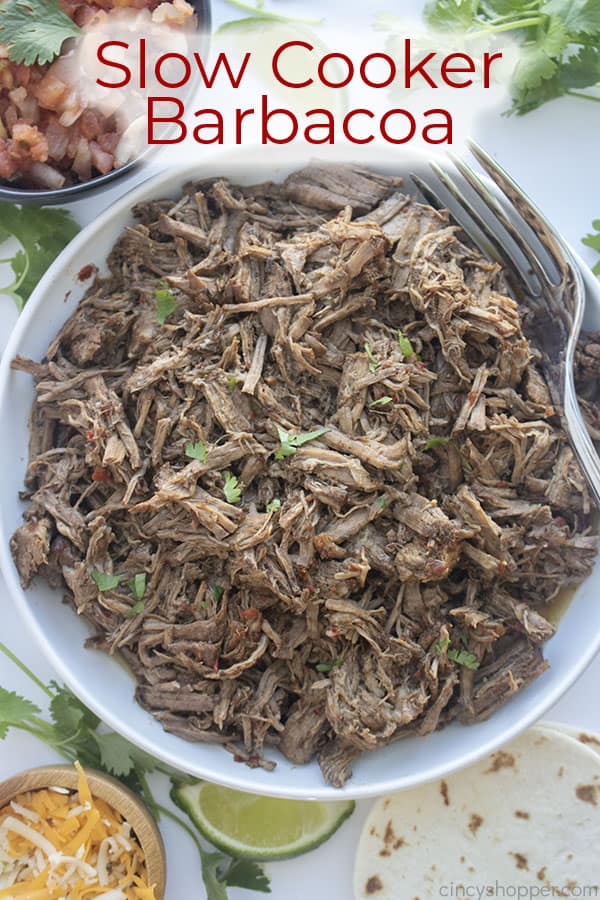 Other Mexican Dinner Recipes
If you enjoyed our Barbacoa, you'll want to try our

Slow Cooker Carnitas Recipe

next! Using the slow cooker again, we make prepping and cooking this large pot of spicy pork a breeze. You'll love how it tastes and the smell is

just

mouth-watering!

For the folks who love their poultry, you'll want to whip up some

Sour Cream Chicken Enchiladas

. This recipe is an easy and delicious way to use up some leftover or rotisserie chicken. Tangy, quick to make, and very

budget-friendly

as well!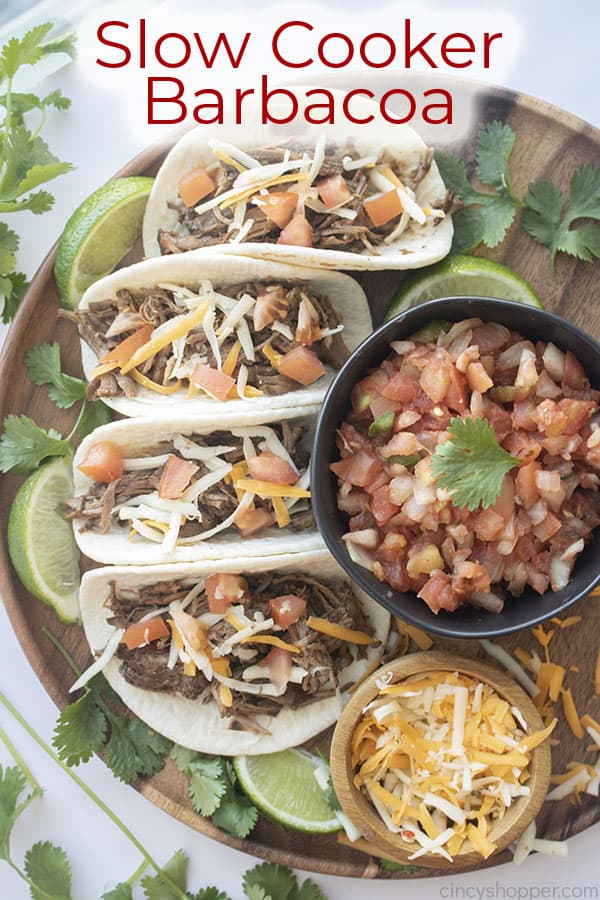 What is Barbacoa made of?
Beef – No need to use anything pricy here. You'll usually want to go with a cheaper cut, as the long cook time will soften and tenderize the meat while it cooks. We usually use chuck roasts.

Apple Cider Vinegar

Lime Juice

Canned Chipotles in Adobo Sauce – We'll need both the peppers and the sauce.

Spices – We

just

reached for some classic Mexican and Spanish spices: cumin, oregano, some clove, and some salt & pepper

.

Chicken Broth

Bay Leaves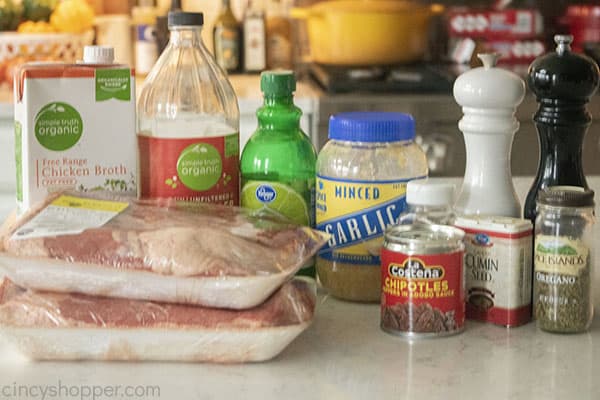 How to make Barbacoa
To make your Homemade Barbacoa, all you'll need to do is…
Trim your beef and blend together with your sauce.

Let your beef cook in the slow cooker with the sauce until done.

Shred your finished Barbacoa before serving.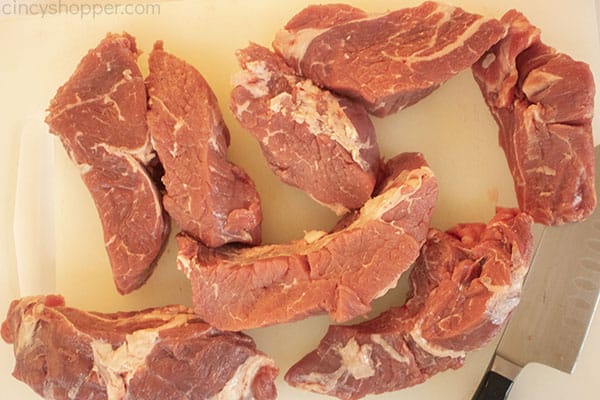 After trimming off any excess fat and silverskin, we always brown our beef in a cast iron pan. Use something like vegetable oil to help with the searing. Trust us: browning your beef is going to add tons of flavor!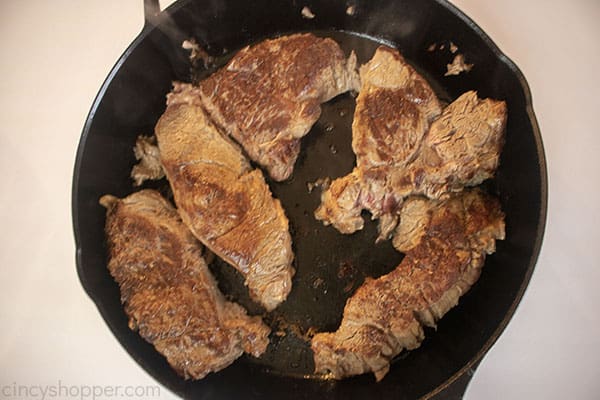 To a blender or food processor, you're going to add all of your sauce ingredients- everything except your beef, broth, and bay leaves. All these acids and spices are going to help our beef tenderize and soften up during it's long stint in the slow cooker.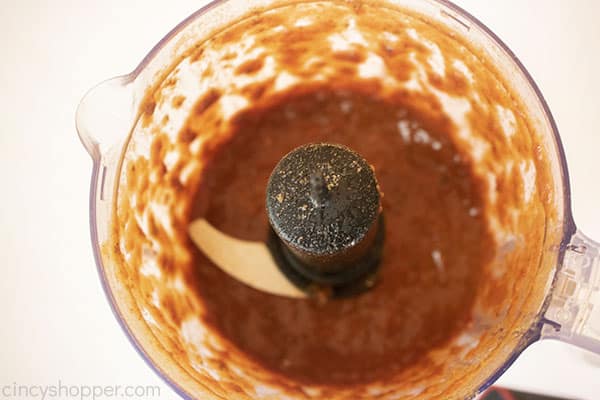 With our beef browned and our sauce blended, we can finally start getting everything into our slow cooker. First, the beef…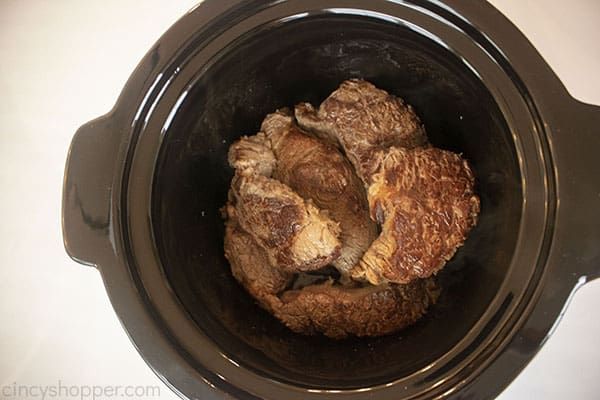 Then our sauce…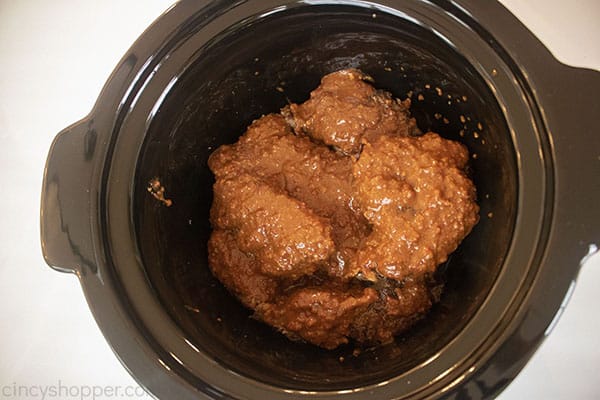 We still need a bit more liquid, so let's go back to our cast iron pan. To add even more flavor, we're going to deglaze all those brown bits our beef left behind using some chicken stock. Pour it into the cast iron pan- which will still be hot- and use something like a wooden spatula or some tongs to scrape all that fond up.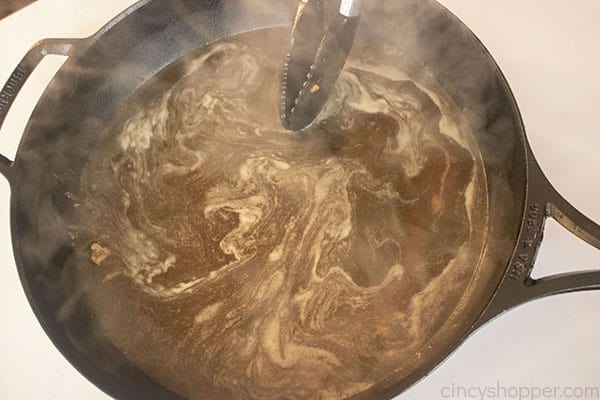 Add your stock and a few bay leaves to the slow cooker before closing it up.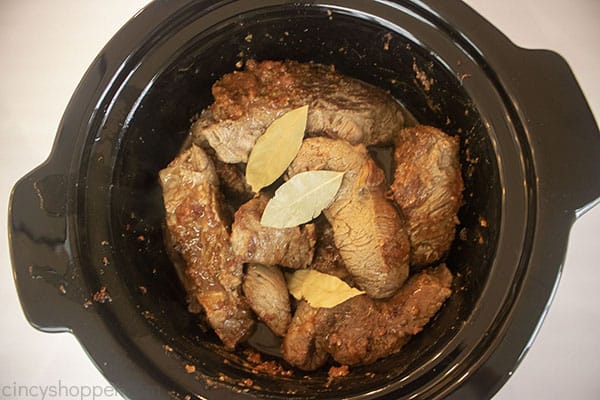 You can let your beef cook for either 5 hours on high or 8 hours on low. The choice is yours- you're still letting it cook for several hours so it'll get cooked through and tenderize.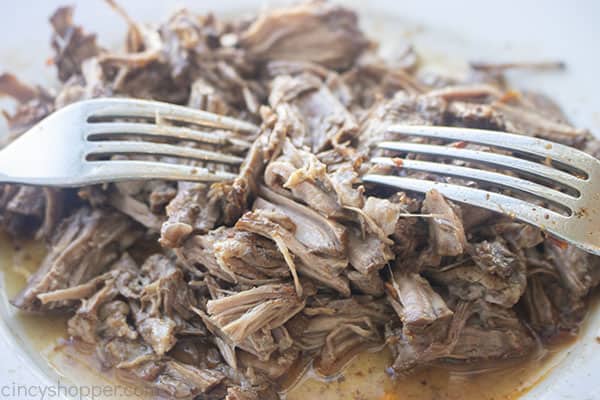 Once it's done cooking, remove your bay leaves and use a couple of forks to shred up your barbacoa. You can let it cook on low for another hour before serving and enjoying!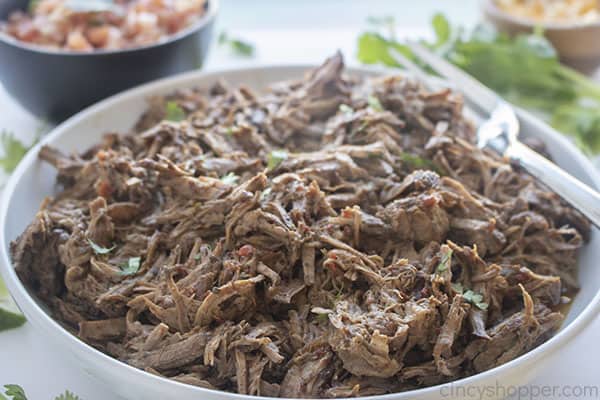 How to serve your Homemade Barbacoa
Make some Barbacoa Tacos!

Grab some tortillas-

maybe

some

Homemade Flour Tortillas

– and fill them up. You could do several smaller tacos or grab a larger tortilla and make a burrito instead.

Fill up a burrito bowl.

Skip the tortilla and

just

fill up a bowl with your beef and any other mix-ins you had in mind. At a bare

minimum

, I'd add in something like

Lime Rice

or

Easy Spanish Rice

.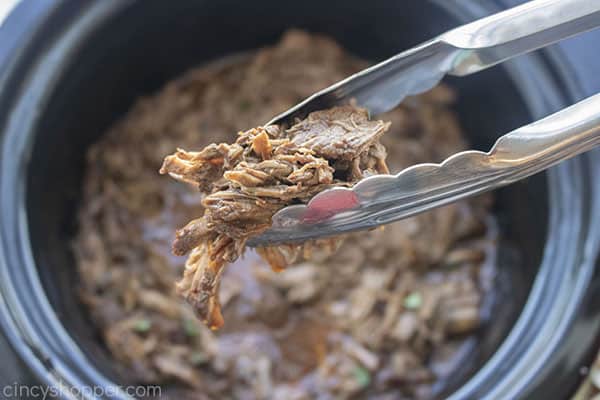 Topping Ideas
Pico de Gallo

Guacamole

Beans –

Probably

black beans or refried.

Onions – Raw, sauteed, caramelized, pickled- the choice is yours!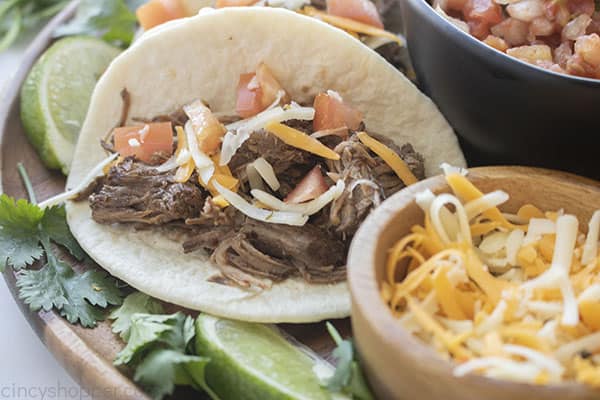 Adapted from Todd Wilbur's copycat recipe.
Slow Cooker Barbacoa
Easy Slow Cooker Barbacoa makes taco nights simple and delicious. This Chipotle copycat recipe is great for tacos or a homemade burrito bowl!
Ingredients
4

lb

Chuck Roast

trimmed of excess fat

2

tbsp

Vegetable Oil

1/4

cup

Apple Cider Vinegar

1/4

cup

Lime Juice

4

Chipotle Peppers

from canned Chipotles in Adobo Sauce

1

tbsp

Adobo Sauce

from canned Chipotles in Adobo Sauce

4

tsp

Minced Garlic

4

tsp

Cumin

3

tsp

Oregano

1

tsp

Black Pepper

1/2

tsp

Ground Cloves

1

tsp

Kosher Salt

1

cup

Chicken Broth

3

Bay Leaves
Instructions
Trim excess fat from the chuck roast and cut into pieces to more easily fit.

Heat oil in a large skillet on medium-high heat.

Sear beef on all sides and transfer to the slow cooker.

In a food processor or blender, combine vinegar, lime juice, chipotles, adobo sauce, garlic, cumin, oregano, black pepper, salt, and cloves.

Pulse on high speed until smooth.

Use broth to deglaze the skillet and pour into the slow cooker.

Cover and cook 5 hours on high (or 8 hours on low).

While still in the slow cooker, shred the meat with two forks and turn the heat to low, and allow to cook for 1 more hour.
Notes
For best results it's best to sear the beef prior to cooking in the CrockPot.
Nutrition
Calories:
314
kcal
|
Carbohydrates:
4
g
|
Protein:
30
g
|
Fat:
20
g
|
Saturated Fat:
10
g
|
Cholesterol:
104
mg
|
Sodium:
649
mg
|
Potassium:
552
mg
|
Fiber:
1
g
|
Sugar:
1
g
|
Vitamin A:
37
IU
|
Vitamin C:
3
mg
|
Calcium:
46
mg
|
Iron:
4
mg