Red Skin Mashed Potatoes are fluffy, creamy & buttery. This steakhouse style potato mash is a great side dish for special dinners & holidays. Serve these easy mashed potatoes up with Thanksgiving or Christmas dinner or as a quick 5 Ingredient side to go with busy weeknight dinners.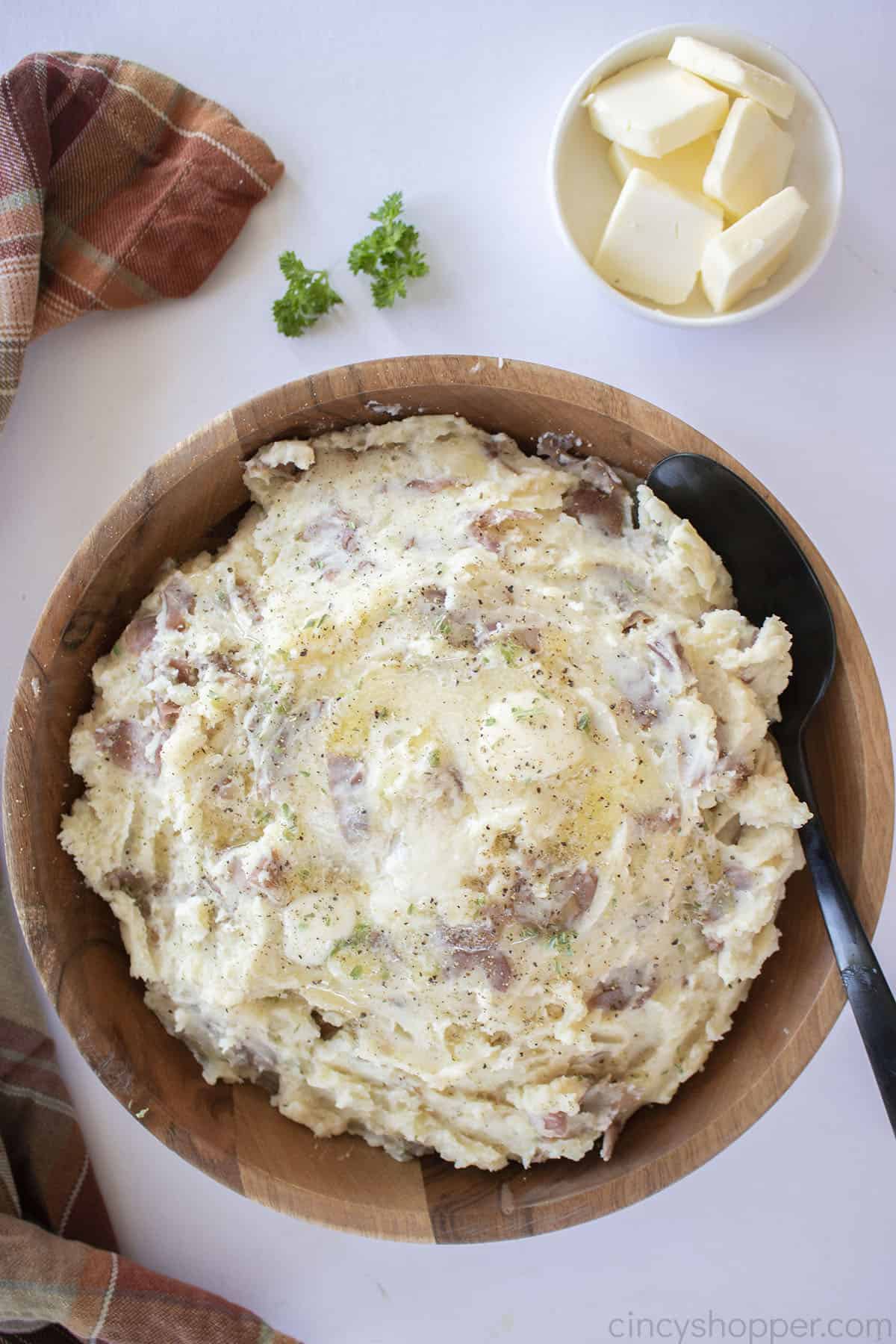 Whether you're planning a big dinner for a special occasion or you're just throwing something together on a busy weeknight, you're probably whipping up some sides to go with everything else. A good main course like a Filet Mignon can stand alright on it's own but it is so easy to add these Red Skin Mashed Potatoes to make the meal more like a fancy steakhouse dinner.
If you look around the site, you'll find all sorts of great potato recipes to pick from like our Best Sweet Potato Casserole, Cracker Barrel Hash Brown Casserole, and The Best Mashed Potatoes. While they are great potato recipes these smashed potatoes or steakhouse mashed potatoes are so easy to make.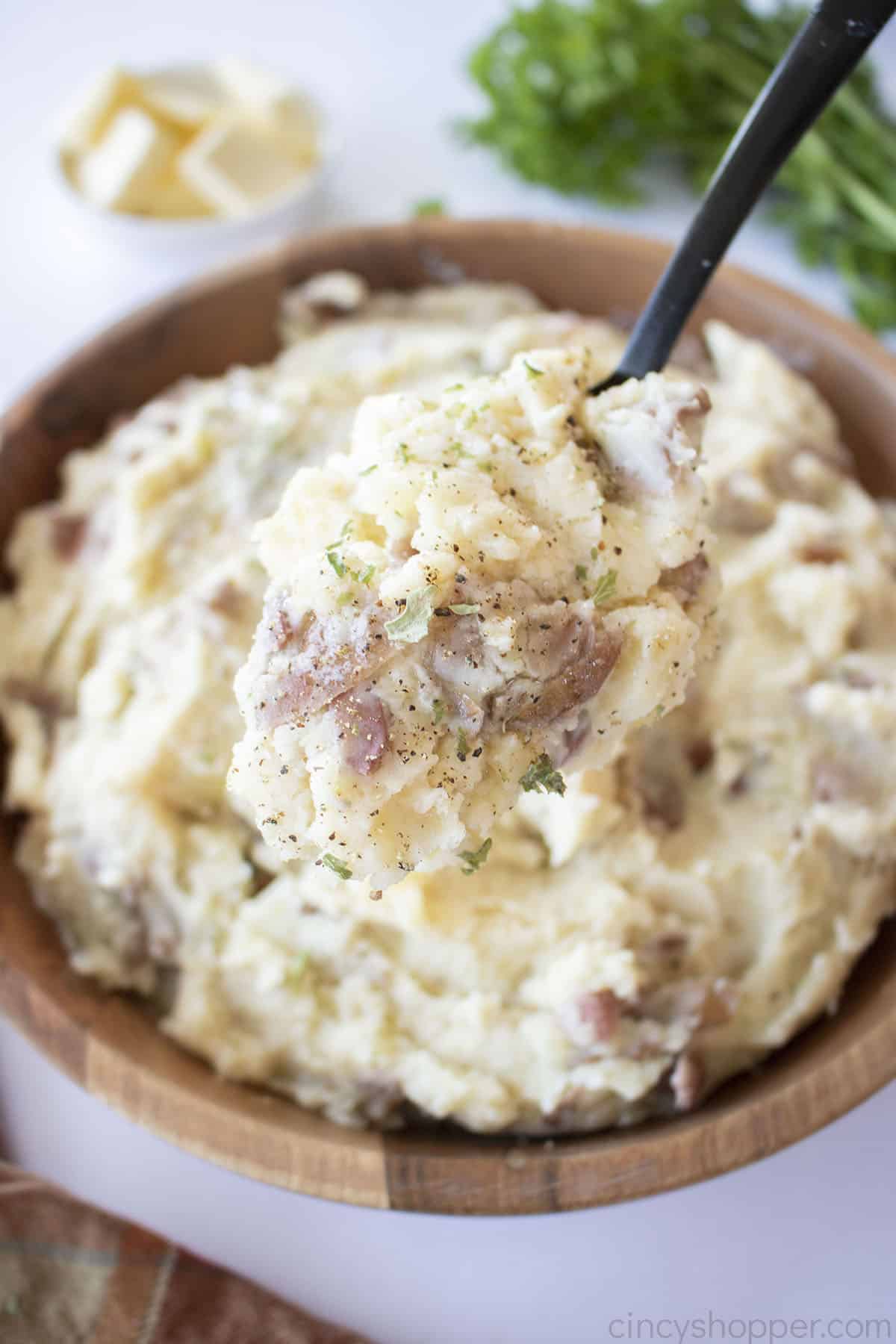 If you've ever wondered if you can use red potatoes for mashed potatoes, you might be shocked to learn that they might be one of the best potatoes you can pick! These red potatoes are usually a bit "waxier," which means they got a bit more starch on the inside. Mash them up with some milk, a touch of sour cream and butter and you get some of smoothest and creamiest mashed potatoes you've ever tried.
Prep them like steakhouse smashed potatoes and you get one of the easiest side dishes you can make that has a nice rustic look to it. These Red Mashed Potatoes will pair well with anything from your next Thanksgiving or Christmas Dinner to whatever easy weeknight dinner recipe you have lined up. You might start looking for more meals to make these up with- they're so good!
Jump to:
Why you'll love this simple Red Skin Mashed Potatoes recipe
Prepping these Red Skin Mashed Potatoes like smashed potatoes makes them so easy to make. Boil the potatoes and just mash them together with all the other ingredients. No peeling potatoes, ricing potatoes, or getting an electric beater necessary and you get delicious rustic mashed potatoes!
This Red Skin Potato Mash is the perfect side dish for any occasion. It's easy enough to make with just 5 ingredients, that you can pair it with all your quick weeknight dinner recipes. At the same time, it's delicious and looks good enough to be paired up with all sorts of fancy steak dinners or served at holiday dinners.
With a recipe as easy and simple as this, there's plenty of room to experiment and customize. Use some heavy cream instead of milk or add in some of your favorite seasonings and herbs to add some extra flavor. We'll list plenty of substitutions and variations later in the post but go ahead and try more!
Red Skinned Potato Mash Ingredients
You don't need much for these Red Skin Mashed Potatoes: just 5 ingredients and you probably already have most of them in your fridge! In case you need to run to the store, here's what you'll need for this recipe: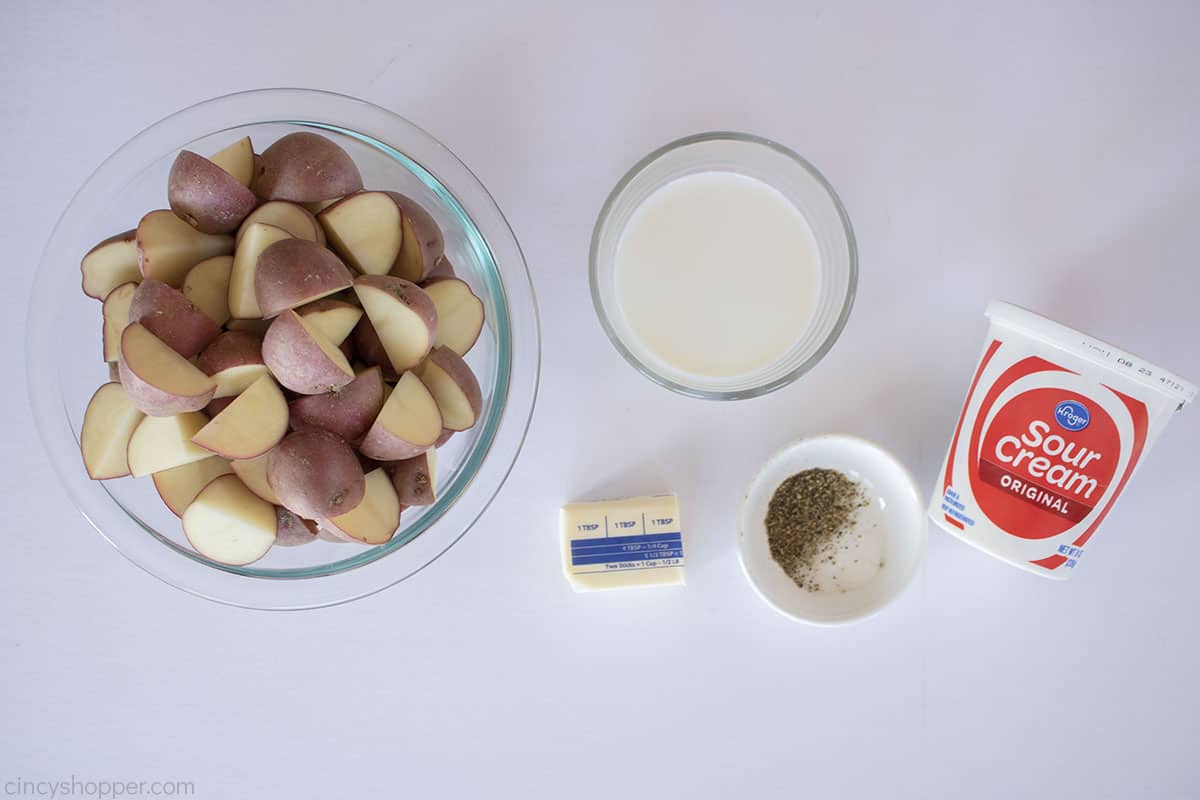 Red Potatoes – We used some small red potatoes for this recipe because they tend to cook easier. Clean your potatoes and cut into quarters before using them. We kept the skins on- those potato skins have tons of nutrients and flavor in them!
Butter – Any normal salted or unsalted butter will work here but something like a nice grass-fed butter could add a bit of extra richness and flavor.
Milk – You almost always want to use something like whole milk for mashed potatoes. Those extra fats and starches in the milk only help the finished product taste even better.
Sour Cream
Salt and Pepper
You'll also want some extra salt on hand for when you're boiling potatoes.
See recipe card for quantities.
How to make Red Skin Mashed Potatoes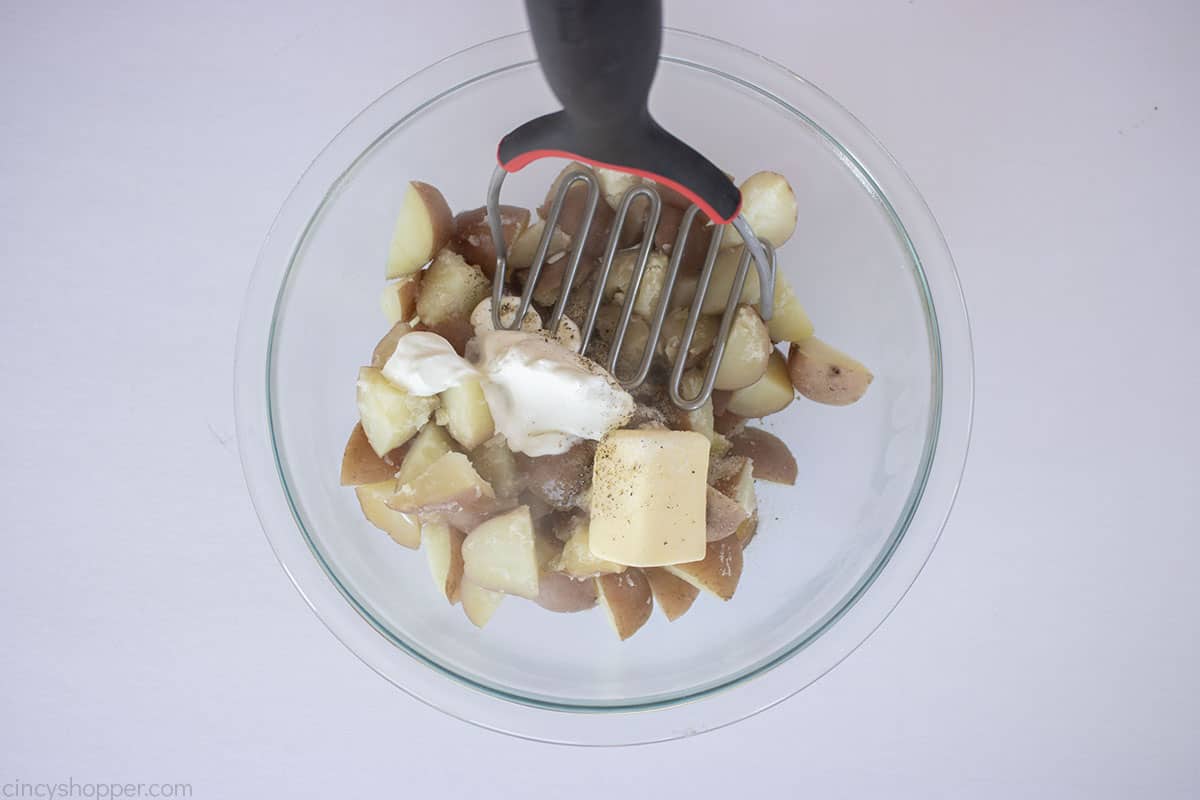 Making Mashed Potatoes with Red Potatoes is just like the ingredients list: short and simple. The only "cooking" you're going to end up doing is boiling some water and that isn't hard at all! To make some delicious Red Skin Mashed Potatoes for yourself, here's what you'll do:
Add quartered potatoes to a large pot of boiling water and salt. Let cook on high heat for about 15 minutes or until fork tender but still somewhat firm.
Drain the potatoes before transferring to a large bowl. Add in butter, milk, sour cream, salt, and pepper.
Using something like a potato masher, mash ingredients together until smooth and creamy. Add salt and pepper to taste before serving.
Substitutions
The ingredients list for these Red Skin Mashed Potatoes is pretty short but there's still plenty of wiggle room when it comes to subbing out ingredients. If you're looking for some substitutions, here's a handful you can try out:
Milk – There's actually tons of milk substitutes for mashed potatoes you can pick from! Sticking with dairy, you can either go low-fat with skim milk and fat-free milk or ramp up the richness with some higher-fat options like half-and-half or heavy cream. You can also go with all sorts of different dairy-free milks like oat milk or almond milk. You might even consider adding in stuff like vegetable or chicken broth.
Sour Cream – Sour cream is a wonderful ingredient for mashed potatoes that you really should give a try. If you're not a big fan of it, you can also try adding something like buttermilk instead. Greek yogurt, cream cheese and cottage cheese are other tangy options you can consider.
Butter – You don't have to stick with just butter for mashed potatoes. You can sub some or all the butter out for different oils. Olive oil is a great place to start and it's going to add some extra flavors into the finished product. Butter spreads will also work in a pinch: margarine won't taste as good as real butter but it won't ruin your dish.
Potatoes – Yes, you can make mashed potatoes without potatoes… sort of. Take out the potatoes and you just have a basic vegetable mash, but there's plenty of good options that'll work in a mashed potato recipe like this! Cauliflower mash or mashed celery root are probably going to be the closest in terms of taste- save the leaves to mimic those smashed potato skins. You can also just sub in another potato like russet potatoes- it's not a Red Skin Potato Mash anymore but it'll still taste great!
Variations
With a simple mashed potatoes recipe like this, there's actually a pretty easy way to spice things up: seasonings! With all sorts of different herbs and spices or even green onions, you can add all sorts of different flavors into this tasty recipe. Here's just a couple ideas you can start with:
Italian Garlic Herb Mashed Potatoes – To add in a little Italian flavor to this mashed potato recipe, you only have to do a couple extra things. The main thing is the seasonings and spices: basil and oregano are two important spices here but you could also use something like Italian Seasoning. Garlic is another important ingredient: either add it with garlic powder or garlic salt or quickly cook up some minced garlic and add it in that way. Optionally sub out some of the butter for some olive oil and you're all set!
French Mashed Potatoes – While classic French Mashed Potatoes are usually a bit runnier and smooth than our steakhouse style mashed potatoes here, we can still get some of those flavors. Reach for white pepper instead of black pepper and consider adding in some fines herbes like parsley, tarragon, chervil, and chives. Don't forget some extra butter!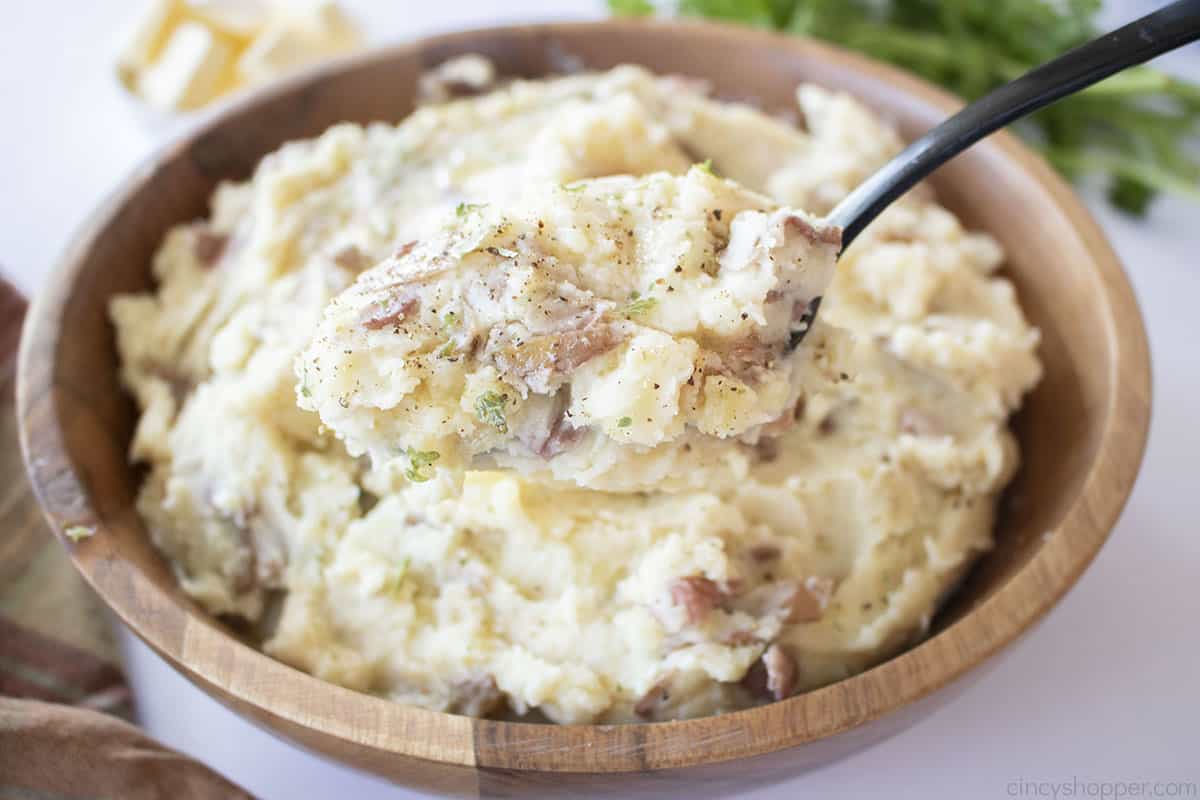 Storage / Freezing
Storage: Let your leftover mashed potatoes cool completely before transferring to an airtight container. Kept like this in the fridge, your Red Skin Mashed Potatoes will last for around 3-5 days. For best results when reheating, cook them low and slow and considering adding in a splash of milk and/or a pat of butter to help loosen them back up.
Freezing: While mashed potatoes don't freeze very well, you can still get a good month or two out of them- maybe even 3! You'll want to transfer your finished potatoes to an airtight and freezer-safe container. Fill the container as close to the top as you can and freeze. To reheat, let thaw in the fridge overnight and cook low and slow, stirring often.
Top tip
Mash potatoes with a potato masher immediately after draining for best results.
Other Potato Recipes
Looking for other potato recipes? Try these:
What to Serve these Red Mashed Potatoes With
Here are some other recipes that pair well with these mashed red skin potatoes: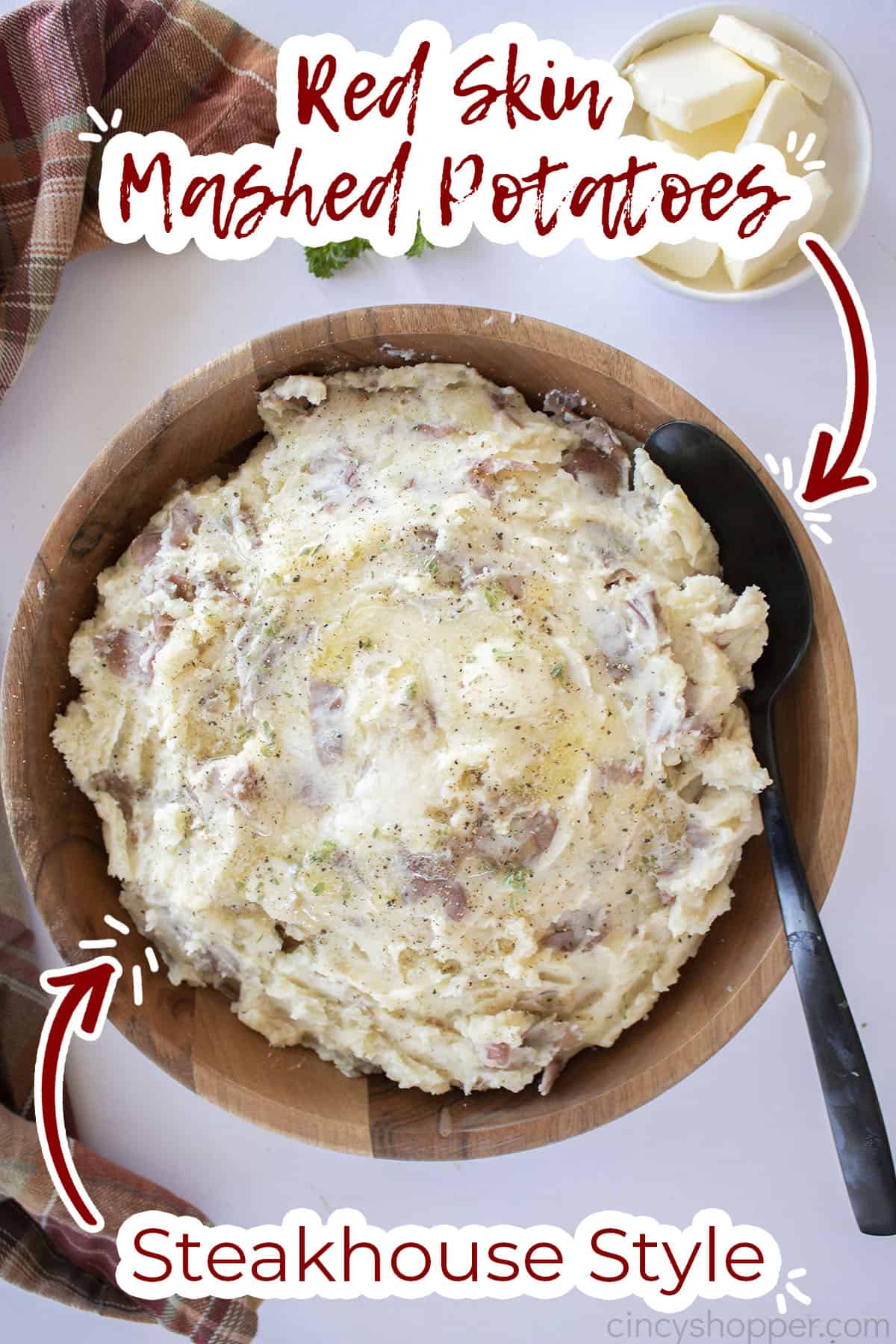 Red Skin Mashed Potatoes
Red Skin Mashed Potatoes are fluffy, creamy & buttery. This steakhouse style potato mash is a great side dish for special dinners & holidays. Serve these easy mashed potatoes up with Thanksgiving or Christmas dinner or as a quick 5 Ingredient side to go with busy weeknight dinners.
Ingredients
1 1/2

lbs

small Red Potatoes

quartered

3

tbsp

Butter

1/4

cup

Milk

2

tbsp

Sour Cream

Salt and Pepper to taste
Instructions
Heat a large pot of water over high heat until boiling.

Add 1 teaspoon of salt and add cut potatoes.

Cook about 15 minutes until tender but slightly firm.

Drain and transfer potatoes to a large bowl.

Add butter, milk and sour cream.

Salt and pepper to taste.

Mash together until smooth and creamy.
Notes
Mash potatoes with a potato masher immediately after draining for best results.
Nutrition
Calories:
215
kcal
|
Carbohydrates:
28
g
|
Protein:
4
g
|
Fat:
10
g
|
Saturated Fat:
6
g
|
Polyunsaturated Fat:
0.5
g
|
Monounsaturated Fat:
3
g
|
Trans Fat:
0.3
g
|
Cholesterol:
28
mg
|
Sodium:
106
mg
|
Potassium:
807
mg
|
Fiber:
3
g
|
Sugar:
3
g
|
Vitamin A:
336
IU
|
Vitamin C:
15
mg
|
Calcium:
44
mg
|
Iron:
1
mg