Baked Chicken Tacos are crisp, spiced to perfection, and so tasty. Our easy rotisserie chicken dinner idea is perfect for taco Tuesdays!
Taco nights are about to get tasty again with these crispy Oven Baked Tacos! This is a wonderful main course for a Mexican-style dinner that'll go great with some chips and Homemade Salsa.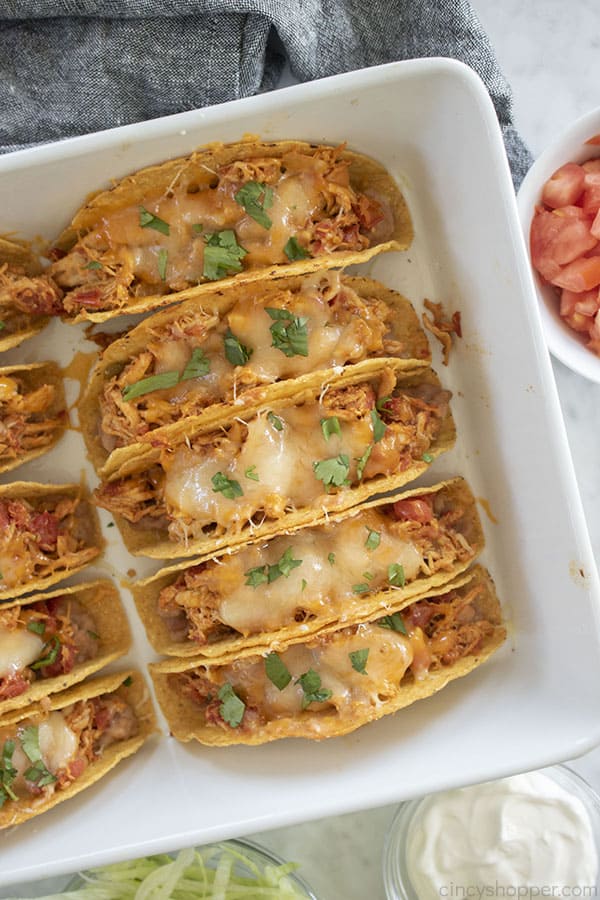 Baked Chicken Tacos
We love doing taco nights on Tuesdays- or any day, really! Tacos are such an easy dinner to whip together: make some taco meat, prep all the toppings, and let everyone make their tacos. Ground beef tacos can get a little boring after a while, though, so we take plenty of opportunities to mix things up while keeping those classic taco flavors. We decided to warm the oven for something new: Baked Chicken Tacos.
Oven Baked Chicken Tacos are an easy way to make a big batch of delicious hard shell chicken tacos- perfect for big families or a crowd! Whip up a tasty, spiced-up chicken taco filling with some leftover or rotisserie chicken and use it to fill up some tacos. Add in some refried beans, a good cheese blend, and all your favorite taco toppings and you've got a great taco night!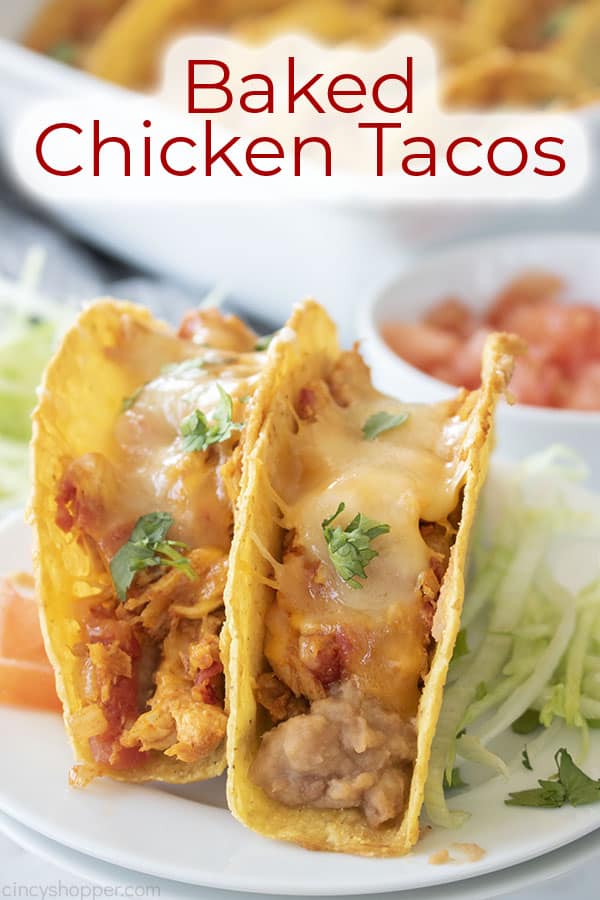 These chicken tacos were so easy to make thanks to all these little shortcuts we took. We loved them too: maybe some of the best chicken tacos we've ever made!
Really, you should give them a try: the ingredients list isn't long at all and the oven will do most of the work for you. We've also got a list of tasty taco toppings close to the end for you to pick from. Hope you love them!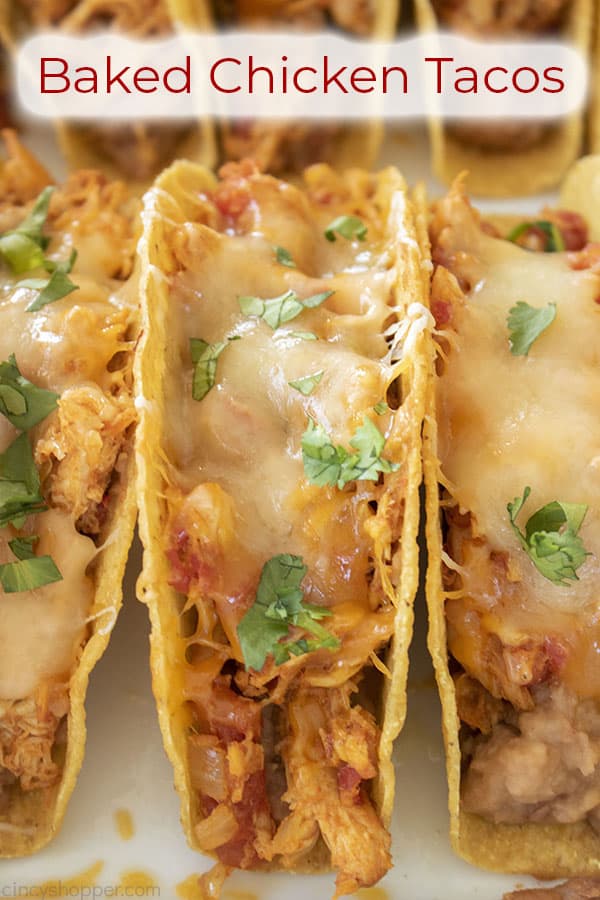 Ingredients for Chicken Taco Recipe
Onion

– White or yellow onion will work best.

Cooked Chicken

– Grab some leftover or rotisserie chicken from the store. If you don't have any cooked chicken on hand, here some ways to make some up real quick

Canned Tomatoes

– Go with these Rotel tomatoes with green chilies for extra flavor and a little heat!

Hard Shell Tortillas

Refried Beans

Cheese

– We went with a blend of colby jack and sharp cheddar. You could also try using some monterrey jack or any sort of Mexican cheese blend as well!
We'll go over some of our favorite taco toppings you can use on your Baked Chicken Tacos closer to the end of the post.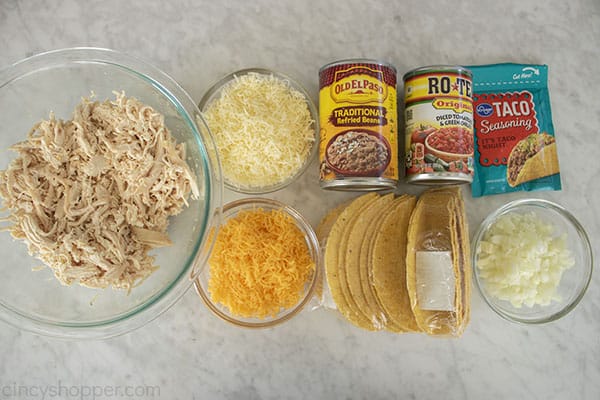 How to make Chicken Tacos in oven
You're going to love making these Easy Baked Chicken Tacos! Here's all you'll have to do:
Prep the taco filling by

sautéing onions

then

adding chicken, tomatoes, and seasoning

.

Cook for about 5 minutes

to warm through.

Stand tortillas up

in dish and

bake at 400 degrees

for

5 minutes

to crisp up.

Add beans to each tortilla

then

top with taco filling and cheese

.

Bake tacos at 400 degrees

for

8-10 minutes

or until cheese

is melted

and shells

are browned

.

Top with favorite taco toppings

and serve.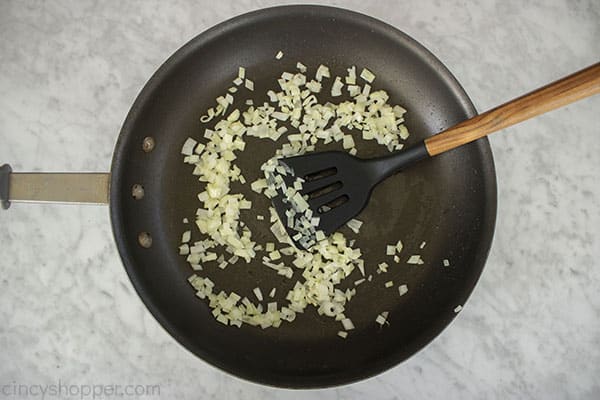 We'll start things off by making our taco filling. Put some oil in a non-stick skillet and put it over medium to medium-high heat. Add your onion and cook for a few minutes until fragrant and translucent. After that, add in the chicken, tomatoes and chiles, and the taco seasoning.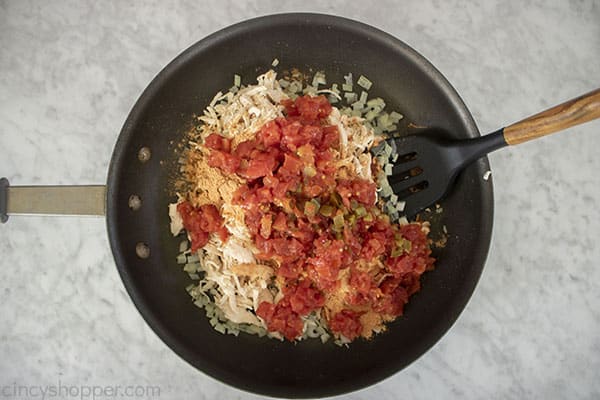 Stir it all together and reduce the heat to a simmer. We're going to let that cook for a bit to warm it through and let the flavors get to know each other. Meanwhile, prep your shells by crisping them in the oven for 5 minutes.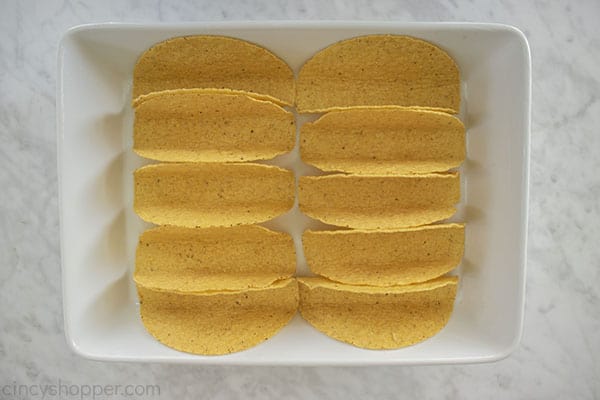 Add some refried beans to each crisped tortilla.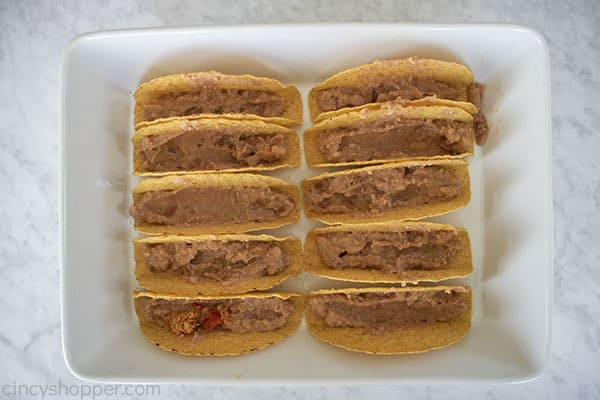 Top up with the chicken taco filling.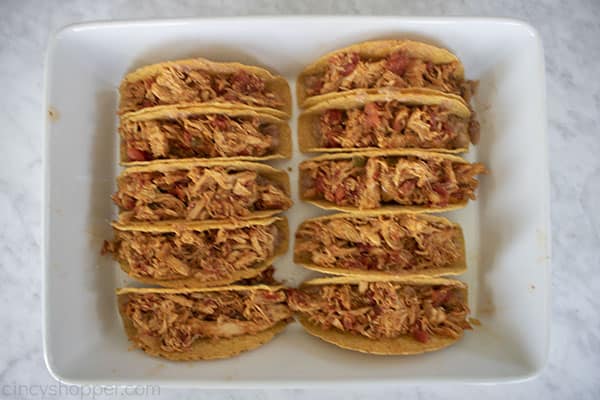 Lastly, put a generous mound of cheese on top of each taco.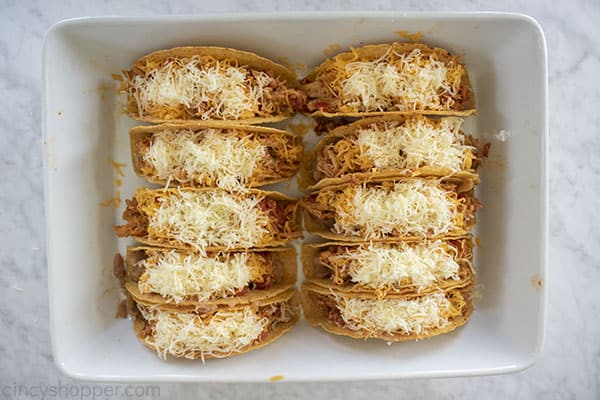 All that's left is to bake. At 400 degrees, it'll take about 8-10 minutes for your cheese to melt and for the shells to start browning up. Keep a close eye on things and pull your chicken tacos when they're browned to your liking. Hit them with your preferred taco toppings, serve them up, and enjoy!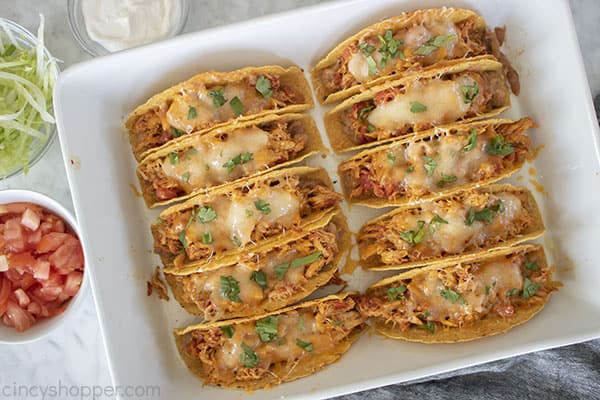 Taco Topping Ideas
We like to wait until the very end to hit these Baked Chicken Tacos with most popular taco toppings. Most don't hold up in the oven too well.
Once your tacos
are baked
, feel free to top them with whatever you like! Here's some of our favorite toppings:
Sour Cream

– Add a few dashes of lime juice to your sour cream to thin it out a bit and add a little zest!

Cilantro for a bit of a herb-y bite. For folks who can't use cilantro, Parsley

might work in a pinch.

Lettuce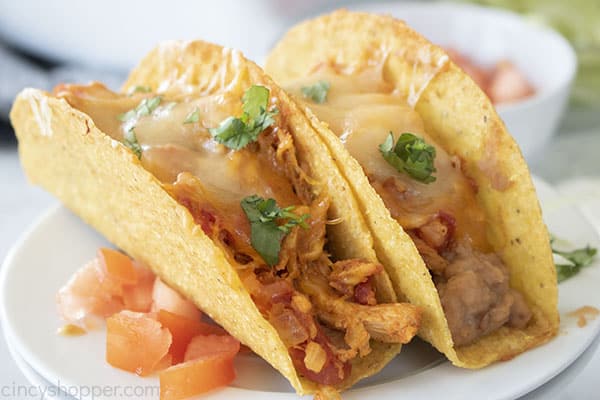 Baked Chicken Tacos
Baked Chicken Tacos are crisp, spiced to perfection, and so tasty. Our easy rotisserie chicken dinner idea is perfect for taco tuesdays!
Ingredients
1

tbsp

Vegetable Oil

1/2

cup

Onion

diced

3/4

lb

Cooked Chicken

shredded

10

oz

Rotel Tomatoes and Green Chilies

drained

1

packet

Taco Seasoning

10

Hard Corn Taco Shells

8

oz

Refried Beans

2

cup

shredded Cheese
Instructions
Preheat oven to 400.

In a large skillet, heat oil over medium heat and cook onions until translucent (about 3 minutes).

Add chicken, taco seasoning and tomatoes and chilies.

Stir together and cook for about 6-7 minutes.

Grab a baking dish big enough to hold your taco shells (9x13")

Heat in oven for 5 minutes.

Remove from oven a put a thin layer of refried beans in the bottom of ech shell.

Divide the chicken mixture between each of the shells.

Divide the cheese between each of the shells.

Bake for 8-10 minutes, until tacos are heated through and shells are browned.

Top with your favorite toppings.
Nutrition
Calories:
204
kcal
|
Carbohydrates:
16
g
|
Protein:
16
g
|
Fat:
8
g
|
Saturated Fat:
4
g
|
Polyunsaturated Fat:
1
g
|
Monounsaturated Fat:
3
g
|
Cholesterol:
43
mg
|
Sodium:
319
mg
|
Potassium:
208
mg
|
Fiber:
3
g
|
Sugar:
2
g
|
Vitamin A:
227
IU
|
Vitamin C:
3
mg
|
Calcium:
156
mg
|
Iron:
1
mg