Grilled Carne Asada is such a tender, juicy and delicious way to cook to a beef steak. Great for street tacos, burritos, and burrito bowls too! However you serve, this tasty beef recipe is certain to be one of your new favorite Mexican dishes.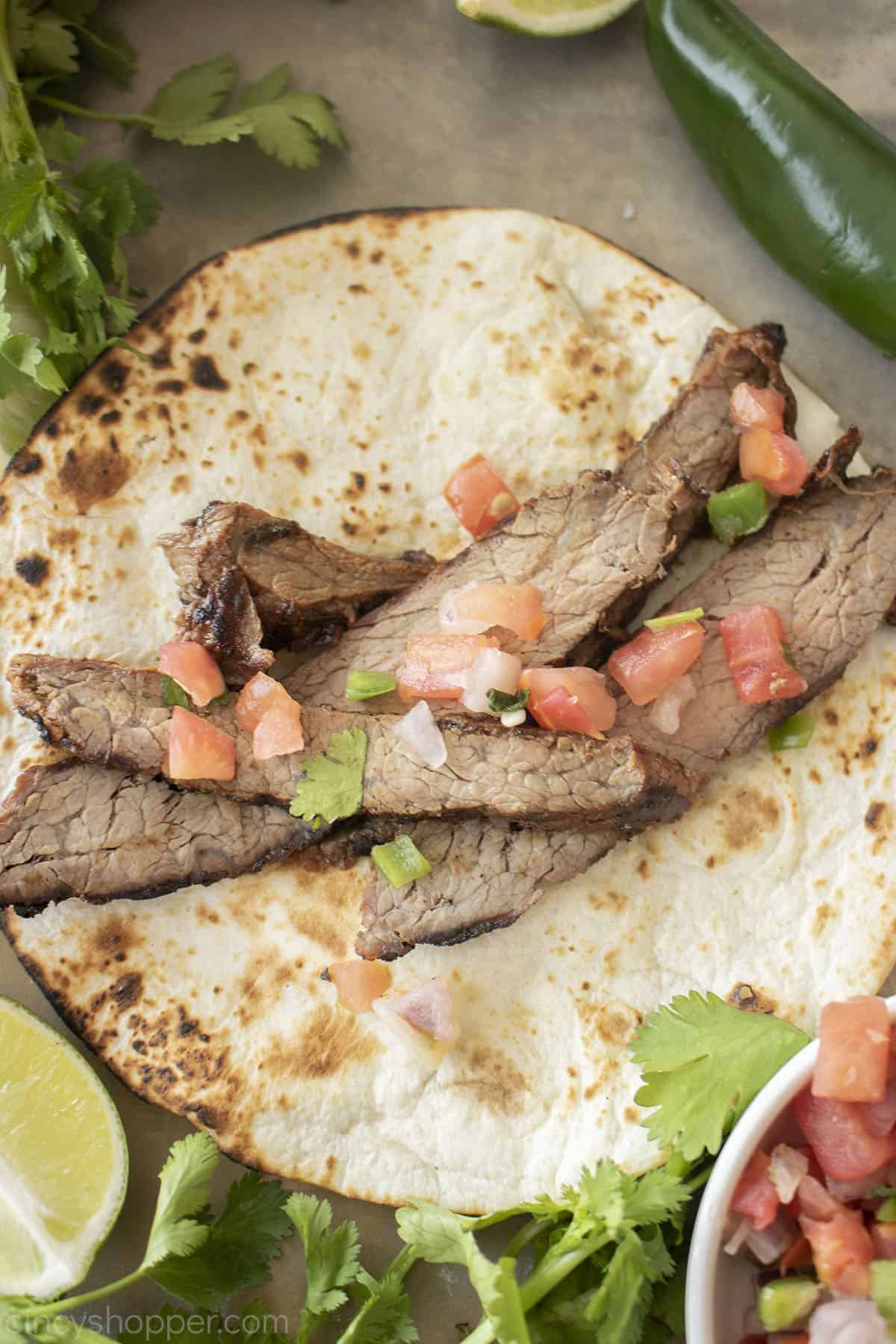 If you've never had carne asada, let me give you the quick run down: it's a tasty barbecued or grilled meat that you marinate in beforehand. If you're following along with an authentic Carne Asada recipe, you'll end up with a tasty beef taco filling that's got some lime zest and peppery heat! It's not just for tacos though: make up a Carne Asada burrito, some Carne Asada tacos with Fresh Pico de Gallo, or even some Carne Asada fries if that's your preference. No matter what you use it in, this grilled beef recipe is definitely going to please!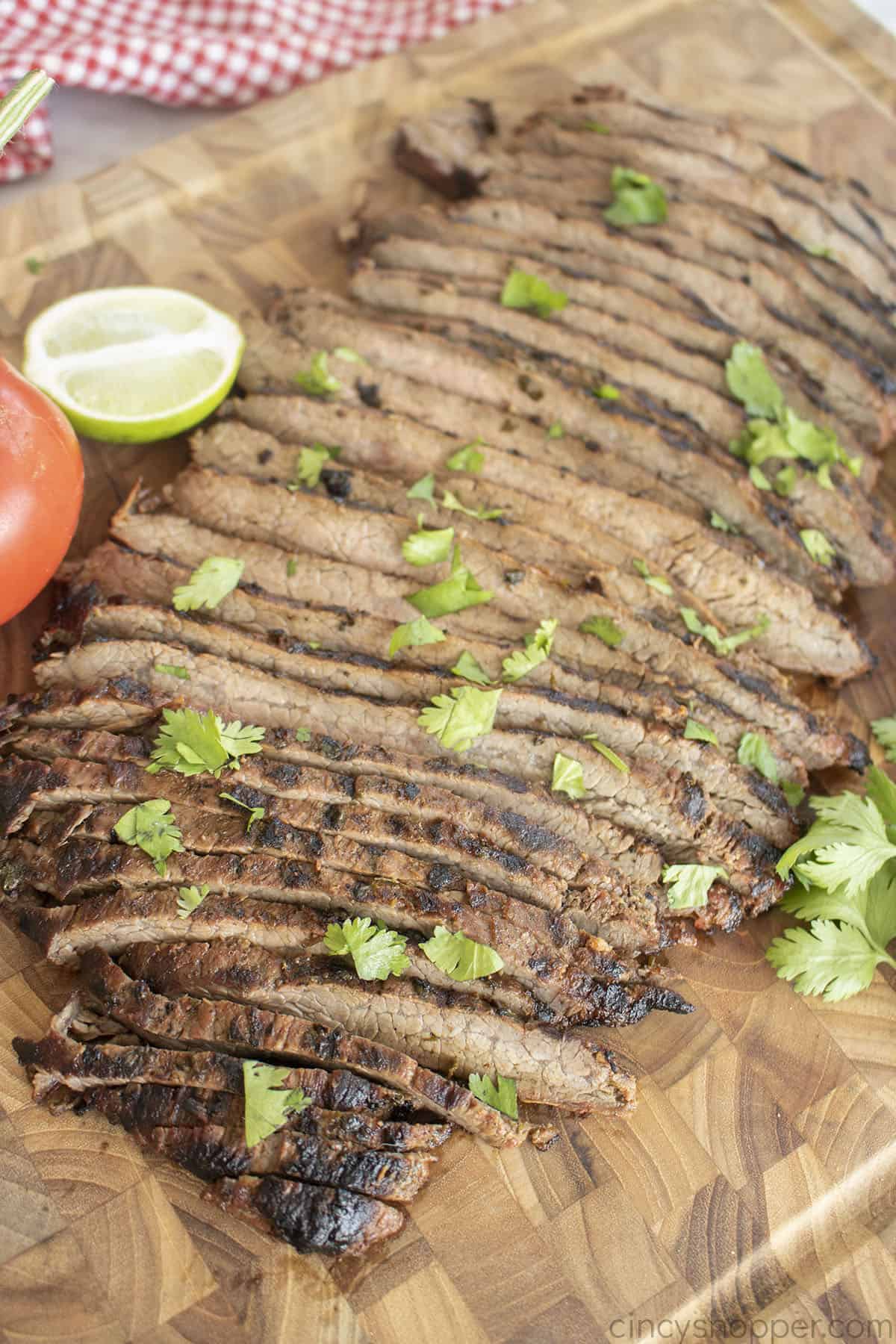 Jump to:
Why you'll love this authentic Carne Asada recipe
With only a few added ingredients, we can make some plain steak into this delicious Mexican beef. So juicy and tender too!
There's plenty of room to experiment and make any substitutions you have to make. Use a different cut of beef, grab a milder or spicier pepper- we know you'll still love it!
This recipe is an amazing taco filling- all while being almost as easy to make as normal ground taco meat! It makes great burritos and burrito bowls too. Consider making Homemade Tortillas to make Street Tacos.
Ingredients
This easy Mexican beef recipe only needs a short list of ingredients- trust us though, these few ingredients bring tons of flavor! To prepare our Grilled Carne Asada, you'll need the following: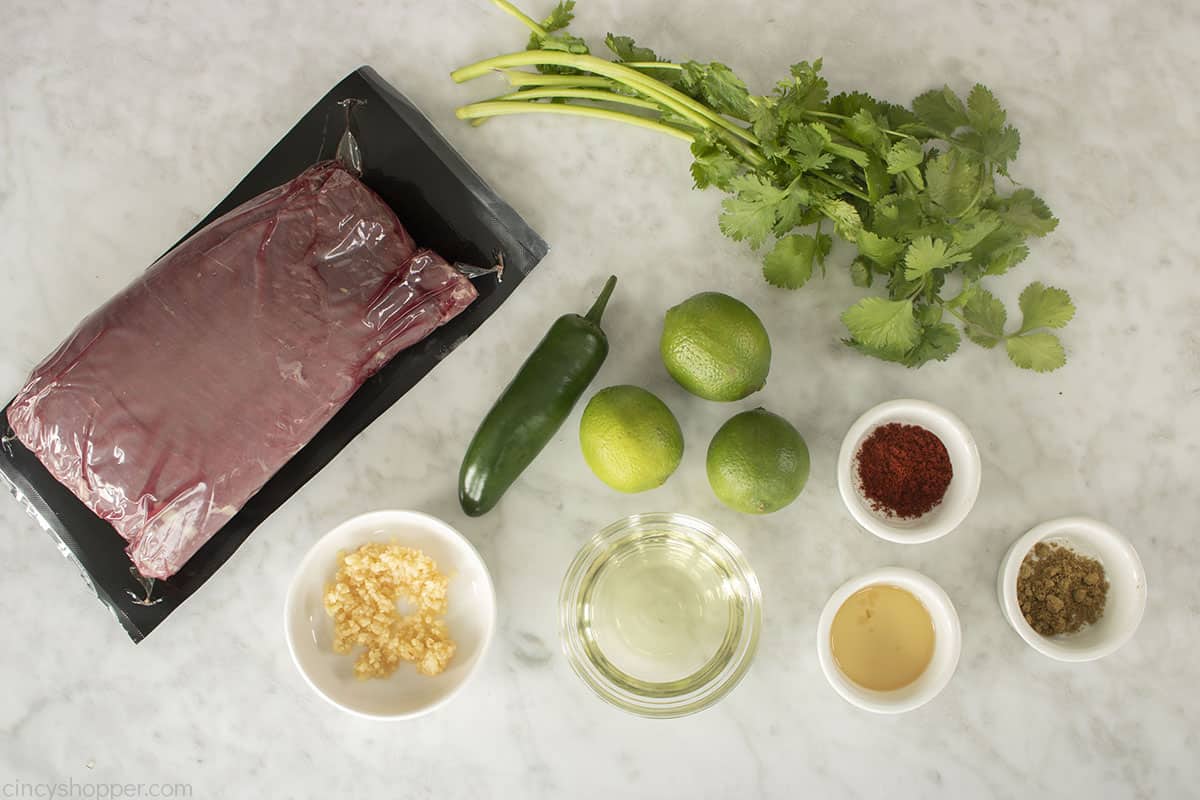 Oil – We went with a vegetable oil, but any neutral-flavored oil should work well enough in this recipe. You might even get away with using a light olive oil or a 50/50 blend of olive oil and your neutral oil of choice.
Lime Juice – We squeezed some fresh limes to get the lime juice for our recipe.
Cilantro – Freshly chopped cilantro is what we used.
Jalapeno – Using jalapeno peppers provides a good balance between flavor and spiciness.
Garlic – Minced garlic from the jar is fine.
Seasonings – For our seasoning, we went with a blend cumin and paprika.
Vinegar – A little touch of apple cider vinegar adds a bit more acidity and will help our steak get more tender while it marinates.
Steak – The best steak for Grilled Carne Asada has definitely got to be flank steak. Super easy to work with, marinates really well, and the grain is pretty easy to see- meaning you'll get short tender cuts of beef easy!
See recipe card for quantities.
How to make Carne Asada on the grill
This recipe is so easy- you'll be spending most of your time just waiting on it to marinate and the hardest part is poking it a few times with a fork! To make this simply and easily, here's all you'll have to do: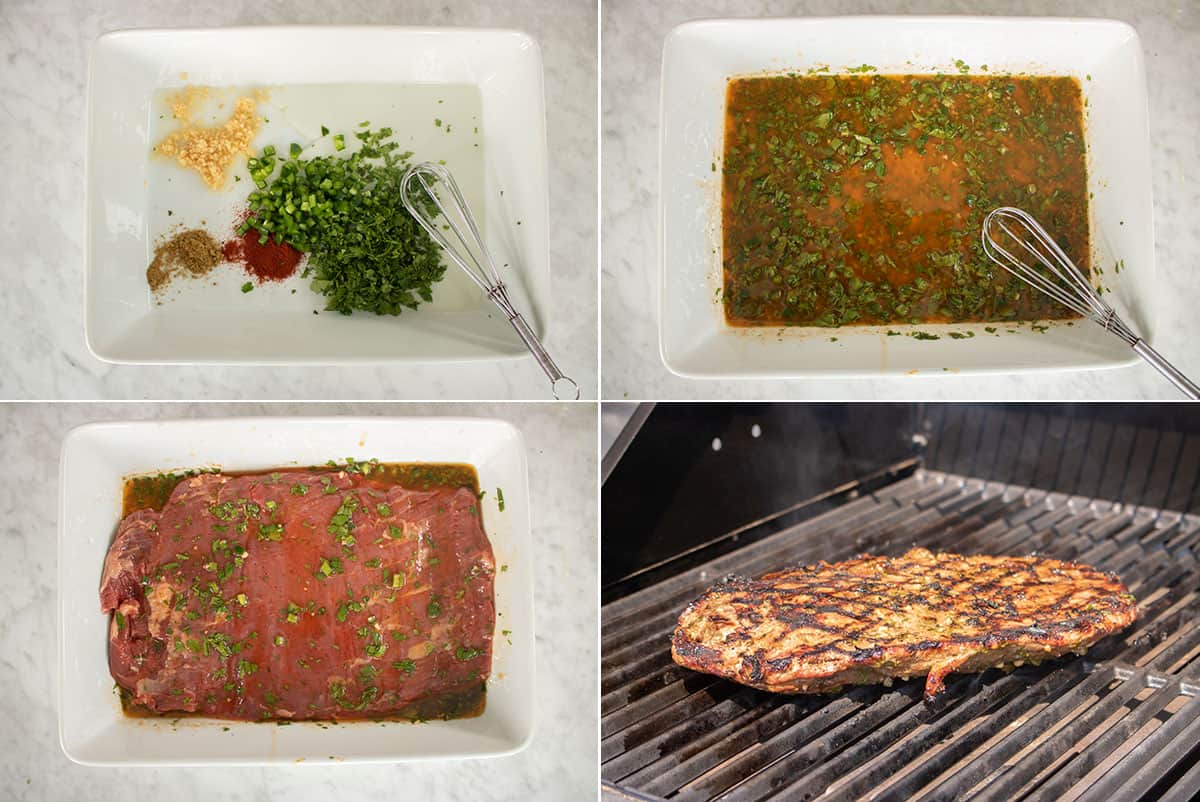 Prepare your marinade by mixing all your ingredients in a wide shallow dish except for the steak. On a separate cutting board, use a fork to pierce your flank steak all over on both sides.
Set your pierced flank steak in the dish with the marinade and turn a few times to coat. Cover dish and set in fridge to marinate for at least 3 hours, pulling out and turning steak over occasionally.
Let your grill preheat to medium-high heat before removing steak from marinade and cooking for 6 minutes. Flip over and cook another 6 minutes. Remove from grill and let rest 5 minutes before slicing against grain and serving your Grilled Carne Asada however you prefer.
Substitutions
Having some trouble finding the ingredients for our Grilled Carne Asada? Here are a few substitutions you can give a try:
Lime Juice – If you don't have fresh limes for juicing on hand, you can go ahead and use bottled lime juice instead. If we were to guess how much juice is in one lime, we'd guess around 1-2 tablespoons- especially depending on how well you juice your limes.
Cilantro – Some people don't like cilantro and that's perfectly fine! If you want to make the meat without cilantro, sub in some parsley and a bit of added citrus like lemon or lime juice.
Steak – When it comes to these Mexican beef dishes like Carne Asada and tacos, we think flank steak is the best. If you can't find flank steak, your best substitutes are going to be either skirt steak or hanger steak- all three of these cuts are fairly similar! Of course, in a pinch, you could try this recipe with most other cuts of beef.
Variations
Want to spice things up and add some different flavors to your flank steak meat? Here's a couple of ways to mix things up.
Spicy Carne Asada or Mild Carne Asada – It's really easy to tweak the spiciness. All you have to do is pick a different pepper: for less heat and spice, go with an Anaheim pepper. Want to crank the heat up? Go with a serrano pepper.
Pollo Asado – Another classic Mexican dish is pollo asado– which is sort of like Carne Asada's chicken cousin. This Mexican chicken recipe is pretty close to our recipe here- try subbing in some chicken and start tweaking the recipe from there!
Storage / Freezing
Storage: After enjoying your grilled steak, you might have some leftovers to deal with. Cooked beef should last a good 3-4 days in the fridge and our recipe shouldn't be any different. Keep in a resealable container and reheat however you prefer.
Freezing: You can also store your cooked steak in the freezer once it's had a chance to cool down. Put in a freezer-safe container and keep in the fridge for up to 6 months- do note that your beef might taste a bit drier when it comes out!
Top tip
Marinate the Carne Asada for at least 3 hours, but letting it go overnight will fully infuse the flavors into the meat.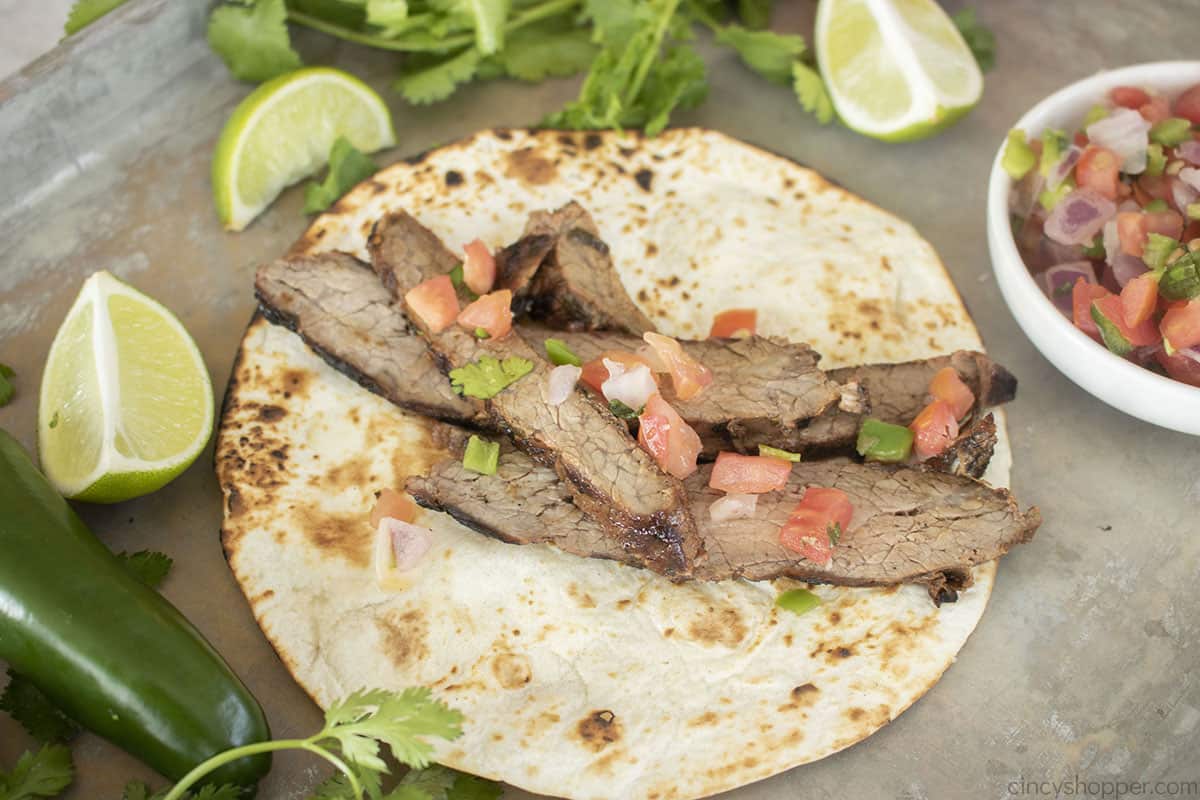 FAQ
Do you have questions about this recipe? Here are the answers to the most commonly asked questions for this recipe.
What is carne asada?
Carne asada is a very popular dish in Mexican and Mexican-American cuisine. It is usually grilled or pan-seared marinated beef, which is then sliced thinly. Then typically served as the main ingredient in tacos, burritos, and bowls.
What cuts of beef are used for carne asada?
Many different cuts of beef can be used for carne asada. The most common meats include skirt steak, flank steak or sirloin steak. They are flavorful and tender when marinated and cooked.
How long should you marinate carne asada?
It is recommended to marinate carne asada for at least 3 hours, overnight is best for more flavorful results. The longer you marinate the steak, the more pronounced the flavors will be.
What are some traditional accompaniments or toppings for carne asada?
Carne asada is typically served with warm tortillas. The meat is then topped with guacamole, pico de gallo (fresh salsa), chopped onions, chopped cilantro and sometimes cheese or sour cream.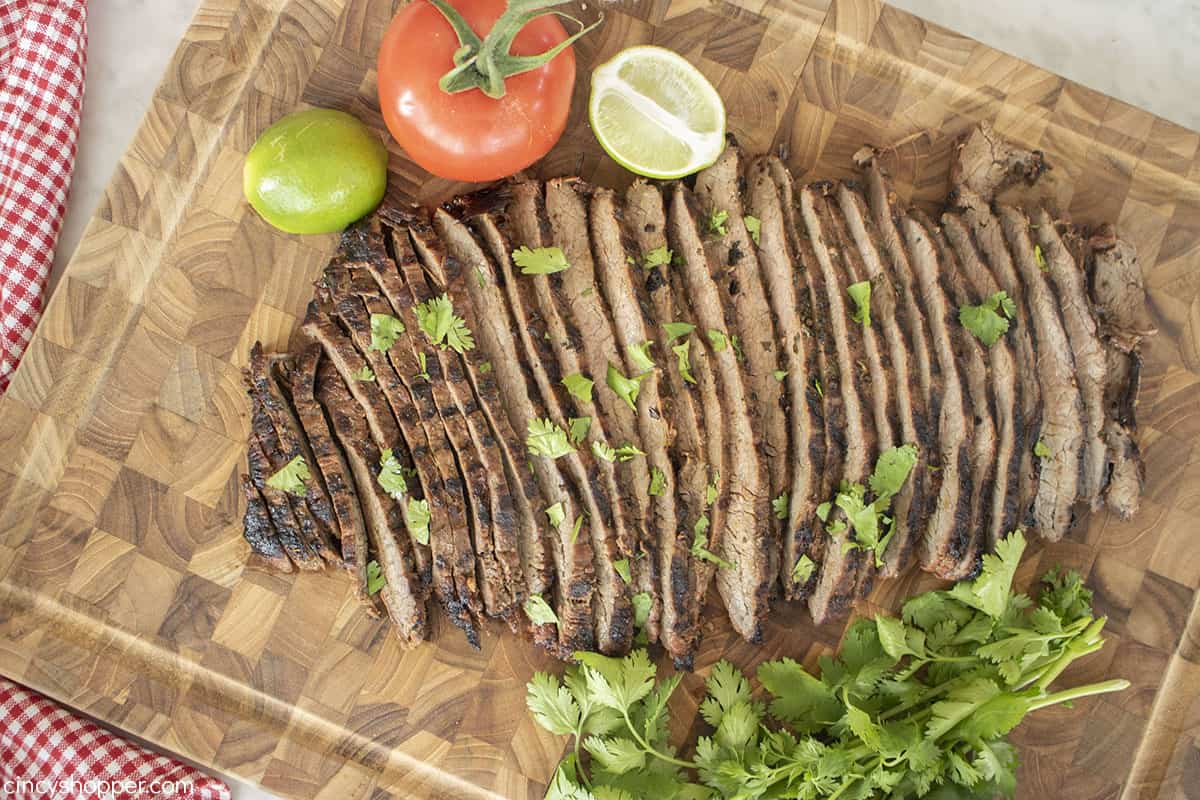 Other Mexican Inspired Recipes
Looking for other Mexican main dish recipes? Try these:
Side Dishes
Here are some side dishes that are great with this recipe: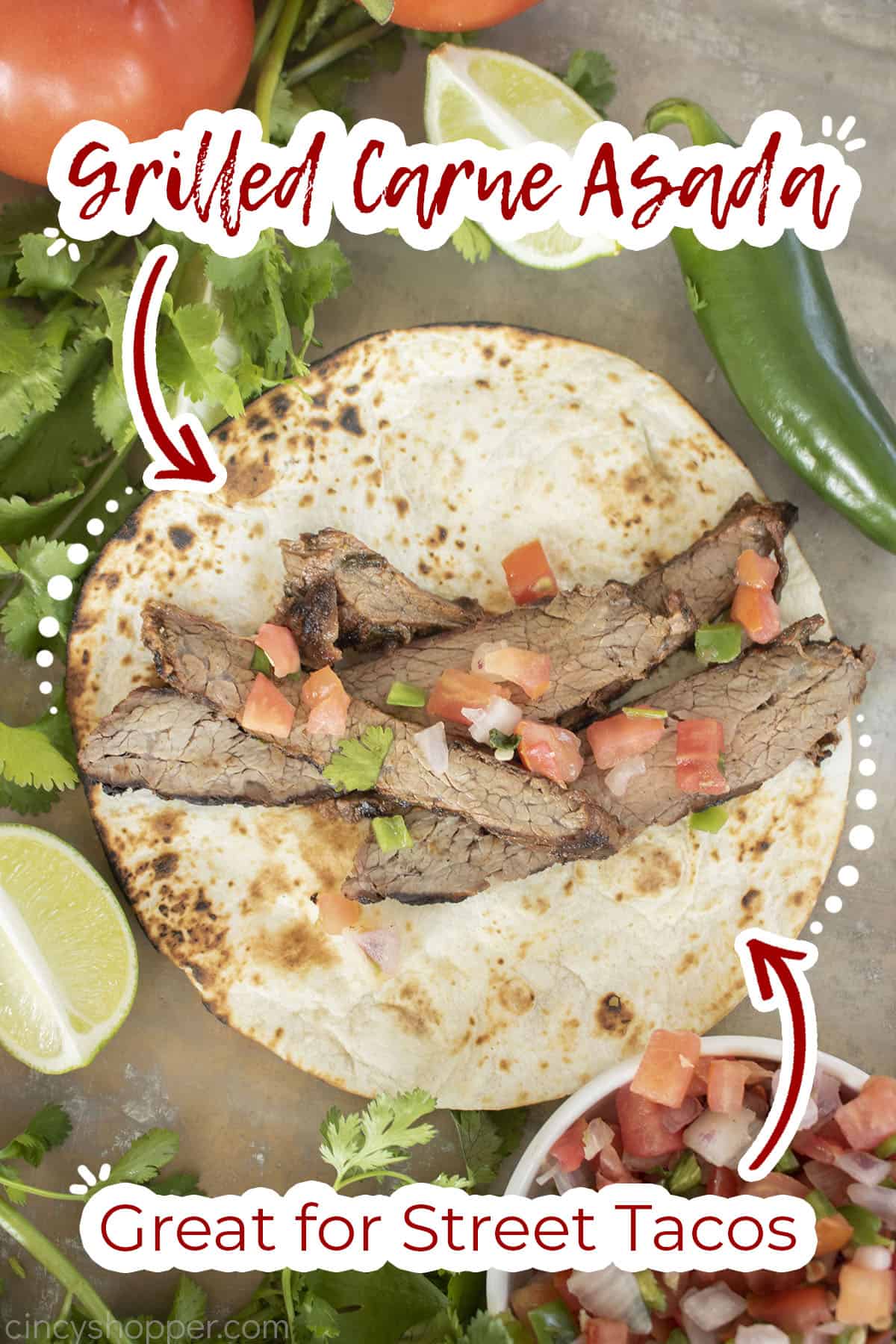 Grilled Carne Asada
Grilled Carne Asada is such a tender, juicy and delicious way to cook to a beef steak. Great for street tacos, burritos, and burrito bowls too! However you serve, this tasty beef recipe is certain to be one of your new favorite Mexican dishes.
Ingredients
3/4

cup

Vegetable Oil

3

Lime Juice

Juice of 3 limes

1/2

cup

Cilantro

chopped

1

Jalapeno

seeded and diced

1

tbsp

minced Garlic

1

tsp

Cumin

1

tsp

Paprika

1

tbsp

Apple Cider Vinegar

2

lb

Flank Steak
Instructions
In a large bowl, combine vegetable oil, lime juice, cilantro, jalapeno, garlic, cumin, paprika and vinegar.

Stir until well mixed.

Pierce flank steak with a fork on both sides.

Place steak in bowl and turn to coat both sides.

Cover allow steak to marinate for at least 3 hours, turning occasionally.

Preheat grill to medium-high heat.

Cook meat for 6 minutes on each side.

Let meat rest for about 5 minutes.

Slice meat against the grain.
Nutrition
Calories:
218
kcal
|
Carbohydrates:
3
g
|
Protein:
33
g
|
Fat:
8
g
|
Saturated Fat:
3
g
|
Polyunsaturated Fat:
0.3
g
|
Monounsaturated Fat:
3
g
|
Cholesterol:
91
mg
|
Sodium:
82
mg
|
Potassium:
565
mg
|
Fiber:
0.3
g
|
Sugar:
0.4
g
|
Vitamin A:
153
IU
|
Vitamin C:
9
mg
|
Calcium:
43
mg
|
Iron:
3
mg