Baked Blueberry Donuts taste great with a sweet lemon glaze! This recipe is perfect for breakfast, dessert, or just for snacking on.
Baked donuts are already so easy to make- toss in a few blueberries for even more delicious juicy fruit flavors! For more delicious baked donuts, try our Caramel Apple Donuts and our Powdered Donuts.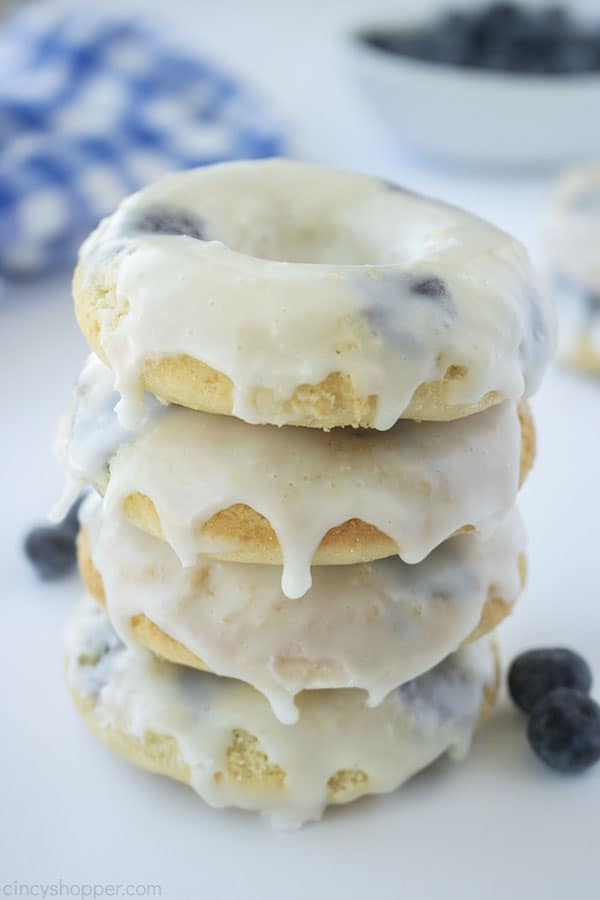 Baked Blueberry Donuts
Donuts might be one of the simplest but tastiest baked goods you can enjoy. We've got our fair share of donut places around us- we can take a short drive over to Dunkin Donuts or go a little further out to an actual Krispy Kreme location! These places serve up great, classic donuts… but not everyone has a good donut shop near them. That's where delicious, homemade donuts come in!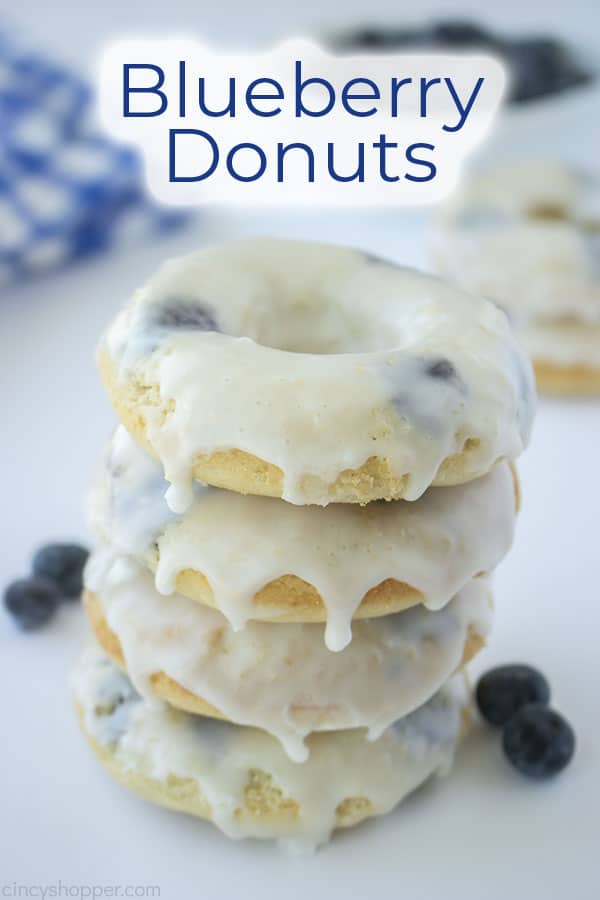 You could deep fry donuts at home, but it's much easier to make baked donuts instead. They're much simpler- and safer- to make, healthier than deep-fried, and you can load them with all sorts of delicious goodies! This recipe for Baked Blueberry Donuts, for example, is loaded up with plump blueberries. These provide a nice burst of fruity flavor into the classic baked donut. If you've got the time, you can even top these with an amazing lemon glaze! The perfect topping to an easy, tasty, homemade treat.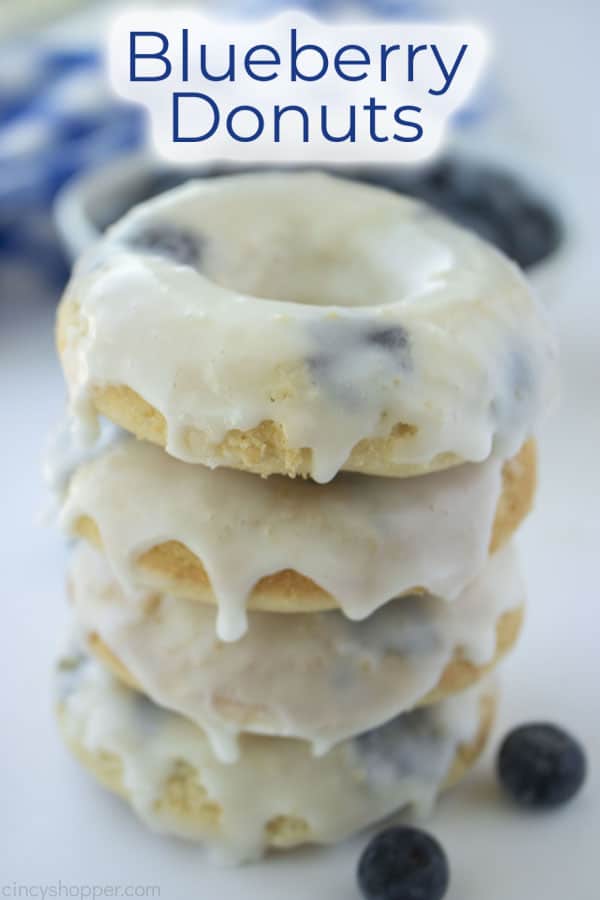 Loved this recipe? Try these blueberry recipes next!
Add a sweet blueberry topping to all your favorite desserts with our

Easy Blueberry Sauce

. This stuff is perfect for cheesecake, ice cream, pancakes or waffles, and more! What's better is that it's so easy to make- with a short list of ingredients and cooking takes around

just

10 minutes.

Creamy Blueberry Pie

is definitely one of our favorite recipes this summer!

This delicious recipes combines all that's great about regular blueberry pie and adds in a rich, creamy custard filling

. Topped with a bit of streusel topping, this pie is perfect enjoyed hot or cold!

Of course, sometimes you

just

want to keep things simple- and that's where the

Best Blueberry Bread

comes in

.

This is an

incredibly

easy homemade bread recipe that yields a loaf that tastes

just

like a blueberry muffin

. An extra tip: hit this stuff with a regular or lemon glaze- delish!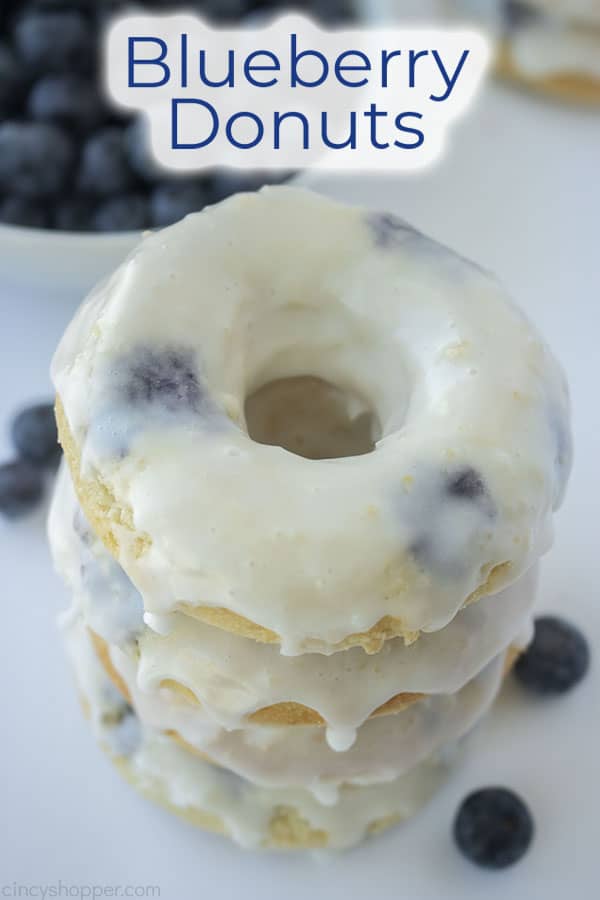 Ingredients for Blueberry Baked Donuts
Flour

Baking Powder

Salt

Milk

Sugar

Egg

Melted Butter

Vanilla Extract

Blueberries

– You can use fresh or frozen blueberries for this recipe. If using frozen, remember to defrost them before adding them!

Powdered Sugar

– We're going to make a glaze by mixing this with…

Lemon Juice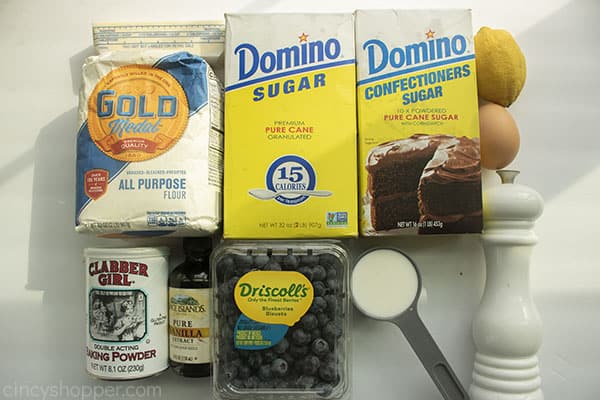 How to make Blueberry Donuts
Making baked donuts is very easy. For our Baked Blueberry Donuts, here's all you need to do:
Combine dry and wet ingredients

separately

before

mixing them into a donut batter

.

Pour batter into prepared donut pan

until molds are half-full.

Add blueberries

to each donut and

bake at 350 for about 10 minutes

.

Mix up a quick lemon glaze

and then

dip cooled donuts into the glaze

to coat.
Like many baked recipes, our donuts start with prepping our wet and dry ingredients separately. In one mixing bowl, whisk together your flour, baking powder, and salt. In another, mix the wet ingredients- the milk, sugar, egg, butter, and vanilla.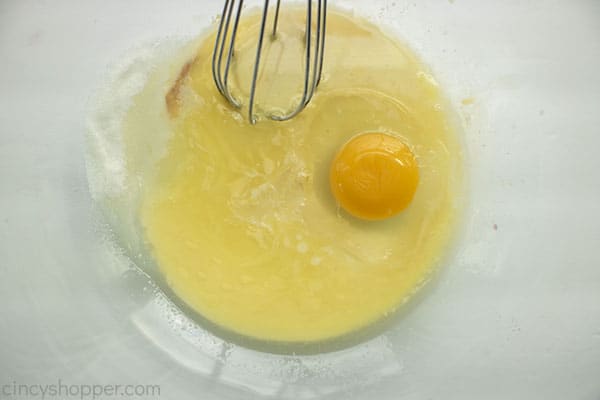 To make sure all our dry ingredients mix in with the wet, add the dry stuff in gradually- a heavy dash at a time. Keep adding and mixing until the wet and dry ingredients have just combined- don't over mix or you'll get some tough donuts!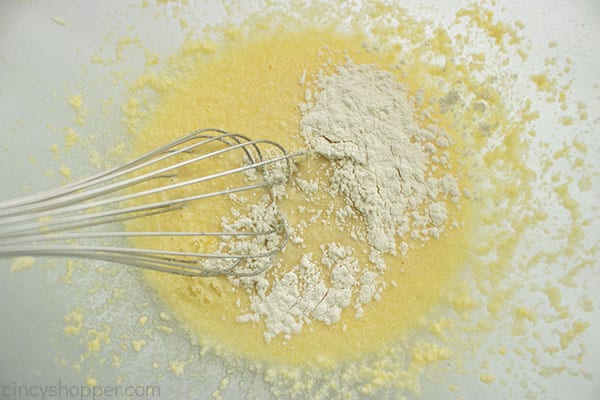 Once that batter comes together, we can add it to our donut pan. Spray your pan down with some cooking spray first then pour your batter until each donut mold is about half-way full. We want to leave some room so we can drop in about 4-5 blueberries into each mold.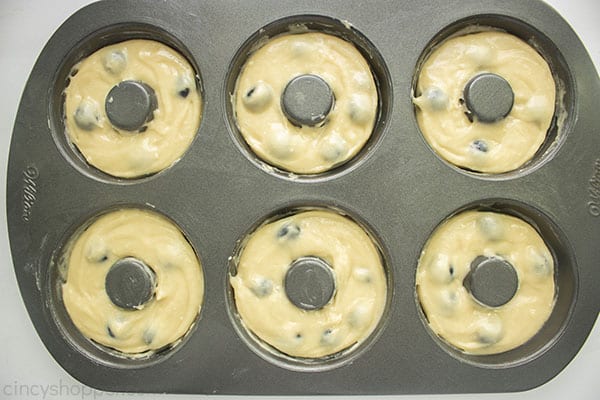 Transfer your filled donut pan to an awaiting 350 degree oven. They'll need around 9-10 minutes to bake fully. To check for doneness, poke with a toothpick: if it pulls clean, your donuts are baked! Let cool in the pan for about 10 minutes before moving to a wire rack to finish cooling completely.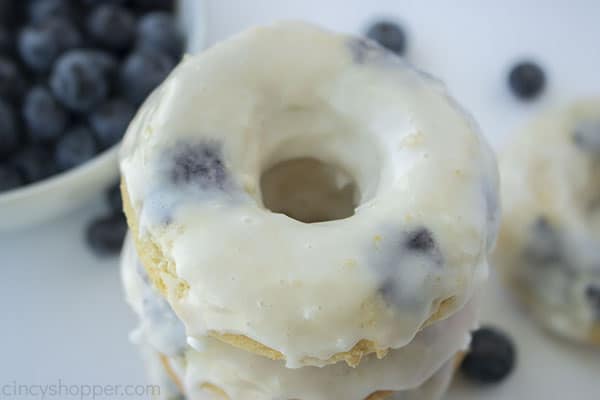 How to make lemon glaze
Your Blueberry Donuts are ready to eat once they've cooled but they'll taste amazing if you hit them with a lemon glaze. To make a lemon glaze, all you need is that powdered sugar, and some lemon juice- freshly squeezed or bottled is fine. Start off by just adding 2 tbsp of the juice to the sugar- this will give you a thick glaze. If it's too thick for you, just add more lemon juice- little by little- until you reach your desired consistency. Once you've got a glaze that you like, dip one side of the donuts into it then transfer them to a wire rack over some paper towels. After the glaze sets, enjoy your donuts!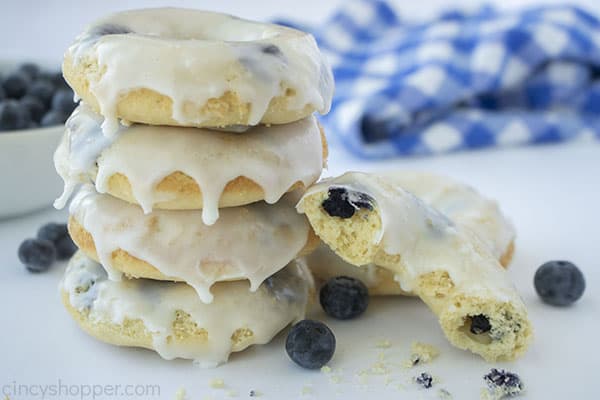 Baked Blueberry Donuts
Baked Blueberry Donuts taste great with a sweet lemon glaze! This recipe is perfect for breakfast, dessert, or just for snacking on.
Ingredients
1

cup

Flour

1

tsp

Baking Powder

1/4

tsp

Salt

1/3

cup

Milk

1/3

cup

Sugar

1

Egg

2

tbsp

Butter

melted

1

tsp

Vanilla

1/2

cup

Blueberries

1

cup

Powdered Sugar

2-3

tbsp

Lemon Juice
Instructions
Spray the donut pan with cooking spray. Set aside.

In a large bowl, whisk together flour, baking powder, and salt. Set aside.

In another bowl, whisk together milk, sugar, egg, melted butter, and vanilla until blended.

Add the dry ingredients to the wet and mix until just combined.

Fill donut pan holes about half full.

Place about 4-5 blueberries into the batter in each hole

Bake for 9-10 minutes, until a toothpick inserted into the donut, comes out clean.

Allow to cool in the pan for 10 minutes.

Transfer to a wire rack to finish cooling.

In a medium bowl, whisk together the powdered sugar and lemon juice until blended.

If the glaze is too thick, gradually add a little more lemon juice.

Dip donuts, one at a time, into the glaze and place on the wire rack.
Notes
If you are not a fan of lemon in the glaze, replace lemon juice with milk.
Nutrition
Calories:
194
kcal
|
Carbohydrates:
38
g
|
Protein:
3
g
|
Fat:
4
g
|
Saturated Fat:
2
g
|
Trans Fat:
1
g
|
Cholesterol:
29
mg
|
Sodium:
164
mg
|
Potassium:
51
mg
|
Fiber:
1
g
|
Sugar:
25
g
|
Vitamin A:
139
IU
|
Vitamin C:
2
mg
|
Calcium:
48
mg
|
Iron:
1
mg