Blueberry Bread is a delicious, sweet loaf that tastes just like blueberry muffins. You'll love this quick bread that's easy to make!
This tasty, sweet bread recipe is easy to put together and bakes up beautifully! For another quick, sweet bread recipe try our Peanut Butter Bread– for something a bit more savory, go with Easy Cheese Bread.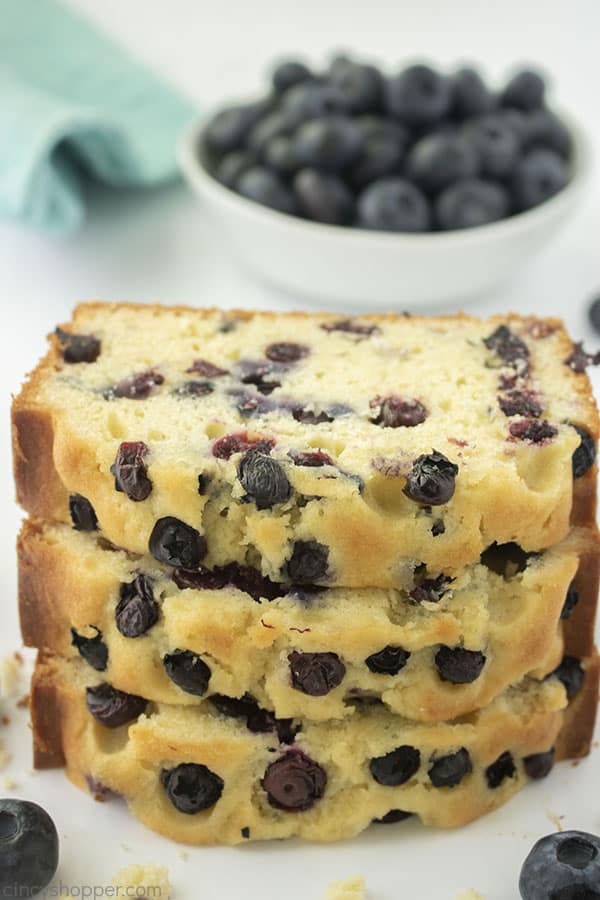 Blueberry Bread
I love a good, homemade loaf of bread. When you eat the store-bought, enriched white bread enough, you definitely start to crave variety. Making bread at home can help mix things up- especially when you start branching out into all sorts of fun "filled bread" recipes. Recently, we made up some of this Blueberry Bread that we're eager to share with all of you!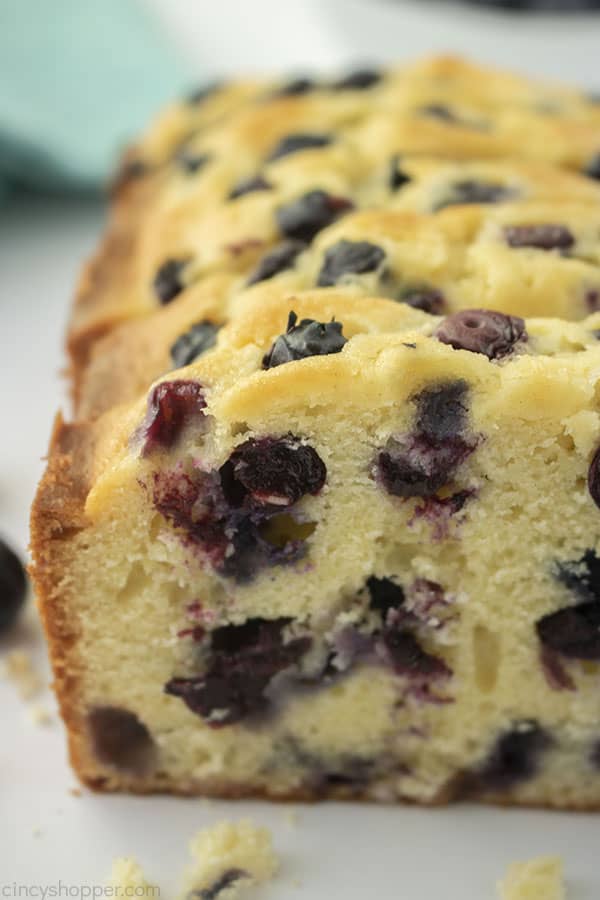 This Blueberry Loaf is almost too delicious. The bread itself is quite sweet but it's those blueberries that are mixed in that make it perfect. You take a bite and get those little bursts of fruity flavor- it's just lovely!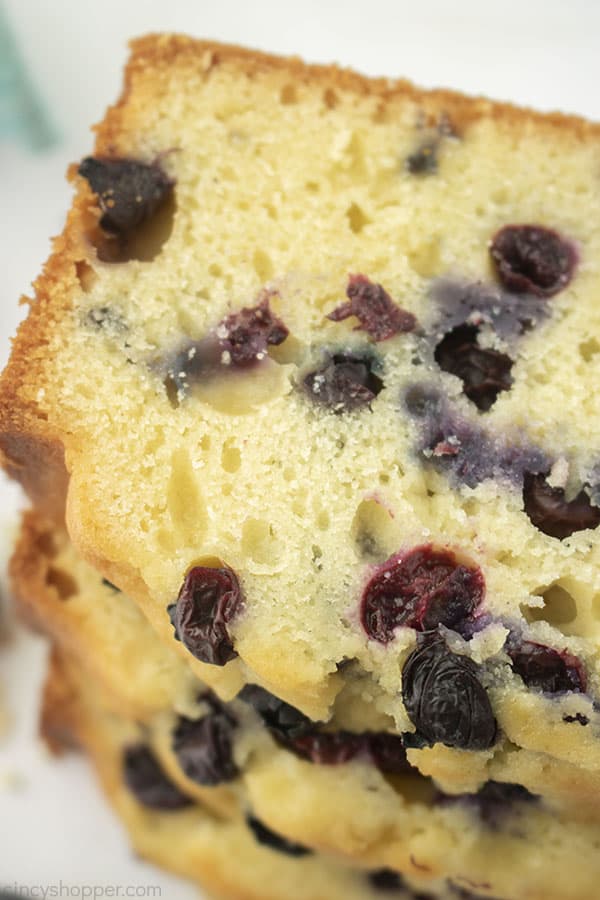 The best part about all of this is that it's super easy to make up a loaf of this Blueberry Bread. The prep is very simple and this stuff bakes up beautifully in about an hour. So easy to make, you'll want to make it time and time again!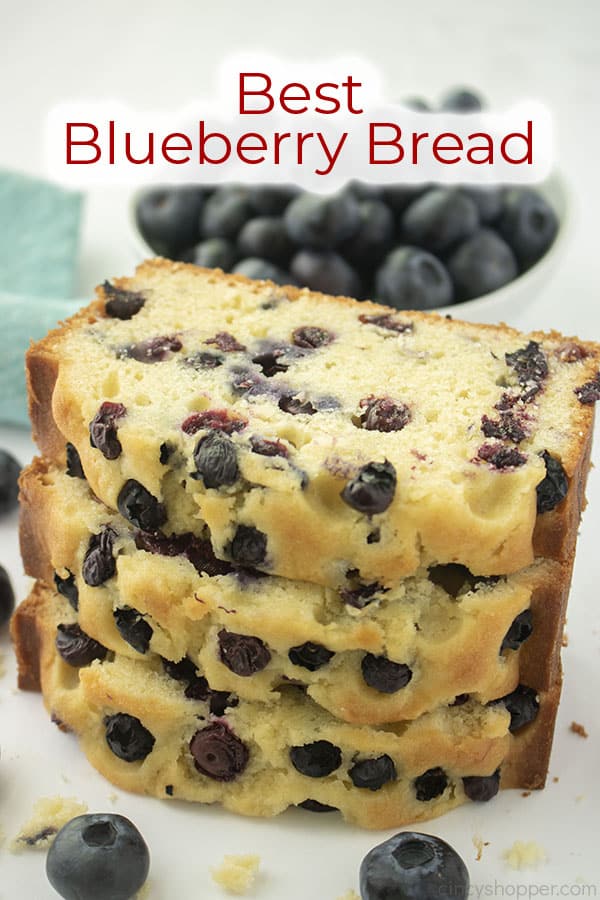 We really enjoyed this recipe: with all these flavors at work, it's almost a sort of Blueberry Muffin Bread! If that doesn't get you eager to make up a loaf of this stuff, we're not sure what will. For those of you that are on board, follow along with our recipe below- we know you're going to love this one!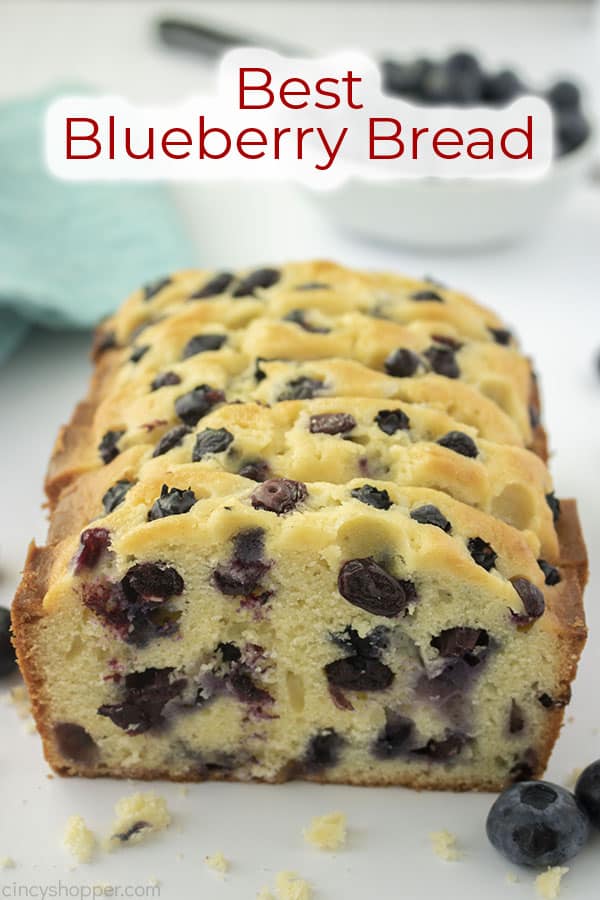 Enjoyed this recipe? Try these blueberry recipes next!
For another delicious baked good, try our

Blueberry Buckle

.

Great for breakfast, dessert, or

just

snacking on, this recipe sees plump blueberries added into a coffee-type cake

.

That'd be delicious enough on its own but we topped this delicious treat off with a crispy, crumbly streusel topping

!

On the colder side of things, you could also whip up some

No Churn Easy Blueberry Cheesecake Ice Cream

!

No ice cream machine needed for this easy frozen dessert-

just

cook up a quick and easy blueberry syrup and mix it in with our cream mixture

. A few hours later: delicious, easy-to-make ice cream!

If you want a topping that you can add to

all of

your favorite cakes, waffles, and desserts, go with our

Easy Blueberry Sauce

. This stuff is so simple to mix up- it only needs 5 ingredients that you

probably

have most of already. Perfect for using up leftover fresh or frozen blueberries!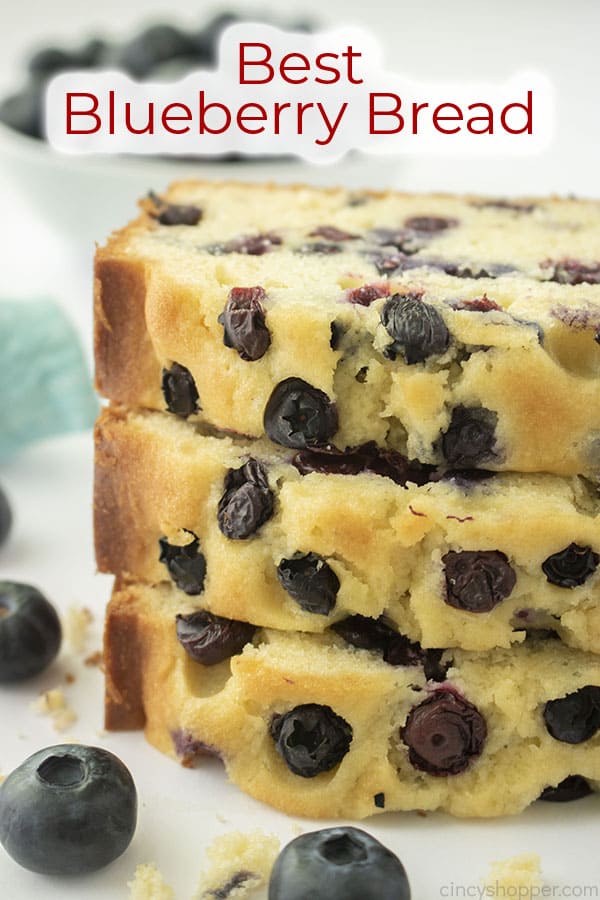 Ingredients for Blueberry Muffin Bread
Granulated Sugar

Butter

Vanilla Extract

Eggs

Milk

– You can,

optionally

, use something like half & half here if you wanted!

Flour

Baking Powder

Salt

Blueberries

– Fresh preferred.

Confectioner's Sugar – This is optional if you'd like to make a glaze once your loaf is cooked. Just mix up with some milk and a few drops of your vanilla extract.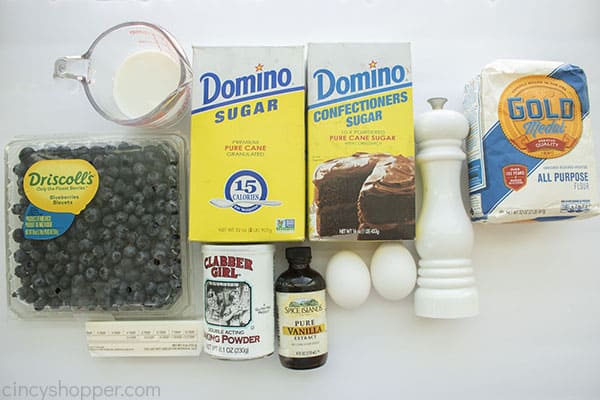 How to make our Blueberry Loaf
We're going to try to keep prep very simple. Here's what you need to do:
Seperately

mix the wet and dry ingredients

before

combining into a bread "batter."

Toss your blueberries in flour before adding them to the "batter."

Bake your loaf for about an hour

before serving and enjoying

.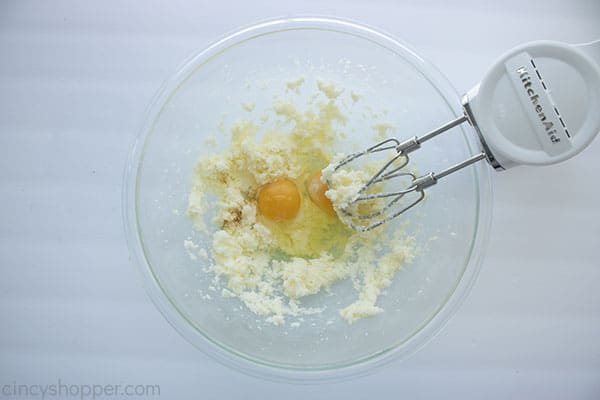 We're going to mix our dry and wet ingredients separately before mixing them together. First, the wet stuff: using a hand/stand mixer, cream together your butter, sugar, and some vanilla extract. Once those are creamed together, add in your eggs, beat to combine then add in your milk, and do the same.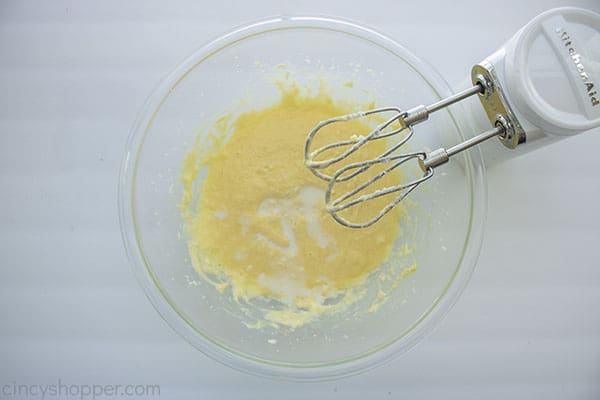 In a separate bowl, sift together your dry ingredients: the flour, baking powder, and salt. If you'd like, sift your dry ingredients 2-3 times to introduce plenty of air into your dough. Now add the wet ingredients and gently stir everything together, trying to not overmix.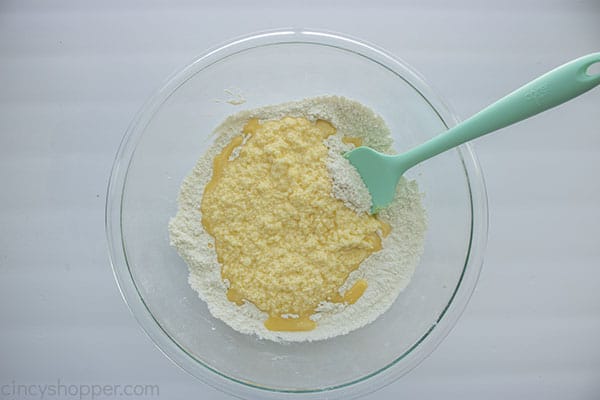 Once that batter comes together, we can focus on the blueberries. Place in a mixing bowl.
Cover your berries with some flour and toss them to coat. Once they've got a decent coating of flour on them, you can move to the next step.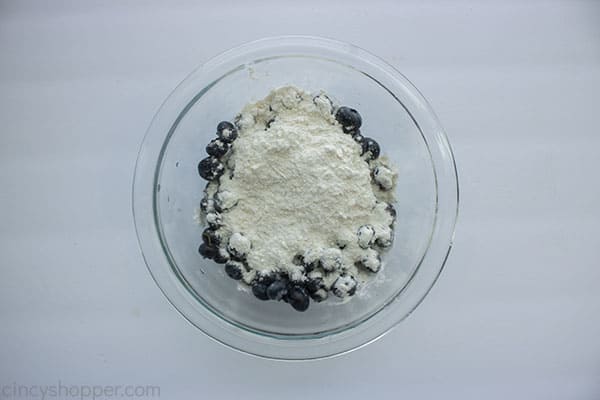 Discard any excess flour and then add most of your blueberries to the bread "batter." Gently fold in, again avoiding overmixing.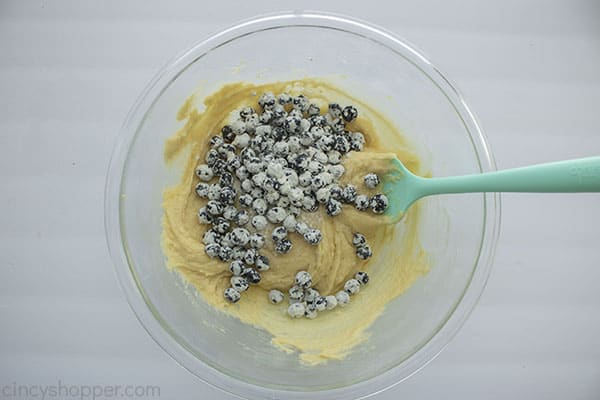 Transfer your berry-filled batter to a prepped loafpan- greased and optionally floured.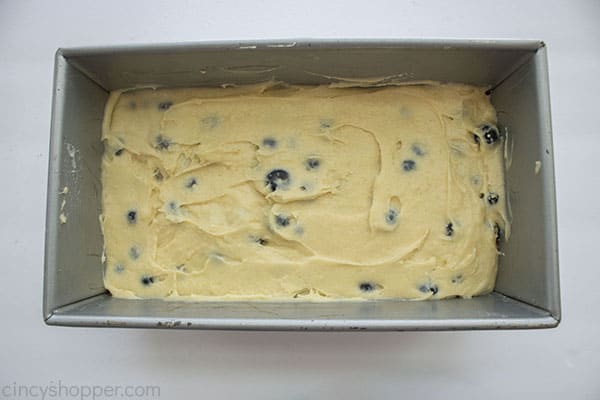 Here, we can add our remaining blueberries. Top the batter with your leftover blueberries before transferring the pan to an awaiting 350 degree oven.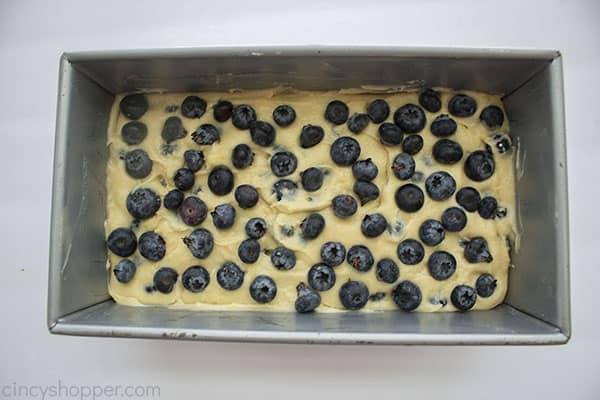 In about an hour, your blueberry loaf should be baked. You'll know it's done when a toothpick, poked into the bread, pulls out clean. Once baked, pull from the oven and let the loaf cool. Once the bread cools, serve and enjoy!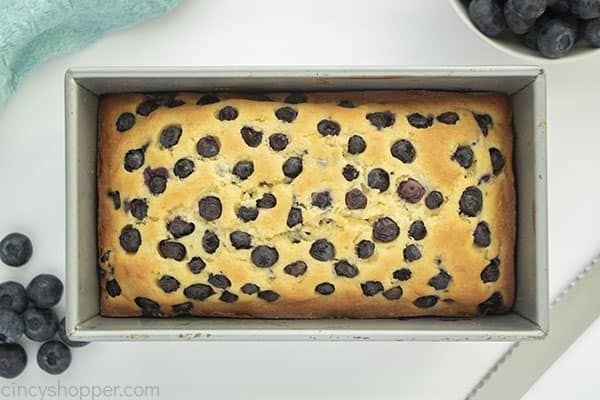 Can you freeze Blueberry Bread?
This bread should freeze very well! We'd recommend letting it cool completely before slicing and letting the slices freeze seperately. You can do this by either laying them out on a baking sheet in a single layer or seperating the slices with pieces of parchment paper. Once frozen, this bread will taste best if enjoyed within 3-6 months. To reheat, just warm back up in an oven until heated through.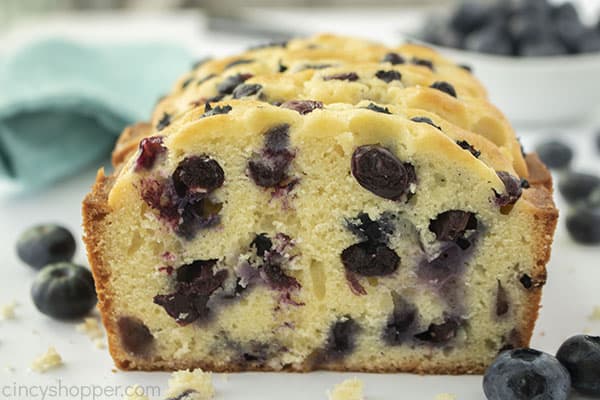 Blueberry Bread
Blueberry Bread is a delicious, sweet loaf that tastes just like blueberry muffins. You'll love this quick bread that's easy to make!
Ingredients
1/2

cup

Butter

1/4

cup

Sugar

1/4

tsp

Vanilla

2

Eggs

1/2

cup

Milk

1 3/4

cup

Flour

divided

1

tsp

Baking Powder

1/2

tsp

Salt

1 1/4

cup

Blueberries

divided
Instructions
Preheat oven to 350.

Grease a 9x5" loaf pan. Set aside.

In a large bowl, cream together the butter and sugar.

Add in vanilla, eggs, and milk.

In another bowl, combine 1 1/2 cups of flour, baking powder, and salt. Sift to combine.

Add dry mixture to the wet and stir until just combined.

In another bowl, toss 1 cup of dampened blueberries with the remaining 1/4 cup of flour and toss to coat.

Remove excess flour and fold coated blueberries into the batter.

Pour mixture into prepared pan.

Spread remaining uncoated blueberries on top of the batter.

Bake 55 minutes or until a toothpick inserted in the center of the loaf comes out clean.

Remove from pan and place on a cooling rack.
Notes
Optional: add a simple confectioner's sugar and milk glaze to make this quick bread even sweeter.
Nutrition
Calories:
264
kcal
|
Carbohydrates:
31
g
|
Protein:
5
g
|
Fat:
13
g
|
Saturated Fat:
8
g
|
Trans Fat:
1
g
|
Cholesterol:
73
mg
|
Sodium:
323
mg
|
Potassium:
86
mg
|
Fiber:
1
g
|
Sugar:
9
g
|
Vitamin A:
451
IU
|
Vitamin C:
2
mg
|
Calcium:
62
mg
|
Iron:
2
mg