Creamy Blueberry Pie is an amazing dessert that perfectly sweetened. Made with a rich, custard filling and topped with delicious crumble!
Great served up hot or cold, this Blueberry Custard Pie is certain to be a big hit this summer! For more summer pie recipes, try our Easy Strawberry Pie or our Custard Peach Pie.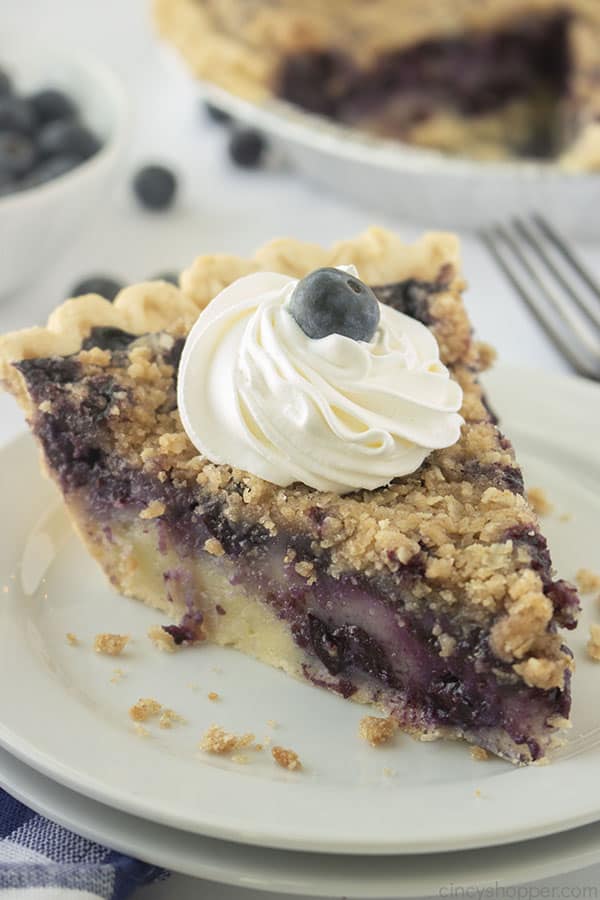 Creamy Blueberry Pie
Blueberries are definitely one of the summer's most popular fruit. It's easy to see why too: these plump little things pack tons of delicious fruity flavor into each berry! Great for reducing down into a syrup or for lacing cakes with little flavor bombs- I've always been a big fan of them. Blueberry Pie is one of the best ways to enjoy blueberries and this Creamy Blueberry Pie recipe is a way to keep things interesting!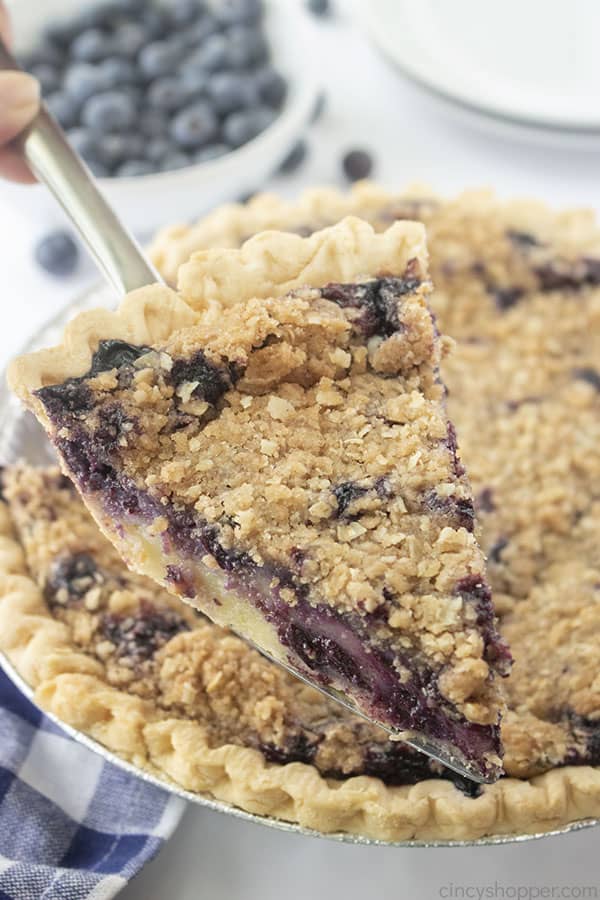 This recipe keeps all the things that make Traditional Blueberry Pie delicious but adds in a rich, custard filling. You could just as easily call this Blueberry Custard Pie if you wanted! Whatever you want to call it, just know that it's delicious: the filling has this perfect balance of sweetness offset by a touch of sour cream. Not only does the sour cream help keep this pie extra creamy and rich but it also keeps the whole thing from becoming cloyingly sweet.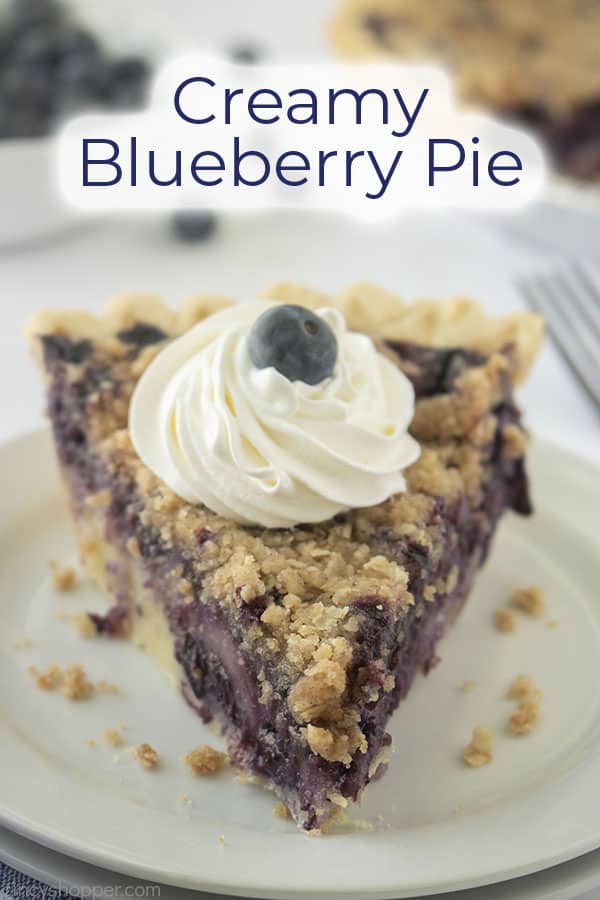 This pie would've been delicious enough with just the custard and the blueberries. We didn't want to stop there, so we hit ours with a little streusel-style crumble topping! This adds a nice buttery, crisp top to the pie- not to mention a little hit of cinnamon and nutmeg. You could easily omit it, but we feel it really pulls the whole pie together.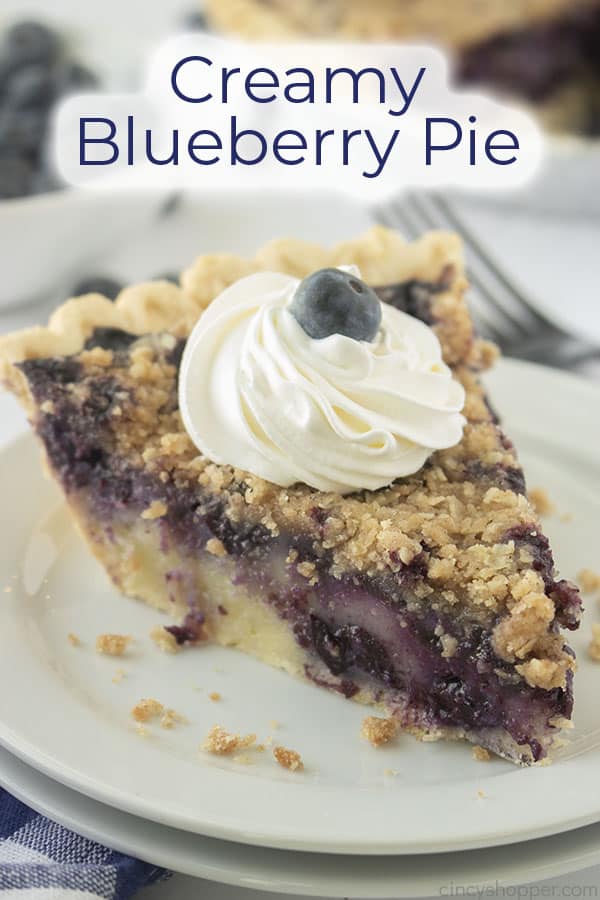 Enjoyed hot or cold, this pie is certain to be a summertime favorite this year! It might look hard to make, but trust us, this is an easy pie recipe. Just follow along with us- we know you'll love it!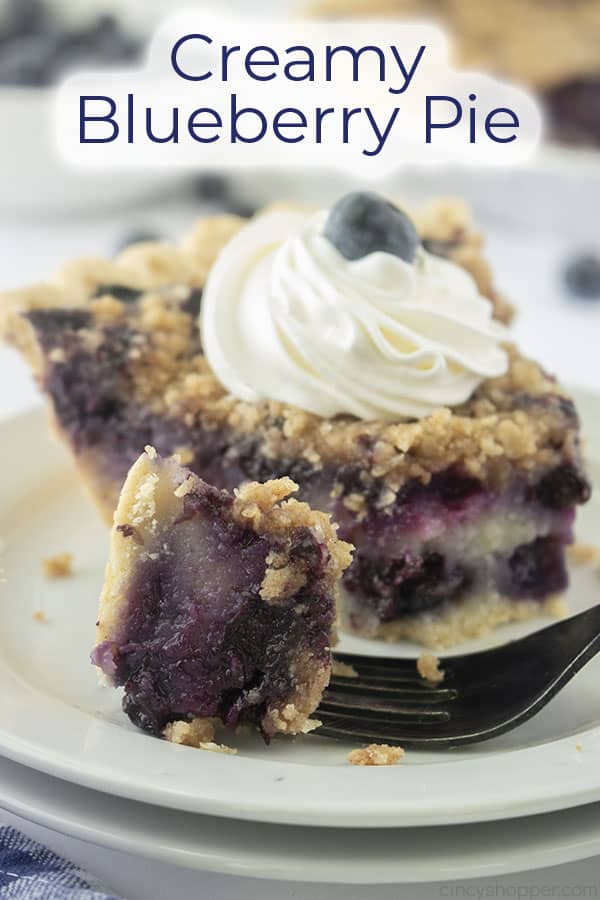 Liked this recipe? Try some of our other blueberry recipes next!
For a nice, cool treat perfect for the summer, try our

No Churn Easy Blueberry Cheesecake Ice Cream

. No ice cream machine needed for this simple but delicious dessert! A rich, fruity, and oh-so-creamy treat you

just

have to try for yourself.

Our

Blueberry Buckle

is perfect as a breakfast, dessert, or

just

as a snack. Plump, fresh blueberries

are mixed

into a delicious coffee muffin-type cake. To tie it all together, we topped it off with a sweet, crumbly cinnamon and butter streusel topping!

If you love blueberry muffins, then you'll love the

Best Blueberry Bread

! This delicious, sweet loaf of bread is so easy to make and bakes in about an hour.

Tastes

just

like everyone's favorite muffin- you'll love those tasty bursts of fruity flavor from the blueberries folded in

!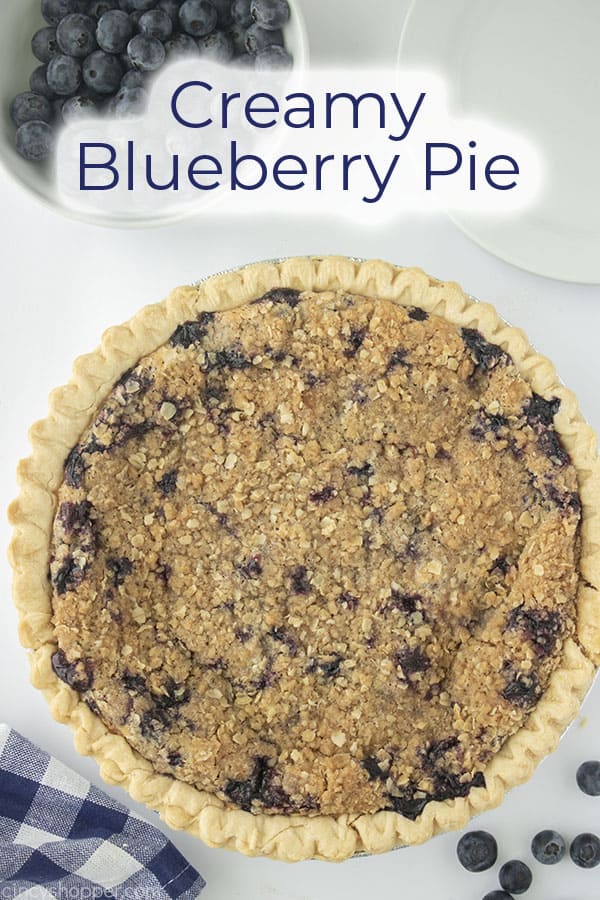 Ingredients for Creamy Blueberry Custard Pie
For the pie and its filling, you'll need the following…
Pie Crust

– We'll be using a deep dish pie crust for this recipe- about a 9-inch. You can either go store-bought or use our homemade

Easy Pie Crust

recipe!

Blueberries

– Use fresh here,

ideally

. You could use thawed frozen ones as well but the texture might be affected…

Sugar

Flour

Salt

Eggs

Sour Cream

– This helps keep the filling from getting too sweet but also helps ramp up the creaminess of the custard filling

!
For the streusel crumble topping, you're going to need…
Oats

– Quick oats usually work out best here.

Flour

Sugar

Brown Sugar

Cinnamon

Nutmeg

Butter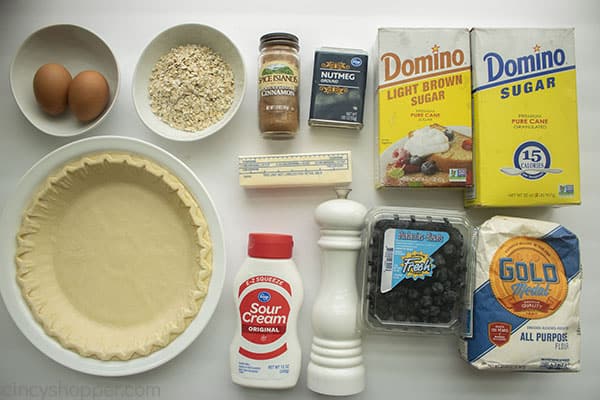 How to make Blueberry Pie with Sour Cream
This custard pie might seem intimidating but- trust us- it's much simpler than it looks. Here's what you need to do:
Mix up the custard filling

before

adding to a pre-baked pie crust with blueberries

.

Make some streusel crumble topping

before

sprinkling over the top of your custard pie

.

Bake at 350 degrees until golden brown

then

let cool before serving

.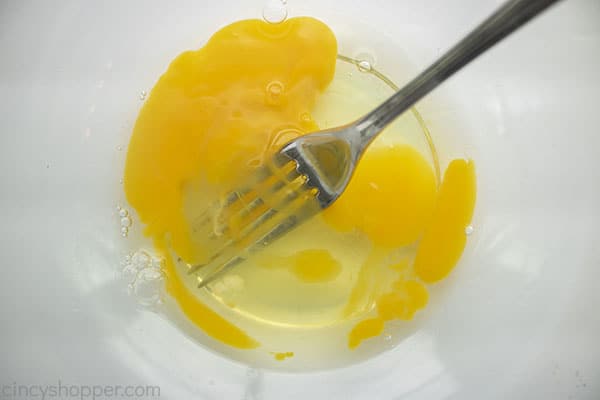 Before starting on the pie, we need to pre-bake our crust. This is as easy as docking the pie crust, filling with pie weights, and baking for 10 minutes at 350 degrees. While that cools, you'll have some time to prep your custard. For that, beat your eggs and set them aside. In a seperate bowl, whisk together the dry custard ingredients- the sugar, flour, and salt.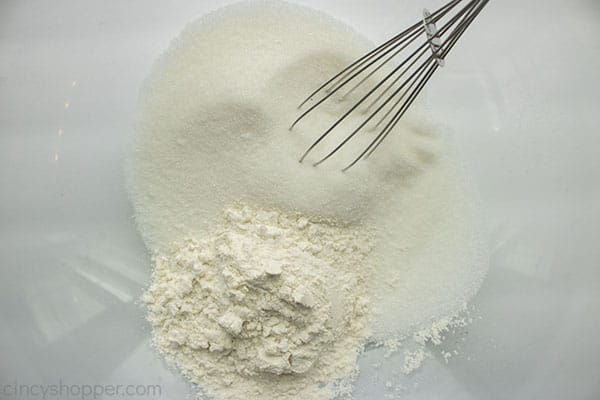 Once that's all whisked up, add in the beaten egg and the sour cream.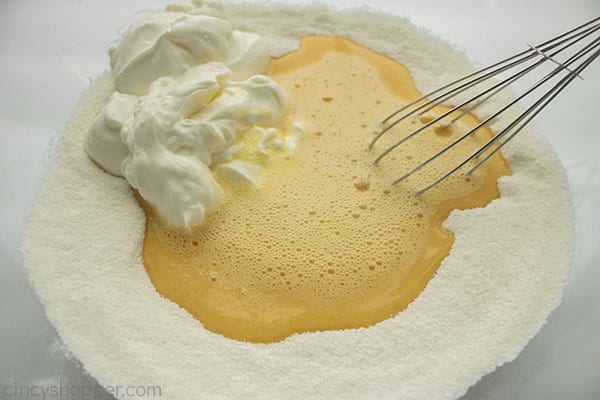 With enough whisking, those should all come together into a consistent custard filling for our pie.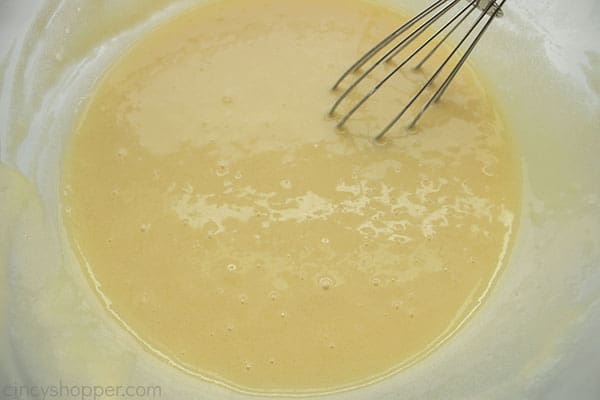 Now we can start assembling the pie! First, add your blueberries to your cooled pie crust.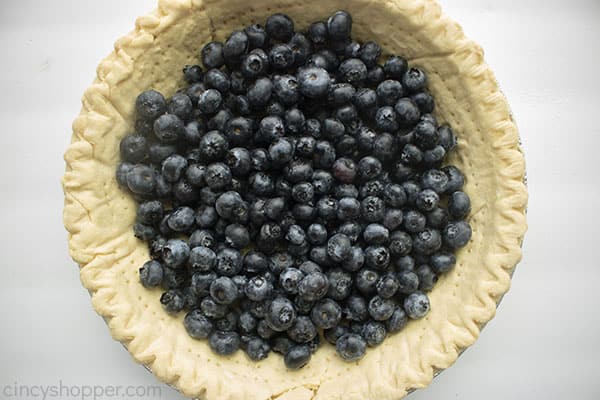 Pour your custard filling over the blueberries and fill up the pie crust.
Give those ingredients a light mix just to even things out. With the filling all sorted out, it's time to move on to the crumble topping.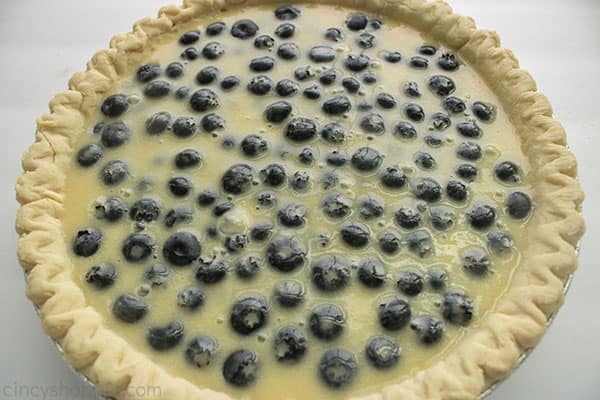 How to make crumble topping
This Creamy Blueberry Pie is going to taste great with some of this streusel crumble topping! To make it, first, whisk together all the topping ingredients- minus the butter for right now.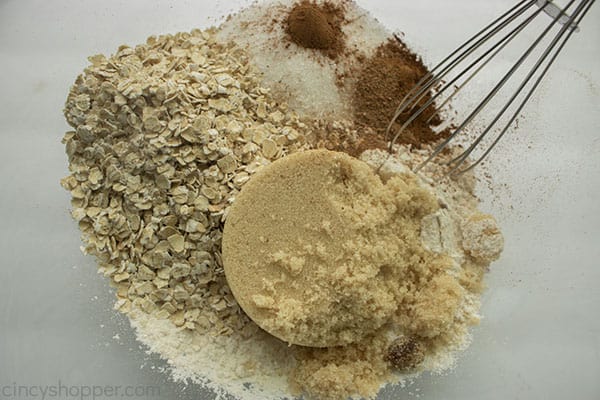 Once those are all mixed up, drop in your butter- cut into small pats. Using something like a pastry cutter or dough blender, start working that butter into the dry streusel ingredients.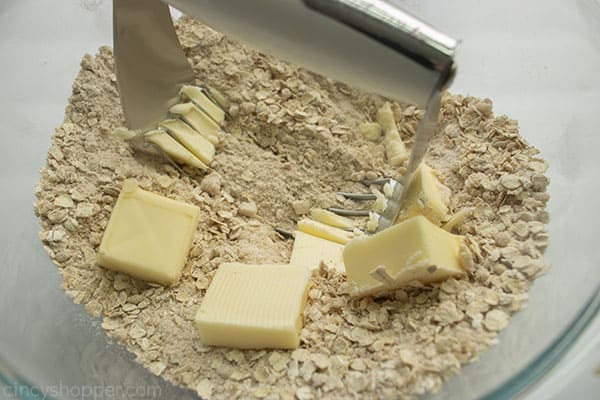 With enough work, that should all come together into that crumbly topping that we're going for. Once you have a workable crumble topping, start sprinkling it over the top of your Blueberry Pie.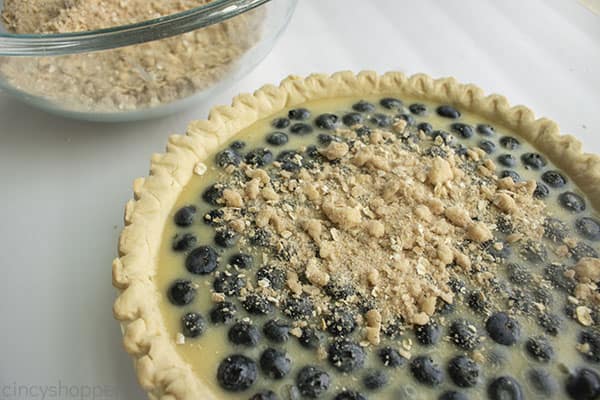 How long to bake blueberry pie?
Now that our pie's all topped off, we can finally transfer it to an awaiting 350 degree oven. At 350 degrees, it should take about 50-55 minutes for our pie to pick up a lovely golden-brown color.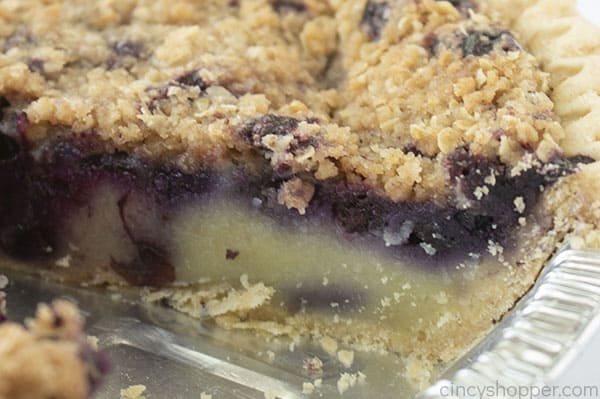 When it's finished baking, pull it from the oven and allow to cool a bit before serving. This pie can be enjoyed warm or cold, with a whipped cream topping, or with a big scoop of ice cream. However you serve our Creamy Blueberry Pie up, we hope you enjoy it!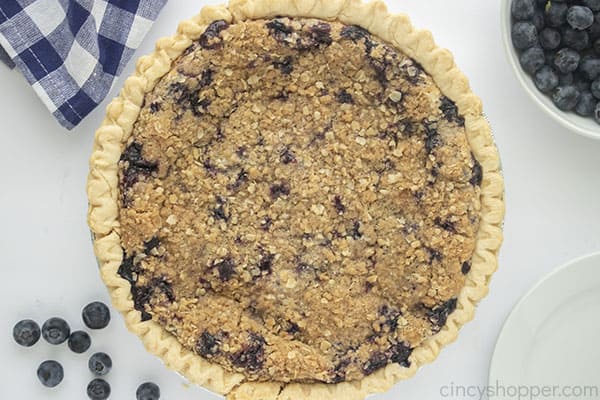 How long is custard pie good for?
This Blueberry Custard Pie should
be stored
in the fridge if you have any leftovers. Keep it in a large ziploc bag or an airtight container. Kept this way, we expect it'll last about 3-4 days in the fridge. For best taste and texture, enjoy within 1-2 days.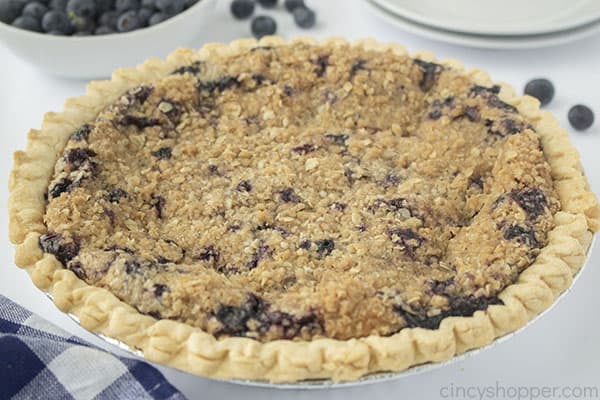 Make-ahead and freezing
Generally, custard-based pies do not freeze well- often becoming extra watery when thawed and baked

. With that in mind, we wouldn't recommend freezing this pie.

We do,

however

, think you could

easily

prep the custard filling in advance!

Simply

mix up the custard filling and keep it in the fridge for 2-3 days before making this Creamy Blueberry Pie with it

.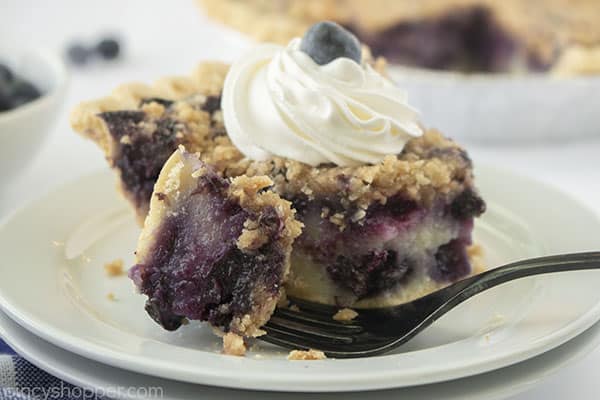 Creamy Blueberry Pie
Creamy Blueberry Pie is an amazing dessert that perfectly sweetened. Made with a rich, custard filling and topped with delicious crumble!
Ingredients
1

9" Deep Dish Pie Crust

3

cup

Blueberries
Custard:
1

cup

Sugar

1/3

cup

Flour

1/4

tsp

Salt

2

Eggs

beaten

3/4

cup

Sour Cream
Streusel:
1/4

cup

Flour

1/4

cup

Sugar

1/4

cup

Brown Sugar

1/4

cup

Quick Oats

1/2

tsp

Cinnamon

1/8

tsp

Nutmeg

3

tbsp

cold Butter

cut into small pieces
Instructions
Preheat oven to 350.

Use a fork to dock the bottom of the pie crust.

Place pie weights in the crust and bake for 10 minutes.

Allow to cool and remove weights. Set aside.

In a medium bowl whisk together 1 cup of sugar, 1/3 cup of flour, and 1/4 teaspoon of salt.

Add beaten eggs and sour cream.

Place the blueberries in the crust.

Pour custard mixture over blueberries. Set aside

In a large bowl, add 1/4 cup flour, 1/4 cup sugar, 1/4 cup brown sugar, Quick Oats, 1/2 teaspoon cinnamon, and 1/8 teaspoon nutmeg. Whisk together.

Add cold butter and work with a pastry cutter until fully incorporated.

Crumble so pieces are no larger than pea-sized.

Sprinkle the topping over the pie.

Bake for 50 to 55 minutes until golden brown.
Notes
The pie is finished baking when the center is set and just slightly jiggly. Serve warm or cold. Store in refrigerator for 3-4 days.
Nutrition
Calories:
449
kcal
|
Carbohydrates:
69
g
|
Protein:
5
g
|
Fat:
18
g
|
Saturated Fat:
8
g
|
Trans Fat:
1
g
|
Cholesterol:
63
mg
|
Sodium:
246
mg
|
Potassium:
144
mg
|
Fiber:
2
g
|
Sugar:
44
g
|
Vitamin A:
355
IU
|
Vitamin C:
6
mg
|
Calcium:
50
mg
|
Iron:
2
mg