Since the kiddos were home on a snow day yesterday, I decided to make them these Valentine Blondie Bars with M&M's as a special treat. Maybe this recipe was really whipped up for momma, ha ha! I love blondie bars. Since making my Cranberry & White Chocolate blondie Bars over the holidays I have become slightly addicted. I may have consumed a quarter of the tray I made already. Are they a cookie? A brownie? All I know is that they are filled with brown sugar yumminess. Since I had quite a few Valentine M & M's on hand I figured it was only right to be festive. I probably should have made them with some weird colors so the kids would keep their hands off, lol. I was craving yet another bar this morning as the kids decided they HAD to have a Valentine's M&M's Blondie Bar in their lunch. I know I really do not need chocolate this early in the morning but wow they are yelling at me from the cookie jar, ha ha. I know they would taste great with my morning coffee.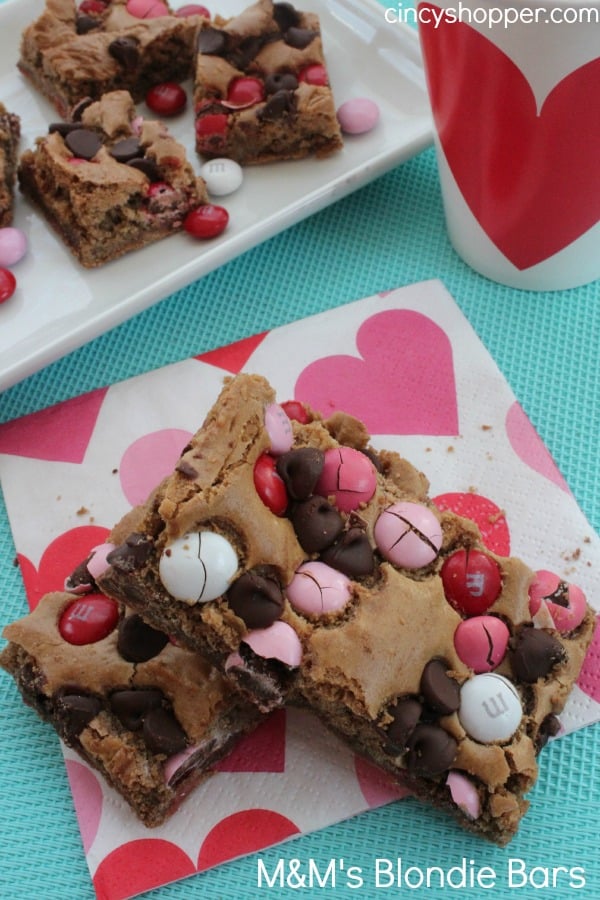 Valentine Blondie Bars with M&M's
I will admit that these Valentine Blondie Bars with M&M's are so simple to make. I need to remember how easy the next time Kroger tries to pull me into the bakery with their delicious smelling baked goods. It's so much more affordable to just bake myself a tray of treats. Maybe the taste so much better just because I know I baked the "love" into them ha ha! I really do not think that is it though. These Blondie Bars with M&M's are so tasty and easy.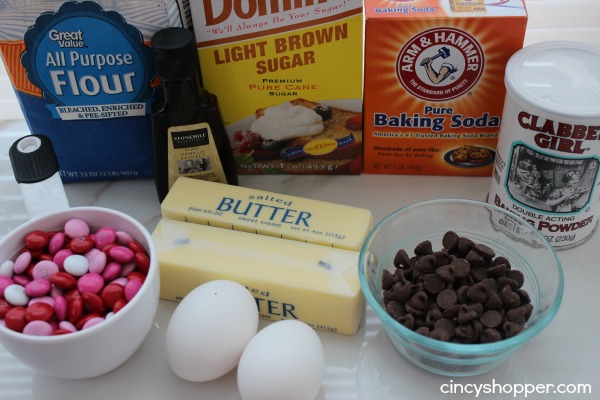 INGREDIENTS
2/3 cup Butter
2 cup Brown Sugar
2 Egg
1 tsp Vanilla
1 tsp Baking Powder
1/4 tsp Baking Soda
2 cup Flour
1/4 tsp Salt
1/2 cup Chocolate Chips
1 cup Valentine M&M's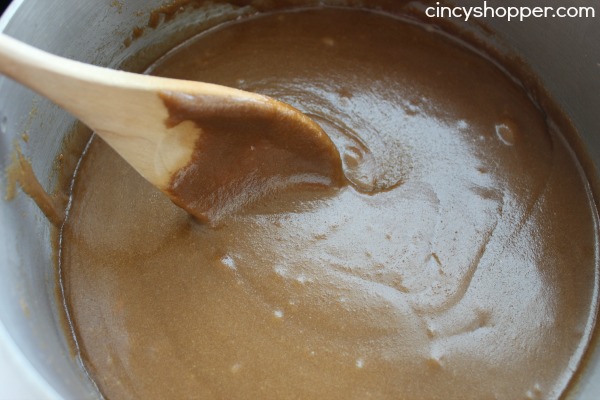 DIRECTIONS
Preheat oven to 350.
Line a 9×13 Pan with parchment paper or spray with cooking spray.
Place butter and brown sugar in a medium sized saucepan and heat.
Stir constantly until smooth.
Cool for 5 minutes.
Add Eggs one at a time. Stir until incorporated.
Add Vanilla.
Add Flour, Salt, Baking Soda and Baking powder until combined.
Add half Chocolate Chips.
Add half M&M's and stir.
Transfer mixture to prepared pan.
Add remaining M&M's and remaining chocolate chips.
Bake for 25-30 minutes.
Allow to cool until slightly warm.
Remove from pan and cut into bars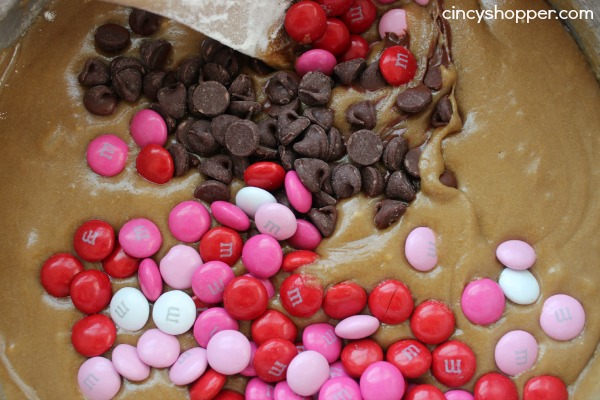 I thinking I am addicted to all the brown sugar (always one of my favorite flavors). I will say it was quite difficult keeping from licking the spoon. All the flavors mixed with chocolate makes these perfect.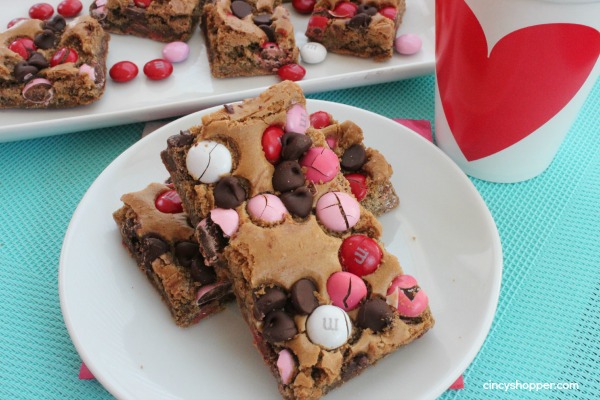 If you are looking for a tasty treat for Valentine's Day or ANY day consider making these yummy and easy Valentine's Day Blondie Bars with M&M's. They are tasty and are always a hit with the kiddos or adults. Looking for toher Valentine's Day Treats? If so check out the Valentine Heart Brownies, Hidden Hearts Pound Cake,  Cupid's Float, 2 Ingredient Strawberry Valentine Fudge, Strawberry and White Chocolate Chip Cookies, Valentine Pretzel Treats and also the Strawberry and White Chocolate Cheesecake Bars that I have shared with all of you.