Homemade Apple Cider is a fall or winter drink you can serve warm or chilled. Make this spiced cider on the stovetop or in a slow cooker.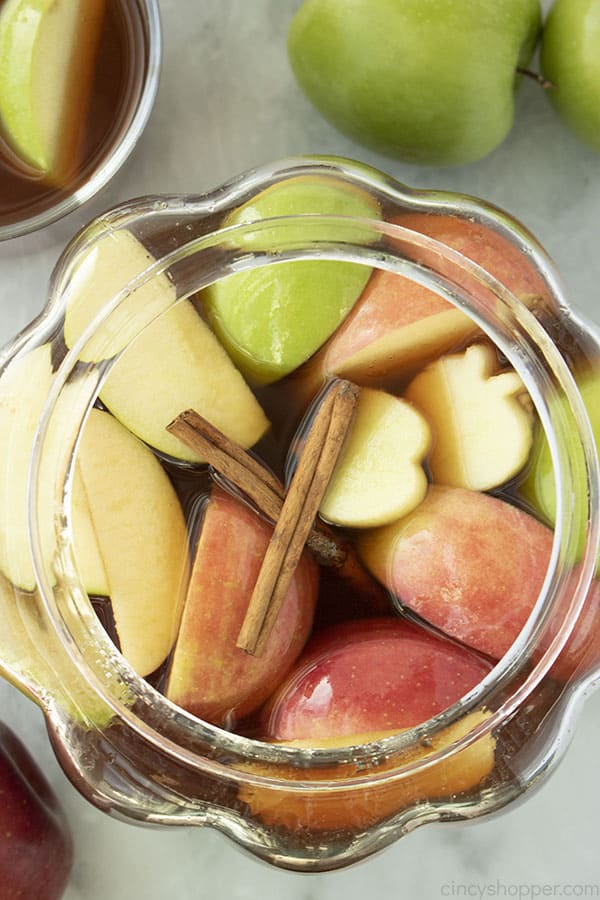 Homemade Apple Cider
One of the things I love the most about the fall season is that apple cider is properly back in season. Apple cider is great any time of the year, but it just feels right when the leaves start changing colors and the weather starts cooling down. Cider is, without a doubt, the best fall drink or beverage. Personally, there's nothing better than a glass of cider on a cool, autumn morning- maybe with a few of our Powdered Donuts off on the side…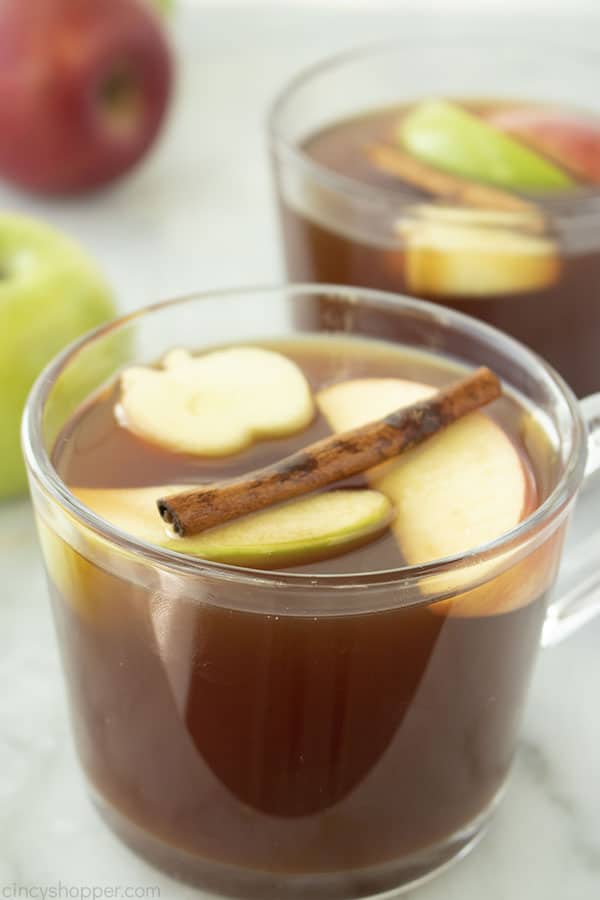 While I enjoy the jugs of cider you can get from the store, nothing really compares to a nice homemade batch of cider. That's why I'm always making Homemade Apple Cider, usually in our slow cooker nowadays. Making cider at home allows you to add the perfect amounts of spice and sugar. Our spiced cider recipe is also perfect for parties- following our specs, you'll get about 96 fl oz of cider!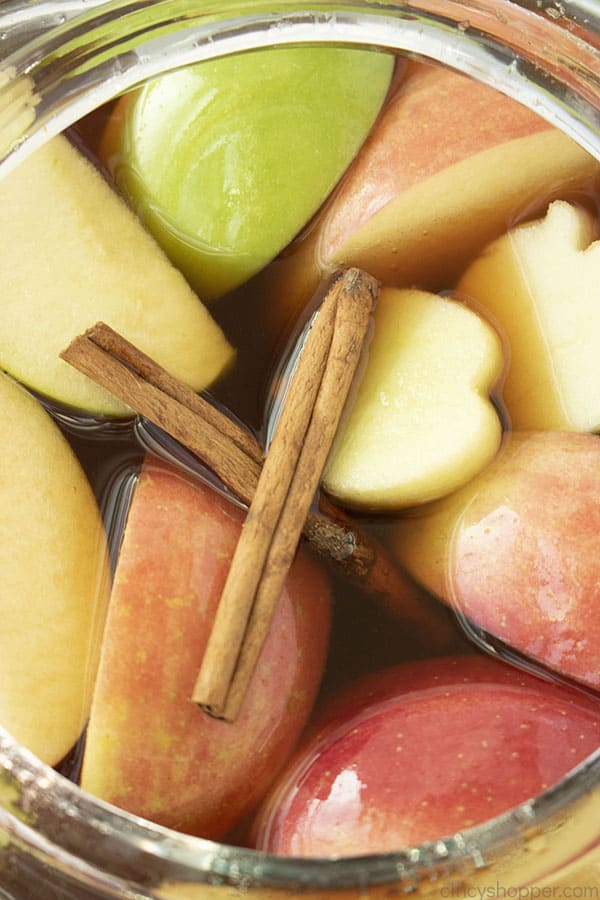 If our cider put you in the mood for more apple recipes, we've got you covered. We've got tons of traditional apple desserts we know you'll love!
Our

Traditional Apple Crisp

is the perfect, comforting dessert for the fall season- a short ingredient list also makes it easy

!

Top this warm, streusel-topped dessert with a generous scoop of ice cream and delicious caramel drizzle

.

Who doesn't love

Apple Cobbler

?

This classic apple dessert is a perennial favorite- what with that sweet, delicious, gooey apple filling

.

Just

like our crisp above, it's perfect with a scoop of ice cream on top!

Apple Dumplings

are especially easy to make thanks to the canned crescent roll dough we use. These sweet little morsels are perfect to make by the batch and serve at parties. A quick, easy, low-effort dessert for the autumn season!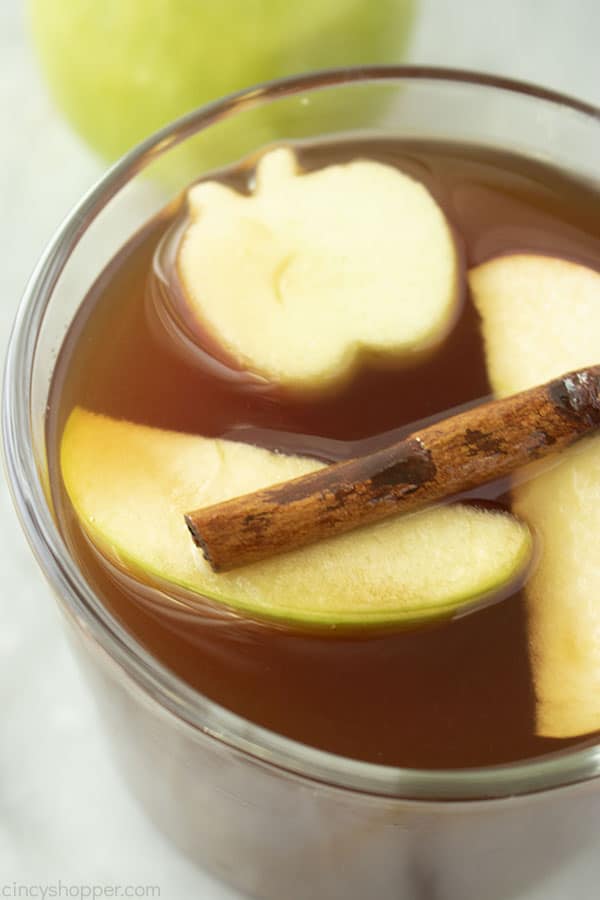 Tips for making Apple Cider
This Homemade Apple Cider stores

fairly

well in the fridge or freezer. Covered well, it'll last between 5-7 days in the fridge. If you're freezing it, it'll stay good for around 3-4 months.

Just

enough to last through the season!

If, for whatever reason, you don't have any apple juice on hand, you can use all water for this recipe. Plenty of recipes will use all water with great results. We

just

enjoy using some apple juice to "cheat" a little extra flavor into our cider.

If you don't have a slow cooker handy, you can

easily

replicate this on the stovetop.

We'll discuss in more detail down in the process part of the post, but you'll need a large stockpot for stovetop apple cider

.

In general, the only difference is holding your stockpot at a light simmer versus cooking on high in the slow cooker

.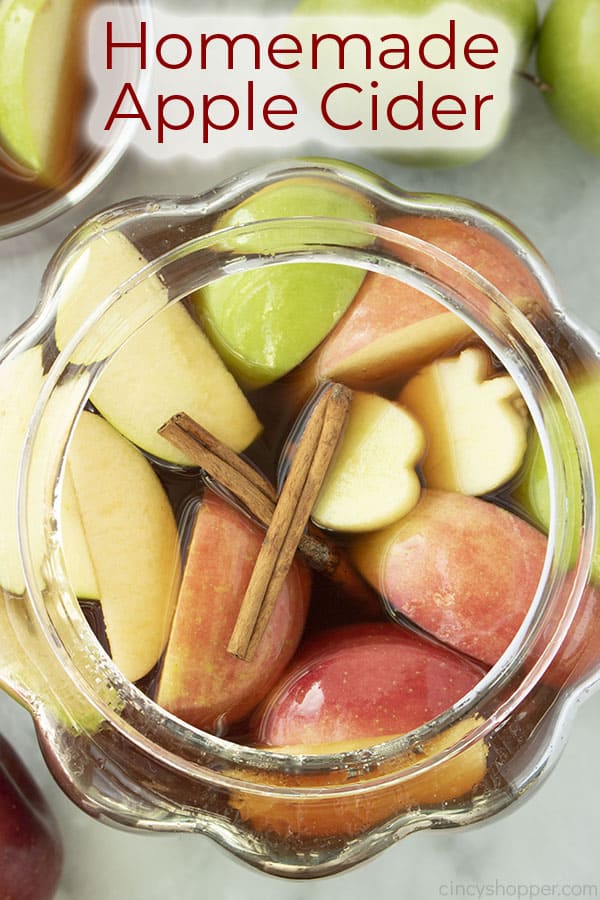 Ingredients for Cider
Apples – The general thinking on apple cider is that to make good apple cider, you need a mix of sweet and tart apples. We used a mix of Granny Smiths and Galas in ours. For sweets, consider trying Fuji, Golden, or Red Delicious varieties. For tarts, try Pink Lady or

maybe

Braeburn apples.

Nutmeg

Brown Sugar – Sweeten this cider to your preference. If you're a fan of rustic, homemade ciders, you'll want to go lighter on the sugar. Enjoy the jugs of cider at the store more? Feel free to go crazy with the sugar!
How to make Apple Cider
Thankfully, making this cider recipe is as easy as getting your ingredients pitched into your slow cooker. There's only a few things you need to properly prep first. You are going to have to core and cut your apples into wedges.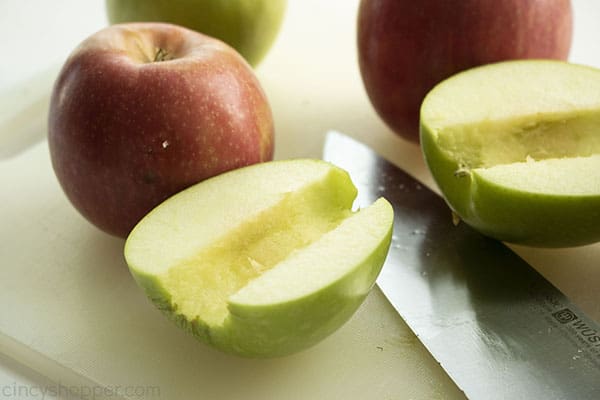 Next, to make sure our nutmeg is somewhat mixed through the cider while it cooks, we're going to briefly whisk it in with our water.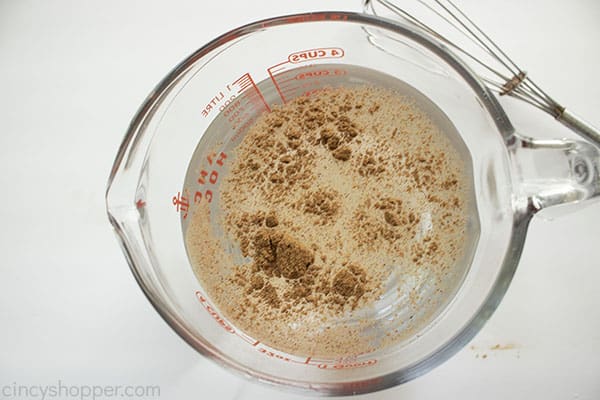 From here, you're going to add almost all of your ingredients to your slow cooker- or stock pot if you're making this on the stovetop. The only thing you'll leave out, for the time being, is the brown sugar. Add in your solid ingredients.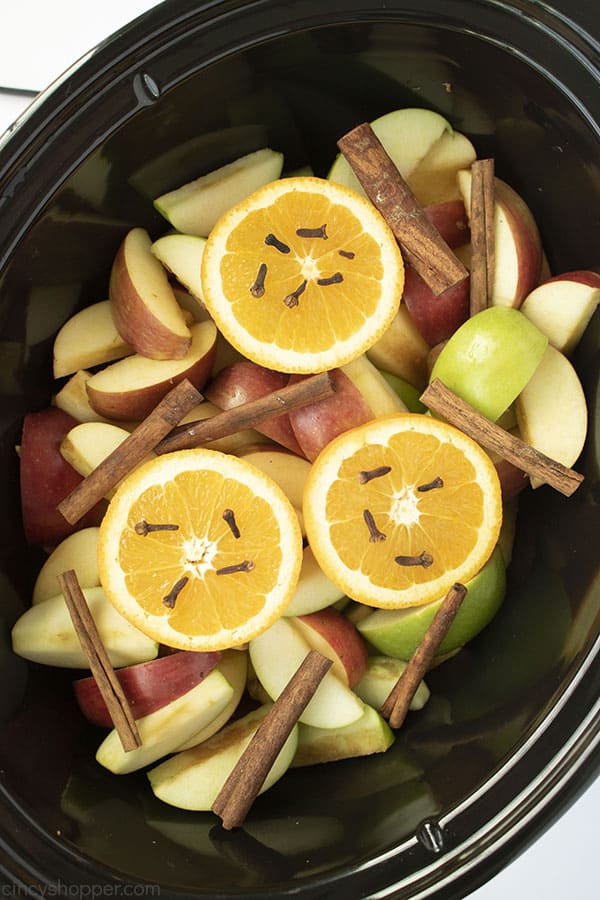 Follow that up with your liquid ingredients. Once all that's added, put the lid on your slow cooker or stockpot and let it cook. For the slow cooker, set it on high and allow it to go for about 4-6 hours. For the stovetop version, you'll want to bring your stockpot to a light simmer and hold it there for the cooking time.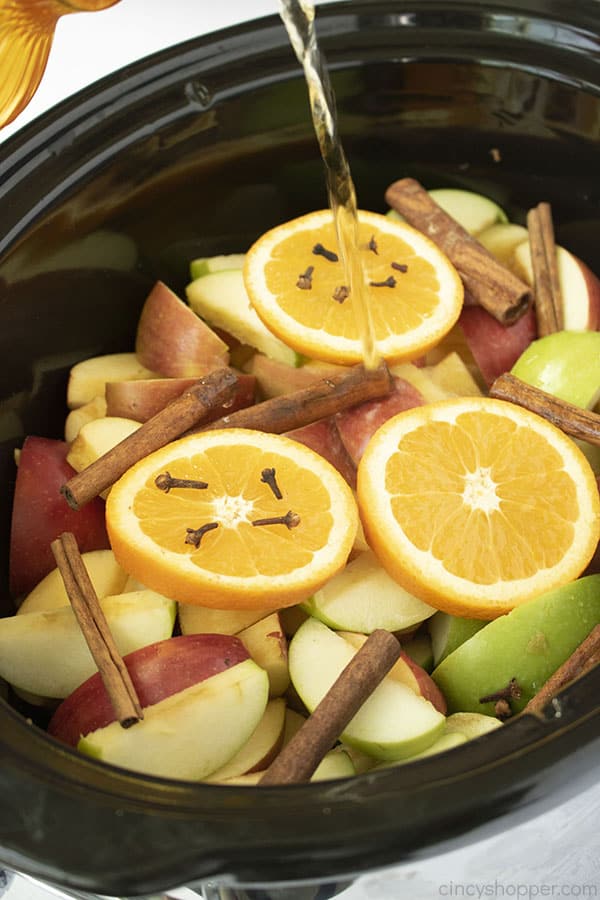 Once you get close to that 4-6 hour mark, you'll notice the apples have become especially soft. We're going to cheat a bit more flavor out of our fruit by giving it a quick mash. Using something like a potato masher, mash the apples while they're still in your cooker or pot.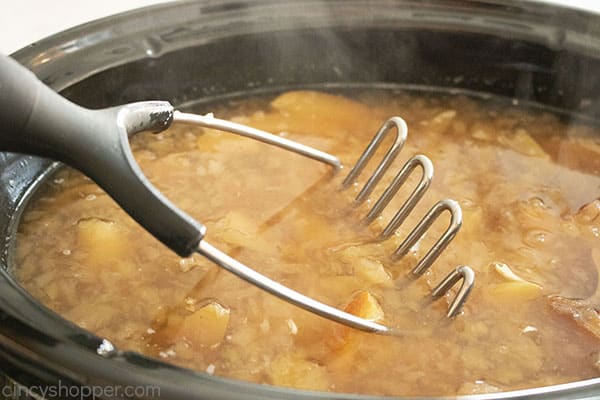 Continue letting your cider cook with the mashed apples for another 3 hours. I know the house smells amazing right now and you really want to try the cider but have some patience. These extra few hours will be worth it! Only after that 3 hours can you run your cider ingredients through a strainer. Press as much juice as you can out of your ingredients!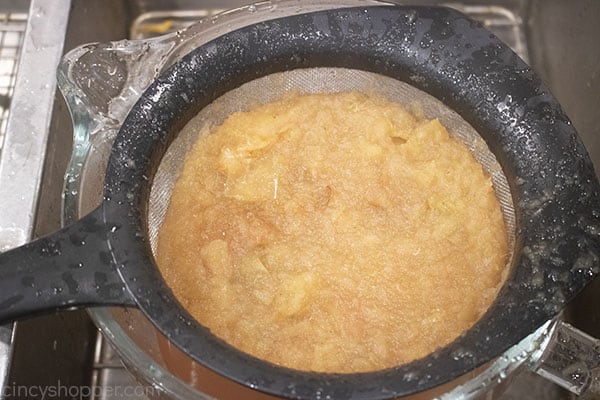 With your cider strained off, we're getting close to being able to pour ourselves a glass. The only issue left is sugar: add in your brown sugar to taste before allowing your cider to cook for one last hour. Again, this last hour will be worth it- just bear with it!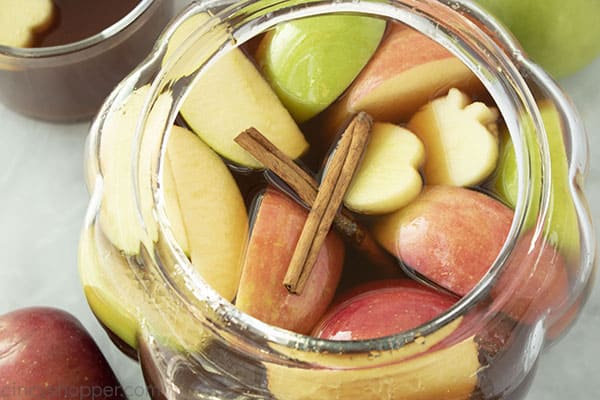 Once that hour is over, you can finally help yourself to a warm glass of delicious apple cider! Serve it up in a mug with a cinnamon stick and an apple slice or two- maybe a little whipped cream as well? If you are more of a cold cider person, just store your cider covered in the fridge until it's chilled. Fix up a glass and enjoy!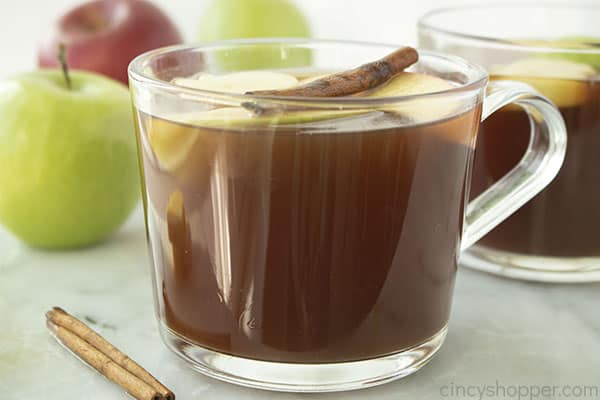 Homemade Apple Cider
Homemade Apple Cider is a fall or winter drink you can serve warm or chilled. Make this spiced cider on the stovetop or in a slow cooker.
Ingredients
6

tart Apples

6

sweet Apples

1/2

Orange

cut in wedges

14

Whole Cloves

7

Cinnamon Sticks

4

cup

Water

64

oz

Apple Juice

2-3

cup

Brown Sugar

1

tsp

Nutmeg
Instructions
Core apples and cut into wedges.

Add all ingredients except brown sugar to slow cooker.

Cover and cook on high for 4-6 hours.

Crush apples with a potato masher.

Cook additional 3 hours.

Pour mixture through a strainer/fine sieve. Be sure to press to extract as much juice as possible.

Discard pulp and return to slow cooker.

Add brown sugar to taste and cook 1 additional hour.
Nutrition
Calories:
33
kcal
|
Carbohydrates:
9
g
|
Protein:
1
g
|
Fat:
1
g
|
Saturated Fat:
1
g
|
Sodium:
3
mg
|
Potassium:
40
mg
|
Fiber:
1
g
|
Sugar:
8
g
|
Vitamin A:
8
IU
|
Vitamin C:
1
mg
|
Calcium:
9
mg
|
Iron:
1
mg