Pumpkin Spice Latte is a Starbucks favorite that you can make at home. Satisfy your PSL cravings with this homemade spiced latte recipe.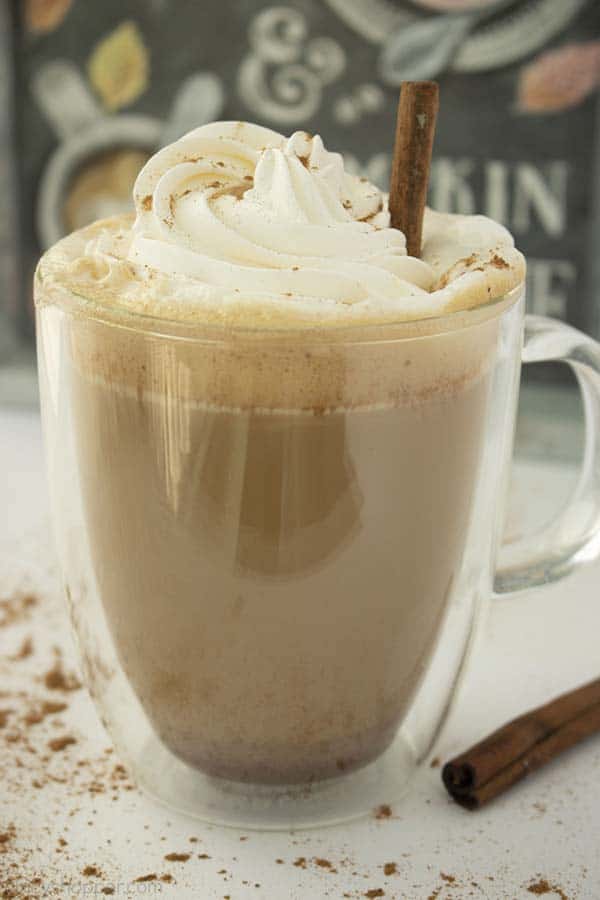 Pumpkin Spice Latte
We're a coffee-loving family. For each of one us, the day doesn't really start until we get some kind of coffee in us. We get good mileage out of our Keurig, but we recently put down the cash to get a good espresso machine set up on our coffee bar. While I'm definitely still a big fan of our Keurig, it can't make a latte quite as good as that machine! With the fall season coming on, we find ourselves in the mood for all of our favorite seasonal drinks like the ones from Starbucks. Thanks to our espresso machine, making these drinks at home couldn't be easier!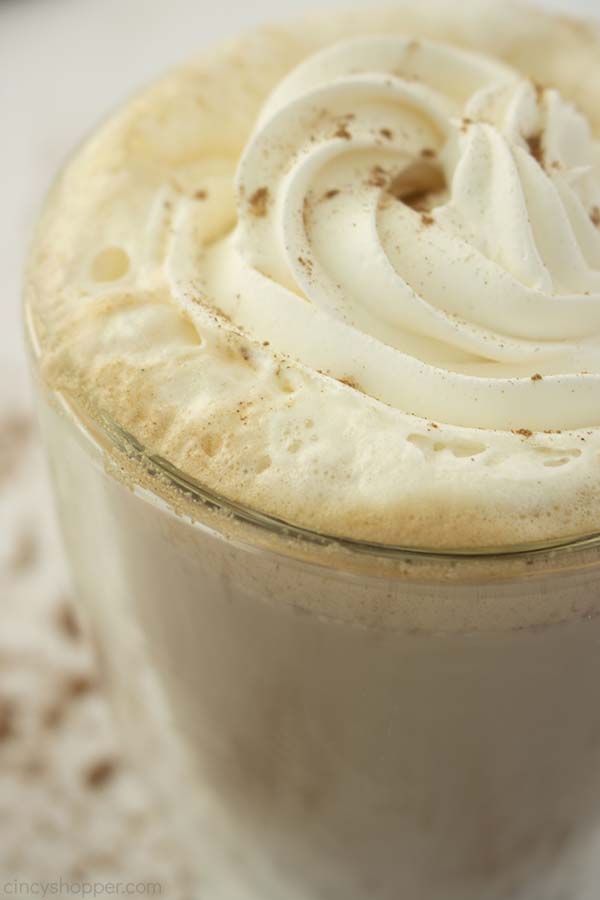 Whether you got an espresso machine, Keurig, or any other coffee prep method handy, you can find a way to make a delicious PSL at home. The big trick is to make yourself a pumpkin spice syrup. This secret little ingredient is the key to making a good copycat of the classic Starbucks drink! Follow along with our recipe here and you'll be enjoying a sweet, spiced latte in no time.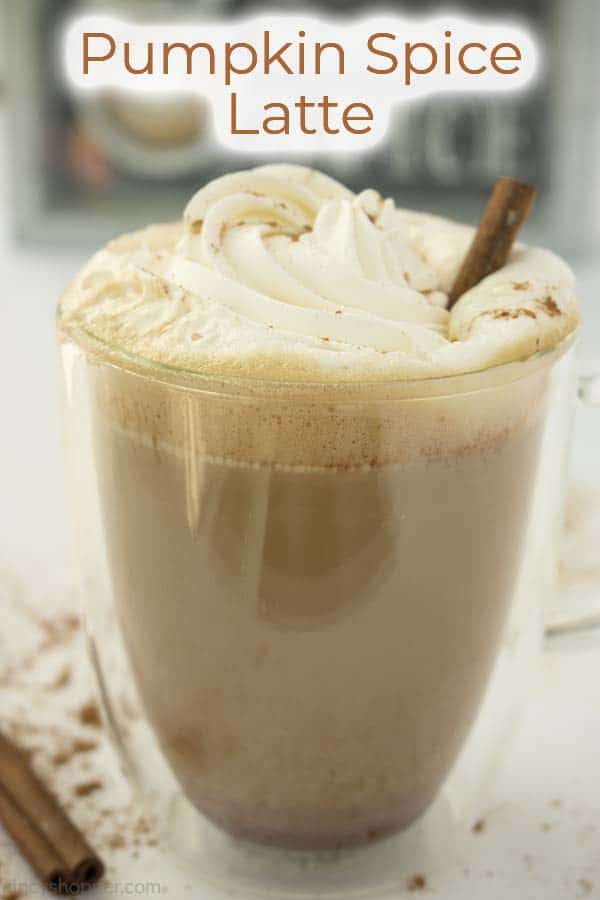 This Starbucks favorite isn't the only hot drink to enjoy this fall season. We've got a few more seasonal beverages we know you'll love!
For another classic fall drink from Starbucks, we have a

CopyCat Starbucks Caramel Apple Spice Recipe

. Instead of pumpkin, this seasonal beverage uses a delicious homemade Cinnamon Dolce syrup. Added to some apple juice, this syrup makes for a delicious autumn treat!

Sticking with the apple theme, we also have a recipe for

Homemade Apple Cider

we feel

you all will enjoy. Making this classic fall drink at home isn't difficult at all-

just

use a slow cooker! Make up a batch today and fill your home with those delicious, apple and spice aromas.

If you're still in the mood for pumpkin,

Pumpkin White Hot Chocolate

is the next recipe you need to take a peek at. This delicious fall hot chocolate drink is simple to make all in one saucepot. The perfect beverage for those cold, autumn nights.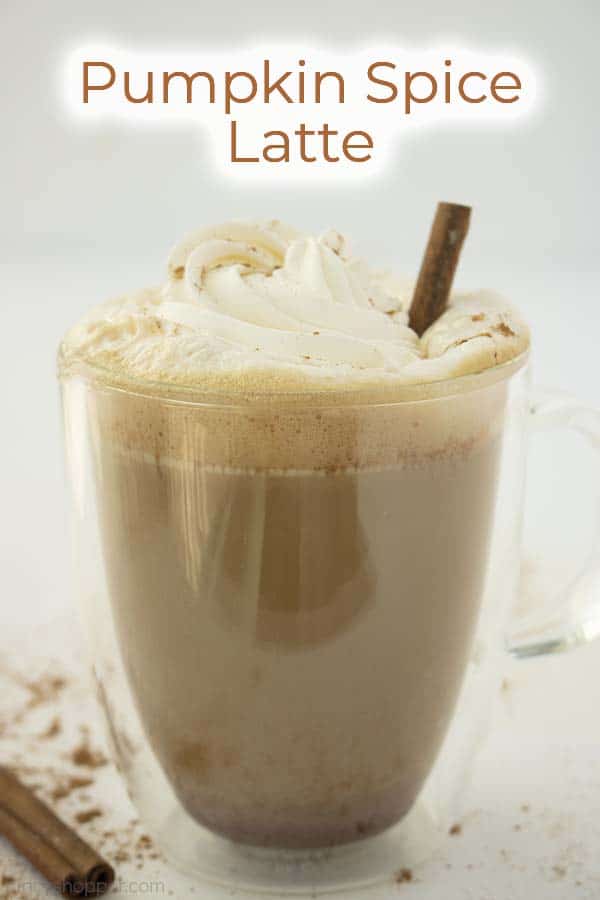 What is in a Pumpkin Spice Latte
The big trick to making Pumpkin Spice Lattes at home is to make a pumpkin spice syrup. For that, you'll need…
Water and Sugar – The base of our syrup is a 1:1 simple syrup.
To make the latte itself, you'll need the syrup and the following ingredients…
Strong Coffee or Espresso – We'll go over some coffee picking/prepping tips at the end.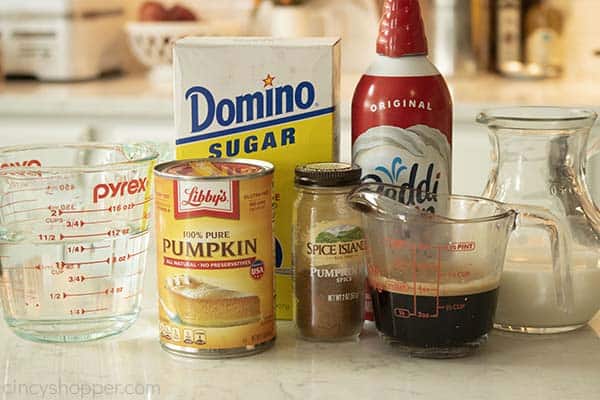 How to make Pumpkin Spice Coffee
Before we can make our latte, we need to make our pumpkin spice syrup. To start on that, first make a simple syrup by mixing equal measures of sugar and water. Combine in a saucepot and mix over medium heat until the sugar dissolves.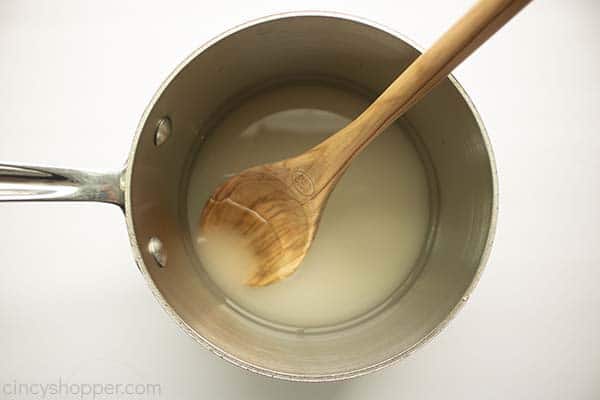 To make our simple syrup into a pumpkin spice syrup, we're going to infuse it with some seasonal flavors. To do that, carefully add your canned pumpkin puree and your spices to the syrup.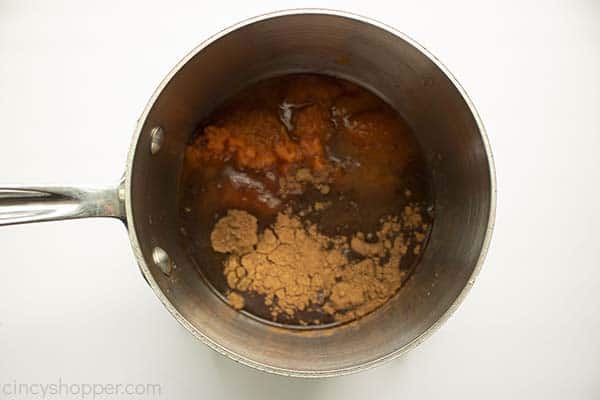 We're going to let this syrup simmer for an additional 10 minutes. That'll be enough time for our syrup to sap some flavor from our additives. Make sure you're stirring often to prevent anything from burning!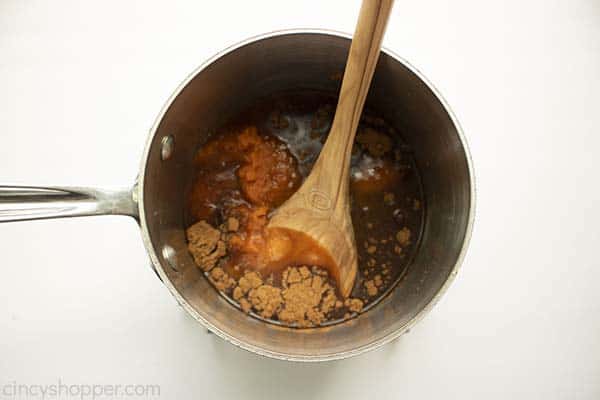 Once those 10 minutes are through, you'll want to pull your syrup from the heat. Carefully pass your syrup through something like a strainer or cheesecloth. You should get plenty of syrup that passes through, but you may need to lightly press or squeeze to push out more syrup.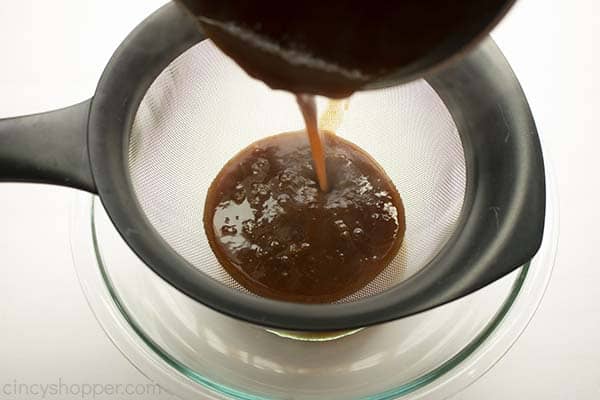 Allow your syrup to cool completely before transferring it to an airtight container in the fridge. Stored well, your syrup should last around a month. When you're in the mood for your latte, pour some syrup into the bottom of your mug of choice.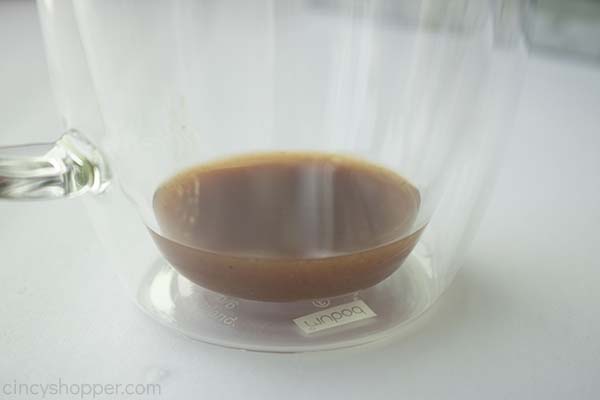 To this syrup, you're going to add your coffee or espresso. Give it a quick mix to ensure it's combined.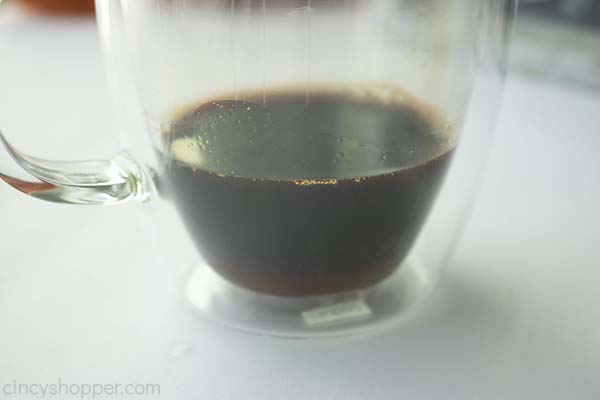 All this latte needs at this point is some milk. Warm up some milk- either over the stovetop, in the microwave, or using a steam wand if you have one. Pour this milk into your mug with your coffee and mix.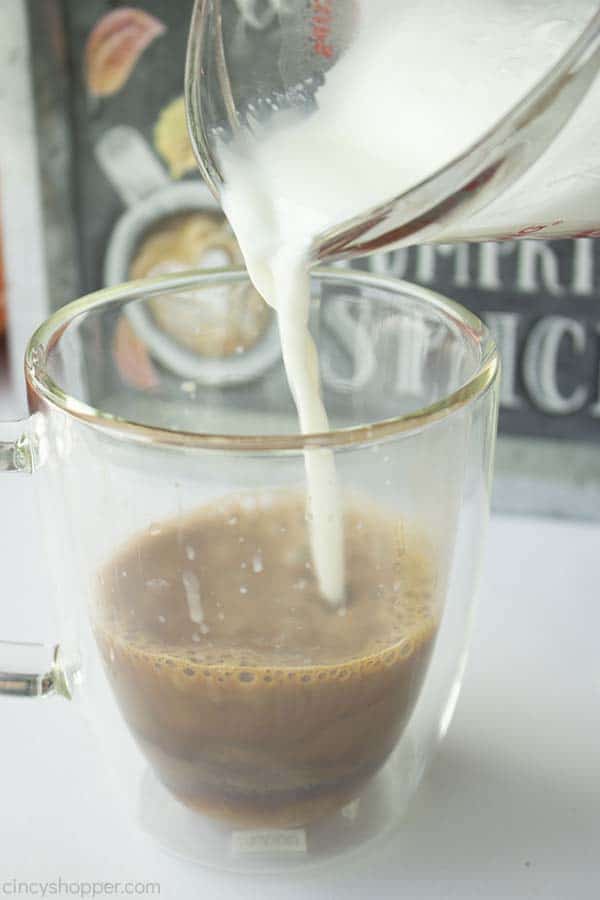 From here, all that's left is some toppings and garnishes. The classic toppings are some whipped cream, a little dusting of pie spice, and maybe even a cinnamon stick. Whatever you're topping it with, enjoy while it's still warm!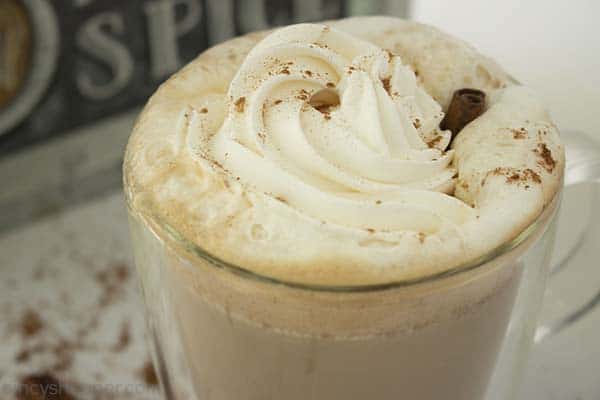 Right Coffee for Espresso Drinks
In most cases, you make espresso with medium-to-dark coffee beans.

Weirdly

enough, we didn't

really

like the Starbucks espresso beans but if you enjoy them, use them!

There's plenty of ways to make strong, espresso-like coffee.

We,

thankfully

, have a good espresso machine, but there are good options on the market to make coffee that tastes close to espresso

.

A real popular option is the Aeropress- we found

this recipe for Aeropress Espresso

from Javapresse

.

We tried it out and it works pretty well- especially for espresso drinks where the shot gets cut with something like water or milk

.

All else fails, we've made this recipe with coffee from the Keurig- we set it for our required amount of coffee and used the "strong" option

. It might not taste as good as the espresso and "espresso-like" options, but it works for something like a latte!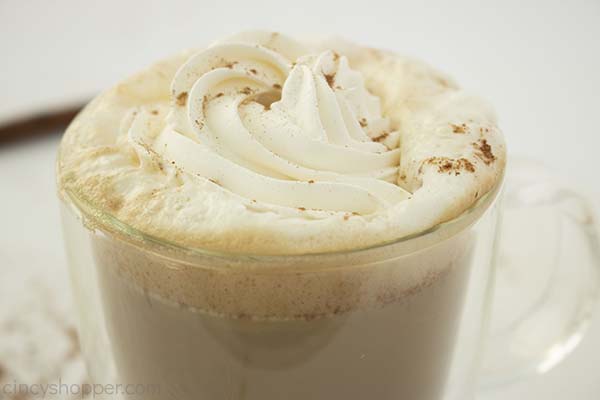 This post was originally added to my blog on August 26th, 2014. It has now been updated with tips, text, and new images.
Pumpkin Spice Latte Recipe
Pumpkin Spice Latte is a Starbucks favorite that you can make at home. Satisfy your PSL cravings with this homemade spiced latte recipe.
Ingredients
Pumpkin Spice Syrup
1 1/2

cup

Water

1 1/2

cup

Sugar

1/3

cup

Pumpkin Puree

1 1/2

tsp

Cinnamon

1

tsp

Nutmeg

1/2

tsp

Cloves

1/2

tsp

Ginger
Pumpkin Spice Latte
8

oz

Milk

4

oz

Strong Coffee or Espresso

2

tbsp

Pumpkin Spice Syrup

Whipped Cream

Pumpkin Pie Spice
Instructions
In a pan, combine sugar and water,

Bring to a boil, then reduce heat to medium and simmer, stirring occasionally, until sugar dissolves.

Add the pumpkin and spices. Continue to simmer for more 10 minutes, stirring often.

Remove from heat and strain through cheesecloth or strainer. DIscard pulp.

Allow the syrup to cool, then refrigerate in an air tight container.

Heat milk in microwave for 1 minute and froth with blender or whisk.

Pour syrup in bottom of cup and top with coffee and frothed milk.

Top with whipped cream and a dust with pumpkin pie spice.
Nutrition
Calories:
1361
kcal
|
Carbohydrates:
324
g
|
Protein:
9
g
|
Fat:
9
g
|
Saturated Fat:
5
g
|
Cholesterol:
23
mg
|
Sodium:
140
mg
|
Potassium:
598
mg
|
Fiber:
5
g
|
Sugar:
314
g
|
Vitamin A:
13077
IU
|
Vitamin C:
3
mg
|
Calcium:
327
mg
|
Iron:
1
mg