Oh my, you will fall in love with this No Bake Salted Caramel Apple Cheesecake in a Jar. Quick, easy and so yummy! I have been making up these cute and tasty cheesecakes in a jar this past week. I like cheesecake but not totally "in to" it like my daughter is. I made her up a few of these no bake cheesecakes in a jar. She LOVED the strawberry so I figured I would make her up a apple cheesecake for her lunch. Tossing no bake cheesecake into a jar is so convenient and these work great for having for desserts at a party or any sort of get together.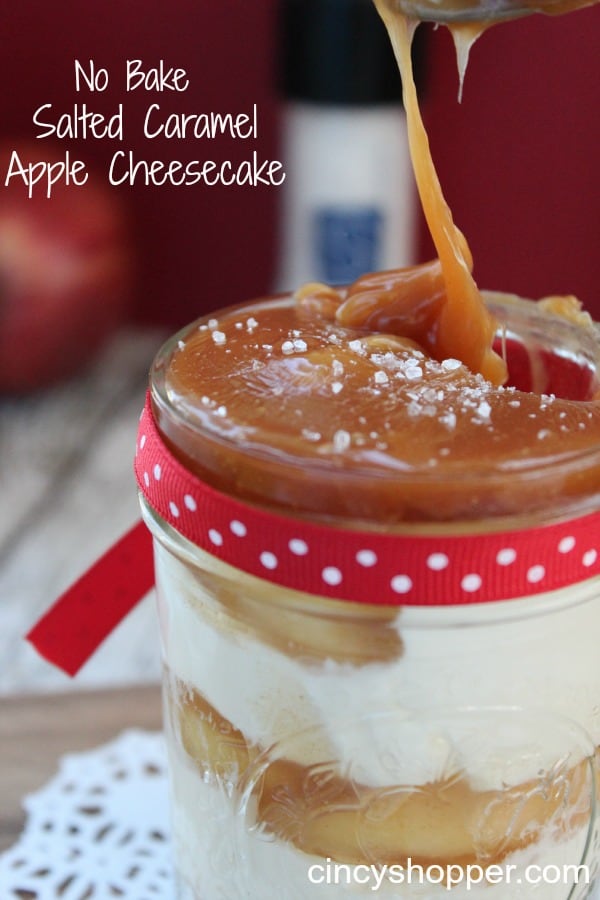 No Bake Salted Caramel Apple Cheesecake in a Jar
If you have read my blog at all you know that I like to put together quick and easy recipes. This one fits that description for sure. I normally purchase the Jell-O No Bake in a box but I came up with a quick and easy from scratch recipe that is so yummy (and easy)! A bar of cream cheese, some whipping cream, canned apples and a few other miscellaneous ingredients and you have one tasty treat to enjoy.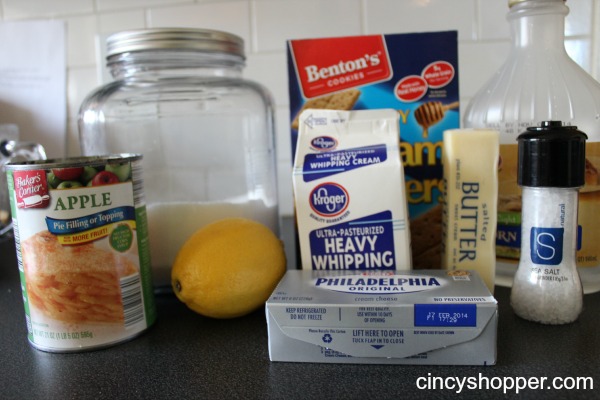 INGREDIENTS
6 -8 oz Mason Jars
8 oz Cream Cheese
8 oz Heavy Whipping Cream
1/2 tsp Vanilla extract
1/2 tsp Lemon juice
1/2 cup Sugar
2 cups crushed Graham Crackers
3 tbsp butter
1 cup Apple topping
1/2 cup light Corn syrup
1/2 cup Sugar
3 tbsp Butter
1/2 cup Heavy Cream
1/2 tsp Sea Salt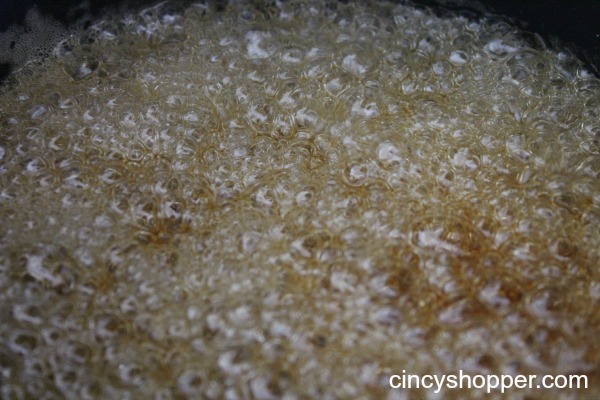 DIRECTIONS
Beat together cream cheese, lemon juice, vanilla and sugar until creamy.
In a large bowl whip the heavy cream until peaks form.
Fold whipped cream into cream cheese mixture.
Tranfer to the corner a large zippered bag and cut off corner for piping into jars.
Melt butter and add to crushed graham crackers.
Place a layer of crushed graham crackers in the bottom of each jar and tamp down.
Pipe in cheese cake mixture into each jar.
Gently tap jar to get mixture to settle and level.
Wipe down any streaks above the level of the mixture with damp paper towel.
Add a layer of apples to each jar.
Refrigerate jars for at leat 30 minutes.
While jars are chilling, place corn syrup in a medium pan nad heat over medium heat.
When corn syrup is heated (starting to bubble) add sugar and stir until well mixed.
Let syrup cook without stirring until it turns a golden color.
Remove from heat add butter and stir until blended.
Slowly add cream while stirring constantly to blend.
Add salt and stir until dissolved.
Spoon a layer of caramel onto top of each jar and spninkle with a few sea salt crystals for decoration.
Decorate jar.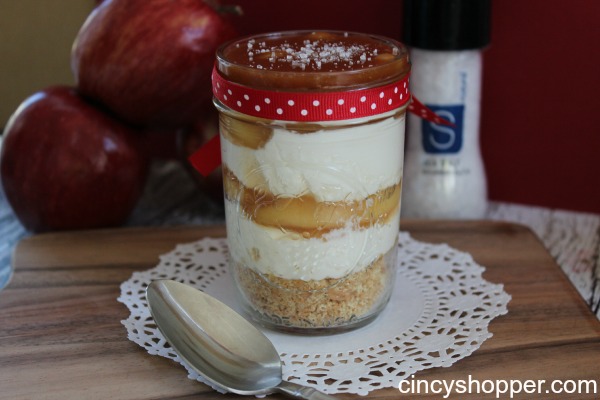 This salted caramel recipe is so yummy! I have been putting it on everything (it makes a very addicting popcorn). Oh my,the hubby and I are loving the popcorn to munch on and Cierra is loving her cheesecake.