This Homemade Apple Cobbler is going to become one of your favorite fall desserts. Fresh apples, cinnamon and a cake like topping make this warm and comforting old-fashioned dessert.
Fall is just around the corner which means it is time for some serious apple dessert recipes. Pinterest and Facebook will be filled with all sorts of amazing comforting apple recipes. Our favorite fall desserts are this easy from scratch cobbler, Easy Apple Crisp and also Apple Fritters.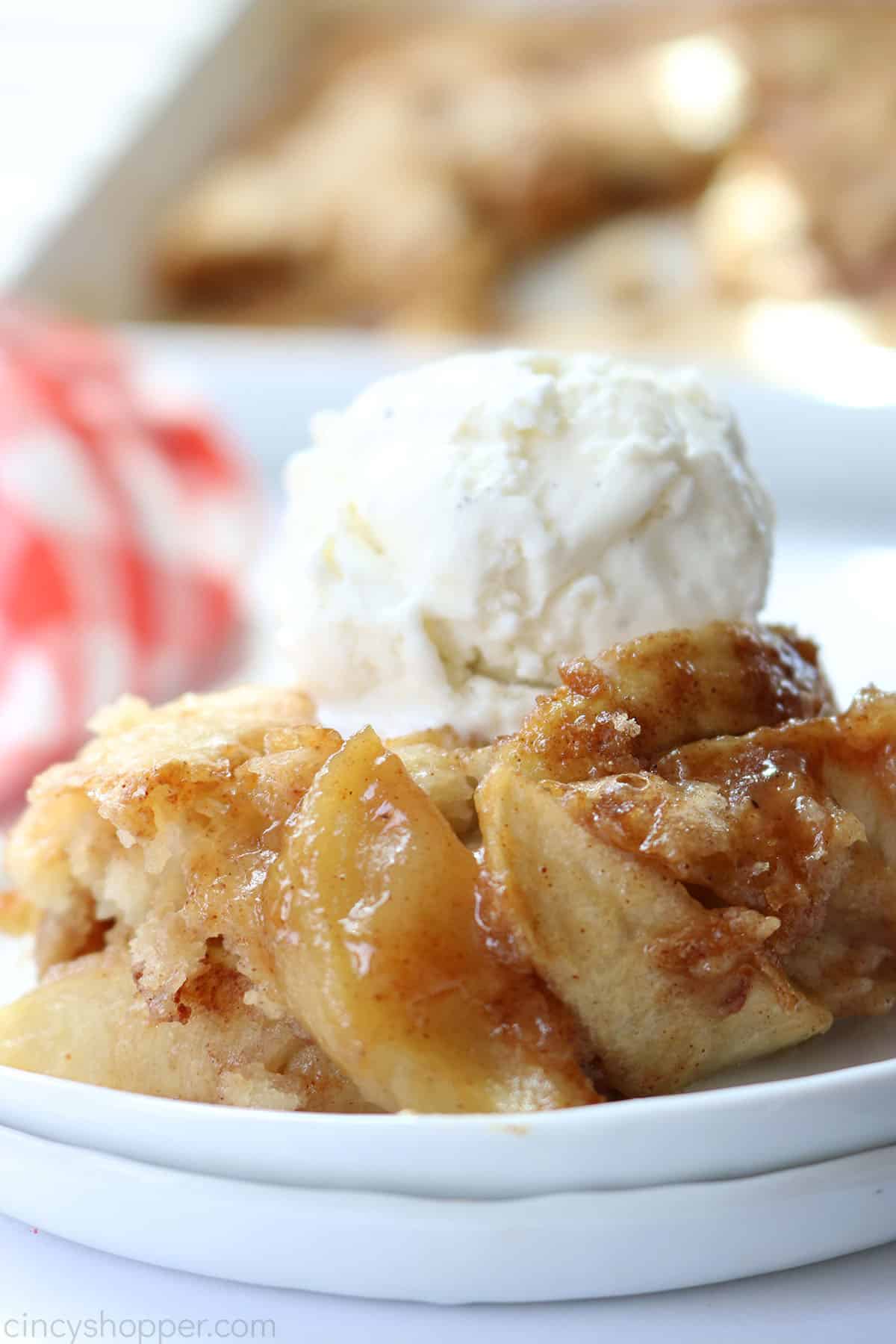 When fall arrives and fresh apple desserts are baking in the oven, the entire house becomes cozy from the scent of the cinnamon and apples baking. Even when we are not baking we slice apples and dip them with Homemade Caramel, easy apple desserts are definitely my families favorites.
Years ago when I could not locate my grandmas apple cobbler recipe, I looked to internet for a recipe. I came across Paula Deen's Cobbler recipe. The reviews were all so good. Since her recipe was for peach cobbler, I knew if it was good with peaches, it definitely had to be good with fresh apples. Cinnamon and apples are such a good combination.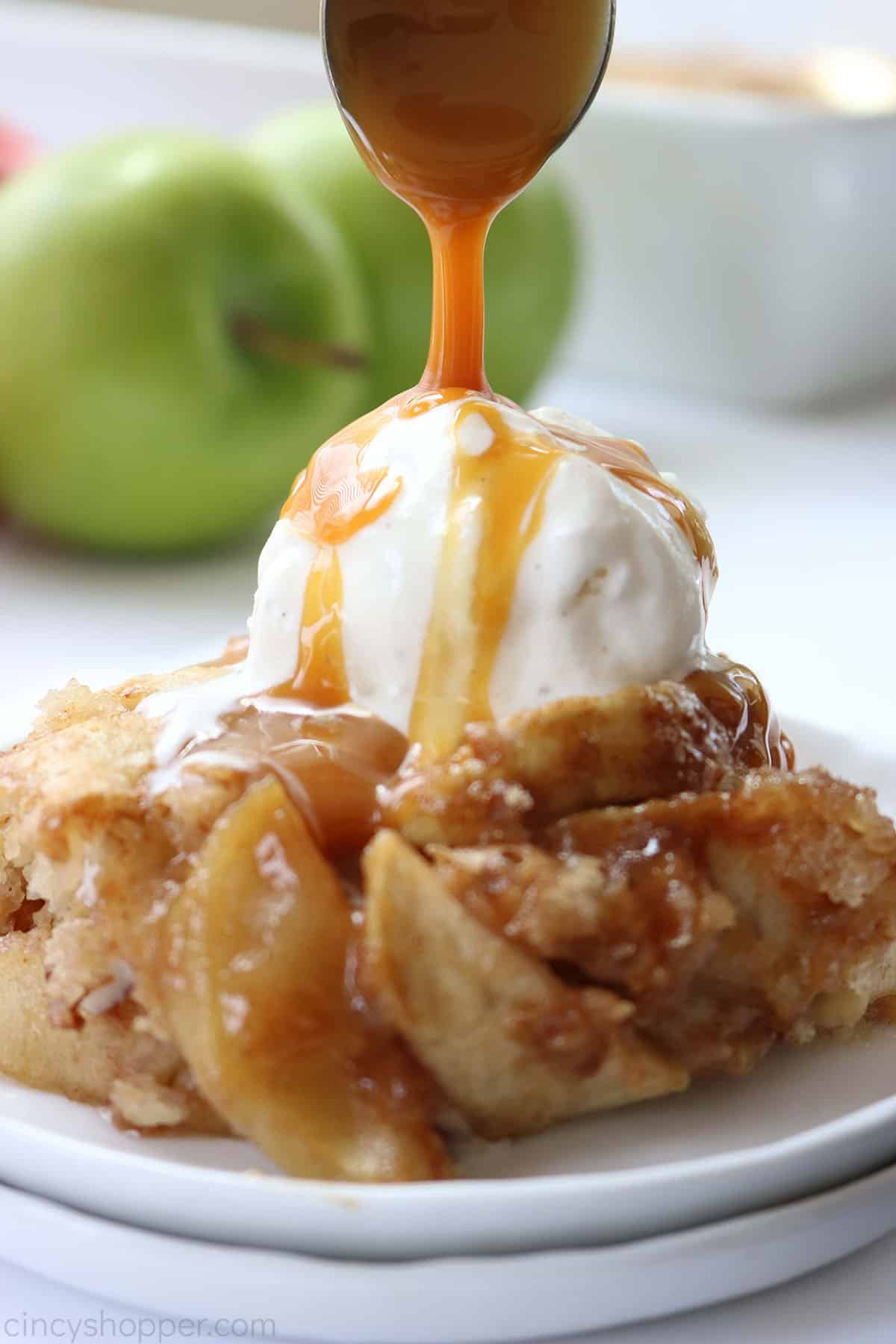 Wow… I was so right. The apple filling that I used for my apple cobbler was so super simple and paired so well with Paula's dough mixture. I topped mine with some vanilla ice cream because…. ice cream is always perfect with warm apple desserts.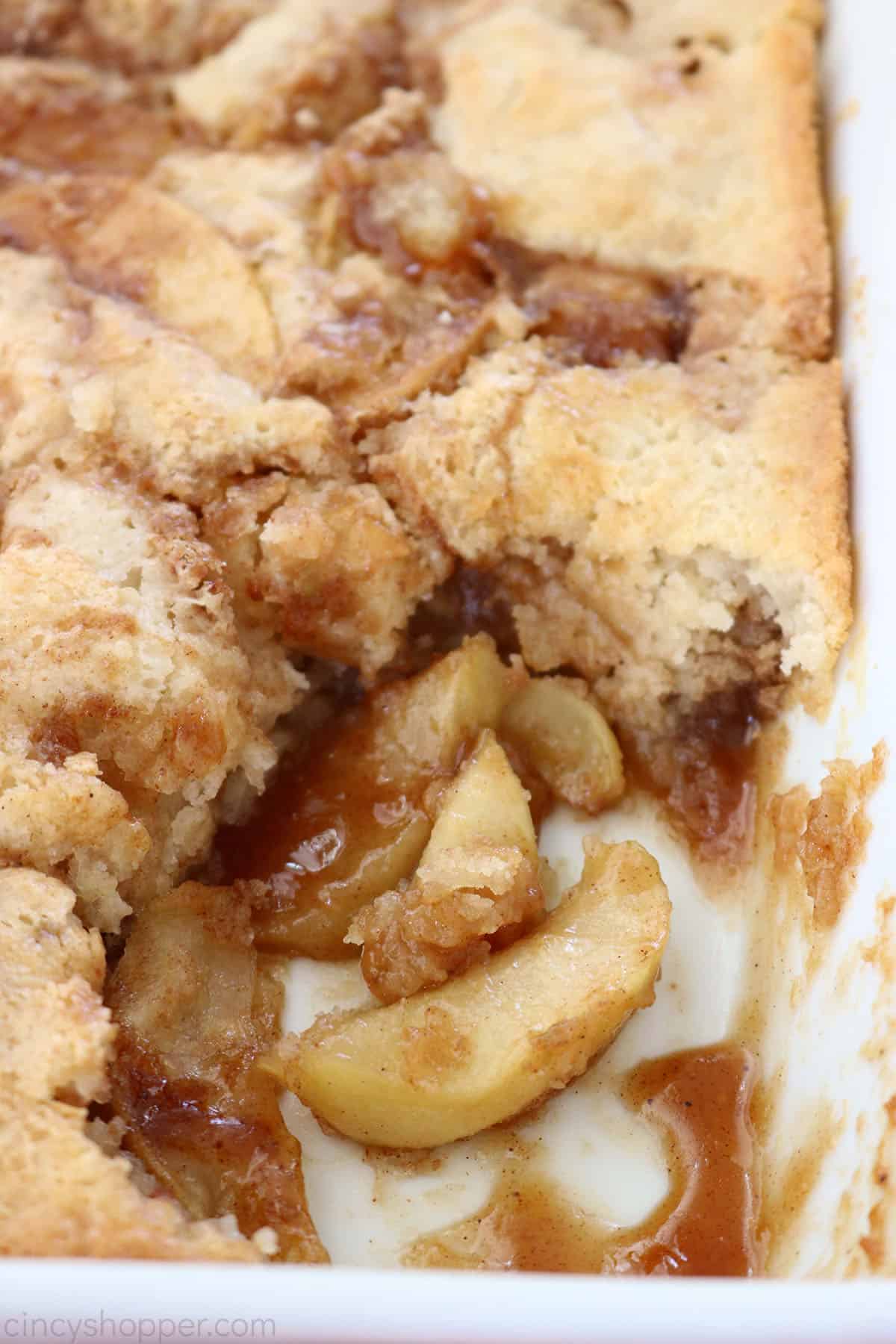 Jump to:
Why you'll love this Apple Cobbler recipe
This is a fresh from scratch apple cobbler recipe that is so easy to make. You most have everything on hand in your pantry, no Biquick needed for the topping.
It's a perfect fresh apple dessert for Thanksgiving and fall potlucks!
Apple Cobbler Ingredients
You don't need a lot of ingredients to make Apple Cobbler from scratch. If you want to make things even simpler, you could use a canned or Homemade Apple Pie Filling! To make Apple Cobbler from fresh apples, you'll need the following: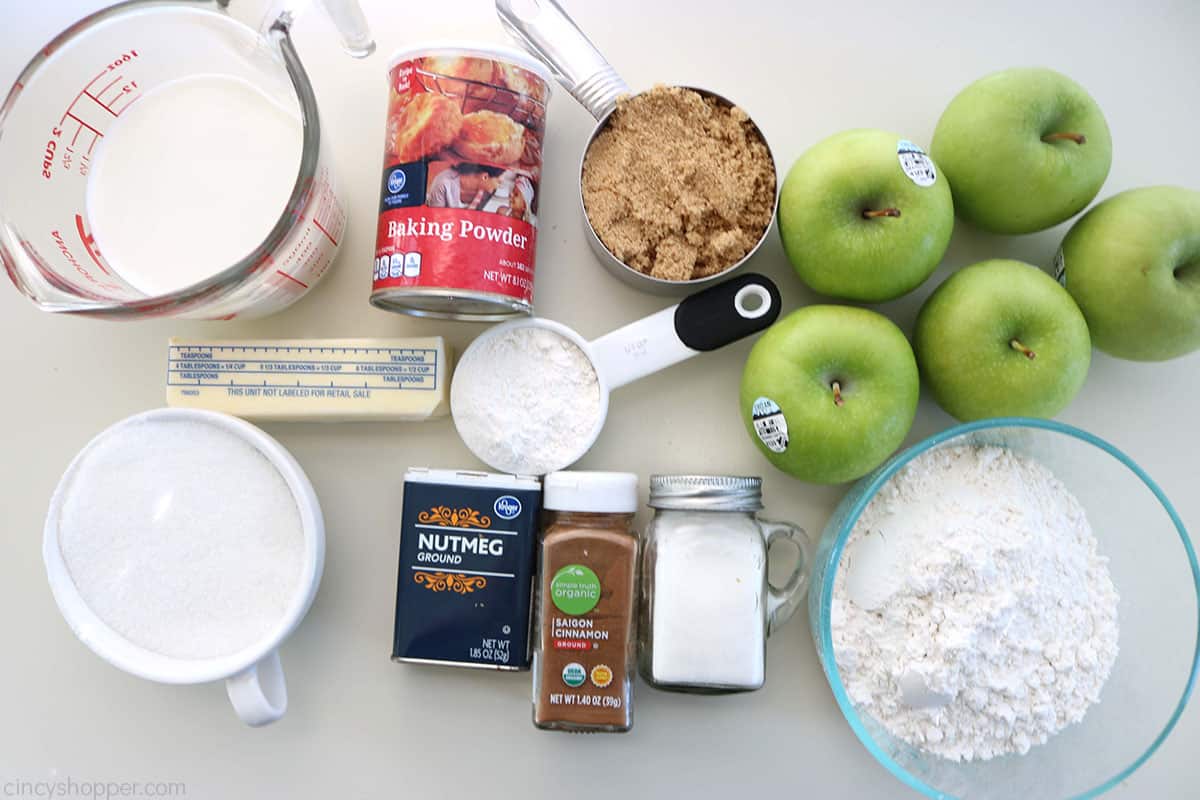 Apples – One of the best apples for cobbler- or the best apples for baking in general- are Granny Smith apples. Nice and firm with a bit of a tart edge to them. But you can use all sorts of apples for apple cobbler! You could also use Honeycrisp apples or Gala apples, just to name a couple.
Butter
Flour – A normal all-purpose flour will work here.
Brown Sugar
Cinnamon and Nutmeg – You could also use something like our Apple Pie Spice here instead!
Granulated Sugar
Baking Powder – Not baking soda.
Salt
Milk
Of course, we also recommend a bit of vanilla ice cream as a topping but that's totally optional.
See recipe card for quantities.
How to make Easy Apple Cobbler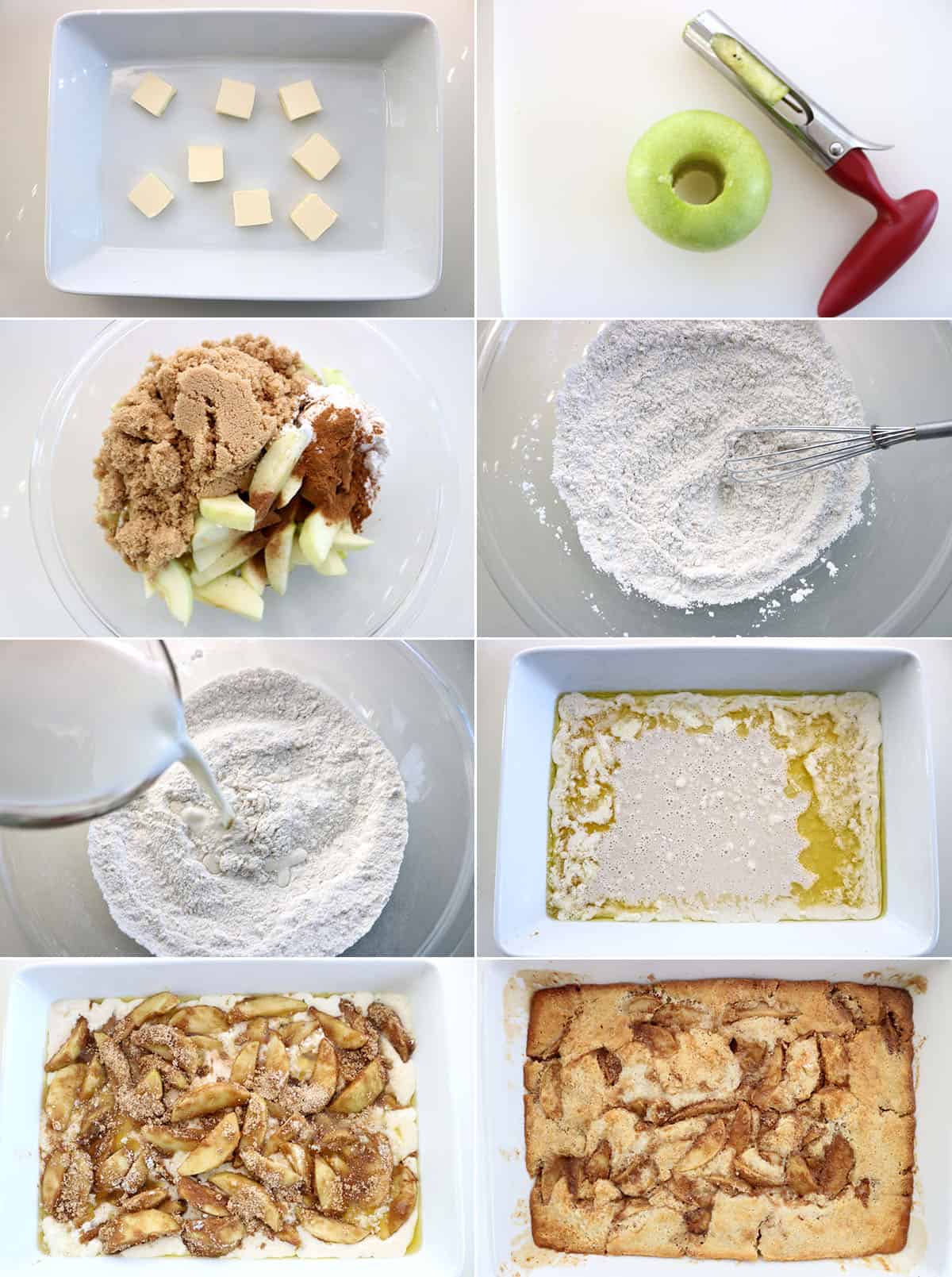 Once you've gotten all your ingredients around, making Homemade Apple Cobbler couldn't be much easier. To make it for yourself, here's what you'll do:
Set oven to 350 degrees and use to melt butter in 9×13 baking dish. Once melted, remove from oven and set aside before you core, peel, and slice apples.
Add apple slices to bowl along with some flour, brown sugar, and spices before mixing to coat. In another bowl, whisk together flour, granulated sugar, baking powder, and salt before gradually mixing with milk.
Pour flour and milk batter into baking dish with melted butter before pouring apple mixture over batter. Bake at 350 degrees for 45-50 minutes or until golden brown. Optionally top finished Apple Cobbler with ice cream and serve.
Substitutions
Can't find the ingredients for our apple-cinnamon cobbler recipe? Here are a few substitutions you can try:
Apples – Like we said before, you could use all sorts of apples for Apple Cobbler- in a pinch, you could even get away with non-baking apples. There's also the option of using canned apple pie filling if that's all you have.
Milk – In a pinch, we imagine you could use some heavy cream, half-and-half, or non-dairy milk for the cobbler batter if that's all you have on hand.
Butter – Whether you're vegan or just don't have any butter on hand, there are a couple of other fats you could use in it's place. Try using coconut oil or maybe a vegetable oil instead- it won't taste as buttery but you'll still be able to make and enjoy your Apple Cobbler!
Variations
Looking for ways to change this recipe up? Here are a couple of ideas for making the cobbler a bit different:
Walnut Apple Cobbler – There's plenty of room for all sorts of different add-ins with our apple pie filling base: grab some walnuts and toss them in! They'll add a lovely, nutty flavor to your cobbler. You can try different nuts too to see which ones you like the best- maybe pecans next?
Other Fruit Cobbler Recipes – Of course, there's nothing stopping you from trying other fruits in this recipe! Mix your apples up something like cranberries or pears or omit the apples entirely and make up another fruit cobbler.
Storage / Freezing
Storage: Once you've baked your cobbler and let it cool, you can store it in the fridge. Cover with plastic wrap and it'll keep refrigerated for around 3-5 days. Note that that our dough-y topping will get soft, so you might want to warm your cobbler back up in the oven.
Freezing: You can also freeze this cobbler if you need more long-term storage. Cover with foil this time and keep it in the freezer for up to 3 months. You'll want to thaw it out overnight and reheat in the oven once you decide to make it.
Top tip
If your cobbler needs to bake longer and you notice the crust getting a bit dark, go ahead and cover with foil for the remainder of the baking. All ovens are different.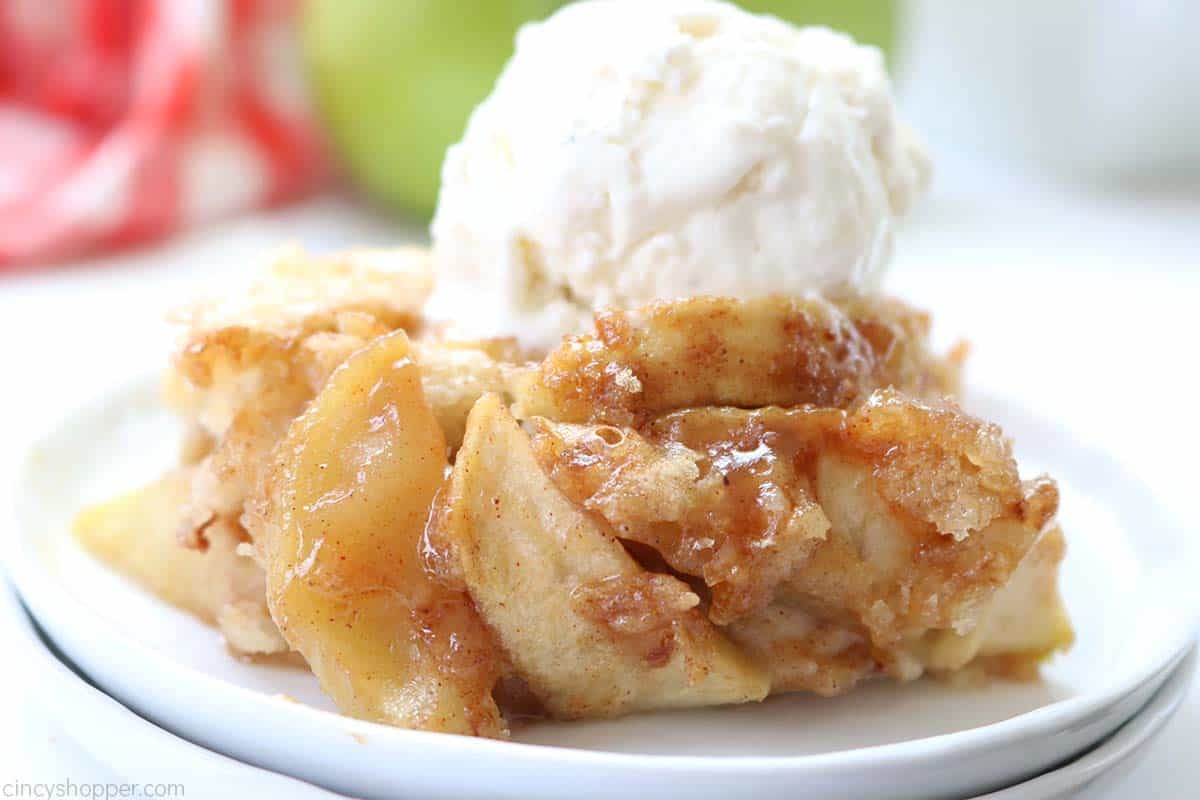 FAQ
Do you have questions about this recipe? Here are the answers to the most commonly asked questions for this recipe.
Can I use any type of apple for Apple Cobbler?
Yes, you can use various types of apples for apple cobbler, such as Granny Smith, Honeycrisp, Golden Delicious, or a combination of different apple varieties. Some apples may be better for baking than others, so it's a good idea to choose ones that hold their shape well when cooked.
Can I add other fruits to Apple Cobbler?
While the classic apple cobbler recipe uses only apples, you can certainly experiment and add other fruits such as berries or peaches to create a mixed fruit cobbler. Just make sure to adjust the sugar and other seasonings accordingly to complement the flavors of the additional fruits.
Can I serve Apple Cobbler with ice cream or whipped cream?
Absolutely! Apple cobbler is often served warm, and it pairs well with a scoop of vanilla ice cream or a dollop of whipped cream. The creamy and cold accompaniments contrast nicely with the warm, sweet apple filling.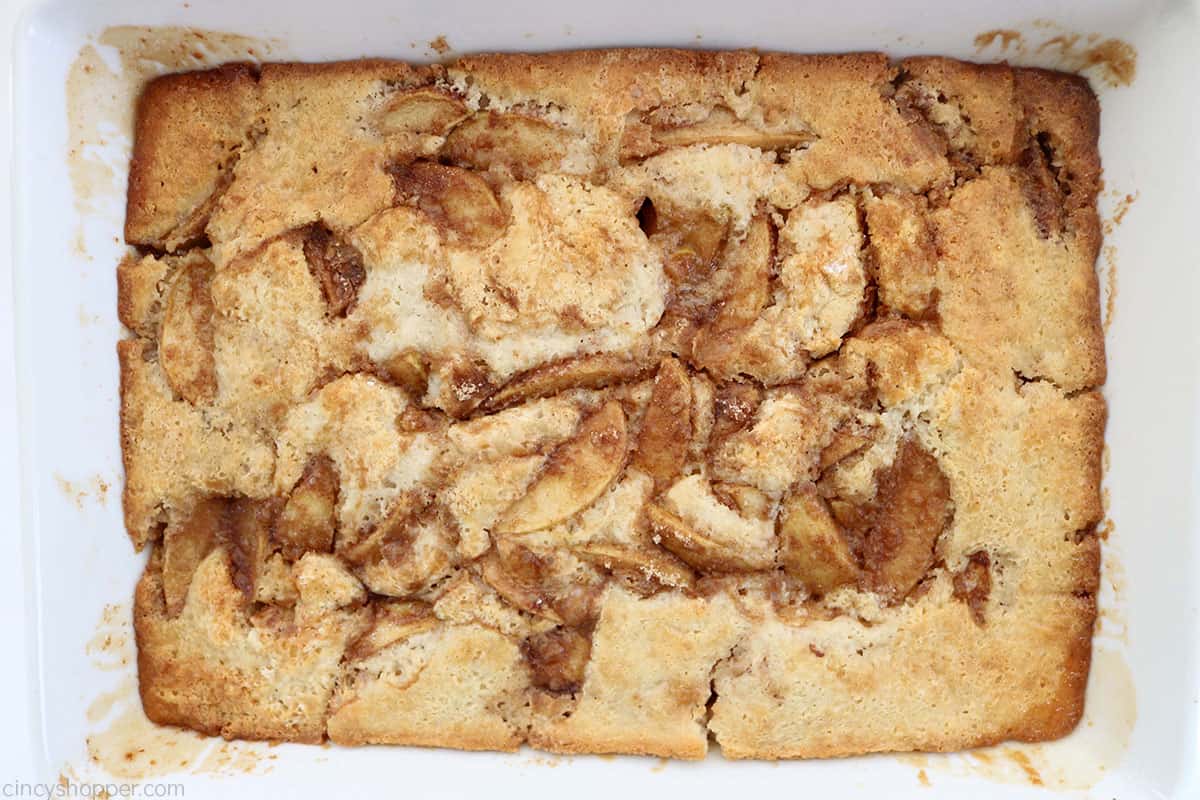 Other Apple Recipes
Looking for other apple recipes? Try these:
More Apple Recipes
Here are some other easy apple recipes that we hope you try: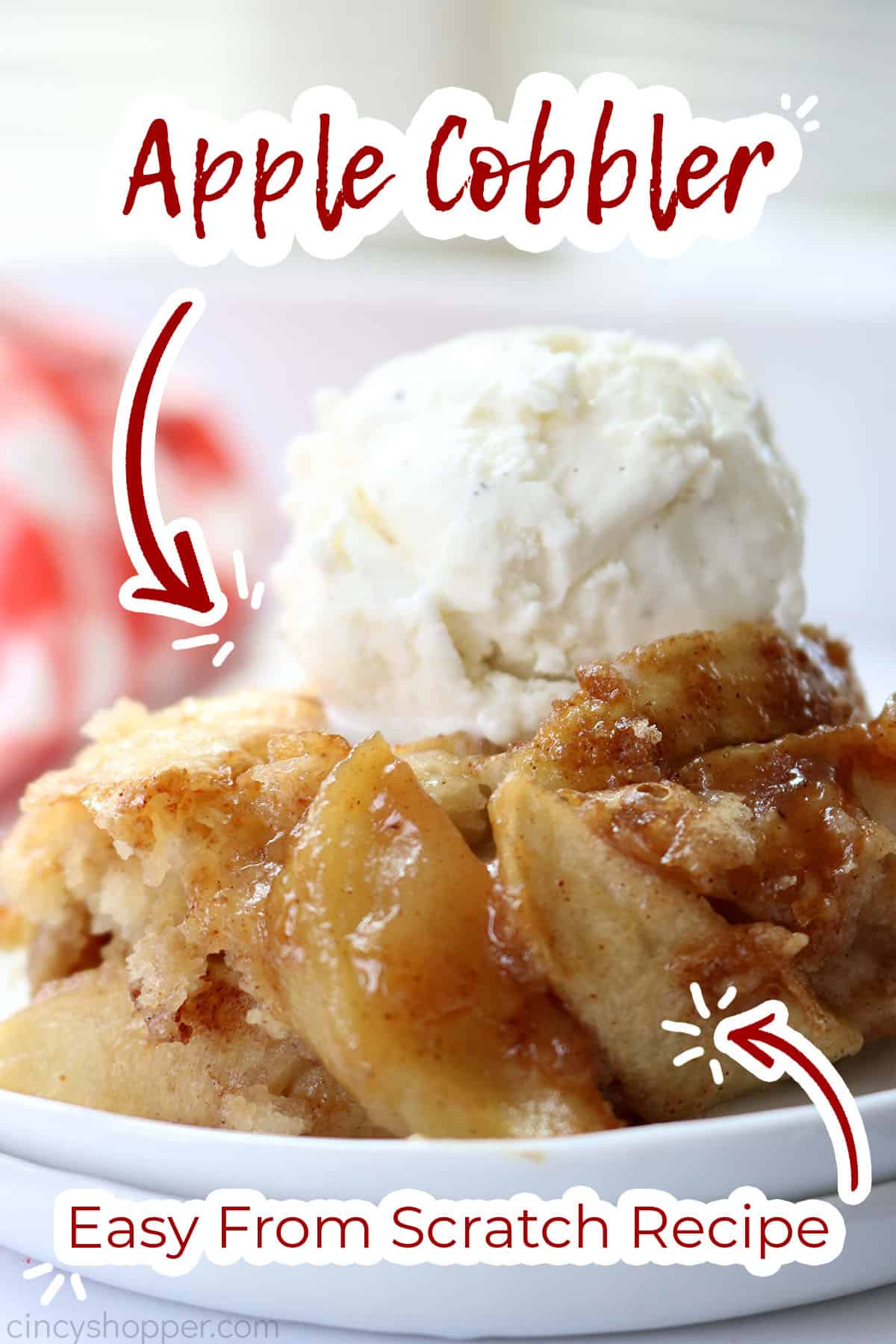 Easy Apple Cobbler
This Homemade Apple Cobbler is going to become one of your favorite fall desserts. Fresh apples, cinnamon and a cake like topping make this warm and comforting old-fashioned dessert.
Ingredients
1

stick

Butter

1

cup

Sugar

1 3/4

cup

All Purpose Flour

divided

2 1/4

tsp

Baking Powder

3/4

tsp

Salt

1 1/2

cup

Milk

5

small Granny Smith Apples

1 1/2

cup

Brown Sugar

2

tsp

Cinnamon

1/4

tsp

Nutmeg
Instructions
Preheat oven to 350.

Place butter in baking dish (9×13) and place in oven until melted. Remove from oven and set aside.

Core, peel and slice apples and place in large bowl.

Add 1/4 cup flour, brown sugar, cinnamon and nutmeg to apples. Mix until well coated.

In another large bowl, whisk together remaining flour, sugar, baking powder and salt until blended.

Pour in milk slowly while whisking

Pour batter into baking dish over melted butter.

Pour apple mixture over batter.

Bake 45-50 minutes until golden brown.
Notes
If your cobbler needs to bake longer and you notice the crust getting a bit dark, go ahead and cover with foil for the remainder of the baking. All ovens are different.
Nutrition
Calories:
725
kcal
|
Carbohydrates:
140
g
|
Protein:
6
g
|
Fat:
18
g
|
Saturated Fat:
11
g
|
Cholesterol:
47
mg
|
Sodium:
652
mg
|
Potassium:
355
mg
|
Fiber:
5
g
|
Sugar:
106
g
|
Vitamin A:
651
IU
|
Vitamin C:
7
mg
|
Calcium:
244
mg
|
Iron:
3
mg