Homemade Pumpkin Spice Creamer is so easy to make! Add some to your coffee, lattes, and frapps. It's delish and perfect for the fall season!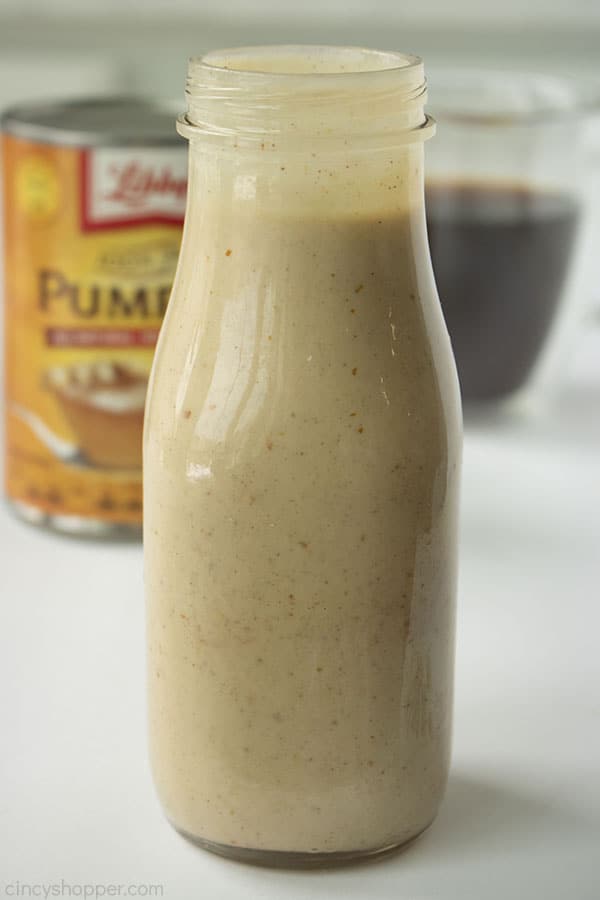 Pumpkin Spice Creamer
One of the best parts of the fall season is all the seasonal drinks that places like Starbucks start serving. If you haven't tried them before, you're missing out- it's surpising just how well pumpkin and coffee pair together! Once you get that first taste, you'll find yourself craving more of those autumn flavors. One of the easiest ways to enjoy a little bit more of those pumpkin spice flavors is to have some pumpkin spice creamer on standby. All sorts of companies, like Coffee-Mate, make pumpkin spice creamer and sell them at grocery stores. The problem is that these companies rarely, if ever, use actual pumpkin in their creamers- they use all sorts of artificial flavors. So we came up with this recipe to make your own homemade creamer with plenty of natural pumpkin flavor!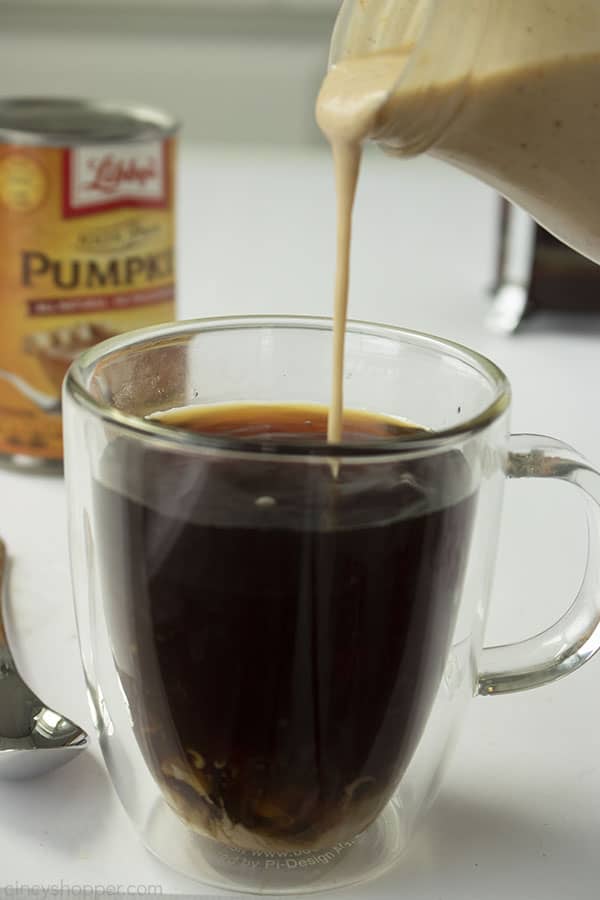 This creamer is great to get your favorite pumpkin spice flavors into your morning cup of coffee. If you want to put a bit more work, you can make yourself a Pumpkin Spice Latte– all you have to make is some pumpkin spice syrup. Want something a little cooler? Have a Pumpkin Spice Frappuccino– it's as easy as tossing your ingredients into a blender! If you're wanting some chocolate, we've also got some Pumpkin White Hot Chocolate. Creamy white chocolate meets delicious fall flavor- you'll love it!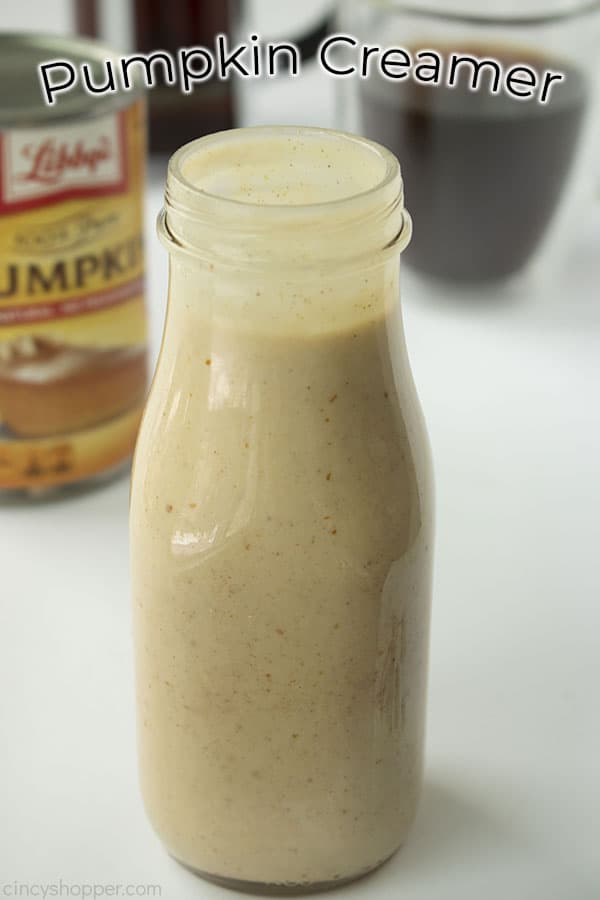 Ingredients for Pumpkin Creamer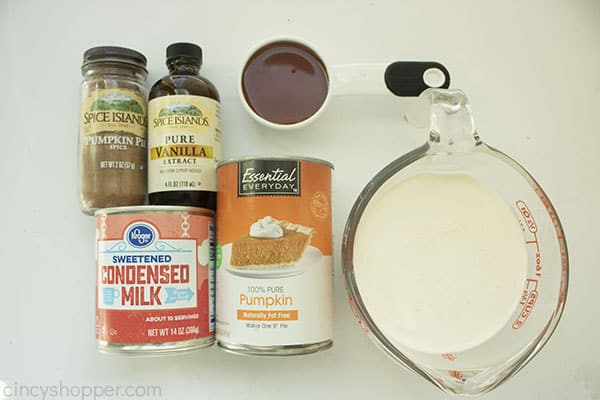 How to prepare our Pumpkin Coffee Creamer
Here's how to make this DIY Creamer. All you'll need outside of your ingredients is a microwave safe mixing bowl and the container you're storing the creamer in. To start, mix the syrup, pumpkin, pie spice, vanilla, and some of your cream together in the bowl.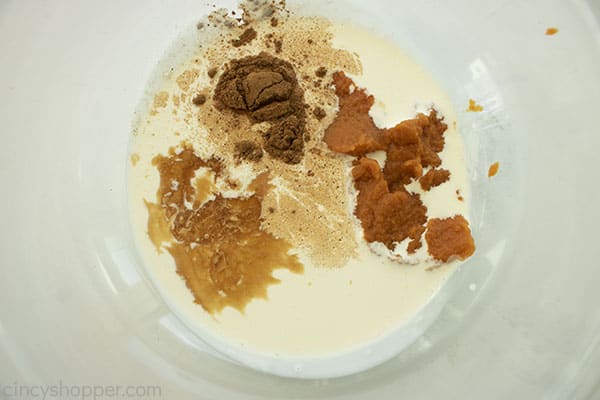 From here, you'll be popping this mixture into the microwave for short bursts of cooking. The process from here is microwaving it, stirring it, microwaving it, and stirring it again until it's all mixed and heated completely.
After a few minutes, your mixture should be all heated up and thoroughly mixed. It's at this point you're going to add in all of your remaining ingredients- the sweetened condensed milk and the leftover cream. Mix it all together real well.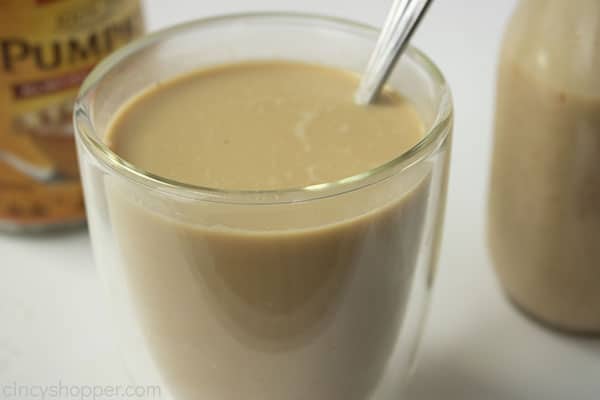 From here, all that's left is transferring your finished mixture over to a sealable container. Keep this creamer in the fridge and give it a quick shake before each use to make sure everything's still mixed around. This creamer should keep well in the fridge for around a week- but I'm certain you'll use it all up well before then! It's delicious!
Pumpkin Spice Coffee Creamer
Homemade Pumpkin Spice Creamer is so easy to make! Add some to your coffee, lattes, and frapps. It's delish and perfect for the fall season!
Ingredients
1/4

cup

Maple Syrup

3

tbsp

Pumpkin Puree

1

tsp

Pumpkin Pie Spice

1

tsp

Vanilla Extract

14

oz

Heavy Cream

divided

14

oz

Sweetened Condensed Milk
Instructions
In a microwave-safe bowl, combine maple syrup, pumpkin puree, pumpkin pie spice, vanilla and 4 ounces of heavy cream.

Whisk to combine.

Repeatedly microwave for 30 seconds and stir, until mixture is well blended and heated (about 2 minutes).

Pour heated mixture, remaining cream and sweetened condensed milk into a quart container with a lid.

Shake until blended and store in refrigerator.
Nutrition
Calories:
90
kcal
|
Carbohydrates:
9
g
|
Protein:
1
g
|
Fat:
6
g
|
Saturated Fat:
4
g
|
Cholesterol:
21
mg
|
Sodium:
21
mg
|
Potassium:
64
mg
|
Fiber:
1
g
|
Sugar:
8
g
|
Vitamin A:
434
IU
|
Vitamin C:
1
mg
|
Calcium:
47
mg
|
Iron:
1
mg