Buttermilk Bisquick Biscuits are simple to make and a must-have for breakfasts and dinners! An easy recipe for making perfect fluffy biscuits.
By using some Bisquick or baking mix, you can make delicious, flaky southern buttermilk biscuits easy! Serve along with some Cheeseburger Soup or some Slow Cooker Chicken and Gravy.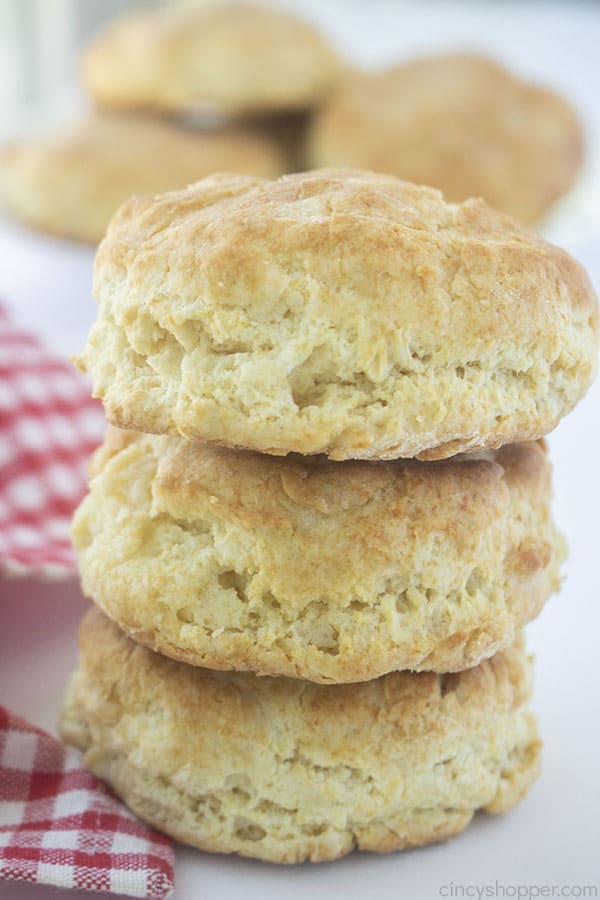 Buttermilk Bisquick Biscuits
Perfect, fluffy biscuits have always been a struggle for me. I'd follow all the recipes online I could find but something would always seem to go wrong. They'd turn out tough, they wouldn't rise right, or- at best- I'd just get mediocre biscuits. Thankfully, I think I recently found a quick and easy shortcut for the perfect biscuits every time: Buttermilk Bisquick Biscuits.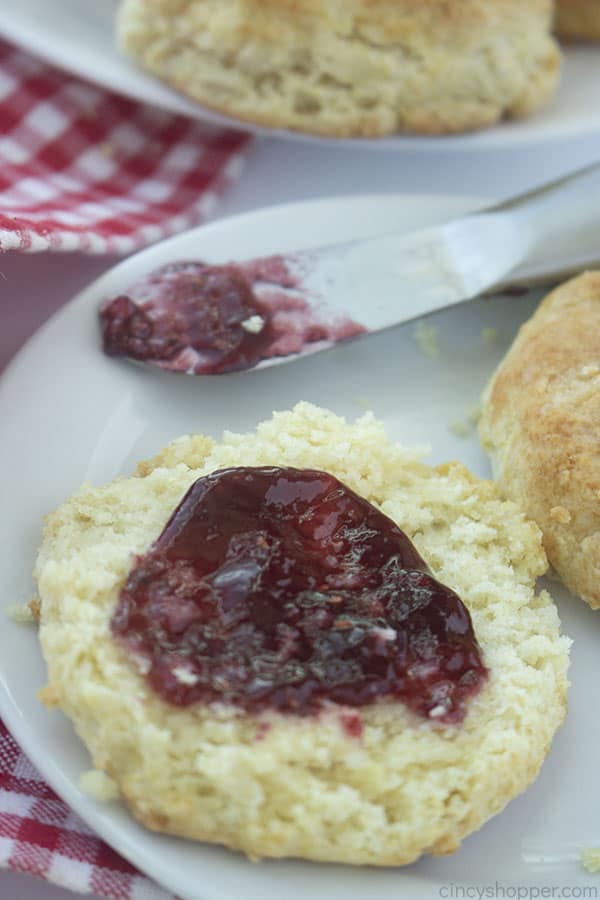 This recipe for Buttermilk Bisquick Biscuits is incredibly easy to follow! I tried to break things down to the most important steps you need to follow to get your biscuits fluffy, flakey, and tasty. If you want, you can even use more or less buttermilk depending on your tastes. No matter how tangy you like them, these biscuits are certain to be one of your new favorite recipes!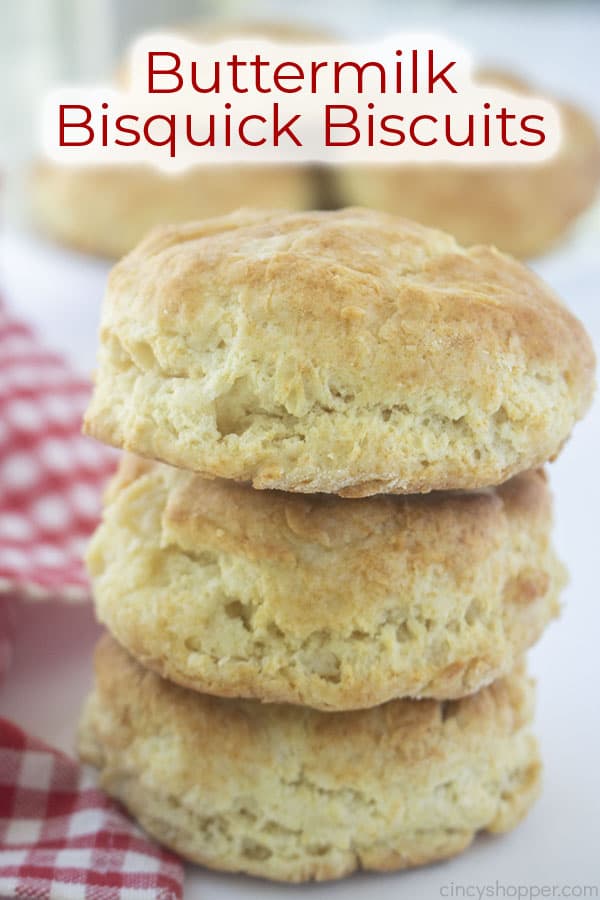 Enjoyed these Homemade Biscuits? Here are some more bread recipes!
We're big fans of these

Homemade Cheddar Biscuits

.

If you've ever been to Red Lobster, you know that the Cheddar Bay Biscuits are delicious- so we had to make them ourselves

! This copycat recipe is easy to make and perfect if you can't find the boxed mix at your local grocery.

You're gonna love our

Copycat Olive Garden Breadsticks

!

These butter garlic sticks are

probably

the tastiest thing you can have at the popular restaurant chain

. Make them at home following our simple recipe- goes great with almost any meal!

For delicious dinner rolls that are certain to impress, try these

Copycat Texas Roadhouse Rolls

. They're buttery, fluffy, and

just

perfect! Great on their own or paired with the included recipe for a copycat cinnamon honey butter.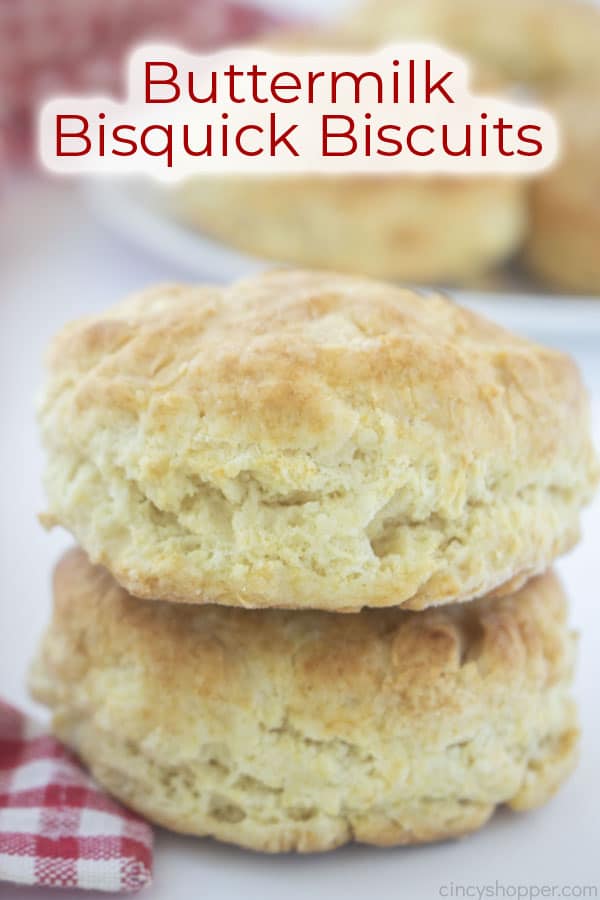 Ingredients for our Buttermilk Bisquick Biscuits Recipe
Bisquick

or

Baking Mix

– The real star of the show here!

Using Bisquick or a similar baking mix product makes the job of making homemade biscuits much easier

!

Flour

Baking Powder – As fresh as possible.

Baking Soda – Again, the freshest you have.

Salt

Granulated Sugar

Butter – Make sure it's cold!

Milk

Buttermilk

– If you don't have any on hand, we've covered how to make

Homemade Buttermilk

before!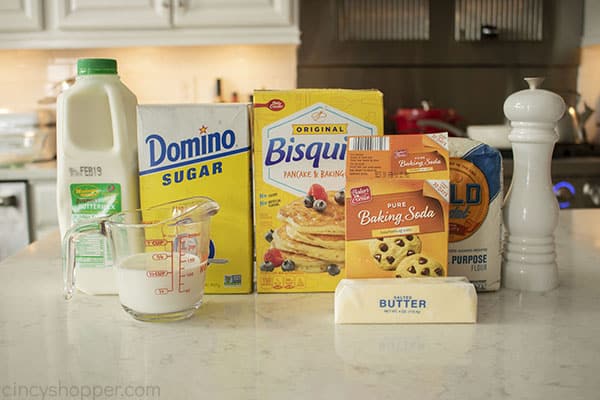 How to make Biscuits
You'd think making homemade biscuits would be pretty hard. It's actually very easy! Here's all you need to do…
Thoroughly

sift and combine your dry ingredients in a large mixing bowl.

Work your cold butter into the dry mix

before

gradually

adding your milk and buttermilk until a workable dough forms

.

Cut your biscuit rounds

before

baking at 450 degrees until nice and browned.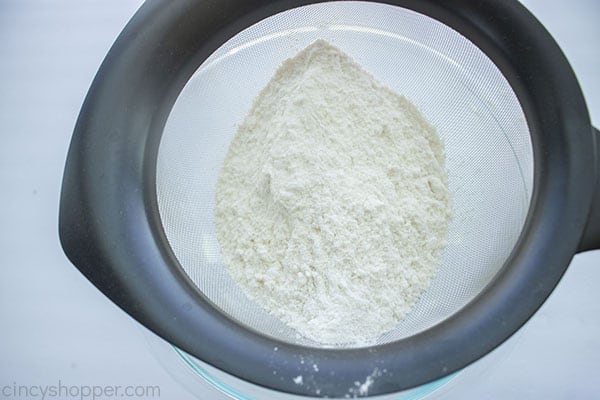 You might be wondering "why do you have to sift dry ingredients so much-" especially for something like biscuits. There are a few reasons but we're most focused on are that it makes mixing ingredients a bit easier. It also introduces a lot of air into our baked goods- perfect for making fluffy biscuits! We'd recommend sifting your dry ingredients 3 times for the best results.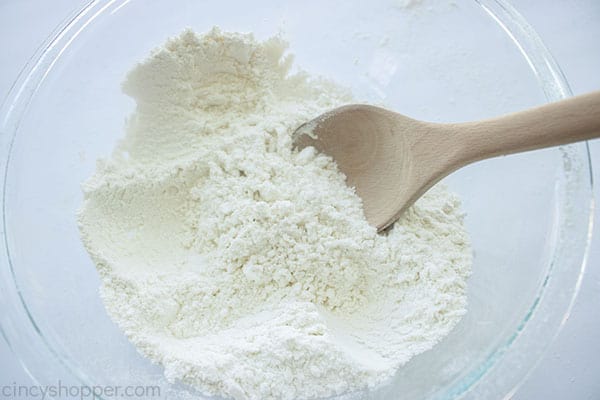 Once the dry mix is sifted and mixed together, we can start adding our butter. Cut your cold butter into workable pieces and toss it in with your dry ingredients. Using something like a dough blender, start working everything together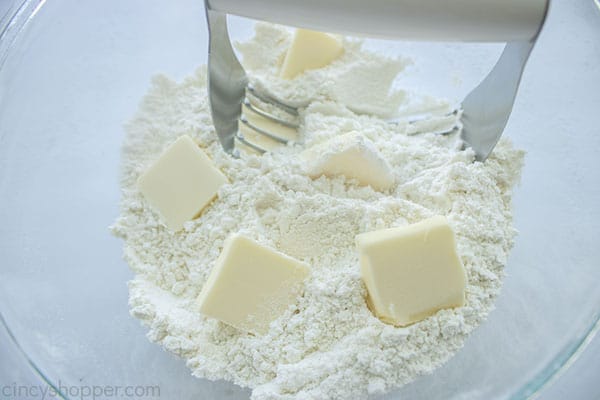 Eventually, you'll get this nice crumbly, almost-sandy texture. Once you get here, move on to the next steps.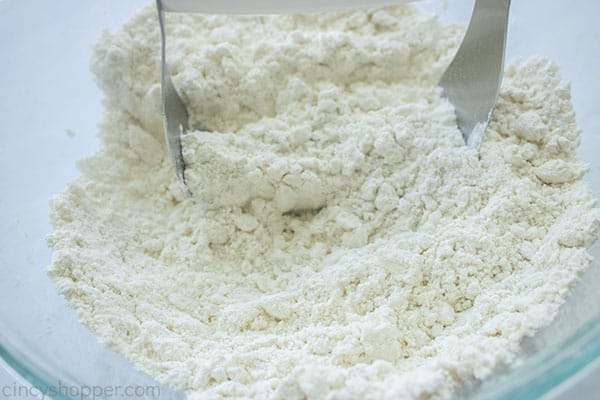 Combine your milk and buttermilk if you haven't already and transfer to a measuring cup with a spout. While stirring constantly, slowly start streaming your milk mixture into the crumbly dough. Slowly but surely, it'll start turning into one cohesive ball of dough. You don't want the dough too wet though- you want it dry enough that you can handle it without it sticking to your hands.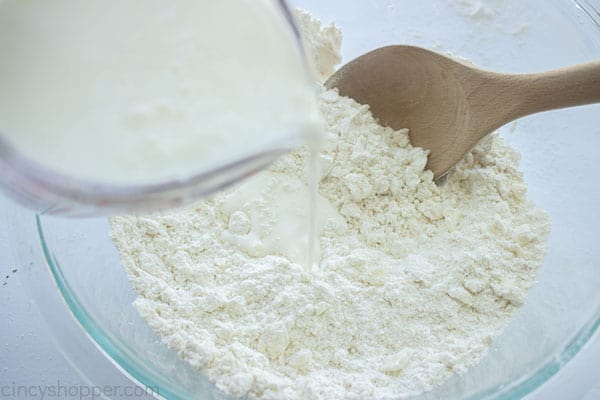 Once you've got a workable dough, transfer it to a well-floured countertop or work surface and shape it into a rectangle. Aim for about 1/2-inch thick- no need to be exact!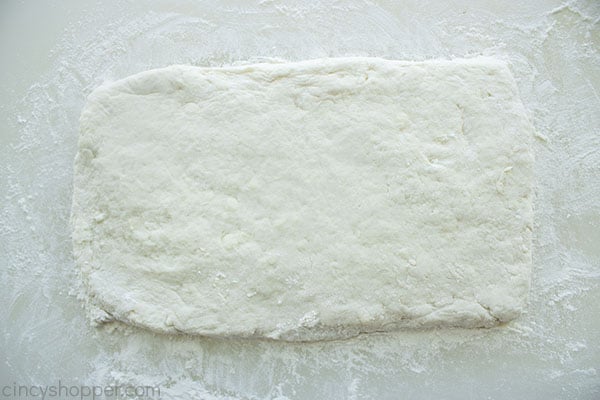 Using something like a round cutter or a mason jar lid, cut out your biscuit rounds. Make sure to roll that dough back out when you're done- you might be able to get an extra biscuit or two!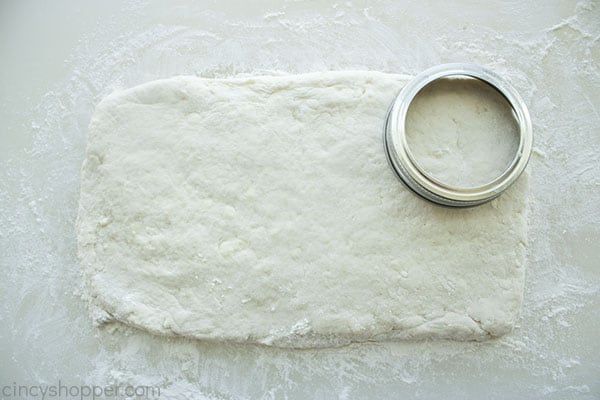 Transfer your cut biscuit rounds to a baking sheet and then send into a 450 degree oven. Make sure you keep a close eye on them- everyone's ovens are different and they may need 5 minutes more or less.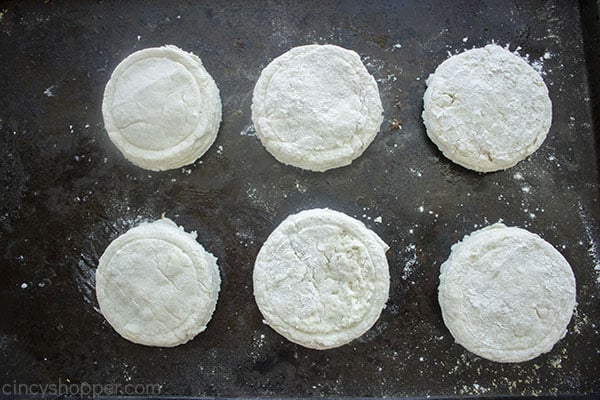 Generally speaking, these biscuits will take around 10-15 minutes. Once they've browned to your liking, your biscuits are done! Pull from the oven and brush your Bisquick Biscuits a bit of melted butter before serving and enjoying.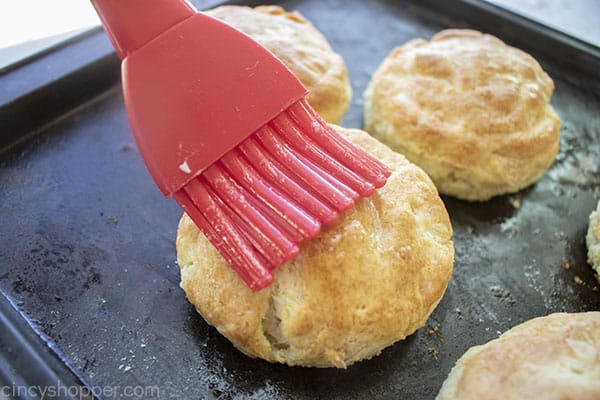 Tips for Perfect Biscuits
Use the freshest ingredients

– There's a reason we say use the freshest baking soda and powder you have.

Once you open containers of products like baking soda, they will

slowly

start to lose their potency

.

Especially so with baking powder: using old baking powder will usually result in your biscuits not rising as well

.

Sift, sift, sift!

– How do you get airy, flaky, fluffy biscuits? Sift as much as possible!

While you

obviously

don't want to sift dozens of times, a good few passes through a sifter will introduce plenty of air into your biscuits

. That's how to make Bisquick Biscuits fluffy!

Use a gentle hand

– If you always come out with tough biscuits, you might be working the dough too hard. As your adding your milk to the dough,

gently

work it in.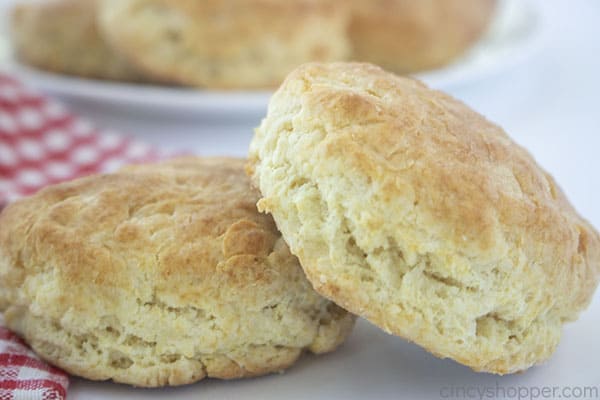 Serving Ideas
Top your biscuits with

all of

your favorite jams and preserves. There's also a whole world of butters and spread you can add to your biscuits. Start with some of our homemade

Cinnamon Butter

!

If you love a good breakfast sandwich, consider using your freshly-baked biscuits for buns

!

Throw some eggs, cheese, and sausage between the biscuit halves for a delicious breakfast sandwich

!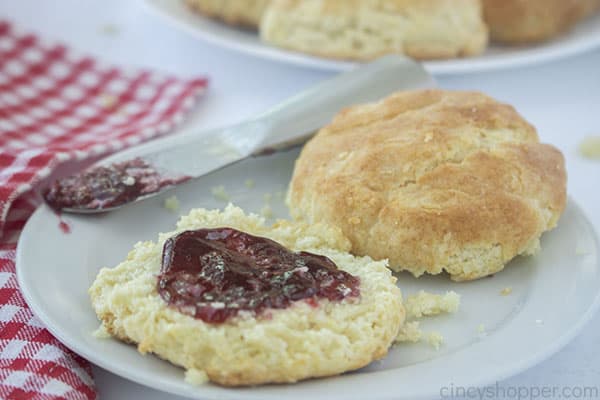 How long do Bisquick Biscuits last?
Room Temperature – Kept in an airtight container, these homemade biscuits will stay fresh for about

2 days at room temperature

.

In The Fridge – Expect your biscuits to stay good for about

a week in the fridge

if stored

properly

in an airtight container

.

Freezing Biscuits

– Wrap your cooled biscuits

tightly

in foil and keep in an airtight container or ziploc bag

.

Kept in the freezer, they should stay good for up to 3 months

. Reheat in the oven for about 10-20 minutes at 350 degrees.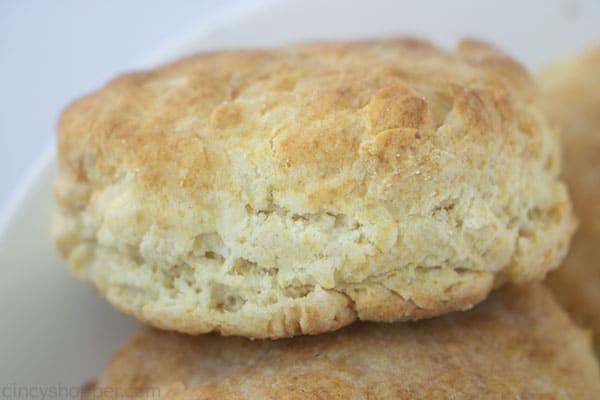 Buttermilk Bisquick Biscuits
Buttermilk Bisquick Biscuits are simple to make and a must-have for breakfasts and dinners! An easy recipe for making perfect fluffy biscuits.
Ingredients
1

cup

Flour

more if needed

1

cup

Bisquick

3

tsp

Baking Powder

2

tsp

Sugar

1/4

tsp

Salt

1/4

tsp

Baking Soda

4

tbsp

Butter

cold

1/2

cup

Milk

1/2

cup

Buttermilk

2

tbsp

melted Butter
Instructions
Preheat oven to 450 degrees.

In a large bowl, sift together the flour, Bisquick, baking powder, sugar, salt.

Cut butter into pats and add to dry ingredients.

Using a pastry cutter or fork, cut in the butter until small "pebbles" form,

Combine milk and buttermilk.

Gradually pour in the liquid while stirring with a spoon until just combined.

If the dough is too wet, add a little more flour, just until the dough is able to be handled.

Turn out onto floured surface, dust top with flour and form into just over 1/2" thickness.

Cut circular shape with a biscuit cutter, jar lid, or drinking glass. Dip cutter in flour as necessary to avoid sticking.

Place biscuits on a baking sheet.

Bake for 10-15 minutes until tops are lightly browned.

Brush tops with melted butter.
Notes
Use the freshest baking powder and soda for the best biscuits.
Sift your dry ingredients as much as possible.
Do not over mix dough.
Nutrition
Calories:
220
kcal
|
Carbohydrates:
24
g
|
Protein:
4
g
|
Fat:
12
g
|
Saturated Fat:
7
g
|
Trans Fat:
1
g
|
Cholesterol:
26
mg
|
Sodium:
555
mg
|
Potassium:
84
mg
|
Fiber:
1
g
|
Sugar:
4
g
|
Vitamin A:
312
IU
|
Vitamin C:
1
mg
|
Calcium:
154
mg
|
Iron:
1
mg