Slow Cooker Chicken and Gravy is an easy weeknight dinner recipe rich with flavor. Perfect served over rice, potatoes, or with crusty bread!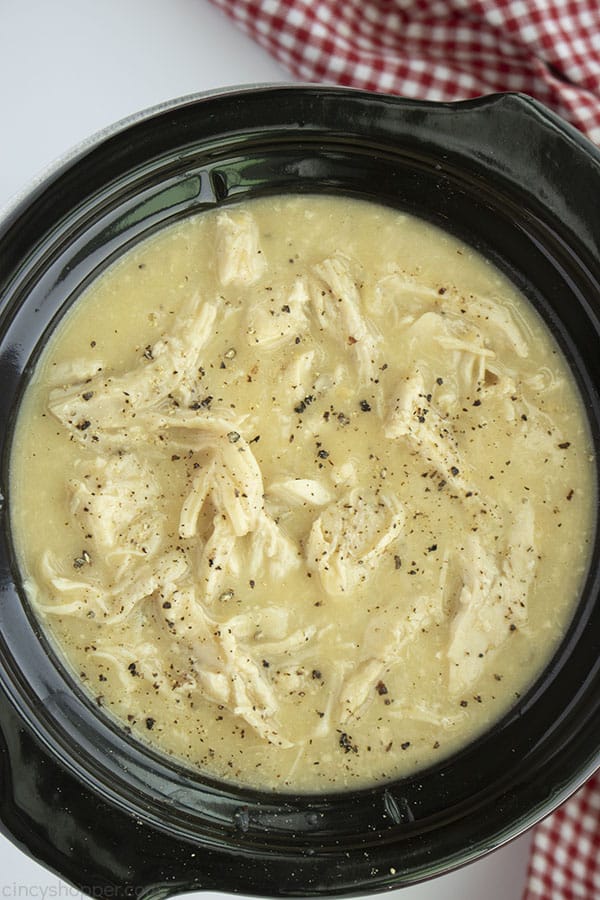 Slow Cooker Chicken and Gravy
When it comes to making weeknight dinners easy, few kitchen tools are as useful as the slow cooker or Crockpot. The slow cooker will cook your food "low-and-slow" for several hours, allowing your food to develop deep, rich flavors. More importantly, it allows you to set your food in the Crockpot to let it do the bulk of the work. You can get some crazy delicious food with only a little bit of prep work!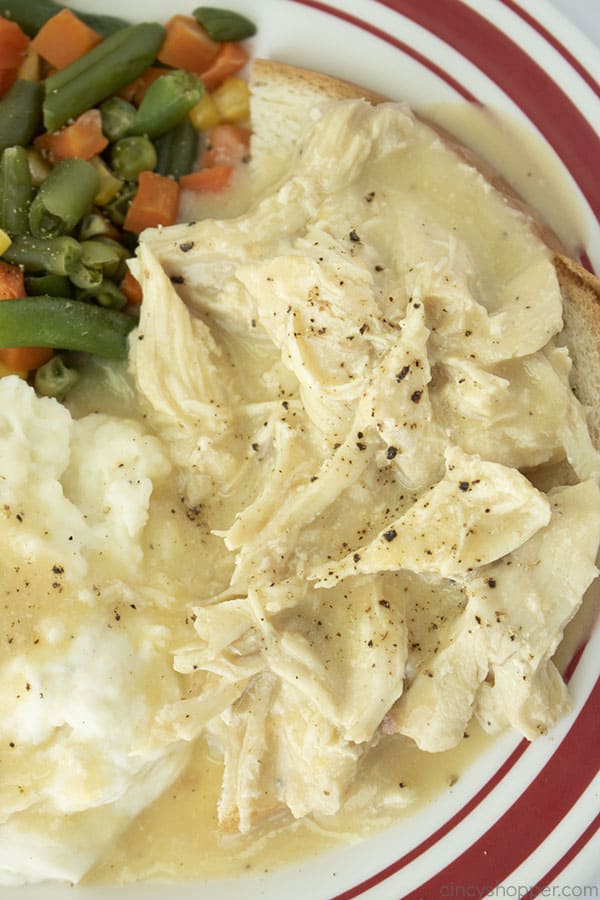 This Crockpot Chicken and Gravy recipe is an amazingly easy recipe that gives you some darn good chicken. Using some gravy mix packets and cream of chicken soup, we make a gravy that- on its own- is already pretty flavor-packed. Slow cooking our chicken in this mix only deepens and enriches those gravy flavors even more. It works both ways: that chicken becomes absolutely mouth-watering once it's cooked. On its own, this Chicken and Gravy recipe is delicious but it's perfect served over some mashed potatoes or rice.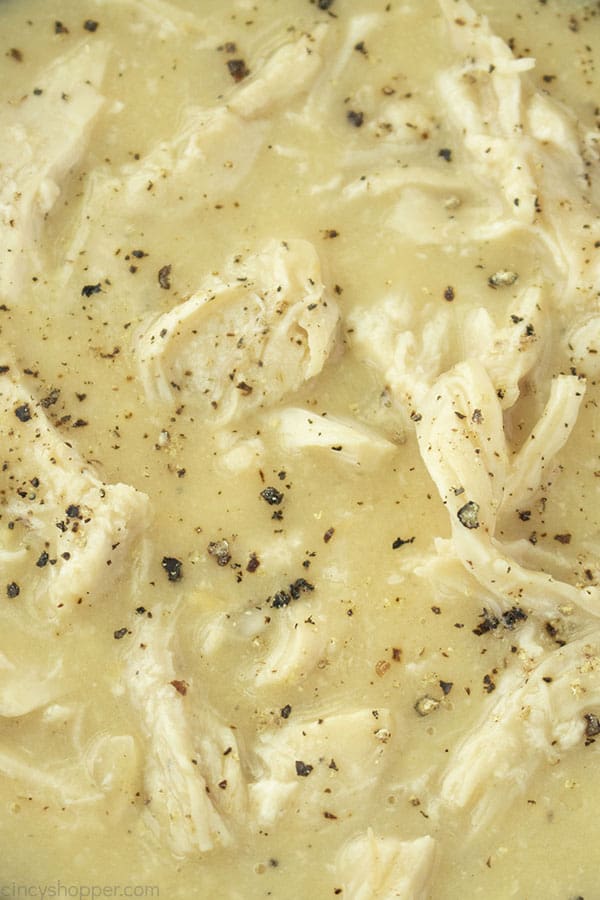 We have plenty of easy weeknight dinner ideas you might want to look into. Poultry is simple to make and usually
fairly
cheap too!
This Chicken and Gravy is also great for sandwiches, like how we made our

Easy Hot Turkey Sandwiches

.

This easy recipe uses some store-bought lunch meat to make a hot mix that's perfect to throw on some thick bread for a delicious, open-faced sandwich

!

For an easy, comforting casserole recipe, we've got

Chicken Pot Pie Casserole

.

This all-in-one dish combines everything- crust, chicken, gravy, and veggies- in one casserole dish

. Prep is as simple as baking your crust, adding your filling, and cooking- work fast, and you can have this ready in an hour!

Our

Parmesan Crusted Chicken

looks especially good when it's plated up.

This chicken recipe sees a crispy, parmesan crust pan-fried onto some tender chicken breasts

. Serve up alongside some tasty greens.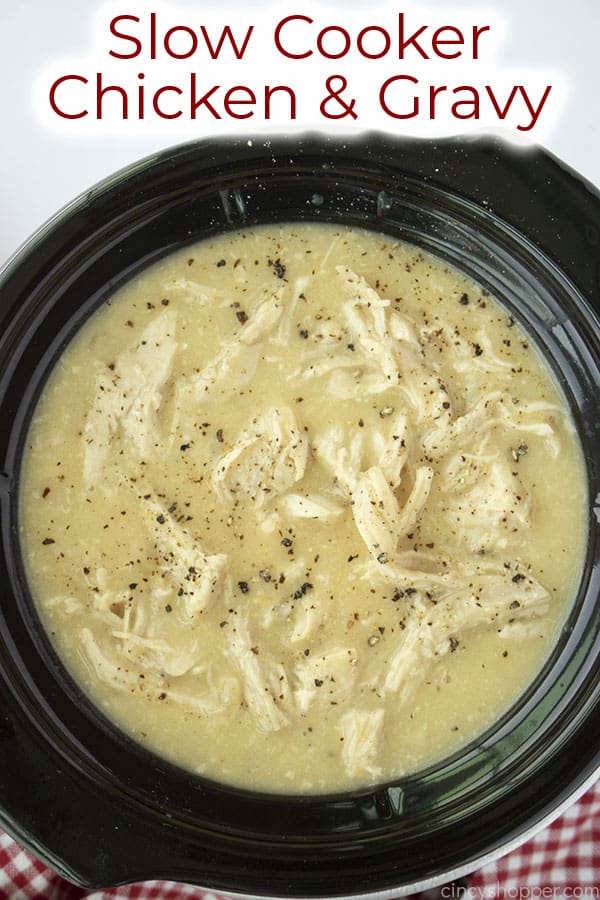 All of these recipes are perfect for keeping weeknight dinners delicious and easy. No need to throw cash at a fast food or pizza joint- using a slow cooker, you can make delicious food easy tonight. Give this recipe a try tonight and I'm certain you'll be enjoying it time and time again.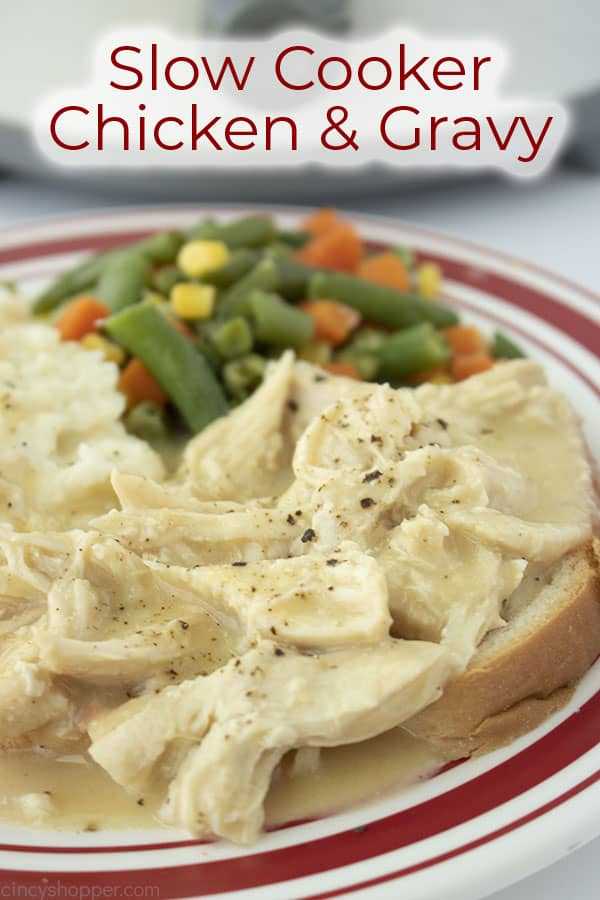 Ingredients for Easy Crockpot Chicken
Chicken Breasts – Frozen works too!
How to make Crockpot Chicken and Gravy
We're going to leverage all of our ingredients to make a very rich, flavorful gravy for our chicken. First, we're going to prep those gravy packets by mixing them with some cold water in a medium mixing bowl. Whisk the powder in until it's fully dissolved.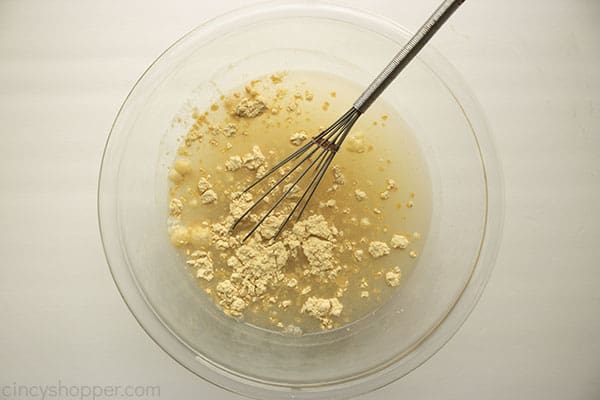 Next, we're going to add in that cream of chicken soup in with that gravy. Carefully pour the contents of the can into the gravy- don't want to splash it everywhere! Mix that in as well until it's fully combined.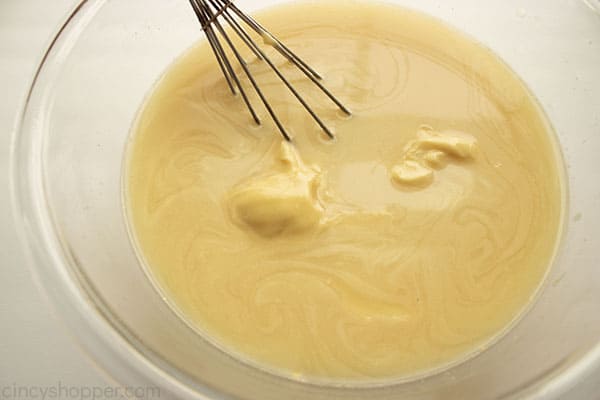 Set that off to the side while you season your chicken. Hit each side with some salt and pepper. Once seasoned, toss into the bottom of your slow cooker.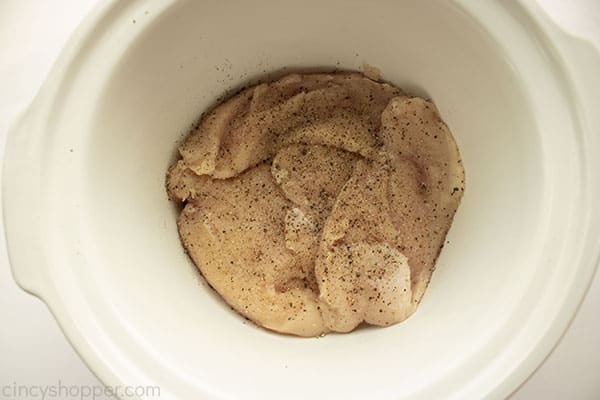 Follow that up by pouring in your gravy mixture. Give that a quick mix, just making sure your gravy's coating your chicken, before starting your slow cooker. Either cook for 6 to 8 hours on low or for a quicker 4 hours on high.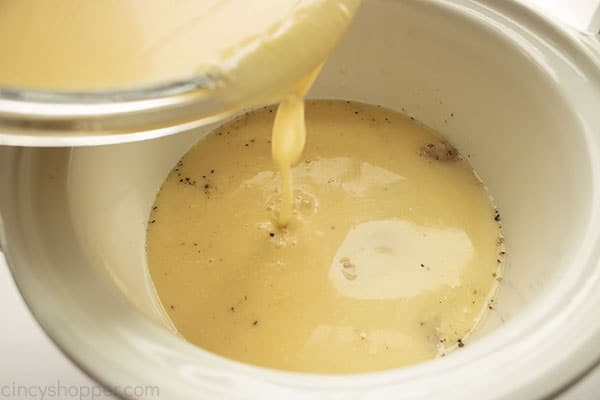 Once that cook time is over, you'll want to pull your chicken breasts from the gravy and transfer them to a separate bowl or plate. Here, you'll shred your chicken down into manageable, bite-sized pieces.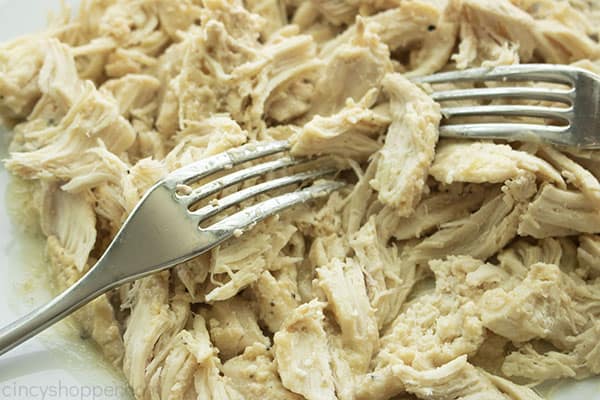 While your chicken's out of the crockpot, give your gravy a quick look. If it seems a bit too thin, now's the time to add a quick cornstarch slurry to thicken it up. Mix equal parts cornstarch and water then pitch into your gravy. Mix until well-combined.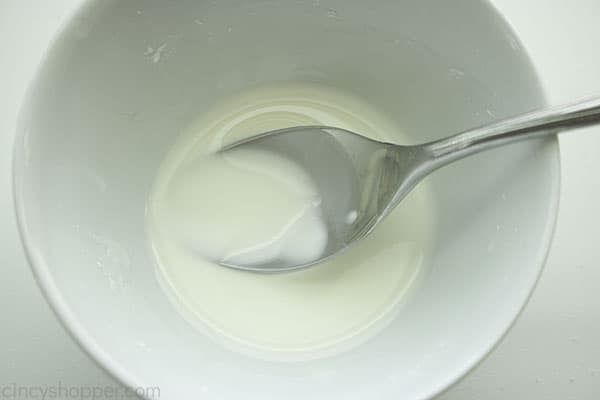 Whether you needed the slurry or not, it's at this point you'll want to add your chicken back to the slow cooker. Add the shredded chicken back in and give a cursory mix.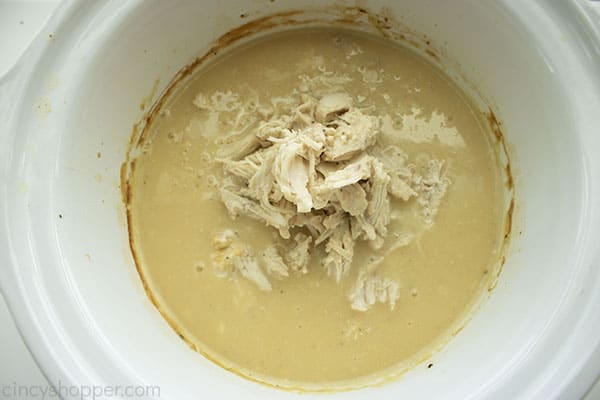 This time around, we'll be cooking our chicken for a much shorter 20 minutes. This is going to let those flavors get to know each other a little better and also thicken the gravy a tad bit more.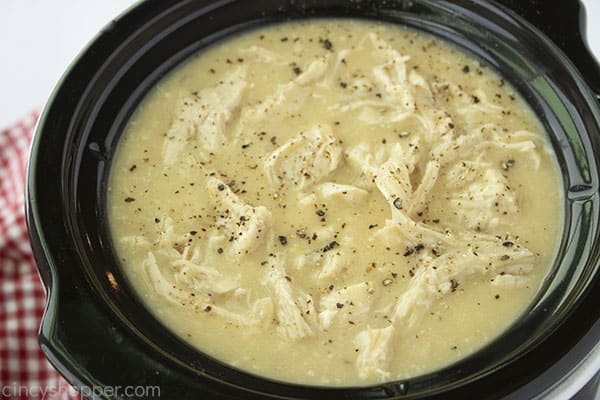 After that 20 minutes, your food's ready! Feel free to keep your slow cooker on low to keep your food warm and fresh while everyone's getting their servings. Our Chicken and Gravy is best served with a side of potatoes and some veggies. Whatever you serve it with, we know you'll enjoy it!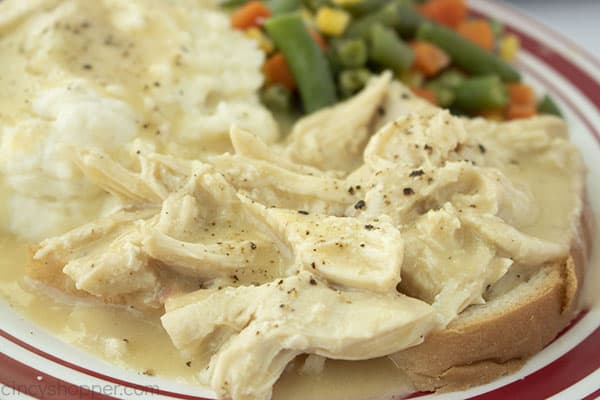 [RECIPE CARD]
Slow Cooker Chicken & Gravy
Slow Cooker Chicken and Gravy is an easy weeknight dinner recipe rich with flavor. Perfect served over rice, potatoes, or with crusty bread!
Ingredients
2

pkt Chicken Gravy Mix

1 1/2

cup

Water

1

can Cream of Chicken Soup

10.50 oz

2

lb

Chicken Breasts

boneless skinless

1/8

tsp

Pepper

1/8

tsp

Salt

2

tbsp

Cornstarch

if needed for thickening
Instructions
In a medium bowl, whisk together water and gravy mix until dissolved.

Add soup to liquid and whisk until blended.

Salt and pepper chicken breasts and place in slow cooker.

Pour soup/gravy mixture over chicken breasts.

Cook on low for 6-8 hours or high for 4 hours.

Transfer chicken, leaving liquid, to a plate and shred the breasts.

If the liquid is thinner than you like, whisk together cornstarch and an equal amount of water in a small bowl.

Add cornstarch slurry to slow cooker and stir to blend.

Add back shredded chicken.

Cover and cook on high for 20 minutes.
Nutrition
Calories:
275
kcal
|
Carbohydrates:
4
g
|
Protein:
48
g
|
Fat:
6
g
|
Saturated Fat:
1
g
|
Cholesterol:
145
mg
|
Sodium:
345
mg
|
Potassium:
839
mg
|
Sugar:
1
g
|
Vitamin A:
68
IU
|
Vitamin C:
3
mg
|
Calcium:
14
mg
|
Iron:
1
mg