Irish Soda Bread is a quick bread that requires no yeast. Our recipe is a traditional version using buttermilk, butter and baking soda. It's easy to make and ready in about 45 minutes time!
This Irish Soda Bread Recipe results in a dense, tender, slightly sweet and crispy quick bread. Since it calls for no yeast, instead baking soda and buttermilk it is quite easy to make. Serve this authentic bread with soups, stews or with butters and jams!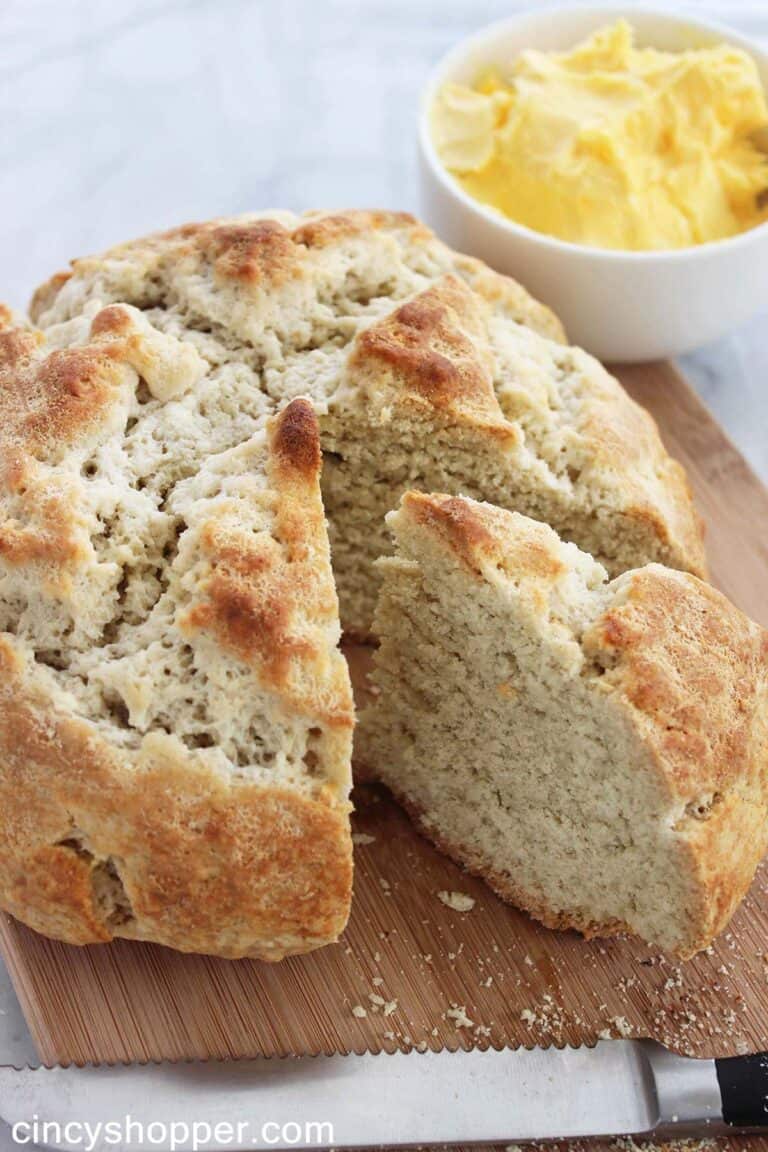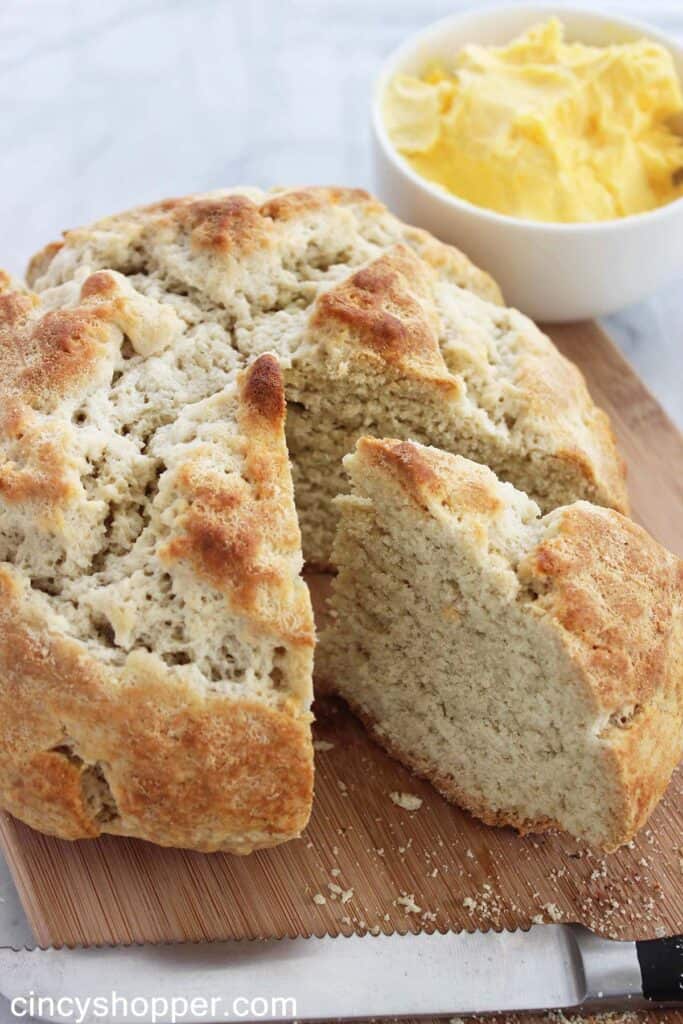 Homemade bread can sometimes feel daunting to make. Most of you can agree, right? But, fresh from the oven bread is so comforting. I often reach for a quick bread recipe on busy weeknights. In fact, my Easy Cheese Bread is made often when I need a filling starch to serve with dinner.
Serve this Classic Irish bread with a bowl of Beef Stew or along with Simple Salisbury Steak for a hearty dinner. Since the bread is soft and chewy and the crust crisp it's perfect for dunking in gravy mixtures and sauces. If you have a luncheon, pot luck or brunch serve it with butter or jams for some quick finger food.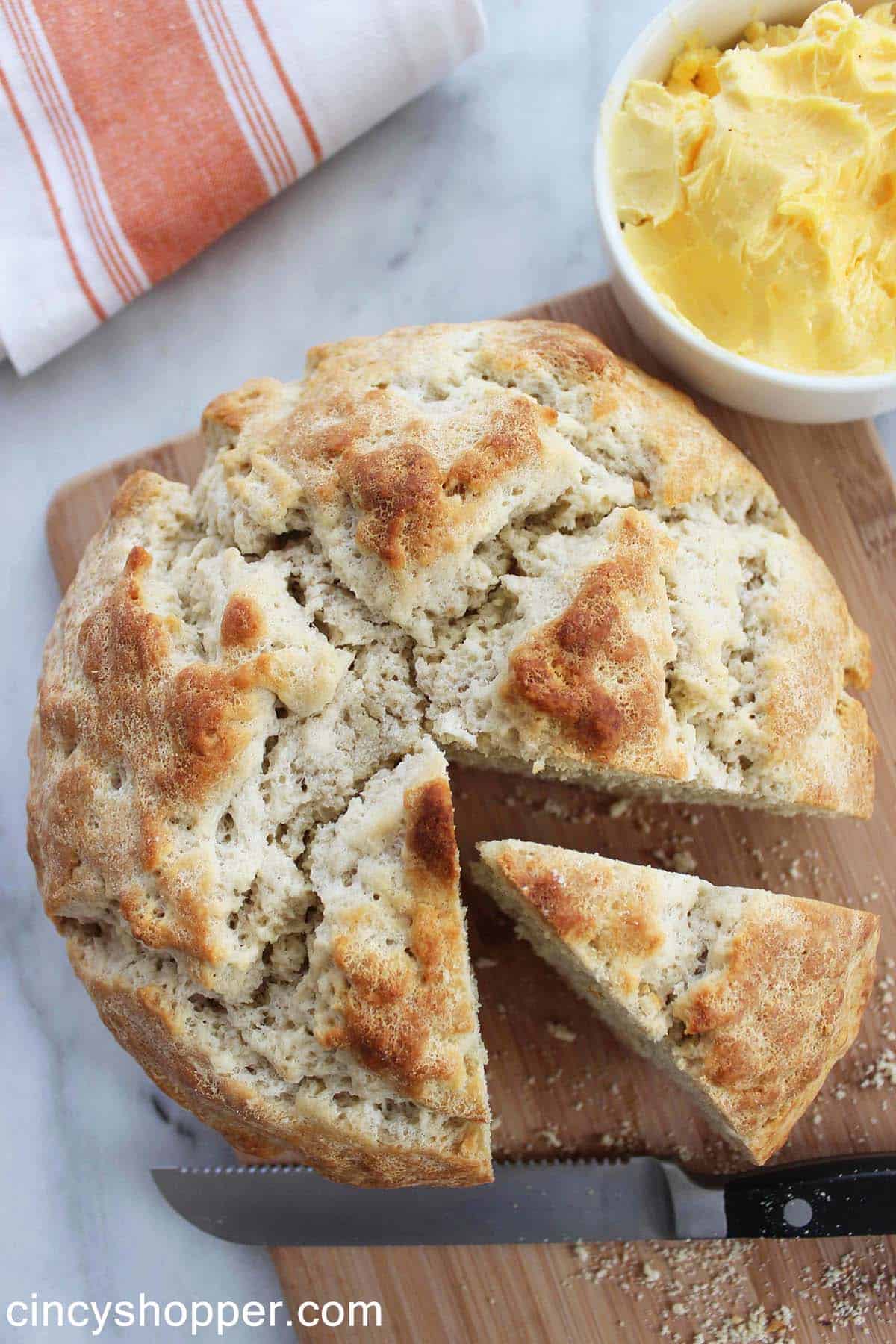 Why you will LOVE this Soda Bread Recipe
This bread recipe does not require many ingredients. Most likely you have everything on hand to make it.
Irish soda bread is quick and easy. Quick bread recipes require less time than tradition yeast bread. Since the dough requires no yeast and minimal kneading it comes together very quickly.
You can serve the bread with so many different dishes. I've already mentioned stew but you can also enjoy your bread with many soups or even a salad.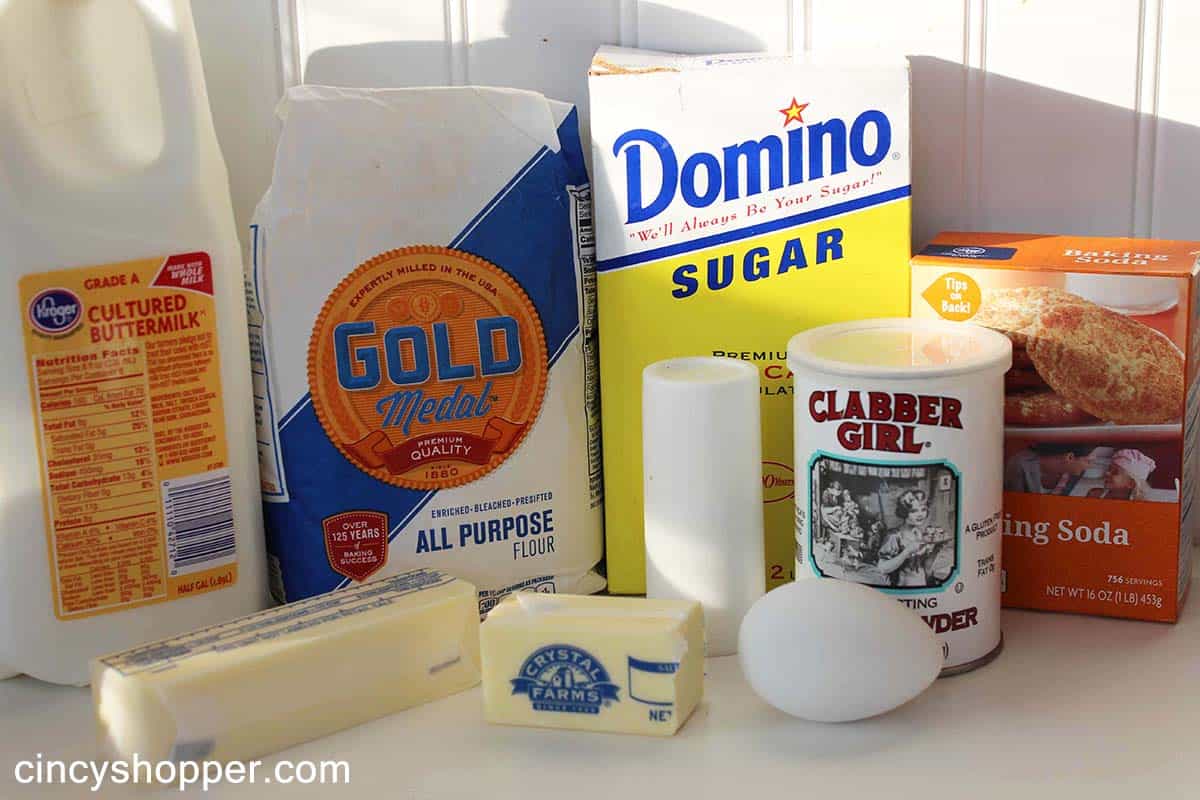 Irish Soda Bread Ingredients
Flour – We went with an all-purpose flour, but you could try making this with all sorts of different flours or flour blends.
Sugar
Baking Soda – The fresher your baking soda, the better it'll work in this recipe!
Baking Powder
Salt
Butter – Some softened butter and some melted butter.
Buttermilk – Very important that you use buttermilk for this recipe. We need the acidity from the buttermilk.
Egg
If you wanted to throw anything else into the dough, you're more than welcome to experiment. Maybe try adding some raisins, crushed nuts or other dried fruits?

How to Make Soda Bread
Making soda bread from scratch is actually pretty easy! Here's all you have to do to make your own homemade loaf that tastes great:
Whisk dry ingredients together in a large bowl before mixing in softened butter, buttermilk, and egg.
Turn out dough onto a lightly floured surface and briefly knead before shaping into loaf and setting on greased baking sheet. Brush with butter and buttermilk mixture and score an X into top of loaf.
Bake at 375 degrees for 45 minutes, brushing with buttermilk mixture every 15 minutes. Allow the bread to cool then slice before serving.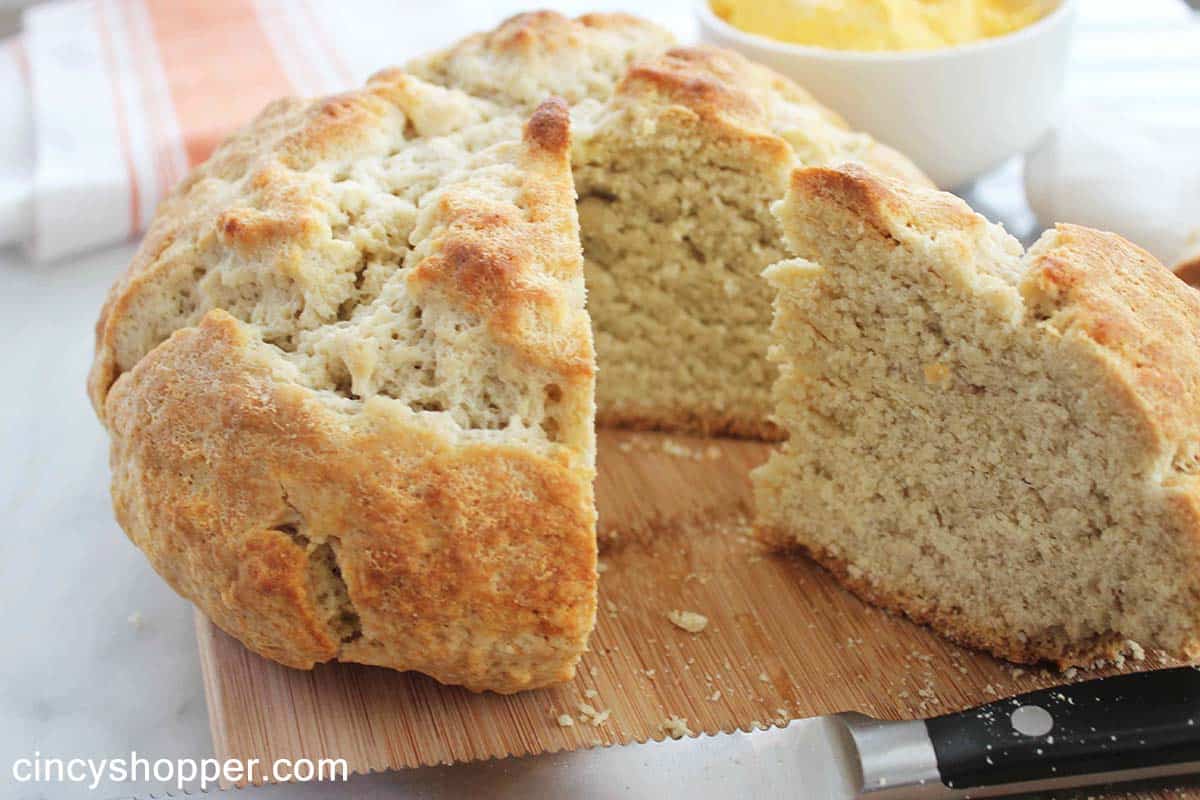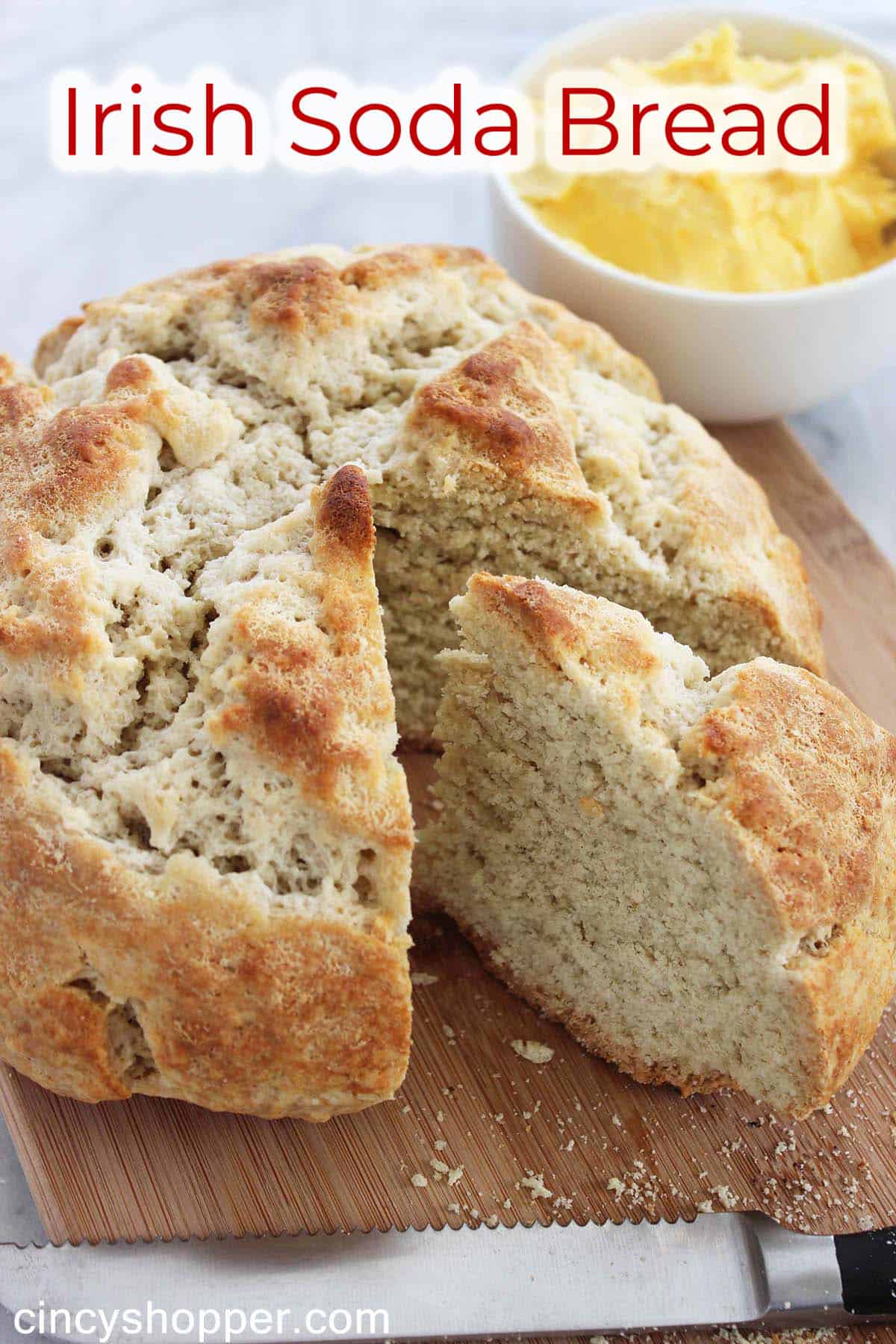 Variations
Make a Whole wheat soda bread for a heartier flavor. You will need to use both whole wheat flour and white flour.
Many Irish Soda Bread recipes include raisins. The raisins add a bit more sweetness.
Toss in some some grated cheese. Cheddar or even Parmesan cheese will add a bit more flavor.
Consider adding in some of your favorite spices. Thyme or Rosemary will add an additional savory flavor profile.
FAQs about Soda Bread
What is the origin of Irish soda bread?
Irish soda bread is a traditional bread that originated in Ireland. It was originally made by Irish peasants who used baking soda, rather than yeast, as a leavening agent.
What is the difference between Irish soda bread and other types of bread?
Irish soda bread is a quick bread, It is leavened with baking soda instead of yeast. It is a bit more dense than most breads.
Can Irish soda bread be made without buttermilk?
Buttermilk combines with the baking soda to make the bread rise. If you do not have any buttermilk on hand, try using this Homemade Buttermilk recipe, it's simple to make with whole milk and vinegar or lemon juice.
Is your recipe really traditional?
Not really. We use all purpose flour instead of soft wheat flour, because that is what we usually have on hand. Also, we add baking powder to the mix to increase the rise in the dough. We add butter to increase the milk fat content.
How long does Irish soda bread last?
Irish soda bread is best if eaten within the first couple of days. The bread tends to dry out quite quickly. Enjoy within a day or two of baking, as it dries out quickly. To keep fresh, wrap it tightly in plastic wrap and store at room temperature. You can also freeze it for up to a month.
Can Irish soda bread be made gluten-free?
Yes, Irish soda bread can be made gluten-free by using a gluten-free flour blend. However, since Irish soda bread relies on gluten to create structure, the bread may be more crumbly and dense than traditional Irish soda bread.
Tips for the BEST bread
Whisk the flour mixture well. The distribution of baking soda is very important.
Don't over mix the soda bread dough: Be very gentle with the dough, move quick and stop mixing once combined Over-mixing it can result in a tough, dense bread.
Fresh baking soda is BEST! As mentioned, the baking soda is the leavening agent that makes the quick bread rise. Fresh baking soda will allow you to have the best results.
Score the bread. Use a sharp knife to score the bread before baking it. This will allow the bread to rise best.
You should enjoy your leftovers within a day or two of baking. If you wait much longer, it will become stale. Keep the bread wrapped in plastic wrap. If you kneed to freeze the bread, wrap and keep for up to one month.
Other Bread
Recipes
Try our Dutch oven bread! It's an easy recipe with no kneading required. Plus it calls for just 4 ingredients!
How about a easy Sandwich Bread? Our recipe is easy to make and perfect for everyday.
Make Olive Garden Breadsticks from scratch. You can pair these with so many different meals.
Did you make this recipe? If so, be sure to rate with a star rating and drop a comment below.
Irish Soda Bread
Irish Soda Bread is a traditional side that's essential for any St. Patrick's Day meal. A tasty and easy bread recipe that's so easy to make!
Ingredients
4

cup

Flour

4

tbsp

Sugar

1

tsp

Baking Soda

1

tbsp

Baking Powder

1/2

tsp

Salt

1/2

cup

softened Butter

1/4

cup

melted Butter

1 1/4

cup

Buttermilk

1

Egg
Instructions
Preheat oven to 375.

Grease a baking sheet.

Mix together flour, sugar, baking soda, baking powder and salt.

Add 1/2 cup butter, 1 cup buttermilk and egg to dry ingredients and mix until combined.

Flour work surface.

Turn out dough and knead briefly.

Shape dough into a round shape and place on prepared sheet.

Whisk together 1/4 cup melted butter with 1/4 cup buttermilk.

Brush loaf with buttermilk mixture.

Cut an X in the top of the loaf.

Bake 45 minutes or until toothpick inserted into the middle comes out clean.

Brush with buttermilk mixture every 15 minutes or so while baking.
Notes
Don't overmix the dough: Unlike with yeast bread, you should mix Irish soda bread dough quickly and gently- just until the ingredients come together. Overmixing can result in a tough, dense bread.
Use fresh baking soda: Baking soda is the leavening agent that makes Irish soda bread rise, so it's important to use fresh baking soda to ensure that the bread rises properly.
Score the bread: Before baking, use a sharp knife or a razor blade to score a deep "X" on the top of the loaf. This will help the bread rise properly and also give it a classic look
Nutrition
Calories:
435
kcal
|
Carbohydrates:
56
g
|
Protein:
9
g
|
Fat:
20
g
|
Saturated Fat:
12
g
|
Polyunsaturated Fat:
1
g
|
Monounsaturated Fat:
5
g
|
Trans Fat:
1
g
|
Cholesterol:
70
mg
|
Sodium:
626
mg
|
Potassium:
131
mg
|
Fiber:
2
g
|
Sugar:
8
g
|
Vitamin A:
623
IU
|
Calcium:
149
mg
|
Iron:
3
mg